Live chat is one of the most popular ways to engage website visitors, help customers, and boost conversations. Add chat to your website in a few easy steps — here's how.
What is live chat and why do you need it? Chat is now one of the most important tools for growing your business. Use it to improve user experience and provide customer support in real-time. 
In 2023, adding live chat to your website has never been simpler. Get started with chat in just a few clicks — no technical skills needed. 💬
What Is Live Chat?
Live chat is a digital communication tool that businesses use to interact with customers one-on-one. Anyone can add a live chat widget, or chatbox, to their website.
Live chat tools are used for:
The chat box usually appears on your website as a pop-up window, like in the example below: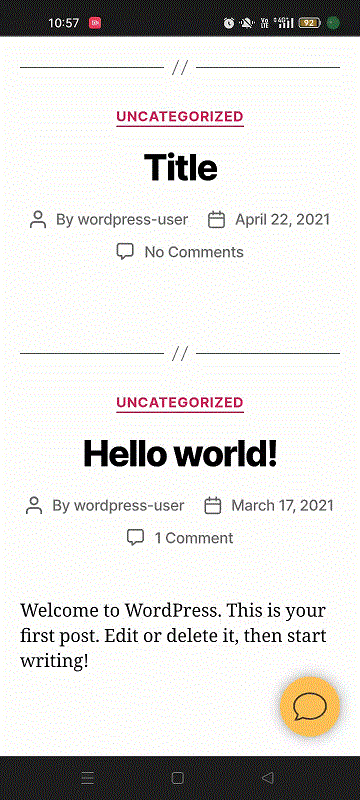 When customers reach out via chat, you or a support team member can respond directly in the conversation. Live chat tools have also been adapted for SMS and messaging apps like WhatsApp, Instagram Direct, and Facebook Messenger.
You can also install a chatbot to provide 24/7 support, answer FAQs, and route customers to live agents if needed.
Why You Should Add Chat to Your Website
Live chat software makes it easy to communicate with leads and customers in real time directly on your website. This makes customer support faster and more efficient, increasing customer satisfaction.
Use chat to improve build deeper relationships, and drive sales.
Whether you're an ecommerce site, software startup, or small business, the possibilities are endless.
Here are a few benefits of live chat:
Turn leads into customers. Chat helps you engage website visitors right away. This is especially useful on pages that act like bottlenecks (pricing, checkout, request quote).
Personalize your customer interactions. Live chat helps you build stronger customer relationships from the get-go and provide one-on-one support in real time.
Deepen customer loyalty. Chat improves the overall customer experience thanks to its ease of use and quick response times, which keeps your customers coming back again and again.
The best part? You don't need to be an expert to integrate chat into your website. Read on to find out how.
Further reading: 10 Best Live Chat Widgets for Your Website (Paid & Free)
How to Add Live Chat to Your Website
Adding a live chat tool to your website is easier and more affordable than ever. With Brevo, integrate live chat into your website in seven easy steps. 💡
Follow this step-by-step guide to activate live chat on your website. No coding skills required — all you need is a Brevo account and five minutes!
Step 1: Sign up for a free Brevo (previously Sendinblue) account
Open a Brevo account to get access to our free live chat features. No need to download a live chat plugin, the app can be activated directly from the platform.
Starting with one seat is enough to provide live chat support to your website visitors. Upgrade to add more team members and access Pro functionality, including chatbot and automation.
Go to the Conversations tab on your Brevo dashboard. The Conversations app allows you to manage all of your interactions with customers in one place. It's powered by Chatra, a top-rated live chat app Brevo acquired last year.
Currently, Conversations includes:
Live chat widget for websites
Facebook Messenger integration
Instagram Direct integration
Chatbots
Automated chat messages
What's great about Brevo Conversations is that you can manage direct messages coming from your website as well as your social media accounts all in one place.
Step 3: Configure your chat widget
Select "Chat widget" in the sidebar or click on "Chat widget" beneath Welcome Bot's message. This will take you to the page where you can set up the chat widget.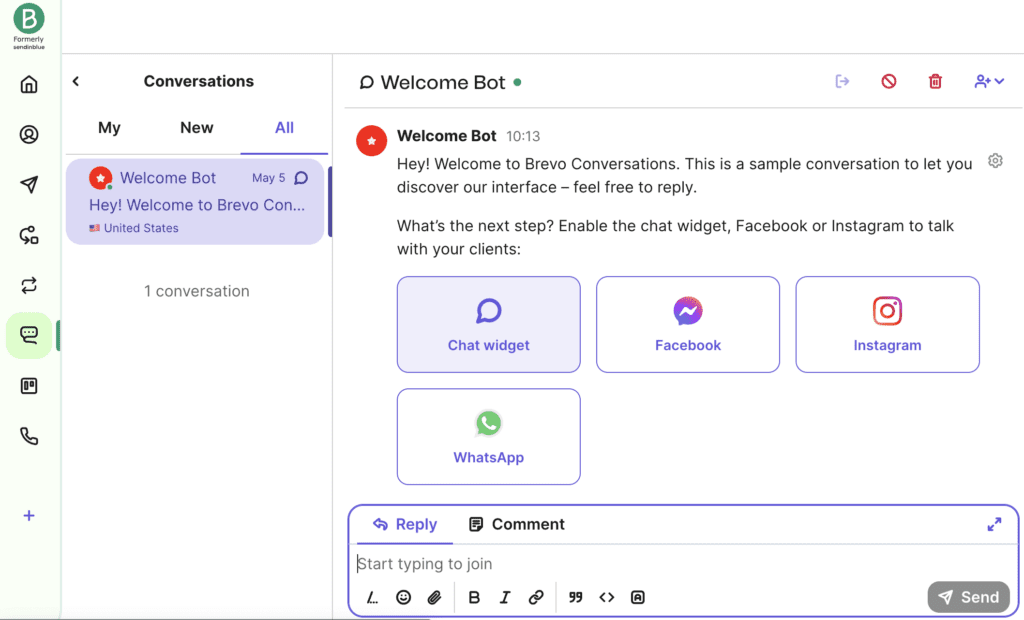 The Conversations app allows you to set up a chat widget and manage all of your interactions with customers.
Step 4: Complete your profile
Add a name, title, and photo for your customers to see when they open the chat window. To help visitors connect with your business, use the name of a customer service rep or the team member responsible for answering customers' questions.
A chat widget preview will appear on the right side of your screen.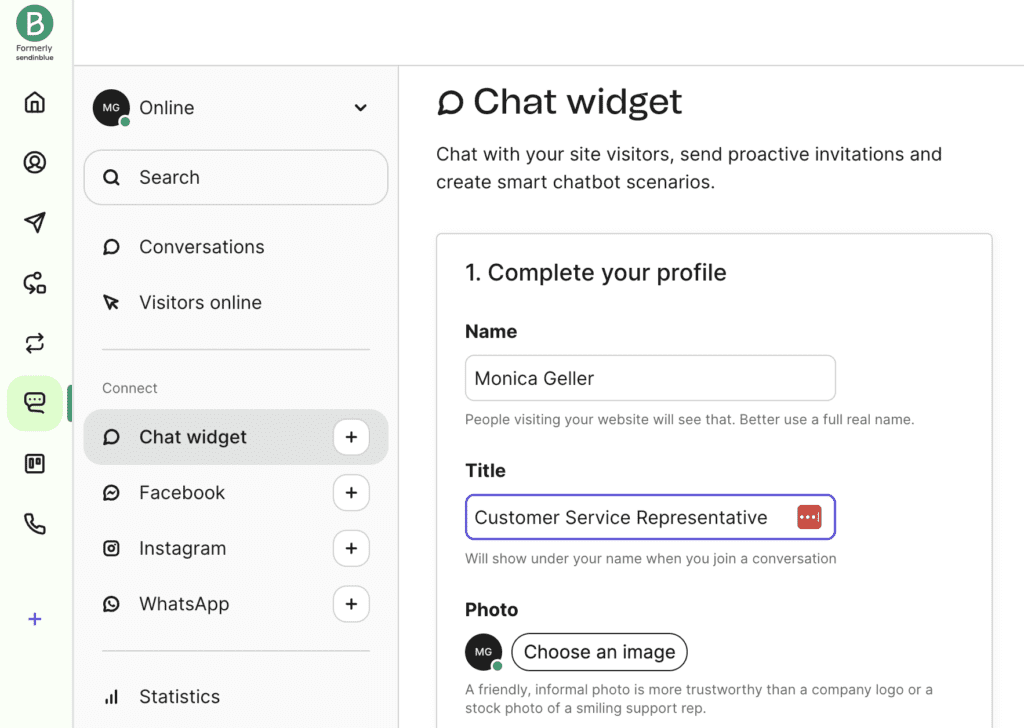 This profile gives your chat widget a friendly, human face.
Step 5: Customize your chat widget
Configure the chat widget for your website. Choose the language, color, and chat button design. You can even customize the chat box's welcome message to match your brand's tone of voice.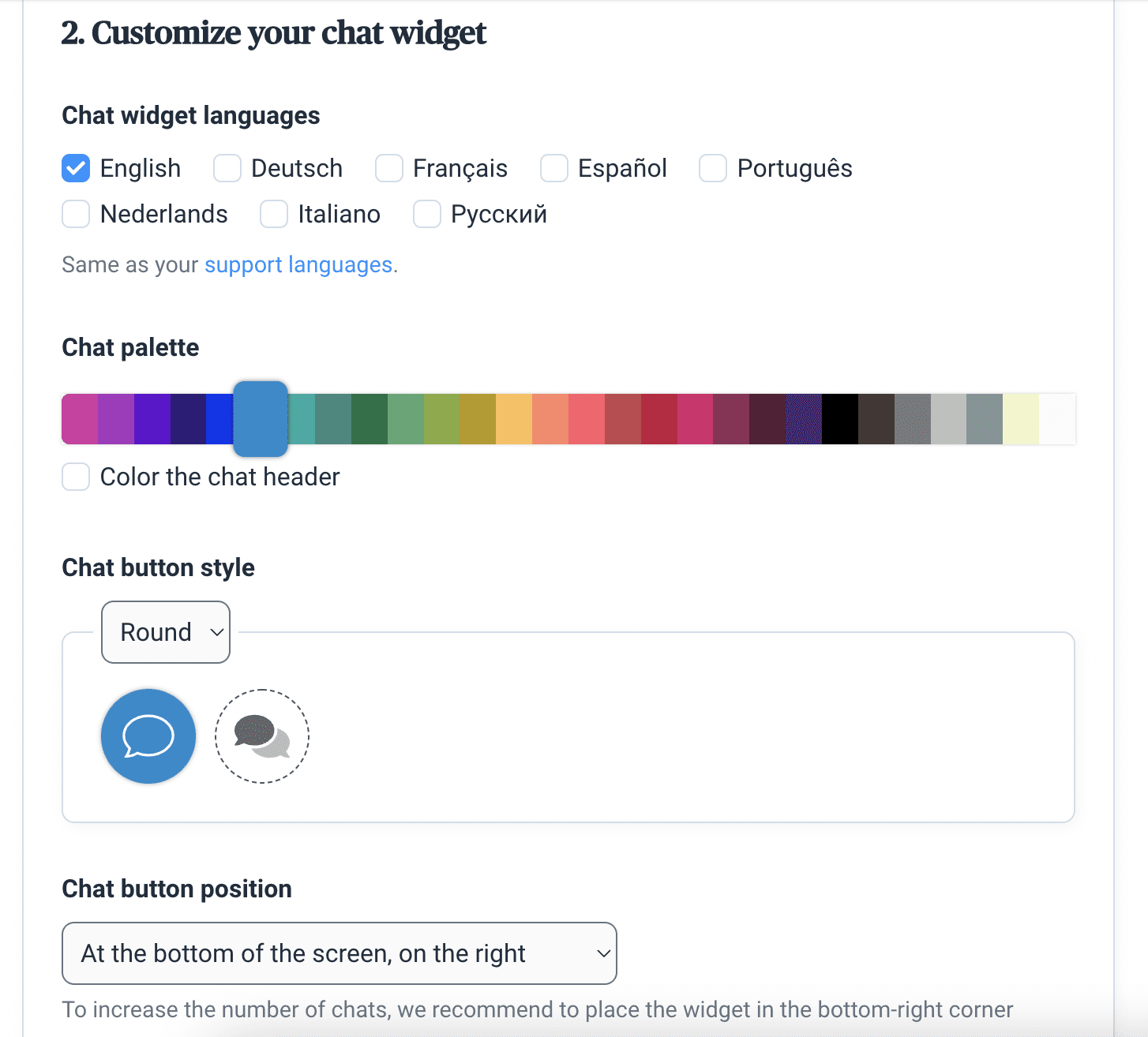 Customize the chat widget to match the language and color palette of your website.
Step 6: Install your chat widget
Simply copy the code snippet and paste it into your web page's HTML code to embed the chat on your website. Chat integrations and tutorials are available for WordPress websites, Shopify, and other popular CMS.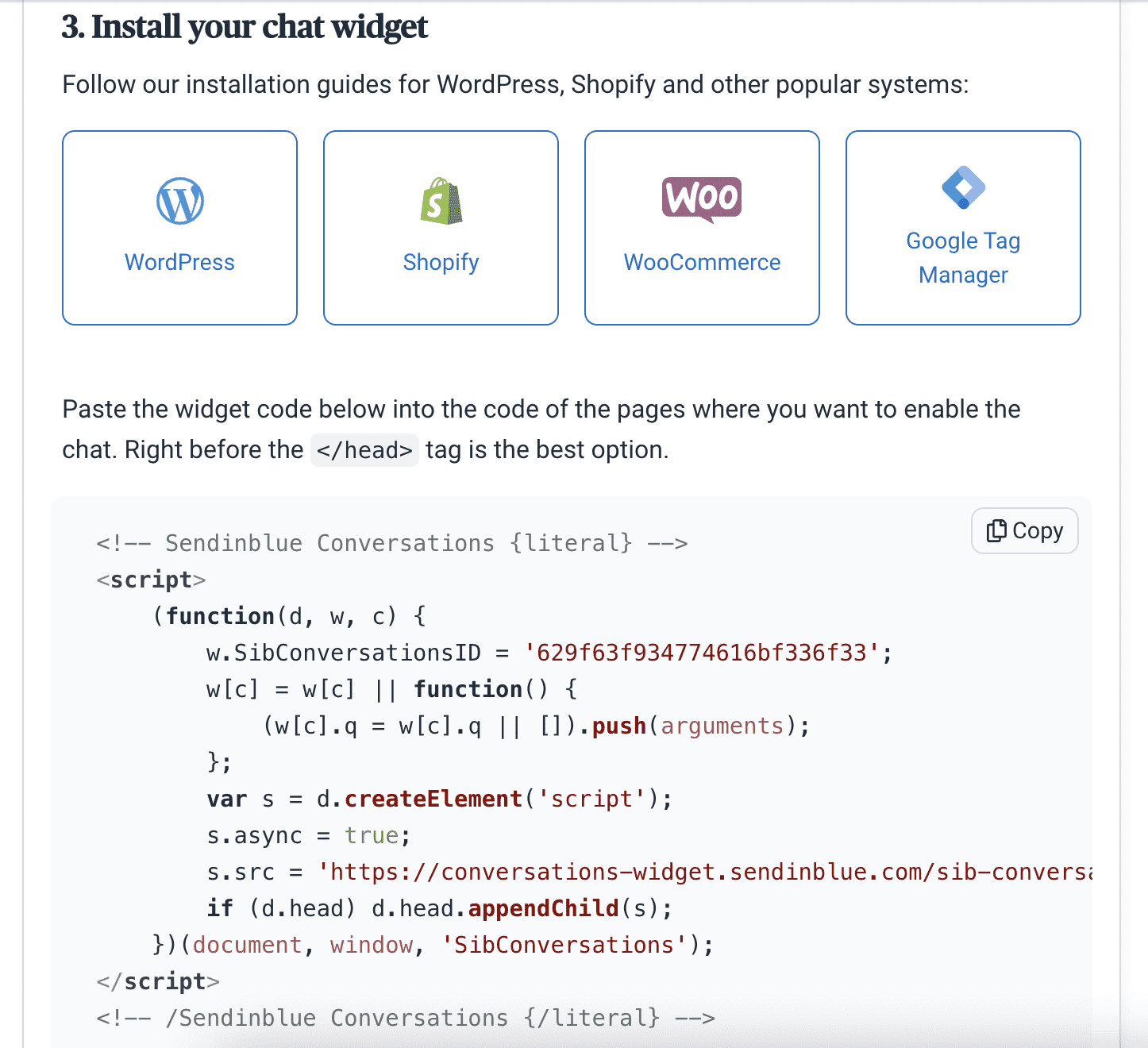 Integrating a chat widget into your website is as easy as copying and pasting a few lines of code.
Step 7: Customize settings and connect with customers
Once you've added the chat to your website, you can start interacting with site visitors and customers. Here's how to set up your chat widget so that you never miss a message.
Set your opening hours
First things first, let your customers know when you're online and available to chat.
Set your opening hours each day of the week. 🕛 This way, you'll appear as either invisible or offline when you're not able to answer messages.
You can customize your operating hours in the Conversations tab under Settings.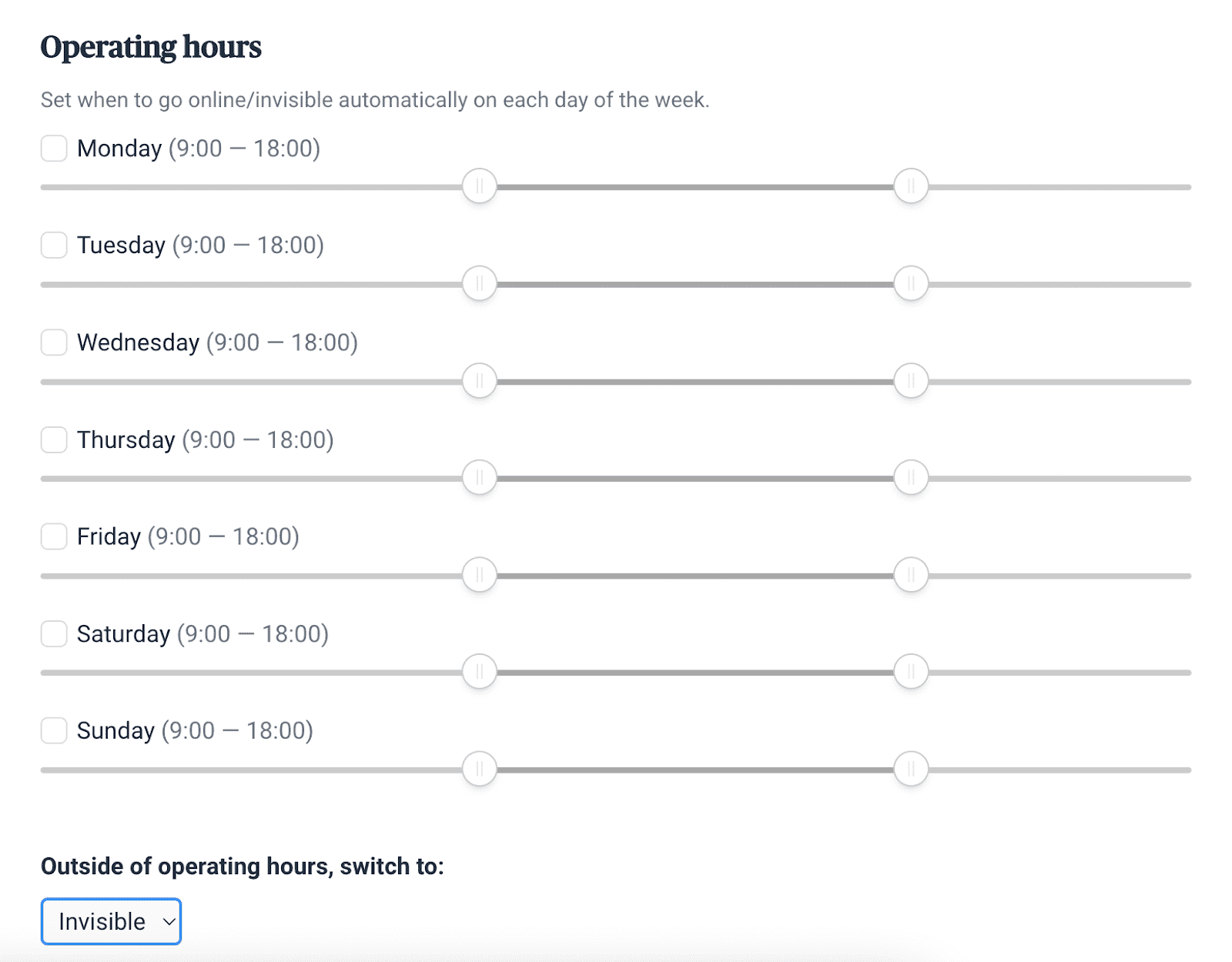 Setting your operating hours lets customers know when you're available to chat.
Enable desktop notifications
Enable desktop notifications to know when a website visitor messages you over live chat. 🔔 This way, you'll never miss an opportunity to connect.
You can customize notifications in the Conversations tab under Settings.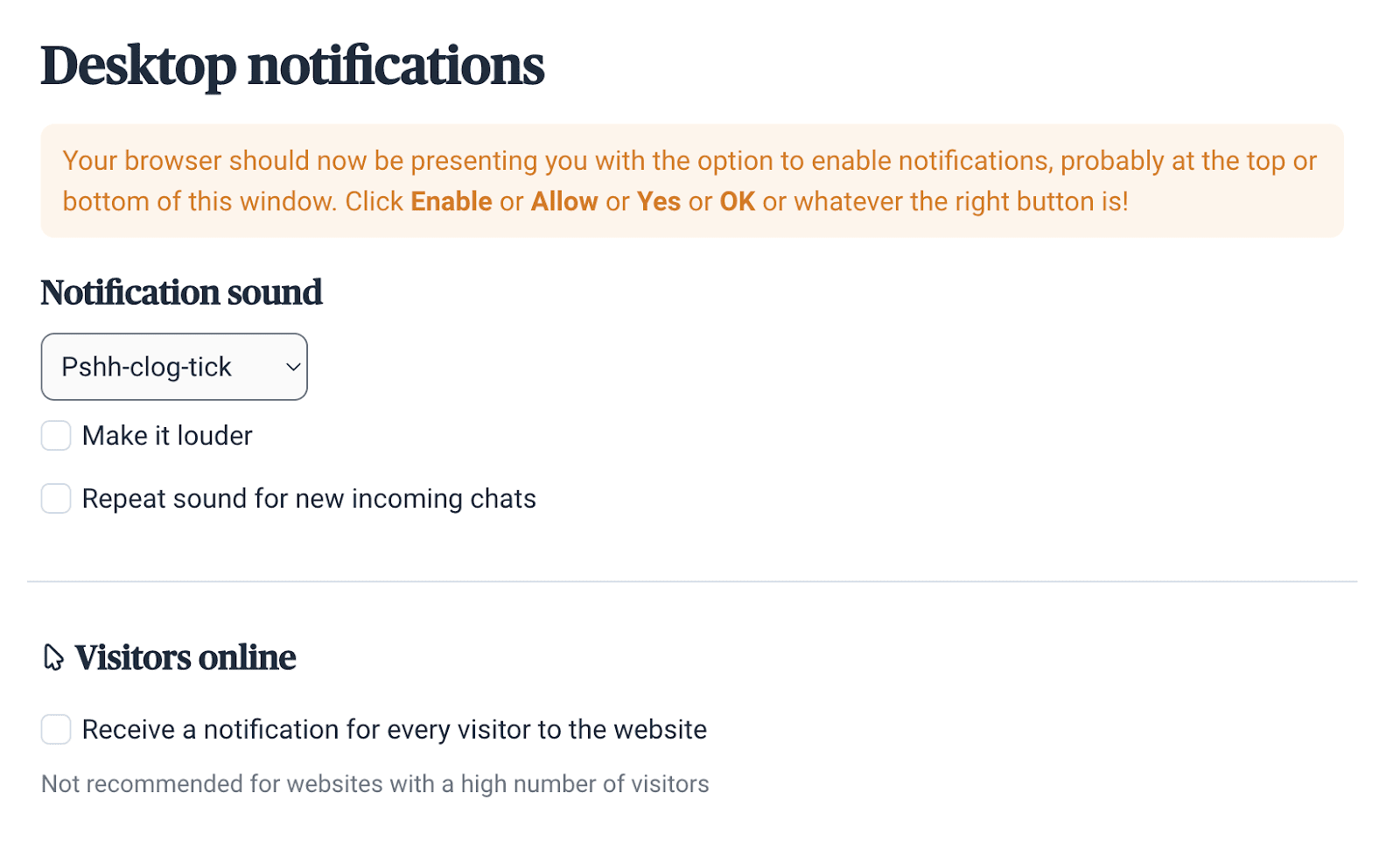 Desktop notifications ensure you never miss a message.
Related: Live Chat for Business: 9 Best Practices in 2022
Grow Your Business with Live Chat
Adding chat to your website is an easy and affordable way to grow your business. Connect customers with live chat agents. Provide personalized, one-on-one support via a website chat widget.
With Brevo's chat widget, it's easy (and free) to embed live chat on your website. Get started today! 💬
Add Live Chat to your website with Brevo
Free plan includes unlimited chats from one seat, fully customizable Chat Widget, plugins, mobile app capabilities, and complete chat history.