Reading time about 18 min

Compared to self-serve solutions, choosing an enterprise email marketing software is a whole other ball game. Email volume, pricing, features, and integration needs are going to be completely different from that of a small business.
The internet is awash with information on email marketing tools for small to mid-sized businesses. But when it comes to enterprise email marketing, things seem to dry up pretty quickly.
If you're on the hunt for an enterprise email service provider (ESP) and not sure what to look for, you've come to the right place.
This guide will walk you through:
But first, what exactly do we mean by 'enterprise'?
What defines an enterprise
In business terms, an enterprise is a large business with hundreds or even thousands of employees.
Specifically, according to the OECD, an enterprise is a business that employs more than 250 people.
So think of it in terms of a large structure with lots of employees, customers, leads, and subscribers.
Basically, we're talking lots of data. And this'll be a key factor to take into account when choosing enterprise email marketing software.
What's the difference between enterprise email marketing and small business email marketing?
Naturally, some email capabilities will be important regardless of business size—data protection, deliverability, and design to name a few.
But email marketing packages for large businesses have a number of key differences compared to those geared toward smaller outfits.
An enterprise email service will typically differ in terms of the following characteristics.
Data management
Enterprise email solutions need to be able to store and handle vast amounts of data.
Contact management
Capable of storing and segmenting a large volume of customers, subscribers, and leads.
Email volume
High-volume email marketing functionality to communicate with a large number of subscribers.
Customization
Lots of ESPs provide custom packages for enterprise email. This means a lot more flexibility than the self-serve plans aimed at small businesses.
Examples of customization options include email send limits, number of contacts stored, customer support, features, and integrations.
Price
Bulk email marketing with advanced features and support comes with a steeper price tag. No surprise there. But as you'll see in our comparison below, some enterprise solutions are a lot more affordable than others.
The most common use cases for enterprise email
Welcome emails
Lead-nurturing sequences
Transactional messaging (order confirmations, shipping notifications, password resets, account updates)
Automated emails triggered by website or subscriber activity
While a small to mid-sized business/ecommerce might have similar email workflows, robust email automation and segmentation is key for an enterprise in dealing with large numbers of customers and subscribers.
We'll look at these in more detail now as we deep-dive into enterprise email marketing features.
What features to look for in an enterprise email solution
So, what are the enterprise email marketing tools that'll generate successful campaigns? What, specifically, should you look for when comparing enterprise email solutions?
You're about to find out as we've put together an extensive summary of the key email success drivers.
The best enterprise email marketing platforms have most or all of the following features.
Email automation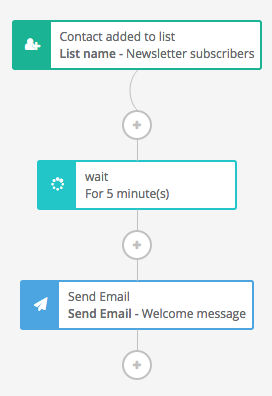 Email marketing automation is when you send an automated email or series of emails in response to a contact's behavior. This could be clicking a specific link, buying a certain category of product, abandoning a checkout, etc.
Manually sending out individual emails is out of the question for enterprise-level communications. Email automation is necessary to cut out manual work and send the right message at the right moment. This is essential for providing a 5-star customer experience.
So, what should you expect from an enterprise ESP in the automation department?
Basic autoresponders are the minimum. But an enterprise email provider worth its salt will have advanced automation options.
The ability to set up automation based on if/then/else logic, trigger emails from on-page events, and set up automation through a visual workflow builder are all examples of advanced capabilities that are essential to managing a large volume of emails.
If your goal is to scale your business, look for an ESP that offers a multichannel enterprise marketing automation suite.
Advanced segmentation
The ability to segment contacts according to their different attributes, behavior, and demographic information is an essential enterprise marketing tool.
Why? Because the more relevant and personalized an email is, the better the engagement and conversions will be.
Find a tool that'll let you segment at a granular level. Automation comes into play here too. Features like lead scoring and dynamic segmentation will save time by automatically updating customer profiles and contact lists.
Priority support
When you're paying top dollar for an enterprise email service, you want to make sure help will be readily available when needed. Multiple support options by phone, chat, and email are the norm.
The best enterprise email solutions will go a step further and provide a dedicated customer success manager. Not only will this person help solve issues, they'll also take care of setup and onboarding.
This is key because as you'll discover later on, some enterprise email marketing tools have a steep learning curve.
A helping hand will make things a lot easier and faster — especially for the initial platform migration if you're switching from another ESP.
Integrations
Plugins and integrations that connect with your website and other enterprise software are essential.
A/B Testing
Test and learn — one of the best ways to improve email open rates and conversions. Look for a solution that'll let you A/B test email subject lines and content.
Custom reports and dashboards
You want to be able to track key email performance metrics and easily download reports.
A good enterprise email software will provide granular reports in real time. These are especially insightful for transactional emails where on-time delivery is crucial.
Bonus points for additional analytics features like heat maps, geography, and device reporting.
Email templates and design features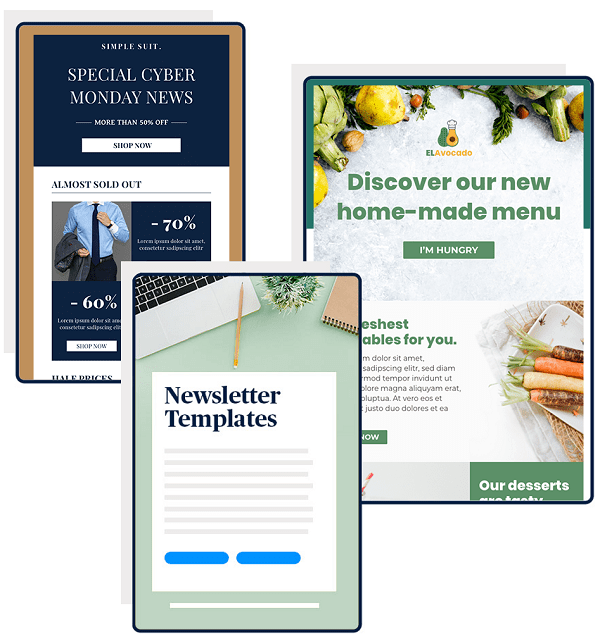 This really depends on your in-house design resources.
Don't have an email designer or your team doesn't know how to code HTML? Then beginner-friendly email editors like drag-and-drop builders will be your best friend.
Any service providing custom email templates is a big plus if you want killer designs that'll stand out in the inbox.
Service Level Agreement
An SLA will give you peace of mind. It'll cover things like uptime commitment or a fixed support response time.
SSO (Single Sign-On)
Reducing logins to one set of credentials is important for enterprise security. An SSO feature avoids employees handling multiple passwords and reduces potential security threats.
Sub-account and multi-user access
Enterprise marketing teams are typically big, often spanning multiple business entities and territories. An enterprise email solution needs to be able to accommodate a large number of users.
Look for solutions with sub-account management features and IP addresses for different business units. Basically, a centralized solution that still gives teams independence and flexibility to manage their own email marketing strategies.
Dynamic content and email personalization
We've said it before and we'll say it again: Personalized, relevant emails have better engagement rates.
Dynamic content refers to email content that automatically displays messages according to if/then/else logic.
For example, if a customer buys an outdoor tent, then send an upsell email template that's automatically populated with other camping equipment. This is dynamic content.
CRM functionalities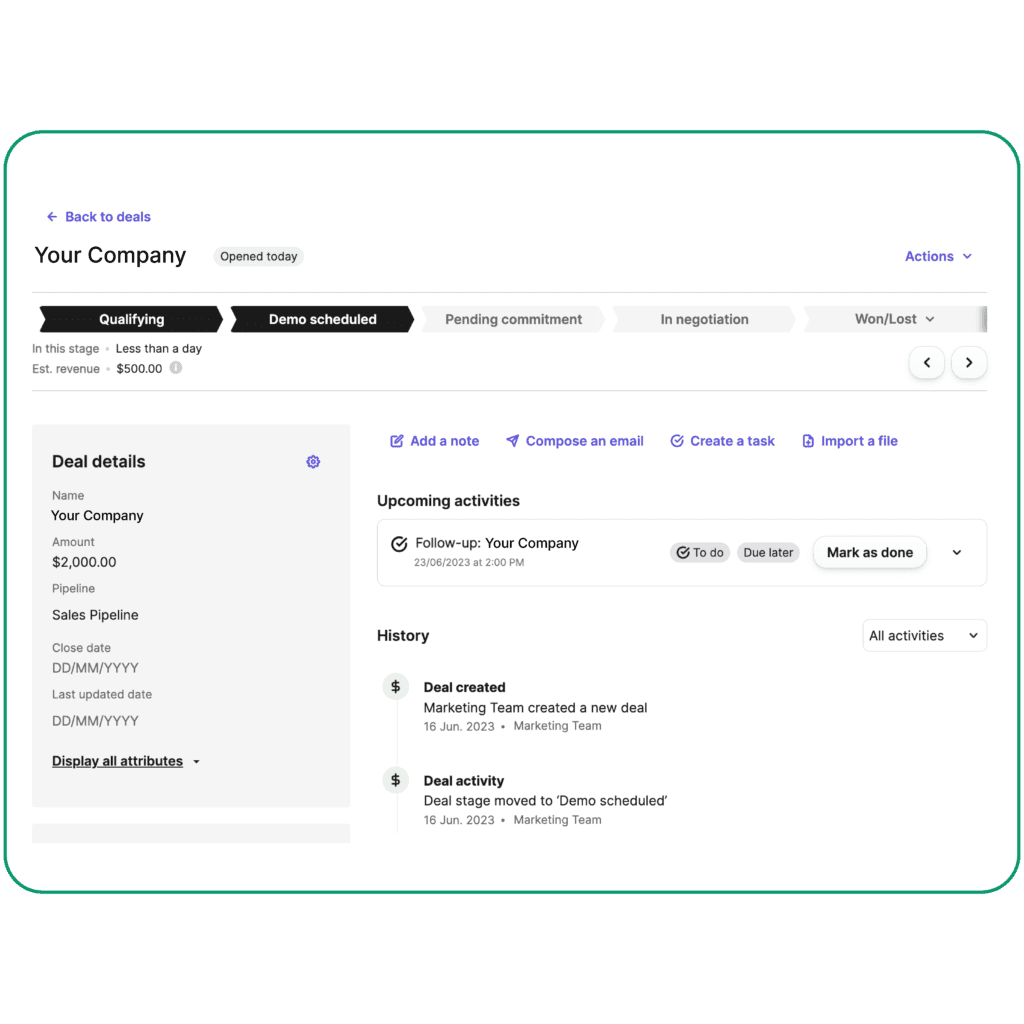 With so much customer data on your hands, a CRM module that centralizes contact information in individual profiles is sure to come in handy.
Do I need all these features for enterprise email marketing?
Depends on your business needs, strategy to execute, and team skills.
The last thing you want is to end up overpaying for functionalities you'll never use.
Making that distinction between 'essential' and 'nice to have but not essential' could save you thousands of dollars in the long run.
Above all, your enterprise email service needs to be easy to use and scalable.
What are the best enterprise email marketing platforms?
There are the big name brands in the B2B enterprise niche that you've probably heard of (like Pardot, Marketo, HubSpot).
Then there are lesser-known but more affordable ESPs (like Brevo and ActiveCampaign). They cover SaaS, ecommerce, B2C, and B2B, and have dedicated enterprise plans.
Let's take a look at what each one has to offer.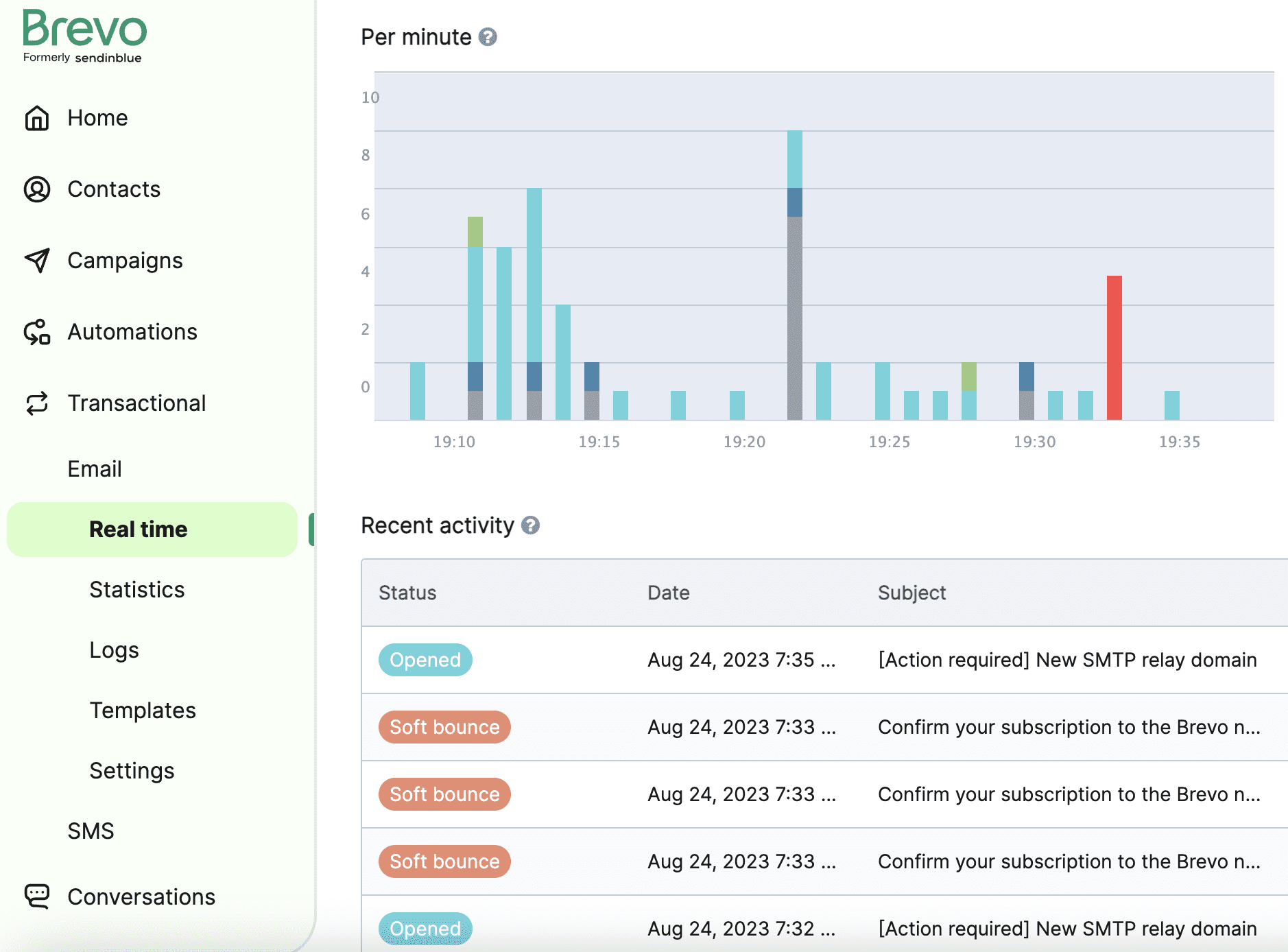 Brevo is a top choice for an enterprise email marketing solution as it's a whole CRM suite with full email marketing and omnichannel capabilities. Brevo's deliverability infrastructure, run by a team of deliverability experts, lands your emails in the inbox, be it marketing or transactional.
You'll have a dedicated IP to maintain your sender reputation and be granted priority sending on our email servers.
A dedicated customer success manager will oversee the setup and take you through a personalized onboarding — including warming up your dedicated IP. They'll also consult with you to set email marketing KPIs and follow your progress toward these goals.
Here's a quick look at what to expect from Brevo's enterprise email marketing service, BrevoPlus:
Priority support available 24/7 (phone, chat, email)
Sub-account management with a master account where you can configure all sub-accounts and assign email credits against each sub account. Each sub-account has separate dashboards and email lists, unique API keys, and dedicated IPs.
Drag-and-drop editor plus the option to customize email templates with our HTML email designers
No daily sending limit on our bulk email server
Custom plugins and integrations with your WordPress website or other software
Single sign-on
Easy contact management of unlimited subscribers
Advanced segmentation
Transactional emails & SMS
WhatsApp marketing
Instagram and Facebook messaging management
Easy SPF, DKIM, and DMARC setup to authenticate your domain
Landing pages for lead generation
Marketing automation suite with multichannel workflows and if/then/else logic
Sales Platform for pipeline management, lead scoring, meeting scheduling
Platform available in 6 languages (English, French, German, Spanish, Italian, Portuguese)
To learn more about our Enterprise offer, just fill out the form on this page and we'll get back to you.
In the meantime get inspired by these success stories from brands like Great British Chefs, Monisnap, and TravelSuperMarket which are all using Brevo to power their email marketing campaigns.
2. Pardot by Salesforce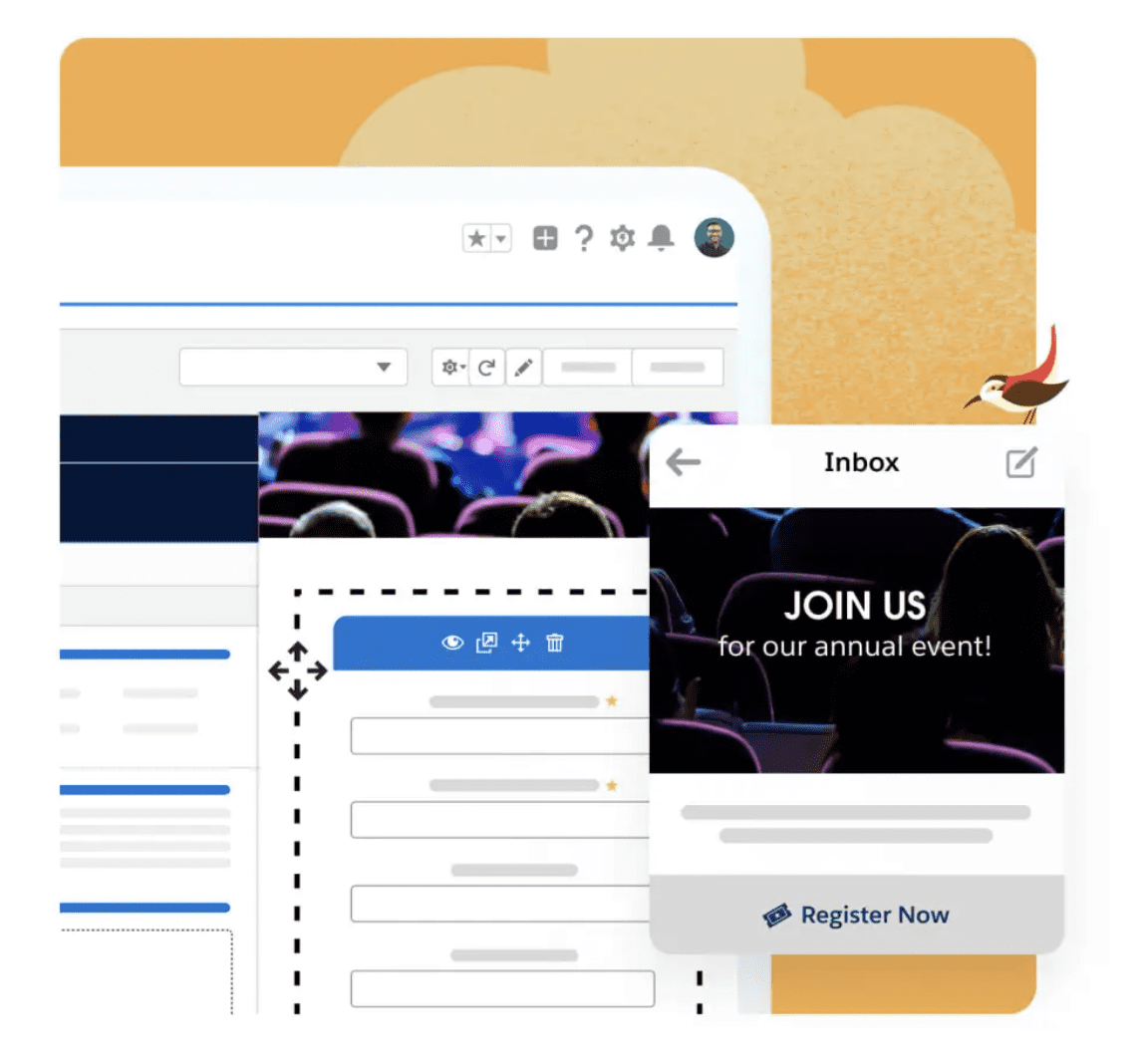 Pardot, now Marketing Cloud Account Engagement, is an email and marketing automation software geared towards B2B marketing. It's a Salesforce product so naturally one of its main advantages is the integration with Salesforce.
The platform supports five different languages: German, English, French, Japanese, and Spanish.
As far as enterprise email marketing goes, it has an email builder for creating responsive templates as well as a number of custom design features.
The visual automation builder makes it easy to create complex automation workflows. A lead scoring system tracks prospect behavior on your site and then assigns a score based on custom parameters set by you.
Other Pardot bonuses include:
Personalization and dynamic email content
A/B testing
Segmentation
A custom from address and signature
Spam filters to optimize email content quality
CRM integration with automated lead nurturing for sales reps
Pardot is not without its downsides though. G2 reviewers have cited the following disadvantages:
Cost. The tool is specifically aimed at large enterprises so it comes with a steeper price tag than service providers who also target small businesses.
Complicated setup.
Steep learning curve. Some users have claimed that the user interface is counterintuitive and difficult to navigate. So it'll take time to get a hang of the tools and features.
Limited email design options and basic templates
Further reading: Salesforce Alternatives: 9 Out-of-the-Box CRM Tools
3. ActiveCampaign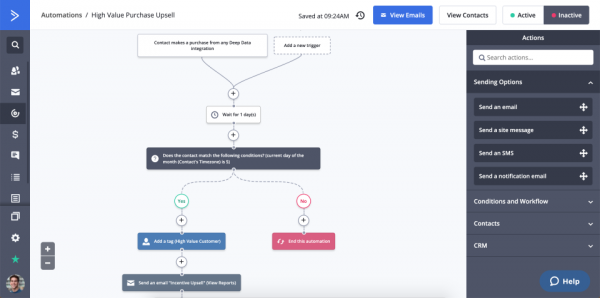 ActiveCampaign is primarily geared towards small to mid-sized businesses but also has an enterprise email offer. It's one of the more affordable options compared to bigger brands like Pardot and Marketo.
ActiveCampaign is known for its automation features and has many ready-made automation 'recipes' (workflows) to help you get started quickly.
Notable features for enterprise email marketing include a dedicated account rep and priority support by phone, chat, or email.
Subscribers' data collection and segmentation features are well up to scratch. On top of subscription forms for lead capture, you can gather social and demographic information from your contacts' public social media profiles.
ActiveCampaign has integrations for 150+ apps and an API to integrate with your existing ecosystem of tools. Some other good news is that you can add unlimited users at no extra cost.
The automation software is more suited to advanced users than beginners. That said, their enterprise offer does include in-depth onboarding and training to bring you up to speed.
4. Marketo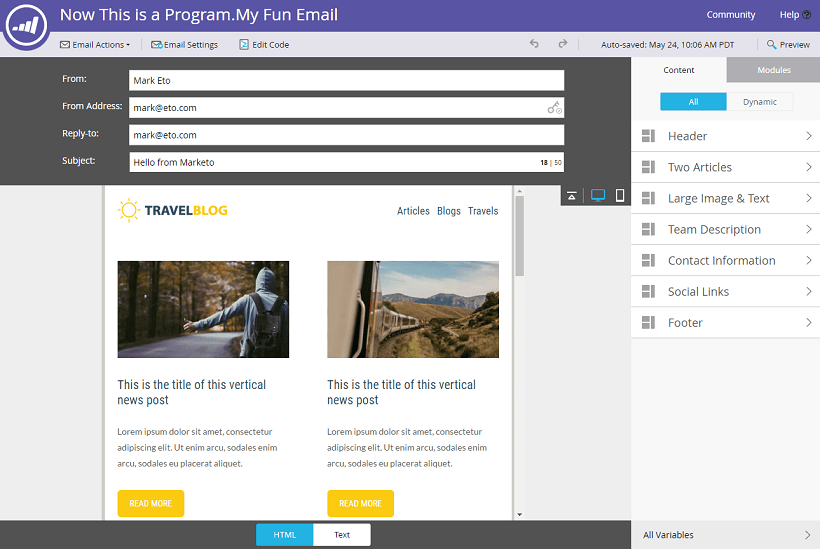 A popular choice for enterprise businesses, Marketo is a suite of marketing automation tools built by Adobe.
It's primarily used by marketing and sales teams to track leads' behavior as they move along the sales funnel. Its integrated approach to sales and marketing allows businesses to correlate marketing investment to the sales pipeline and revenue.
The email marketing solution is called Marketo Engage and is one of several Marketo products. So you have the flexibility to only pay for the ones you need.
Advantages of Marketo as an enterprise email marketing provider:
Scalable & flexible with lots of automation possibilities to build a powerful email marketing strategy
Populate dynamic email content based on contact behavior
A/B testing
Starter templates and easy to build email campaign editor
Segmentation
Detailed reports and analytics
Unfortunately when it comes to cost, Marketo is one of the more expensive enterprise email providers.
Also worth a mention is the ease of use — or lack thereof, in this case.
Marketo is not an easy software to use straight off the bat. To reap the benefits of all the different features, you'll need to factor in training time to learn and understand the program.
Another downside is the lack of native CRM but it does boast plenty of integration possibilities with other software.
5. HubSpot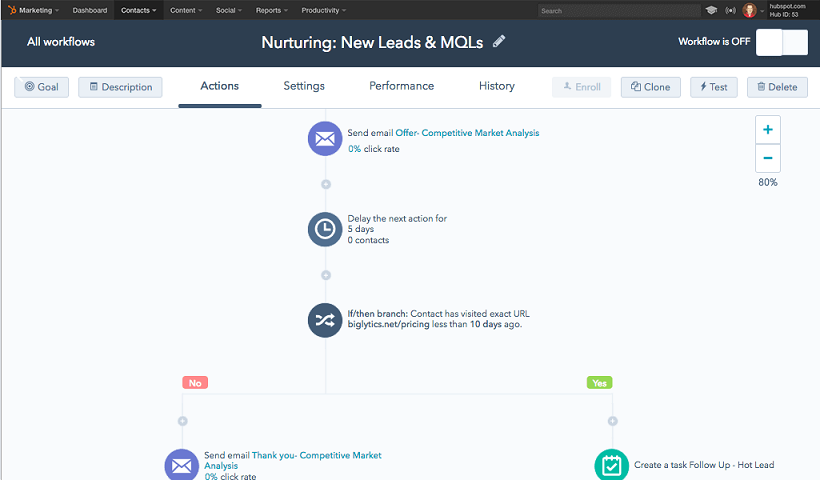 Another well-known digital marketing tool, HubSpot also has enterprise email marketing as part of its Marketing Hub Enterprise offer.
This solution combines email marketing with a range of other features for enterprise marketers, including multi-touch revenue attribution, adaptive testing, account-based marketing, and advanced chat targeting.
It's a good choice for large-scale organizations as it lets you consolidate all marketing efforts on one platform. You can also add CRM software by combining it with their separate Sales Hub product.
Other advantages include:
Sophisticated analytics and reporting
User-friendliness and easy-to-create email marketing campaigns
Lead scoring
Sign sign-on
Landing pages
Pricing on Marketing Hub Enterprise starts at $3,600 for 10,000 contacts. If you have a large number of subscribers this can quickly amount to a significant investment.
But the good news is you can test-drive the email marketing feature on the free plan first before making a commitment.
Final words of advice on enterprise email marketing software
With enterprise email marketing solutions it's easy to end up paying an arm and a leg for a bunch of features you don't need.
Do the research and test-drive the software with your team. At the end of the day, you want an enterprise email platform that works well for your business and employees.
After all, they'll be the ones using it. So work towards finding a user-friendly tool that'll make their jobs easier.
And finally, consider email marketing tools that also serve small businesses (Brevo, Mailchimp, Constant Contact, Campaign Monitor).
Lots of these have powerful email software to rival the biggest enterprise brands. They're also likely to have more intuitive interfaces and easy-to-set-up free trials.
Interested in learning more about how Brevo can supercharge your email marketing? The Brevo team is here to answer your questions.
Level up with BrevoPlus
Tailor-made tools to support advanced needs. Choose BrevoPlus to scale your success with uncompromised agility.