Reading time about 11 min

Automation software offers vast opportunities for creating more effective marketing campaigns. But exactly what it can do for your business depends on your audience. Learn what marketing automation looks like in a B2C context and how you can use it to get — and keep — more customers.
B2C marketers face unique challenges compared to their B2B counterparts. They must serve up campaigns that cater to a broad audience while still making the consumer feel like an offer is made for them.
Marketing automation makes this possible, allowing you to create personalized experiences for customers at scale.
This guide will help you understand the differences between marketing automation for B2C and B2B audiences to ensure you're using it in the best way for your business. Plus you'll find example automation scenarios that you can try across the B2C customer journey.
What is B2C Marketing Automation?
B2C marketing automation involves automating campaigns that promote a company's products or services to individual consumers. It covers both attracting new customers and retaining them once they convert through targeted messages.
Whatever your business type, marketing automation can improve the customer experience by helping you target people with the right message at the right time. In a B2C context, it allows marketing teams to:
Improve conversion rates through personalized campaigns that address customers' individual needs and interests
Increase customer retention and repeat purchases with the right content to keep them engaged
Prevent lost customers thanks to well-timed messages
B2B vs. B2C marketing automation: What's the difference?
Since B2C companies directly target consumers — rather than other businesses as in B2B marketing — they should take a different approach to engaging their audience. And this also translates into how they use marketing automation.
Below are some key factors that set B2B and B2C marketing automation apart.
The customer journey
Companies make purchasing decisions very differently to individual consumers. While you might decide to buy something on a whim, they normally go through a lengthy process before committing, involving various stakeholders.
B2C's shorter sales cycle leaves less time to convince potential customers. So, while B2B marketing automation focuses on lead nurturing that gradually educates prospects on their offer, B2C campaigns are more conversion-focused with content like personalized product recommendations.
Read more: 12 Tips for Standout B2C Email Marketing
Contact segmentation
B2C target audiences are generally much larger than those of B2B companies who focus their marketing efforts on building close relationships with prospects in their niche. As a result, B2B marketers build more detailed profiles for each contact, often using CRM software.
However, this doesn't mean you can't create personalized experiences for your B2C audience. Instead, marketing automation helps B2C marketers segment their audience based on contacts' characteristics and behavior to target them with relevant content.
Campaign channels
Individual consumers are looking for convenience. This means your campaigns need to reach them via the right channel.
As a result, B2C marketing automation has a more multichannel focus. While email automation works well whatever your audience, B2C strategies are more likely to involve other channels like SMS, WhatsApp, and social media.
B2C Marketing Automation Software
In the past, companies enjoyed far fewer options when choosing a marketing automation solution, with those available designed for large enterprises catering to B2B audiences.
Now it's a different story. New platforms have emerged with automation features that are not only accessible to small business budgets but also more suited to B2C purposes.
When choosing between different marketing automation services, aside from factors like pricing, functionality to look out for as a B2C business includes:
There should be flexible options to group contacts based on the criteria you need, including their characteristics and actions. This will help you target the right people with your campaigns.
Your software should track activities like how users engage with your email campaigns and website, allowing you to create automated journeys that adapt to their real-time behavior.
If you're selling online, linking your store to your marketing automation platform allows you to use customer data like purchase history to trigger campaigns and personalize content.
Depending on how you plan to interact with your audience, you'll want features that go beyond email marketing. For example, you might want to trigger automated SMS messages or have a tool for creating dedicated landing pages for your campaigns.
This allows you to experiment with elements in your campaigns and even test whole customer journeys to find what works best for your audience.
Want a B2C marketing automation tool that's powerful and affordable?
With Brevo you'll get multichannel workflows, templates for common scenarios, and integrations with major ecommerce platforms. All automation features are free to use with up to 2,000 contacts, or unlimited marketing automation starts at just $65 a month.
5 Ways to Use Marketing Automation for B2C Businesses
Now you've got your head around B2C marketing automation as a concept, here are some scenarios where it can help you enhance the customer experience and get more sales.
1. Welcome new customers
When someone first discovers your brand, you want to make sure they stick around.
Marketing automation enables you to target this audience with campaigns that lay the foundations for a long-term relationship.
For first-time customers or those who've just signed up to your service, automated onboarding emails like the example below give the introduction they need to your product. Content should reassure them they've made the right choice and provide information for getting the most out of their purchase.

New subscribers to your email list can also benefit from dedicated messages to sustain their interest and build brand awareness.
For example, in this welcome email created using Brevo, B2C retailer The Little Traveler highlights what they have to offer both online and at their physical store. The coupon code gives subscribers an extra push to get shopping straight away, while also making them feel appreciated.

2. Get reviews
Once you've welcomed a customer into the fold and they've had time to try out your product, it's the prime opportunity to ask for feedback. Any positive responses will be a valuable tool for attracting more customers in the future.
To automate this process, trigger messages a set amount of time after purchases with a call to action to leave a review.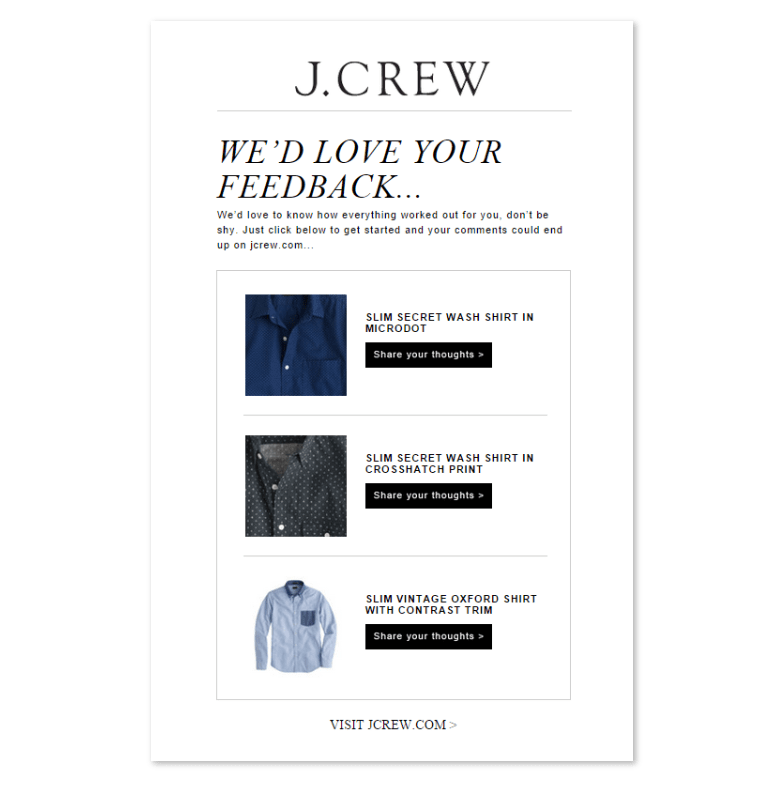 As well as product-specific reviews, you could also collect general testimonials about your company. To up your chances of getting a glowing review, make your automation more targeted by only including repeat customers who were satisfied enough to buy again.
3. Combat shopping cart abandonment
If your B2C business has an online store, abandoned cart emails are a must for your marketing automation strategy. These are triggered reminders to shoppers who added an item to their cart but didn't end up buying, aiming to tempt them back.
Below is a template abandoned cart message created with the Brevo email editor. It contains the essential elements — information about the customer's chosen items and a link to their cart to easily finish the purchase.
You can also get more creative by adding content to persuade the shopper, such as a discount code or free shipping offer, customer reviews, and recommendations of other products. For a dose of inspiration, check out these abandoned cart email examples.
You don't have to limit yourself to email either. Try setting up a workflow that integrates other channels to make sure your message doesn't pass shoppers by. For example, you could also send a "last chance" reminder via SMS or use Facebook retargeting ads to reach customers outside of their inbox.
4. Personalize your offers
A key benefit of marketing automation as a B2C business is that it helps you collect customer insights that you can use to serve individuals with relevant offers. These campaigns are not only more likely to generate sales but they'll also keep your audience engaged with your content.
For example, TravelSupermarket uses Brevo's marketing automation software to track users' activity on their website and send campaigns based on their interests. The email below for instance is triggered by visits to pages related to trips to New York. It includes a good mix of inspirational content and calls to action that encourage the recipient to take the next steps in planning their trip.

TravelSupermarket's email also takes the opportunity to promote similar destinations that might be of interest. This tactic can work in post-purchase communications too. For example, fashion brands might send "complete the look" suggestions that cross sell other items a shopper could pair with their recent purchase.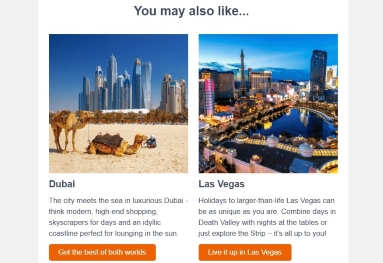 Check out the top marketing automation software picks to start automating your workflows.
5. Keep your customers loyal
In B2C marketing, attracting new customers is only half the battle. The real challenge comes in making sure they buy again and again.
A special offer sent at just the right moment is one effective way to make customers feel valued and keep them on board.
Automated birthday emails are an easy example of this. All you need is to collect subscribers' date of birth on sign up, then you can set up birthday messages that include a coupon or freebie as a gift.
To reward your most loyal customers, you could trigger similar campaigns when someone has made a certain number of purchases or been with your company for a defined period.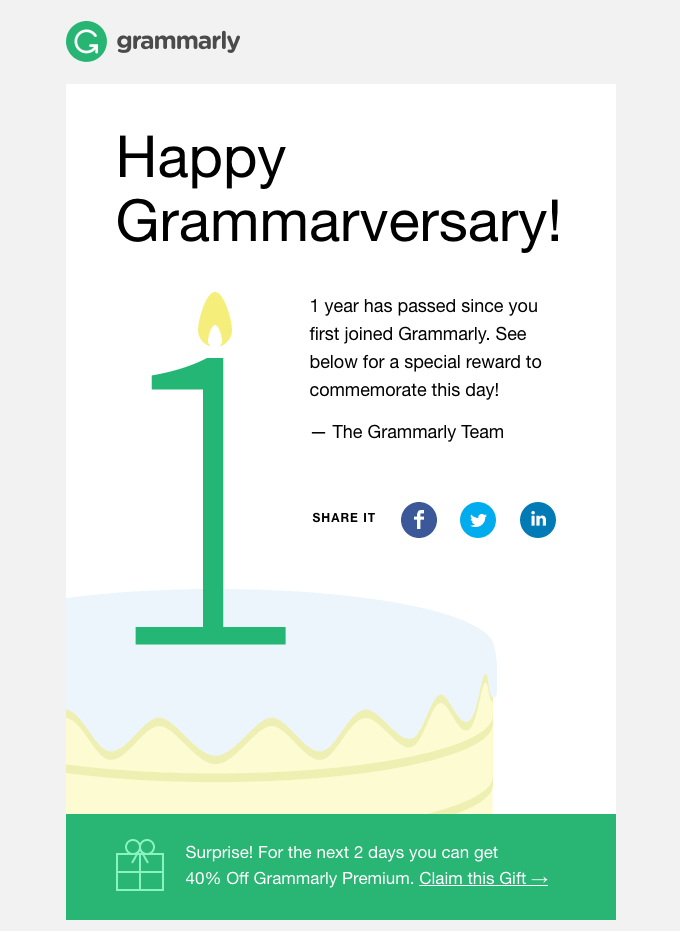 On the flip side, dedicated offers can also help lure back customers who've dropped off recently. Particularly effective are time-sensitive deals, like in the automated SMS campaign below.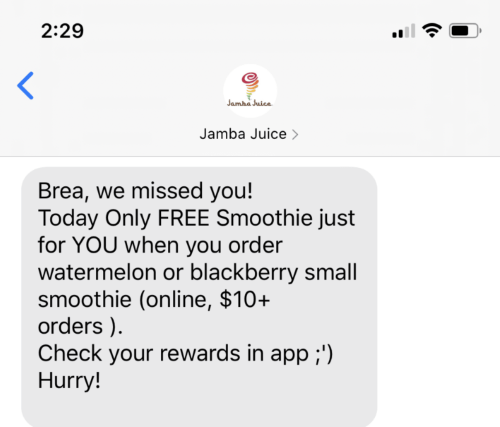 Ready to Kick Start Your B2C Marketing Automation Strategy?
Above you've seen just some of the ways you can use automation to create more targeted campaigns for customers. The next step is to take a look at your own customer journey and identify where automated messages will bring most value for your business.
If you're looking for more resources on getting the most out of marketing automation, be sure to check out our other content:
Become a Marketing Automation Expert
Try Brevo Academy for free