Reading time about 10 min

Whether you're just starting out or looking to improve on your existing activities, these marketing automation best practices will make sure you get the most from your efforts.
Marketing automation is often lauded as the solution to all your problems as a marketer — from improving conversion rates, to eliminating manual tasks, to boosting customer retention.
And it's true, automation has the potential to bring significant benefits for your marketing strategy. But only when it's done right.
If you're in need of some direction on how to make best use of your marketing automation tool you're not alone. According to one survey, 61% of companies said they found the process of implementing marketing automation difficult.
Maybe your automated campaigns aren't getting the engagement you expected or you feel you're not using your marketing automation software's full capabilities. The best practices below will give you actionable tips for how to make marketing automation work for your business.
Further reading: 10 Best Email Automation Tools for Growing Businesses
7 Best Practices for Marketing Automation Success
1. Know your audience
The word automation might make you think of impersonal campaigns churned out en masse. But if you're following marketing automation best practices the result should be far from it. The key is to make sure you're creating campaigns with your target audience in mind.
The best way to do this is to first come up with buyer personas for your business. These are descriptions of your ideal customers, including details like demographic information, interests, motivations, and pain points.
You can create your personas based on your own customer data and market research, using tactics such as:
Surveys, interviews, and focus groups
Website and social media audience analytics
Contact form data
Insights from your sales team
Once you're clear on who you're targeting, you can tailor the content of your automated campaigns to their needs and avoid messaging coming across as generic.
2. Understand your customer's journey
Your audience's expectations don't remain static. Instead, they evolve as individuals go from first discovering your brand to becoming a customer and beyond. Your automated campaigns should reflect this by feeding contacts with the right content for the stage they're at to help them move through the process.
Start by creating a customer journey map, a visual representation of all the touchpoints a customer goes through with your company. This will help you decide what customers should receive and when, to build out your marketing automation workflows.
For example, you might set up a series of automated welcome emails for when people first subscribe to your list. Since these will target new leads, rather than being overly promotional your messages should build trust before trying to convert them. You can then use your automation software to customize the next steps based on how contacts engage.
Once a customer converts, the buyer's journey shouldn't end there. Further targeted campaigns will help sustain their engagement and keep them loyal to your brand.
For newly converted customers, this might take the form of an onboarding workflow that guides them through getting set up with your product or service. Meanwhile, you can target current customers whose engagement has dropped with content to reignite their interest, like the email campaign below.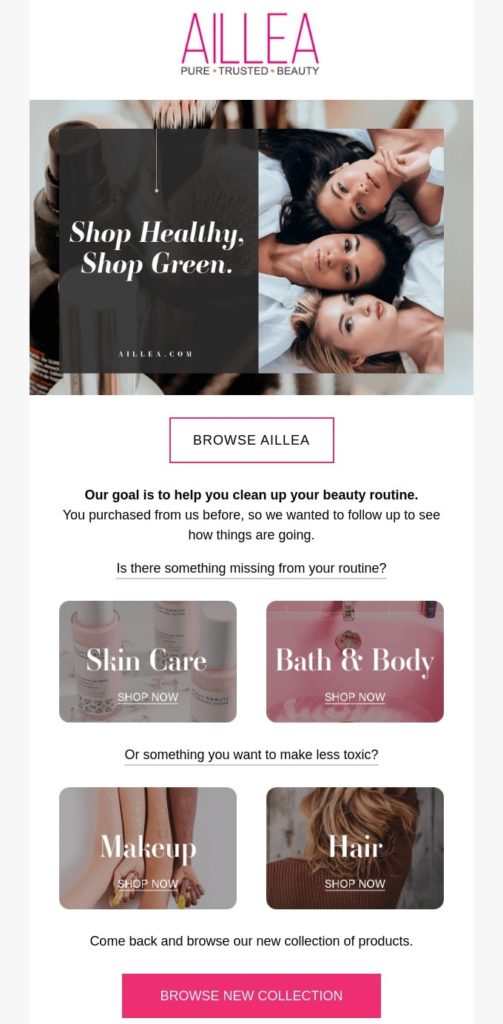 3. Collect the right data
Marketing automation isn't about simply running campaigns on a larger scale. Instead, it should ensure you only send messages to those they are relevant to. And for this you need the right information about the individuals making up your audience.
You can start building up a picture of each contact in the lead capture stage through questions on your signup form. What you need to know will vary depending on your business. Ask yourself what traits influence your customers' needs and motivations. For example, in a B2C context demographics are often an important factor, whereas in B2B marketing the company profile like its size and sector is more relevant.
You should continue collecting customer insights as they interact with your company. This behavioral data, such as what content users engage with and any purchases they make, offers valuable clues about a customer's interests.
With the information you gather, you can use list segmentation to group contacts by shared qualities and create different automated journeys tailored to them.
Bonus: Brevo gives you ready segments to use to save you time.
4. Set up lead scoring
Contact behavior can also give an idea of their level of interest in your company. Knowing this will help you determine where they are in the sales funnel so you can better target your automated campaigns.
Creating a lead scoring model removes the need for guesswork. This involves giving different actions a numerical value, depending on how important they are in showing a customer's interest. Actions could be anything from viewing a blog post, to attending a webinar, to visiting your pricing page. Then, using automation workflows you assign points to leads based on their actions and their score will tell you their potential for your company.
Once your lead scoring is in place, you'll be able to identify which leads are ready to hand over to sales and which require further nurturing to maximize your conversions.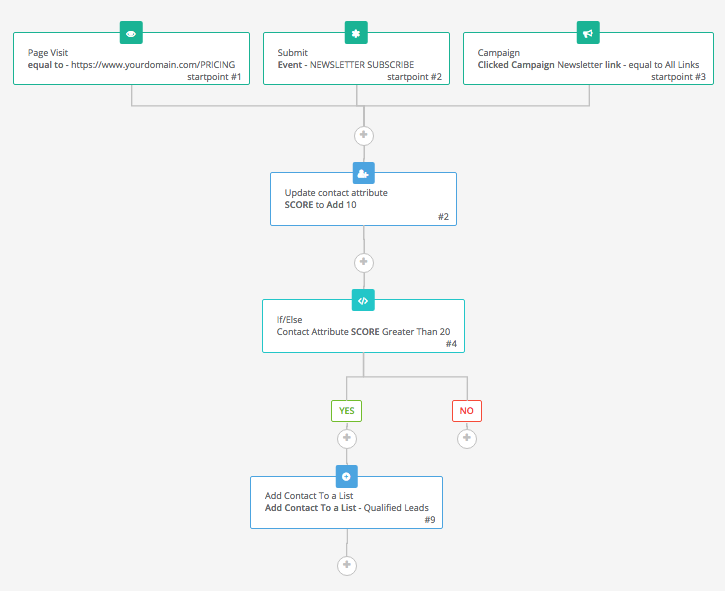 5. Create multichannel experiences
Email automation is the most common way for marketing teams to start automating their campaigns. But if you want to use your software to its full potential you should explore integrating other channels into your workflows.
Limiting yourself to one channel means missed opportunities. By reaching out to customers in a variety of ways, you'll maximize the chances of them engaging. Plus, depending on the nature of your message, a certain channel might be better suited than others.
SMS marketing for example has more immediacy than email. This makes it effective for time-sensitive messages like reminders and follow-ups.
Say you're creating an automation workflow for event registrants. You might start with a series of automated emails sharing information in the build-up to the event, then use an SMS message as a final reminder. Straight after the event you could send a thank you via SMS to attendees along with a request to fill out a feedback survey. This could be followed by further emails that aim to continue nurturing the relationship.
The same can be done with WhatsApp messages as well!
Related: Getting Started with WhatsApp Marketing
You can also combine email marketing with social media ads to increase your customer touchpoints. For example, if you're an ecommerce business you might already be using automation to send abandoned cart emails. You could take this further with an extra step in your workflow for those who still weren't persuaded to buy that adds them to an audience to be retargeted via social media ads.
Looking for more ideas of how to engage your customers with automated campaigns? Check out our introduction to B2C marketing automation, which includes example workflows to try.
6. Automate internal processes not just campaigns
A big selling point for adopting marketing automation is the promise that it'll save you precious time, especially if you're a small business looking to maximize efficiency with limited resources.
However, many limit themselves to campaign automation when there are other manual tasks they could eliminate, depending on the functionality of their marketing automation service. Not only would this free up even more time, but it also reduces the risk of human error.
Brevo, for example, lets you create any automation you want: any event (tracked or imported) can be used as a trigger for automation workflow.
To get you started, here's some ideas for activities you could automate:
Rather than manually managing your contact lists, you can keep them up to date by using automation to add contacts based on triggers like actions they take. For example, the workflow below creates a list of contacts who have converted to customers by tracking purchases.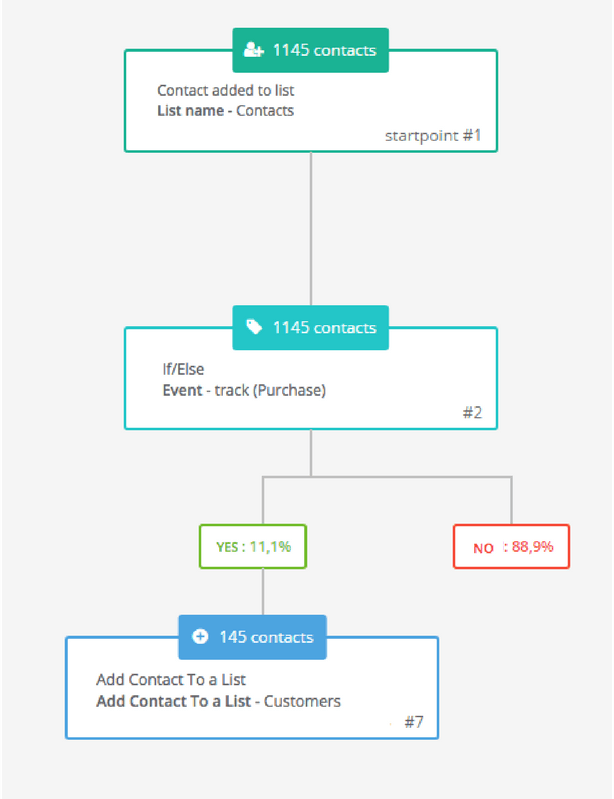 To ensure you're only contacting subscribers that are still interested, you should be regularly removing those who aren't engaging. Marketing automation can do this job for you in the background. Simply set up a workflow that removes contacts when they fit the criteria for being inactive.
To make sure your sales team follows up with prospects as soon as possible you can automatically assign qualified leads to a representative. You can also make sure the right person deals with each lead by adding criteria for assignment, such as the company type or location.
7. Track your performance
Once you've set up your automations don't be tempted to sit back and let the software take over. It's best practice to continue monitoring your marketing automation results to know what's working and what's not. These insights will help you refine your strategy going forward and make any necessary tweaks to your workflows.
How your audience engages with your campaigns will help you know if you're targeting them with content that resonates with their current needs. For example, strong open and click rates are a sign your messages are hitting the mark, while unsubscribes suggest a lack of relevance for the recipient.
Don't forget to also look into your results at a segment level. This will help you understand whether you're dividing up your audience effectively.
Ultimately marketing automation should help you move people along the buyer journey. So it's not enough for them to engage with your content unless it leads to conversions. Tracking the conversion rate for each stage of your funnel will help identify if customers are dropping off at particular points. You can then adjust your workflows to address this.
After spotting an opportunity for improvement, you can run A/B tests within your workflows to try new user journeys or content. Then you can compare performance statistics to determine which approach brings the best results.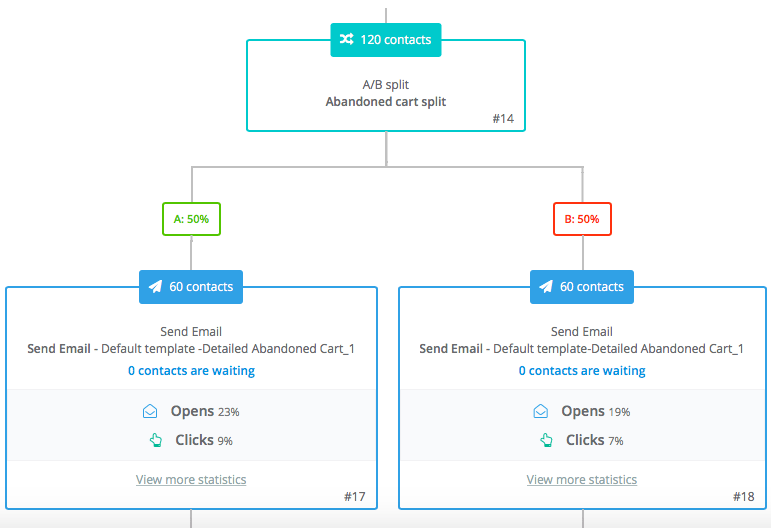 Further reading: 20 Best Email Automation Examples for Marketing Workflows
Let These Marketing Automation Best Practices Guide Your Strategy
Ready to put the theory into action?
Start by laying the foundations for success by making sure you're clear on who you'll be targeting, how, and when. Then, once you're collecting the right data and have your workflows in place, you can explore other opportunities to enhance your campaigns and optimize your processes.
If you're looking for more marketing advice like this, consider signing up for Brevo's monthly newsletter. It comes full of expert marketing tips and exclusive discounts for the platform.
Start using Marketing Automation with Brevo
Visual workflow builder, if/then logic, multichannel steps, performance tracking and ready templates to use. Free for 2,000 contacts.