Considering customer relationship management (CRM) software to drive more sales? In this article, discover the top CRM benefits and how CRM systems can help grow your business.
Customer relationship management (CRM) is a vital framework for growing a company. Use a CRM tool to increase sales, communicate with customers, and improve productivity.
Ready to learn more? We've put together a list of the key benefits of CRM software for small businesses.
The main CRM benefits for small businesses
What is a CRM system?
CRM software is what businesses use to manage customer relationships. CRM software is both a centralized database and a productivity tool. CRM solutions track customer interactions and streamline business processes.
Your sales team can use a CRM for sales management from lead generation to deal tracking. Many CRM solutions let you generate sales reports and coordinate between sales reps. 
Some CRM platforms can also support customer service and marketing teams. Customer relationship management systems store detailed customer information. Use it to analyze the customer journey and run targeted marketing campaigns to boost engagement.
Further reading: 8 Best CRM Software Examples for Small Business
What are the main CRM benefits for small businesses?
Customer relationship management (CRM) solutions are becoming more important for customer service, marketing, and sales teams. With a CRM in your toolbox, you can grow your company faster and more efficiently.
Interested in learning how CRM fits your business needs? Here are the key benefits of CRM software and how it can help your small business.
1. Centralize data and communications
Every CRM is a CRM database at its core. You and your team share a single dashboard and update customer data both manually (such as after meeting leads at an event) and automatically (by connecting apps to your CRM).
This gives everyone on your team access to every interaction and conversation anyone on your team has had with a customer or client. Track purchase history, email opens, and even social media conversations.
Having centralized data means your teams always know where a prospect is in the customer journey — a pretty major CRM benefit. No more wasting time constantly tracking down and updating information — your CRM data is your source of truth and how you'll get to know your customers.
Related: What is a CRM Database?
2. Increase sales
Another CRM benefit is that it streamlines your sales process. CRM systems can increase revenue by as much as 29%.
With CRM, it's easy to update data and monitor leads as they move through the sales funnel with a visual sales pipeline.
Track important metrics and keep sales from slipping through the cracks. Identify easy wins and see when leads are ready for sales outreach. Your sales reps can personalize their phone calls with prospects based on their specific needs and so on.
By managing win opportunities, your sales pipeline will help your salesforce close more deals.
3. Boost productivity with automation
CRM software simplifies how you track contact information and run business processes.
All sales and customer data is in one centralized hub with an easy-to-use dashboard. There, your team members can assign tasks, monitor campaigns, and create workflows in one place without having to use spreadsheets.
CRM tools also let you set up automation. Automate repetitive workflows, such as sending follow-up emails with potential customers or scheduling client meetings. The CRM benefit here is that you're free to focus on higher-value tasks, like creating content to nurture new customers.
4. Streamline teamwork
Another CRM advantage is improved collaboration across teams. Use CRM to share customer information between sales, marketing, and customer service teams and streamline communication.
CRM tools make it easy to manage your salespeople's workflows and assign tasks to different team members. You'll also be able to keep tabs on each member's workload.
When everyone on your team can see who is assigned a follow-up call with a client, or who is replying to messages, nobody has to waste time figuring out what to do next.
This simplifies internal processes. It also keeps everyone on track to meet their goals.
5. Improve targeting and segmentation
Yet another CRM benefit worth mentioning is customer segmentation. Group contacts based on demographics, preferences, shopping behavior, and more. This will help you create targeted campaigns and relevant messages that your audience will enjoy.
For example, group all new leads and send them welcome offers and other messages to warm leads. Or group your top spenders and send them a bonus coupon code.
CRM tools also let you target customers more effectively by grouping your contacts by their customer behavior. Target your shopping cart abandoners with a drip campaign and remind them to finish their purchase. Or get your coupon users excited with a deal just for them.
Customer segmentation is a great way to upsell and cross-sell products too. For example, create bundled deals that appeal to different segments (like students, or young professionals).
With customer segmentation, you'll optimize your existing customer relationships over the sales cycle.
6. Get sales reports and analytics
Reports help you analyze sales and customer data and make smarter business decisions.
Sales reports show your team how successful each step of the sales pipeline is. You can see how many customers you win or lose at a certain stage, and why. You can also track revenue, average deal time, and more.
Reports help your teams adjust the sales cycle and adapt their business strategy in order to improve sales performance. For this reason, they are an undeniable benefit of CRM software.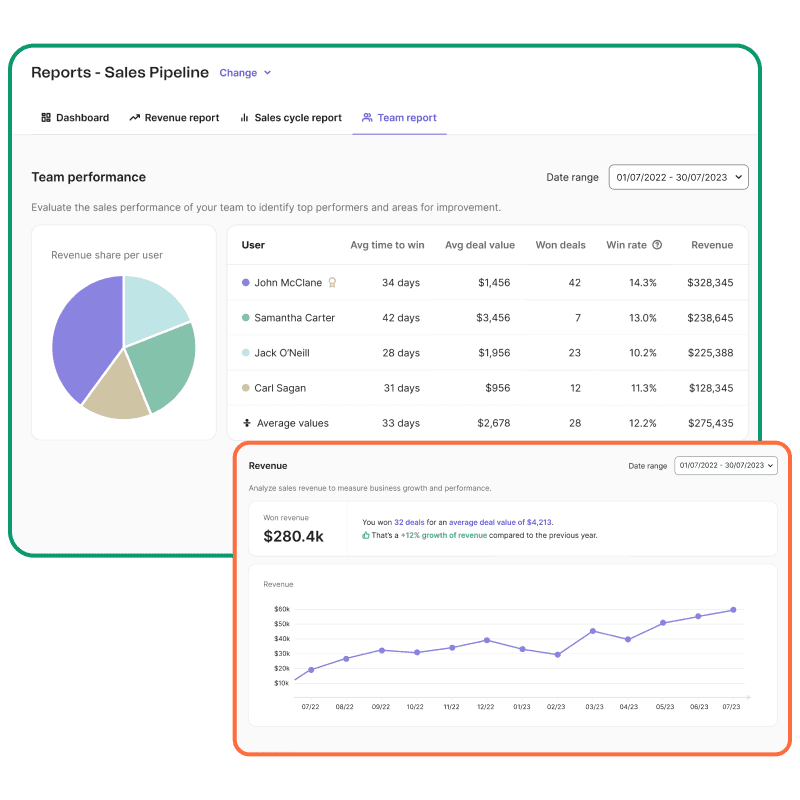 Example of a sales report
Good to know: CRMs like Brevo that offer marketing capabilities can also provide marketing reports and analytics. See how many email opens and clicks you get, and keep tabs on revenue and unsubscribes.
7. Automate sales forecasting
CRM software can also help with sales forecasting. It takes your active deals and calculates the win probability as your leads move down the sales funnel.
This will give you a clearer picture of your expected revenue so you can plan accordingly.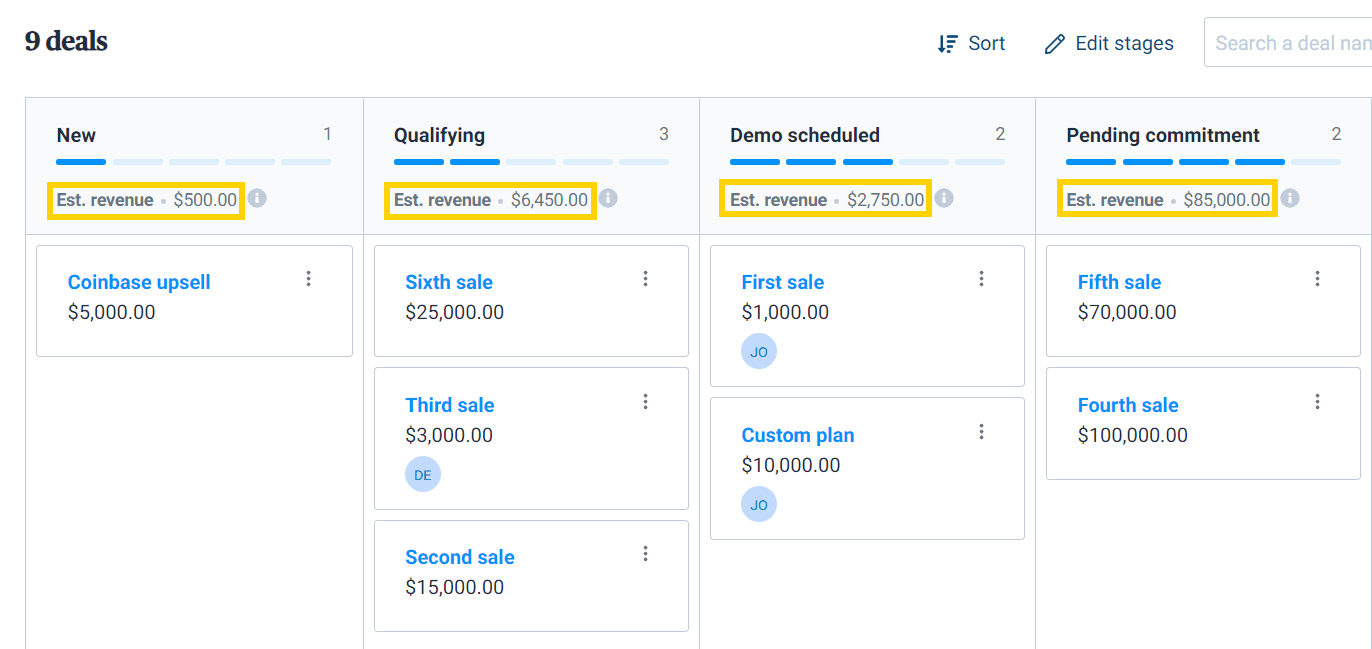 Sales forecasting in Brevo
Related: Top Sales Forecasting Tools for SMBs
8. Provide better customer experience
42% of customer service reps can't resolve issues because the data is stored in different places. It's frustrating to have your bank call you twice about the same offer. Or have a real estate agent recommend an apartment that doesn't fit your wishlist. 
CRM solutions record customer interactions, purchase history, and preferences in a central database. This history in your CRM benefits your marketing teams by helping them plan relevant offers and marketing content, creating a personalized customer experience.
CRM advantages don't stop there. Multichannel management tools help you customize interactions across channels like email marketing and social media. Creating a multichannel brand presence allows you to engage more with your audience and create a well-rounded customer experience.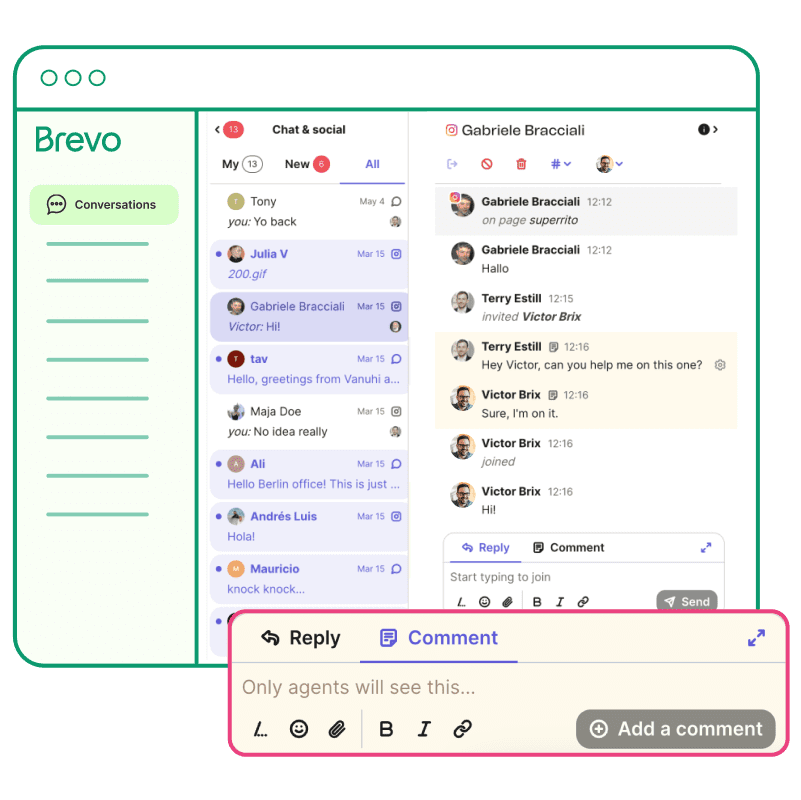 Brevo's universal inbox
9. Boost customer retention
A CRM offers unparalleled opportunities for boosting customer retention. Your CRM data such as conversation and purchase history helps your teams make the next best step with your customers.
Your marketing teams can create relevant offers based on shopping behavior to encourage repeat purchases. Your service teams can stay on top of issues that come up so that you don't lose customers.
In short, all of your interactions will become more valuable to your customers and keep them along for the ride.
10. Improve customer service
CRM gives customer support teams real-time access to each client's purchase history, customer interactions, and past complaints. This insight means your team can easily pick up on customer needs and provide better, faster service.
The better you can support your clients, the more customer loyalty and customer satisfaction you'll enjoy.
It's also important that your customers can reach you easily. CRM tools like live chat software and business phone systems make you available to your customers when they need you. The CRM benefit here is that customers are always taken care of.
Brevo is an all-in-one CRM suite complete with a Sales Platform, email marketing, and multichannel tools. Reach your audience wherever they are and be reachable in turn.
Further reading: CRM vs Marketing Automation: Differences & How to Combine Them in Your Strategy
Discover the top CRM benefits with Brevo
From supporting teams to nurturing loyal customers, the benefits of CRM systems are undeniable. Sign up for a CRM tool and boost your business's bottom line.
Still looking for the right CRM for your small business? Try Brevo's Sales Platform and get started with customer relationship management.
Use Brevo to track your sales pipeline and manage your salespeople's workflows. Personalize the sales pipeline according to your business needs. The interface is easy to use, even for CRM beginners.
Brevo'sCRM solution helps you manage sales processes and marketing automation in one place. With our all-in-one platform, design beautiful email marketing campaigns and book client meetings.
Get started with Brevo's sales solutions
Sales Platform, Meetings, Phone — Brevo has solutions for all your sales needs. Sign up to get unlimited contacts, customizable deal pipelines, meeting scheduling, a free business phone number, and so much more.