Reading time about 13 min

The average email open rate is 25.85%. You aren't the only one struggling to get your promotional emails noticed. B2C email marketing is a tough, overcrowded space.
Yet email marketing has been a major promotional channel for a lot of B2C brands for years. How do you make it work for your business?
Whether you've been doing B2C email marketing for some time or you're about to get started, read on to learn how to bring your campaigns to the next level.
What Exactly Is B2C Email Marketing?
B2C email marketing is a marketing technique that involves promoting a B2C (business-to-consumer) company's content and products through email.
The ultimate purpose of B2C emails is to encourage customers to buy. However, not all email campaigns should directly drive conversions. You can use B2C email marketing to generate prospects' interest, increase brand awareness, boost brand reputation, or foster customer loyalty.
Oftentimes, brands complement B2C email marketing with other marketing tactics, like paid advertising, content marketing, or social media marketing. That's what's called omnichannel marketing.
The Specifics of B2C Email Marketing
B2C email marketing is often opposed to B2B email marketing. If you have experience with running B2B email campaigns, it's important that you understand the difference between these two.
The buying cycles of B2B and B2C customers are quite different. It might take months before a B2B prospect converts into a paying customer. B2C customers usually need from a few minutes to a few hours to make a buying decision.
How is it reflected in your email marketing strategy? To convert a B2B customer, you'd need to build a long, complex customer journey, starting with top-funnel content and gradually moving towards the bottom of the funnel. Also, the B2B customer journey often involves in-person interactions with sales reps, product demos, and trials.
In a B2C customer journey, you don't have much time to nurture your leads. Your message should be catchy and straightforward.
That's why B2C marketing emails usually include discount offers and create a sense of urgency.
9 Types of B2C Emails
These are nine types of B2C emails you should include in your email marketing strategy:
Welcome emails: Once a new user subscribes to your mailing list, you should send out a welcome email that confirms the subscription. You may also include an exclusive discount or another incentive in your message to increase conversions.
Newsletters: Do you have a blog? Maybe you have a great social media account? It's good to distribute your content with email newsletters to diversify your campaigns and build relationships with your customers.
Birthday emails: Congratulate your subscribers with birthdays to strengthen customer loyalty. (Don't forget the gift!)
Seasonal campaigns: These are limited-time promotions sent out during holidays or before special events like (Black Friday or Thanksgiving). Use them to boost customer engagement and conversions during the shopping season.
Discounted offers: You can easily increase conversions from your email marketing campaigns by sending exclusive discount emails.
Customer feedback emails: Asking for feedback from customers is critical to building a customer-centric strategy. Use customer feedback emails to learn what your subscribers think of your brand and their most recent experience with it.
Abandoned cart automation: Abandoned cart emails will help you win back warm leads and incentivize them to complete the purchase.
Upselling and cross-selling campaigns: It's easier to drive conversions from people who bought from you earlier. It also gives you valuable information about their preferences. Upselling and cross-selling emails allow you to reach existing customers with relevant, often complementary products and encourage repeat purchases.
Transactional emails: These are non-promotional messages triggered by users' actions on your website. Subscription confirmations, account activation, password resets, and order confirmations are the most common examples of transactional emails.
12 Best Practices to Make B2C Email Marketing Work for You
How do you work all these types of emails into your strategy and make sure your subscribers won't feel bombarded by your brand communications? Here are 12 proven best practices you should follow to create B2C emails that achieve your goals.
Choose the right service provider
The wrong choice of an email marketing platform will limit your capabilities. Before you decide on a service provider for your business, make sure it has all the features you need.
A good email marketing platform should:
Support both transactional and marketing email sending
Allow you to generate leads with signup forms
Have a built-in CRM solution
Enable SMS marketing
Have a drag-and-drop builder for emails and landing pages
Offer multichannel marketing automation
Integrate with your business software
Not every marketing platform supports different email types, let alone multichannel campaigns. Discover email marketing services, transactional email tools, and email autoresponders.
Most importantly, when choosing an email service provider, pay attention to its pricing model. Are you charged based on the size of your mailing list or email sending volume? Platforms that charge you for the number of contacts on your list quickly become more costly as your audience grows.
Have a lead generation strategy
The success of your email marketing campaigns is determined by the quality of leads on your mailing list. If you attract the wrong audiences, you won't reach your email marketing goals no matter how hard you try.
When building a lead generation strategy, define clear criteria your leads should meet to make it on your mailing list. With this data, you'll be able to create a lead magnet that attracts the right people and choose a channel where your potential buyers are most likely to come across it.
Keep monitoring and optimizing your lead generation strategy to fill your list with the right type of leads. And don't hesitate to clean your email list when leads have gone silent for a while.
Keep up your sender reputation
Poor email deliverability is one of the main reasons behind low email marketing performance. The good news is you can optimize deliverability by improving your sender reputation.
Sender reputation, or sender score, measures the trustworthiness of your IP address. It signals to your recipients' email inbox providers whether your emails are quality enough to reach the inbox or not.
Here are a few steps to help you maintain a strong sender reputation:
Monitor your sender score: Brevo provides it directly on your dashboard.
Invest in a reliable email service provider: Choose a platform with a strict campaign approval process. Even though it might take some time to get your emails reviewed and approved, you won't be sharing an IP address with spammers.
Buy a dedicated IP address: To lower the chances of your reputation being affected by other senders, you can get a dedicated IP address.
Always reach opt-in contacts: To avoid spam complaints that hurt your sender reputation, use opt-in forms for lead generation.
Clean your mailing list regularly: Keeping uninterested contacts on your list will eventually damage your reputation. Clean your list quarterly to prevent this.
Set up automated audience segmentation
List segmentation is the practice of grouping your subscribers into smaller lists based on common traits. By segmenting your audience, you can create more personalized emails for different subscriber groups and drive better results from email marketing.
You can segment your list based on:
Audience demographics (age, gender, or location)
User behavior
Stage in the buyer journey
Purchase history
Marketing channel
Lead score
There's no single right way to segment your mailing list. You'll need to test different approaches before you create segments that work for you. But you don't have to do it manually. With the right email marketing platform, you can set up automated audience segmentation.
Create automation workflows that dynamically send contacts to a specific group based on predefined criteria. Auto-segmentation will save you time and provide you with opportunities you wouldn't have with manual segmentation.
For instance, a proper automation workflow will be continually adjusting your audience groups and email content to the changes in subscriber behaviors.
A/B test your campaigns
There are countless factors affecting the effectiveness of your campaigns. To eliminate the guesswork and bring your emails to stable performance, try A/B testing your content.
A/B testing is the practice of sending different variations of a campaign to an audience segment split into two groups. The method allows you to better understand your audience's preferences and send more campaigns that convert.
Below are some A/B testing best practices to get you started on the right foot:
Identify a problem: What do you want to achieve through your A/B test? Having a clear objective will help you prioritize your A/B test ideas.
Have a hypothesis: The purpose of A/B testing is to prove a point. But before you can prove it, you need to make the point first.
Test one thing at a time: For accurate results, change one variable per test. For instance, when you test different versions of a CTA button, avoid altering your email copy.
Always test email variations against audiences from one segment: You need to put your A/B test in front of people that share common features to get reliable results from your test.
Use the capabilities of your email marketing software: You should be able to set up automated A/B testing in your email marketing platform — no need to split your sample audience manually.
Avoid clickbait subject lines
It's tempting to use a catchy subject line to improve email open rates. And you should definitely do it. What you shouldn't do, though, is create clickbait subject lines that have nothing to do with email content.
Not only do clickbait subject lines deceive subscribers and hurt brand reputation, but they also lead to low click-through rates and conversions. To prevent this, always make sure your subject lines set the right expectations for your subscribers.
Use dynamic personalization
How do you increase email engagement without using deceptive practices like clickbait? By being creative and using dynamic personalization!
Dynamic personalization is the practice of automatically tailoring email content to each user. One of the most common examples of dynamic personalization is changing user names in the email body. But there are even more creative personalization approaches such as:
Inserting personalized product recommendations based on user behaviors
Re-engaging cart abandoners with personalized discounts
Creating dynamic subject lines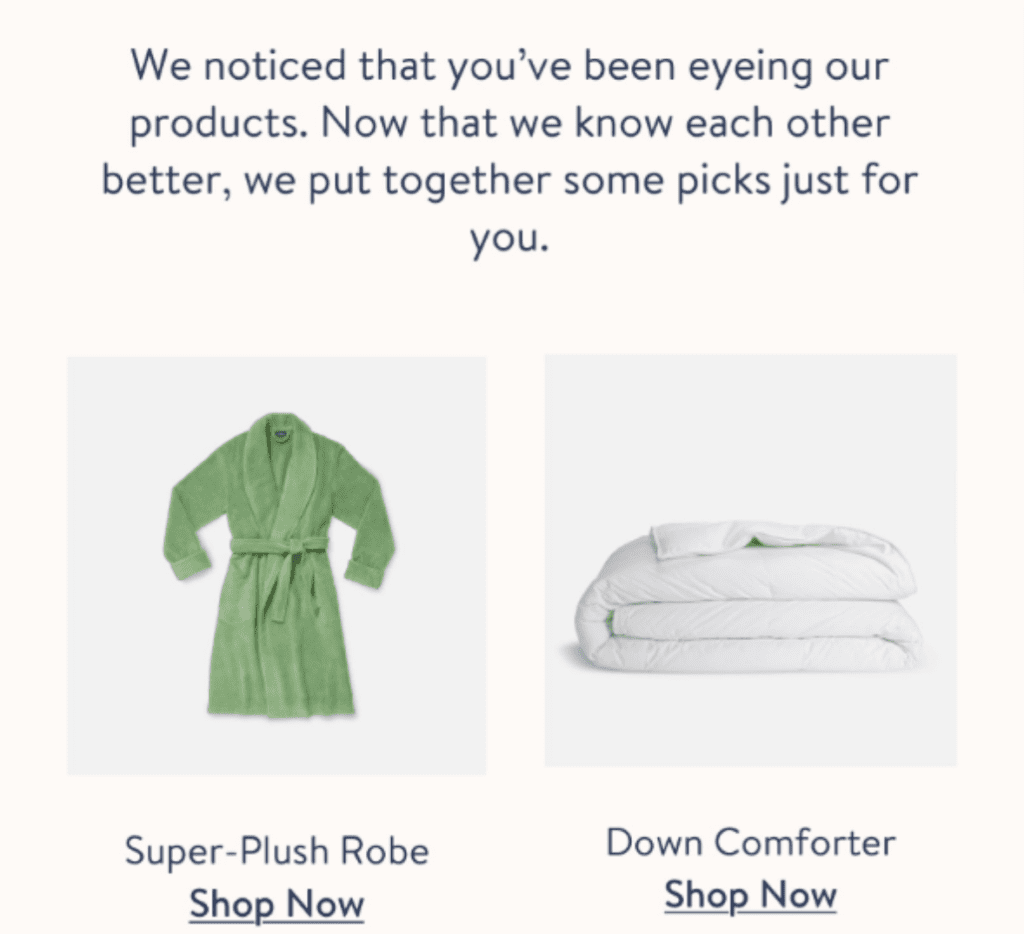 Personalized product recommendations by Brooklinen
Create automated email sequences
Automated segmentation and dynamic personalization are true time-savers. But you can do even better. Create automated email sequences that will nurture your prospects all the way through their customer journey.
Here are some examples of B2C email sequences you may want to start with:
Welcome sequences
Seasonal campaign sequences
Re-engagement sequences
Upselling & cross-selling sequences (we'll talk about these later)
Transactional email sequences
With marketing automation, you can design complex if-then-else sequences that seamlessly move leads along the funnel without you interfering in the workflow. Include automated audience segmentation in your workflows to build sophisticated sequences that create exceptional user experiences.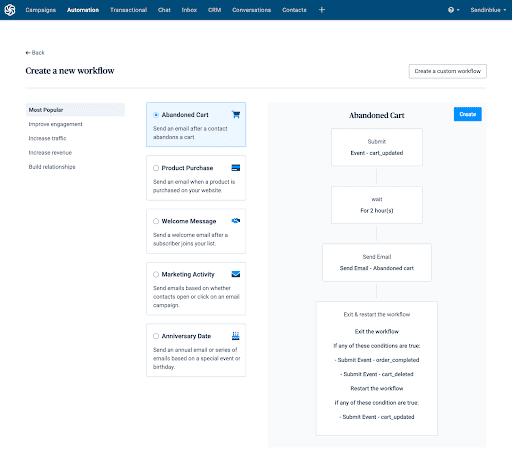 The process of creating an automated workflow in Brevo
Monitor how subscribers interact with your emails
Sending emails to inactive subscribers will not only hurt your performance statistics but also affect your email deliverability. To maintain a good sender reputation, you should be revisiting your email list regularly. Monitor user engagement so you can keep your list up-to-date and clean.
You can also personalize your campaigns based on how subscribers interact with your emails. Set up automated workflows that will trigger different scenarios based on how subscribers interact with previous emails in a sequence.
Run upselling and cross-selling campaigns
Post-purchase emails have high open rates because the relationship has already been established. This positions them perfectly for further conversions, namely upsells and cross-sells.
It's no secret that selling to repeat customers is easier. Use email marketing campaigns to drive repeat purchases and increase customer lifetime value (CLV).
Upsell emails should encourage your customers to buy a more expensive version of the product they've already purchased. This approach is particularly effective for B2C brands that provide subscription-based services and offer tiered pricing.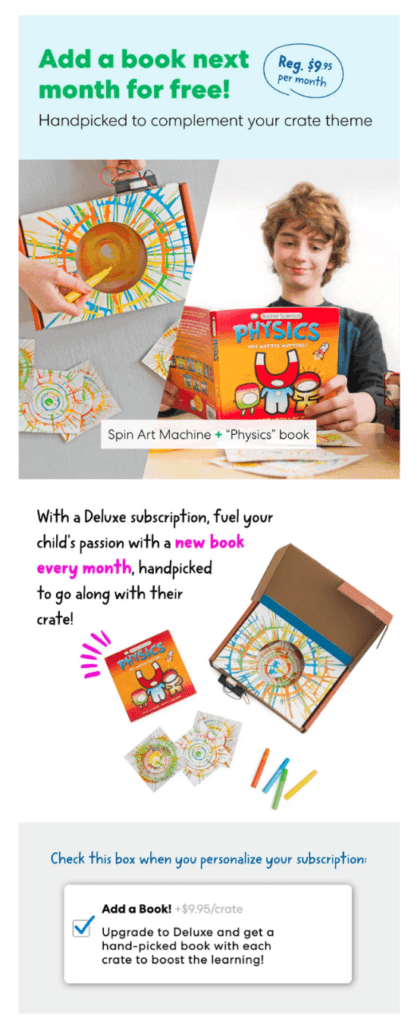 An upsell email by KiwiCo
On the other hand, cross-sell emails will work for almost any B2C company. Cross-selling involves suggesting complementary products to customers based on their purchase history. For instance, after a person has bought ski boots, they'll very likely start receiving discounted offers for skis by email.
Use the data for cross-channel marketing campaigns
A customer journey is never linear. Before they finally decide to buy from you, your prospecting customers will come across your Facebook ad, read one or two emails, visit your website, see another ad on Google, and interact with your brand in a dozen of other ways.
You can control this journey by mapping out customer touchpoints. To do so, you need to set up tracking for each channel in your digital marketing mix, collect the data, and build automated workflows that will seamlessly switch between different channels.
So whenever your subscriber interacts with you on any other platform, you'll know about it and use this data to create more targeted campaigns.
Revisit your attribution strategy
If your brand has physical stores, this advice is for you.
Are you struggling to see the results you want from your B2C email marketing? Don't answer before you revisit your attribution strategy.
Multichannel marketing makes attribution somewhat complicated. But brick-and-mortar stores have the biggest attribution hurdle.
75% of consumers conduct online research before buying. Despite this fact, 71% of customers prefer to make first-time purchases in a physical store.
It means that regardless of the effectiveness of your email marketing campaigns, you'll never be able to attribute the vast majority of new customers to your email marketing efforts. Unless you design a proper attribution strategy.
With that in mind, build an attribution strategy that considers every customer touchpoint, be it email marketing or in-store shopping.
Launch your B2C Email Marketing Strategy
Email marketing in B2C markets is a competitive space. But with these 12 tips, you're well on your way to building out a strategy that converts.
Sign up for a free Brevo account today and get started sending top-notch emails!
Jumpstart your B2C strategy with Brevo
Full email marketing capabilities, templates for beautiful emails, signup forms, landing pages, push notifications, and more.