Live chat isn't a new marketing tool. It's becoming more and more popular as customers prefer it over other communication channels. Maybe you're also considering adding it to yours but not quite sure?
Nowadays, every small business needs an online presence and time's precious. This is where live chat comes in to help you serve your customers.
But first, what do we mean by live chat and how does it work?
What is Live Chat?
Live chat is a way of communicating with customers through a messaging widget on your website. It's like instant messaging that you're used to on Facebook Messenger, Instagram DMs, WhatsApp, etc. but between a business and website visitors.
Live chat is a customer service and marketing communication channel similar to email, but in real-time. People can ask questions and get help in a chat box on your site. Or you could proactively engage them via a pop up chat window while they're browsing.
How does live chat work?
First, you have to choose a live chat software and sign up to add the online chat functionality to your site.
Then, you personalize the chat widget with your brand colors and it starts showing on the web pages you select. Most often, this chat button is in the bottom right corner where people can easily click on it and start chatting with you. It looks like the messaging apps we're all familiar with.
Live chat software makes it easy to add chat to your website.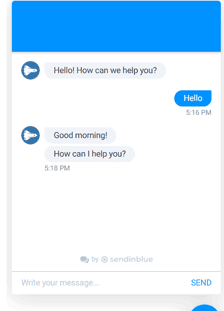 Note that some live chat software lets you manage chat conversations coming from your chat widget as well as from other messaging apps in one place. So in case you're wondering if a business' live chat can be on Facebook or other social media, it can!
Here's our guide to using Facebook Messenger for business.
If you use a proactive approach, the chat will pop up and open to draw attention to your message. The best part is that site visitors don't need to download or install anything to be able to chat with you, the live chat is readily available for them.
There are also automation options like canned responses and chatbots that handle some inquiries when you're not available or a live agent isn't needed.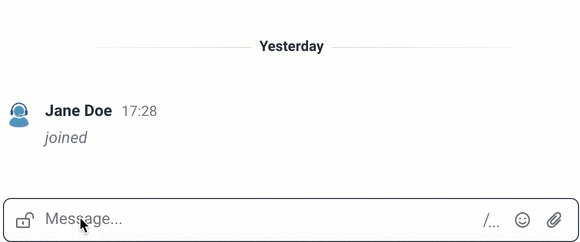 Canned responses are pre-saved answers to most common questions you get such as "What is your return policy?" or "How long does delivery take?" When a visitor types those questions in, they get the automated response immediately without you answering every time.
Chatbots are an advanced live chat feature. They're set up to handle multi-step customer inquiries and ask question after question to guide the customer to a solution.
So now you may be wondering, is there a real person managing live chat?
Yes! Although automation and chatbots can help you handle a much bigger workload, there should be a person able to deal with unique situations.
Humans are still better at understanding specific needs, more complex questions, and finding non-scripted solutions. It's common practice to have support agents available during normal business hours and an automated notification outside such hours.
How Businesses Use Live Chat
Now, let's look into the different use cases of live chat for business.
Conversion optimization
Sometimes site visitors are hesitant to buy or take the step you consider conversion, e.g. book a consultation. Maybe they can't find answers to their questions or their case is a little different from what you've listed.
You can wait for people to ask or you can proactively engage them on certain pages known to be bottlenecks (pricing, checkout, request quote). To help them decide, you can use live chat to provide more information and options. Customer engagement increases your chances of converting them.
Find out more in our guide to Conversational marketing
Automation can help here too. You can have an automated welcome message appear after someone spends a certain time on a page. It'll move them down the funnel so you don't lose out on website traffic.
Lead generation and nurturing
Whether you have a sales team or not, you can use live chat for lead gen and nurturing leads to conversion.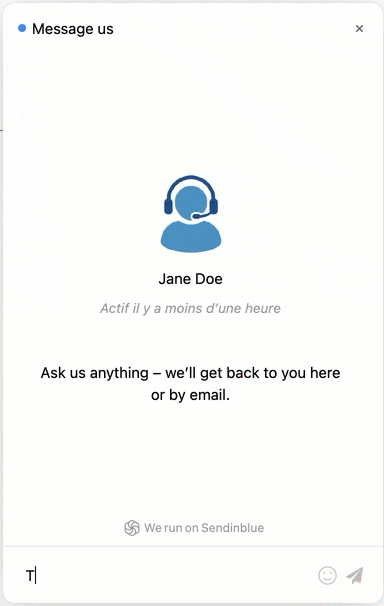 In the course of chatting with a website visitor, you can ask for their contact information for future communication. Add them to your CRM and work on their customer journey via email marketing campaigns, SMS marketing, WhatsApp, and web push notifications.
Add Live Chat to Your Website from Brevo
Access live chat free for 1 seat. CRM integration, customizable widget, unlimited conversations.
Consider this: you chat with a potential customer who decided not to buy because the color they wanted most is out of stock. You can offer to record their email address and notify them when it's back in stock. You can use most of the channels listed above if they're all integrated with the CRM.
And it's not just for ecommerce marketing, you can collect email addresses or phone numbers and use them (with consent) for:
Booking meetings
Reenaging via your newsletter
Sending event invitations
Providing more information and resources
Managing returns with a shipping company
Announcing the start of an application process
Reengaging on Facebook
And more
This way, live chat becomes an essential entry point for your multichannel marketing strategy.
Customer support
Help desk is likely the first use case of live chat that comes to anybody's mind. What is live chat support? It's resolving issues and providing usage support to your clients via chat on your site.
Live chat is a convenient support channel because it's real-time and easy to use. People just have to come to your site and message you directly. Most live chat tools recognize registered users and make their CRM data (orders, location, tags, chat history, etc.) useful to the agent so they tailor the chat experience to the situation.
In addition to sales assistance, you can provide post-purchase support and manage returns, exchanges, and guarantees through it. It can also provide self-service options by automating answers to FAQs and providing links to your help center, knowledge base, or blog when triggered with certain keywords.
You could also ask for feedback without integrating another tool. You can take notes in your CRM records and tag customers accordingly for future reference.
What Are the Benefits of Live Chat?
Now that we've covered what live chat is, let's see why you as a business owner should consider adding it to your marketing toolbox.
More sales
79% of companies using live chat see its positive impact on sales and customer relationships. The average order value grows by about 10% and conversions go up by 40% when the chat option is used.
44% of people shopping online want to have a live agent available to answer their questions when making an order. 57% will leave without buying if they don't get assistance promptly.
Better customer experience
People love using live chat compared to other channels. 42% of US shoppers expect websites to offer live chat, a sharp rise from 27% in 2019. The top reason is the short response time that gives them instant gratification to get issues solved and questions answered.
In fact, the customer satisfaction rate from live chat as a customer service channel is 73% (source: ICMI survey cited above), while email got 61% and phone only 44%. Companies can painlessly set up different scenarios to accommodate different needs. While automation and bots offer speed and efficiency, human chat agents add personalization and customer care.
Improved ROI
You see that live chat can automate a lot of tasks. This enables you to grow your customer base and support capabilities without growing your support team too much. It's estimated that live chat is 15-33% cheaper per chat session than a phone call (source: 99firms cited above).
This, coupled with the 3.84% improvement in conversion rates means you pay less for superior customer experience and increased revenue. What's not to like?
Stronger competitive edge
Last but not least, live chat is available to businesses of any size. This means that as a small business owner, you can offer customer service on par with the big guys. It makes you more competitive while increasing customer satisfaction and actually decreasing your team's workload.
Live Chat Software
To enjoy all the benefits of live chat for business, all you have to do is pick a live chat software and activate it on your website.
What is live chat software?
This is software that makes live chat easily available to businesses. It's usually done via copy-pasting a simple line of code in your website template, much like Google Analytics tracking.
No other coding is needed and you can customize the chat widget in the provider's interface. Some also offer CRM and other marketing tools to integrate with the chat. Find out more about Brevo Conversations.
How to choose live chat software?
Naturally, you should look around and compare different options. Here are some key questions to ask live chat solution providers:
Is there a free trial?
Is the live chat widget customizable?
How does the chat admin view look?
Can it handle messages on Facebook, Instagram, WhatsApp, etc. as well?
Is the chat connected to CRM?
Can it recognize registered users?
Is agent routing possible?
Is automation included? What triggers are there to use?
Are chatbots available?
How many agent seats come with each plan?
With that list in hand, check out our picks for best live chat software.