Looking into the best ways to use live chat for business? Smart choice! Live chat gives you a competitive edge and makes so many creative marketing ideas possible.
People love using live chat to communicate with businesses because it's fast, convenient, and efficient.
Millennials, the age group in its prime as workers and consumers, love live chat support. 73% prefer it to email and 44% over phone calls. So whether it's for B2B or B2C, you'd better offer that live chat widget on your site.
Live chat is not just a help desk tool for answering customer questions, however. Your conversion rates will benefit from the direct channel for customer interactions. According to Forrester, site visitors who use web chat are 2.8x more likely to convert than those that don't.
Let's look at 9 creative ways you can use live chat for business.
Live Chat For Business: 9 Best Practices
Live chat is contextual marketing but these best practices will certainly help you navigate the complexities.
1. Onboard new clients via live chat
Whether your business is ecommerce or not, live chat is handy for showing new clients and prospects around your website. Explain how things work and point them to more resources (e.g. links to the help center, knowledge base, or customer testimonials).
Via live chat, you can give more information and add value so the customer understands the product better and buys. It's similar to a shop assistant approaching someone browsing the shelves at a physical store with, "Did you know these sweaters are made of llama wool?" to spark interest.
2. Proactively help on high-intent pages
Pages like pricing, checkout, terms and conditions, and returns are your money pages. They're too important to be left only to self-service. If the customer feels insecure or hesitant, they won't buy.
That's why engaging them at these crucial points of their journey can make or break the deal. Offer to answer questions and provide extra information to reassure them it's safe to do business with you.
Or even offer deals if people stay on a product page too long. The live chat can work as an additional attention-grabbing popup CTA.
To initiate a genuinely helpful proactive chat that isn't too intrusive:
Don't barge in too soon. Give people time to feel the need for help. Set your chat triggers considering the average time spent on the page.
Personalize. Create different chat scenarios for each page. Thus, the visitor will get the most relevant message and information for the page they're on.
Be ready to escalate. If you use chatbots for this, prepare them to hand over to support agents if things get complicated. A real person will better handle a frustrated customer than a bot.
3. Make it multichannel
Not all chat conversations with customers will result in a sale and that's ok. Sometimes people are just not ready to commit. But it doesn't mean they should never hear from you again.
Before closing a chat, offer people to subscribe to your newsletter. Embed the signup form directly in the chat box to make it as easy as possible. It's a creative email list building tactic and a lead generation tool.
Or ask for their contact information and consent to alert them when the product they wanted is back in stock. It can be done over email, SMS, or WhatsApp. This way, you're getting one more chance to reconnect and convert.
On the other hand, if you're willing to go the extra mile, you can promote your live chat service on social media (with a Start a chat button) or in your email marketing like Estée Lauder does.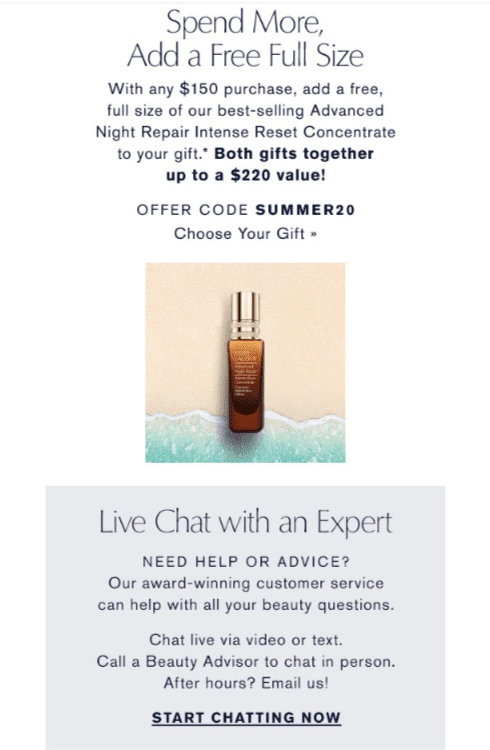 4. Nurture leads every time they visit your website
In addition to customer engagement, one nifty live chat function is the ability to catch returning visitors and follow up on previous exchanges whenever they come back to browse again. Your sales team can use the chat history as a reference point to engage leads.
Inform them about what's new since they last visited. Highlight current offers. Send a link to your freshest customer reviews. Bit by bit, nurture leads so they grow familiar with your company and products until they're ready to buy.
5. Diversify your approach on different pages
One of the best live chat software functionalities is that it shows you which page the visitor is on. So if they write in the chat, you know where they are and can jump right in with relevant information.
The same goes for automation. Set up different content to be triggered on different pages for maximum impact. For example, push testimonials on your About us page to reinforce the brand image. But offer a sizing guide on product pages to help people choose.
6. Recover abandoned carts with live chat
The beauty of live chat is that it's real-time. The moment a website visitor tries to leave without completing their order, your live chat automation can trigger a recovery offer.
Since the live chat window isn't as intrusive as the exit popup, it'll be a nice change for customers used to websites screaming in their face. As a side note, another subtler option is to use web push notifications.
7. Use insights to tailor your approach
When the live chat tool is integrated with your marketing platform like Brevo's Live chat, you can easily use customer insights to personalize the experience.
Location is one example. The live agent sees the customer's IP location and they can answer straight how much shipping to that location costs. Quick and easy for both sides!
For your returning customers, use order history to tailor product recommendations and post-purchase support. Your service will be more relevant, increasing customer satisfaction.
You can even work out a tag system so that whoever on your team handles customer support has all important insights at their fingertips. They'll know who's a VIP customer and who often returns items and makes trouble.
Last but not least, chat transcripts can be a source of market research. Go through them and try to find common themes and repeat issues. Solve these and your customer support workload will instantly get lighter.
8. Plan for being offline
Naturally, small businesses can't cover 24/7 customer service. So what happens when you're offline? Visitors slip through the cracks. It's a good idea to set up a backup communication channel so you don't miss out on all those prospects.
Brevo, for instance, lets people drop you an offline message via email. This way, you can get back to them once you're available again and take the conversation down the funnel. Discover what other features the best live chat widgets have to offer.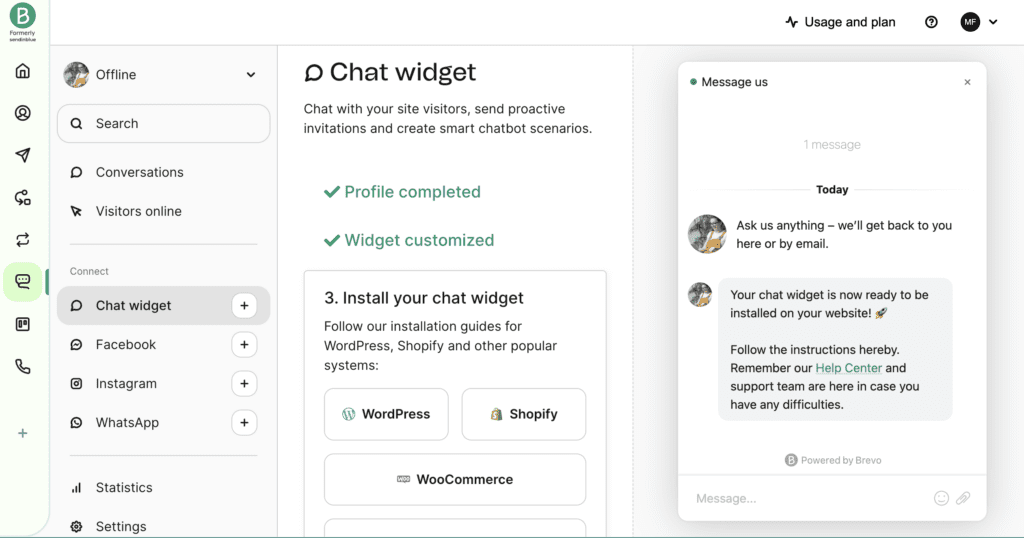 9. Set clear expectations
Consumers are quick to spread negative word of mouth about poor live chat experience. Don't believe it? Here, have a look at an angry customer tweet about their user experience: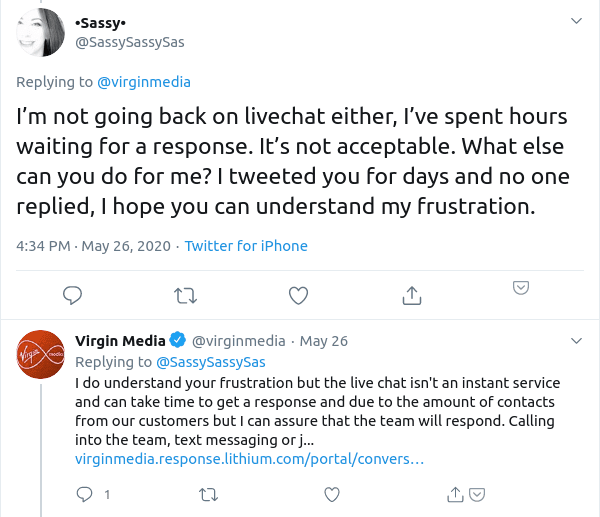 It's understandable you can't be around 24/7, but short response time is one of the live chat features customers love the most. So make it clear when the support team is available to prevent customer frustration. Olay does it simply and effectively.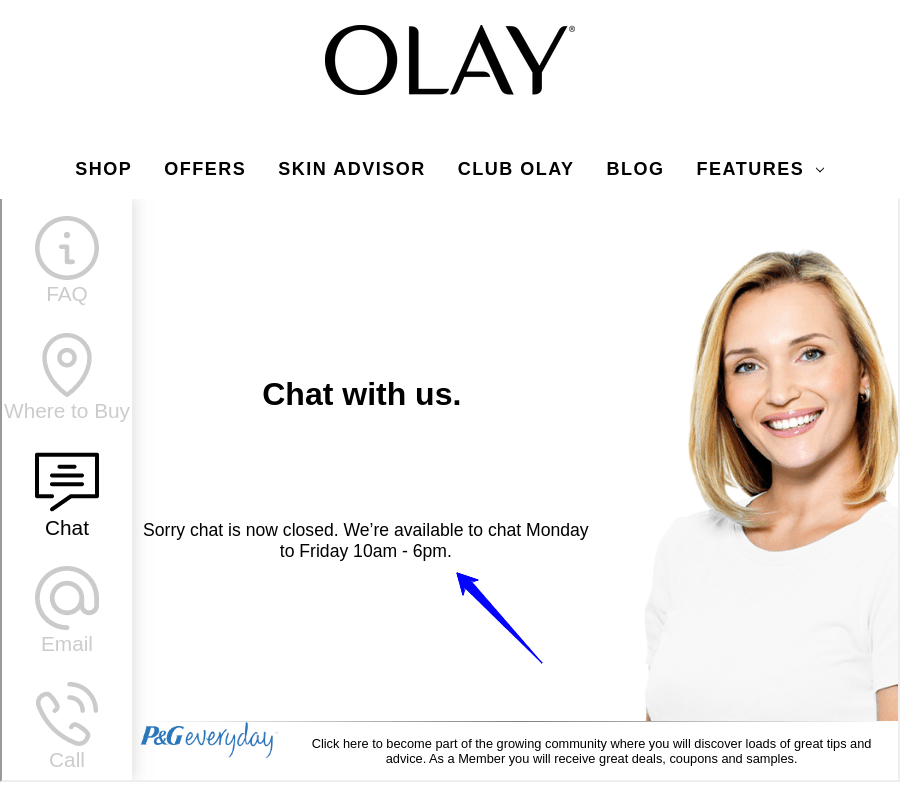 Ready to Start Using Live Chat for Business?
See how all live chat best practices are about understanding customer needs better and delivering good customer experience? There are no secrets or gimmicks.
And if you need a live chat solution, you're in good hands with Brevo Conversations.
Try Brevo Conversations
Customizable website widget, automation triggers, agent routing and more. Integrated with CRM, email and all other channels on the Brevo platform. Free for one user.