Reading time about 16 min

Choosing the right chatbot for your website is pretty important. Otherwise, prospects won't get answers to their questions, customer satisfaction will drop, and your competition will thrive.
To avoid this kind of situation, choose a quality chatbot software from the very beginning. There are chatbots for every taste and budget — dedicated AI-powered solutions, hybrid chatbots, and simple rule-based customer service chatbots. Often, chatbot functionality is built into business automation platforms, allowing you to streamline all your marketing, sales, and customer service processes within one app.
What's the right choice for your company? To help you answer this question, we've compiled a list of top chatbot software solutions and highlighted their advantages as well as some downfalls.
What is Chatbot Software?
A chatbot is an application capable of having online conversations with humans (your website visitors). Communications happen within a chat widget typically located in the bottom right-hand corner of a website.
Chatbot software is technology enabling chatbots to perform their functions. Today's solutions take the hassle out of the setup process and offer easy-to-use chatbot builders that don't require any coding skills.
There are three major types of chatbots:
Rule-based chatbots: Also known as decision-tree bots, rule-based chatbots navigate conversations based on predefined workflows. They're great for basic chats and resolving simple, repetitive issues.
AI chatbots: These chatbots are powered by artificial intelligence and can hold human-like conversations using natural language processing (NLP). AI chatbots can operate more or less on their own.
Hybrid chatbots: This is a mix of a chatbot and human input. In a hybrid model, there are rules defining whether a conversation can be held by a bot or should be passed to a human agent.
Typically, rule-based chatbots go hand in hand with the hybrid model. It's the best way for businesses to deliver a positive user experience and most efficiently use operators' time.
How chatbot software helps businesses
Many businesses handle customer communications via email and manual live chat. Do these businesses need chatbot software, too?
Chatbot tools allow you to:
Optimize chat reply time
Support customers outside working hours
Free up your customer support team and increase their engagement
Save labor costs
Boost customer satisfaction
Personalize customer experience
Generate leads proactively
Let your customer support reps focus on more complex queries
Increase resolution rate
In short, chatbots are one of the easiest ways of bringing your customer service to the next level.
Buyer's Guide: What to Look For in a Good Chatbot Software
We've just covered many benefits of chatbot software. Now it's time to look at how to choose the right one for your business.
Finding the perfect chatbot software for your business doesn't have to be difficult, but you'll want to spend some time weighing your options.
Picking out the wrong chatbot software could mean you can't store chat transcripts for more than 30 days. Or that you have trouble handing over chats to human agents to resolve complex issues. Or that your chatbot doesn't provide you with insightful chat statistics.
That's why it's crucial to define criteria for your chatbot software before you choose one.
Here are some features a good chatbot software should have:
Easy deployment: You shouldn't have to be a developer to be able to install your chatbot.
Intuitive flow builder: It should be easy to map out conversations and design common chat scenarios in just a few clicks.
Templates: A good chatbot software should navigate you through the most common scenarios and offer templates to help you get started.
Customization: It should be easy to design a widget that matches your brand and website.
Analytics: Quality chatbot software should provide chat statistics so virtual assistants can work toward continuous improvement.
Live chat handover: You shouldn't entrust all customer communications to bots. Live agents should be able to join conversations whenever needed.
Best Chatbot Software Comparison Table
Let's take a look at the 12 best chatbot tools on the market. Some of them are great for small businesses, others are tailored for mid-sized companies and enterprises. You're sure to find the one that fits your needs.
| | | | |
| --- | --- | --- | --- |
| Solution | Best for | Free Plan | Pricing starts at |
| Brevo (formerly Sendinblue) | Small businesses, startups, SaaS | Yes | $15/month |
| Chatra | Small businesses, ecommerce | Yes | $17/month |
| HubSpot | Sales teams | Yes | $50/month |
| Drift | B2B companies | Yes | Pricing available on demand |
| ChatBot.com | Growing companies | No | $52/month |
| SnapEngage | SaaS, nonprofits, healthcare organizations | No | Pricing available on demand |
| Intercom | SaaS, mid-sized businesses | No | $74/month |
| Ada | Ecommerce, SaaS, fintech | No | Pricing available on demand |
| Zendesk | Growing companies | No | $59/month |
| Tidio | Small and mid-sized companies | Yes | $39/month |
| Chatfuel | Small businesses | Yes | $14.99/month |
| Freshchat | SaaS, small businesses, mid-sized companies | Yes | $18/month |
12 Best Chatbot Services for Your Website
1. Brevo (formerly Sendinblue) Conversations
Brevo Conversations is a great option for any business in search of a chatbot software. It's a complete live chat solution with automated chatbots, a customizable chat widget, saved replies, advanced analytics, and more.
Part of what sets Brevo Conversations apart from other chatbot software is its multichannel functionality. This means you can handle real-time communications not only from your website chat widget but also from your brand's Instagram and Facebook accounts — all in one place!
Another advantage of Brevo Conversations is its intuitive setup and user experience. Installing a chat window on your website requires only a simple copy/paste. And creating chatbot scenarios for common customer queries is quick and easy thanks to the drag-and-drop editor.
Take a look at the full list of features here:
Chatbots scenarios (including a contact form)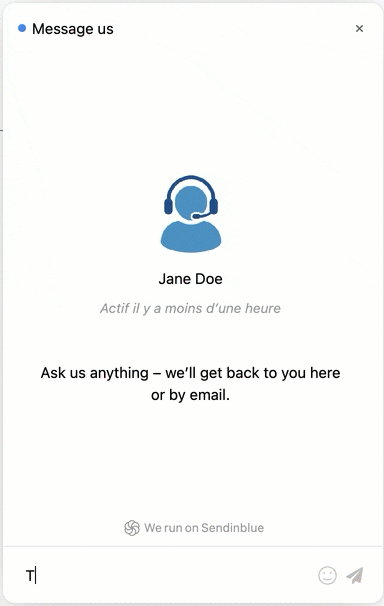 Triggered chats to proactively engage visitors on chosen pages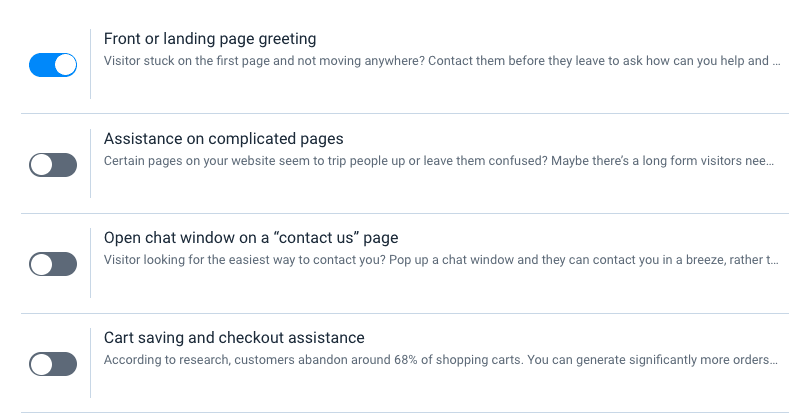 Saved replies to common questions to save time and effort
Typing insights: See what people are typing in real time so you're ready with a response.
Chat ratings & advanced statistics
Agent grouping (by language or expertise)
Popup notifications for new messages
Mobile app (available on iOS and Android)
Brevo Conversations pricing: The free plan offers essential live chat features, including one user and unlimited chats. To get the chatbot, upgrade to Pro ($15/month per user). Conversations Pro includes chatbot automation plus premium features like Facebook, Instagram & WhatsApp chat, real-time visitor information, and telephone support.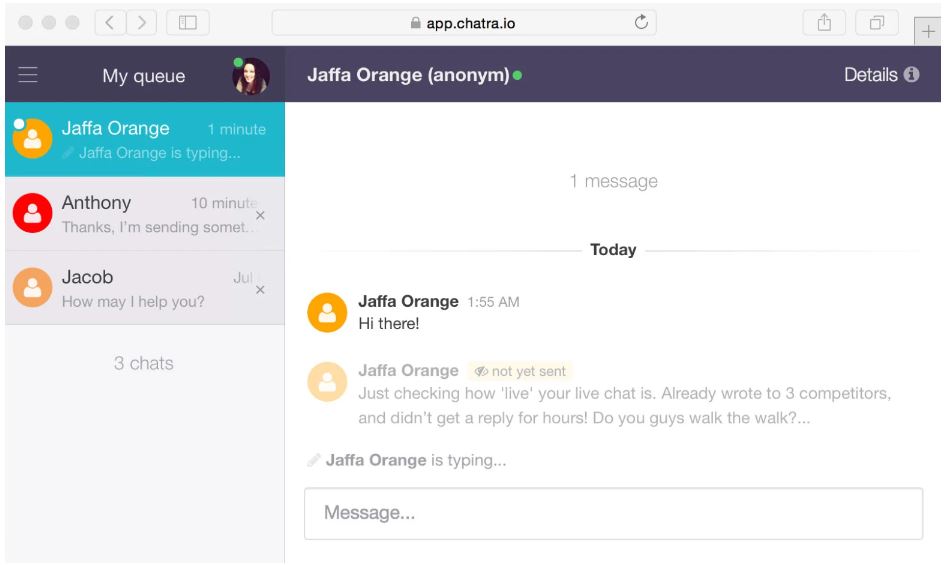 Chatra combines the capabilities of live chat and chatbot in one tool. The platform enables businesses to automate customer conversations with triggered messages mapped out with a user-friendly drag-and-drop builder.
Which other features should you expect from Chatra? Here are some of them:
Proactive chats
Real-time visitor monitoring
Visitor insights
Chat reports
Lead capture bots
Integrations with CMS systems and CRMs
Chatra pricing: The tool has a forever-free plan where users can access basic chatbot functionality and some critical integrations (WordPress and Shopify). More detailed analytics, targeted messages, lead capture capabilities and other powerful features are included in paid plans starting at $17/month per agent.
3. HubSpot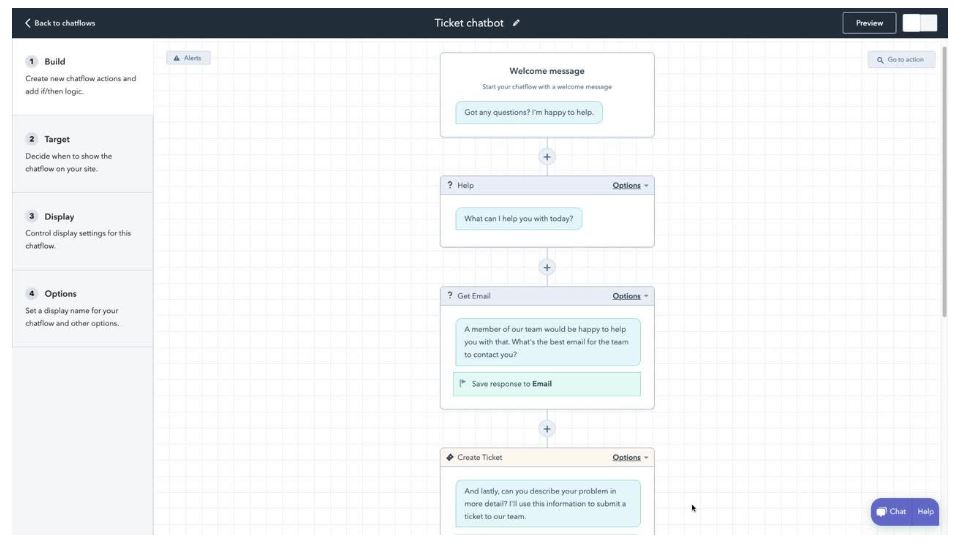 HubSpot offers chatbot builder software as a part of its Sales Hub. Free users can enjoy its basic features without going on a paid plan while paid HubSpot users can access advanced chatbot features to fully automate customer interactions.
The HubSpot chatbot builder lets users:
Customize chat widgets;
Book meetings;
Qualify leads automatically;
Create chatbot sequences with a simple builder;
Set up triggered email sequences;
Integrate chat data with HubSpot's CRM system.
The most significant drawback of the tool is pricing. If basic bots aren't enough for you – which is quite likely the case – you'll need to go for a pricey upgrade.
HubSpot Chatbot Builder price: Its basic features like ticket creation, lead qualification, and meeting booking bots, are available for free. Additional features that include custom branching logic and advanced targeting, are available starting from the Pro plan ($500/month, 5 users included).
Why so expensive? Although the cheapest Sales Hub plan begins at $50/month, it doesn't offer chatbot features other than in the free plan. But it's fair to say that once you become a Pro user, you get access to a sophisticated CRM solution that's not limited to chatbot functionality.
This way, there are two scenarios when HubSpot Chatbot Builder is the right choice for your company: a) you need a free chatbot without further plans for scaling; b) you're looking for a comprehensive enterprise-level CRM solution for your sales and customer support teams.
4. Drift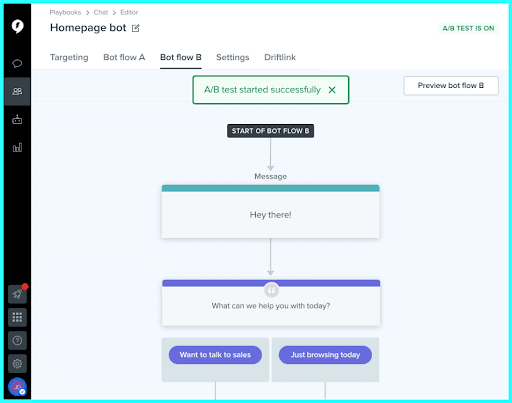 Drift is conversational marketing software with chatbot capabilities. Drift's sophisticated chatbot solution offers a range of useful features for marketing, sales, and customer support teams:
Customizable rule-based chatbots
AI-powered chatbots
Audience insights
Reporting dashboards
Lead qualification
Meeting booking
A/B testing
Advanced lead routing
Salesforce integration
Multiple languages
Apart from typical features for a chatbot, Drift provides a couple of outstanding capabilities like A/B testing and lead routing.
The most common concerns of Drift users are the tool's complexity and pricing. The abundance of features makes it difficult for teams to navigate the setup process and make the most out of the platform.
Drift pricing: Basic Drift chat features are available for free. Paid plans are customized for the needs of individual businesses – pricing isn't displayed publicly. Early-stage startups with fewer than 50 employees can apply for a custom-built plan with a higher discount.
5. ChatBot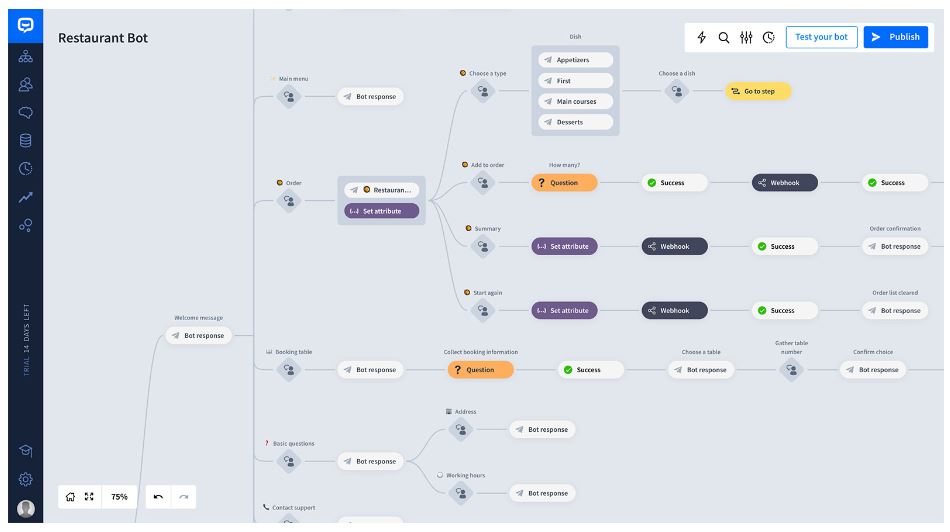 ChatBot is a dedicated chatbot platform offering tools for building, managing, and optimizing chatbots.
Inside ChatBot, you'll find:
A no-code visual bot builder
AI chatbots
Chatbot flow A/B testing
Chatbot analytics, including a heat map presenting the busiest times
Team collaboration features
Templates for marketing, sales, and support
Integrations with Shopify and WordPress
Sounds good. Any drawbacks? ChatBot is built by LiveChat, a live chat software provider. To combine human experience and chatbots, you need to integrate these two apps first. Right, it also means you should pay for both apps to access the Live Chat Agent feature.
ChatBot pricing: There's no free plan in the ChatBot packages. After a 14-day free trial, users will be upgraded to one of the paid plans starting at $52/month. In the Starter plan, you can run up to 1,000 chats per month and have one active chatbot. To get more limits, you need to upgrade to the Team ($142/month), Business ($424/month), or Enterprise (custom price) plan.
6. SnapEngage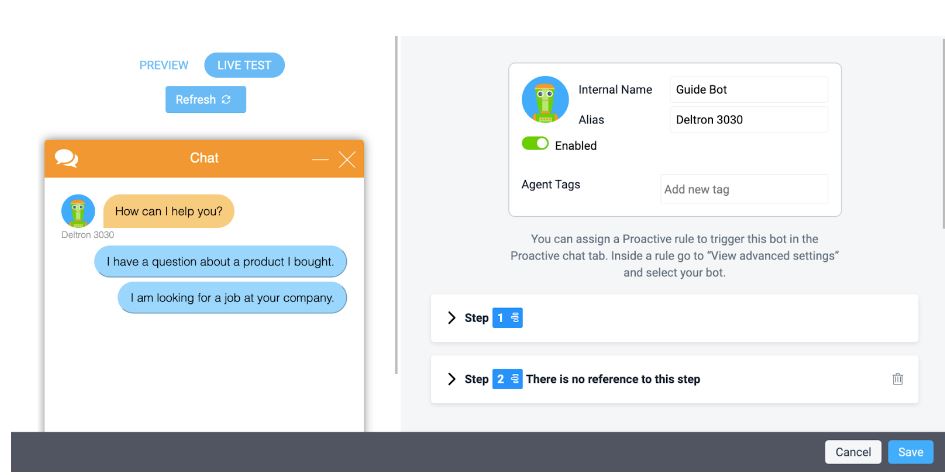 SnapEngage is a customer engagement platform combining live chat and chatbot solutions under one interface. The product has been recently acquired by TeamSupport, a customer support software provider, which means that users can also access SnapEngage's chats through TeamSupport's plans.
Its features include:
AI chatbot
Chatbot flow templates
Proactive chat
Pre-chat and offline forms
Chat transcripts
Live chat
Chatbot API
Integrations with Salesforce, HubSpot, and other CRM solutions
The tool is a perfect fit for nonprofits, SaaS companies, and healthcare organizations in particular. The company has designed HealthEngage HIPAA Compliant Live Chat to help healthcare organizations interact with their patients safely.
A slightly outdated interface makes it feel like you're managing your chats from 2012, but we consider a reasonable product cost an excuse for this tiny inconvenience.
SnapEngage pricing: SnapEngage doesn't offer a free plan and doesn't provide pricing information on the website. Based on what's specified on G2, SnapEngage's plans start at $16/month per user. However, the pricing model could have been affected by the company acquisition by TeamSupport.
7. Intercom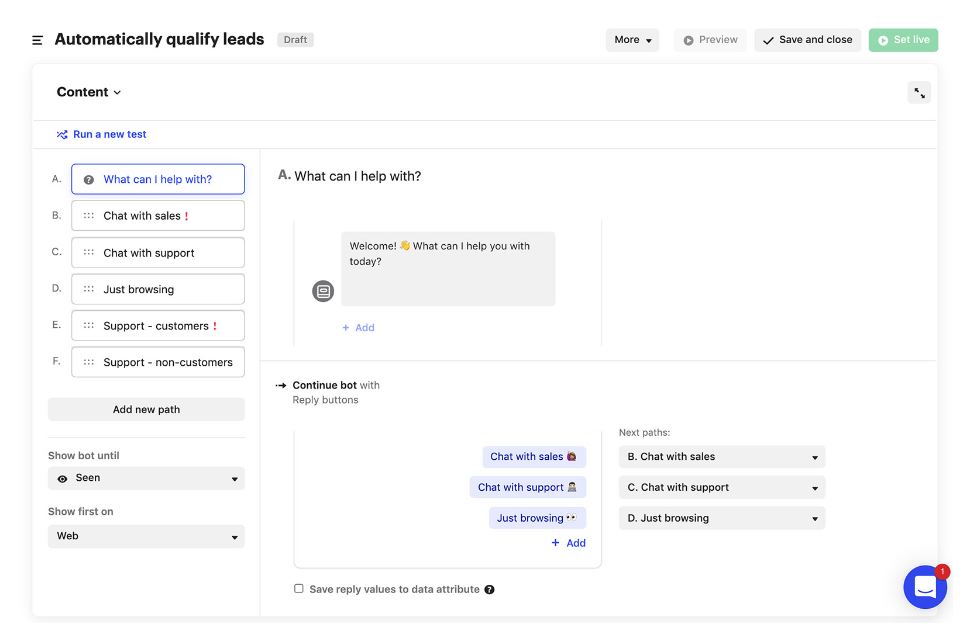 Intercom is the world-famous business messaging software for SaaS. In addition to its live chat functionality, the product provides a variety of bots that handle customer conversations based on predefined flows or by using machine learning.
The combination of live chat and chatbot features is available through Intercom Business Messenger. These are a few more capabilities of Business Messenger:
Custom, code-free bots
A/b testing
Automatic meeting booking
Conversation routing rules
Account-based assignments
Revenue and performance reporting
Intercom chats for mobile devices
Over 300 app integrations
Users love Intercom's bots for how easy it is to catch users' attention and generate leads through a chat widget. Also, its Resolution Bot is a simple yet effective solution for enabling customer self-service and reducing resolution time.
Intercom pricing: The cheapest Intercom plan "for very small businesses" starts at $74/month when billed annually. The plan allows for 1,000 chat conversations per month, with additional 1,000 chats accessible for $50/month. Similar to Drift, Intercom also offers a discounted plan for early-stage startups – eligible companies can access the product's advanced features for $65/month for up to one year.
8. Ada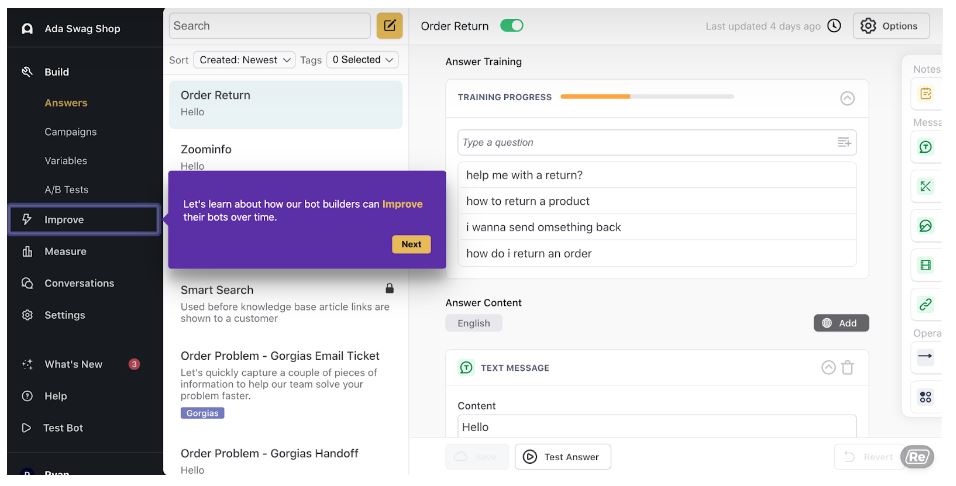 Ada is an AI-powered automation platform with chatbot support functionality. Its AI chatbot handles customer conversations for enterprise-level companies in ecommerce, fintech, SaaS and other industries.
Ada fully automates over 80% of brand interactions with its robust AI-powered technology. Businesses can not only enjoy accurate resolutions but also receive insightful chatbot performance reports. Customers say Ada's chatbot is easy-to-implement, highly customizable, and scalable.
On the downside, it takes time to train your bot to enable it to deliver stellar performance. And although product pricing isn't displayed publicly, Ada is known for high costs and a not-so-transparent pricing model.
Ada pricing: Pricing information is provided on demand.
9. Zendesk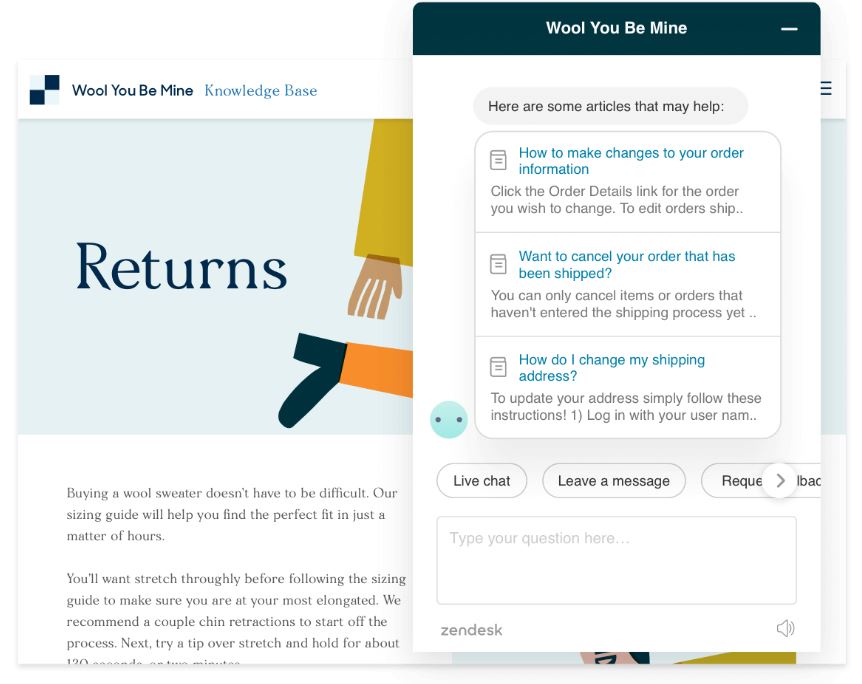 Zendesk is an all-in-one customer experience platform with live chat and chatbot capabilities.
Zendesk's chat software is the right fit for fast-growing companies.
Its chatbot, known as Answer Bot, provides users with the following tools:
Drag-and-drop flow builder
Proactive messaging
Group messaging
Self-service support
Reporting and analytics
Third-party integrations
Live chat handover
Moreover, if you have a rich knowledge base or help desk to pull the data from, Answer Bot will use it to provide detailed replies to customer queries.
Interestingly, customers often complain about Zendesk's own chatbot when it comes to getting support from the company. If Zendesk can't set up its chatbot in a way that doesn't irritate customers, what are the chances you can use it better?
Zendesk pricing: Zendesk doesn't offer a free plan – only a free trial for new users. Answer Bot is available in all plans, with the cheapest plan starting at $49/month per agent.
10. Tidio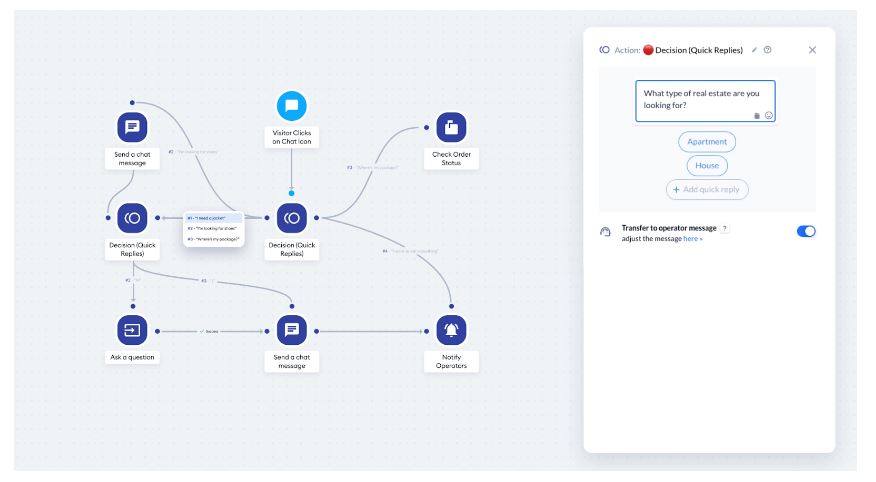 Tidio is a customer service platform offering both chatbot and live chat services. Small and mid-sized businesses typically choose Tidio because it lets them welcome site visitors, catch leaving users, and reach them with personalized product recommendations.
With Tidio, you'll access:
AI chatbot
Proactive messaging
Predefined workflows
Searchable transcripts
Desktop and mobile apps
Canned responses
Real-time user monitoring
Team analytics
Chat analytics
Tidio pricing: Tidio offers one of the most feature-rich free plans. Its free plan is available for two operators and includes up to 100 chatbot conversations. Tidio also provides users with access to AI-powered chatbots. For $39/month, users can increase automated conversation limits to up to 2,000 chats.
11. Chatfuel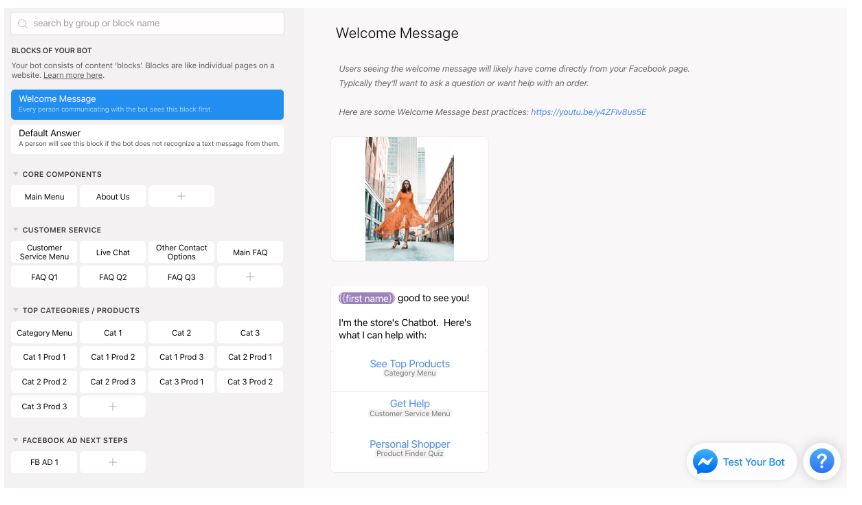 Chatfuel is customer support and sales automation software. One of its key tools is a simple, no-code chatbot builder for lead generation, sales personalization, and customer support.
Chatfuel's main objective is to enable small business owners to deliver exceptional customer service without heavy, expensive technology. The tool lets you:
Implement rule-based chatbots effortlessly
Automate customer support conversation handling
Automatically book meetings
Qualify leads on the fly
Hand over chats to live agents
Analyze repetitive conversations
It's an affordable solution for small businesses looking to implement a basic chatbot to streamline the customer journey. You won't find AI among Chatfuel's features, but you can bring it in by integrating your account with a dedicated AI solution like Google's Dialogflow.
Chatfuel pricing: The Chatfuel pricing model is the simplest one among all the above-listed solutions. Users can access all the platform's features and run up to 50 conversations for free. The lightest paid package costs $14.99/month and includes up to 500 conversations. In more expensive plans, users simply get more chat credits.
12. Freshchat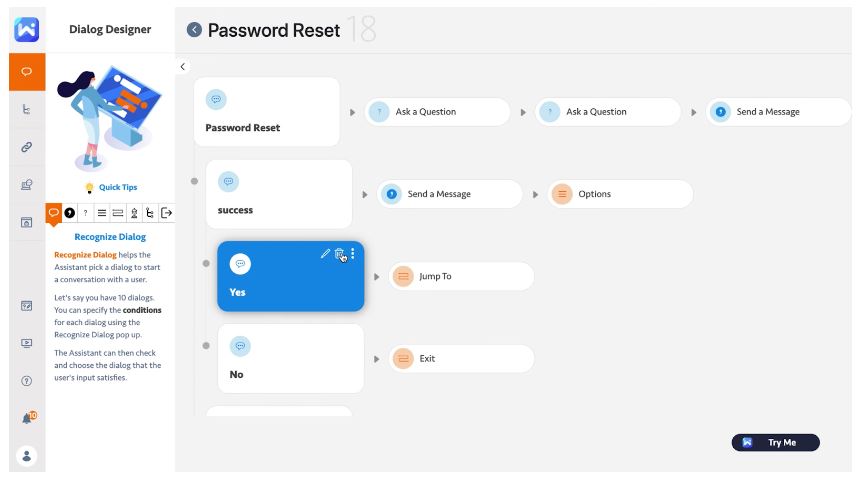 Freshchat, is an omnichannel messaging platform offering instant customer support through live chat. Similar to other sophisticated solutions, Freshchat puts together artificial intelligence and human experience to enable businesses to deliver exceptional support to their customers.
Here are some of its notable features:
Automated resolutions
Ready-to-use chatbot templates
Multilingual bots
Bot performance analysis
Live agent handover
Conversation APIs
Although customers tend to express concerns about the accuracy of Freshchat's AI-powered bot, called Freddy, its flow-based chatbot always gets positive reviews.
Freshchat pricing: They offer a free plan for up to 10 agents. However, to access the chatbot features, free users need to buy credits – 1,000 bot sessions cost $75. Paid plans start at $18/agent/month. Conversational AI bots are included only in the Enterprise plan priced $95/agent/month.
Related: 5 Best Appointment Scheduling Apps for SMBs
Choosing the Best Chatbot Software for You
With so many options on the market, finding the right chatbot software for your business can be overwhelming. Just remember, the best way to find your perfect chat software is to try out a few options and see which works best!
Get started with Brevo Conversations
Full-suite live chat solution with automations, customizable widget, multichannel integrations and easy installation.