Reading time about 13 min

Facebook Messenger drives a lot of opportunities for business. With this single channel, you can lead customers through the entire buyer journey and deliver exceptional ecommerce experiences.
Wondering how it works? We've prepared the ultimate guide to using Facebook Messenger and included some powerful real-life examples. Let's take a look!
Is there a business version of Facebook Messenger?
Facebook Messenger for Business is more than a regular messaging app. It's a powerful business tool with marketing, sales, and customer support capabilities. All these features can be unlocked with free and paid Messenger tools for business.
There's no dedicated business version of Facebook Messenger, but there's a collection of tools helping businesses interact with their audiences like sponsored messages, chatbots, Facebook Pay, and polls.
Messenger's capabilities for business started with paid mass campaigns and customer service. Now, it's a comprehensive business solution that you can use not only to attract audiences and answer their questions but also to drive conversions and maintain customer loyalty.
Facebook has even introduced an in-app payment system, Facebook Pay, to allow businesses to request and receive money through Messenger. Users can link their debit card to the platform and pay for products and services right inside the Messenger window.
Facebook Business Messenger is free to use for everyone unless you want to run mass promotions with Facebook Ads.
What are the benefits of using Facebook Messenger for business?
Facebook Messenger has benefits for companies of all sizes.
Extended reach
First off, Messenger is a powerful tool for reaching new audiences. You can choose from a variety of Facebook's targeting options such as Lookalike Audiences, location-based targeting, Custom Audiences, etc.
Messenger Ads have all the features of Facebook Ads run across other Facebook platforms – except for the fact that they have a much higher acceptance rate than conventional Facebook Display Ads.
Frictionless experiences
With Facebook Messenger for business, you can map out the entire customer journey and reduce friction in the buyer experience.
Want to generate leads? There's no need to say farewell after chatting with a visitor. Simply add a signup form to your Facebook Messenger and enjoy instant lead capture.
Want to drive conversions? Enable Facebook Pay to allow customers to pay within Messenger and create a seamless buying experience.
By using Facebook Messenger, you can move your prospects through the sales funnel and keep up with existing customers in one place.
Increased sales
53% of customers say they are more likely to buy from a business they can message directly. Simply put, using Facebook Messenger for business means more sales.
Customers use Messenger to ask brands to help them choose the right products, address their concerns, and guide them through the transaction process. With 75% of surveyed US-based audiences messaging businesses to make purchases, Messenger is a must-have channel for companies looking to increase conversions.
Better customer service
67% of users expect to use messenger apps more for communicating with businesses. Facebook Messenger allows you to implement conversational marketing and build strong customer relationships.
What's more, your customer conversations stay in Messenger, enabling easy chat handover and re-engagement. This means customers don't need to re-explain their problems to different agents (as often happens). Agents can understand the context behind every conversation by simply scrolling through the chat history.
Combining Messenger automation and live agent support allows you to increase contact resolution rates and reduce response times. With Messenger's handover protocol, you can seamlessly transfer automated conversations to live agents and ensure your customers have their complex queries resolved.
Increased consumer confidence
Over 66% of respondents agree they feel more confident about brands they can message directly. And 55% of people surveyed say they feel more personally connected to a brand when they can reach it via an instant messaging app or live chat.
With Messenger, you can address customers' concerns, build trust, and increase loyalty without any extra effort — all you need to do is set up the channel.
Less manual work
Facebook bots not only create a better experience for customers but also take the burden off your teams. Customer service reps can focus on more urgent tasks while bots take care of frequently asked questions (FAQs).
Related: Chatbot vs Live Chat: What's the Difference?
Examples of companies using Facebook Messenger
Messenger has a variety of use cases — from mass marketing campaigns to customer feedback collection. Here are some real-life examples of companies using Facebook Business Messenger for marketing, sales, and customer support.
Driving brand awareness: LG Electronics
LG Electronics ran an engaging campaign on Messenger encouraging people to share their laundry failures. The campaign boosted purchase intent by 4.3X and lifted brand recall by 6.6%.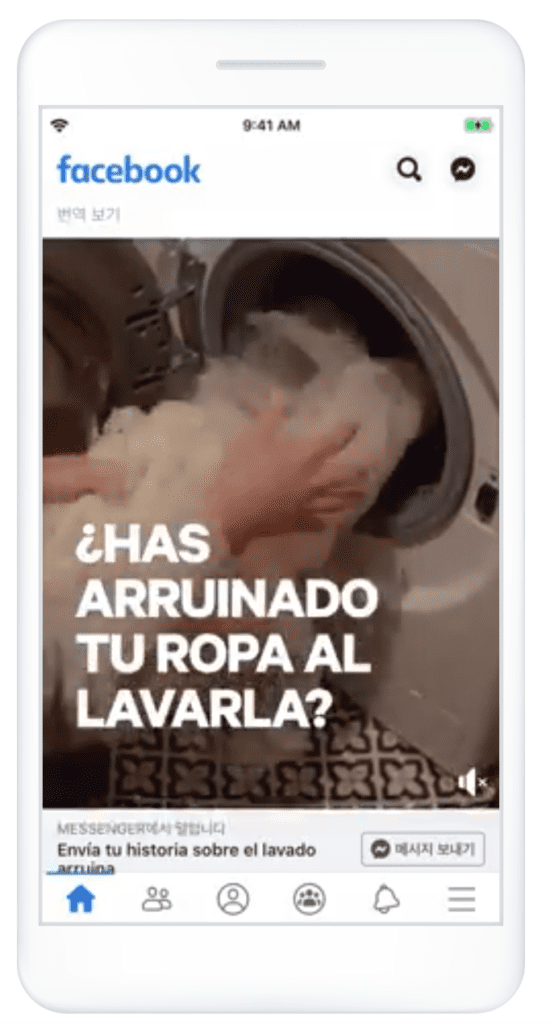 To catch Facebook users' attention, LG promoted a teaser video highlighting the funniest laundry fails. The click-to-Messenger ad reached 29- to 54-year-old audiences interested in home appliances.
After clicking on the ad, users were taken to the Messenger window where they could interact with an automated Laundry Consultant using a pre-installed augmented reality (AR) camera.
The consultant asked customers about their specific laundry pain points and gave advice for preventing laundry failure. At the end of the conversation, users got links to product promotions.
Generating leads: Jasper Highlands
In collaboration with Newscome Interactive LLC, the land development advertiser, Jasper Highlands launched a lead generation campaign on Messenger. As a result, the company saw a 13% increase in leads and a 5% improvement in lead quality.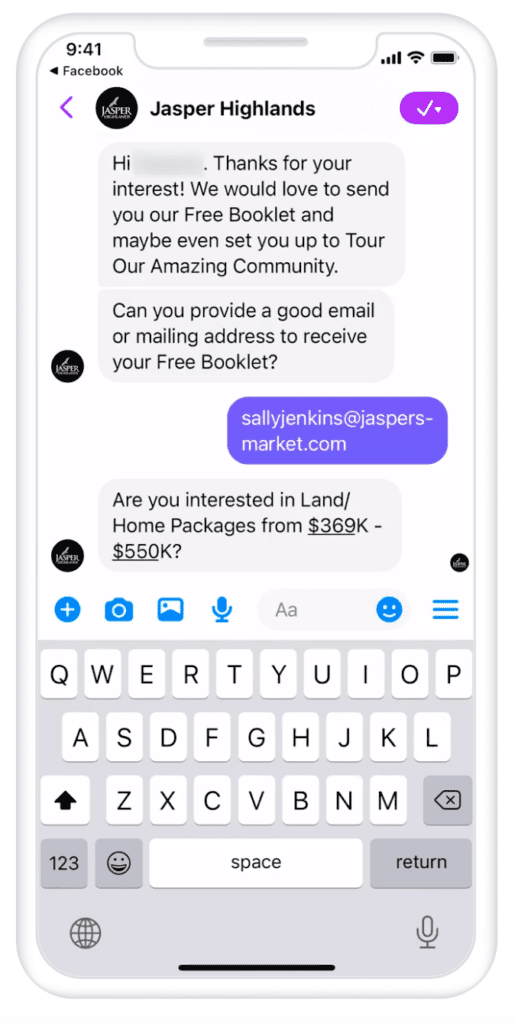 Trying to engage audiences that never clicked to a website from sponsored Facebook posts, the advertiser launched click-to-Messenger ads, which directed people to a full chat sequence. By using an embedded lead capture form, Jasper Highlands managed to gather high-quality leads and follow them along their customer journey.
Driving sales: Uber Eats
Uber Eats used Facebook Business Messenger to promote discount coupons and encourage new customers to make their first order. Adding Messenger to their marketing mix allowed them to drive four times more purchases and six times more first orders.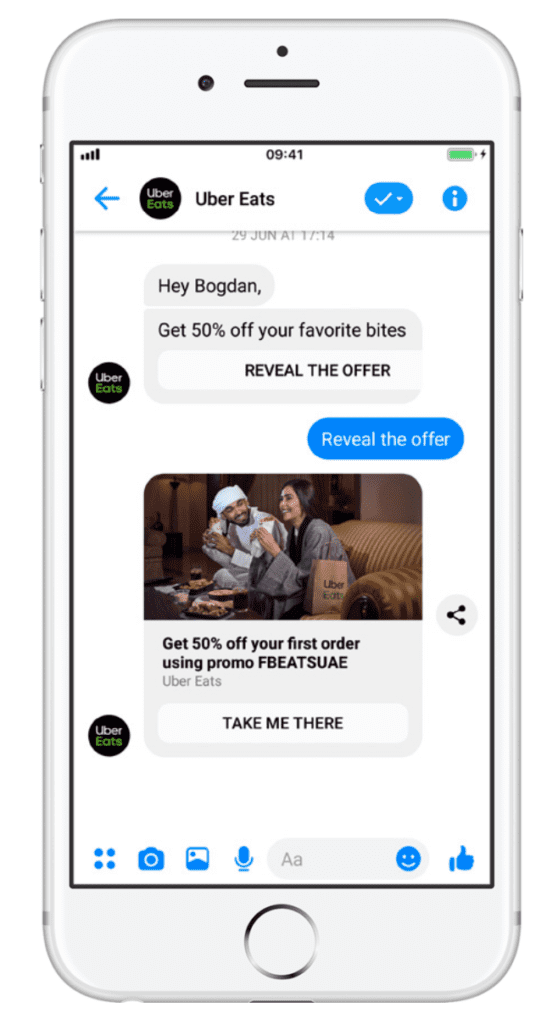 Uber Eats discovered that click-to-Messenger ads delivered significantly better results than ads that clicked to the app. By taking users to Facebook Messenger, the company was able to open up direct conversations with potential customers and get more orders at a lower cost.
Assisting prospects in the buying process: Lalo
Lalo used Facebook Messenger for business to re-engage website visitors. The brand was retargeting prospects with click-to-Messenger ads, encouraging them to enter the conversation experience in Messenger.
With the help of a virtual assistant, Lola managed to create personalized shopping experiences and help out with their prospects' buying decisions, achieving a three-times higher conversion rate.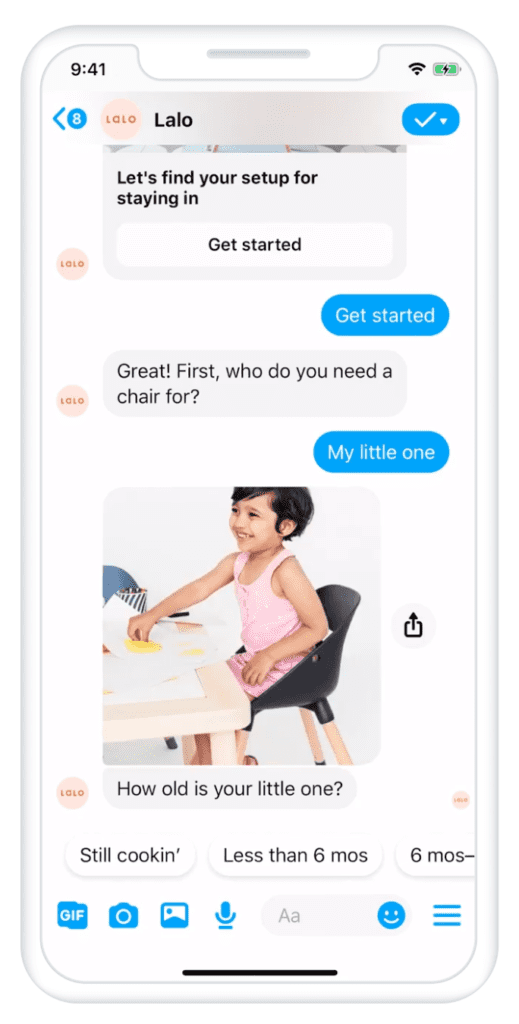 Lalo wanted to use Messenger to help their shoppers find the right fit and improve the customer experience. They supassed their goals, reaching a 41% lower cost per conversion (compared to ads that clicked to the website) and seeing return on ad spend (ROAS) more than triple.
Answering customer questions: BlendJet
BlendJet added Facebook Chat Plugin to its website to support visitors via Messenger. The results were impressive — the company saw a 17% higher average order value from people who engaged with the Messenger widget.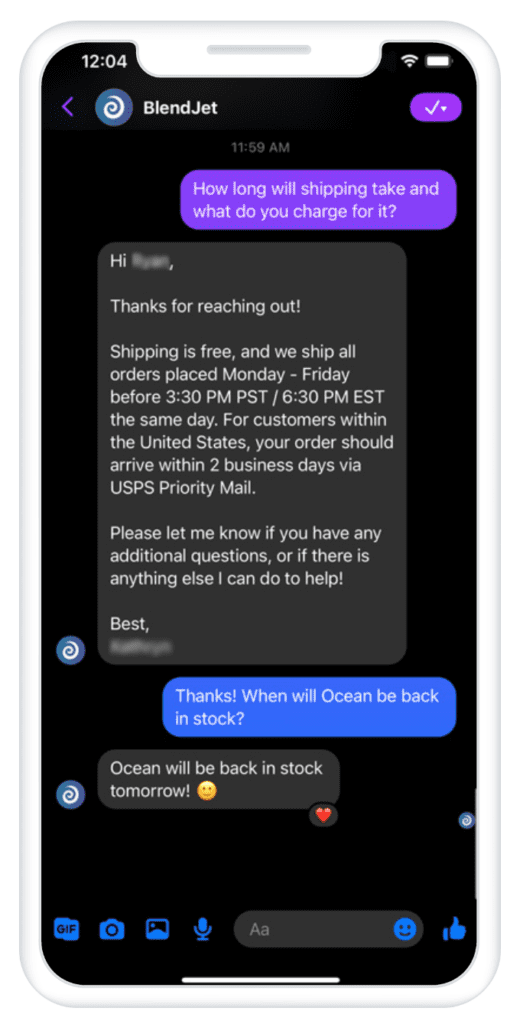 Willing to enable audiences to contact them directly and extend customer engagement, the BlendJet team added Messenger to their customer service flow. The Messenger icon worked as a badge of trust for the brand and created greater customer confidence.
BlendJet also saw 15% more sales from people who interacted with Chat Plugin than from those who didn't engage with it.
Facebook Business Messenger FAQ
Finally, find the most frequently asked questions about Facebook Messenger answered below.
How do I get Facebook Messenger for my business?
You don't need to do anything special to access Facebook Business Messenger. All you need is to have a Business Page and enable Messenger in settings.
Why can't I send a message from my Facebook business page?
It might be that Messenger isn't enabled on your page. Go to "Settings"' and check whether you've checked "People can contact my page privately." If not, you can do it now.
Can a Facebook page send a message to another page?
Exchanging messages between Business Pages isn't possible. But you can always contact your customers' personal pages.
Why is Messenger not working on Facebook?
If Messenger doesn't work, you should try to uninstall and reinstall Messenger on your device.
How to Start Using Facebook Messenger for Business
We've covered how other companies use Facebook Messenger to reach their business goals. But now how can you get started with Messenger?
Step 1: Create a Facebook business page
To have access to Facebook Business Messenger, you need a business page. If you don't have one yet, now's the time to make one!
Just go to your Facebook page, go to the "Menu," click "Pages," and then tap "Create New Page."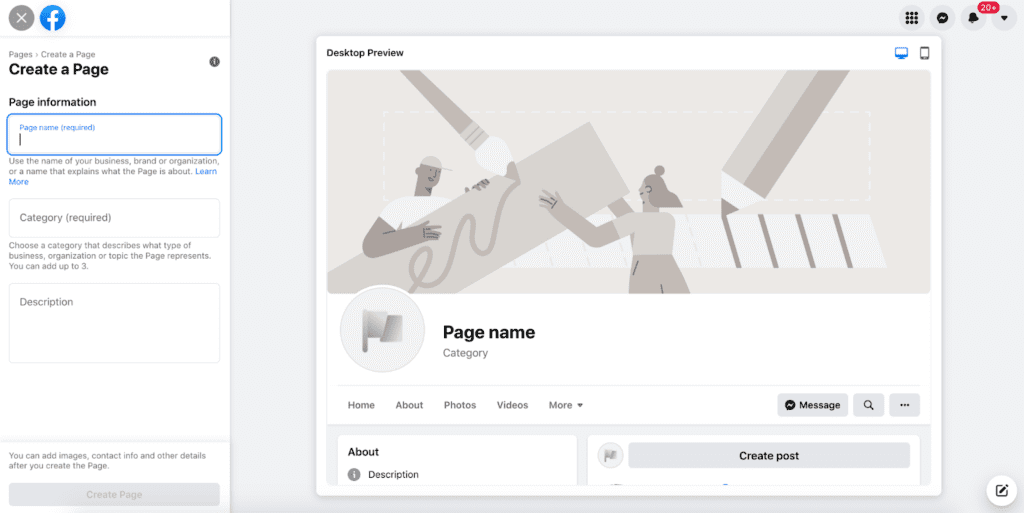 Here you can customize your business page and fill it with all the information about your company.
Step 2: Enable a chat widget on your page
When you create a business page, Messenger should already be enabled. You can either go to the "Settings" tab to check it, or click "Messenger tools" and tap "Add a button" to enable the messenger button on your business account.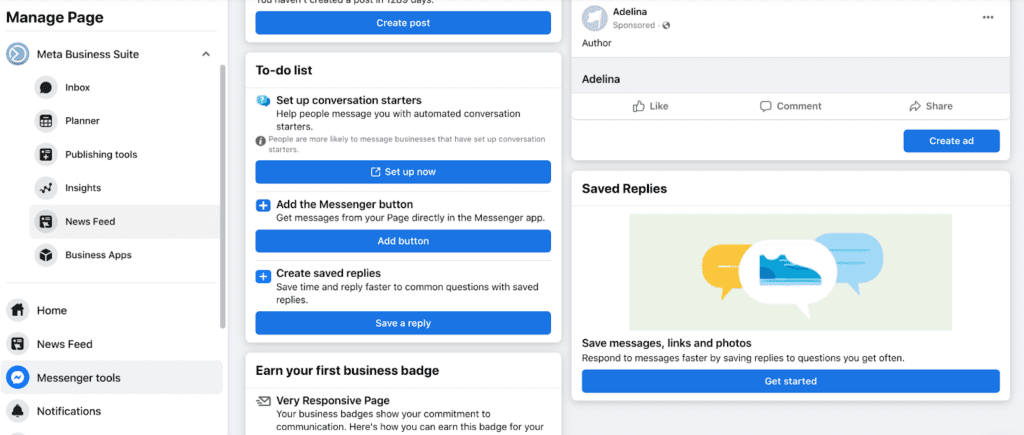 Now, you can go to the "Inbox" tab and manage all your Messenger conversations from there.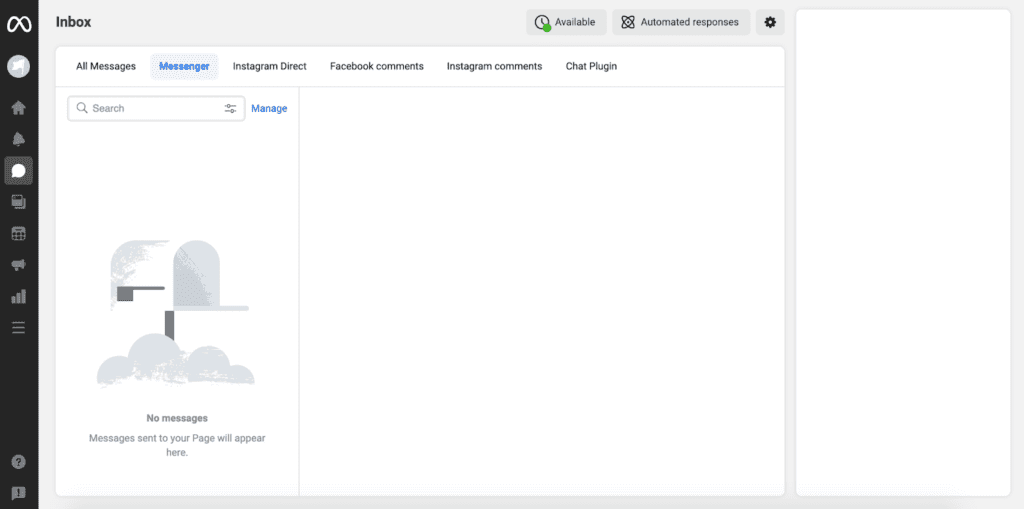 Step 3: Set up automated messaging tools
Before you start handling conversations, it's worth spending time setting up helpful Messenger tools.
Facebook allows businesses to automate a large part of chat interactions with conversation starters, instant replies, frequently asked questions, and away messages. All of these are accessible in the Meta Business Suite. Make sure to use each of the automated business messaging tools offered by Facebook:
Instant reply — Let customers know you've received their message and will reply to it within a certain time frame.
Away messages — Reply to your customers with an automated away message outside of working hours.
Frequently asked questions — Suggest questions people often ask and then provide automated replies to resolve customer queries without human intervention.
Comment to message — Send visitors a personalized message when they use specific hashtags in a comment section on your business page. This feature is great for promptly addressing negative customer experiences.
Contact information — Provide your business's contact information with an automated message anytime a visitor asks.
Location — Set up automated responses to promptly reply to messages asking about the company's location.
Hours – Create automated messages for customers asking about your business hours.
Job application received — Send instant messages to candidates who apply to job openings you post on Facebook.
Custom automated responses — Create custom scenarios for any keywords you want.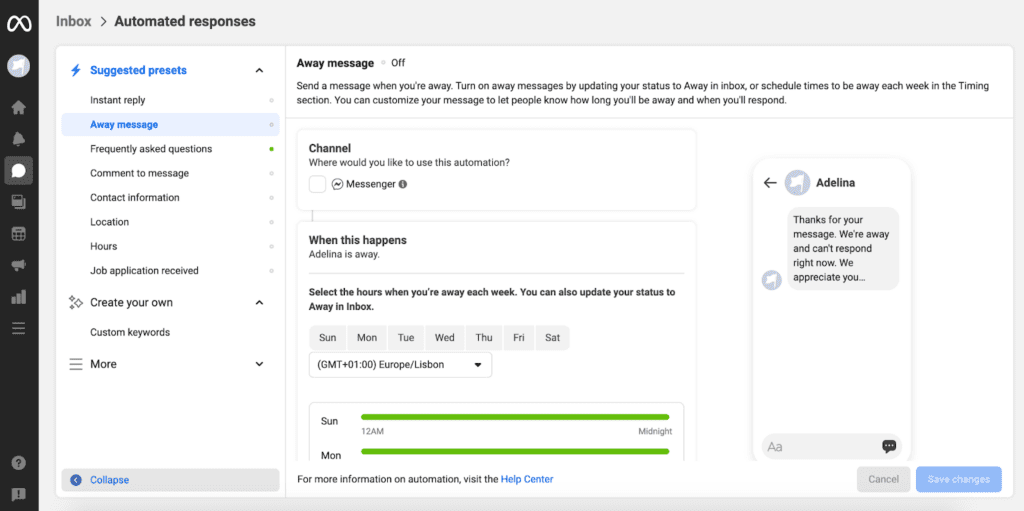 Step 4: Embed Messenger on your website
Offering a chat box on your Facebook business page is great, but it's not enough for a seamless customer experience.
To integrate your Messenger experience directly into your website, you need to install Facebook's Chat Plugin. You can go for a standard code-based implementation or choose one of the custom integrations with content management platforms, like WordPress, Shopify, Webflow, and others.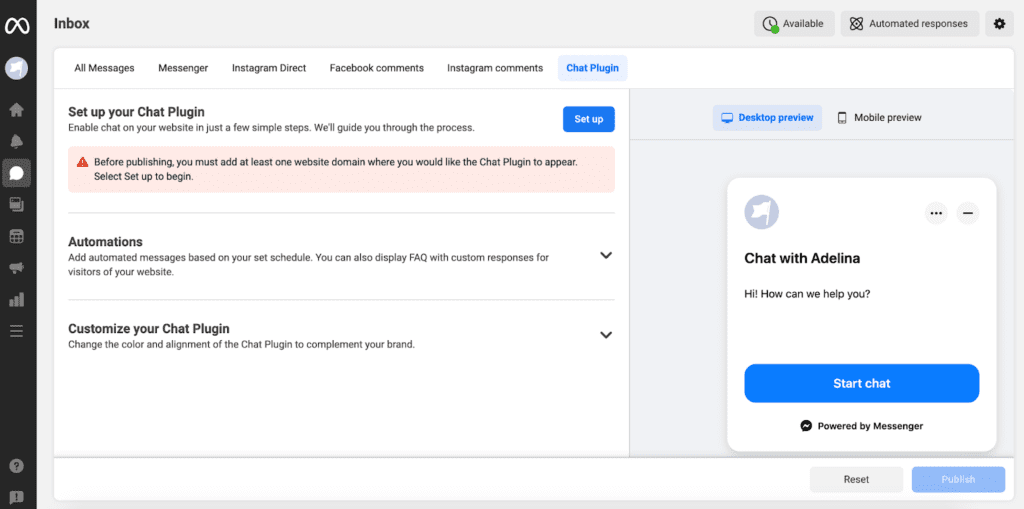 You can also customize your Chat Plugin and enable all the automations available in Messenger, namely greetings, welcome messages, FAQs, etc.
… Or Use Brevo Conversations
You can manage your Messenger from Facebook's Inbox or use Brevo Conversations to centralize your real-time customer communications all in one place.
Brevo Conversations allows you to manage all your messages regardless of where they happen — Live Chat, Facebook Messenger, Instagram Direct, WhatsApp, and Email.
Connecting your Facebook business page to the Conversations app is fast and easy.
What can you do with Conversations by Brevo? In addition to features you can access in Facebook's interface, Brevo allows you to:
Manage all customer interactions (Messenger, SMS, transactional emails, etc.) without leaving the Brevo interface.
Store leads in Brevo's CRM, and move them further down the funnel with Brevo's Marketing Platform.
Use saved replies for faster customer care.
Access insightful conversation statistics split by messaging platform or grouped together.
Launch Facebook Messenger for your business with Brevo
Quick and easy setup, saved replies & agent routing, integrated CRM, chat statistics.