Reading time about 15 min

Chatbots save time for your digital marketing, sales, and customer support teams. They also help build more meaningful customer experiences. So, how can your business make use of chat in your communications strategy?
To give you some ideas on where to use chatbots and how to drive tangible business outcomes, we've collected the 17 best chatbot examples. Take a look!
How to Use These Chatbot Examples in Your Conversational Strategy
Chatbots are everywhere. WhatsApp bots, virtual assistants, SMS bots, Facebook Messenger chatbots — they help book appointments, choose the right pair of shoes, inform users of your opening hours, and much more. Wherever prospects and customers need instant assistance, chatbots come in handy.
But let's get more specific. Here are the most common use cases of chatbots:
Marketing: creating awareness, sharing promo codes, engaging new audiences with interactive content, and generating leads
Sales: helping prospects choose the right products, qualifying leads, scheduling demos, guiding prospects through the product features, responding to pricing questions, taking orders, upselling, and cross-selling
Customer service: handling help desk support, replying to FAQs, informing customers of opening hours, handling exchange requests, troubleshooting, and tracking shipping
Need a tool? Find out the top chatbot software providers.
To show you what these use cases look like in action, we've put together the following chatbot examples from ecommerce brands, SaaS companies, and large-scale enterprises:
Creating awareness — Correlated
Engaging new audiences — MobileMonkey
Increasing customer engagement — Huffington Post Entertainment
Finding the right product — Kiehl's
Scheduling meetings — Drift
Sharing a promo code — Bluebella
Lead generation — Peloton
Qualifying leads — Instapage
Lead nurturing — Woopra
Engaging returning visitors — Wrike
Answering FAQs — GOL Airlines
Order tracking — Currys
Pre-qualifying requests for a smooth handover — HubSpot
Resolving issues — Eroski
Taking orders – Starbucks
Cross-selling — Happyfox
Handling return requests — Amazon
1. Creating Awareness
Brands have recently started using chatbots as a digital marketing channel. Why limit your chatbot capabilities to customer service?
Chatbots can create targeted and personalized experiences for new audiences. Instead of expecting your site visitors to inform themselves about your products or business, be proactive and educate your prospects in a real-time conversation.
By using chatbots to proactively engage with website visitors and drive them into your marketing funnel, you'll not only boost user engagement but also increase conversion rates.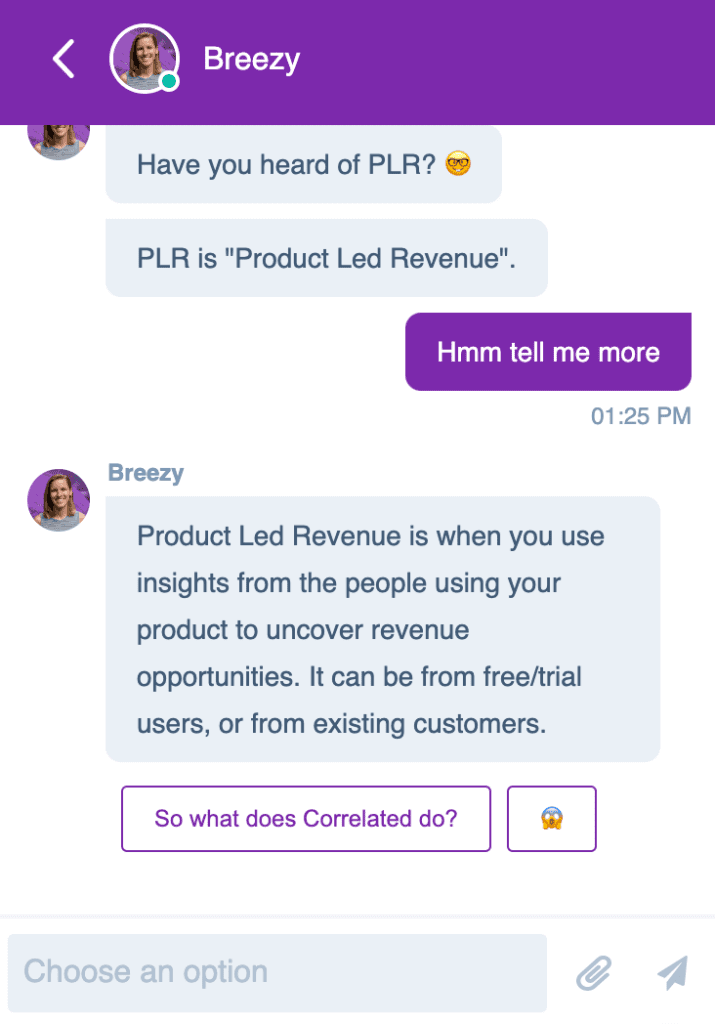 Have you heard of conversational marketing? It's a marketing strategy based on engaging website visitors through dialogue. Correlated applies this method to educate new audiences and create awareness about their solution.
Correlated is a product-led revenue platform. Because the general public has a pretty low level of knowledge on this topic, the Correlated team makes a concerted effort to nurture their audience, from creating awareness all the way to making buying decisions. A crucial part of this strategy is their chatbot.
This is a great example of how you can nurture prospective customers with top-funnel content. Instead of going through a 2,000-word guide on product-led revenue, prospects can have a casual conversation with Correlated.
2. Engaging New Audiences
Chatbots are also good for nurturing your audience with interactive and engaging content. Brands often embed quizzes, videos, gifs, and polls in their chat widgets. It's a great way to warm up the audience before sharing a lead magnet, offering a promo code, or announcing a product update.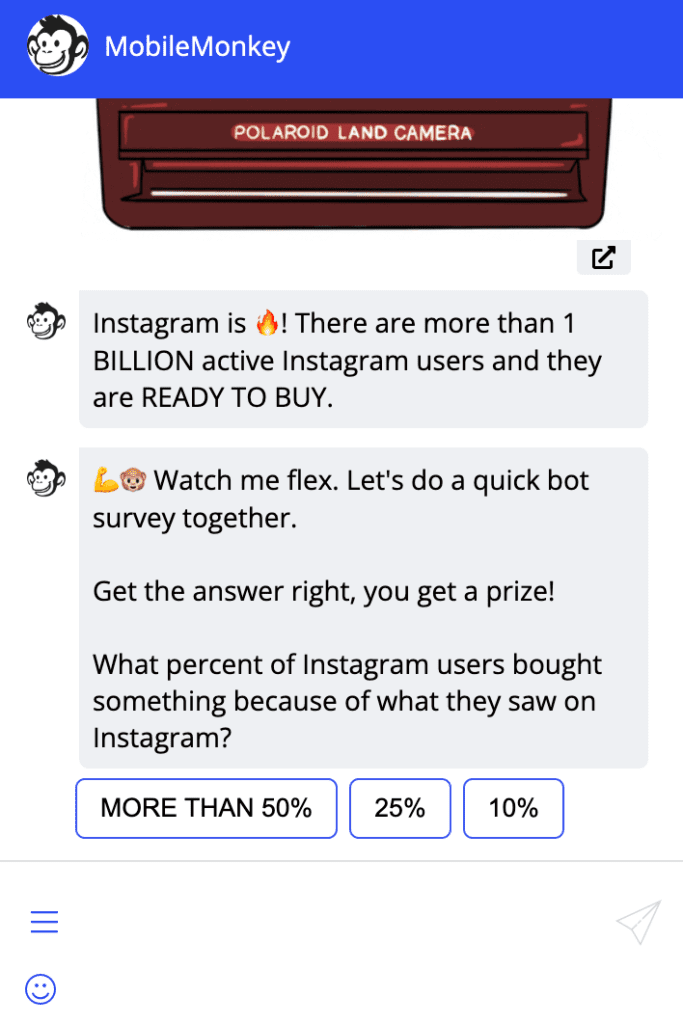 MobileMonkey uses a chatbot to catch users' attention with a fun one-question quiz. It helps increase engagement before offering a lead magnet (a downloadable guide on Instagram marketing campaigns).
3. Increasing Customer Engagement
Sometimes the best thing you can do to promote your brand is actually avoiding sales. Instead, giving away relevant, helpful resources builds a positive rapport with audiences.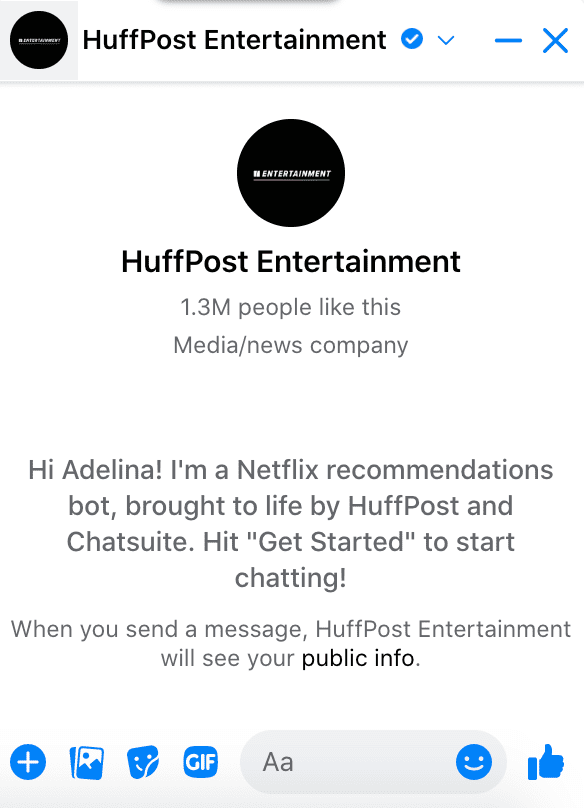 The Huffington Post Entertainment division created a Facebook Messenger bot that recommends what to watch on Netflix. Users can access it on HuffPost Entertainment's Facebook Page. This messenger chatbot has become a go-to source for HuffPost readers who watch Netflix.
"At The Huffington Post, we are always looking for new ways to deepen our relationship with our audience," shares the HuffPost team. "This bot is a great opportunity for us to interact with our readers on a more direct level."
4. Finding the Right Product
Chatbots can serve as virtual assistants helping prospects choose the product that fits their needs. Rule-based or AI-powered, these chatbots provide customers with tailored product recommendations, thus improving the shopping experience and creating more loyal customers.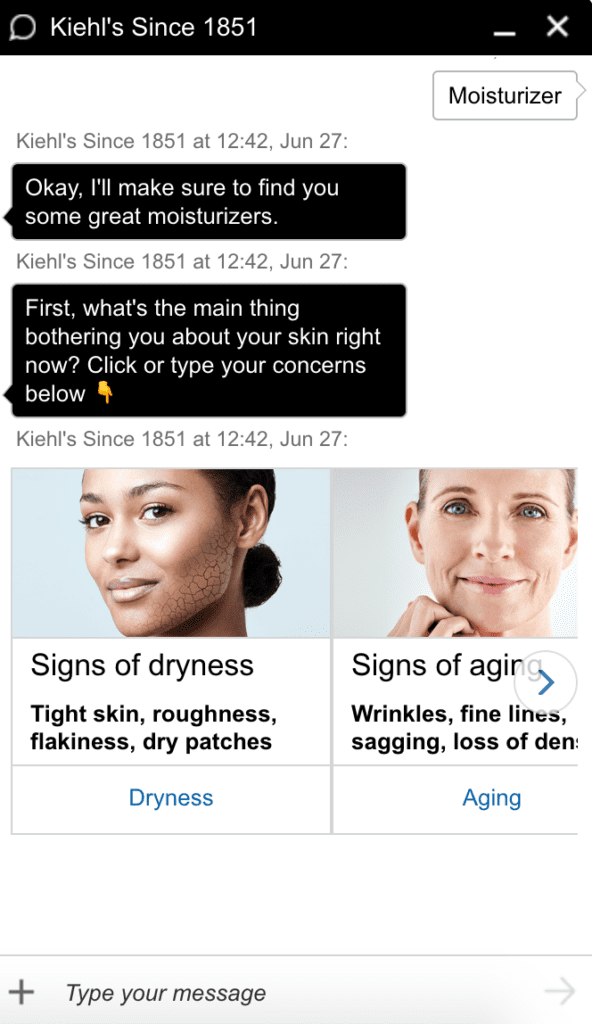 Kiehl's has created a multi-step quiz to automatically identify prospects' skin type and provide them with the most relevant product recommendations.
5. Scheduling Meetings
You don't have to schedule meetings manually. When chatting isn't enough, a chatbot can book meetings via an embedded calendar.
Calendar scheduling chatbots are extremely popular among B2B companies. They're typically used to schedule meetings with sales reps for product demonstrations.
Connecting a calendar to a chatbot removes friction from the meeting booking process and creates a better user experience.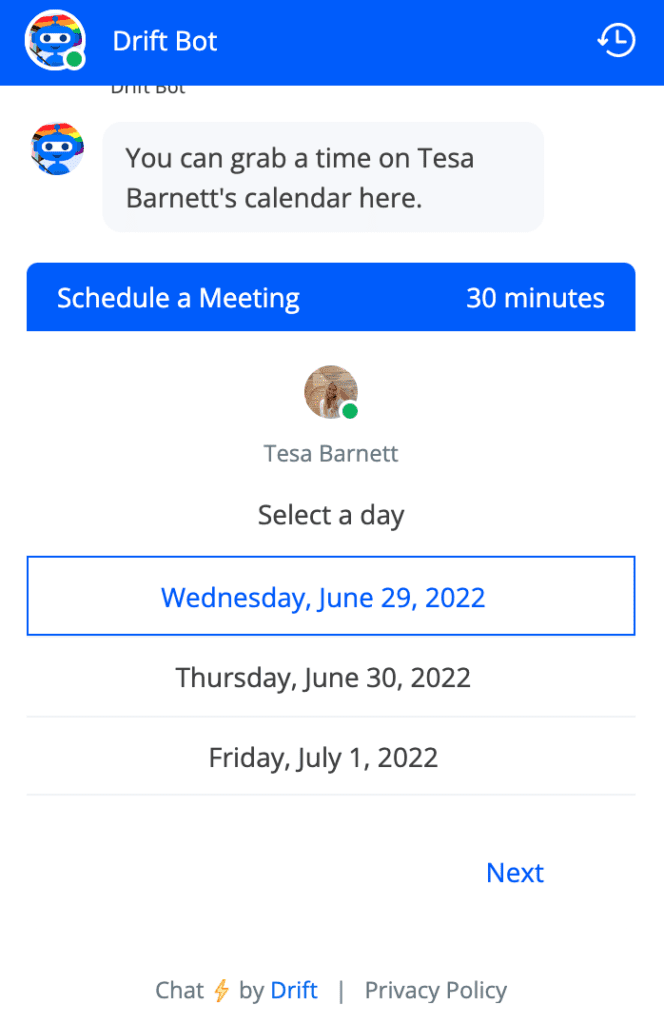 Drift's chatbot is a good example of how a B2B company can use automated scheduling for arranging meetings.
The chatbot conversation starts with a simple 'Hey there! Looking to learn more about Drift?' If the prospect wants to see the product in action, the bot gives them a few options for speaking to a sales rep.
6. Sharing Promo Codes
You can also use chatbots to share promo codes with your customers. Due to banner blindness, users tend to ignore banners and exit popups. Most often, they'll close these without even noticing you have a discount for them. Chatbots offer a new way to catch visitors' attention.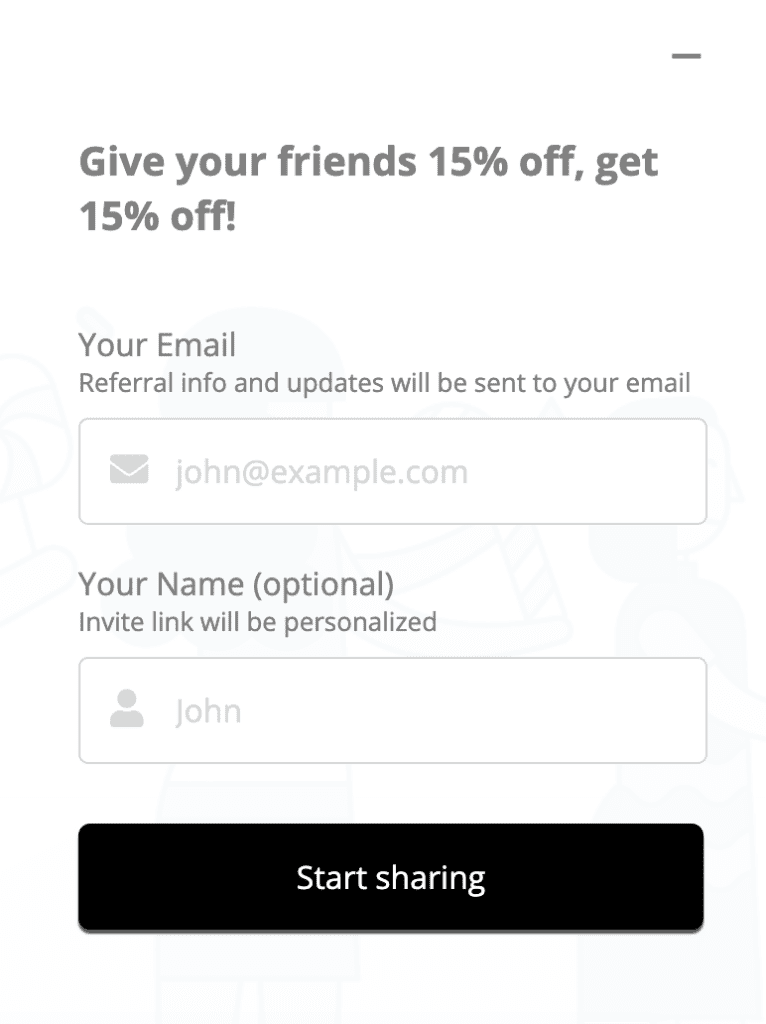 Bluebella has built a simple chatbot specifically for referrals. Existing customers can get a personalized referral code and enjoy 15% savings for friends and family too.
This is also an effective way to keep customers on your website and prevent them from exploring competitors' options.
7. Lead Generation
No matter what type of business you have, using a chat window to ask for visitors' contact information is a non-negotiable best practice.
Instead of annoying customers with intrusive lead capture forms, a lot of brands have switched to using chatbots for lead generation. This is an effective conversational approach for collecting customer information without disrupting the user experience.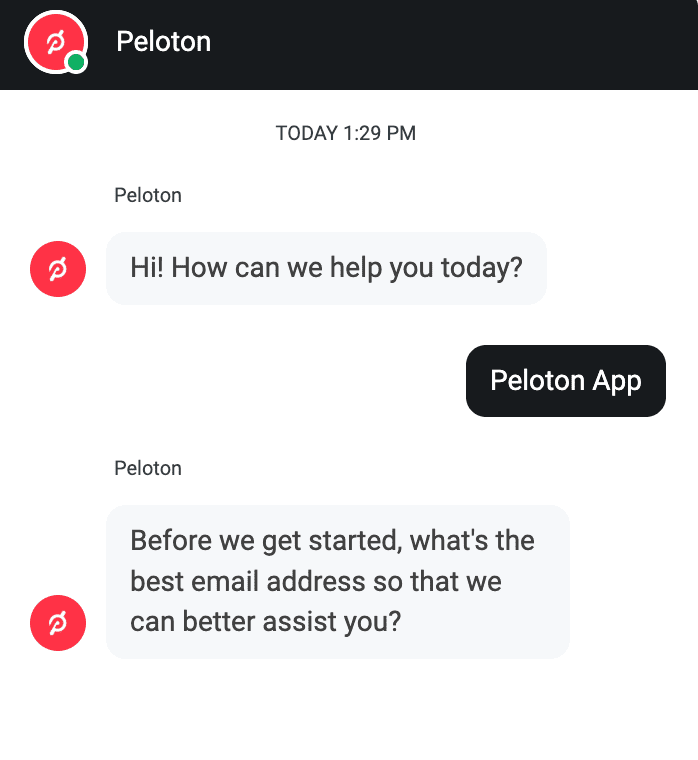 Peloton asks for the visitor's email address right after they send their first message. This way, they don't scare away users by displaying a lead capture form before they start a conversation. This strategy significantly boosts user response rates.
8. Qualifying Leads
Lead qualification is another great use case of chatbots. By asking qualifying questions within a chat widget, brands can collect more information on leads and reach them with highly personalized nurturing campaigns in the future.
With this approach, chatbots can qualify leads before sending them over to sales teams. Sales reps can then be more efficient in their nurturing strategy by adjusting their approach to the leads' specific needs and concerns.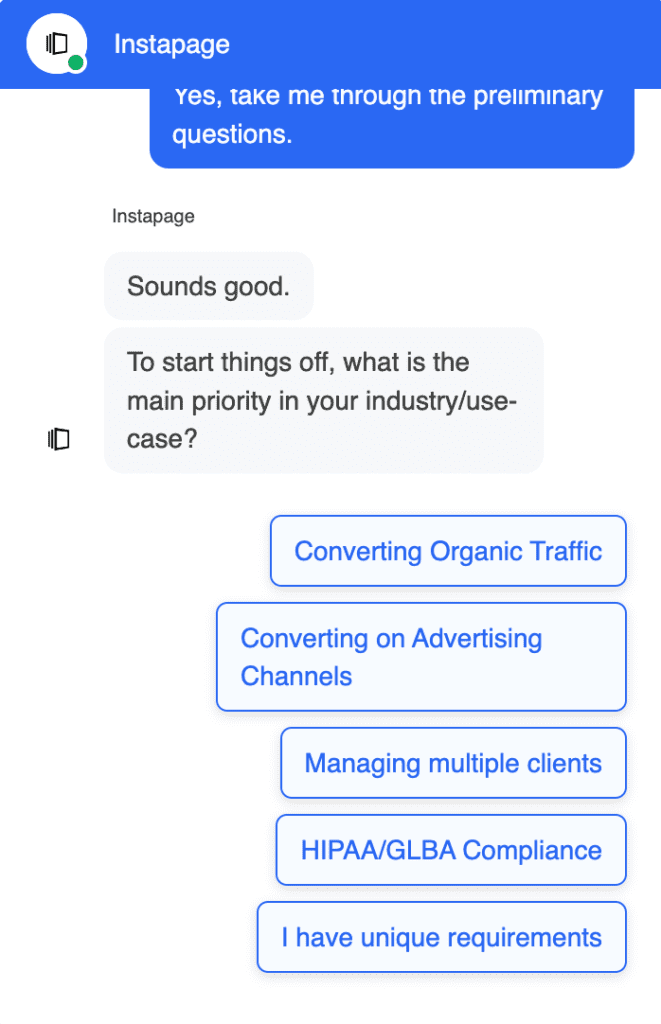 Instapage asks visitors a bunch of preliminary questions before assigning them to a sales rep or proposing a plan. This is how they get such a detailed understanding of their buyer personas and efficiently convert prospects into customers.
9. Lead Nurturing
Here's an example of using chatbots beyond lead generation, i.e., lead nurturing.
Often, brands encourage visitors to fill in a contact form so that someone can reach out to them via a chat widget. While this method might fill your mailing list with a lot of subscribers quite fast, it doesn't help to drive qualified leads.
However, if you insert a lead magnet after a few qualifying questions, you'll make sure you're getting only engaged leads (the ones you should be nurturing).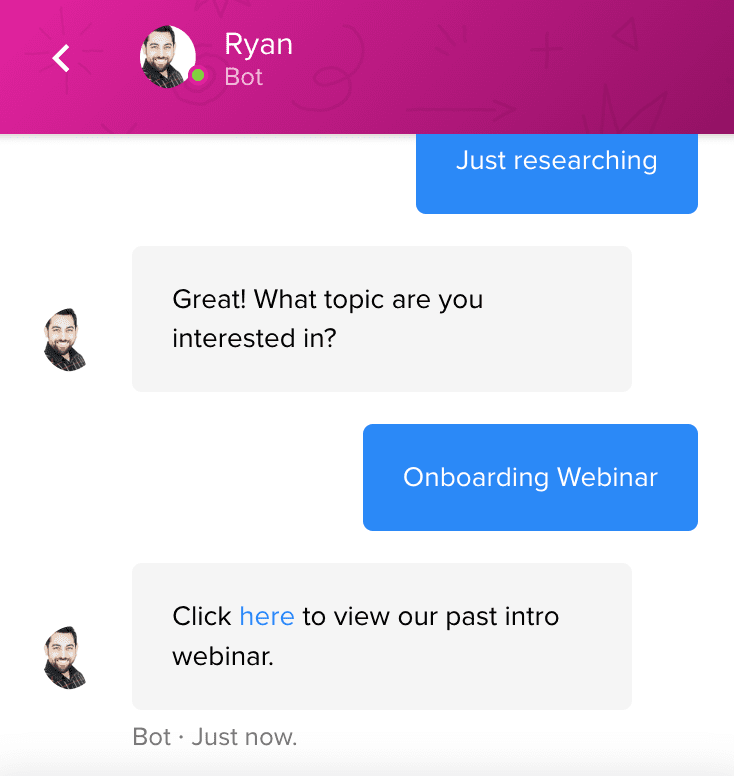 Woopra encourages users to familiarize themselves with Woopra's webinars and other types of educational content through chat. The company doesn't ask visitors to share their contact information to start a conversation, but only if they want to access Woopra's high-value content.
10. Engaging Returning Visitors
Chatbots are usually connected to CRM systems, giving them the power to understand user behavior in a way a live agent can't. They can remember actions users have taken on your site during their previous visit and re-engage them with a personalized message when they return.
It's an effective technique for following up with cart abandoners or other interested but not yet converted website visitors.

Wrike has set up a chatbot scenario where returning visitors are greeted with a welcome message. This conversation starter encourages visitors to click on the chat button and interact with a chatbot. As the conversation evolves, users learn the key product features, can chat with a sales rep, and access an educational guide via email.
11. Answering FAQs
FAQ chatbots answer website visitors' questions without the long wait times. There are two ways to do this. Brands either prepare answers to be triggered via rule-based automation or use conversational AI chatbots.
Capable of answering only a limited number of questions, rule-based chatbots resolve fewer queries than AI bots. However, contrary to AI chatbots, they provide more precise answers and don't misinterpret questions. That's why most companies still go for rule-based chatbots to answer customers' FAQs.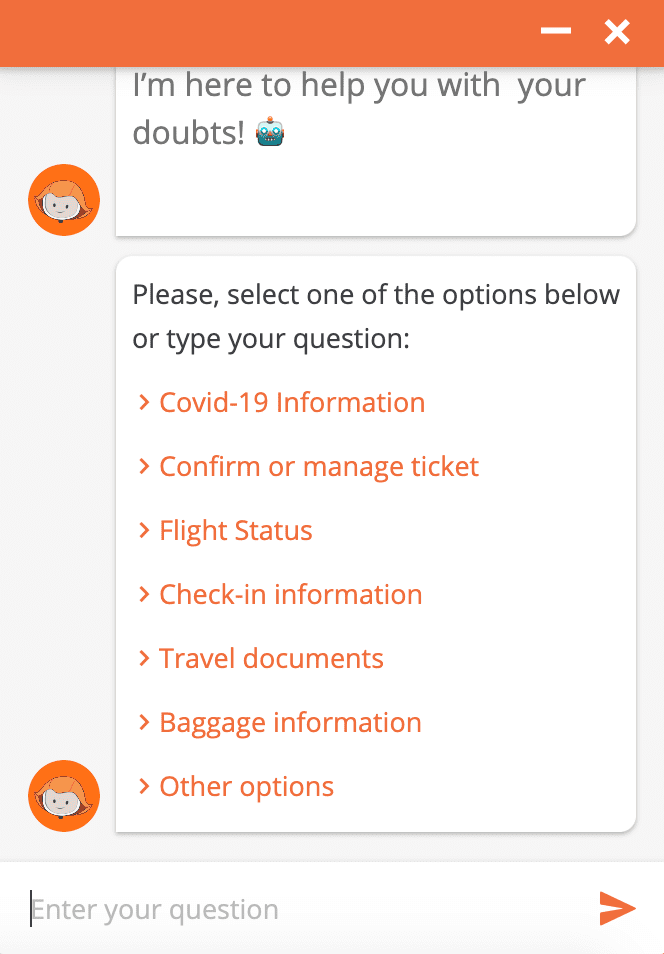 GOL Airlines has a bot to answer questions about Covid-19 regulations, flight status, check-in information, and other things people may need to know before their flight. This is a basic, rule-based bot that captures information from the company's help center.
This simple FAQ chatbot saves time for GOL's customer support team and lets them focus on more complex customer queries.
12. Order Tracking
Another time-saving function of chatbots is order tracking.
Ecommerce brands set up shipping tracking chatbots to reply to repetitive customer queries like "Where is my order?" and "Why haven't I received my package yet?" It can either be a real-time order tracking bot or just a basic chatbot that estimates package delivery based on the information provided by customers.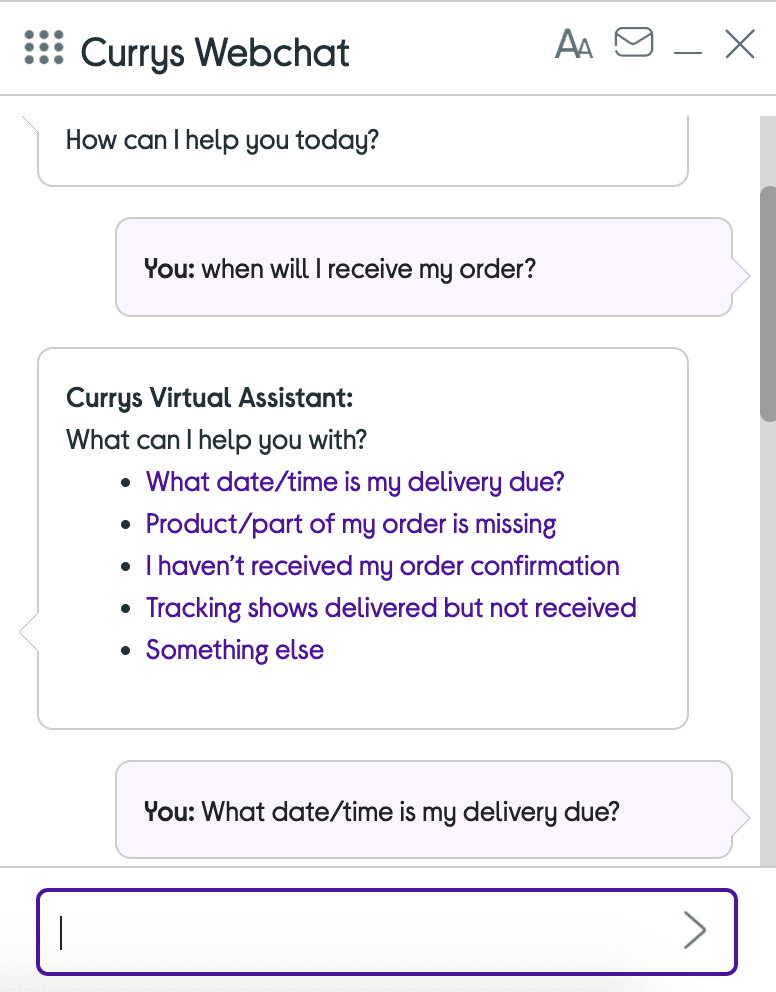 Currys uses a simple chatbot based on predefined scenarios and offers tracking information based on the product type and delivery reference number. This customer service chatbot is also capable of handling delivery issues.
13. Pre-qualifying Requests for Smooth Handover
Imagine you're waiting for a live chat agent to get back to you when you discover they're transferring you to someone in a different department, which will obviously take more time. You're feeling frustrated and losing patience.
This type of customer experience can and should be avoided!
A chatbot can serve as a concierge welcoming new visitors and pre-qualifying their requests to forward them to the right agent. This is how you reduce initial response time while ensuring customers receive immediate and relevant support.
Just a couple of pre-qualifying questions from a chatbot help live agents quickly dive into the context of the problem and enter the conversation with a solution.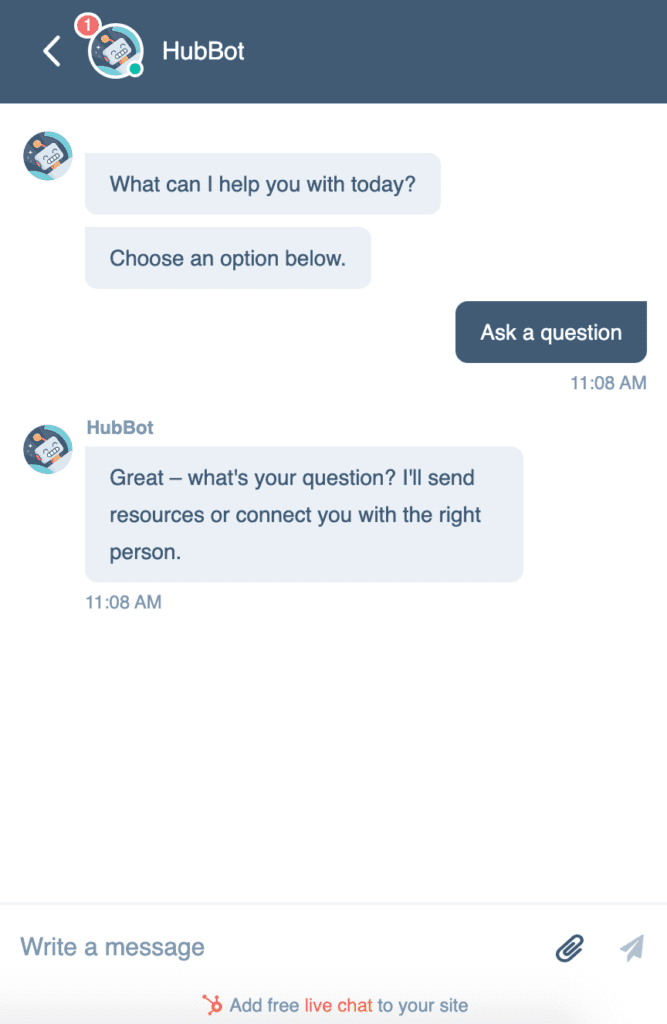 Here's how HubSpot balances chatbots and live chat support. A chatbot welcomes a visitor and asks them to specify their problem to be able to connect them with the right person or assist them right away.
14. Resolving Issues
Tasks like password resets or unsubscriptions can be easily handled by a chatbot. Your customer support reps have more important work to do.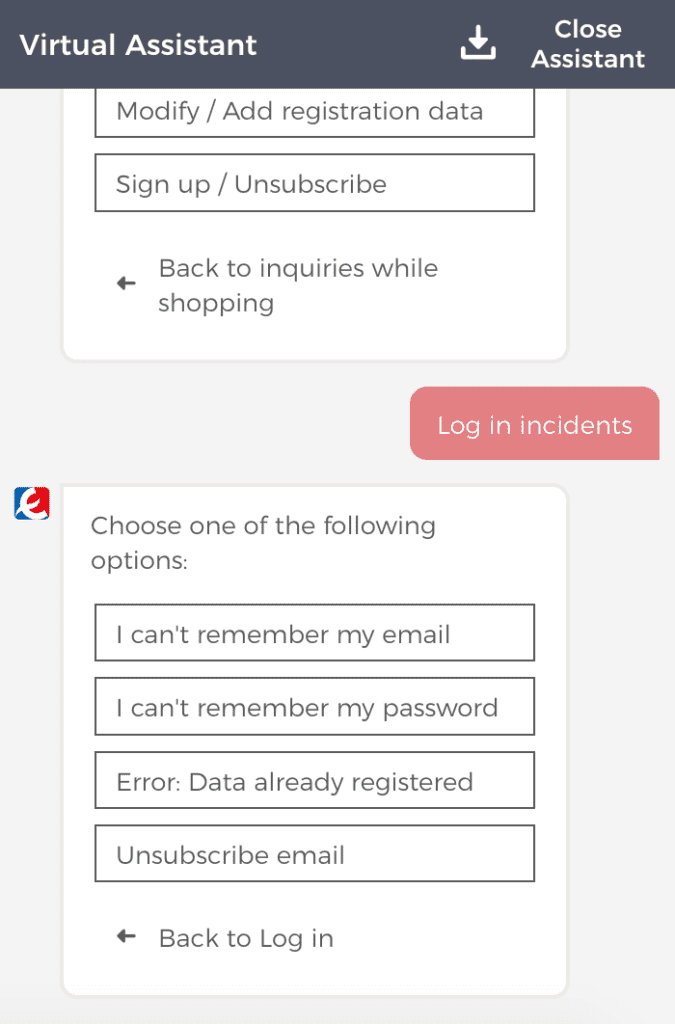 Eroski is a Spanish supermarket chain that also offers online shopping. Being able to quickly regain access to their personal account is critical for online shoppers. Eroski's virtual assistant enables self-service, allowing customers to resolve issues via a chat widget quickly and hassle-free.
15. Taking Orders
Restaurants and food delivery companies have been taking orders with the help of chatbots for quite a long time. Chatbots not only make ordering more enjoyable but also help customers keep track of their order status.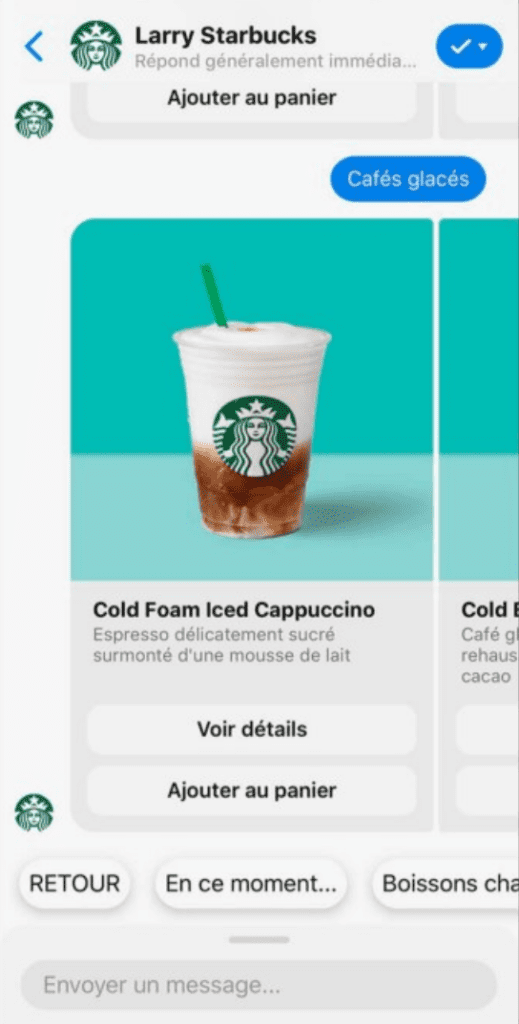 Starbucks customers can make orders via a chatbot. Instead of waiting in a long line, people can pre-order coffee and pick up their order in person, cutting down wait time.
16. Cross-selling and Upselling
With the right script planning and triggers, you can create a chatbot to cross-sell and upsell your customers.
For instance, you might connect your chatbot to your live chat and trigger a handover whenever a customer spends a specified amount of time on your pricing page.
You could also keep track of your customer actions on your website and use a chatbot to offer complementary products in a conversational manner.
But the easiest way to upsell using a chatbot is simply asking customers whether they're looking to buy additional products or not. Take a look at the example below: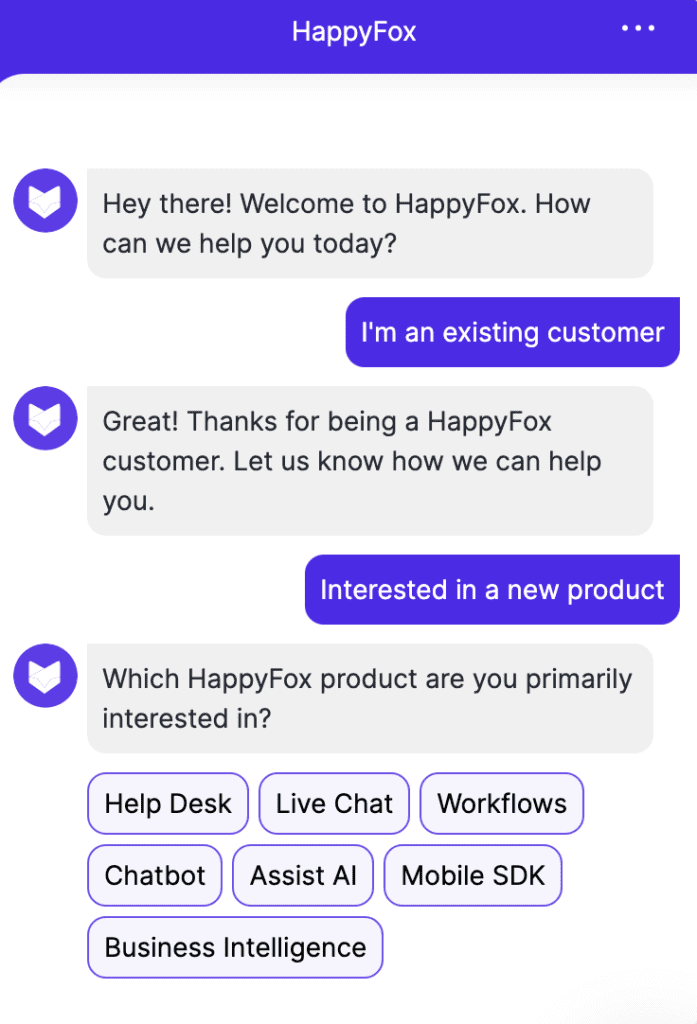 HappyFox's bot helps existing customers explore new products and learn more about their features. When a visitor specifies what product they're interested in, they see a brief product description that helps them quickly understand its features and make an informed decision.
17. Handling Return Requests
Today's chatbots are also capable of handling product returns and refunds. To set this up, you'll need an AI-powered solution integrated with your CRM software and payment system.
In this case, the chatbot needs to be able to understand why a customer is returning a product and decide on the next steps according to your business's return/refund policy.
To avoid costly mistakes, you can also create a handover protocol that enables a smooth chat transition between bot agents and live agents when queries get too complicated.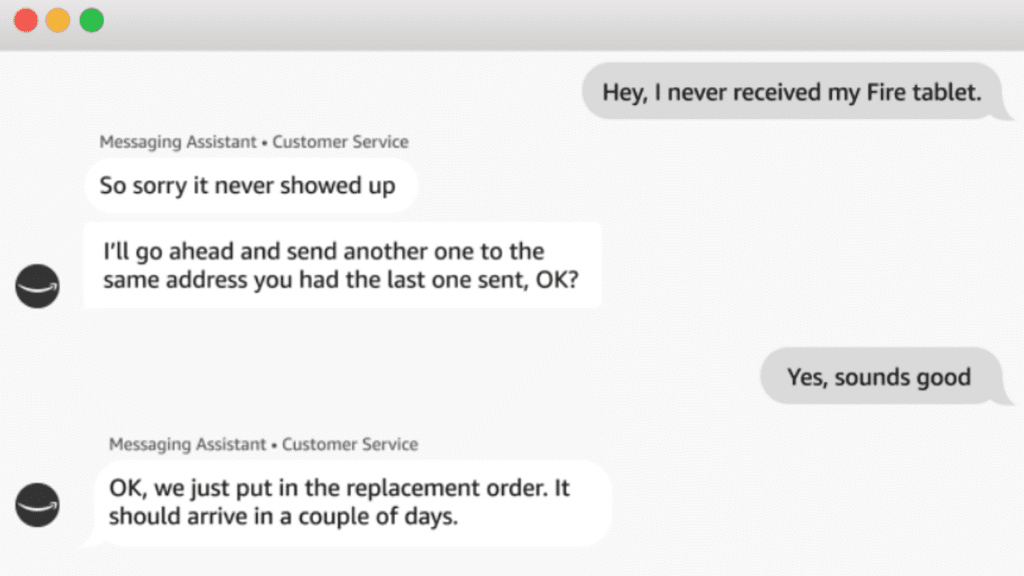 Amazon's automated chatbot makes product returns much easier for Amazon customers. It provides customers with almost instant refunds and schedules returns without wasting anyone's time.
The chatbot always tries to provide customers with actionable advice on what to do if the product hasn't arrived within the estimated time frame and schedules replacement orders if it sees the order was never sent.
Try Those Chatbot Examples for Your Business
Whether you're only getting started with chat automations or already have some in place, these chatbot examples are easy to replicate to enhance the customer experience.
Start using chatbots with Brevo
Live chat widget and apps, unlimited chats with history, automations and saved replies, realtime visitor list and ratings.