Reading time about 11 min

Looking for transactional email inspiration? We put together a list of the most important types of transactional emails along with examples to help you leverage this valuable real estate to its fullest extent!
Transactional emails are an incredibly important aspect of email marketing. However, they're often the most underrated and underutilized part of businesses' email marketing strategies!
Many companies treat transactional emails like obligations instead of opportunities. The result is an inconsistent email strategy where promotional emails get all the attention and transactional emails are largely an after-thought. This creates a brand discrepancy within your communications and wastes a valuable opportunity to engage customers.
This problem is even more prevalent in small businesses where employees may lack the time or skills needed to create well-designed emails. However, the right email marketing platform makes crafting branded transactional emails super easy. But before that, let's take a look at the underlying strategies behind this form of customer communication.
Bland and generic transactional emails are all too common today — but this doesn't have to be the case. They have the potential to ooze personality and excitement just like their promotional email cousins. In fact, transactional emails can do just as much (if not more) to drive conversions and create loyal followers and customers!
Check out these excellent transactional email examples for ideas on how to improve your customer relationships beyond promotional content.
Essential elements of the best transactional emails
Before we dive into examples, let's quickly go through what makes a good transactional email.
Timing: Transactional emails are time-sensitive and need to be sent promptly. They're the receipts of digital transactions and people expect them in their inboxes right away.
Urgency: The subject line of a transactional email needs to match the importance of the message itself.
Details: Whatever information you're communicating should be clear, concise, and correct.
Personalization: Transactions are strictly individual and often involve private information. Your communication about them should feel this way too.
Contact information: Give your customers a way to reach out to you or your support team in case of questions or issues.
Branding: Just like any other email your business sends, transactional emails should embody your brand. Transactional email design is just as important as newsletter design.
Extra value: Transactional emails have the highest open rates. Use the real estate to upsell, share social media profiles, or promote your loyalty club.
Reminder: Transactional emails are not the same as marketing campaigns
Transactional and marketing emails have different purposes, and so some different rules apply to either.
Automated emails triggered by special events (like transactions) are called transactional. They're predefined messages for communicating the various stages of the customer journey to individual contacts and shoppers.
The email campaigns you send when you want to promote a product or generate brand awareness are a form of marketing. They're usually mass emails sent to subscribers according to your marketing strategy, and not in response to individual actions or purchases.
How to send transactional emails?
Because transactional emails are specific and individual, you can't send them through a regular email marketing tool. Instead, you'll need a dedicated transactional email service provider to guarantee high email deliverability and security.
Brevo offers both transactional and marketing email services, integrated with one CRM suite for full control of your communications. Transactional Emails only plans start at $15/month for 20,000. There's a free plan for 300 emails/day forever.
Grow with Brevo's Transactional Email
Free SMTP server for up to 300 emails/day, email API for developers, transactional email templates, and unlimited log retention.
The 9 most common transactional emails: Examples
1. Verification/Double opt-in email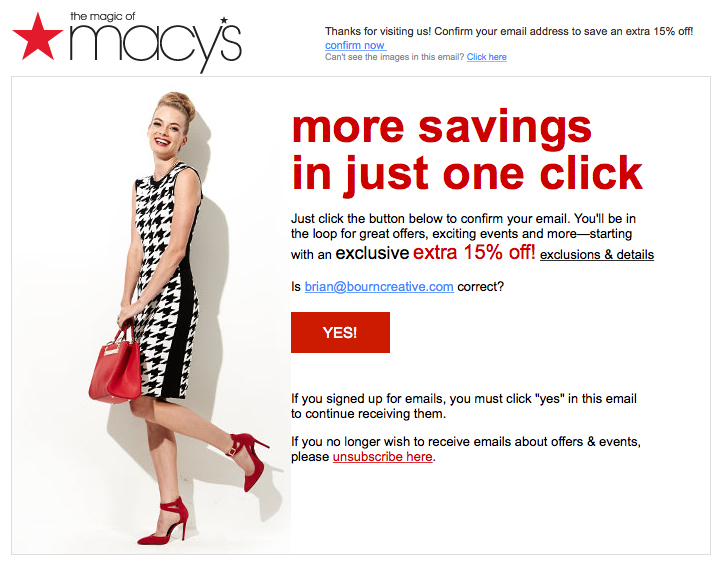 What makes this a good transactional email example?
Using a double opt-in strategy is always a smart idea — especially with European GDPR legislation.
Macy's double opt-in email is full of flair and branded colors and images. The message is simple and straightforward and reminds new subscribers that they always have the option to unsubscribe.
By offering a discount at signup, Macy's gives new subscribers a taste of the high-value content they can expect from the fashion retailer's emails.
Further, Macy's makes the most of new subscribers' high intent. If someone decides your emails are worth signing up for, they're likely not far from making a purchase. In this case, offering a discount is often all it takes to convert new subscribers into customers.
2. Account creation/Welcome email

What makes this a good transactional email example?
Introduces the brand vision in a human way
Starts building a personal relationship with the subscriber
Mentions key benefits of the product
Encourages immediate shopping with on-brand CTAs
Balances images and text
How different is this message than your standard, "Thank you for signing up" welcome email? Piecework knows how important that first interaction is with new subscribers, and it uses its signup confirmation email to capitalize on this golden opportunity.
From the very first line, this transactional email gets the new subscriber excited to learn more about the brand. The story of how the product came into being is personal, down-to-earth, and relatable, forging an instant connection with the reader.
What to take from this transactional email example is its storytelling, visual branding, and simplicity.
3. Abandoned cart email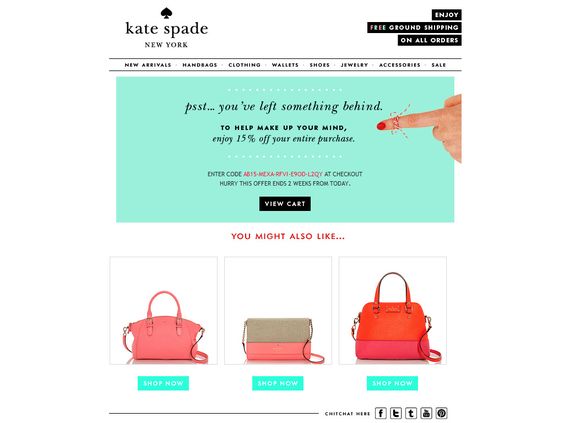 What makes this a good transactional email example?
On-brand
Eye-catching
Personalized discount
Spotlight on related products
This abandoned shopping cart email from Kate Spade mimics the layout of the website, creating a seamless brand experience. Transactional emails like this stand out in inboxes because of their bright colors and careful balance of text and white space.
Offering free shipping is another key element of Kate Spade's strategy. It removes a common sticking point in online buying decisions and sweetens the deal. Even better, the phrase "Enjoy free ground shipping" makes the offer seem indulgent instead of just routine.
And of course, the discount also increases the chance of conversion. This example from Kate Spade makes it easy to see why cart abandonment emails are one of the most important types of communication in ecommerce.
4. Order confirmation email

What makes this a good transactional email example?
Contains all important information
Upsells similar products
Is visually appealing
Links to branded content to encourage click-throughs
Includes useful links to the customer's account
Crate & Barrel's order confirmation email follows all the best practices of transactional messages. It gives customers everything they need to know about their purchase and leaves them feeling confident about their buying decision.
Crucially, this transactional email includes order number, credit card charge reminder, shipping address, and order summary. Creating a transactional email template like this is easy to do.
Decide what information you'll include, then connect your ecommerce shop to your transactional email service to auto-fill customers' purchase details.
5. Shipping update email

What makes this a good transactional email example?
On-brand
Clean design and detailed information
Package tracking
Contact/support options
After receiving an order confirmation, customers are on the lookout for shipping details. This transactional email example does a great job of providing and presenting those details.
It includes information like order number, tracking number, total order value, and shipping address (to double check), but it goes a step further in terms of convenience. By featuring images of each ordered item, it builds excitement around the products and brand at large.
6. Feedback request email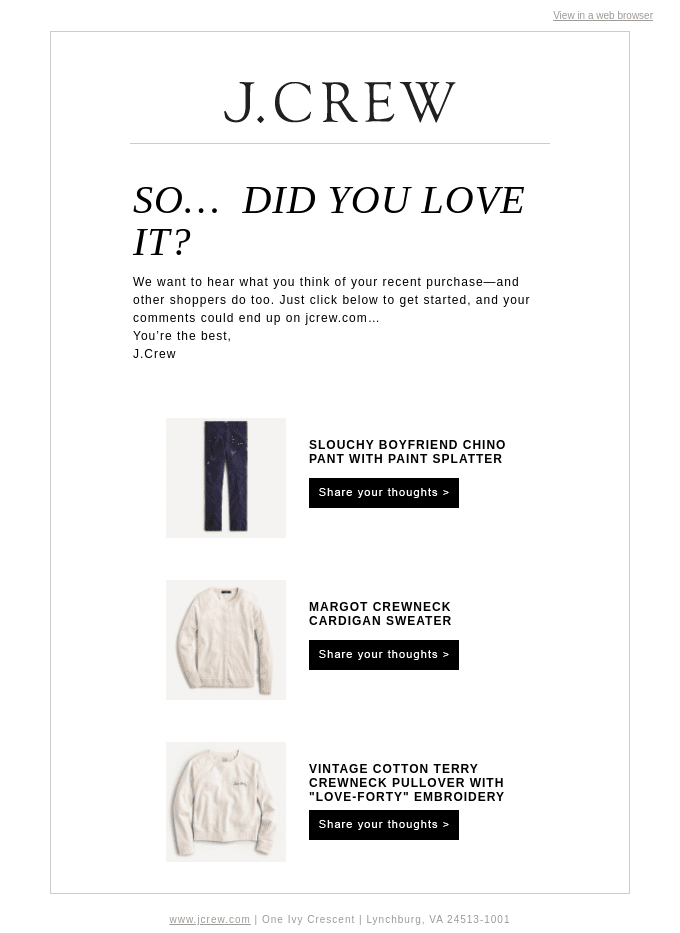 What makes this a good transactional email example?
Friendly, encouraging tone
Visual reminder of purchased items
Option to give feedback on individual items
Feedback emails help with making improvements to your business and building rapport with customers. The best way to implement them is by automating them as transactional emails.
Decide at what point post-purchase you'll ask for feedback. Then, use a dynamic template to personalize each email to include what individual customers purchased.
Another important element here is branding. Don't give up on your brand identity once a purchase is completed!
7. Password reset email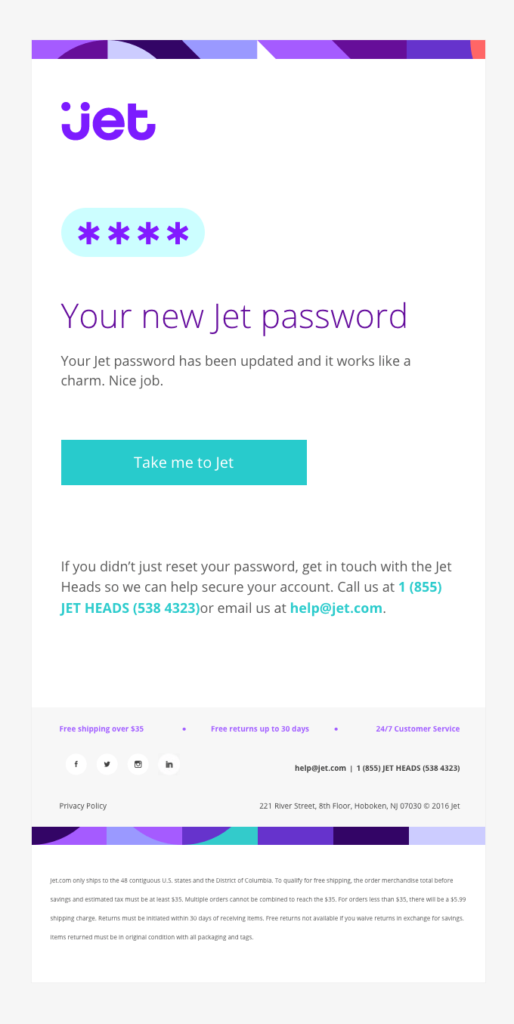 What makes this a good transactional email example?
On-brand
Simple and to the point
Contact details
A password reset email is an example of a transactional email that you really need to get right. Passwords and access credentials are private information, so your emails should show security and trustworthiness.
That's why they should be clean and to the point, without distractions. As well, be sure to include contact options in case something's wrong.
8. Account cancellation email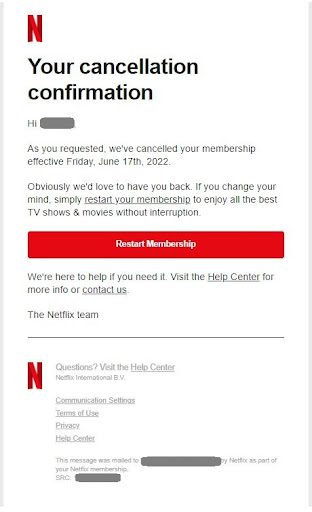 What makes this a good transactional email example?
Straightforward and detailed
Potential next steps
Non-promotional CTA
This transactional email from Netflix does exactly what it's supposed to do. It tells the customer when they lose access to the service.
The email is clear and concise, giving only important details that customers care about. Providing contact details and explaining how to re-subscribe are great additions, too.
9. Subscription expiring email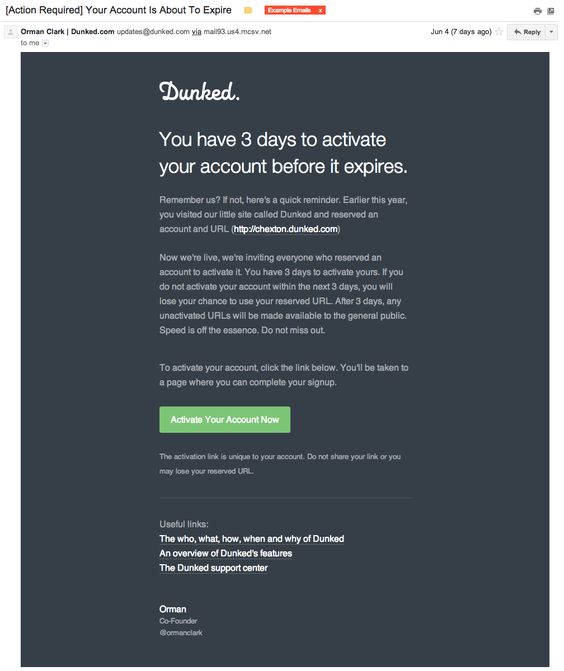 What makes this a good transactional email example?
Urgent and engaging
Clear CTA
Depending on your business, you might need other types of emails such as notification emails or important updates that require customer action.
Dunked had a kind of a waitlist, letting users create accounts before launch. When their service went live, they sent this example of a transactional email to ask people to activate and confirm their account.
The link to the support center and the founder's social handle are also great for reinforcing trust.
In short: What makes these transactional email examples so good?
They improve the customer experience by providing information at every step.
They move the customer journey forward by cross-selling and building loyalty.
They make use of the transactional email channel for branding opportunities & relationship building.
They're sent via some of the best SMTP servers for marketers.
Dos and Don'ts of transactional emails
✔️ Unsubscribe links are not mandatory in transactional emails (as you see in some of the examples above). Brevo includes one in templates by default for the recipient's peace of mind.
✔️ To make a transactional email truly useful, personalize as much as possible using dynamic content.
✔️ Drive the next step with a clear CTA.
❌ Don't automatically subscribe contacts to your marketing emails. Giving you an email address for the purpose of a transaction (e.g. an order) isn't consent You have to ask explicitly.
❌ Don't stray from the purpose of the transactional email, which is to give information about a transaction taking place. People want to know everything's going smoothly. Funny or creative emails that beat around the bush won't be appreciated.
Update your strategy with these transactional email examples
Sign up for a free Brevo account and start sending professional transactional emails
GDPR-compliance: Multilist subscriber management allows you to send transactional emails as needed but marketing emails only to contacts who consent.
Automation & dynamic personalization
Sender reputation that's carefully monitored for guaranteed deliverability.
Drag-and-drop email editor for marketers, not coders: Create beautiful transactional email templates and easily update them as needed.
Transactional retention logs are indefinite: You configure how far back you want to see them.