Guest post by Screen Media Group (Brevo Expert Partner)
Screen Media Group is a full service digital marketing agency based in Miami, Florida. SMG's main focus is to provide digital marketing solutions (ecommerce, inbound marketing, media buying) using the best tools, but also implementing tried and tested strategies to boost the performance, visibility and credibility of all kinds of businesses.
Brevo has been an awesome addition to our toolbox in recent months, as it has allowed us to come up with creative and practical workarounds to meet our clients' needs. Any agency looking for a quick, responsive and intuitive suite for automation, email design and some level of CRM should try using Brevo and become a partner, as we did.
Data is the most valuable asset a company can have. As a marketing agency, Screen Media Group knows the effect data can have over people, products and a brand's success in its target market.
We believe there's always a way to optimize business operations and get better results through the use of smart tools. For us, this was a great opportunity to make use of Brevo's automation and email handling features.
In this case study, you'll find out how we used Brevo's automation sequences for lead generation (using contact forms) and then engaged the leads with email.
The Client & The Challenge
Maxicon is a South Florida company using engineering and technology for smart homes. Their services include the design, development, implementation and maintenance of smart homes.
Maxicon's technology-driven and state-of-the-art craft has garnered so much attention and visibility that their website enjoys a constant flow of traffic from prospective clients. This means they're continuously generating new sales leads through their contact forms, chat and landing pages.
Contact form data is extremely valuable to the kind of business Maxicon runs. It's essential to keep it organized and accessible at all times. Their ultimate goal, when they came to us, was to boost earnings using information collected on their website.
Apart from collecting more leads, they were also keen to improve the brand experience so that it felt more exclusive and personal to prospective customers.
Our agency used Brevo's email sequencing capabilities with two things in mind:
To capitalize on leads captured through contact forms and assist Maxicon in keeping track of each prospect.
To visualize the sales funnel and conversions better, using Brevo's CRM tool.
Before starting the project, the Maxicon team had already created a lead database that gave us a solid foundation to work on.
Strategies and Implementation
Using Brevo, we set up three different types of contact form to be used on the Maxicon website, each referring to a different context. These forms were then embedded on the "Home", "Contact Us", and "Support Pages". The idea was to have a specific response for each form, making it easier to track different types of leads.
Our next step was to implement a lead classification system. We decided to classify leads into three different groups:
Active Clients: Customer support leads who need help with their current Maxicon services and/or require tech support.
Prospective Clients: Website visitors with an interest in signing up to one or several Maxicon services.
Showroom Visitors: Website visitors who filled out a form requesting a demonstration at the company's showroom.
By classifying leads this way, Maxicon could then tailor the user experience and support to match a user's specific needs. Through a combination of automated email sequences and open conversation, Maxicon was able to improve its relationship with potential customers.
Configuring the Automated Sequences
We started by creating automation tasks specific to each form and classified according to contact information. That way, Brevo was able to round up all the relevant data Maxicon would need to carry out their sales activity.
Part of what we do as an agency consists of predicting how people will react to the various digital elements they interact with while engaging with a brand.
In that sense, Brevo allowed us to create email templates that helped Maxicon feel more approachable and relatable. Brevo's drag and drop email editor (pictured below) is so easy to use that everyone involved was able to pitch in on the email design.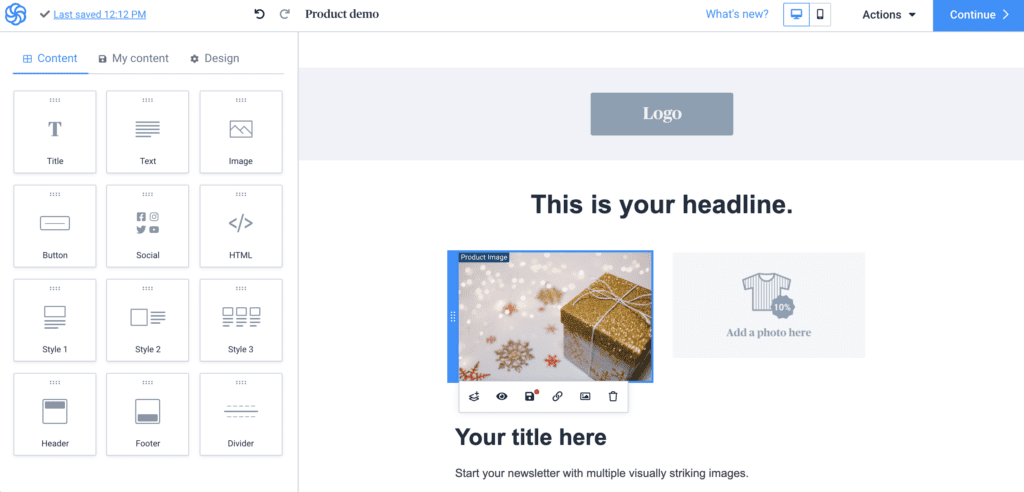 The automation workflow handles contacts in the following way.
Brevo reads the contact form information.
This information becomes a "lead".
The lead is then assigned to an exec's email contact list.
The lead receives a welcome email.
A call lead task is generated so the exec can pick it up from there.
The lead receives an automatic follow-up email a few days after the first call.
When we talk about capitalizing on leads, we mean making the most out of every single touchpoint and interaction.
Adding human contact (i.e. the sales call) to the sequence was essential. The best way to understand a prospect's needs is to get in touch with them directly.
The Email Sequence
During a call, a Maxicon exec would fill out a debriefing form on Brevo which triggers the email sequence. There are four in total which describe our client's services in detail and help match them with a prospect's needs.
Using Brevo's drag and drop editor, our designers worked with Maxicon to create graphics that could be used in each email to provide brand consistency. Uploading these additional elements to the editor is also easy. Simply drag and drop items onto the email body and rearrange them as you see fit.
Because we didn't want Maxicon to appear too aggressive or pushy, we programmed the emails to be sent out with some days in between. We would suggest other agencies to do the same: Be smart about your timeframes. Sending an email too soon or too late will impact the effectiveness of your strategy.
Turning Leads into Deals
Within Brevo's CRM tool, the Deals feature lets you manage your sales opportunities via a user-friendly interface. Using Deals, Maxicon execs were able to get an overview of in-progress sales as well as reports from closed deals.
With this system, turning leads into deals has become easier for Maxicon. They're able to stay on top of their lead pipeline and streamline their communication efforts—helped by the fact that Brevo signals to them when to call and follow up with a lead.
Thanks to Brevo's Deals tracker, Maxicon has optimized its sales performance and built stronger, trusting relationships with leads.
Results
Here's what we achieved for Maxicon using Brevo:
We created three contact form workflows that allowed Maxicon execs to track prospective customers properly.
We made it possible for Maxicon to siphon contact data from their website through an add-on coded by Brevo which can be embedded onto the website's backend.
We gave Maxicon execs their own credentials to sign into Brevo and use it to improve their communication with potential customers.
We helped Maxicon develop an internal debriefing form so their team would be able to handle clients' needs efficiently and in more detail, case by case.
We boosted Maxicon's productivity and helped them grow their sales volume.
Need help turning leads into deals? Get in touch with Screen Media Group!
Wrap Up
At SMG, we are true believers in the power of tech. This philosophy resonated with Maxicon and together with Brevo we were able to make our automated lead generation strategy a reality. We're proud users of the platform and always happy to spend time showing our clients all the cool things they can do with it.
Become a Brevo Expert
Agencies! Want to create powerful automation workflows for your clients? Join our Expert Program and learn to use Brevo in this and many other ways!