Reading time about 13 min

As an online store owner or marketer, you naturally want to use the best email marketing app for Shopify.
Email marketing is the first and probably most important part of any ecommerce strategy. It lets you stay in touch with potential and current customers. You're able to reach them anytime directly.
The best email marketing tool for ecommerce business should give you:
Transactional emails
Promotional email campaigns
Marketing automation
Personalized messages
On top of that, if your ecommerce platform of choice is Shopify, you need easy integration and contact storage to manage your lists of customers. Tracking capabilities would also be very useful to trigger automated messages and workflows.
Wait, doesn't Shopify offer email marketing?
The Shopify Email App
The native Shopify Email app is available in their App Store along with the other email marketing solutions. It covers the basics of email campaigns: promotional templates, automated emails, personalization, and tracking.
If all you want to do is send simple emails to promote your products, it can do the job. If you want to run complex campaigns with automations, personalization, custom templates, and manage your lists — ironically — it might not be the best Shopify email app for you.
Pros
Free to install
Native app
Easy to use
10,000 emails/month free, then $1/1,000 emails sent
Cons
Users report glitches and emails not sending. The app launched relatively late to the advanced email solutions on the market.
Big campaigns are sent in batches of 1,000 so if you want your promotion to hit the inboxes before everything's sold out, you'd better use a bulk email software that can handle the volume.
Only available in English and billing in USD only
Segmentation is not custom. The app creates your lists automatically and you can't edit them.
Only Shopify Plus users can stop the transactional emails being sent through the app. Other users can only customize them in the Shopify HTML email editor. A popular workaround is to set those to a basic "thank you" note and send the "real" ones via your full email marketing service.
Now that you know what you can get from the maker of the platform, let's see what other options are available for Shopify store owners? We rounded up the best email marketing tools that integrate with Shopify to help you carry out your ecommerce email strategy.
Top Shopify Email Marketing Plugins and Tools: Pricing Overview
The Best Email Marketing Plugins for Shopify
Brevo's full marketing capabilities are available for Shopify stores. Enjoy the marketing tools big players use without the steep price. Brevo's mission is simply to help small businesses grow.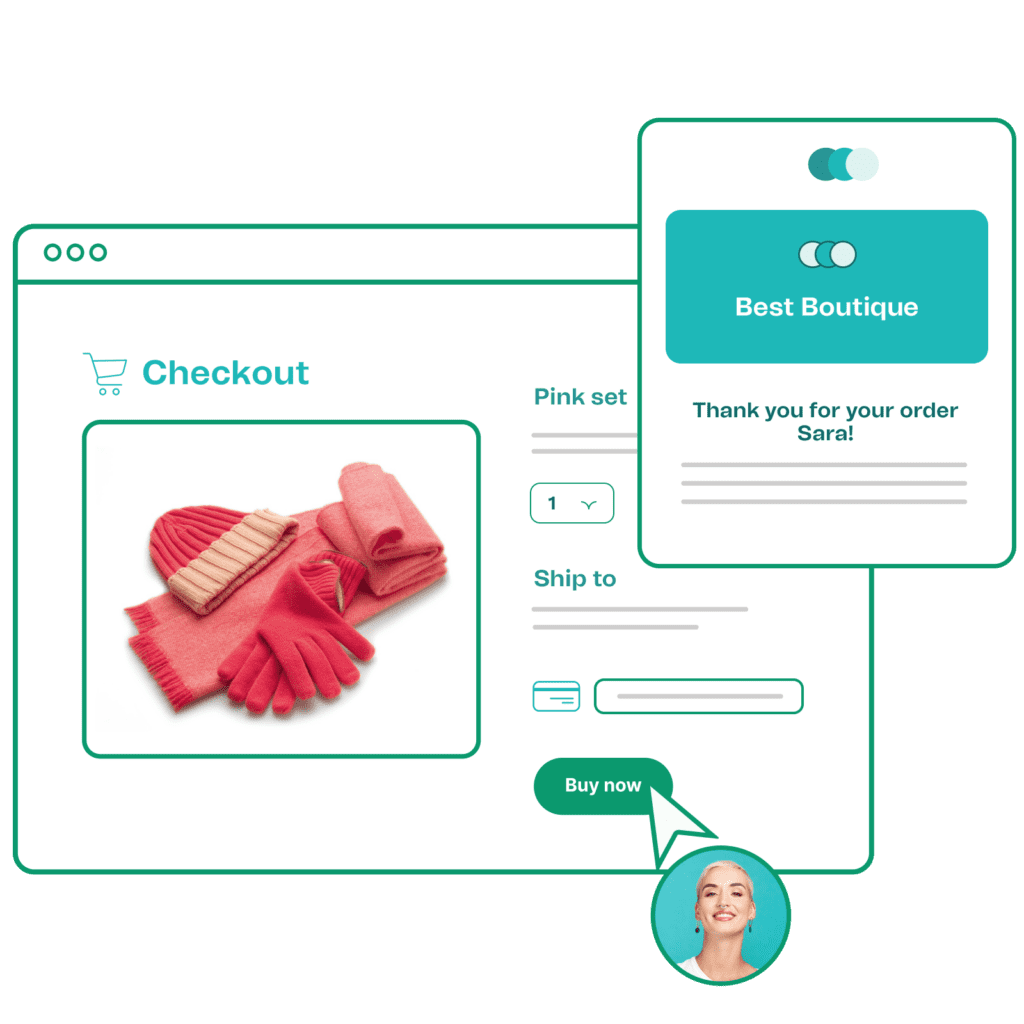 Brevo's email plugin for Shopify gives you quick access to all of the platform's functionalities so you can drive sales from one place:
Customizable transactional emails (order confirmations, delivery notifications, password resets, etc.)
Beautiful promotional campaigns created from templates or from scratch in our drag-and-drop email builder
Email marketing automation and workflows (e.g. Shopify abandoned cart emails
Advanced customer segmentation and unlimited list management thanks to an integrated CRM suite
Customer tracking — events, behavior, customer data, and tagging
WhatsApp and SMS marketing
Push notifications
Live chat and chatbots
Signup forms to grow your Shopify mailing list
Landing page builder and Facebook Ads
A/B testing of emails (subject lines, body, design)
Campaign click maps and performance breakdowns
Premium deliverability of mass campaigns
Shopify users also have access to Brevo's advanced features: the Ecommerce Dashboard.
It gives you a real-time overview of your sales performance to use in your campaigns:
Orders
Customer retention metrics
Product performance
Revenue coming from new and returning customers
All you have to do to access this data is install the Brevo plugin for Shopify and go through the sync process.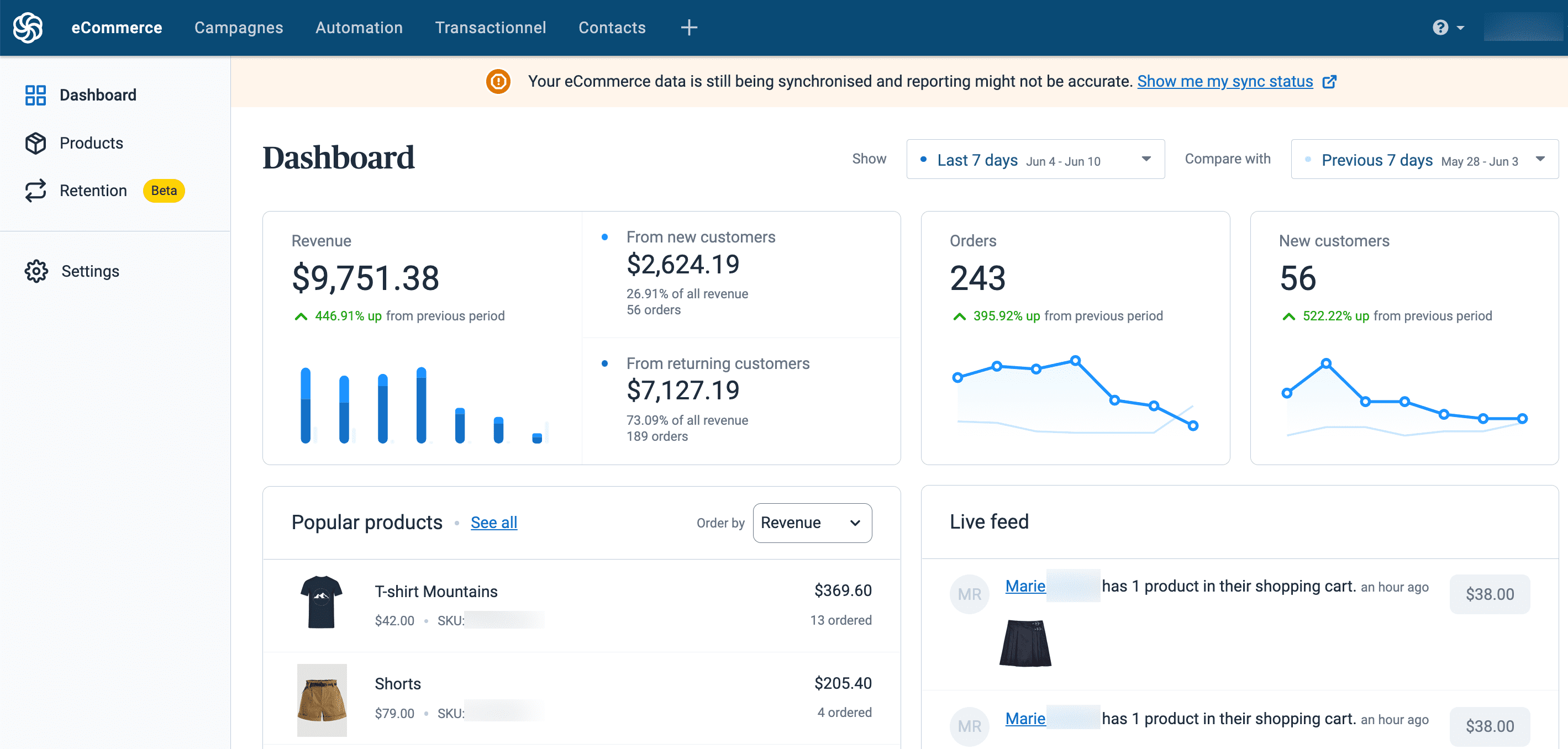 The beauty of the integrated platform is that it all works together. It's easy to kick off your multichannel strategy. Segment by any action or attribute to create specific customer groups, and target via any marketing channel as needed.
You can also automate complex engagement campaigns based on customer's behavior. For example, you can:
capture a lead with a signup form,
send a welcome email,
ask what kind of content they want to receive from you,
have the automation tag them accordingly,
engage regularly via newsletters tailored to their preferences,
test and learn what offers catch their attention,
follow through an order with shipping info via SMS,
send follow-up offers based on frequently bought together product insights from the Ecommerce Dashboard,
reactivate with an individual birthday offer on WhatsApp
– all from within Brevo.
Concerned about GDPR? Brevo makes collecting consent for email marketing and managing customer data easy.
Brevo Pricing
The Brevo Shopify plugin is free to download and use.
Brevo's free plan includes unlimited contacts and 300 emails a day. You read that right, you don't pay for the number of subscribers you have!
Pricing for paid plans starts at just $25 a month for 20,000 emails sent.
100 SMS messages sent cost $1.34 (for U.S. numbers, for other countries prices may vary).
With all this to offer, Brevo is a strong contender to be the best Shopify email marketing app available.
Download the free Brevo app for Shopify >>
2. Klaviyo
Klaviyo is a major player in the Shopify app store. It offers email campaigns, personalized automated flows, CRM, SMS, and push notifications.
You'll be able to run your email marketing strategy with Klaviyo, however keep in mind that customer support for free users is not available.
Pricing: Klaviyo is free for up to 250 contacts (email) and 50 contacts (SMS). They charge by contact list size so 20,000 contacts stored (not emails sent) would cost $400 a month, including 150 SMS sends per month.
Check out this Klaviyo vs. Brevo comparison for more on their pricing and email marketing features for ecommerce.
3. Mailchimp
Mailchimp recently re-launched their partnership with Shopify, now offering a direct integration. This allows Mailchimp users to connect their account with their Shopify storefront and share data across the two platforms.
Pricing: Mailchimp's free email marketing plan includes 500 contacts and 1,000 emails per month. If you're looking to use their Shopify integration, it's likely you're in need of transactional emails too. They're are sold in blocks of 25,000 monthly emails for $20. SMS marketing with Mailchimp requires a third-party paid integration.
Take a look at this detailed comparison of Mailchimp and Brevo to learn more about which platform is better for your business.
4. Drip
Drip is yet another email marketing tool you can use on Shopify. It lets you run email campaigns, automations and SMS. There are also lookalike audience sync, opt-in forms, and rich segmentation options.
Pricing: After a 14-day free trial, Drip charges to use the integration. On top of that, it's $289 a month for 20,000 contacts (no limit on emails sent). This price includes 100 SMS sends.
5. Omnisend
Another app featured among the best email marketing for Shopify is Omnisend. It offers personalized and transactional emails, segmentation, A/B testing, and SMS. Also, automated workflows, web push notifications, landing pages and popups. And they have lots of reports.
Pricing: The Omnisend-Shopify integration is free to install. After the 14-day free trial, paid plans start at $16 based on the number of subscribers. For example, 20,000 subscribers and all features listed cost $350 a month for unlimited email sends and 23,333 SMS.
6. Privy
Privy started out with popups and extended into email later. Their core offering is signup forms, bars, banners, and landing pages. They also have email and SMS campaigns that can be automated.
Price: Privy is free to install and mail up to 100 contacts. A list of 20,000 would cost $300/ month. SMS comes included in this price for 100 contacts.
7. Marsello
Marsello joins the list with email marketing campaigns, automation, reward points programs, SMS, lead capture forms, and segmentation. In addition, it also has feedback forms that measure customer satisfaction.
Pricing: Marsello is free to install and the lowest plan is $99 for 1000 subscribers. Our benchmark of 20,000 contacts in your list would cost $289 a month with Marsello. 700 SMS credits comes on top of this for $25 per month.
Another popular choice for Shopify email marketing is Constant Contact. It's a tool that combines email marketing services, automation, list-building tools, social media posting and ads, and surveys. It also offers a website builder.
Pricing: The Constant Contact integration is free to all paying users. Prices then start at $9.99 a month for 500 email subscribers with limited features. All features and 20,000 contacts cost $225 a month. Find better-priced Constant Contact alternatives here.
9. Campaign Monitor
Campaign Monitor is yet another option for ecommerce stores on Shopify. It focuses on email campaigns, including transactional, personalization, email automation, and signup forms.
Pricing: Campaign Monitor is free to install. Prices then start from $9 a month for 2500 emails to 500 customers. 10,000 contacts and unlimited emails would be $399/ month.
Get the same features without paying for contacts: Brevo vs Campaign Monitor
10. MailerLite
MailerLite comes with the standard email marketing software features: lead generation, personalization, automation of email campaigns, surveys and feedback, plus a website builder.
Pricing: The MailerLite plugin is free. There's a free plan for up to 1,000 subscribers and the price for 20,000 subscribers is $119/ month.
11. ActiveCampaign
ActiveCampaign is not an ecommerce-only marketing solution, but Shopify customers can find email functionality, SMS, automation, in-depth CRM, custom forms, segmentation, and site messages.
Pricing: The ecommerce marketing suite starts at $15 a month for 500 contacts (billed monthly). Then, 10,000 contacts and most features come at $286/ month. Here's a cheaper alternative to ActiveCampaign that gets the job done.
12. SmartrMail
SmartrMail is all about email marketing: fighting cart abandonment, welcome series, product recommendations. They have segmentation and automation, as well as popups and templates, too. It's a simple and straightforward tool to use.
Pricing: SmartrMail's pricing starts at $19 a month. The unlimited features come at $249/ month for 20,000 contacts.
13. Consistent Cart
Consistent Cart is the email part of CartKit. It includes email and SMS campaigns, marketing automation and lead capture. Their focus is recovering abandoned carts.
Pricing: Consistent Cart is free to install. After that, prices start from $29 a month, but the SMS functionalities come with the $99 plan.
14. MailMunch
MailMunch is another marketing tool that started out with lead generation forms and pages, and expanded into email. They focus on email templates and offer stock images for you to use. Note that there are three different MailMunch plugins in the Shopify App store.
Pricing: MailMunch is free to install. For 20,000 contacts, you can expect to pay $79.99 per month.
15. GetResponse
GetResponse is another email marketing platform that has campaigns and automations, website builder, push notifications, popups, webinar hosting, conversion funnels, social ads, chat and landing pages.
Note: There is no official plugin in the Shopify App Store, but there are third-party ones that help you integrate.
Pricing: The most basic plan starts at $145 for 25,000 contacts. To access all features, you'll need a custom quote.
16. SendGrid
SendGrid is more about email deliverability as its core offer is email marketing API for transactional emails. It has email campaigns with automations and signup forms as well, but it's not a complete marketing software. There's no plugin on Shopify but you can integrate your store with it.
Pricing: Basic email campaigns up to 2,000 contacts and 6,000 emails per month are free. 25,000 contacts start at $50/ month depending on the email volume sent but this doesn't include automation features. The API is priced separately.
Related: The Best SendGrid Alternatives for Transactional Email
The Best Email Marketing App for Shopify
Among the best email marketing apps for Shopify, which one is the best for your online store?
All of the tools have friendly drag-and-drop editors and at least some automation workflows. From then on, it depends on your ecommerce marketing strategy and what you want to achieve. If you don't want to have too many marketing tools, go for a more comprehensive solution.
Only be careful as some of these tools can get quite expensive fast as you grow your email list, which gets in the way of growth.
Brevo is the only one that doesn't charge by contact list size, but by emails sent. You only pay for what you use!