Reading time about 11 min

Create your own 4th of July email campaign to celebrate with your subscribers. Read on to find the best ideas and examples to help you make the most of your 4th of July marketing campaign.
According to the National Retail Federation's annual consumer survey, Americans plan to spend an average of $84 on the 4th of July. And just last year, five out of six Americans celebrated the 4th of July.
Most Americans celebrate Independence Day with a BBQ, family cookout or picnic, and grill an estimated 150 million hot dogs! Fireworks, parades, and other community events are popular as well.
About a third of 4th of July shoppers actively looked for patriotic symbols such as the American flag and decorations.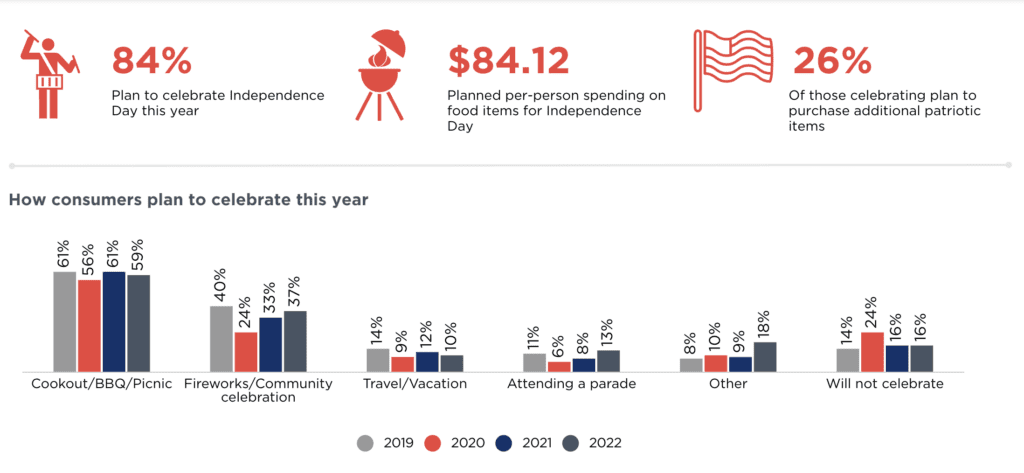 When you look at the numbers it's easy to see why Independence Day is the perfect launch pad for a successful email marketing campaign.
4th of July Email Marketing Ideas
To help you find the best Fourth of July marketing strategies we dug into our inbox and selected the best Fourth of July email examples. Whether you're promoting special offers or an event, these will be sure to inspire your campaign and your subscribers.
1. Plan an Independence Day sale
Let your customers know that you're planning a 4th of July sale.
Most online stores will plan a sitewide sale — a simple yet effective promotional tactic. A flash sale at peak hours is another great way to start your promotional campaign.

As an example, HelloFresh ran a 4th of July flash sale on its home-cooked meal kit subscription to win back churned customers.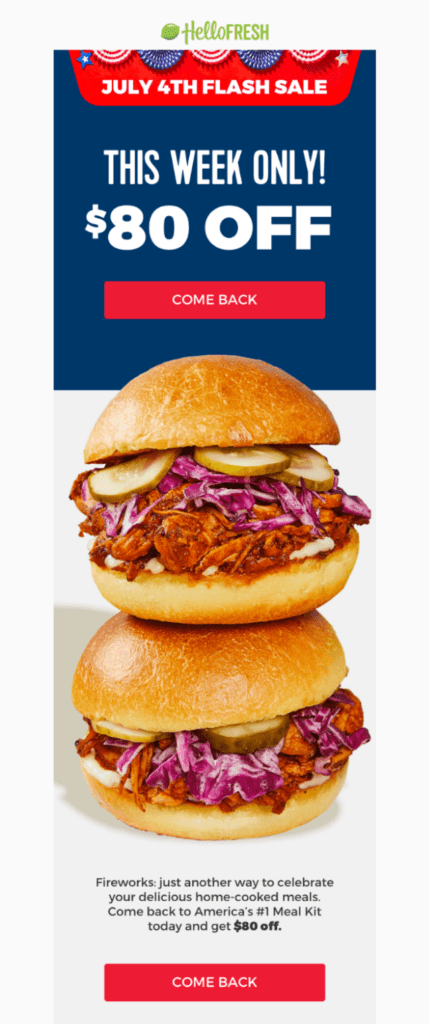 Remember: An effective sales campaign combines attractive offers with a limited time window. Creating a sense of urgency can help indecisive customers make up their minds.
2. Create a Summer Shopping Guide
July is when summer is at its peak. Running a July holiday marketing campaign a few days or weeks ahead of time will help your customers plan their summer festivities.
Brit + Co did an awesome job with their beach-ready shopping guide.
It features everything you'd want for the perfect summer outing — including tote bags, beach towels, and ice cream cakes!

Sticking to red, white, and blue as your color palette is a more subtle way to include patriotic imagery. If there's room for stars and stripes in your design, include them too.
3. Promote 4th of July Activities
Most shoppers will be eating out with friends and family as part of their Fourth of July celebrations. Promoting products that are well-suited for outdoor gatherings is an excellent way to tie in your brand.
KOA fine-tuned its 4th of July email for campers by offering to host parties and events on its campgrounds.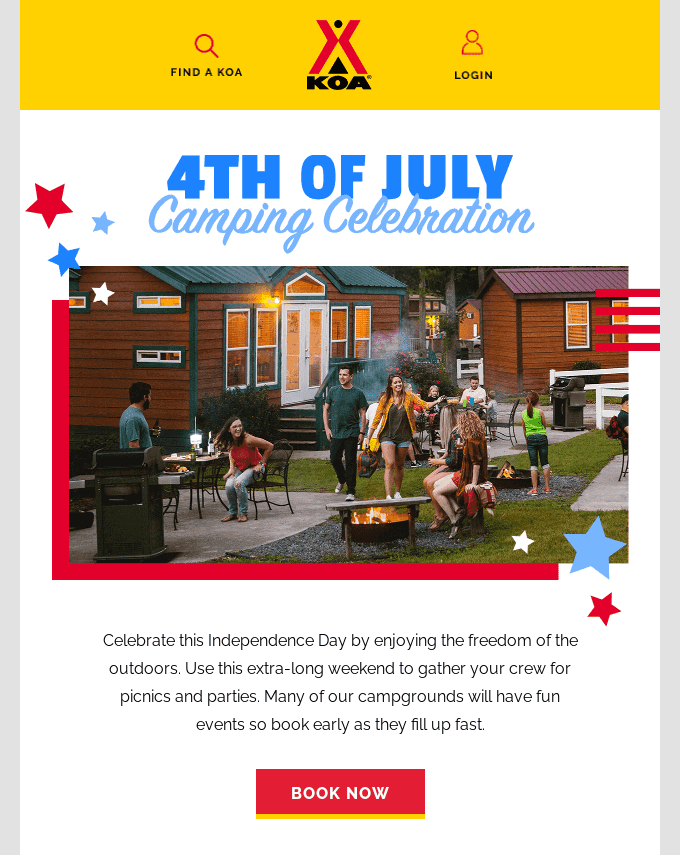 Consider brand partnerships that have an outdoor component that complements your product or service. The added exposure will grow your brand's awareness and is a great way to reach new customers.
4. Celebrate American freedoms
If you go with a positive message, be sure to touch on American values in your email campaign.

Kiel James Patrick did this beautifully with a happy 4th of July email that evoked fond memories of the American dream and truly resonated with its audience. 🇺🇸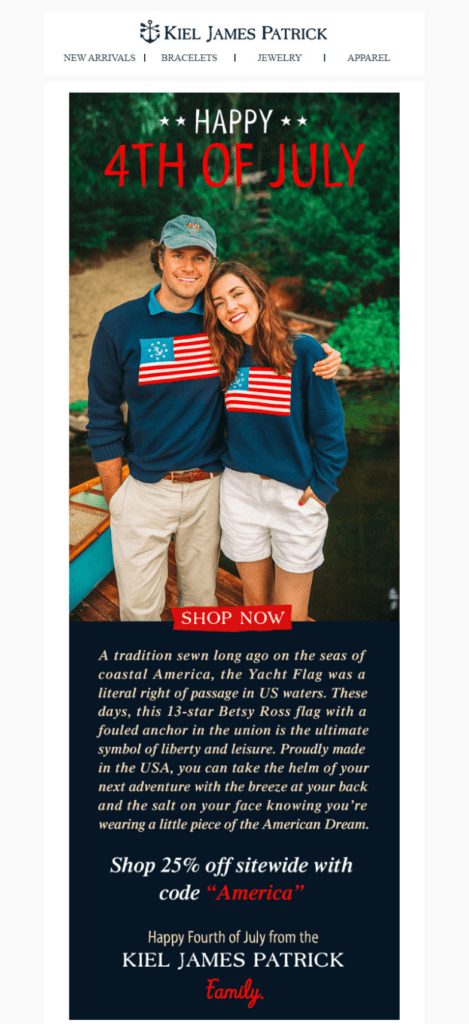 Free expression, diversity, and inclusion are values that have universal appeal and will make your marketing message this Independence Day special.
On that note, a personable Fourth of July message is nice to have, but not always necessary. When in doubt, keep your email campaign lighthearted and fun.
5. Curate a 4th of July collection
If you have a wide selection of new products, narrow it down to what you feel will sell best in a Fourth of July email campaign.
The Wanderer Bracelets' red, white, and blue collection is an excellent example of smart product curation. Just three bracelets were promoted in its 4th of July email, out of hundreds of available bracelets, necklaces, and anklets.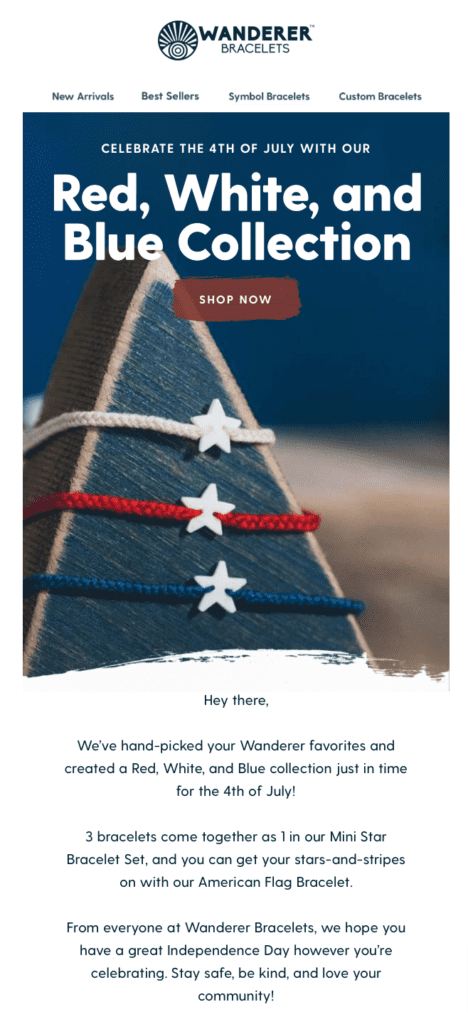 Try putting together an original 4th of July deal that collectors will go out of their way to nab when the sale goes live.
6. Run a fundraiser or charity drive
Raising funds for a charity is a popular way to celebrate Independence Day and give back to communities that support your business.
Khan Academy, for example, ran a successful fundraiser to keep its educational platform running and finance new course material centered on American history and politics.
Its non-partisan pitch welcomed people from all political backgrounds to donate and feel included in a common goal.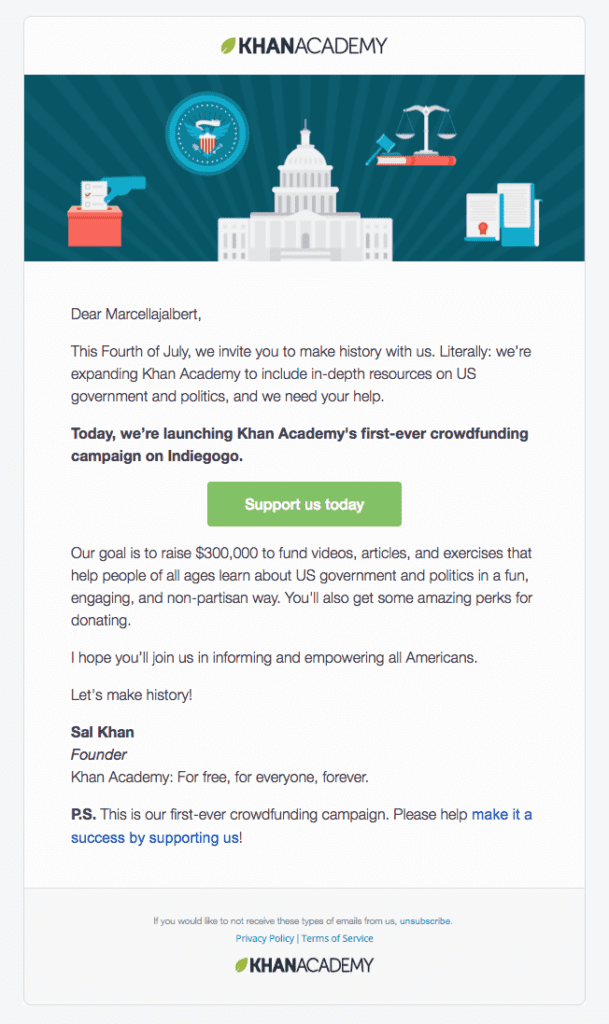 There are many ways to organize a fundraiser. A portion of the sales proceeds can be put aside for charitable purposes or you can set a big monetary goal to strive for.
If you'd like to see your brand associated with a charitable initiative but don't have an ongoing CSR program, start one. Or find a cause you believe your audience will passionately support.
If choosing just one charity proves too difficult, let your customers nominate their favorite cause. Create a shortlist of potential partners. Then select the charity whose mission and values closely align with yours.
7. Host a competition or giveaway
Competitions with great prizes are a fun way to involve your customers.
Lootcrate gamified its 4th of July jackpot by randomizing the bonus bundle that new yearly subscribers receive.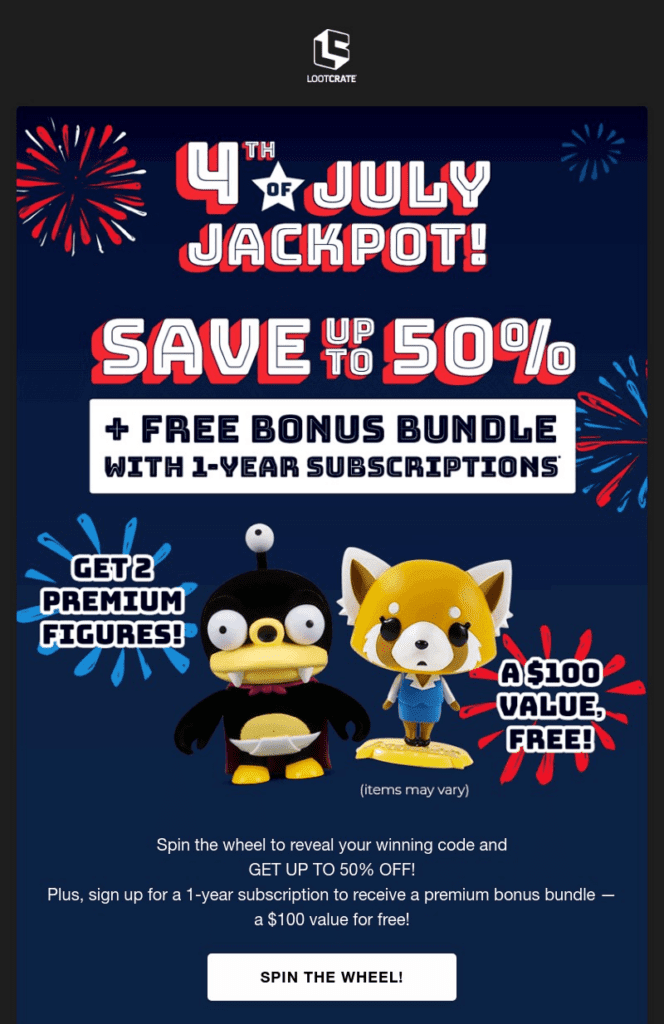 If the potential winnings are large enough and open to the public, your campaign could go viral or get covered in the news.

Popular giveaways often go hand-in-hand with charity drives. If this idea speaks to you and your audience, set a big fundraising goal and announce the winners along with how much your community was able to raise.
4th of July Sales Email Best Practices
Expect to see big returns on your 4th of July campaign as this holiday ranks as the 8th most lucrative in the entire holiday marketing calendar.
Here are some tips to encourage conversion rates and make your Fourth of July sales email a success.
Create time-limited offers and special deals that entice new and old customers alike
Use flash sales with indicators like a countdown timer to engage customers
Make your call to action (CTA) stand out and space them between offers
Have a landing page ready that shows all your 4th of July email offers
Segment your audience according to their interests to ensure your offer stays relevant
Stage emails leading up to Independence Day to keep customers engaged
Cross-promote your content on social media and other marketing channels
Send abandoned cart emails to bring back shoppers that dropped-off midway
Cater to last-minute shoppers with same-day shipping and extended offers
To raise your chances of success use a marketing automation tool like Brevo to plan your July sales campaign. Personalizing emails based on customer preferences and purchase history is a piece of cake with Brevo.
Take a look at similar holidays for more inspiration. Memorial day email examples can be a great place to source more July email marketing ideas.
How to Create a 4th of July Newsletter
If you're planning on growing your email list, a newsletter can be a fantastic starting point.
Creating a newsletter isn't hard. And the expected return on investment is usually phenomenal, with many ecommerce businesses averaging $36 for every $1 spent on email marketing.
Here's a quick guide to setting up your own Fourth of July newsletter.
Create a customer persona of your target audience to better understand their needs
Identify the best ways to add value to your product or service
Offer freebies and exclusive deals to your email subscribers
Only manually add subscribers that you know have expressed a clear interest in your newsletter
Regularly comb through your email list to remove inactive subscribers
Use double opt-in to lower your email bounce rate
Add a subscription form to your website to boost newsletter sign-ups
Further reading: Summer Email Inspiration: 10 Best Summer Newsletter Ideas to Boost Sales
4th of July Email Design Tips & Tricks
Here are general email design principles you can use whether your goal is a short-term sales campaign or a long-haul newsletter that deepens customer loyalty with useful content.
Personalize emails with the first name of each email recipient
Use patriotic colors (red, white, and blue) and imagery that includes stars and stripes
Stick to friendly, informal language and an upbeat tone
Optimize your CTAs by making buttons clearly visible
Add clickable links to email banners and product screenshots
Make your 4th of July email subject lines catchy with big promo discounts
A/B test a few variations of your emails with a sample of your audience
Include product screenshots or an animated GIF
Take advantage of a ready-made email template to speed up your design process and shorten the time to launch your 4th of July campaign.
4th of July subject lines to use in your email
Using celebratory subject lines that clearly present your offer is the first step in encouraging open rates. Let your subscribers know if they can expect a coupon, a cultural newsletter, or just a simple "Happy Independence Day!" note.
Happy birthday USA!
Independence Day Special
Independence Day Sale!
4th of July sale this weekend only
Celebrate freedom with free shipping
You can also add an emoji to give it a little pop of celebration.
Planning Your 4th of July Email Campaign
Creating the perfect holiday marketing campaign can be especially difficult. You'll want to have the right tone coupled with inspiring visuals to make your campaign more engaging.
We've put together a holiday marketing calendar filled with insightful tips and tricks to help you make the most out of every major holiday throughout the year.

2023 Holiday Marketing Calendar
Downloading this calendar means you're signing up to our newsletter — a monthly roundup of the best marketing strategies to grow your audience. ✨