We've picked five beautifully designed Memorial Day email examples to show you how to commemorate Memorial Day respectfully and get a nice bump in sales from your email marketing campaign.
Memorial Day commemorates American military service members that sacrificed their lives while on active duty. It's usually observed on the last Monday in May and also marks the unofficial start of summer.
It's a surprisingly popular holiday that most Americans will celebrate with family and friends.
This year's Memorial Day is on Monday, May 29 — a long weekend that's perfect for a summer email campaign.
On Memorial Day, most businesses, especially ecommerce ones, enjoy a huge uptick in sales comparable to more shopper centric holidays like Black Friday and Cyber Monday.
With the right content and a catchy Memorial Day email subject line you can get similar results.
We've put together the best Memorial Day sales emails to help you kick off your summer email marketing strategy with gusto.
Good Memorial Day email examples
The emails we've highlighted score the highest points for their design and for sticking to a summer theme.
Memorial Day sale — Mark & Graham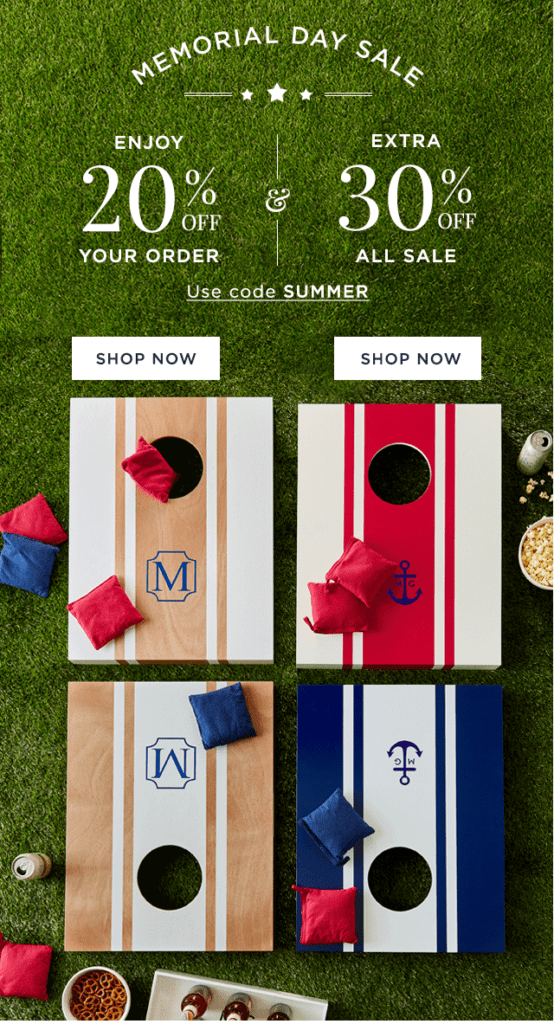 Mark & Graham absolutely nailed their Memorial Day sale email.
The headline photo beautifully blends the red, white and blue of the American flag. The picnic setting also fits the summer mood.
The coupon code "Summer" applies a sitewide discount and encourages shoppers to browse their best Memorial Day deals.
You can use the colors of the American flag in your imagery or go for a brighter palette to reflect the summer season.
Memorial Day Weekend blowout — Overstock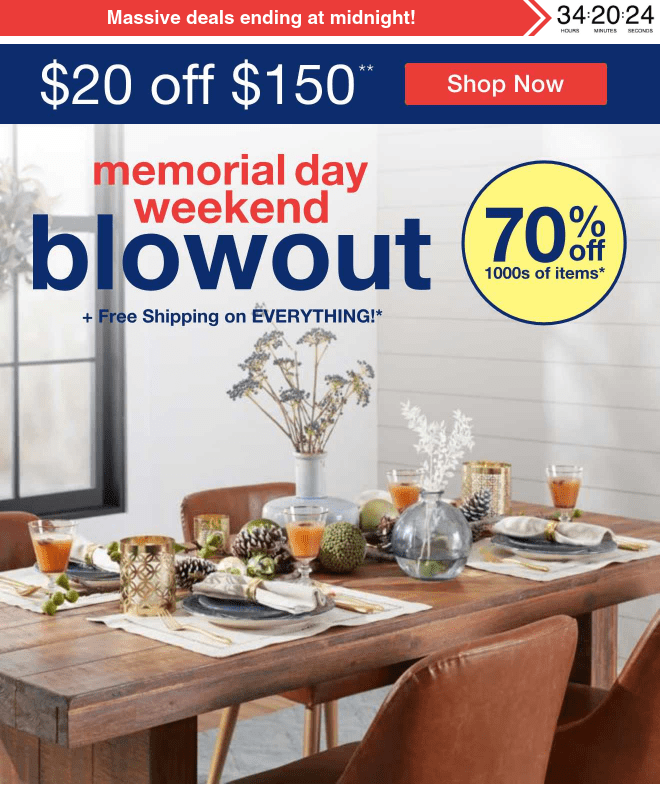 Overstock creates a sense of urgency with a time-limited offer and huge discounts. They've included an estimate of what their customers can expect to save.
The headline image depicts a table laden with summer fruits and juices. 
Overstock's approach isn't fancy. It just emphasizes the benefits its customers can look forward to.
Use uplifting, summer themed graphics to make your Memorial Day email design really stand out.
Memorial Day clearance sale — Wayfair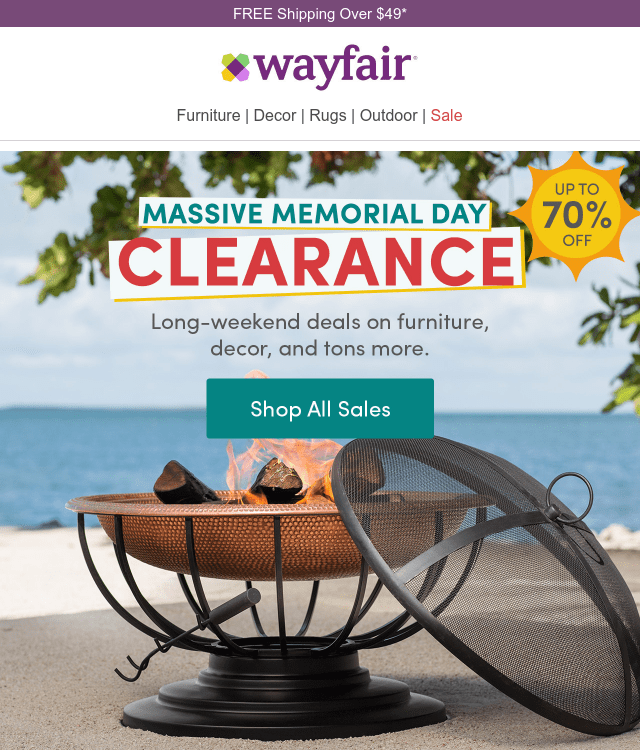 Wayfair went for a summer vibe with their Memorial Day email blast. The outdoor brazier in their headline image is warm and inviting.
The main CTA leads to a page filled with discounted offers in their summer catalog. Complementary images of each sales category make up the body of their email.
Create a landing page for your Memorial Day offer to drive more traffic to your website and boost conversions.
Memorial Day weekend sale — GlassesUSA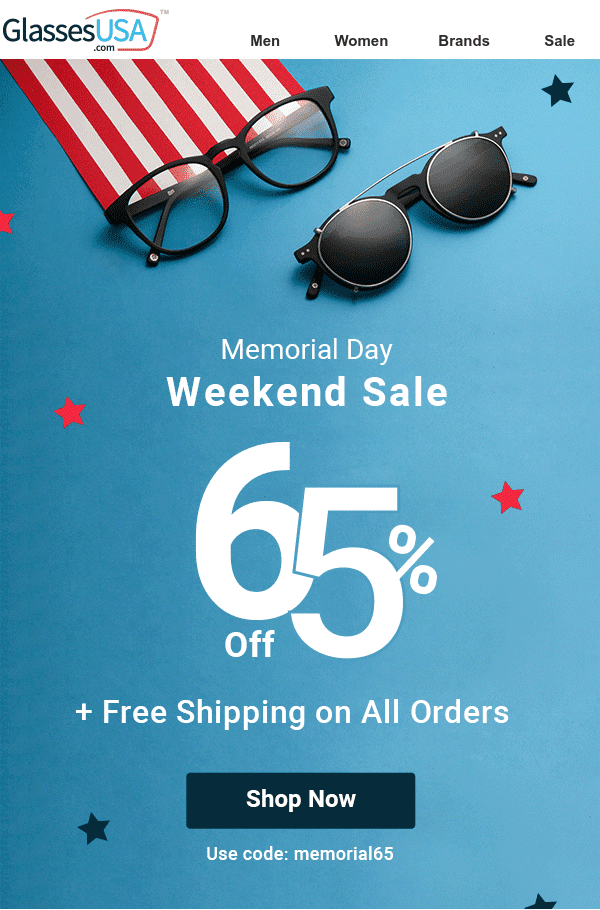 GlassesUSA added a backdrop of stars in their Memorial Day email campaign.
Including a flag brings in a feeling of patriotism. It also inspires hope (take note when planning your 4th of July email campaign) 
The simplicity of their images and the focus on Memorial Day savings makes this a standout email campaign.
Avoid excess flags and stars in your Memorial Day campaign. And while it may be tempting to include photos of a memorial service, it's best to remove any off-putting imagery.
Keep it simple.
Memorial Day recipes — BlueApron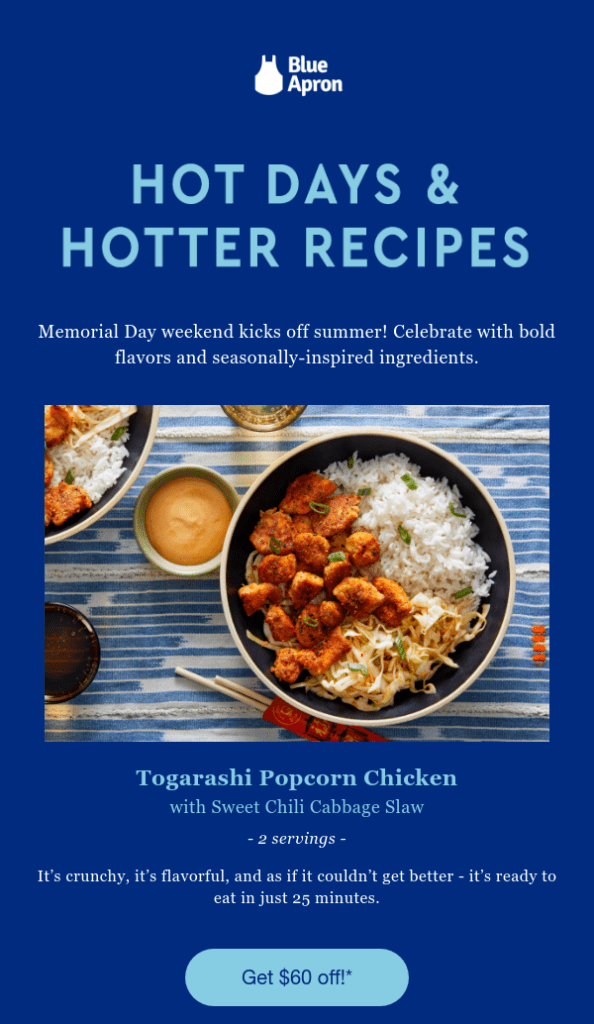 BlueApron chose a selection of summer dishes for memorable family meals. The offers included are meant to cater to Memorial Day gatherings and family reunions.
The hues of blue and white are both on brand and on theme.
Highlight offers that appeal to families or close-knit groups.
If you have a brick-and-mortar business, create a Memorial Day event and mention any in-person activities in your email campaign.
Memorial Day email best practices
Don't shy away from including promotional text in Memorial Day email subject lines and CTAs. Special offers and weekend sales are the norm, so don't hold back.
And remember, segment your email list to ensure that only US-based subscribers receive your Memorial Day promotional emails.
Unless you have something important to say, it's best to avoid creating a Memorial Day message altogether.
To get you started, follow these tips for an outstanding Memorial Day email campaign:
Use blue backgrounds and bright graphics in your Memorial Day email templates
Avoid military color scheme — focus on patriotic colors and peaceful imagery instead
Skip the Memorial Day message — stick to sales promotions
If you want to include an uplifting message, make it a note of thanks or an inspiring quote
Plan for the holiday weekend with time-limited offers
Include extended offers for last-minute shoppers
Start your campaign a few weeks ahead so your customers can plan their festivities and travel arrangements around deals that interest them
A/B test your email with a small sample of your audience before launching your marketing campaign
Engage in cross-promotions by sharing content on social media
A good email marketing strategy can make your brand stand out and drive sales.
Planning Your Memorial Day Email Marketing Campaign
Creating the perfect holiday marketing campaign can be especially difficult. You'll want to have the right tone coupled with inspiring visuals to make your campaign more engaging.
We've put together a holiday marketing calendar filled with insightful tips and tricks to help you make the most out of every major holiday throughout the year.

2023 Holiday Marketing Calendar
Downloading this calendar means you're signing up to our monthly newsletter, too. If you don't feel like getting regular marketing tips delivered to your inbox, you can always unsubscribe. 😉