Reading time about 28 min

Automated emails are a cost-effective way to keep your subscribers engaged, boost conversion rates, and improve your customer experience. Read on to explore the best email automation examples for marketing automation.
Creating a high-converting automated email workflow isn't a mysterious process. If you have the right email marketing automation software, a list of opt-in email subscribers,, and clear goals in mind — then you're nearly at the finish line.
To help you go the distance, we've compiled a collection of email automation examples that are now considered standard practice among marketing teams.
With these time-tested automated email examples, you can expect to see an increase in the number of email subscribers that sign up and interact with your promotional emails.
If you'd like a quick primer on setting up automated emails for your business, check out our guide to email automation before you jump in.
1. Welcome Emails
Lay the foundation for your customer relationships. You can introduce your brand, make a strong value proposition and let new subscribers know they're now part of a larger community.
The most popular welcome email automation examples are typically sent to newsletter sign ups or new account registrations. Capitalize on this opportunity to make a great first impression and forge a lifelong connection.
While confirmation emails sometimes take the place of welcome emails for paid subscriptions, they aren't the same thing.
To be effective, your welcome message should:
Welcome new subscribers to your community
Tell them why they're receiving your email
Explain what they can expect as a subscriber and what value this will bring them
Showcase your brand's distinct personality
Encourage subscribers to explore additional content or learn more about your business
Guide leads onto the next step they should take to stay engaged with your brand
Surprise subscribers with a bonus, like a free coupon or downloadable material
Let them know where to follow you on social media
Let's take a look at how Adobe Lightroom created the perfect welcome email.
The opening paragraph makes the subscriber feel part of a warm and friendly community. Then a collage of beautiful photos entices new subscribers to explore their content.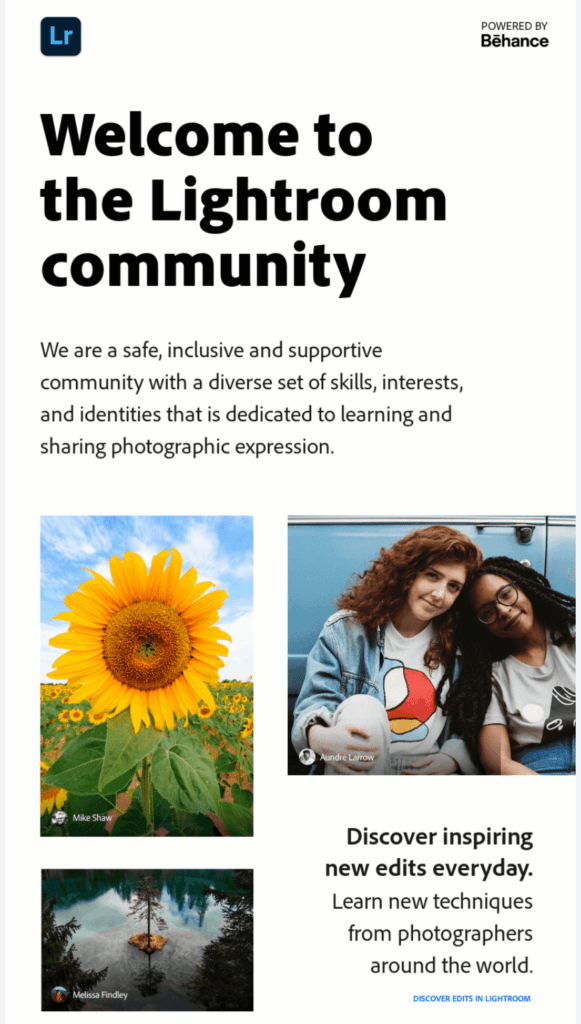 The value proposition is also clear and compelling: "learn new techniques from photographers around the world".
Finally, a well-placed CTA encourages its target audience to start learning how to apply world-class photo editing techniques in Lightroom.
2. Thank You Emails
Certain email automation examples can stand in for transactional emails. Thank you emails are one of them — and they can be easily baked into order confirmations, receipts, and invoices.
While a good thank you email can double as a welcome message, it's best used when a customer has actually bought a product or tried out your service for the first time. Otherwise, you'll be thanking your customers every time they buy something. 😆
To make the most of your thank you emails, be sure to include:
The aftersale benefits they'll receive for making a purchase
Order confirmation details and a link to where they can track their order
A how-to guide to best make use of your product
Next steps to use your service or any additional information required
Referral links or share buttons they can use to make a recommendation
Kickstarter for example, does a great job of thanking its users when they back a crowdfunding campaign.
Its thank you email starts off with a positive message, followed by an outline of what the customer needs to do next.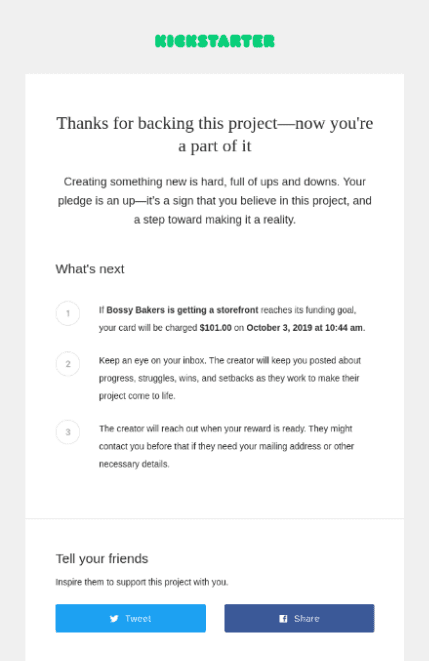 Kickstarter lets its subscribers know more updates are on the way and encourages them to share the project page on social media as yet another way of showing support.
Consider thanking your customers for product reviews, shared feedback, or for participating in a survey.
3. Cart Abandonment Emails
Research shows that almost 70% of ecommerce shoppers leave a site after adding items to their shopping cart.
The seemingly high drop-off rate is often tied to how the average online shopper will look at multiple sites at the same time and compare the best deals before making a purchase.
Abandoned cart emails are a good way to improve long-term customer retention and bring back customers that have shown strong purchase intent.
Here's how to make your abandoned cart emails a success:
Remind shoppers about what they've left in their cart or related products they've recently viewed that are now on sale
Refer shoppers to other products they might be interested in
Give them reasons to complete the purchase — such as free delivery, fast shipping, or a flexible return policy
Offer a discount or special deal to entice them back
Let them know if a product has a low inventory or if a sale is about to expire
Target regularly offers personalized discounts to online customers in cart recovery emails. Similar items in the same price range are included as product recommendations.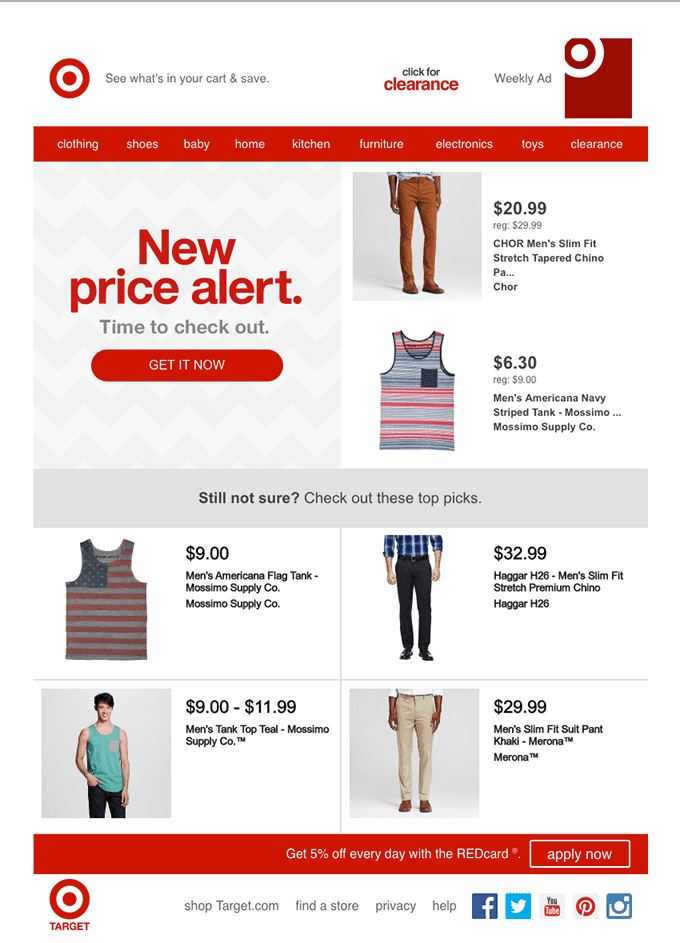 A cart recovery email is still important even if a customer has bought the product they wanted elsewhere. There are many great examples of abandoned cart emails that cross-promote related products or request a survey to figure out why the purchase wasn't completed.
4. User Onboarding Emails
Aren't exclusive to the SaaS industry. Any business that has a self-service product or a DIY angle needs an onboarding experience to help its newest customers get started.
A brand new workflow can be intimidating to new customers. To improve the user experience, an onboarding email should include:
Simple steps new users can take to familiarize themselves with your product
A link to a getting started tutorial or a downloadable guide for beginners
Quick wins — easy, feel-good tasks the user can complete on their own
Examples of what your product can do for them
Cheat sheets or templates to help the user customize their workflow
Social proof that speaks to what the user wants to accomplish with your tool
Framer has a beginner-friendly onboarding email for new users of its interactive prototyping tool.
The headline in this onboarding email perfectly illustrates the idea of a quick win, by challenging the user to build their first prototype.
Notably, the first CTA leads to a tutorial, while the second CTA directs the user to start building their first prototype.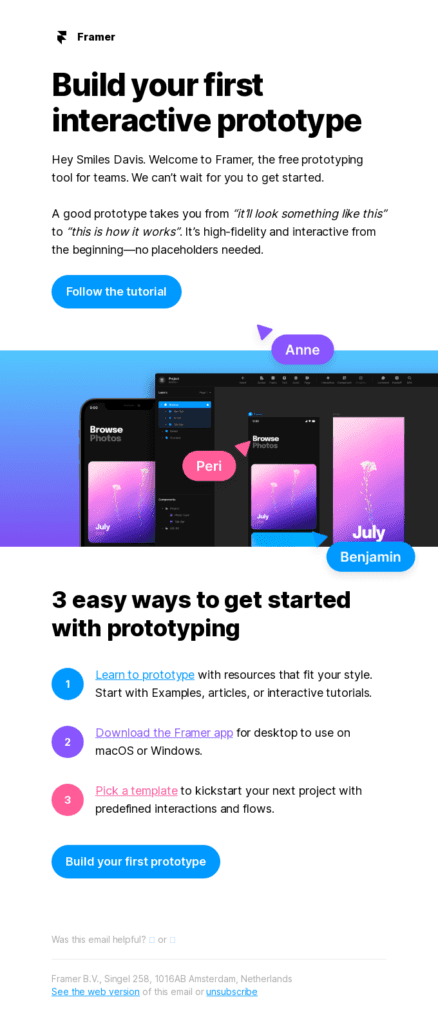 Framer's approach to user onboarding is brilliant. It neatly addresses the needs of complete beginners and those who might have tried similar products before.
There are examples of onboarding emails that take a different approach, as is often the case for community-driven or enterprise apps.
5. Cross-Sell & Upsell Emails
Most email marketing efforts are geared towards sales. Cross-sell and upsell emails in particular, are email automation examples that online storefronts can't do without.
Ecommerce businesses typically average a $36 ROI for every $1 spent on email marketing. 🤩
Automated emails are a cash cow for retail outlets and online marketplaces that regularly use cross-sell emails. Sellers of branded goods and luxury services are no exception.
Effective cross-selling emails and upsell emails are most successful when you:
Use a customer's shopping history to recommend similar products
Offer bundled discounts or personalized offers
Skip over billing and shipping details by adding new items to a prior order
Explain the added value when certain products are bought together
Dollar Shave Club for example, is always keen on cross-selling complementary products alongside its grooming kit subscription.
The clever use of "add" buttons as CTAs makes the shopping experience from email to Dollar Shave Club's website feel seamless.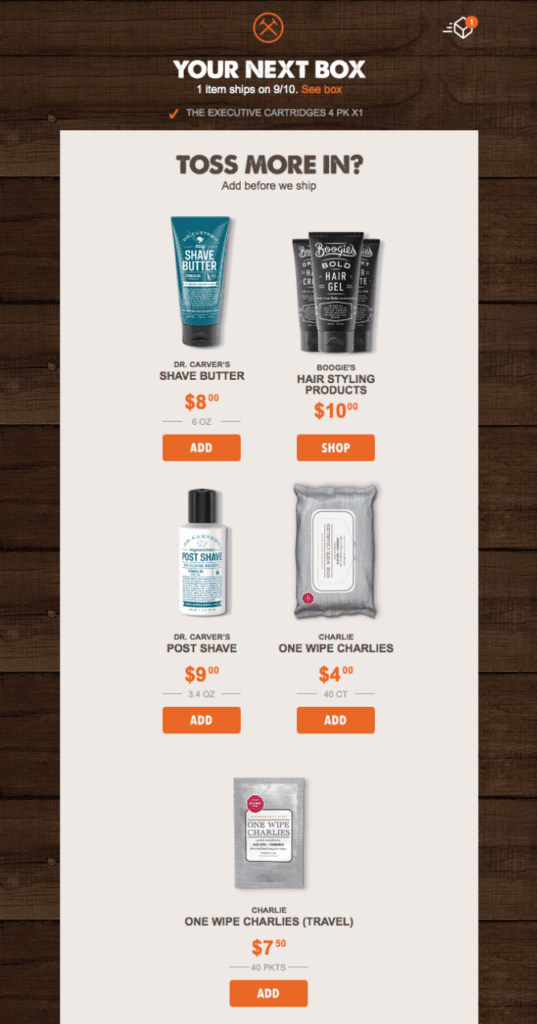 Customers are more likely to make an impulse purchase when given the chance to skip the checkout process altogether.
Most ecommerce email examples are conversion-focused and show just how important email automation is for the modern shopping experience.
6. Winback Emails
Customer retention is integral to a high-performing ecommerce email strategy.
When customers try your product out and drop off midway through their experience, a winback email steps in to revive their interest.
Customers will often try competing services and may sign up for so many different free trials or free samples, that they forget to actually complete their experience.
A well-executed winback email can bring back lost customers and re-engage them afresh, or have them continue where they left off.
A good winback email will have the following elements:
Incentives for returning customers like big discounts and an extended free trial
Request for feedback to figure out what blockers customers may have
Offer a free tutorial or a personalized demo
Showcase new features or important updates
Give customers the opportunity to pick up where they left off
Busuu deeply personalizes its winback emails to help return customers who left their subscription while midway through learning a foreign language.
A huge 50% discount along with a limited 24-hour window to take advantage of the offer creates a strong urge to come back just for the savings.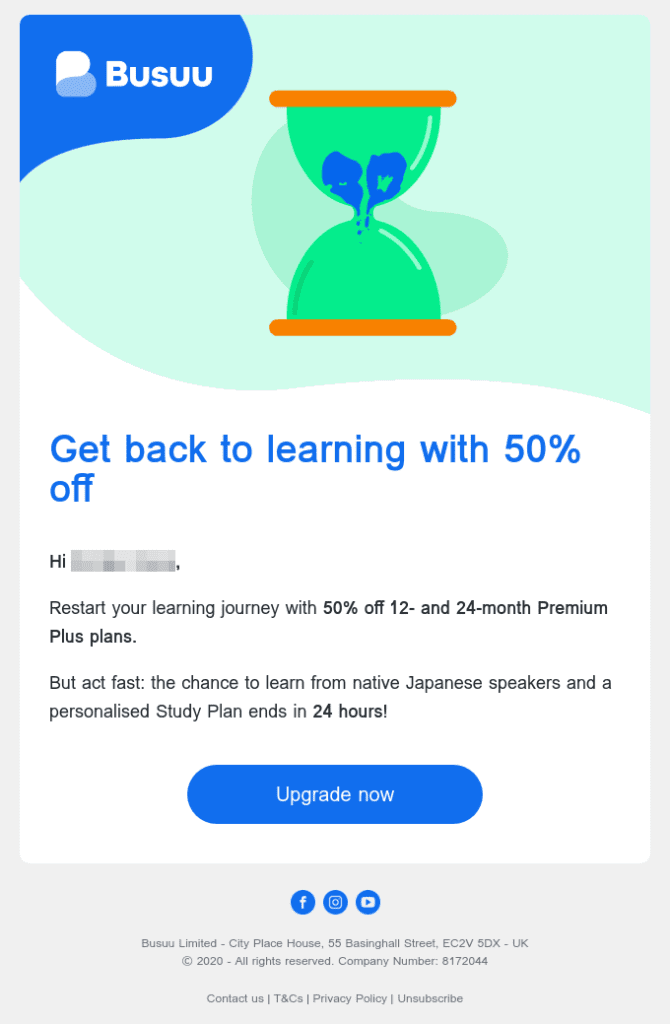 A winback email should be well-timed. Sending an email when an active customer was simply on a break or on vacation, might lead to a loss of potential revenue.
7. Reward & Loyalty Emails
A loyalty program rewards repeat customers and increases the lifetime value of each shopper.
Loyalty programs (aka reward programs) come with bigger discounts, free gifts, and generous prizes for its most dedicated shoppers.
Loyalty emails are the primary medium to communicate the benefits of a customer loyalty program. They are key to a long-term marketing strategy that's focused on increasingly engaging and retaining customers.
The hallmarks of an awesome loyalty email are:
Immediate rewards and limited-time offers that customers will appreciate
Long-term benefits like deeper discounts, free shipping, and exclusive offers
Spending goals for frequent shoppers that are tied to specific rewards or a redeemable points system
Exclusive giveaways and lucky draws to lure customers into loyalty program memberships
Fun competitions that come with highly anticipated prizes
In its loyalty email, Starbucks teases free drinks and merchandise its members can immediately enjoy and offers up a grand prize of 30,000 stars — a virtual currency that Starbucks loyalty program members can redeem for real-world offers.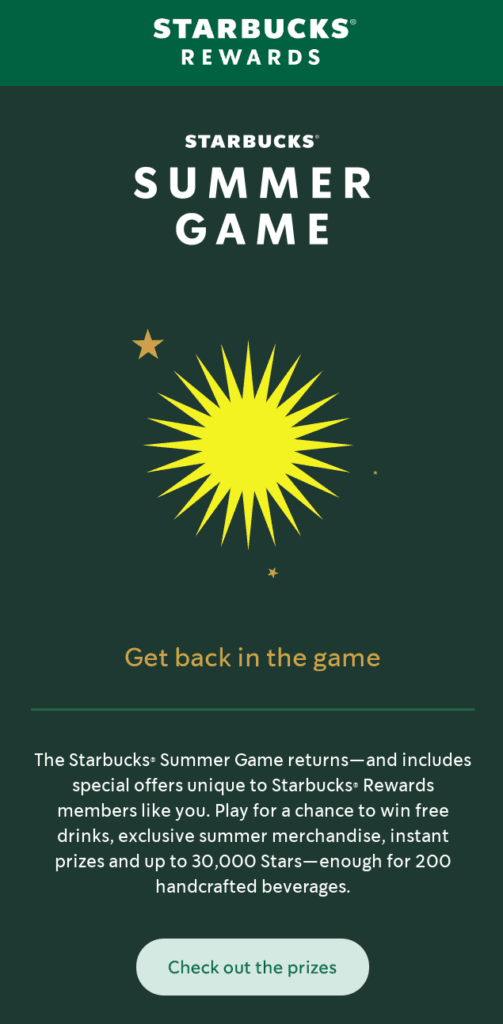 Gamify your loyalty email by letting customers set their own goals and allowing them to redeem products they're most interested in. Have multiple rewards or a diverse set of redemption options so there's something for everyone.
Design membership levels or reward tiers to create moving targets, to give long-time customers something to look forward to. 🎁
With all of the above in place, shoppers will happily compete for prizes by spending more on products they already love.
8. Reactivation Emails
A portion of your email list will naturally lose interest and unsubscribe over time.
Reactivation (or re-engagement emails) are a good way to win back lost subscribers and keep open rates at a healthy level.
The best reactivation emails are made up of:
A friendly message saying you've missed them
Welcome back offer or an extended free trial
A notice letting subscribers know they'll be unsubscribed unless they reconfirm their subscription
Request for feedback or the option to fill out a customer satisfaction survey
Benefits they'll miss out on when they're unsubscribed or when their account is deactivated
Readymag's reactivation email is a real attention grabber. It's primed to convey a sense of urgency.
By letting subscribers know they'll be unsubscribed in a week's time unless they resubscribe, Readymag gives its audience ample time to go through prior newsletters and see if they're still interested in such content.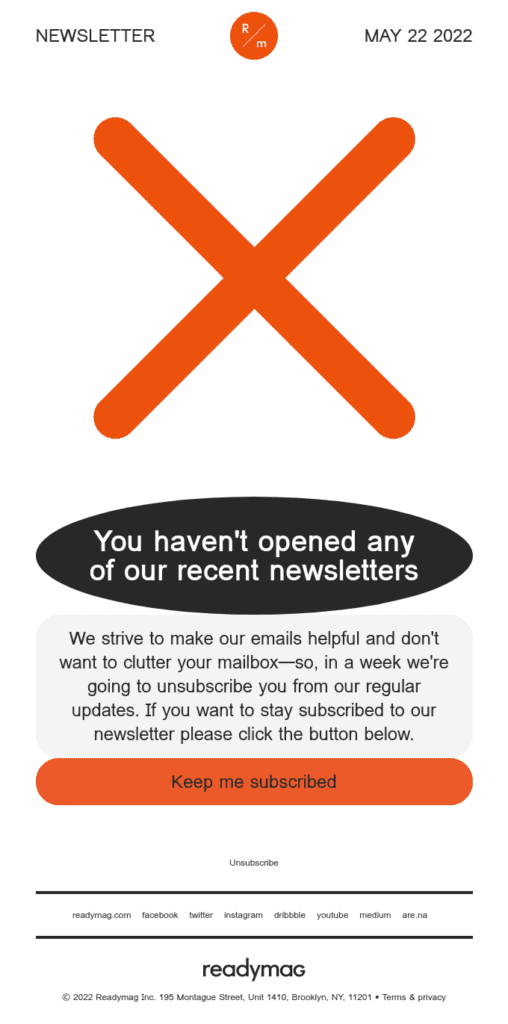 Use these reactivation email examples to craft a re-engagement campaign that lowers your unsubscribe rate while satisfying subscribers who'd rather interact with your brand on other marketing channels.
9. Product Launch Emails
A new product will always benefit from positive publicity and fanfare prior to its launch. A successful launch doesn't just boost sales — it starts conversations on public forums and social media, and builds momentum among a community of early adopters.
However, there should be a balance between aligning customer expectations with hype for a novel feature or a brand new offering.
Product launch emails are more effective as part of an email series that gradually unveils more information about your new offer before it finally drops on launch day.
To generate the most hype around your new offering, your product launch email series should include:
Attention-grabbing headlines with at least one or two quote-worthy lines in the body of each email
Teasers with enough information to build genuine anticipation for launch day
A survey or community thread (like an AMA) that gauges interest and collects feedback
Special access programs or advance notice for product advocates and journalists
Reasonable gaps between each product update including the product teaser and launch day email
Basecamp's release of its newest book, "It Doesn't Have to Be Crazy at Work" is a fantastic example of a successful product launch. There was plenty of hype among its tech-savvy user base in the lead-up to its launch and a ton of public interest and media coverage upon release.
By capitalizing on the past success of its first book, "Rework", Basecamp was able to tap into an established audience eager for more content.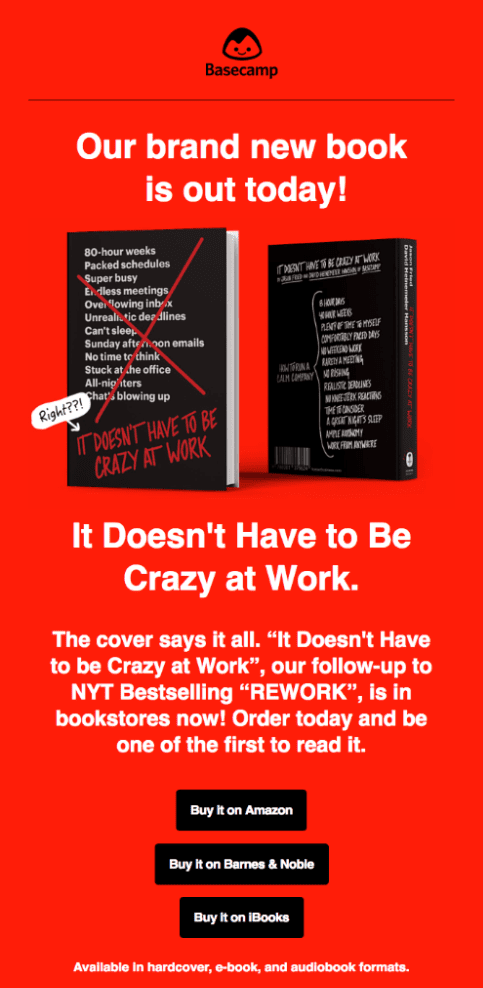 The more dedicated members of the Basecamp community and Rework fandom went out of their way to rope in prominent authors and tech leaders into public discussions around work-life balance.
Get your existing audience to do the promotional work for you by making it easy for them to share content on social media and participate in public discussions, such as audience Q/A sessions, podcast interviews, and so on.
Easter egg hunts, waiting lists, beta programs, and launch day events are among the most popular ways to promote a new product or service.
10. Post-purchase Emails
Post-purchase emails are after-sale follow-ups. Their content varies depending on your email campaign goals.
You might want to offer better customer service by educating buyers on how to best use your product or letting them know your support team is available to help out when needed.
Prominent examples of post-purchase emails often include buy recommendations, personalized discounts, and special bundle deals tailored to the needs of each customer.
Fullscript for example reminds its customers to restock their prescriptions just when they're about to run out.
Other non-essential items are recommended too, even if it's no longer part of a customer's prescription.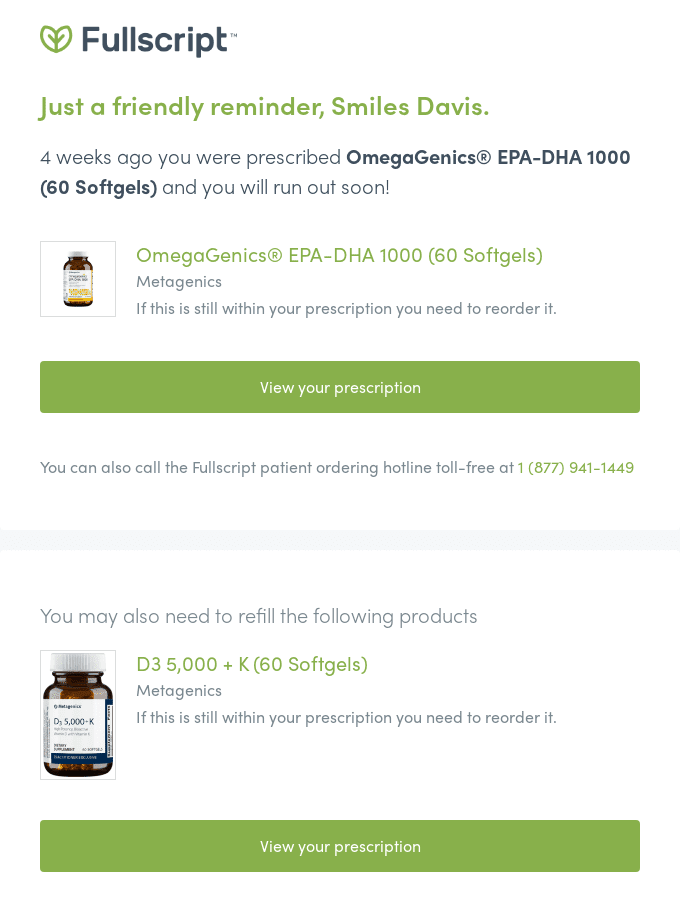 Replenishment emails should be timely. Make sure your refill reminders aren't too early or late enough to cause panic.
Similar automated email examples such as subscription renewal reminders when a free trial is about to end, or important usage guidelines like an expiration date, will be equally well-received.
11. Product Recommendation Emails
To send hyper-targeted product recommendation emails, you've got to know your subscribers' interests. Take advantage of website visitor tracking to create automated emails based on well-informed customer profiles.
For example, when a subscriber regularly visits a page for a specific product category, you follow up with a targeted email promoting what you know they already like.
Here are some tips to convert customers with a product follow-up email:
Personalize product recommendations based on page visits and shopping history
Include a promo code to encourage repeat visits
Share helpful information addressing common questions about your product or service
Add a survey to learn more about your customer's interests and buying habits.
Netflix's viewing recommendations are an example of product follow-ups done right.
In its emails, Netflix makes personalized content recommendations based on watch history and overall popularity among segmented audience groups.
The banner images and thumbnails used in each email go through vigorous A/B testing to maximize click-through rates. And its subscribers see two CTAs, compelling them to start watching or add new content to their watchlist.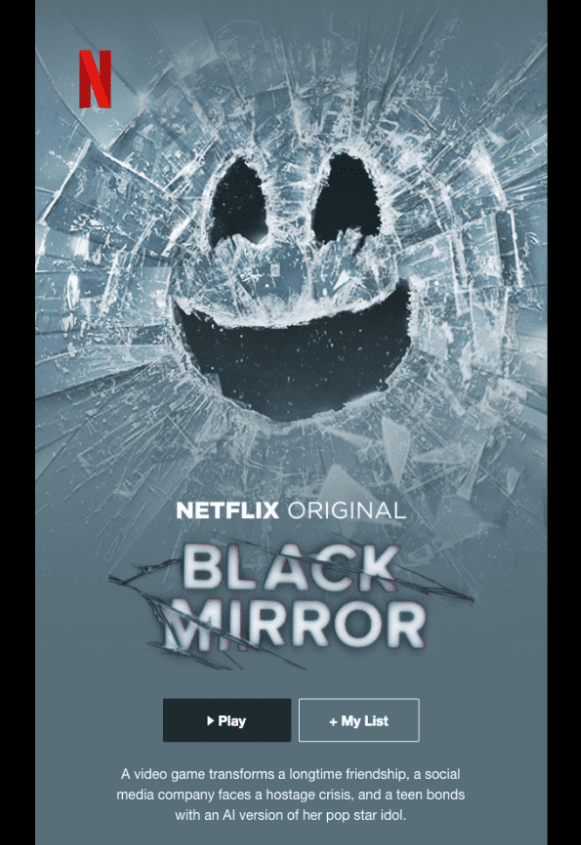 Product recommendation emails work well when you've reached out to a potential customer while their purchase intent is at its highest.
12. Birthday Emails
Birthday emails are one of the easiest, most effective automation workflows you can set up.
All you need is the subscribers' date of birth. Then you can set up a simple workflow to automatically send a birthday email.
It's a great opportunity to develop customer loyalty and positive brand sentiment.
People are more likely to treat themselves to an unplanned purchase on their birthday. There are a ton of automated email examples that have inspired a birthday splurge!
Here are our top tips to make your birthday email stand out:
Keep your email light, friendly, and fun
Offer a personalized gift coupon based on customer interests
Craft an intriguing email subject line to boost open rates
Make sure your email design is unique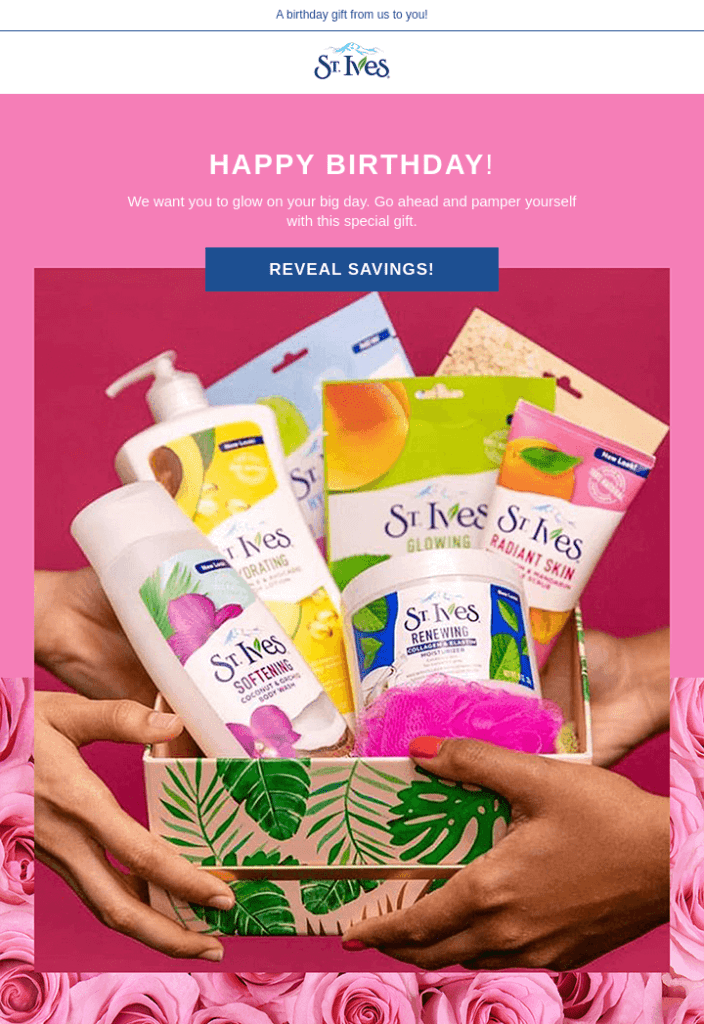 13. Anniversary Emails
There are two ways to craft an anniversary email: celebrate the birthday of your company (or the launch of a particular product or spin-off brand), or celebrate the day when each customer started using your service.
Customer relationship birthdays can be an annual tradition, but company birthday anniversaries should be bigger moments where your brand reflects on its history and past successes.
Either way, anniversary emails are a great sales opportunity and a chance to get off the beaten track and try a different approach when it comes to email marketing.
To make your anniversary email stand out, consider including:
Captivating subject lines
Retelling of your brand's history and a recap of past successes
Customer usage statistics or any metric to convey how often a customer has interacted with your brand
Personalized discounts, a coupon code, or a unique (and memorable) offer
Massive giveaways or competitions that come with big prizes
The Skimm has a fun and endearing anniversary email series that we can lift a few ideas from. Its five-year customer anniversary celebration recaps the time its customer has spent reading its daily news digest.
By showing customers how much time they've spent on its platform, The Skimm demonstrates value and creates a sense of nostalgia. At the end of the email, the subscriber is offered the chance to win a generous referral program bonus of $1000 USD for making just one referral.

Remember to thank your customer for being with you as your brand has grown and matured. Show them you value their ideas and input, and top it all off with a big giveaway or a grand competition.
14. Social Proof Emails
Social proof is more compelling and authentic than outright bragging about how awesome your offer is. Most types of email automation examples can benefit from review snippets or a good quote of a recent customer review.
There are many forms of social proof you can take advantage of in automated email campaigns like customer testimonials, expert reviews, product awards, and other forms of public recognition.
Testimonials (aka customer reviews) are especially potent. A recent survey found that over 57% of US consumers consider reviews very or extremely important when considering a purchase.
The most persuasive social proof emails are composed of:
Recent positive customer reviews
Expert walkthroughs and in-depth reviews
High review scores or top rankings in relevant product categories
How a referrer or friend of the subscriber reviewed your product or service
Magic Spoon's delightful roundup of the funniest customer reviews they've received is a brilliant way to encourage customers to make a purchase without being overly salesy.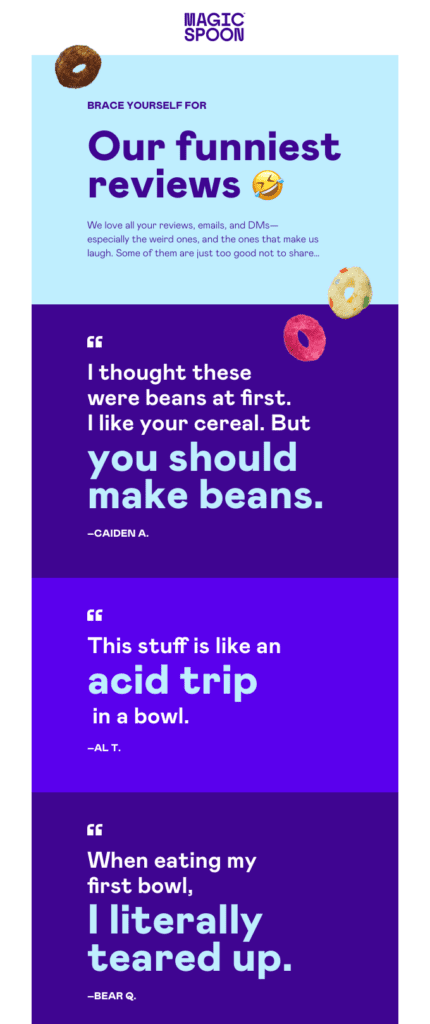 Try adding snippets of positive customer reviews alongside a service update, a product recommendation, or a new release (assuming there was a beta program or advance copies in circulation).
Remember to handpick reviews that are both positive and reflective of the full experience customers can expect even if that means including reviews that mention drawbacks or reasonable competitor comparisons.
15. Review Request Emails
Requesting reviews from your customers is also a low-risk and cost-effective way to gather constructive feedback.
To collect reviews, you can link to a survey form in your request for feedback email, or direct customers to an external review site.
Consider incentivizing reviews with a gift card or discount coupon, but don't feel pressured to always include monetary incentives in your review requests.
Once the first batch of reviews are submitted to popular review aggregator sites (and assuming product quality and service remain the same or gradually improve), you'll see a steady uptick of sales driven by customer reviews and referrals.
Here's how you can structure your review request email:
Let your customers know their reviews will impact product development
Show your customers how reviews will help you make better product recommendations
Let customers know their reviews will influence other buyers and help your brand grow
Ask customers to join in on community discussions
Offer an incentive for reviews, such as a gift card or discount coupon
Signature Hardware has a strong review request email that hits on all the right points. Customers know their review will help improve the product's development and help personalize future product recommendations.
Reviewers will be entered into a raffle where they stand a chance to win a $100 in-store gift card. The more reviews each customer submits, the better their chances of winning.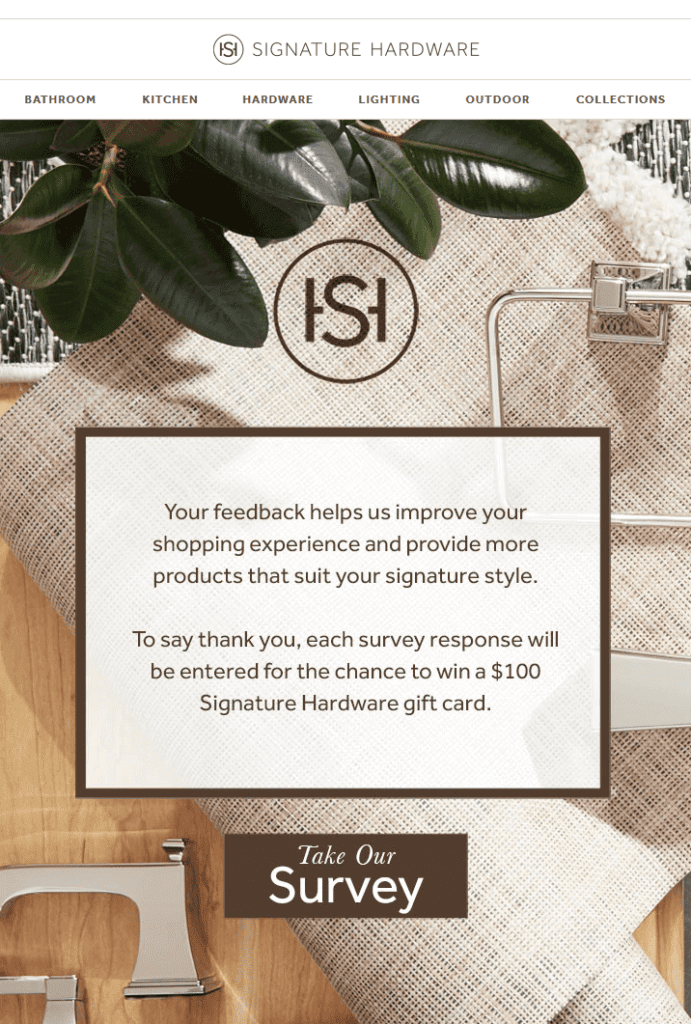 While it may be tempting to ask for reviews after every purchase, this could clutter the inboxes of your subscribers when they've bought multiple products in one go.
Frame your review requests around their overall experience with your brand instead — including their customer service interactions — so you can get a holistic view of what customers liked and disliked.
16. Back-in-Stock Emails
Running out of stock is rarely a good thing. While it shows your product is popular and currently in demand, it might leave customers with the impression that you can't handle order flow or don't have enough inventory to meet their needs.
Back-in-stock emails solve this problem. By letting customers know that new stock is on the way, or that they're part of a priority waiting list, you prevent permanent drop-offs in sales.
To give your customers peace of mind, be sure to include the following in your inventory update emails:
Reference previous shopping history or page visits to determine which items your customers want to back-in-stock
Let customers know if your back-in-stock reminder allows immediate purchases or a waiting period before orders can be made
Give your customers the option to pre-order or join a waitlist if the quantity is limited
Off Hours is really good at creating FOMO in its back-in-stock emails. Customers are given a precise date when inventory will return, then encouraged to pre-order because quantities are limited.
Off Hours didn't actually mention if the product is popular or had sold out recently, but certainly gives its customers that impression.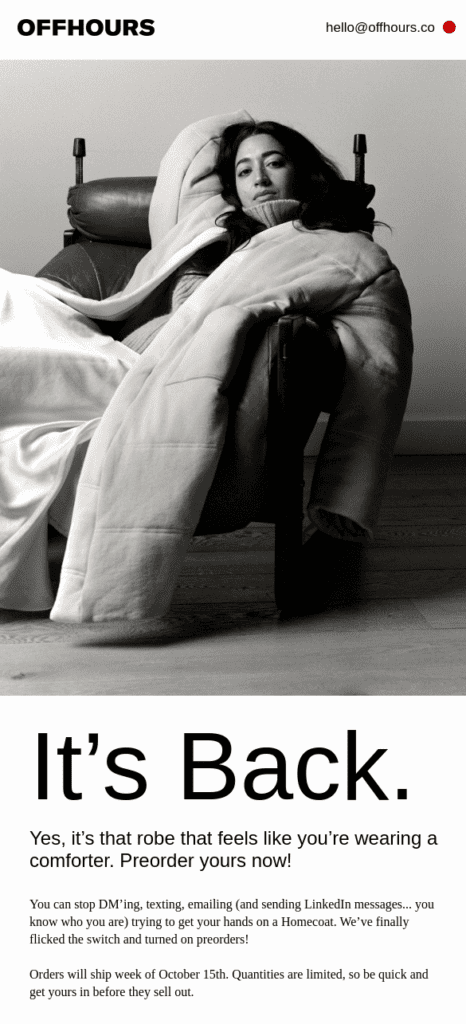 Back-in-stock alerts should always give customers the option to make an immediate purchase, so make full use of the opportunity even if stock is still on the way, with pre-orders.
17. Giveaway emails
Giveaways can be excellent lead magnets or serve as a welcoming gift for new subscribers as the kickoff email for a longer drip campaign.
Your giveaway email campaigns can draw in more signups with opt-in forms on your website and cross-promotional messages on social media and other marketing channels.
Simply ask for an email address in exchange for free material like downloadable ebooks, templates, and checklists, a separate educational email series, or product-related freebies.
Fracture created an engaging giveaway campaign over a 12-day period as part of their Thanksgiving holiday marketing strategy.
By asking for a simple sign-up to benefit from the daily giveaway, Fracture was able to rapidly expand its subscriber list.
Giveaway emails, to have the highest impact, should include:
Free gifts or prizes that your audience will appreciate
Easy sign-up process to benefit from the giveaway
Clear call-to-action to increase conversion rate
Sharing buttons or a referral code to encourage reshares
Roundup of the benefits that are part of the giveaway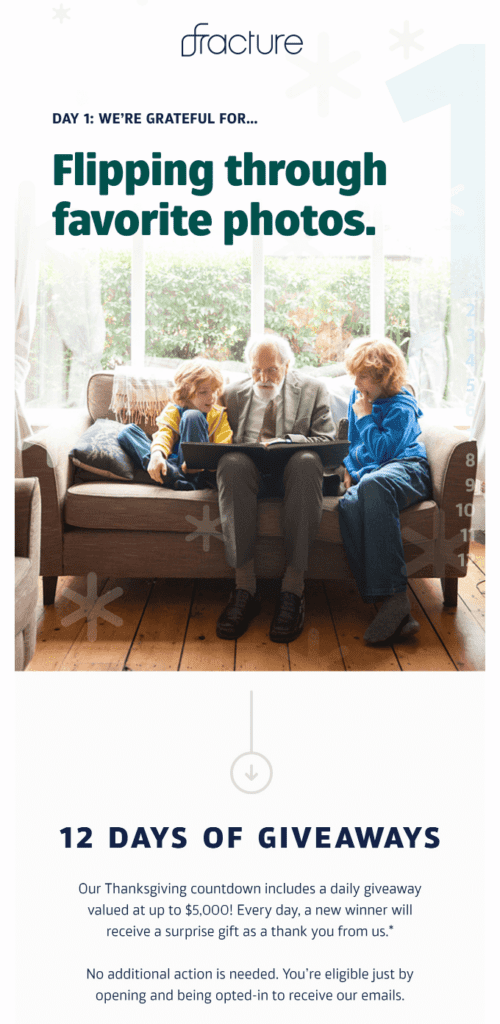 Every giveaway program must have a specific goal in mind, whether it's to grow your subscriber list, promote a new product, or drive more brand awareness.
18. Event Invitation Emails
Event invites can be for physical in-person events, or online activities like webinars, online courses, and workshops.
An email invitation will attract more attention to other marketing activities and should include CTAs to help you capture email registrations and RSVPs to measure the impact of each campaign.
Invitation emails most often include the following aspects:
Fixed event dates so event attendees can organize their schedule accordingly
A way to RSVP or register for the event beforehand
Compelling value proposition to ensure attendees know what the key takeaways will be
Names of guest speakers or content creators involved to give the event or activity more clout
Asana often runs online workshops on the subject of remote team management. Its event invites arrive a few weeks before the workshop is scheduled, along with a few reminders a day before and an hour before the workshop is live.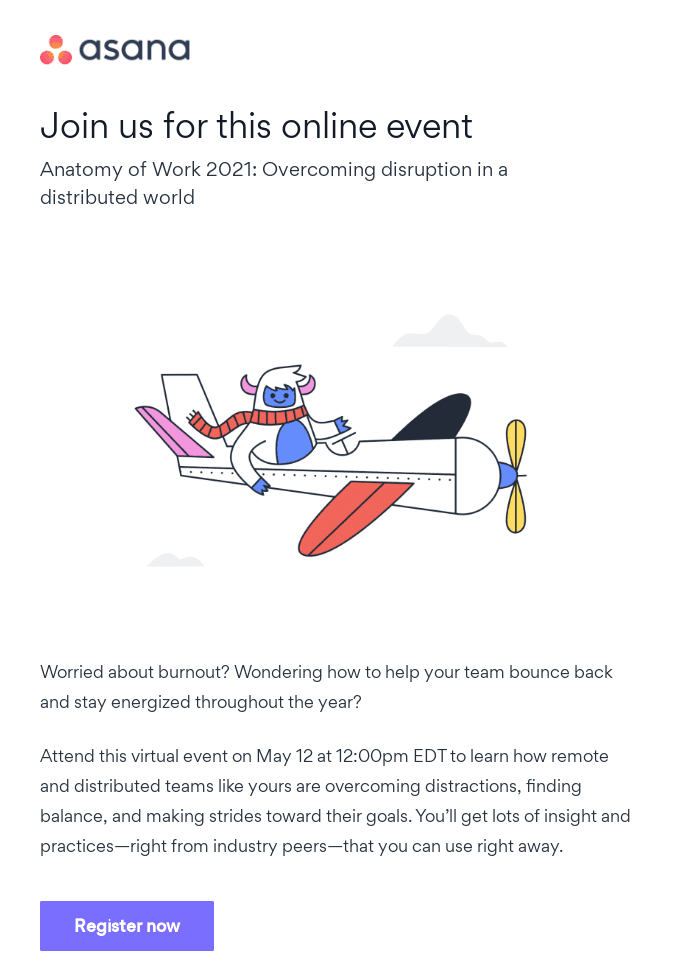 Space out reminders in your event invitation email before the event and on the day the event goes live to ensure attendance is at its highest.
19. Referral Emails
A referral program can help you expand your marketing outreach by turning existing customers into brand advocates.
Most referral programs will give the referrer and the referee a benefit of some kind — it could be product discounts, free gift cards, or a monetary payout (similar to an affiliate program).
Referral emails should stand out with concise messaging and beautiful imagery. A good referral program will often include:
Product discounts for both the referrer and referee
Sharable social media content to help spread the word
Unique shortcode or referral link to attribute each referrer
Lumina's generous refer-two get-one-free referral email is an example of a referral program that focuses on the product itself as the primary benefit.
The referrer is incentivized to refer friends and family so they can get more of a product they already like, while the referee will want to use their unique referral link to get a $25 discount.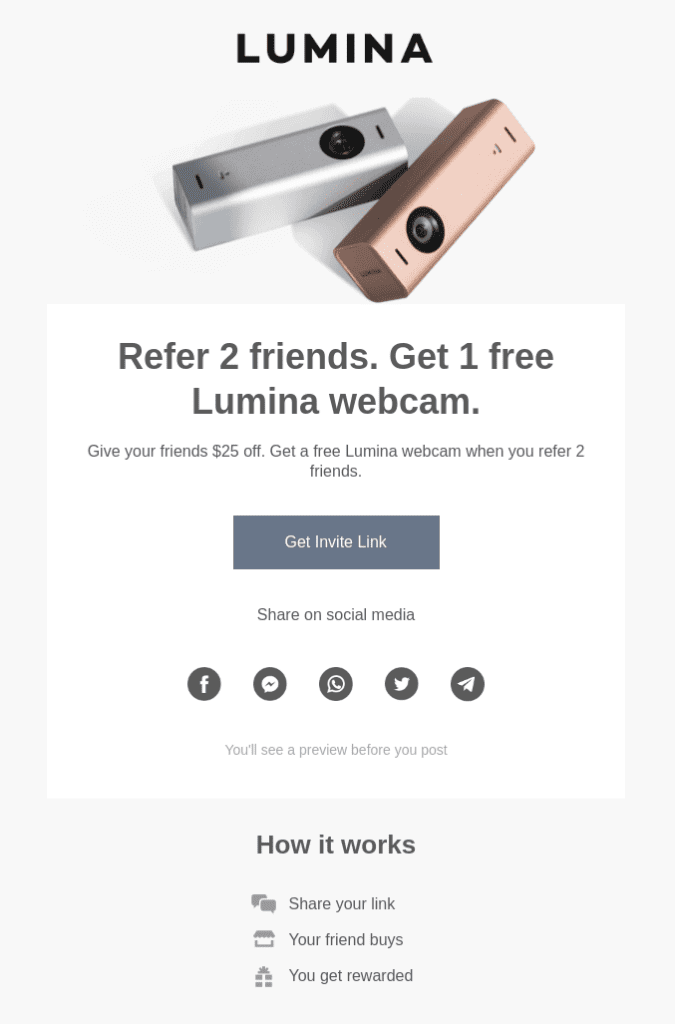 Use referral management software to generate referral links and track the attribution of discounts or gifts.
20. Lead Nurturing Emails
One of the biggest challenges for marketers is knowing where a lead is in the buying process.
Lead nurturing is when you send a series of targeted messages based on the interest shown in your brand. It helps move leads along a sales funnel towards making a purchase.
Typically, these emails include different types of content such as resources, product information, offers, and discounts.
Here are our top tips to nurture your most important customers:
Personalize your email content and subject line to establish a human connection.
Address customer pain points, needs, and ambitions.
Segment your email lists with techniques like dynamic segmentation to ensure your messages are hyper-relevant.
Map your content and resources to the different steps of the buyer funnel
Use clear CTAs – that have defined outcomes at each stage of the buying process
The free, downloadable resume from Kickresume is a good reference for lead-nurturing campaigns that establish authority through their expertise.
Kickresume uses its free resume guide to nurture leads who would eventually be interested in their online resume builder.
Its lead nurturing sequence has an easy to understand value proposition — free guides and instructional material to help job seekers craft the perfect resume.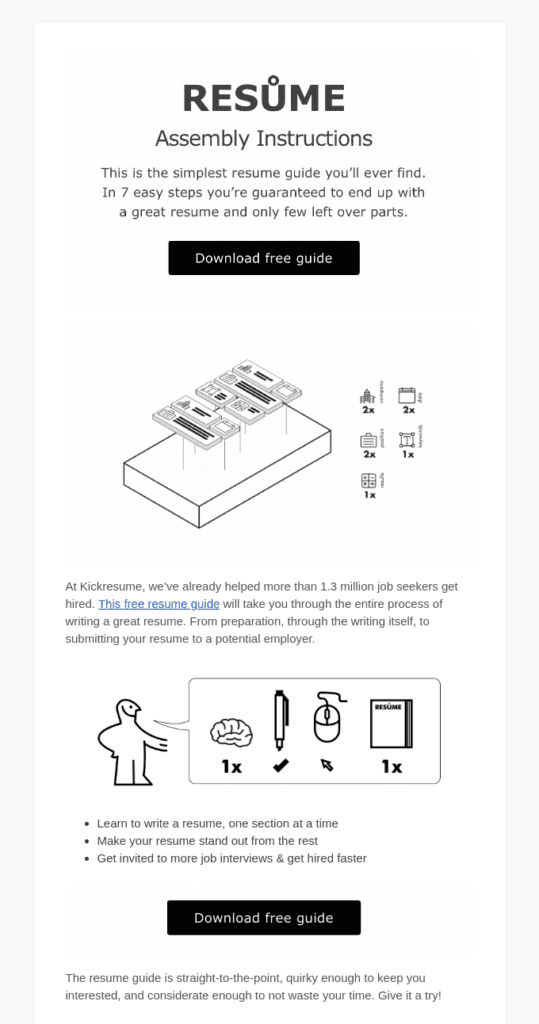 Take note of what your customers need most and compile a list of material you already have on hand to meet those needs before creating your own lead nurturing email series.
Become an expert in email automation with Brevo Academy's marketing automation course!
Start Driving Results With Email Automation
Automation is the most important driver of success in modern email marketing campaigns.
Email automation builds better customer relationships by personalizing relevant content and helping you optimize email campaigns for best results.
Start automating your marketing emails today with Brevo (ex Sendinblue), a professional email automation tool designed to transform leads into lifelong customers.
Automate your email campaigns with Brevo (ex Sendinblue)
Free plan includes access to email automation workflows, 300 emails/day, 40+ email templates, and customizable signup forms to grow your contact list