Reading time about 12 min

Email drip campaigns have an 80% higher open rate and 300% higher click-through rate than typical email marketing campaigns. Get inspired by these hand-picked drip email campaign examples to build strong customer relationships and drive conversion rates.
Drip marketing, also known as marketing automation, is a powerful way to connect with leads and customers. The benefits of email drip campaigns include greater customer engagement, improved brand awareness, precise lead nurturing, opportunities for content promotion, and of course, sales.
What is a drip email campaign?
Drip email campaigns are series of emails automatically sent to customers after specific actions or at preset intervals. What makes drip campaigns so effective is their personalized and targeted email content.
A common use case for email drip campaigns is lead nurturing. You can easily build an automation workflow according to your business's sales funnel that allows you to send personalized emails to leads at each stage of their journey.
And for existing customers, email drip campaigns work great for cross-selling and upselling. As we'll see, though, there are countless ways to use automated emails and drip campaigns to elevate your overall email marketing strategy.
How many emails should be in a drip campaign?
Typically, email drip campaigns have at least three emails in the series. That said, there's no fixed rule for how many messages make up an email sequence.
The goal of your drip campaign will dictate how many emails to send. For lead nurturing campaigns, you could have more than ten emails in a drip. For re-engagement campaigns, you shouldn't send more than three emails.
Related: The Best Drip Email Marketing Software
Drip email campaign examples
Let's take a look at a few different types of drip campaigns, including welcome emails, confirmation emails, cart abandonment emails, onboarding emails, lead nurturing emails, and re-engagement emails.
This isn't an exhaustive list of the types of emails you can send using drip marketing. Email automation offers countless possibilities for engaging with your email list in a personalized way.
Welcome email
Our first drip email campaign example comes from Fulton, a company making shoe insoles. This email does a great job of welcoming new subscribers. Let's break things down:

Not only does Fulton's welcome email offer a discount code, but it also has a nice infographic explaining the USPs of its flagship product. Another nice touch is the social media buttons at the bottom of the email. These help new contacts connect with your brand across channels.
Your welcome email doesn't necessarily need to be this long. It really only needs to say thanks for signing up, set expectations for the content you'll send, and link to your website. Fulton's email, though, is a nice example of how you can go one step further in welcoming new subscribers to your email list.
For more inspiration, take a look at our article on effective welcome email examples.
Confirmation email
Duolingo is a popular language-learning app. Users with a paid account have access to special features that make learning a language even easier. When a user subscribes to Super Duolingo, they receive this confirmation email.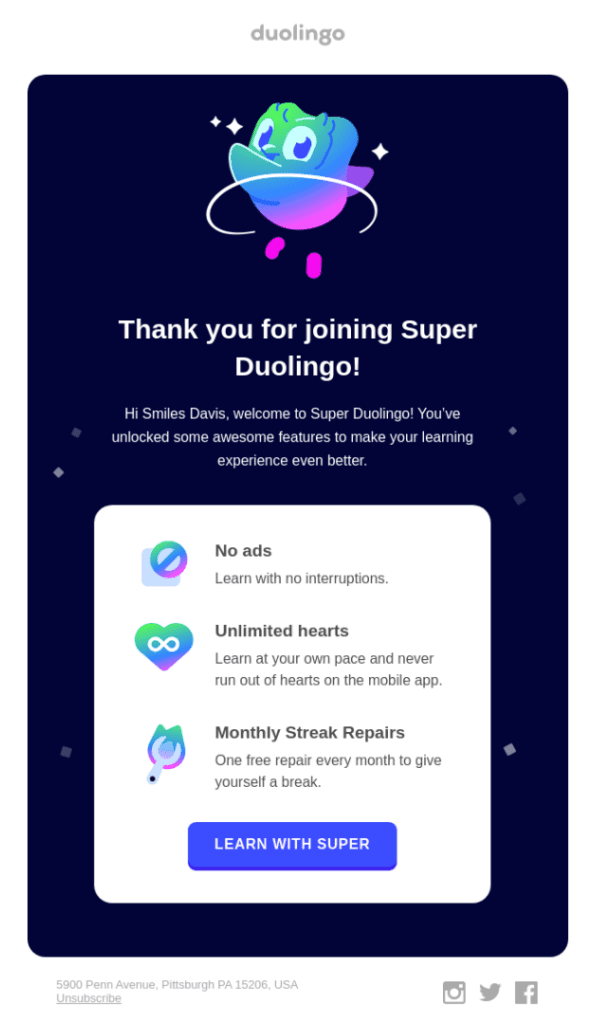 We like a few things about this example. Notice that it's not too lengthy and how it details the added benefits of the paid plan. With confirmation emails like this, all you need to do is briefly highlight what extra perks the user is getting.
Another nice touch of this drip email example is that it mimics the look of Duolingo's app. By simply adding a white border and an effective call to action, the email encourages users to open the app and make the most of their new plan.
Cart abandonment emails
Sustainable clothing brand United by Blue sends potential customers this email when they leave an item in their shopping cart.

When creating your own abandoned cart email, take inspiration from this example. Notice how the email is straightforward, uncluttered, and drives action.
The email copy is short and to the point, and even includes a little pun! Similarly, the product image is plain and simple.
When chasing after abandoned carts, your approach shouldn't be overly complicated or promotional. Instead, think of it like a follow-up email giving shoppers a gentle reminder of where they left off. You can also offer a discount code to lock in the sale.
Here's another example of an abandoned cart email from shoewear brand On:

When setting up your own cart abandonment email, take inspiration from this example. On's email is simple, sleek, and incites a sense of urgency. The brief copy tells the shopper that their item is selling fast, prompting them to buy.
Instead of offering a coupon to lock in the sale, this approach plays to consumers' fear of missing out (FOMO). Depending on your overall marketing strategy, either approach works.
If you notice your abandoned cart emails have low open rates, consider A/B testing the subject line to optimize it for your specific audience.
Onboarding emails
Onboarding emails are usually a series of emails aimed at educating customers/users to better understand a new product or service. Let's take a look at this four-part onboarding drip email campaign example from QuickBooks.
Email #1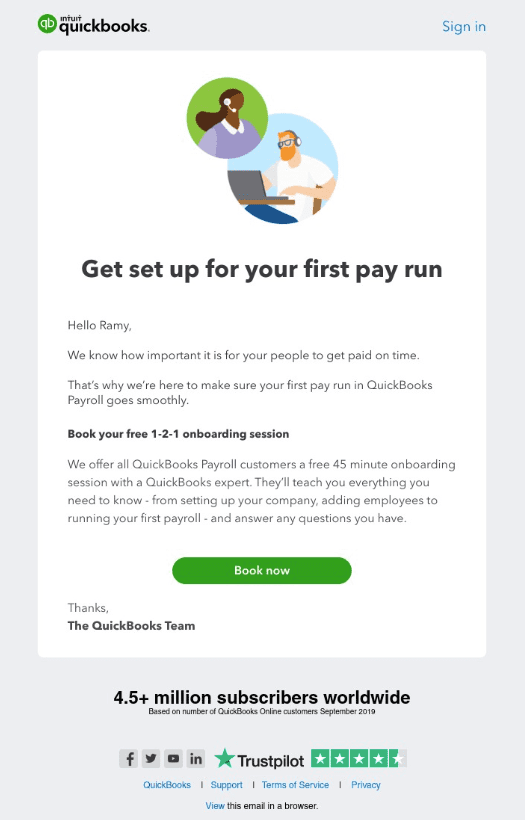 The first email in QuickBooks' onboarding workflow takes things slow. One of the main reasons businesses use QuickBooks is for payroll. That's why this email sequence starts by giving new customers the opportunity to schedule a one-on-one training session to learn how to set up their first pay run.
Starting your onboarding workflow with a simple, yet high-value offer like this is a great way to build trust with your customers. It demonstrates your commitment to making their lives easier and will in the long run help you retain customers. And by sticking to just one topic to begin with, you avoid overwhelming new users with too much information.
Email #2

The next email in QuickBooks' onboarding flow has the same aim as the first: helping new customers set up their payroll. However, this second email introduces more features and capabilities of the software. It also offers opportunities to learn more through videos and webinars.
Users receive this email some time after signing up, meaning there's less of a risk of overwhelming them. That's why QuickBooks first reiterates the payroll call to action, then goes on to highlight other features of the platform.
Email #3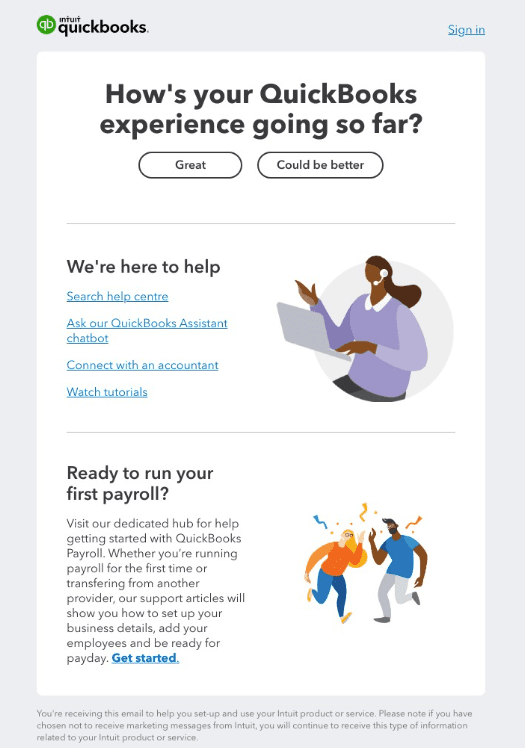 If users still haven't set up their payroll, they receive this third email. Instead of starting with the same payroll-focused call to action, the headline of this email simply asks how users' experience has been with QuickBooks.
At this stage in a drip campaign, users who still haven't taken the desired action may be experiencing a pain point. That's why it's a good time to ask for feedback.
Depending on users' responses, you could send them down different pathways within your drip marketing campaign. In this case, QuickBooks users who click "Could be better" are added to a new flow focusing on troubleshooting and improving user experience. Users having a positive experience could stay on the same workflow and continue learning about more features. (See Email #4 below.)
Email #4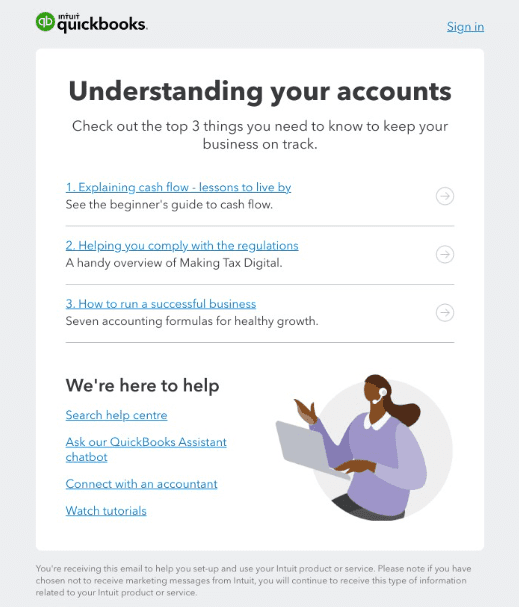 Notice how there's no mention of payroll setup in this email?
That's because this email is sent to users who have successfully run their first payroll and who are having a positive experience using QuickBooks. At this point, the email sequence offers a set of resources and tips on how to use the software to run a successful business.
Lead nurturing emails
Drip campaigns are great for lead nurturing. Thanks to marketing automation, you can maintain timely and personalized touch points that turn leads into paying customers. For our lead nurturing drip email campaign examples, let's take a look at Canva's email sequence.
Email #1
Canva is an online graphic design platform offering both free and paid versions of the service. Free users can sign up to receive weekly design tips to help them make the most of the platform.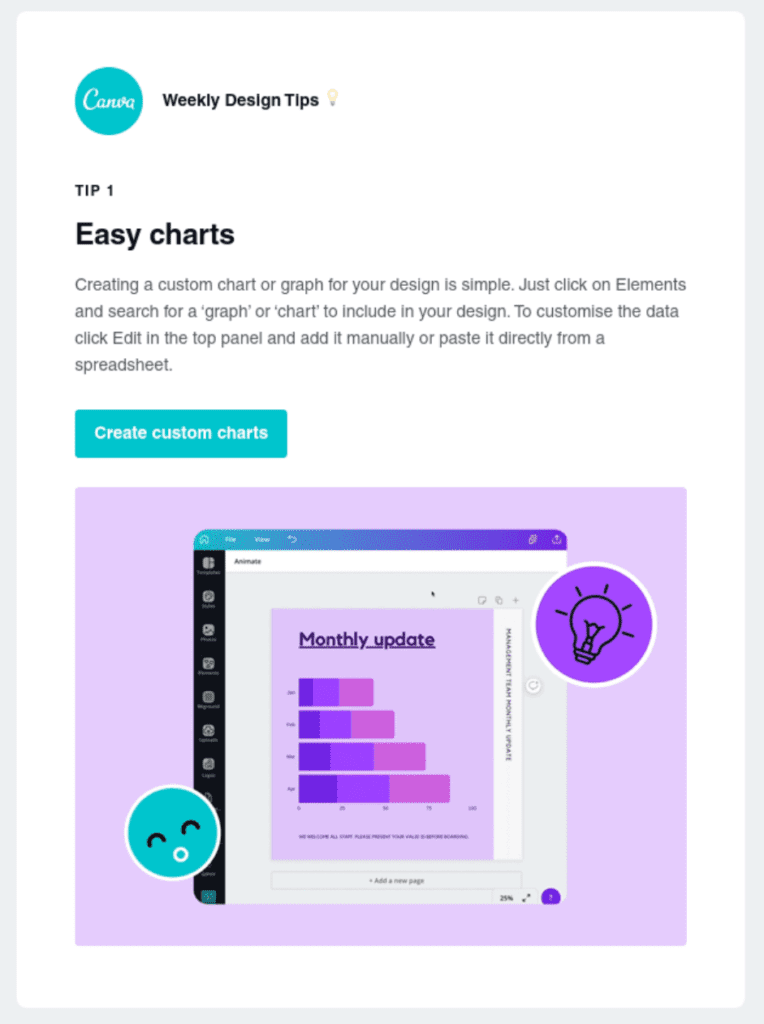 The first email in Canva's lead nurturing drip campaign starts off simple. It highlights a useful feature on the platform and includes a CTA button to encourage users to try it out for themselves.
In the early stages of lead nurturing campaigns like this, avoid sending overly promotional content. Your target audience here doesn't plan on converting right away. Spend some time helping your leads understand why your product or service is worth paying for.
Email #2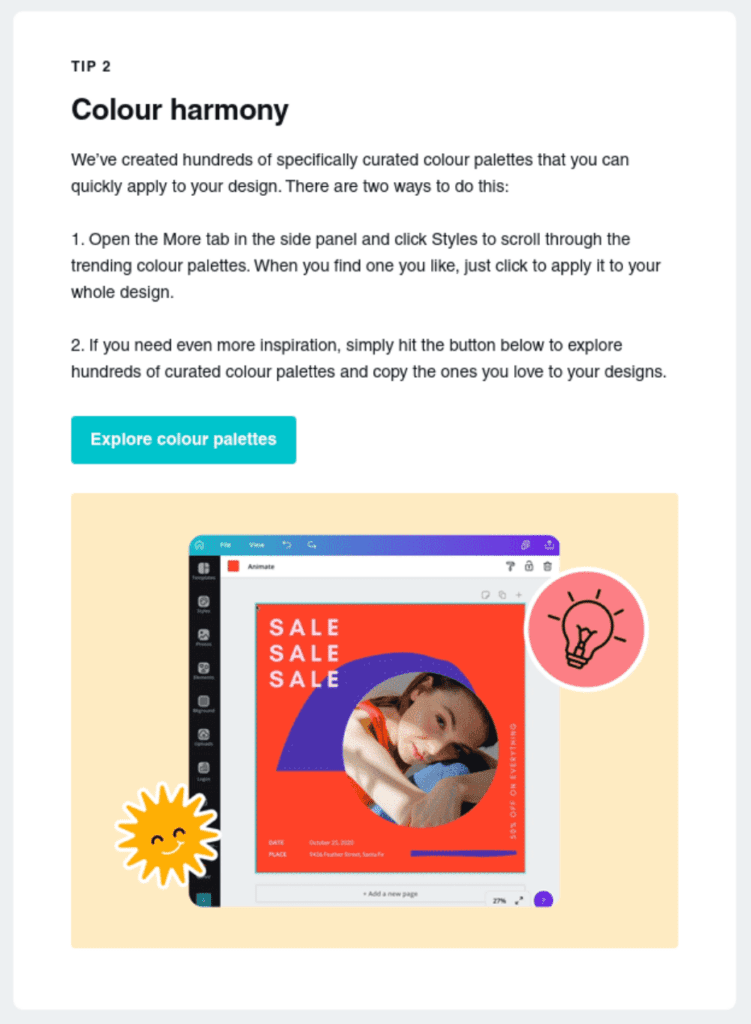 Canva's next lead nurturing email focuses on another helpful feature — premade color palettes. For small business owners or those lacking time and resources to invest in design, this kind of feature is a game-changer.
Like the first, this email is pretty simple in terms of content. It explains the feature and how to use it, then includes a CTA button. The stylized product screenshot at the end of the email is a nice touch as well.
Email #3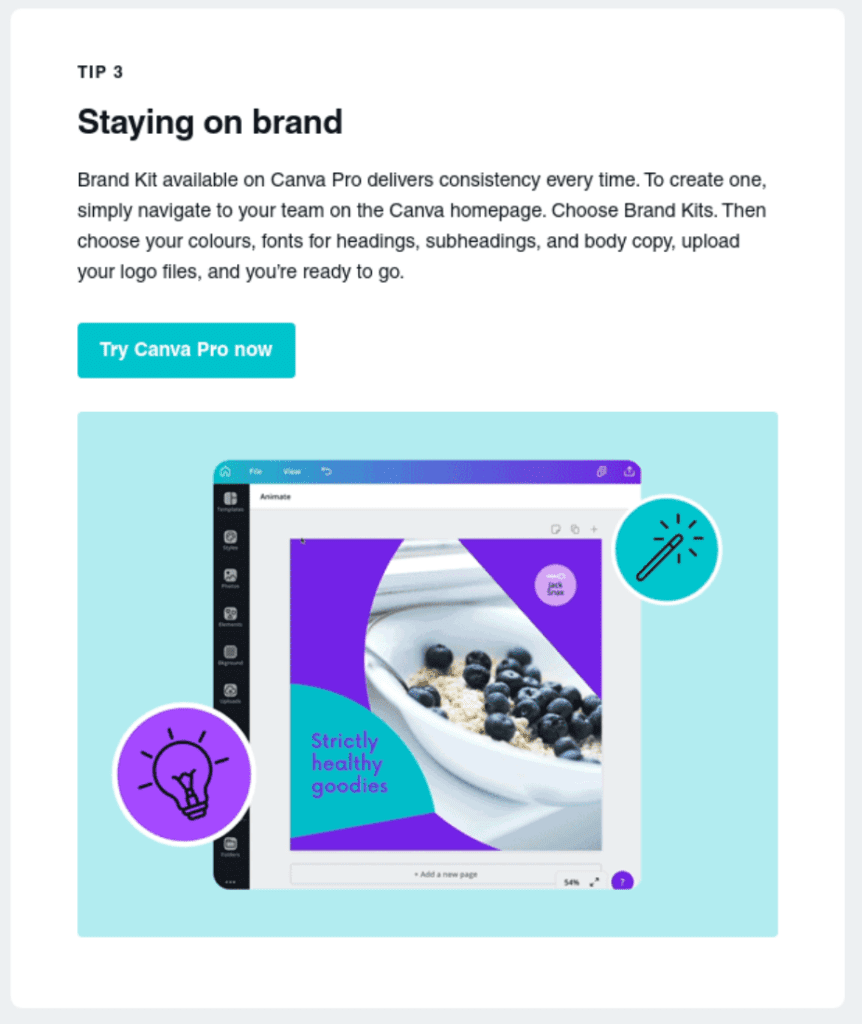 Email #3 builds on the second email by enticing users with Canva's Brand Kit feature, which allows you to produce professional, on-brand graphics quickly and easily. Importantly, this feature is only available to paying users on Canva Pro.
Think of this feature as the paid-version of the color palette feature from email #2. By setting up the flow in this order, Canva gives free users a taste of how the platform can help elevate their branding and content production.
At this point in the drip campaign, leads have greater intent to purchase. So Canva positions one of its most valuable paid features to entice free users to convert.
What we really like about this final email is that it has the same exact formatting as the previous two. This continuity prevents the final email — aimed at converting free users — from coming across as overly promotional.
Re-engagement emails
Our final drip email campaign example comes from YNAB, a personal budgeting platform.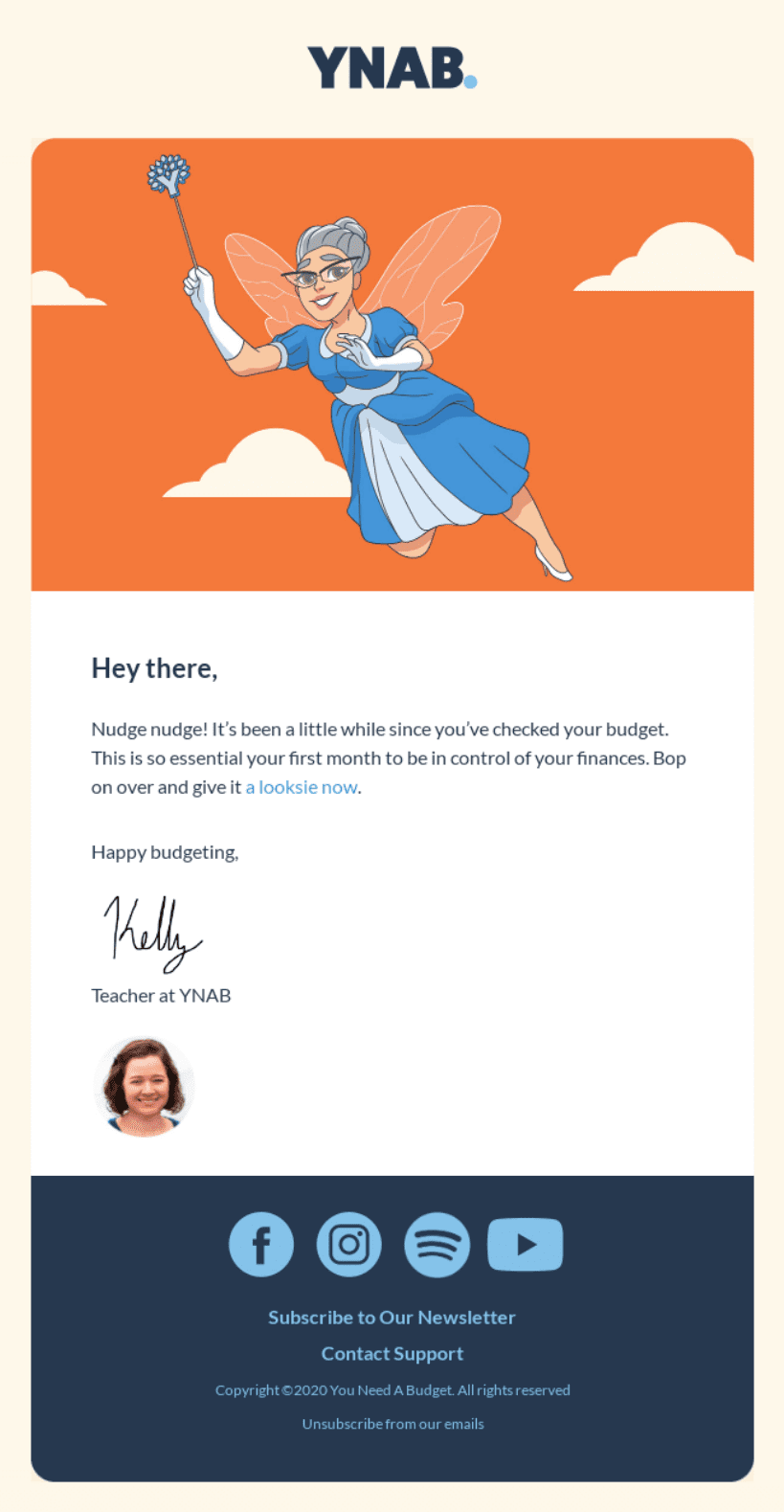 YNAB users who have been inactive on the platform for a certain amount of time receive this email as a gentle nudge.
This drip campaign example does a nice job of keeping things direct and respectful. If your weekly/monthly newsletters aren't engaging sections of your target audience, it's likely you need to take a different approach.
We especially like the friendly, non-confrontational feeling of this email copy. You don't want to come across as nagging. Instead, kindly inform your contact that it's been a while since and explain what's in it for them if they re-engage.
Depending on your approach and business, you can offer different types of incentives. For ecommerce businesses, a discount works great. For SaaS, you could offer them access to an exclusive feature, or just remind them of the benefits of your product.
Take a look at our re-engagement email guide and our email list cleaning tips for more information!
Get inspired by these drip email campaign examples
After looking at these 12 drip campaign examples, you've got all the inspiration you need to get started with drip marketing!
Adding drip campaigns to your email marketing strategy has countless benefits. And once they're set up, they run on their own thanks to marketing automation.
Looking for an automation tool? Choose Brevo to power your business's email marketing and create drip campaigns like the examples above!
Create your drip campaign for free today!
Free plan includes access to all core email features, 300 emails/day, 40+ email templates, and customizable email templates for drip campaigns.