Reading time about 16 min

Go beyond just making calls with the perfect VoIP service for your small business.
To help you make an informed decision, we've analyzed the top 15 VoIP services, their features and pricing to find the best business phone solution for your team.
Top 15 VoIP services for small businesses
Brevo Phone
Yodel.io
Dialpad
RingCentral
CallHippo
Google Voice
Aircall
Grasshopper
Nextiva
Talkdesk
8×8
GoTo Connect
Cloudtalk
JustCall
HubSpot VoIP
What is a VoIP phone system?
VoIP (Voice over Internet Protocol) is a modern phone technology that uses an internet connection to make and receive phone calls. In 2023, VoIP is the best alternative to a traditional landline phone system for small businesses.
Differences between VoIP systems and landlines
There are two main types of small business phone systems: traditional landline and VoIP.
Traditional phone systems are the analog ones with copper wires or optical fiber. A landline telephone can only work close to the receiver — that's why their use is limited to offices and homes. You cannot take the headset out on the street and use it.
VoIP phone systems, on the other hand, use phone technology that makes and receives calls over the internet. This means you can use a VoIP phone anywhere as long as you have internet connection.
Going into even more detail, there are two types of VoIP solutions: on-premise and cloud-based.
An on-premise VoIP service needs expensive servers to be housed, maintained, and upgraded on site in your office. It's usually only within the budget of large companies.
Some VoIP providers offer cloud-based VoIP systems. They're location independent and thus perfect for smaller and distributed teams. No need for costly hardware or maintenance.
Why should you use a cloud phone system?
You can turn your business phone into a marketing and service channel. Here are some of the benefits of a cloud-based phone solution:
Cost-effective: Businesses can save an estimated 30-50% on telecommunications costs by switching to a cloud phone system. Cloud phone systems don't require setting up hefty servers or installing telephone wires. You can even access your cloud phone system from devices you already have like your computer, tablet, or mobile device.
Scalable: Cloud phone systems make it easy to grow your business. Typically, pricing is set per user and you can add users at any time. You should be able to grow your team with your phone system, not be limited by it.
Flexible: Access your cloud phone from computers, tablets, and mobile devices. Cloud-based systems make it easier to offer remote and hybrid working. You don't have to be stuck at one physical location like you would with a traditional phone system or hosted VoIP.
Hands-off solution: On-premise VoIP can be a headache and a massive expense. Cloud-based phone systems are hosted outside of your business, so your provider handles any problems. You just sue it as a SaaS.
Up-to-date: It's easy for providers to add new features and functionalities to a cloud-based solution. The system simply updates like any other software without any downtime for you.
How to choose the best SMB VoIP provider
While most providers offer a wide range of basic and advanced features, there are certain functionalities necessary for effective communication.
Before you select your SMB VoIP phone service, make sure you have access to all of the essential features.
The essential features of a small business VoIP system
1 free local phone number: A business phone system is an investment, but your provider shouldn't be charging you for certain essential services like getting your first local phone number.
Multiple phone numbers: Small businesses have a ton of use cases for having multiple virtual phone numbers. You need them to connect to customers across the globe.
iOS and Android apps: Keep your small business VoIP system with you, wherever you go with mobile apps.
Supports multiple languages: A professional small business VoIP will support your customers and your team with multiple languages for settings and welcome messages.
Welcome and voicemail messages: Look for VoIP services that let you record greetings for your callers, even when you aren't available to answer the phone.
Voicemail transcripts: Sometimes audio messages just aren't convenient if you need to retrieve information. Voicemail transcriptions make them more accessible.
Text messaging: Make sure you can follow-up and cross-use channels like SMS text messaging.
Office hours: That's one nifty option to have. If a caller calls outside of your designated business hours, they'll be transferred to voicemail.
Call forwarding: Make your phone communication a team effort and easily forward calls to your other team members. 
Call recording: Keep track of important information, improve call monitoring, and make training a breeze with call recording.
15 Best VoIP services for small business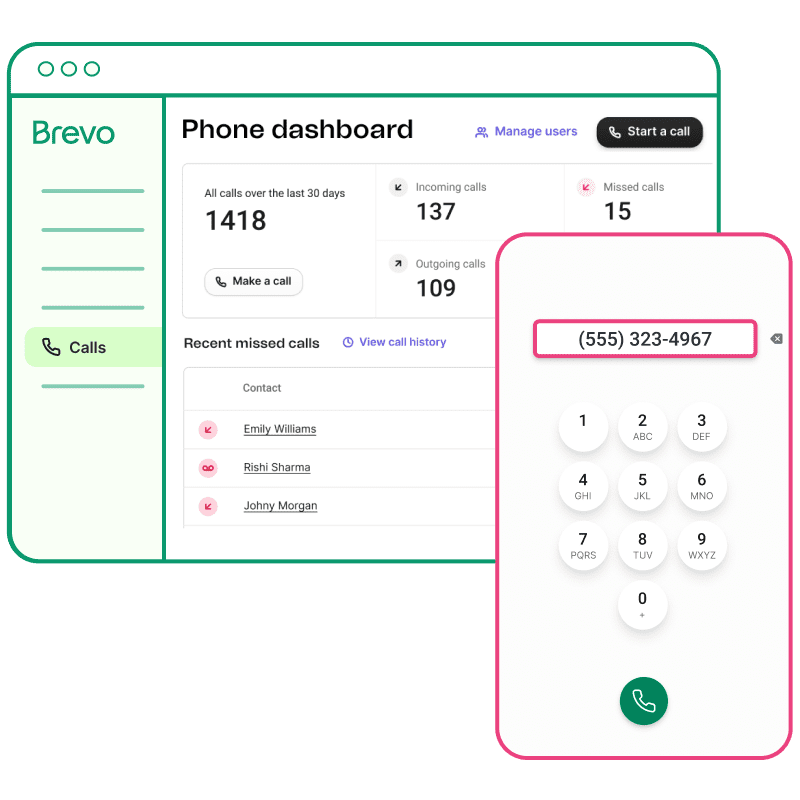 Pricing: free, $19/user per month
Free 60-day trial
Brevo Phone is a top choice of a VoIP service.
It's a cloud-based phone system. The most exciting part about Brevo Phone? It's designed to help small businesses communicate better, across channels.
Brevo Phone gives you a reliable and affordable phone solution for effective business communication.
These are just a few of Brevo Phone's key features:
All the essentials
Get access to all of the essential features that you need for business communication.
Keep your tools connected

Create more unified communication when you connect Brevo Phone with other Brevo communication channels.
Take control over incoming calls

Improve your call management so that you can handle whatever call volume comes your way.
Make a lasting impression

Add special touches through a custom welcome message and music on hold.
Stay connected across devices
Gone are hardware desk phones. Use mobile phone apps and desktop apps to access your business phone system wherever you are.
Take your SMB global
Whether you want an international phone number or international calling, you can take your communication global.
What makes Brevo Phone the best VoIP service for small business?
Get started in seconds: It's easy to set up Brevo Phone, no downtime in customer communication.
Save time and money: Streamline tedious tasks through smart automations to create more efficient and effective processes.
Improve the customer experience: Boost customer support with reliable and crystal-clear phone communication.
Store important data: Eliminate the need for tools that aren't in sync to keep all your important information at your fingertips.
Pricing: Brevo Phone is an affordable business VoIP service for small businesses at just $19/user per month.
The best part? Brevo Phone is a free VoIP phone service if you don't need large volumes of minute credits or advanced features.
VoIP integrated with multichannel tools
With Brevo Phone you can seamlessly connect to a multichannel toolbox, including:
Email marketing and automation
SMS and WhatsApp
Push notifications
Live chat and chatbot
Sales Platform
Appointment scheduling and online meeting hosting
Brevo offers all the sales tools you need to drive revenue and deliver seamless customer experiences. Track deals, book meetings, make phone calls, and collect payments — manage the entire sales cycle and all your contact data in one place with Brevo.
30% off Sales and Phone Plans until October 31st
Use the code BREVOLAUNCH23 to get 30% off Sales & Phone plans for your first 6 months. Don't miss your chance to save on Brevo's easy-to-use sales tools — Sales Platform, Meetings, Phone, and more.
2. Yodel.io
Pricing: $25/user per month; $35/user per month
Free 14-day trial
Yodel.io is a cloud-based phone system that caters to remote and hybrid teams.
Its business phone system can help you expand your reach with global features such as international calling, international phone numbers, and toll-free numbers. You can even port your existing phone number, so you don't have to worry about rebranding or confusing customers.
Beyond that, Yodel offers advanced features so that you can have more efficient phone communication. Between integrations with external business tools like Microsoft Office, CRM integrations, and smart IVR to serve as a virtual receptionist and auto-attendant, its system is full of time-saving tools.
A really cool thing about Yodel? It doesn't require you to be a tech expert to use it. Yodel has been designed to make it as easy as possible for small businesses to leverage its powerful features.
3. Dialpad
Pricing: $23/user per month; $35/user per month
Free 14-day trial
Dialpad's business phone system offers all the essential business phone features. It provides customer support functionalities powered by AI technology. This includes built-in voice intelligence features. That enables real-time transcriptions, live coaching, and more.
One thing to keep in mind is if you want features like additional phone numbers or international numbers, you'll have to pay for add-ons.
4. RingCentral
Pricing: $33/user per month, $41/user per month; $48/user per month
Free 14-day trial
RingCentral is a business phone system that is ideally suited to a call center solution, including video calling and video conferencing. If you have a large sales team, connected video and phone can be a big advantage.
RingCentral's pricing depends on the range of employees using the system (1, 2-20, 21-50, 51-99, 100-999+), and the features included. That means every plan has different pricing for businesses of all sizes. That can be tricky if you're growing or downsizing.
Something to keep in mind is that RingCentral focuses on phone and video communication. These aren't the only channels that your small business needs to connect with your customers, so you'd have to look to third party integrations. Another thing to consider is whether your small business team needs the advanced features you'll be paying for.
Not sure? Discover RingCentral alternatives here.
5. CallHippo
Pricing: $20/user per month*; $30/user per month*; $50/user per month
*additional features available as add-ons
Free 10-day trial
CallHippo offers all of the essential small business phone capabilities. The pricing is a mix of paid plans which each include pre-selected features and add-ons with a-la-carte options.
You can customize CallHippo by adding features that make sense for your team. This could get expensive fast, but you'll end up with a fully customized solution.
6. Google Voice
Pricing: $10/user per month; $20/user per month; $35/user per month
No free trial
Google Workspace and Google Voice work together to make business communication easy. It gives you a phone number that can be used for calls, texts, and voicemails. Google Voice is especially a good choice for solopreneurs or startups.
Google Voice works on multiple devices: smartphones, laptops, and desk phones so you can stay connected at work, at home, or on the go.
It is a very simple phone solution, which means it may not have all of the features your SMB needs. But, if your small business simply wants a virtual phone system, this could be the right choice.
7. Aircall
Pricing: $40/user per month; $70/user per month
Free 7-day trial
Aircall is a business VoIP phone service designed for big sales groups and contact centers. But, this big business system can be a strong choice for small businesses if you want to take advantage of all the advanced features.
Some of those advanced sales center features include PowerDialer, click-to-dial, real-time coaching, and more cloud capabilities.
While Aircall doesn't have CRM or other marketing features, it can integrate with lots of popular business tools.
What about an Aircall alternative?
8. Grasshopper
Pricing: $31/user per month; $51/user per month; $89/user per month
Free 7-day trial
Grasshopper is a VoIP service with a user-friendly interface. Some key features offered are:
Conference calling
CRM integrations
SMS text messaging
Call routing
Voicemail transcriptions
Grasshopper is another stripped-back VoIP service, which almost exclusively offers phone communication. That means if your SMB values simple, single-function tools, it could be an excellent option. However, some small businesses prefer a more connected ecosystem, which Grasshopper isn't able to provide.
9. Nextiva
Pricing: $31/user per month; $36/user per month; $46/user per month
Free 7-day trial
Nextiva's business VoIP solution helps businesses capture customer interactions across phone, email, and text messaging. It's known to be a secure and reliable system with little downtime.
It's worth noting that Nextiva doesn't offer international numbers, which may make it tricky to connect with global customers. For example, if you are based in the United States, and have a customer in Canada, they'd have to call a US area code and could face international calling charges. This could make your business less accessible.
Not sure? Discover Nextiva alternatives here.
10. Talkdesk
Pricing: $75/user per month; $95/user per month; $125/user per month
Talkdesk is one of the best VoIP solutions for small businesses. It can help create a seamless customer journey through its automation-first customer experience tools.
However, it is worth noting that the pricing of Talkdesk could be a little prohibitive for SMBs. There are a lot of advanced functionalities that come with Talkdesk, so it's important to understand if your business would benefit from them.
11. 8×8
Pricing: $15/user per month; $28/user per month; $57/user per month
Free 30-day trial
8×8 is one of the most cost-effective VoIP solutions available. There are a wide range of pricing options available, as well as a free 30-day trial.
It is worth mentioning that the initial pricing tier is limited to phone, video, and chat and can only be accessed in the United States and Canada.
However regardless of the pricing tier you select, you'll be able to benefit from having everything all in a single app or browser.
12. GoTo Connect
Pricing: $27/user per month; $43/user per month
GoTo Connect is a VoIP provider that is able to offer voice calls, video calls, and a wide variety of integrations. With GoTo Connect you can access your business communication from any device, including cell phones, tablets, and desktop computers.
Some of GoTo Connects top call management features include call transferring, call forwardings, and call queue management.
13. CloudTalk
Pricing: $25/user per month; $30/user per month; $50/user per month
Free 14-day trial
CloudTalk is a virtual phone system that can integrate with popular business apps. It doesn't have any native marketing capabilities, but may be a good choice if your small business has already invested in other marketing tools.
CloudTalk centers their VoIP features around creating global connections, which includes a wide range of international phone numbers.
14. JustCall
Pricing: $30/user per month; $60/user per month
Free 14-day trial
JustCall is one of the VoIP providers for small businesses in need of a user-friendly contact center system. It is easy to set up and use, which means your team can implement JustCall in seconds.
One thing to note is that JustCall is limited to voice calls, SMS texting, and faxing. If your team is looking for a more robust VoIP solution, it might be too simple.
15. HubSpot VoIP
Pricing: $50/user per month; $500/user per month; $1,200/user per month
Free 14-day trial
If you are already heavily invested in HubSpot CRM, then HubSpot VoIP is one of the best VoIP providers.
HubSpot VoIP is available in the premium versions of Sales Hub and Service Hub. If your small business is already committed to the HubSpot platform, it makes sense to add HubSpot VoIP.
If you're using another CRM platform or don't want to pay for HubSpot's premium plans, there are other VoIP phone services that offer CRM too.
Best VoIP: FAQs
What are the benefits of VoIP?
A VoIP system can help a small business save money, increase phone accessibility, improve flexible and hybrid working, and enhance scalability. These are just a few of the general benefits, with even more benefits made possible depending on your VoIP provider.
Who is VoIP best for?
VoIP solutions are great for businesses of any size. Large enterprises might benefit from an on-premise solution, while small businesses should opt for a cloud-based solution.
How much does a cloud-based VoIP system cost?
VoIP solutions can vary significantly in price, and in the features associated with each pricing plan. One thing to note is that pricing is typically per user, per month. That means you only have to pay for what makes sense for your business.
Ready to test out a small business VoIP solution?
We hope this guide helps you find the perfect VoIP service for your small business.
Get started with a virtual phone number in a matter of minutes with Brevo Phone. You can even take all the features of Brevo Phone for a test drive with a free 60-day trial.
30% off Phone Plans until October 31st
Use the code BREVOLAUNCH23 to get 30% off Sales & Phone plans for your first 6 months. Don't miss your chance to save on Brevo's easy-to-use sales tools — Sales Platform, Meetings, Phone, and more.