Reading time about 11 min

RingCentral is a great business phone solution if you are a large enterprise or have a significant call center operation. But if you're a small business, you may find the platform's pricing and functionalities unsuitable.
To help you find your perfect business phone solution, we've picked out the top RingCentral alternatives to help your small business thrive.
What RingCentral offers
RingCentral is a cloud-based VoIP solution. The platform offers a wide range of features for enterprises such as: 
Centralization — connect your business communication with video and audio conferencing, faxing, and text messaging
Integrations — access smart integrations to improve your workflows which include Slack, Google Workplace, and Microsoft 365
Call center functionalities  — call routing, call forwarding, and call recording 
Analytics — improve your processes with real-time voice call analytics and call center reporting software
Languages — expand your reach with 18 languages available for settings, multilingual IVRs, and localized voice prompts
Devices — connect via iOS and Android mobile apps, desktop access, and to your desk phones
Drawbacks of RingCentral
While RingCentral can be a decent phone solution, i'is not without the following limitations:
Difficult onboarding — RingCentral users face issues setting up the platform on their own. While there are one-hour professional implementation sessions available, RingCentral may be difficult to get up and running without additional customer support.
Poor customer support — Customer support is available only on the highest plans, not affordable for small businesses.  Chances are, you might not be getting 24/7 technical support. 
Limited functionalities with basic plans — Despite RingCentral's four pricing tiers, the affordable plans come with serious limitations, including limited minutes, no video conferencing, and a lack of popular app integrations.
Cancellation with no refund for yearly subscriptions — RingCentral offers a yearly discount for their business phone system, but if you cancel you will be on the hook for the entire yearly cost. This pricing structure could be detrimental to a small business' budget. 
Outdated software architecture — It's important to make sure your business phone system is up-to-date. Unfortunately, RingCentral currently uses outdated software which could lead to a lower quality phone service. 
Tough to scale — RingCentral's pricing structure is too rigid for small businesses. Some pricing plans are limited to a specific number of users, which means that if your small business grows you will have to change your plan.  
RingCentral pricing
RingCentral offers four different tiers of pricing, ranging from $33/user/month all the way up to $63/user/month when billed monthly. The most basic plan is limited to only 20 users, and only includes 100 toll-free minutes per month.
There is no free RingCentral plan available. RingCentral does offer a free trial, but it is limited to a maximum of 5 users, and 2 desktop phones. Critical features such as SMS text messaging are not available during the free trial.
Top RingCentral alternatives compared
RingCentral / Alternative
Free trial
Free plan
Pricing (billed monthly)
Additional features
RingCentral
14 days
❌
$33/user/ mo
$41/user/ mo
$48/user/ mo
$63/user/ mo
Internet fax
Video calling
Video conferencing
Brevo Phone
60 days
✅
Free plan
$19/user/mo
Meetings scheduler
Video calling
Marketing automation
Pipeline management
Sales automation
Team collaboration
Yodel.io
14 days
❌
$25/user/ mo
$35/user/mo
❌
Nextiva
14 days
❌
$31/user/ mo
$36/user/mo
$46/user/mo
Video calling
Social media management
Contact center
Vonage
7 days
❌
$31/user/ mo
$36/user/mo
$46/user/mo
Video calling
Dialpad
14 days
❌
$23/user/ mo
$35/user/ mo
Internet fax
Video calling
Video conferencing
Grasshopper
7 days
❌
$31/user/ mo
$51/user/mo
$89/user/mo
❌
HubSpot VoIP
14 days
❌
$50/mo
$500/mo
$1,200/mo
Marketing automation
Landing pages
Email automation
Sales CRM
Find the best RingCentral alternative for your SMB
1. Brevo Phone
— the best RingCentral alternative
Pricing: free, $19/user per month
Free 60-day trial
With Brevo Phone you get an easy to use business phone system. It's a cloud-based VoIP system, which means that you can provide top-notch customer service from anywhere you have an internet connection.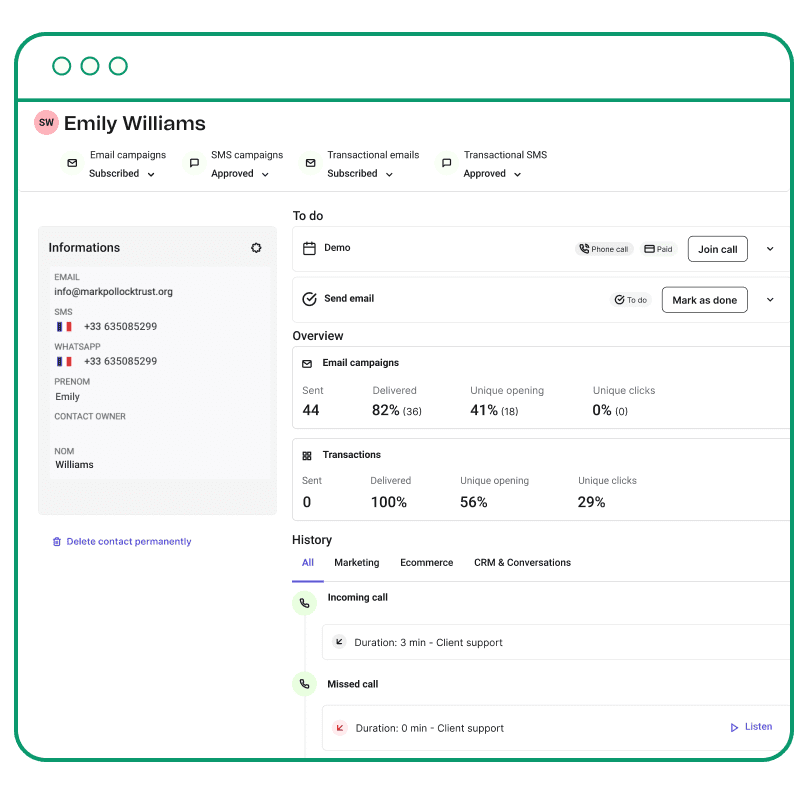 More Brevo Phone features to switch to from RingCentral
Brevo's virtual phone system key features at a glance:
Find the right number
Select from local numbers or even virtual international phone numbers
Expand your reach
With international and toll-free calling options.
Improve call management
Take control of inbound calls with office hours and call forwarding.
Add special touches
Create a custom welcome message and add music on hold.
Never wonder about missed calls
Access voicemail transcriptions, for the times when audio isn't convenient.
Stay connected across devices
Use mobile apps and desktop apps to access your business phone system in real time, wherever you are.
Explore Brevo Phone features
Brevo Phone vs. RingCentral
Many small businesses don't need RingCentral's full contact center features, so why overpay? With Brevo Phone you get a cloud-based business phone system designed for small businesses.
Unlike RingCentral, you won't have problems growing your business or accessing essential features at a fair price. It's easy to add new locations, phone numbers, and users.
The best part? You get more than just a phone system with Brevo (unlike RingCentral).
RingCentral focuses on phone and video communication. These aren't the only channels that your small business needs to connect with your customers.
That's why the best RingCentral alternative gives you more than just a business phone service.
Brevo Phone's cloud-based business phone system is integrated with all Brevo's other marketing tools so they can work together. You get a full CRM suite. That way you don't have to rely on third-party integrations to run your digital marketing.
All tools are accessible via an easy user interface to get you and your team started faster.
Keep your customers in the loop with the following functionalities:
Email marketing automation: Save time and send emails seamlessly with email marketing automations.
SMS and WhatsApp marketing: Send time-sensitive updates via SMS messaging or the most popular messaging platform WhatsApp.
Live Chat: Talk to your customers browsing your website in real-time.
Landing pages and forms: Capture more leads with customizable signup forms and landing pages.
Appointment scheduling: Set up your own booking page to let your customers easily schedule phone or video meetings appointments.
A better RingCentral alternative
Get started today with the best RingCentral alternative for free that will help you supercharge your business communication. Unlock even more benefits for only $19/user/mo.
30% off Phone Plans until October 31st
Use the code BREVOLAUNCH23 to get 30% off Sales & Phone plans for your first 6 months. Don't miss your chance to save on Brevo's easy-to-use sales tools — Sales Platform, Meetings, Phone, and more.
Brevo offers all the sales tools you need to drive revenue and deliver seamless customer experiences. Track deals, book meetings, make phone calls, and collect payments — manage the entire sales cycle and all your contact data in one place with Brevo.
2. Yodel.io
Pricing: $25/user per month; $35/user per month
Free 14-day trial
Yodel.io is a VoIP provider for small businesses who want to have a global reach. It has a wide range of virtual phone numbers to choose from. You can even get a toll-free number or a local area code for nearly every part of the globe.
It also has mobile and desktop apps so you can access your phone system from wherever you are. As long as you have a strong internet connection, you will have crystal clear call quality.
One of the biggest advantages Yodel.io has over RingCentral is the pricing and scalability. Both of those things are both crucial for small businesses. It's easy to change team sizes, phone numbers, and locations without incurring significant price changes or losing access to your current plan.
The Yodel.io VoIP phone system can give your team access to smart features such as:
Voice based IVR call routing
International calling
Collaboration tools like Ring Groups and Call Whispering
Inbound phone call management
SMS texting
Auto attendant capabilities
A variety of integrations including Slack, HubSpot, CRM, and a variety of other business tools
While Yodel.io is one of the best alternatives to RingCentral, it is worth noting that it doesn't have any other marketing tools. However, its integrations can help make up for that.
3. Nextiva
Pricing: $31/user per month; $36/user per month; $46/user per month
Free 14-day trial
Nextiva is a secure and reliable internet based phone system that brings talk, text, and video together in a single place. One reason Nextiva is one of the best RingCentral alternatives is that the basic plan is far more advanced. That means you don't have to break the bank to get a comprehensive business phone system.
It's a good RingCentral alternative for small businesses who want to maintain contact center capabilities.
Nextiva's features include:
Video calling
Social media management
Contact center capabilities
Auto attendant
Mobile iOS and Android apps
Related: Discover Nextiva Alternatives
4. Vonage
Pricing: $31/user per month; $36/user per month; $46/user per month
Free 7-day trial
Vonage is a virtual business communication platform that combines voice, video and text into a unified communication solution. Vonage is a great solution for small businesses who want a simple to use system, without all of the additional features that complicate RingCentral.
With Vonage, you can take advantage of functionalities like:
Video and call conferencing
Mobile and desktop apps
Text messaging
Vonage makes a great, simple RingCentral alternative. However, if your small business wants its phone system to connect to other tools, it may be a little too limited.
5. Dialpad
Pricing: $23/user per month; $35/user per month
Free 14-day trial
Dialpad is a cloud phone system that provides unified business communications for a global team. The biggest difference between Dialpad and RingCentral is the technology.
As mentioned before, RingCentral has an outdated software architecture. Dialpad's mission is innovation, which is seen through their smart AI and automations.
A few of Dialpad's other functionalities include:
AI powered call and voicemail transcriptions
Video calls
SMS text messaging
Google Workspace & Microsoft 365 integrations
Unfortunately Dialpad doesn't offer other marketing tools, such as transactional emails or landing pages. Other than being limited to just business communication, Dialpad is a great, modern RingCentral alternative.
6. Grasshopper
Pricing: $31/user per month; $51/user per month; $89/user per month
Free 7-day trial
Grasshopper is a user-friendly business communication platform that eliminates some of the onboarding difficulties seen with RingCentral. That is because Grasshopper is a really stripped back VoIP service, which almost exclusively offers phone communication.
A few of Grasshopper's key features are:
Conference calling
CRM integrations
SMS text messaging
Call routing
Voicemail transcriptions
While Grasshopper doesn't offer other marketing services, it can still make a great communication platform for small businesses.
7. HubSpot VoIP
Pricing: $50/user per month; $500/user per month; $1,200/user per month
Free 14-day trial
If you are already heavily invested in HubSpot CRM, then HubSpot VoIP is a great RingCentral alternative. HubSpot VoIP is available through premium versions of Sales Hub and Service Hub.
HubSpot VoIP is a centralized experience if your small business has a robust sales force or contact center.
HubSpot VoIP is an expensive alternative to RingCentral. But, the pricing does include other HubSpot functionalities. In the end, if your small business is committed to the HubSpot platform then it makes sense to add HubSpot VoIP.
Related: Discover HubSpot Alternatives
Choose the best RingCentral alternative for your business
Wondering which business phone solution is the best for your small business? If you're looking for a small business marketing platform which has a robust phone system, Brevo Phone is the best choice for you. If you want a large contact center, then Nextiva or HubSpot VoIP will probably be your best bet.
Brevo Phone gives your team 60 days free to test out all advanced features which you can unlock today.
30% off Phone Plans until October 31st
Use the code BREVOLAUNCH23 to get 30% off Sales & Phone plans for your first 6 months. Don't miss your chance to save on Brevo's easy-to-use sales tools — Sales Platform, Meetings, Phone, and more.