Reading time about 10 min

Nextiva is one of the most popular VoIP systems. But there are enough Nextiva alternatives that can save you money AND unlock new features and functionalities.
Whether you are new to cloud-based phone solutions or a seasoned professional, it can be hard to find the best VoIP system for your team. Different VoIP providers give you various business phone system options.
That's why we have put together this list: to help you find the ultimate Nextiva alternative to improve your business communication with your team and with your customers.
At a glance: best Nextiva alternatives
The top phone system solutions that can replace Nextiva are:
1. Brevo Phone
2. Yodel.io
3. Aircall
4. RingCentral
5. Vonage
6. Grasshopper
7. Dialpad
8. CallHippo
9. Hubspot VoIP
10. Zoom Phone
What Nextiva offers
Nextiva is a cloud-based VoIP platform that comes with the following features:
Video and meetings: Nextiva offers unlimited video calling and meetings, with up to 45 minutes per call.
Essential phone functionalities: Unlimited calling, audio conferencing, and call analytics are all made available through Nextiva's phone solution.
SMS and messaging: Text messaging is made available through some of Nextiva's plans, including voicemail to SMS notifications.
Social media management: Monitor various social media outlets to engage with customers across channels.
Contact center: Get a better handle on high call volumes with Nextiva's contact center solution.
Drawbacks of Nextiva
While Nextiva can be a decent phone solution, it does have some limitations. A few of Nextiva's drawbacks include:
High cost: Nextiva is one of the pricier VoIP options, making it burdensome for SMBs to take advantage of. With the first plan starting at $31/user/month, the cost can add up quickly.
Customer service: Unfortunately, Nextiva has a reputation for poor customer service, which includes long waiting times, periods of downtime, and difficulties changing your pricing plan.
Mobile app issues: A key benefit of VoIP solutions is the ability to take your phone on the go, but that only works if you have a high-quality mobile app. Sadly, Nextiva's mobile app has complaints of inconsistent and buggy experience.
Complicated setup: Nextiva is known for having a complicated onboarding process, which can make it difficult for an SMB to get up and running with their new business phone solution.
Nextiva pricing
Nextiva offers three different pricing plans which are billed per month, per user. As you go up in pricing more features are made available. Nextiva's pricing ranges from $31/user/month all the way up to $46/user/month when billed monthly. If you commit to an annual plan, you can expect a slight price discount.
There is no free Nextriva plan available.
Top Nextiva alternatives compared
Nextiva / Alternative
Free trial
Free plan
Pricing
Best for
Nextiva
14 days
❌
$31/user/ mo
$36/user/mo
$46/user/mo
Large enterprises
Brevo Phone
60 days
✅
Free plan
$19/user/mo
SMBs
Startups
Soloprenuers
Growing teams
Remote workers

Yodel.io
14 days
❌
$25/user/mo
$35/user/mo
SMBs
Startups
International companies
Aircall
7 days
❌
$40/user/mo
$70/user/mo
Large companies
Retail
Healthcare
Education
RingCentral
14 days
❌
$33/user/mo
$41/user/mo
$48/user/mo
$63/user/mo
Enterprises
Contact centers
Vonage
7 days
❌
$31/user/mo
$36/user/mo
$46/user/mo
Soloprenuers
SMBs
Grasshopper
7 days
❌
$31/user/mo
$51/user/mo
$89/user/mo
Enterprises

Dialpad
14 days
❌
$23/user/ mo
$35/user/ mo
Real estate
Professional services
GoTo Connect
❌
❌
$27/user/ mo
$43/user/ mo
Enterprises
BPO
Wealth management
CallHippo
10 days
❌
$20/user/ mo
$30/user/mo
$50/user/mo
Call center
Startups
Hubspot VoIP
14 days
❌
$50/mo
$500/mo
$1,200/mo
Enterprises
Sales
Marketing
1. Brevo Phone — the ultimate Nextiva alternative
Brevo Phone is the top choice for a reliable, affordable business VoIP phone system.
It's a cloud-based business phone system that was designed to eliminate phone pain points, and improve communication across channels.
Brevo Phone vs. Nextiva
When you compare Brevo Phone and Nextiva side by side, it's easy to see why teams chose Brevo Phone.
Pricing: While both Brevo Phone and Nextiva have multiple pricing options to choose between, Brevo Phone's most advanced plan is still more affordable than Nextiva's most basic plan.
Features: Both Nextiva and Brevo Phone have all of the essential phone communication features.
Ease of use: Brevo Phone has been designed to be easy to implement and always easy to use. Brevo Phone's customer support comes out ahead of Nextiva's.
Functionality: Whereas Nextiva's paid plan offers auto attendants, Brevo's paid plan gives you access to IVR (interactive voice response), so businesses can create a more intuitive customer experience.
Mobile apps: While both Brevo Phone and Nextiva offer mobile apps for IOS and Android devices, Nextiva experiences complaints about the usability and reliability of its apps.
Other marketing tools: Both Brevo and Nextiva offer more than just phone communication, but Brevo is a full CRM suite complete with all the sales tools you need to drive revenue and deliver seamless customer experiences. Track deals, book meetings, make phone calls, and collect payments — manage the entire sales cycle and all your contact data in one place with Brevo.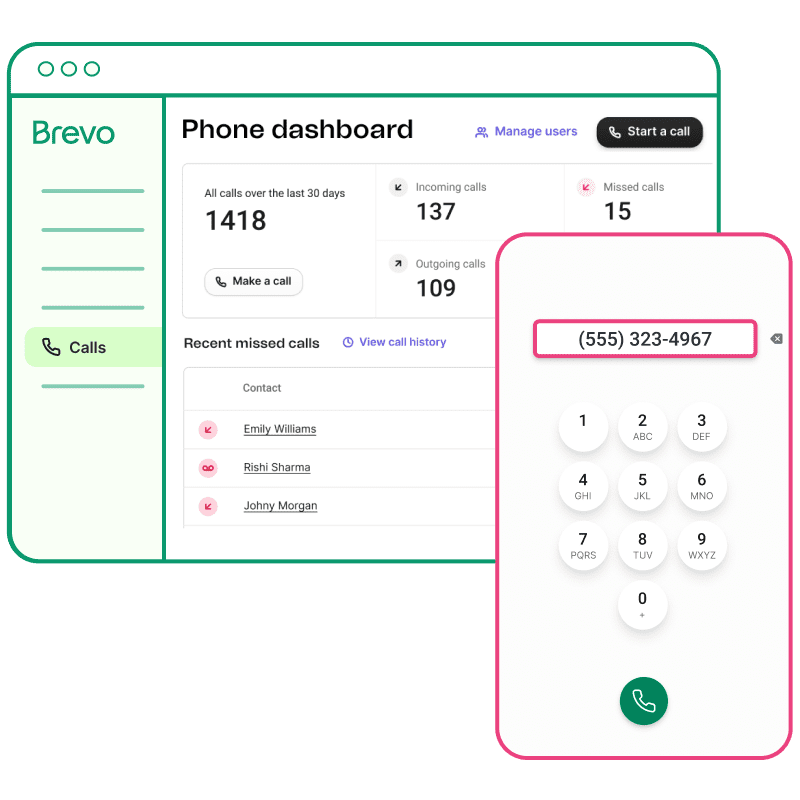 Explore more Brevo Phone features:
All the phone essentials
Get access to all of the essential features that you need for business communication. Includes a free local phone number, call history and voicemail.
Build a business tool ecosystem
Connect Brevo Phone with Brevo Meetings, Email, WhatsApp, and SMS marketing, live chat conversations, and sales CRM..
Keep your contacts all in one place
Sync your contacts with other Brevo products and share consistent contact information across your team.
Make a lasting impression

Add special touches to your phone communication with custom welcome messages and music on hold.
Stay connected with mobile and desktop apps
Use mobile phone apps and desktop apps to access your business phone system wherever you are.
Take your SMB global

Enable worldwide access with international phone numbers and international calling.
Free Nextiva alternative
Get started today with the best Nextiva alternative, Brevo, that will help you streamline and reinforce your business communication.
Unlock even more calling features including welcome messages, call recording, and call routing with Phone Pro for only $19/user/month.
30% off Sales and Phone Plans until October 31st
Use the code BREVOLAUNCH23 to get 30% off Sales & Phone plans for your first 6 months. Don't miss your chance to save on Brevo's easy-to-use sales tools — Sales Platform, Meetings, Phone, and more.
2. Yodel.io
Yodel.io VoIP service is great for businesses with global reach. It has toll-free numbers and local area codes for nearly every country. This, combined with international calling capabilities, enables your business to connect with customers around the world.
Its robust business phone system comes with both basic and advanced features which includes:
Voice based IVR call routing
Ring groups
Call whispering and call commenting
Inbound phone call management
SMS texting
A variety of integrations including Slack, HubSpot, CRM, and a variety of other business tools
Yodel is designed to be easy to use, making it a great Nextiva alternative for small businesses who want access to advanced features.
3. Aircall
Aircall is a cloud-based phone solution. Its system is designed for large sales groups and call centers.
Small businesses should be aware that Aircall requires at least three users. This could be a problem if you're a solo or partner-based business. Additionally, Aircall is one of the most expensive VoIP services out there.
As a Nextiva alternative, Aircall offers all the essential features. If your business has a large volume of inbound calls, it could be the right choice.
4. RingCentral MVP
RingCentral is a VoIP solution designed for call centers. RingCentral offers video calling and video conferencing which can benefit large sales teams.
RingCentral isn't the most flexible system, since pricing changes significantly based on a fixed range (1, 2-20, 21-50, 51-99, 100-999+). That means that as your team grows or shrinks, you could see a very different price tag for your business phone system.
However, for large contact centers, the ranges are broad enough that pricing won't have a big impact. Combined with the other contact center features, large teams see RingCentral as a good Nextiva alternative. Discover RingCentral alternatives here.
5. Vonage
Vonage is a simple alternative to Nextiva. The offerings are limited, but for teams who are looking for a very basic solution, Vonage delivers a high-quality experience.
Vonage lets you communicate via voice, video, and text from one place. Vonage's functionalities include:
Video and call conferencing
Mobile and desktop apps
Text messaging
Communication APIs
Ease-of-use and customer support make Vonage a strong Nextiva alternative.
6. Grasshopper
Grasshopper is a VoIP service that almost exclusively offers phone communication. It can be a good Nextiva phone alternative.
Grasshopper's features include:
Conference calling
Call routing
SMS text messaging
Voicemail transcriptions
While Grasshopper doesn't offer other marketing services, it can still be a great communication platform for small businesses.
7. Dialpad
Dialpad is a cloud phone system that provides unified business communications.
A few of Dialpad's functionalities include:
AI-powered call and voicemail transcriptions
Video calling
SMS text messaging
Dialpad lacks marketing tools, such as transactional emails and landing pages. However for teams just looking for phone communication, Dialpad is a good Nextiva alternative.
8. CallHippo
CallHippo can offer all business phone capabilities, making it a very close Nextiva alternative. The pricing is a mix of paid plans which each include pre-selected features and add-ons.
It can get expensive fast, but it offers full customization as a flip side. There are also a-la-carte options to find the right mix for your team.
It'sworth noting that, unlike other Nextiva alternatives, CallHippo doesn't offer other marketing tools beyond phone communication. But it still can be a strong phone replacement for Nextiva.
9. HubSpot VoIP
In case you're already using HubSpot CRM, then HubSpot VoIP is their alternative to Nextiva.
HubSpot VoIP is a centralized experience if your business has a robust sales force or contact center.
Although HubSpot VoIP is more expensive than Nextiva, it includes other HubSpot features. If you're already on HubSpot, adding HubSpot VoIP makes sense.
10. Zoom Phone
Zoom Phone lets you make calls from a US or Canadian number and access all the essential call features like call routing, call parks, and hold.
As part of the Zoom One unified communications as a service (UCaaS) platform, users can connect to their meetings, video calling, and phone tools all via the cloud. It can also be used to make calls with Salesforce Lightning or Classic.
Business solutions start at $10/user/month with metered outbound calls or $15/user/month for unlimited outbound calls. A Global Plan is also available for internationally-based businesses. Advanced features come in add-on packages.
Ready to test out a free Nextiva alternative?
Business VoIP solutions make it easier to connect with your customers. And if one of the most popular ones — Nextiva — doesn't fit your needs, there are enough Nextiva alternatives to switch to.
That includes Brevo Phone, which you can get started with a free 60-day trial. From there you can select a free Nextiva alternative or the advanced version for $19/user/month.
With calling features made for streamlined communication, Brevo Phone is the cloud-based phone system to help your business thrive.
30% off Sales and Phone Plans until October 31st
Use the code BREVOLAUNCH23 to get 30% off Sales & Phone plans for your first 6 months. Don't miss your chance to save on Brevo's easy-to-use sales tools — Sales Platform, Meetings, Phone, and more.