Reading time about 10 min

Labor Day marks the end of summer and the start of a huge sales opportunity. This article breaks down Labor Day emails, subject lines, and strategies to inspire your campaigns during this popular holiday weekend.
When it comes to turning your email list into paying customers, staying relevant is a priority. One of the best ways to do that is to keep in touch on important holidays and special occasions, like Labor Day weekend.
If your Labor Day email can make your customers' lives better or easier, you'll win a place in their minds for a long time to come.
Read on to get inspiration for your Labor Day emails and learn how to use this holiday weekend to drive sales for your business.
What is Labor Day?
Labor Day falls on the first Monday of September. It's when we pay tribute to the workers keeping the American economy strong and stable. For consumers, it's also a final chance to get together with family and friends before summer fades to fall.
The three-day weekend is known for massive sales as it marks the bridge between summer and fall when many retailers need to clear their stock for new seasonal products.
What's more, Labor Day coincides with Back to School and Back to College, with a combined planned spend of $2,257 per person.
Want to know how to get the most out of this major sales opportunity? This article will help you optimize your Labor Day email marketing strategy to win over your customers and boost your bottom line.
Labor Day email examples
Email marketing is a great way to spark your customers' interest and boost sales over the long weekend. From Labor Day sales to end-of-summer getaways, here are a few Labor Day email examples to inspire your holiday campaign this year.
Labor Day sale emails
In the US, Labor Day weekend marks the end of summer and the start of irresistible sales. Entice your customers with the promise of Labor Day discounts, promotions, and time-limited offers.
If you're offering Labor Day savings, put that front and center of your communication like this eye-catching email from Threadless offering 40% off sitewide.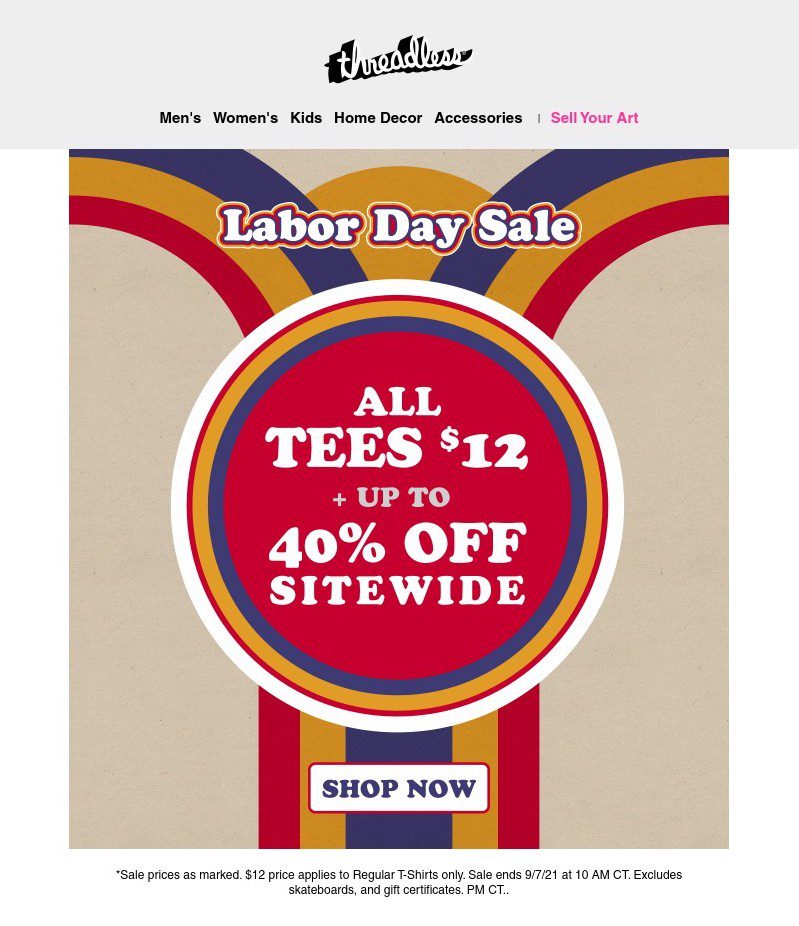 The best part? Your Labor Day promotions can go beyond the three-day weekend. Offer Early Bird deals or extended sales to get even more out of this holiday marketing opportunity.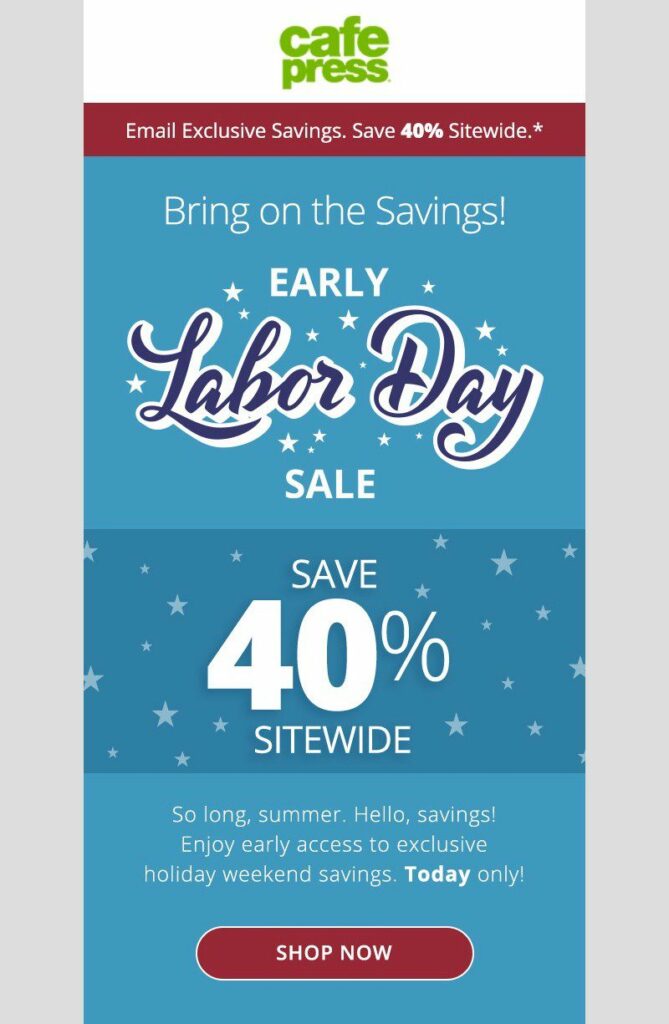 End-of-summer emails
Labor Day is the unofficial end of summer. Many Americans use the long weekend to go on vacation, spend time with family, and soak up the summer sun before the colder days begin. (We got you covered for the coming season as well — check out our fall newsletter ideas.)
Spread the summery vibes in your Labor Day emails with bright colors and sunny content. This email about J. Crew's end-of-season swim sale is a great example.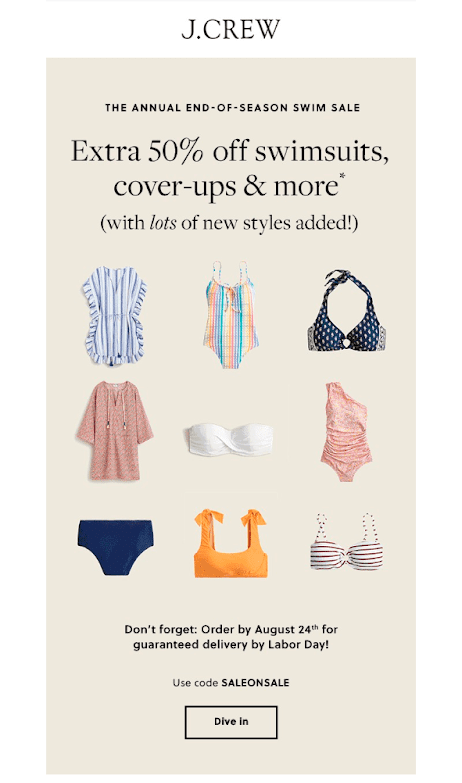 For a lot of customers, Labor Day is also the chance to relax and get away before summer break ends. In your Labor Day email campaigns, invite subscribers to take advantage of the long weekend with special Labor Day vacation deals.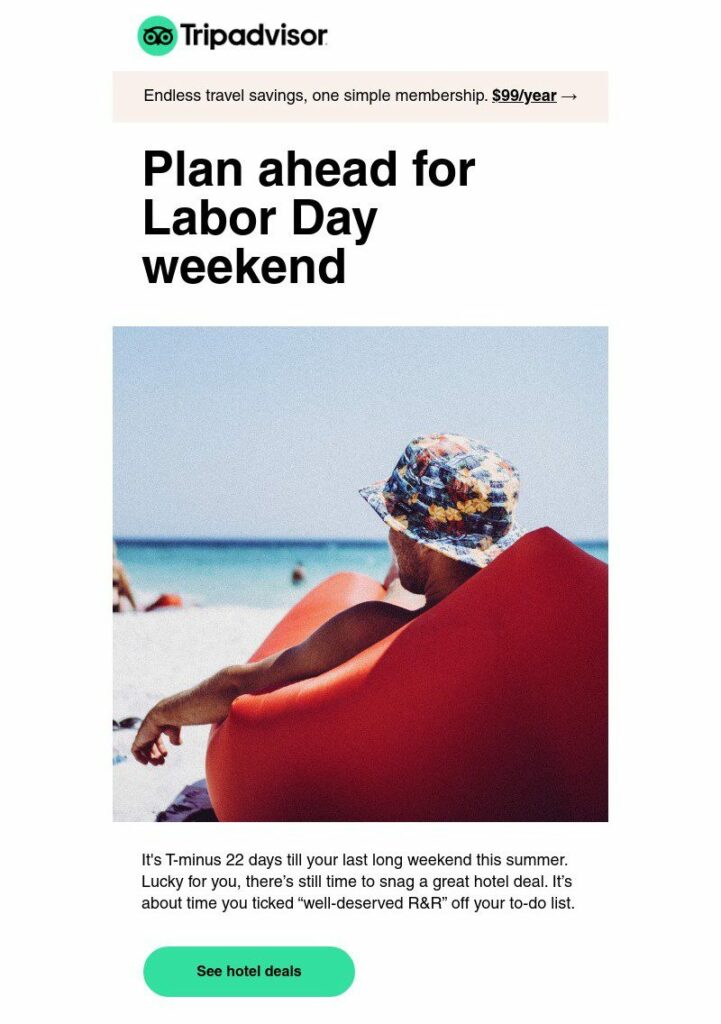 20 Labor Day email subject lines to inspire your campaigns
Email subject lines are the best way to catch your customers' attention and stand out in a crowded inbox. Optimize your Labor Day email subject lines to boost engagement, increase open rates, and drive conversions.
Here are a few subject lines to kickstart your Labor Day email campaigns:
Don't miss our 2 for 1 deal on BBQ treats this Labor Day
Discover the secret to making your Labor Day party pop🎆🍸
Goodbye summer, hello Labor Day savings!
Make this your best Labor Day yet with 50% off everything
Save more — Work less this Labor Day
Labor Day Sale: 25% off store-wide 💸
Our last summer sale
Last chance for Labor Day savings! ⏳
Early Bird Labor Day Deals
Treat Yourself This Labor Day with Free Shipping
Free shipping all Labor Day weekend 📦
Take a sneak peek at our Labor Day Sale
Your guide to Labor Day getaways 🏖️
Mark your calendars: Our Labor Day Sale starts soon 📅
It's time to fire up the grill this Labor Day
Wishing you a Happy Labor Day!
10 all-white looks to rock before Labor Day
Final hours: Labor Day Sale ends tonight
Countdown to Labor Day Weekend
Our Labor Day gift to you 🎁
Try Brevo's AI subject line Assistant
Give your subject lines a fresh boost with the power of AI. Brevo's AI Assistant is a free creative resource that generates click-worthy subject lines so you don't have to. Available in our Email editor learn more here.
Labor Day email marketing strategies that drive results
Make your Labor Day emails campaigns a success with these easy-to-follow email marketing tips and strategies.
Use Labor Day email templates
Email design is just as important as email copy — especially when it comes to your Labor Day holiday email newsletters. Try using special Labor Day email templates. Often, these emails are red, white, and blue and packed with patriotic Labor Day themes. Great Labor Day email marketing campaigns also evoke laidback, summery vibes with bright colors and beachy or outdoorsy imagery.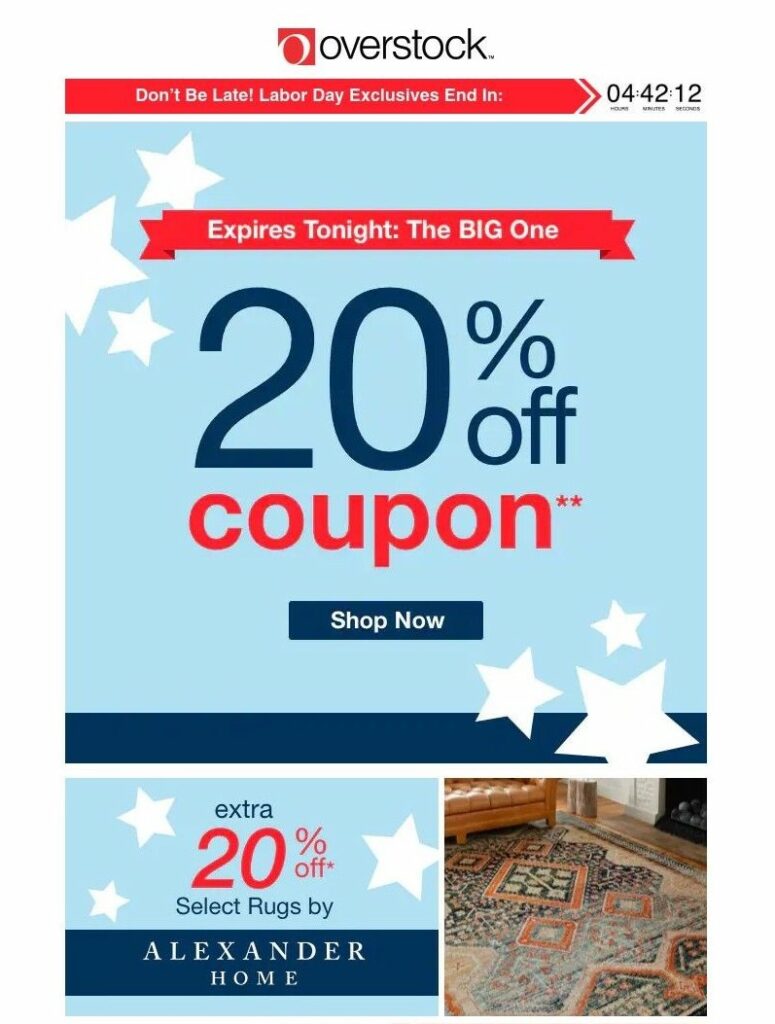 The best Labor Day emails follow basic email design best practices. Here are some tips to get you started:
Follow a visual hierarchy. Place the most important information at the top of your email. Make the content easy to scan, and keep in mind common eye movement patterns in the layout of your email.
Optimize your CTAs. The CTA text should be specific and straight to the point, e.g., "Shop now." This helps boost click rates.
Write an eye-catching subject line and preheader text. Add personalization with the subscriber's name to grab their attention. Include emojis to break up the text. This helps engage subscribers and entices them to read on.
Build urgency with a countdown timer
To get customers to notice your Labor Day email marketing campaign, it's all about building FOMO (fear of missing out).
Create a sense of urgency in your Labor Day emails with a countdown timer. This is a great tool to build FOMO and drive sales once your Labor Day event is underway.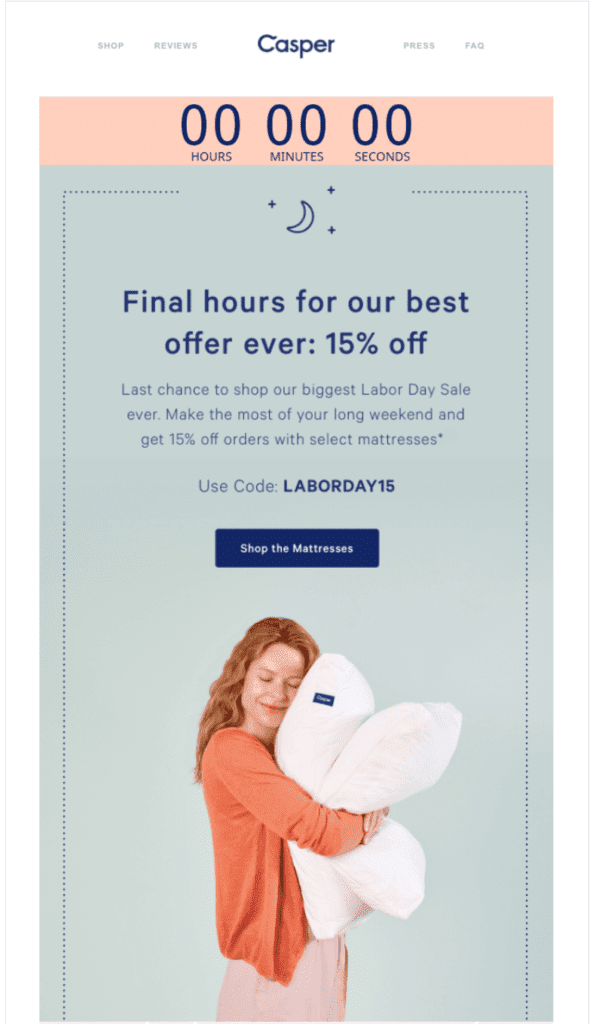 Before you schedule send, check the sequence works together. There's no point sending a "last chance to buy" email if this is the first time your customer has heard about the sale. They'll only end up feeling annoyed you didn't keep them in the loop.
Here's a suggested email series for your Labor Day email campaign:
Email 1: 5 days to go – Announce sale
Email 2: 2 days to go – Sale reminder and exclusive discount code for subscribers
Email 3: Sale launch – Reminder and promote best deals
Email 4: 2 hours left – Scarcity reminder and promote fast-selling products
Email marketing services make it easy to automate your Labor Day campaigns, saving you valuable time and effort.
Get started with email automation
To get started with email automation, try Brevo's Free plan, which includes access to email automation workflows, 300 emails/day, and 40+ email templates.
Target Back to School shoppers
Labor Day marks the end of summer and the beginning of the fall season. It's a fresh start, which makes it a great time for Back to School marketing.
Use your Labor Day emails to catch students and families as they gear up for the new school year. Target them with Back to School bundles, student promos, and last-minute deals.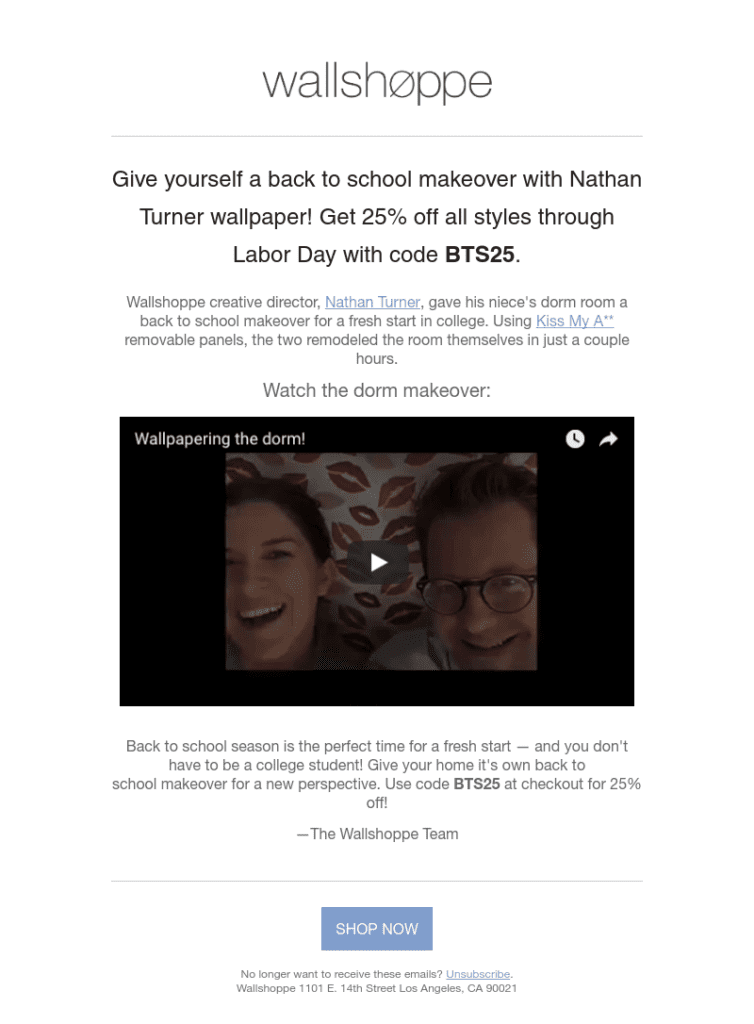 Further reading: 100 Back to School Email Subject Lines That Boost Sales
Labor Day messages to employees and customers
Labor Day marketing emails
Marketing copy is fun, short, and to the point. Here are some Labor Day email copy ideas to help you plan your campaign.
Labor Day sale
Subject line: Labor Day sale this weekend only

Header: Labor Day Sale

Labor Day email copy:

Happy Labor Day Customer Name!

Enjoy 20% off through Monday night on our most popular [items] with the code LABORDAY23.

CTA: Browse items
Labor Day suggestions
Subject line: Labor Day Vacays

Labor Day email copy:

Last-minute Labor Day Vacays

Looking for a spontaneous weekend destination? Check out these hidden gems near you and book a weekend to remember.

CTA: Explore hotels
Labor Day message to employees
You can even send a Labor Day message to your employees to celebrate their hard work and achievements. They'll appreciate the thought!
Happy Friday everyone,

A friendly reminder that Monday is Labor Day (in case anyone forgot). Before you head out for the long weekend I'd like to thank you all for bringing your A-game to the office every day. Labor Day is a time to celebrate your hard work, so kick back, relax, and enjoy the day off. You've earned it!

-Your name
Happy Labor Day everyone!

This weekend we celebrate you. Thank you for always going the extra mile each and every day. Your innovation, dedication, and team spirit are what make Company Name the amazing place that it is.

I hope you all have a wonderful day of rest and relaxation.

-Your name
Planning your Labor day emails
As a turning point in the year, Labor Day is the perfect opportunity to help your customers celebrate the final days of summer and prepare for the autumn months ahead. Plan your emails early to make your Labor Day marketing campaigns a success.
We've put together a holiday marketing calendar filled with insightful tips and tricks to help you make the most out of every major holiday.

2023 Holiday Marketing Calendar
Downloading this calendar means you're signing up to our monthly newsletter, too. If you don't feel like getting regular marketing tips delivered to your inbox, you can always unsubscribe. 😉