Learn how to craft email marketing campaigns that get results. Here are a few examples and tips to improve your email marketing strategies.
Email marketing campaigns are a key part of any strong digital marketing strategy. Run campaigns that meet business goals, from driving sales to boosting brand awareness.
The last thing you want is for email subscribers to ignore your campaigns (or worse — unsubscribe). Rise above the noise with a strong email marketing strategy.
Need inspiration? We've gathered the best email marketing campaign examples to get you started.
What is an email marketing campaign?
An email marketing campaign is a single email or series of emails that a marketer sends to a contact list. The campaign is designed to achieve specific business goals. Your goal could be to drive sales, promote a new product or service, or engage customers.
Email has several advantages over other marketing channels. For example, email marketing campaigns can be personalized more than social media campaigns. Subscribers also receive emails directly in their inbox. This helps you build stronger customer relationships.
There are many different types of email marketing campaigns you can send, such as:
Promotional emails
Informational emails
Further reading: 24 Email Marketing Best Practices for Campaigns That Convert (2023)
How to run a successful email marketing campaign
It's not always easy to run a successful email marketing campaign. To get the most out of your marketing efforts, here are a few things to keep in mind.
Decide on your goals. Have a clear business goal for each email marketing campaign. Then, in the emails Include a call to action (CTA) that aligns with your goal.
Know your target audience. Decide which subscribers to target. Make sure you understand their needs.
Send relevant content. Share content your target audience wants to see. To send impactful campaigns, try segmenting your email lists (by demographics, preferences).
Use personalization. Grab attention using personalized emails. Email marketing tools let you personalize subject lines and email content.
Run A/B testing. Test different email subject lines and content to see what works best with your audience.
Track metrics. Keep track of key email metrics (conversion rate, open rate, click-through rate, unsubscribe rate). This will also help you optimize future email marketing campaigns.
Further reading: Email Marketing Checklist: 20 Steps for Better Campaigns [Free Download]
The best email marketing campaign examples
Email marketing services help you send high-performing campaigns. Don't know where to start? Here are some of the best email marketing campaign examples for inspiration.
1. Send a welcome email
Start your customer relationships off on the right foot. Send new subscribers a welcome email. This email marketing campaign example from Bezar grabs attention with a vibrant template.
It also introduces subscribers to the brand's personality. Clear call to action (CTA) buttons make it easy for the reader to engage.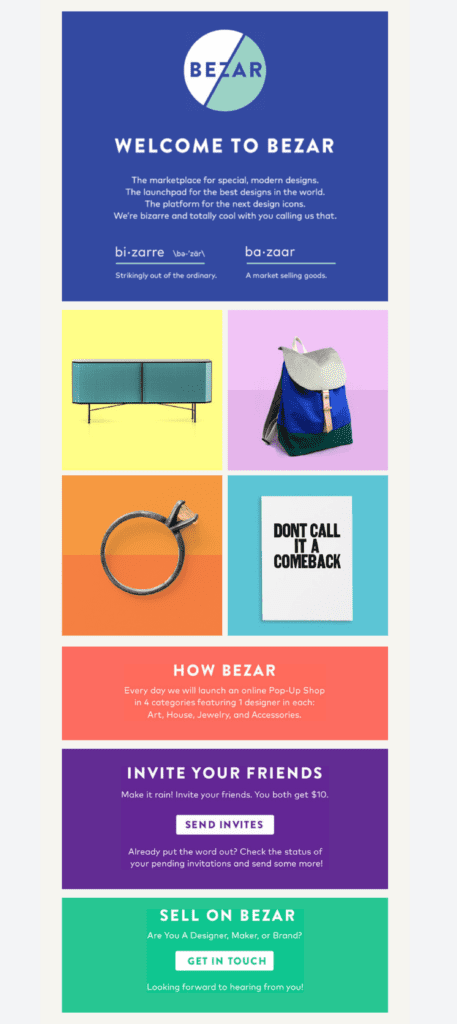 2. Send a regular newsletter
Send email newsletters on a regular basis. This will help you share relevant content and stay current in subscribers' minds.
Fussy uses their weekly newsletter to share new blog posts and drive website traffic.

3. Run campaigns on lesser known holidays
Send holiday campaigns for big shopping events, like Black Friday and Christmas. Run an email marketing campaign on a lesser known holiday as well. This can help you stand out from the competition.
Try to find a holiday that's relevant to your brand. Take a look at our free holiday marketing calendar for ideas.
This National S'mores Day campaign from Kampgrounds of America is a good example.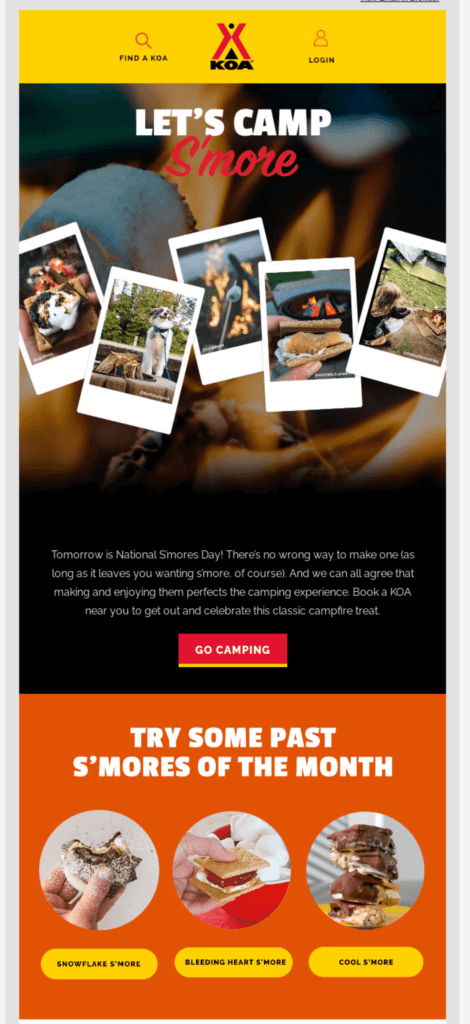 4. Promote giveaways
Email marketing campaigns can promote giveaways on other channels, like social media.
This campaign from Snif encourages subscribers to take part in their holiday giveaway. It also drives social media engagement.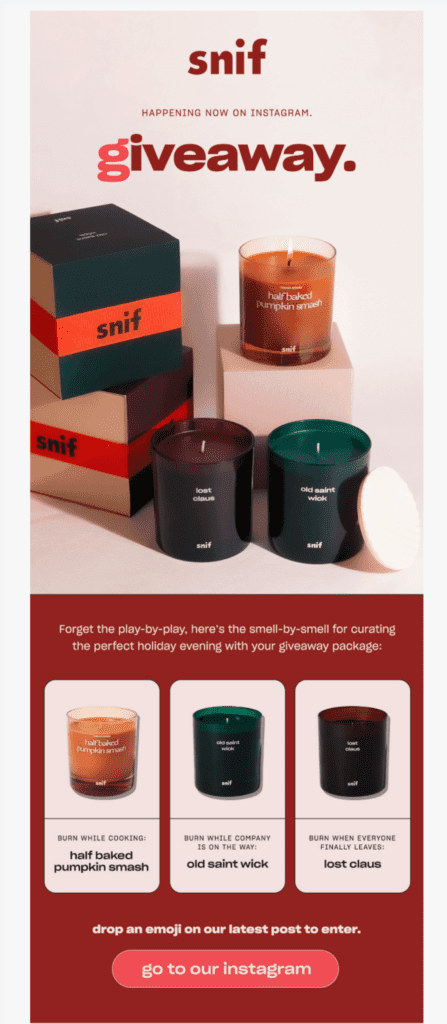 5. Engage subscribers with coupons
Send discount codes to your subscribers in your email marketing campaigns. Coupons are also a great way to re-engage inactive subscribers.
Check out this campaign from Explore Cuisine for inspiration.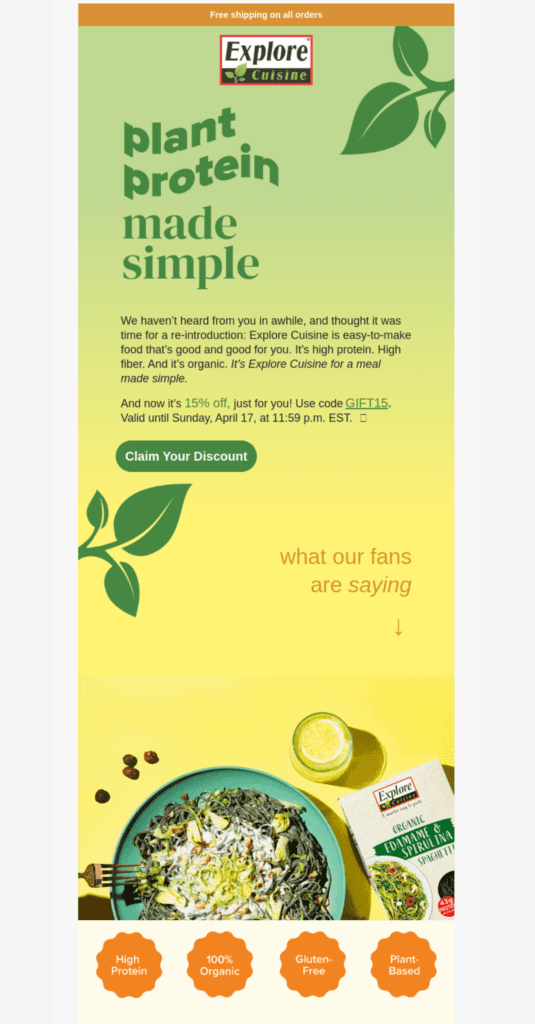 6. Launch a new product
Use email marketing campaigns to launch a new product or service. Try adding a free perk to entice customers.
This campaign from Margin offers complimentary shipping to promote their new essential cleanser.

7. Share step-by-step guides
Show subscribers how to get the most out of your products and services. Many effective email marketing campaigns offer insider tips and tutorials.
Check out this step-by-step guide from The Wally Shop for inspiration.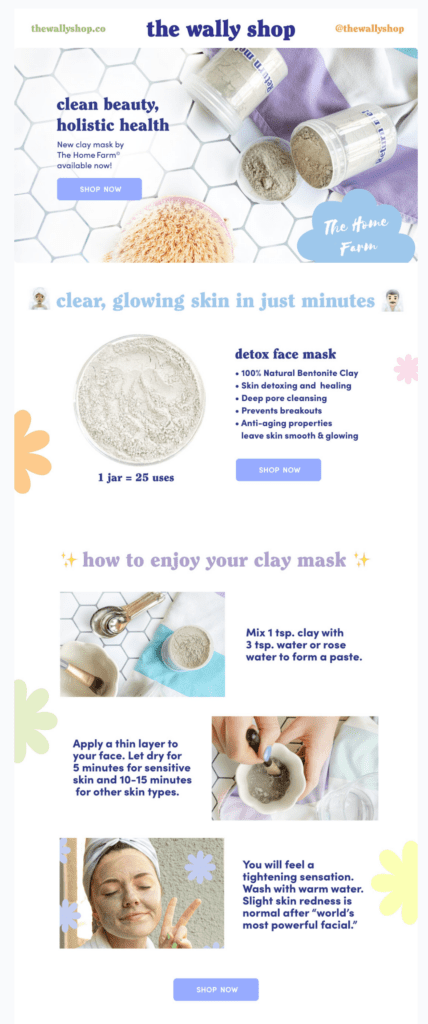 Created with Brevo
8. Offer a free trial
Nothing encourages customers to convert like a freebie. Offer free trials in your next email marketing campaign.
In this email from ClassPass, subscribers can claim their one-month free offer easily.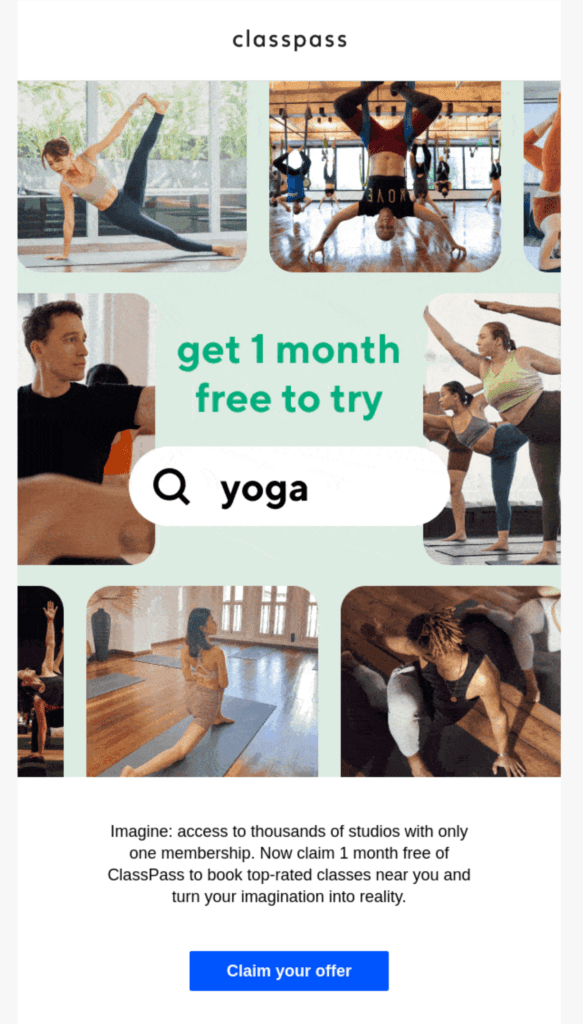 9. Target subscribers by preference
To increase engagement, target subscribers according to their preferences. Ask them what kind of content they want to receive and at what frequency. Email service providers let you use email list segmentation to send targeted campaigns.
That way, you can send promotional emails to the most interested contacts. You'll also avoid coming across as spam, which can lower your unsubscribe rate.
This campaign from Encircled asks subscribers to opt-in to receiving Black Friday emails.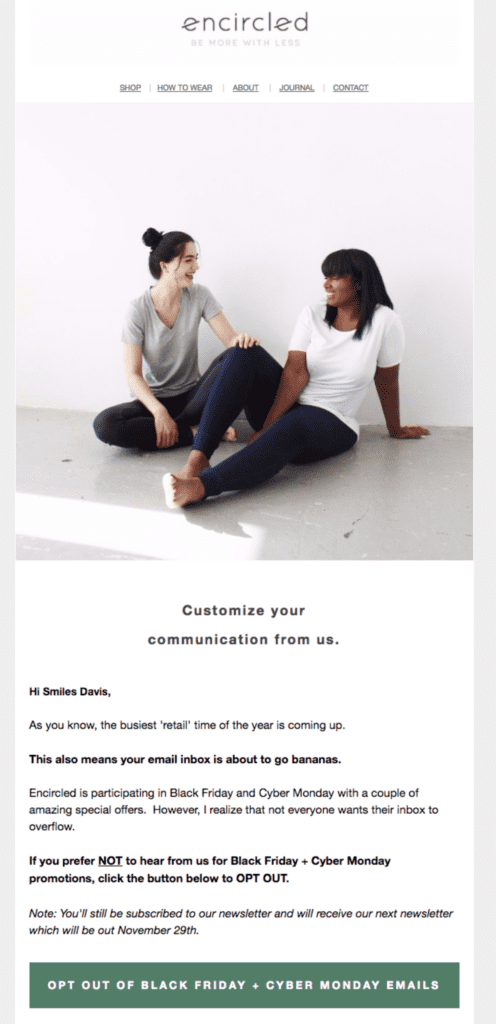 10 Ask for feedback
To improve your email marketing campaigns, ask subscribers for feedback. Send them a short survey to gather their opinions.
Check out this campaign from Ritual for an example.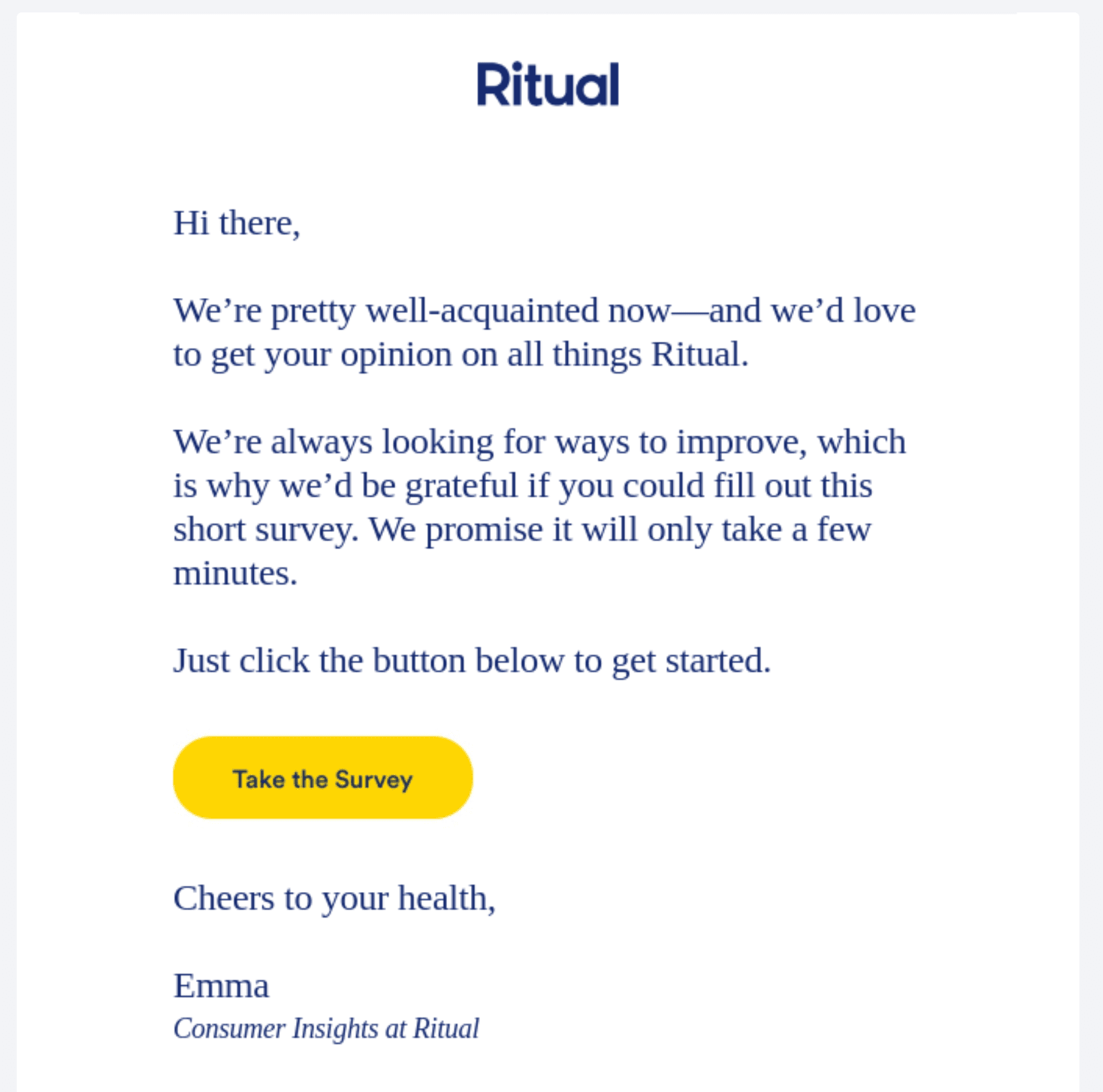 11. Craft memorable email copy
Good email marketing campaigns focus on both the email design and email copy. That's because a beautiful email template is not always enough to grab attention. Craft memorable copy to stand out in your subscribers' inboxes.
This West Elm campaign uses a clever play on words ("20% off the best seats in the house") to promote their accent chairs.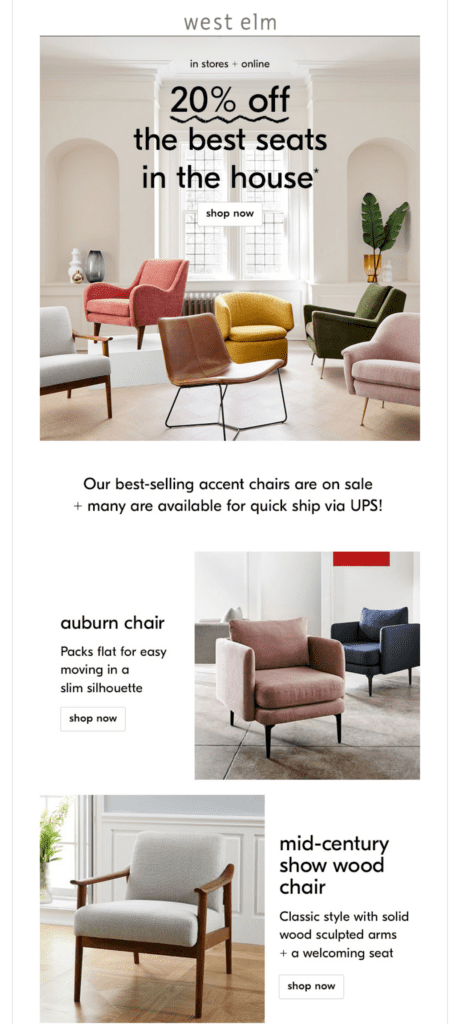 Related: 7 Email Design Best Practices for 2023
Send your next email marketing campaign with Brevo
Email marketing software can help you send beautiful campaigns your customers will love. With Brevo, design email marketing campaigns with our intuitive Drag & Drop editor. Or choose from over 40 free responsive email templates.
The Marketing Platform plan offers advanced features. Sign up for email automation workflows, transactional emails, landing pages, and more. Try Brevo for free and send up to 300 email marketing campaigns a day.
Send email marketing campaigns with Brevo
Free plan includes access to all core email features, unlimited contact storage, 300 emails/day, 40+ email templates, marketing automation workflows, and customizable signup forms to grow your email list.