Reading time about 10 min

Guest post by Robin Nichols, Global Content & PR Manager at AB Tasty.
2021 has been another rollercoaster of a year.
To help our peers get back on even footing, we at AB Tasty teamed up with market research and trend firm TrendWatching to deliver a comprehensive analysis of the forces that will shape digital customer experiences in 2022.
These are the macro drivers that we predict will inform what customers will expect from brands in the coming year.
The big picture affects how companies launch and market products and services, but these trends trickle down, too, to the operational level of day-to-day digital marketing.
Of the 11 identified trends, we go over the 5 most important for digital marketers, along with concrete ways to put them into action.
Trend #1: Join the Dots
Today's customer journey is fragmented across devices and channels.
Shoppers choose the best format to suit their immediate needs and circumstances. They might open a promotional text message that redirects them to a landing page, close the window and Google the shop on their smartphone to get back to the store, and finish the whole affair the day after on their laptop.
Despite this pick-and-mix approach, consumers expect brands to keep up with their cross-channel interactions and deliver a truly seamless service.
How can you deliver smooth, coherent experiences across multiple channels?
The trendsetters
For cosmetics brand MAC, the answer lies in smart mirrors. Their Innovation Lab in NYC effectively joins the dots between in-store shopping, augmented reality, and mobile and desktop shopping.
Customers can use 16 AR mirrors to virtually try on make-up and looks, then save them to a 'Mac Pass' accessible from mobile or desktop, where they can complete purchases.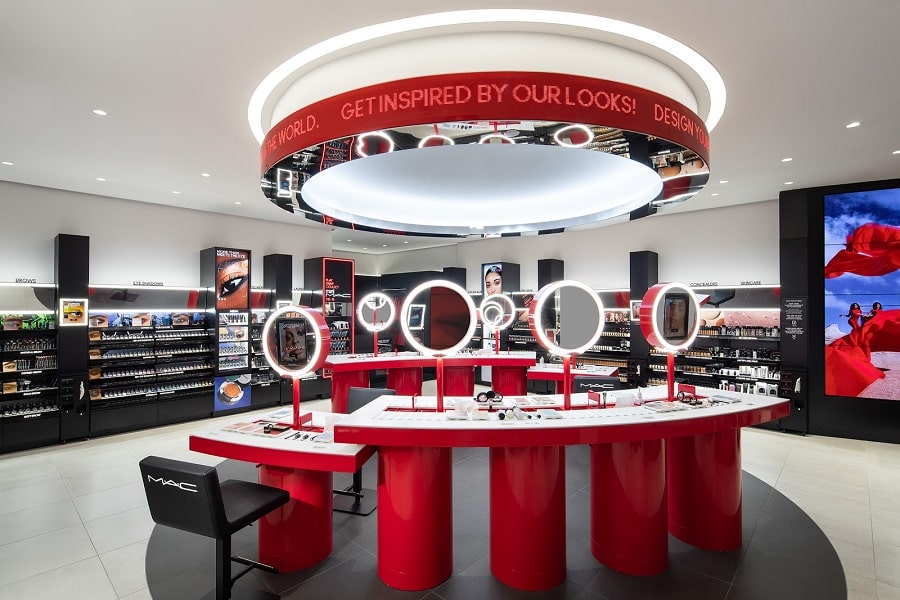 For caffeine junkies in a hurry, UK express locations of the Costa coffee chain have the solution. By scanning a QR code from the Costa app, you can order, customize and pay for your drink, touch-free.
Finally, for Android users, Google Assistant is cutting out the middleman with custom shortcuts. Easily search apps and use voice commands for popular tasks like sending messages, starting runs, or browsing a shopping cart.
Marketing application
You don't have to set up AR magic mirrors or barista-less coffee stations to 'join the dots' of your customers' experiences.
Simply aligning messaging across popular channels like emailing, SMS, ads, and landing pages can go a long way in creating seamless customer journeys.
For instance, you can announce an upcoming sale via an email campaign, follow up with an SMS promoting an added discount at the last-minute or remind them that the sale is ending soon, and direct to a personalized landing page.
Trend #2: Green Pressure
Have you ever had a friend tell you you shouldn't bring your lunch in a plastic bag, or that you might consider carpooling to work instead of driving solo? Did you feel a bit embarrassed? Brands are going to be feeling the same 'green pressure', too.
Over the coming months, the search for a more sustainable consumerism will collide with one of the most powerful drivers of behavior change there is: social shame.
Think less about the kudos of opting in to eco-solutions, and more about the shame of opting out.
With sustainability high on the collective agenda, can you help consumers navigate a world of green pressure?
The trendsetters
For the pioneering low-impact e-commerce site Organic Basics, it's all about shaving off ecological impact to the max.
As you can see below, their website is designed to have as little data transfer ( → electricity → carbon emissions → climate change) as possible. Heck, even their cookies are eco-friendly!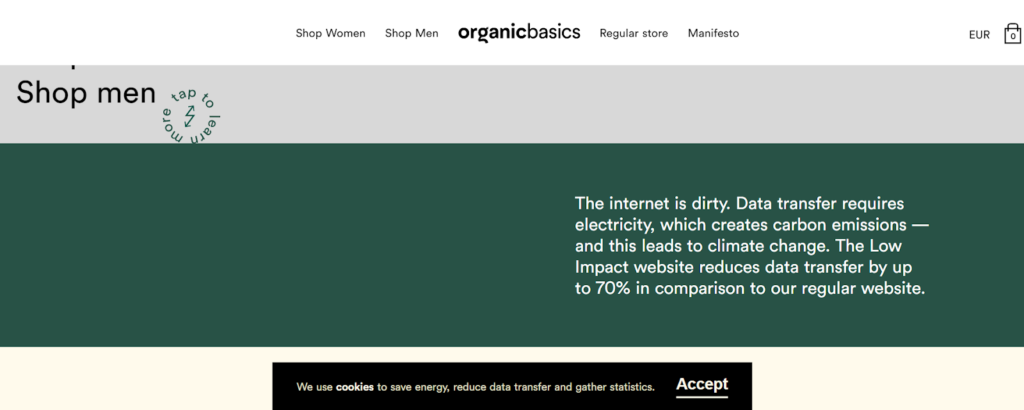 Similarly, browser extension Neutral calculates the carbon footprint of goods purchased online, while the app Susgain rewards users for sustainable and ethical purchases.
Marketing application
Small steps can go a long way.
If you're in e-commerce, why not think about eco-friendly packaging? What about segmenting your database to send promotional email campaigns regarding sustainable brands to customers who usually buy green?
Or if you yourself are launching an eco-friendly initiative, why not create a video campaign to increase awareness.
Trend #3: Segment of One
Consumers are complex, with a range of interests and preferences that defy demographic segmentation and classification.
They increasingly expect brands to know and cater to their individual needs at every touchpoint – personalized services and tailored product recommendations are just the beginning!
The trendsetters
Decision fatigue is on the rise. You go online to find a simple outfit, and you end up scrolling for hours without making up your mind. Too much noise, too many options.
That's where The Yes comes in. The AI-powered platform tailors shopping episodes to users' style preferences, after they answer simple YES/NO questions.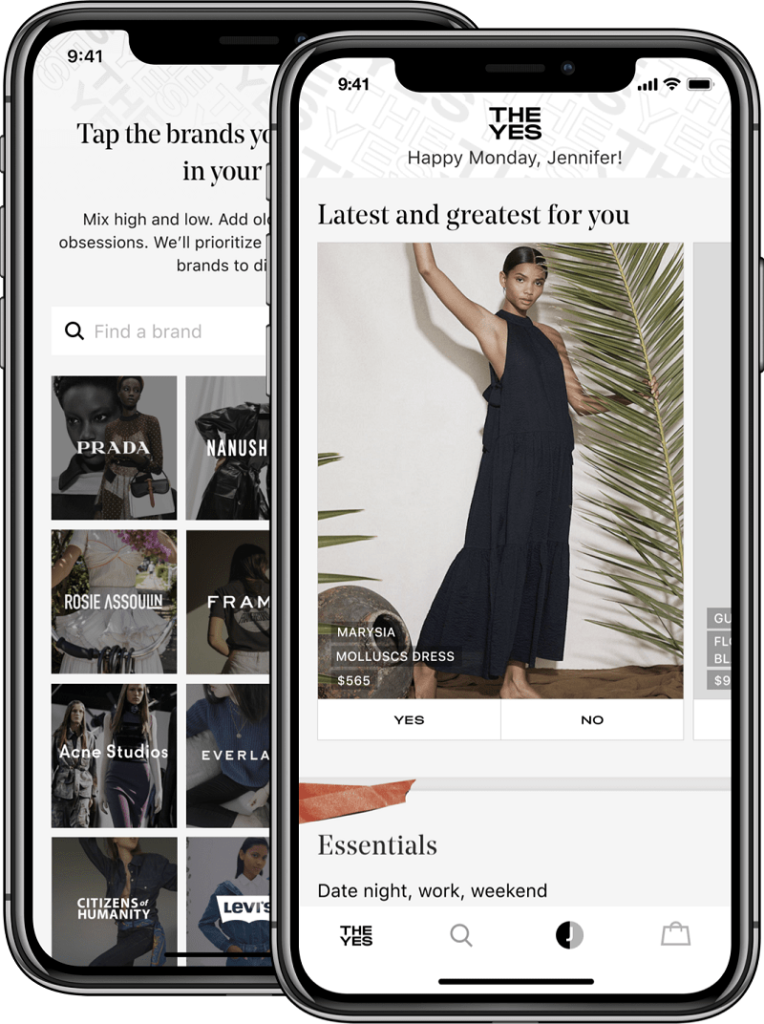 Beauty brand Dior delivers a similarly granular experience with a skin-testing tool for ultra precise recommendations.
In the fitness realm, Nestlé teams up on personal wellness with the well/n app to deliver perfectly calibrated custom routines.
Marketing application
With the right segmentation techniques and good data, marketers can still craft campaigns that feel ultra relevant to the reader. Personalizing email marketing with the location of the receiver, their interests (using Facebook ads), first name and other data is one easy way. Personalizing the on-site experience is another. 
Trend #4: Contactless Commerce
Handshakes, hugs, sharing a glass and, yes, paying in cash or even card is so passé…With safety top of mind, brands are using technology to replace or remove in-store touchpoints, allowing shoppers to purchase items with limited interactions.
Yes, the pandemic supercharged expectations in this space, but consumers will continue to embrace low touch solutions in the coming months.
The trendsetters
Did you know online purchases can have three to five times the return rates of brick-and-mortar? 
With the recent pandemic-induced increase in e-commerce activity, this could mean an extra influx of foot traffic this holiday season, right when crowds should be avoided.
But office supplies giant Staples is ready. They're teaming up with Optoro to trial a contactless return system this holiday season. You didn't like that desk chair from Grandma? Return it, risk-free.
Airlines are especially challenged this holiday season. But at least with Moviebill, there's no more fumbling with coffee-stained menus; the AR solution enables touchless access to safety cards and in-flight menus.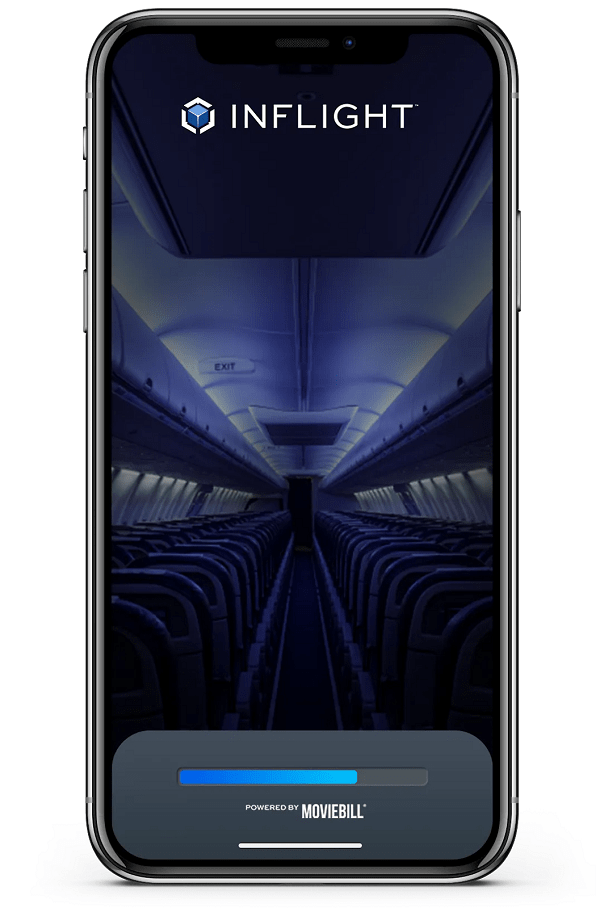 Lastly, 5G-powered pop-up store Singtel recreates retail for the low-touch economy, with totally unmanned stores. 
Marketing application
Though contactless commerce is certainly safer during a global pandemic, it might feel slightly shaky for some shoppers.
Instead of seeing cash changing hands, you just scan a QR code or tap a bank card...did the transaction really go through? Did you really pay the price listed on the sticker? Is it secure?
Crafting explicit and timely transactional emails post-purchase could help alleviate potential anxiety.
Need a transactional email provider?
Test-drive Brevo on the free plan with 300 emails a day and unlimited subscribers.
Trend #5: Data Gates
Even after numerous blockbuster data breaches, consumers are resistant to the idea of giving up the data-driven benefits they've grown accustomed to.
Instead, they will demand that brands provide greater autonomy and security around the collecting and sharing of personal data.
The trendsetters
Samsung India has found the solution to intrusive parents or nosy friends – their new private mode for smartphone.
A simple tap on the power button will switch your phone between public and private mode, storing sensitive or personal material in a secure folder.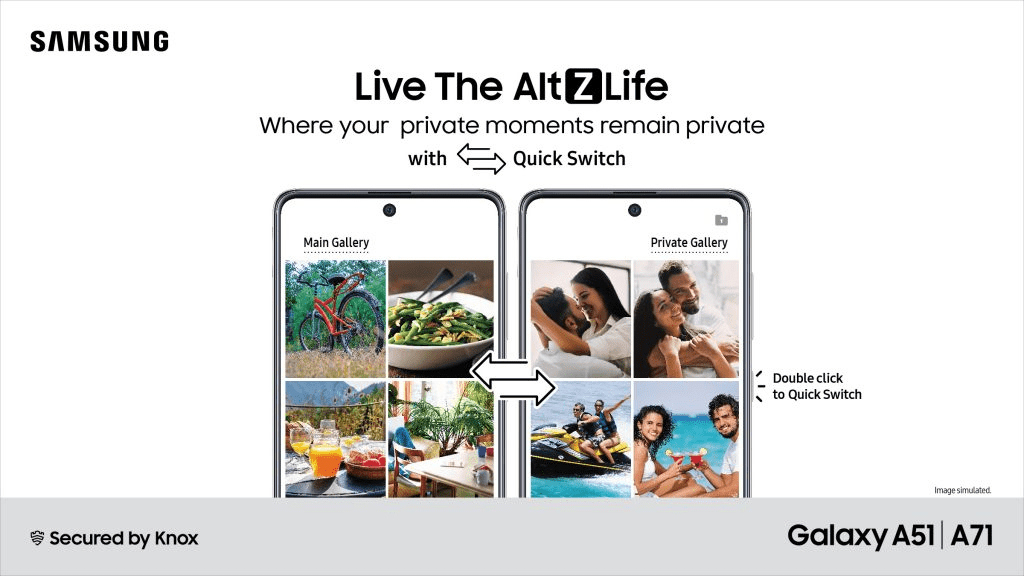 When it comes to e-commerce, iconic brand IKEA gives shoppers control of their data with their 'Customer Data Promise'.
In their own words, "We are establishing a dialogue around people preferences, giving control back to them. And hopefully creating a win-win situation with regards to data."
Finally, DuckDuckGo and others back a global privacy controls initiative, letting internet users send out signals to sites they visit about their preferred privacy settings.
Marketing application
Consumers are certainly more sensitive to how their personal data is captured, used and exchanged between companies.
Following GDPR, CCPA or any relevant regulations to a t – and communicating openly about your good practices – will help instill trust in your customers.
When it comes to data protection in email marketing, the Brevo Academy has a comprehensive course to get you up to speed.
Takeaway
Creating smooth omnichannel experiences. Embracing eco-friendly practices. Personalizing the customer journey. Going low-touch. Protecting data privacy.
These are 5 of the 11 trends we believe will be shaping digital customer experiences in the year to come.
As marketers, we're well placed to get a head start and incorporate these principles into our campaigns, tactics and strategies for 2023.
If you're interested in getting the full picture, you can download the entire report, Playing Your Cards Right in the (Virtual) Experience Economy.