How have consumer attitudes and shopping habits changed during the pandemic? What type of shopping experience are consumers expecting in 2021? How should my business adapt?
As a small business owner, these are questions to ask in a marketplace where consumer behavior has evolved radically since March 2020.
You might find yourself wondering how best to connect with the present-day shopper.
Well, you're in luck because in June 2021 Brevo partnered with CITE Research to carry out a global consumer behavior study. We asked 4,199 consumers across the US, UK, France, and Germany about their online shopping habits.
Want to know how consumer attitudes have changed toward small businesses, digital communications, minority-owned businesses, and data privacy in the past year?
Read on to find out!
TL;DR: The Main Findings from Brevo's Global Consumer Research
44% of consumers shopped more from small businesses during the pandemic than before. Why? Because they felt a greater connection with small businesses and wanted to boost their local economies.
The shift toward small business shopping is likely to continue post-pandemic. Only 8% plan to buy less from small businesses.
Email is the preferred brand communication channel for all generations except Gen-Z. They prefer Instagram.
Free shipping, a wider selection of goods, and an easy-to-use checkout are ranked as the top three things that encourage consumers to buy from an online store.
One-third of consumers intentionally bought more from minority-owned businesses in the past year.
Since the pandemic, consumers have become more concerned about how companies are using their data. That said, 82% are willing to hand over data in exchange for discounts or special offers.
5 Consumer Behavior Trends Emerging from the Pandemic
1. Global consumers are buying more from small businesses than before the pandemic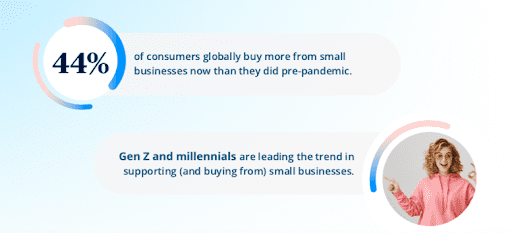 Small business shopping statistics 2021
Our research shows:
44% of consumers globally are purchasing more from small businesses than they did before the pandemic
Younger generations are leading the shift — 46% of Gen Z and 51% of millennials have increased their purchases at small businesses
57% of global consumers want to contribute to the local economy
52% feel they have a stronger bond with small businesses
49% of high-income consumers are likely to shop at small businesses more often
46% prefer the small business online shopping experience
Tech savvy younger generations are more likely to prefer online shopping (51% of Gen Z and 44% of millennials).
What to expect after the pandemic?
The future looks bright for small business owners. Only 8% of global consumers plan to decrease in-person small business purchases in the future. The majority plan to maintain the same purchase level or even increase it.
Key takeaways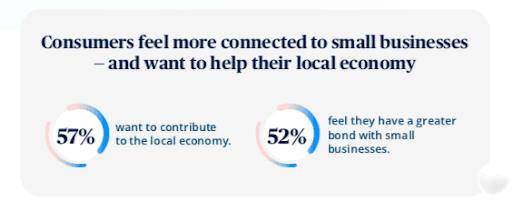 The pandemic has motivated people to shop locally. As a small business owner you should embrace this opportunity to build relationships that'll last long into the future.
Note that consumers have said they feel "more connected" to small businesses. This mainly comes down to the shopping experience being more personal and a better level of customer service.
Create a consistently good customer experience and find ways to get people coming back to your store. Email newsletters, loyalty programs, and future-to-use coupons are classic examples of ways to drive repeat business.
2. Email is the #1 favorite channel for everyone except Gen Z
Our research shows:
30% of global consumers ranked email as their preferred channel for receiving brand communications.
Facebook followed in second position, voted the favorite channel by 13% of consumers.
62% ranked email as a top three method because it's convenient and easy to use.
Gen Z consumers prefer Instagram with 23% of this cohort ranking it #1 and 59% ranking it as a top 3 method.
Consumers' top 4 favorite marketing channels
In order of preference: Email, Facebook, Instagram, and SMS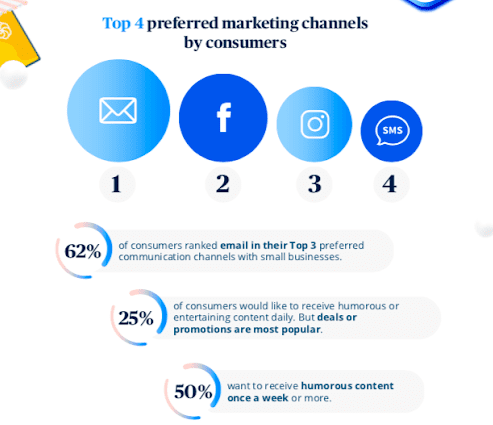 Consumers' preferred digital tools for notifications from small businesses during the pandemic
Out of all digital tools, email saw the biggest increase in usage — 27% said they used email more frequently during the pandemic.
The full list of digital notification tools include:
Email
QR codes
SMS notifications
In-app push notifications
Website push notifications
Live chat on websites
Key takeaways
Strive to stand out in the inbox
As predicted in our 2021 email marketing trends article, the fight for space in the inbox will heat up even further as more and more brands adopt email.
So how can you fend off the competition?
First of all, follow email deliverability best practices to make sure your emails actually make it to the inbox. Secondly, never underestimate the power of the email subject line.
Think about it, the subject line is the first thing a recipient sees. Spend time writing one that's going to spark curiosity and make people want to click.
Continue to grow your small business email list
Our study shows that consumers prefer email because it's convenient and easy to use.
For small businesses, this one's a no-brainer: Get existing and potential customers signed up to your email list. It's among the easiest, most effective ways to keep customers in the loop about upcoming sales, promotions, new stock arrivals, etc.
Maximize the number of subscribers with email list building techniques such as:
Email signup forms embedded on your website
Linking to signup forms on your social media bios
Offering newsletter subscription at checkout (both online and in-person)
Creating an irresistible lead magnet or discount code for newsletter subscribers
If you've yet to launch yourself into the email marketing game, try it today with Brevo's email marketing software. Get started on the free plan with 300 emails a day, no credit card required.
3. How small businesses can improve online sales, according to consumers
Here's what customers consider the three keys to creating a better online shopping experience:
Free shipping
Wider selection
Easy-to-use checkout
Following that, others features and functionalities voted to improve the shopping experience include:
More payment options
Site search engine functionality
Customer support live chat
Product stock alert
Stored customer information
Expedited shipping
Key takeaways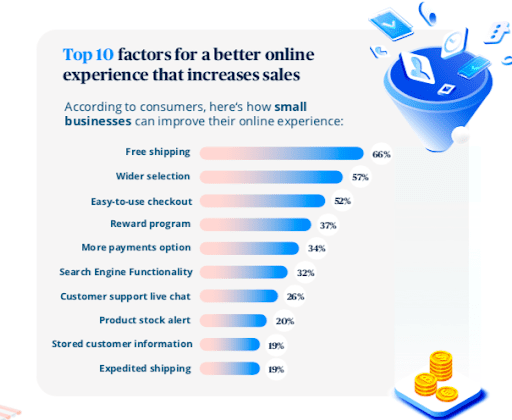 If you're running an online store, make it your priority to create a seamless user experience. Not sure where to start? Hire an experienced web developer to help out with your ecommerce optimization.
4. One-third of consumers intentionally bought more from minority-owned businesses during the pandemic.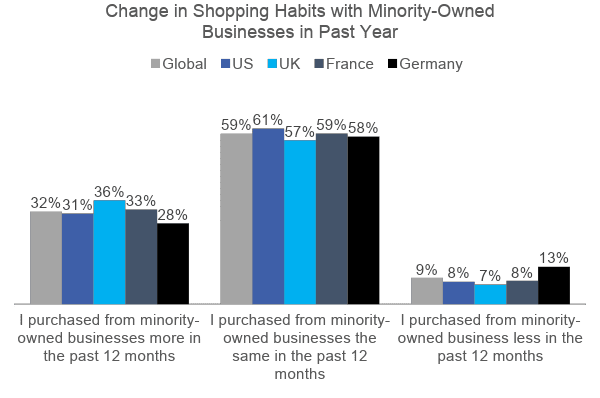 One-third of consumers purchased more from minority-owned businesses over the last year, with most of those consumers intentionally doing so.
While more than half of consumers say they didn't make changes in shopping habits regarding minority-owned businesses, one-third increased their purchases.
51% of African-American/Black consumers and 60% of those who bought more from small business are the two groups most likely to have increased their spending at minority-owned businesses.
Most of those who increased their purchases did so purposefully, with African-American/Black consumers (83%), US consumers (80%), high income consumers (80%), higher educated consumers, those who increased small business purchases (78%), and millennials (76%) being the most likely groups to have done so intentionally.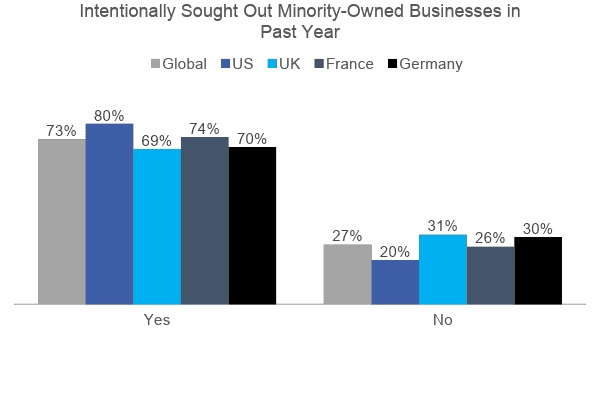 What to expect after the pandemic
About two-thirds of consumers plan to keep buying the same amount from minority-owned businesses in the future
Those who purchased more from minority-owned businesses over the past year are most likely to say they will purchase more in the future (51%).
5. Data privacy concerns on the rise but consumers willing to trade data for discounts.
What our research shows
68% of consumers are more concerned with online privacy now than pre-pandemic
65% trust third-party applications less now than they did one year ago
78% of consumers are willing to share data with small businesses that guarantee information will not be sold to third parties
75% of consumers are willing to share data with small businesses that make it clear how their data will be used
82% have said they'd share personal data with small businesses for discounts/promotions.
Best practices for managing customer and subscriber data
Build your own opt-in email database. Never buy email lists. These are usually scraped addresses from all over the internet and can cause serious problems for your deliverability.
Be transparent about how data will be stored and used.
Stick to your email signup promise. If you've promised a weekly newsletter with your best deals and promotions, deliver exactly that — unexpected content may lead to unsubscribes.
Finally, make it easy to unsubscribe! Nobody likes a complicated unsubscribe process. One-click unsubscribe is the way to go.
Staying on Top of Consumer Behavior Trends
Consumer behavior continues to evolve as the pandemic progresses and you need to stay on top.
Dig into your customer data regularly to identify trends and shopping habits.
Adjust your customer communication strategy to focus on the channels that work best for your audience.
And finally, continue to deliver stellar customer service. This'll give your small business an edge over the big brands and keep your newfound pandemic shoppers coming back for more.
CITE Research (www.citeresearch.com), on behalf of Brevo, conducted an online survey among 4,199 consumers, with approximately 1,000 each in the US, France, UK and Germany in June 2021.
Bonus: Consumer Behavior Infographic
Download the infographic PDF or pin it to Pinterest for future reference