A single customer view (SCV) is a way of gathering customer data in one record. This can improve your customer relationship management strategy.
Customers nowadays interact with companies via a variety of devices and marketing channels. By analyzing customer interactions, you can better understand your customers' needs. But first, you need to consolidate the different types of data — which can be a challenge. In fact, 87% of marketers consider data their company's most underutilized asset.
One way to make the most of the data is with a single customer view (SCV), which groups customer data in one place. An SCV gives you a clear picture of the customer journey across touchpoints. This can help you streamline your marketing efforts and provide a seamless customer experience.
Read on to learn what a single customer view is, why it's important, and how to create an SCV for your business.
What is a single customer view (SCV)?
A single customer view, also known as a unified customer view, is a way of collecting customer information from different data sources in a single record. This includes first-party data and offline data such as:
Contact information (email, phone number, etc.)
Demographics (age, gender, location, etc.)
In-store visits and online purchase history
Point-of-sale (POS) and transactional data
Social media or marketing campaign statistics
Customer support interactions
Often, this data is scattered across different departments and sources. Many companies need a customer relationship management (CRM) tool or customer data platform (CDP) to merge the data and create an SCV.
For example, Brevo makes it simple to access customer data. All the contact information you need can be found in a single customer profile, which also gives you a 360-degree timeline of previous interactions across channels.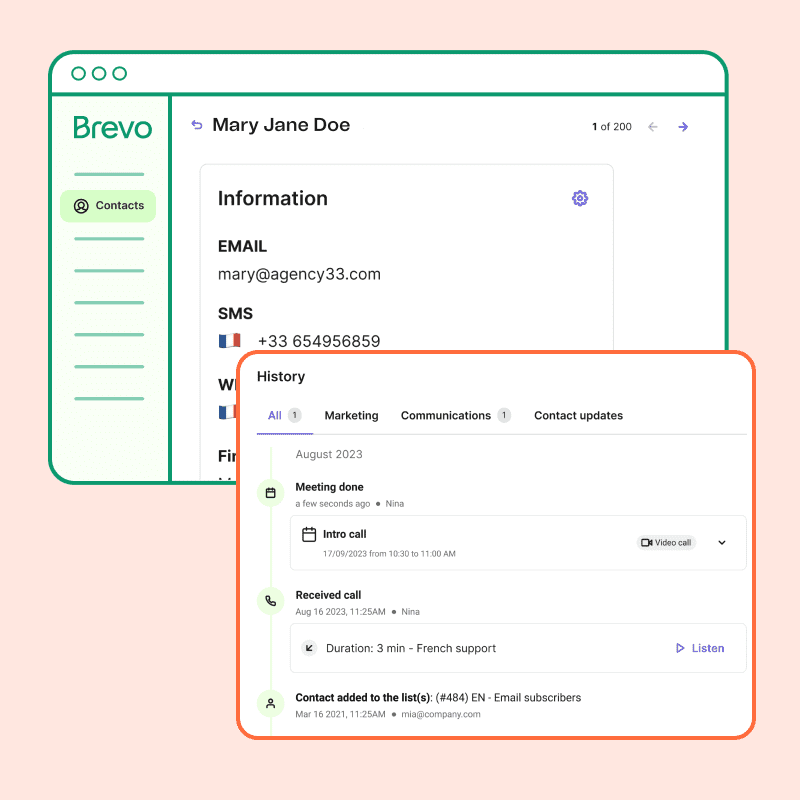 Example of a single customer view in Brevo's CRM suite
Benefits of using a single customer view
Having a single view of your customer data can save you valuable time and money. Here are just a few ways SCV can benefit your company.
Better collaboration
SCV centralizes customer data in one record and makes it accessible across your organization. With a unified customer view, product, customer support, and marketing teams have access to the same information. This lowers the risk of duplicate data and boosts efficiency.
Seamless customer experiences across channels
With SCV, businesses get a 360-degree view of the customer journey. A single view lets them better understand customer needs at different touchpoints across channels. This helps them improve their omnichannel marketing strategy and provide a seamless user experience.
Better targeting and segmentation
SCV organizes customer information in one place, making it easier for marketers to create audience segments. That's because SCV gives them precise data regarding their customers' interests, purchase history, and more.
Companies can then use this information to better target their marketing campaigns. Better targeting often leads to higher customer engagement.
Further reading: The Best Customer Segmentation Examples for Digital Marketing
Improved marketing decisions
Having an SCV gives companies a complete, real-time understanding of their customers. The data is easy to access and put into the context of the customer journey. This helps companies make smarter marketing decisions.
Related: What is a CRM Database? How They Work and How to Choose One
Common single customer view issues
Although using a single customer view has clear benefits, it's not always easy to put into practice. Here are a few common pitfalls when it comes to SCV.
Inconsistent data quality
One issue with SCV is incomplete or inaccurate data. If you don't connect all of your data streams to your SCV, you won't have a full view of the customer journey. That makes it harder to optimize your marketing strategy, from allocating your budget to targeting your campaigns.
Lack of information due to data silos
Siloed data is a common hurdle for creating an SCV. This often means the data comes from only one source and isn't shared across teams. SCV solves this issue by unifying the different data points in one easy-to-use record.
Existing legacy systems
Legacy systems (outdated programs) can prevent companies from using the data at their disposal to create an SCV. This is because of factors like outdated processes and data silos, which slow down or prevent data integration.
Compliance with data privacy laws
Data privacy laws such as the GDPR and CCPA might make it harder to create an SCV. This is because customers need to first consent to sharing their data. But with the right data collection processes, you can build an SCV while staying compliant with privacy regulations.
How to create a single customer view
Here are the three main steps for creating a single customer view:
Identify and merge data. First, decide which data sources to feed into the SCV. This might include demographics, purchase history, customer behavior, and more.
Determine customer profiles. Customer identity resolution aligns identifiers such as email and IP addresses with other data sets to create a single profile for each customer. Brevo makes this easy by storing contact data and interaction history in a single record.
Share access and establish use cases. Give the right teams across your company access to the customer records. Decide when to use the SCV and how.
Related: The 8 Best CRM Software for Small Business
Single customer view use cases in marketing
SCV can be a game changer for your marketing strategy. Here are a few examples of common SCV use cases:
Personalized content and marketing campaigns
Social media ad optimization
Cross-selling and upselling
Identifying customers for loyalty programs
Abandoned cart email reminders
Lifecycle marketing, from awareness to retention
Enhancing customer support and sales processes
Get started with single customer view
Having a single customer view is key to understanding your customers and providing an unforgettable user experience. SCV also helps you work more efficiently and save valuable resources.
With Brevo's approachable CRM suite, it's effortless to get started with SCV. All customer data can be found on the contact profile page, including a comprehensive interaction timeline that you can share across your company.
Ready to get started? Try Brevo's sales solutions today.
Get started with Brevo's sales solutions
Sales Platform, Meetings, Phone — Brevo has solutions for all your sales needs. Sign up to get unlimited contacts, customizable deal pipelines, meeting scheduling, a free business phone number, and so much more.