With its 3D home-staging technology, Rhinov seeks to revolutionize the interior decoration sector. Discover how this French startup is using Brevo to boost sales!
Launched in 2013, Rhinov is an online interior design firm aimed at making the interior design process more accessible and pain-free.
What's the concept? You simply upload a photo of the room that you'd like to redecorate and choose one of the proposed style themes. A few days later, you'll receive a 3D simulation of your future interior, professionally designed according to your preferences.
Everything happens on the platform; there's no need for a decorator to visit your house.
In recent months, Brevo has become a driving force in Rhinov's marketing strategy:
26% of Rhinov's web traffic comes from emails sent via Brevo
32% of its conversions are generated via Brevo
Convert and retain clients on a single platform
Rhinov's needs can be summed up in the following two objectives:
Use the newsletter to boost customer retention
Convert prospects through automated follow-up texts and personalized workflows
In the past, their marketing department used Mailjet for emails and Primotexto for text messages.
That meant they had to configure every new contact twice (once for each tool), then monitor the performance statistics separately for each platform!
The issue: How could they activate prospects while taking various client experiences into account?
Moreover, these solutions didn't allow them to set up advanced Marketing Automation workflows that fit all of their needs, especially when it came to tracking visitors on their website.
These various issues led Rhinov to seek out an integrated solution that could handle sending email campaigns and texts while also managing complex automated scenarios.
That's why, in July 2016, they turned to Brevo to manage all their marketing activity on a single platform.
It only took a few clicks for Rhinov's teams to design their email campaigns on Brevo and get everything up and ready to go.
Reactivating contacts with marketing automation
After setting up email campaigns, transactional emails, and marketing text messages in Brevo, Rhinov decided to take on a new initiative: using smart scenarios to improve the client experience.
The goal was also to save time by automating time-consuming tasks:
Email follow-ups with a client
Importing contacts to a new list for a specific mailing
Workflow #1: Activating prospects
This automation workflow consists of sending an automated email encouraging users to submit their photos and create the 3D model of their new interior design.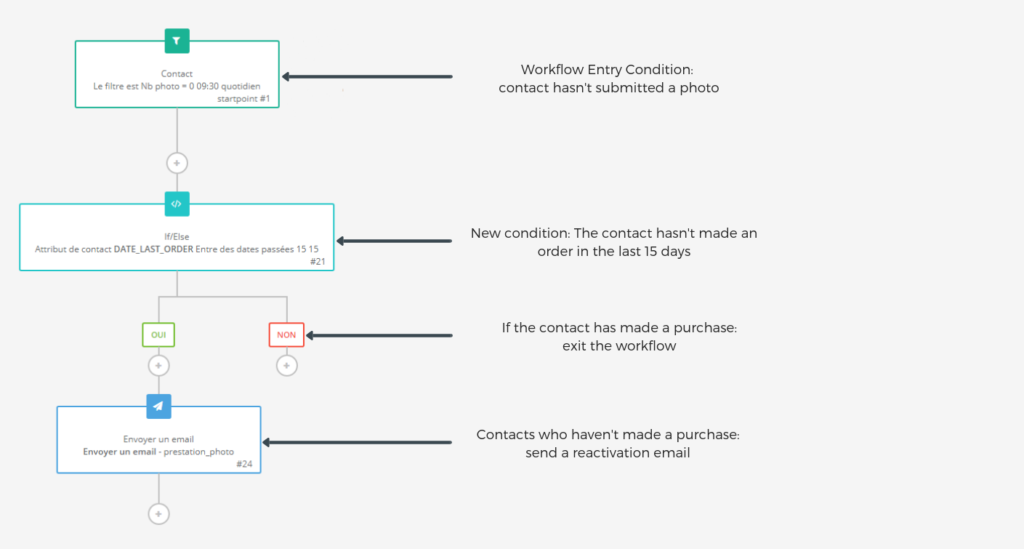 Following the scenario above, users who have already signed up but have never sent in any photos of a room to be redecorated will automatically receive a follow-up email after 15 days.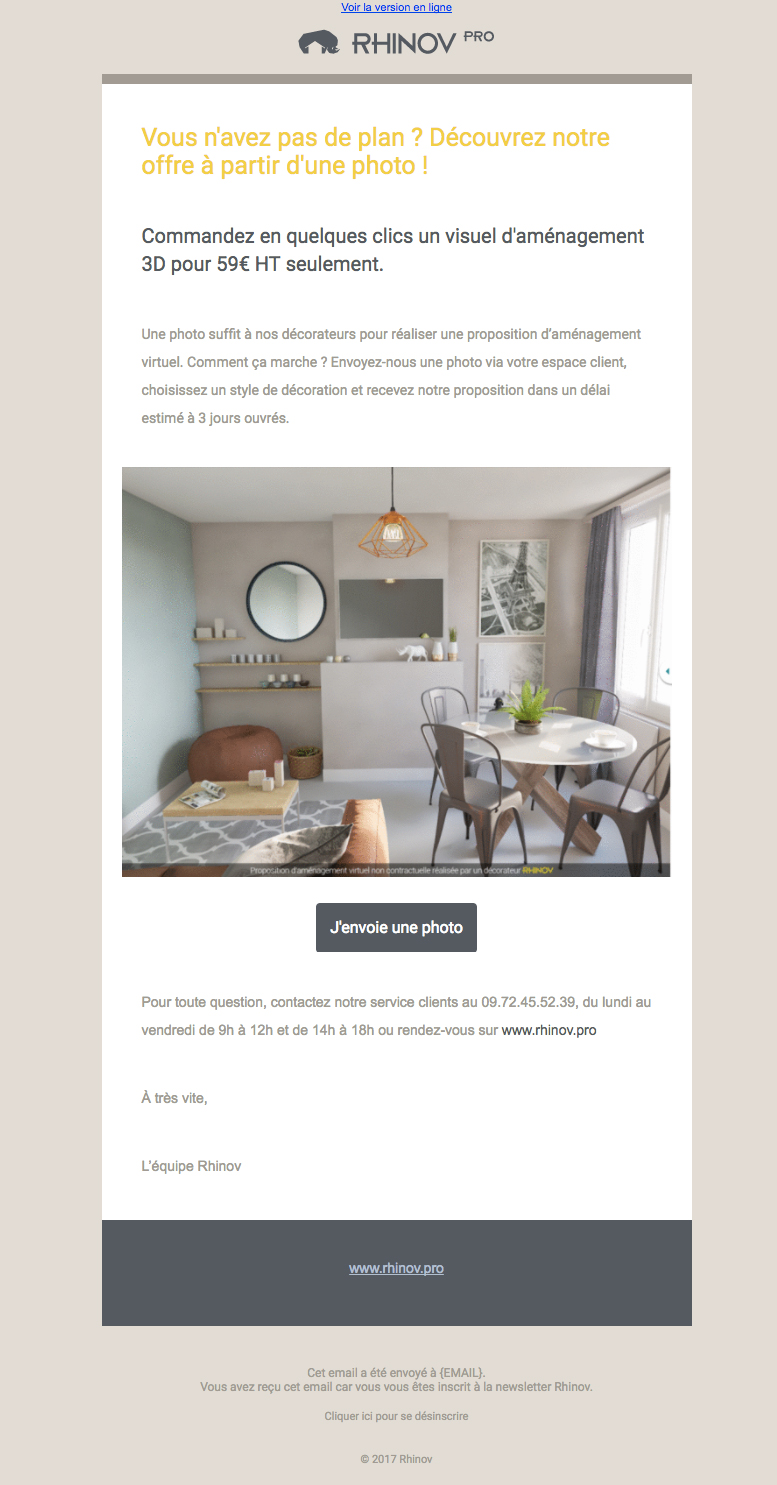 Workflow #2: Re-engaging with inactive clients
With this second workflow, primarily targeted towards real estate agencies, Rhinov's goal was to reactivate:
Clients who hadn't used up their credits after 30 days
Clients who had been inactive for some time since their last order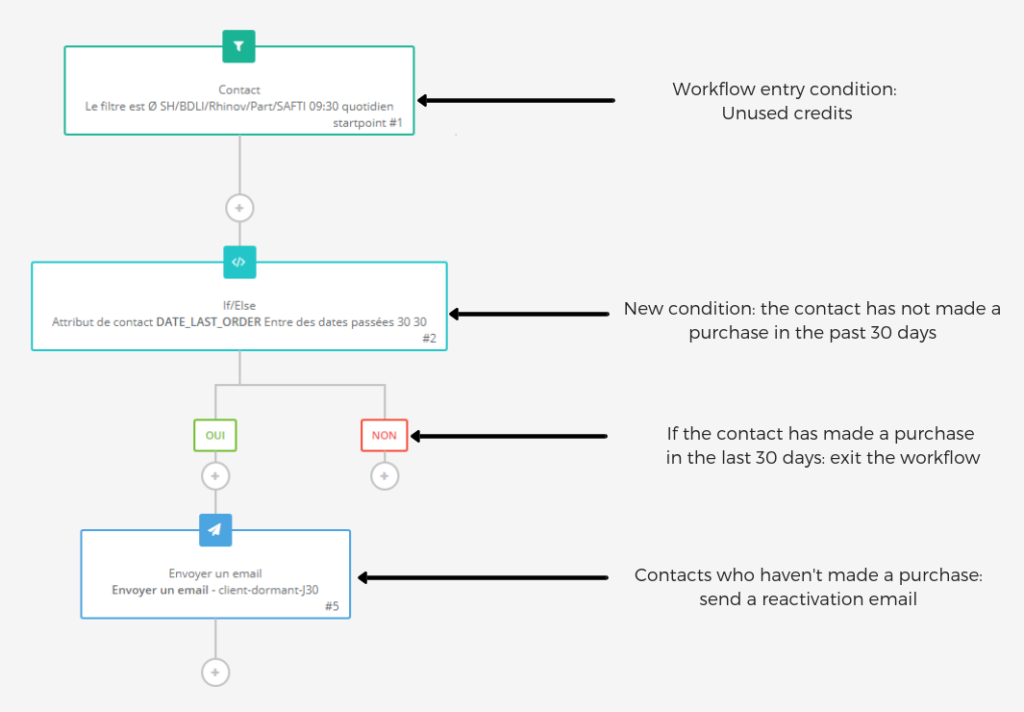 After 30 days, these dormant clients automatically receive an email with a discount code: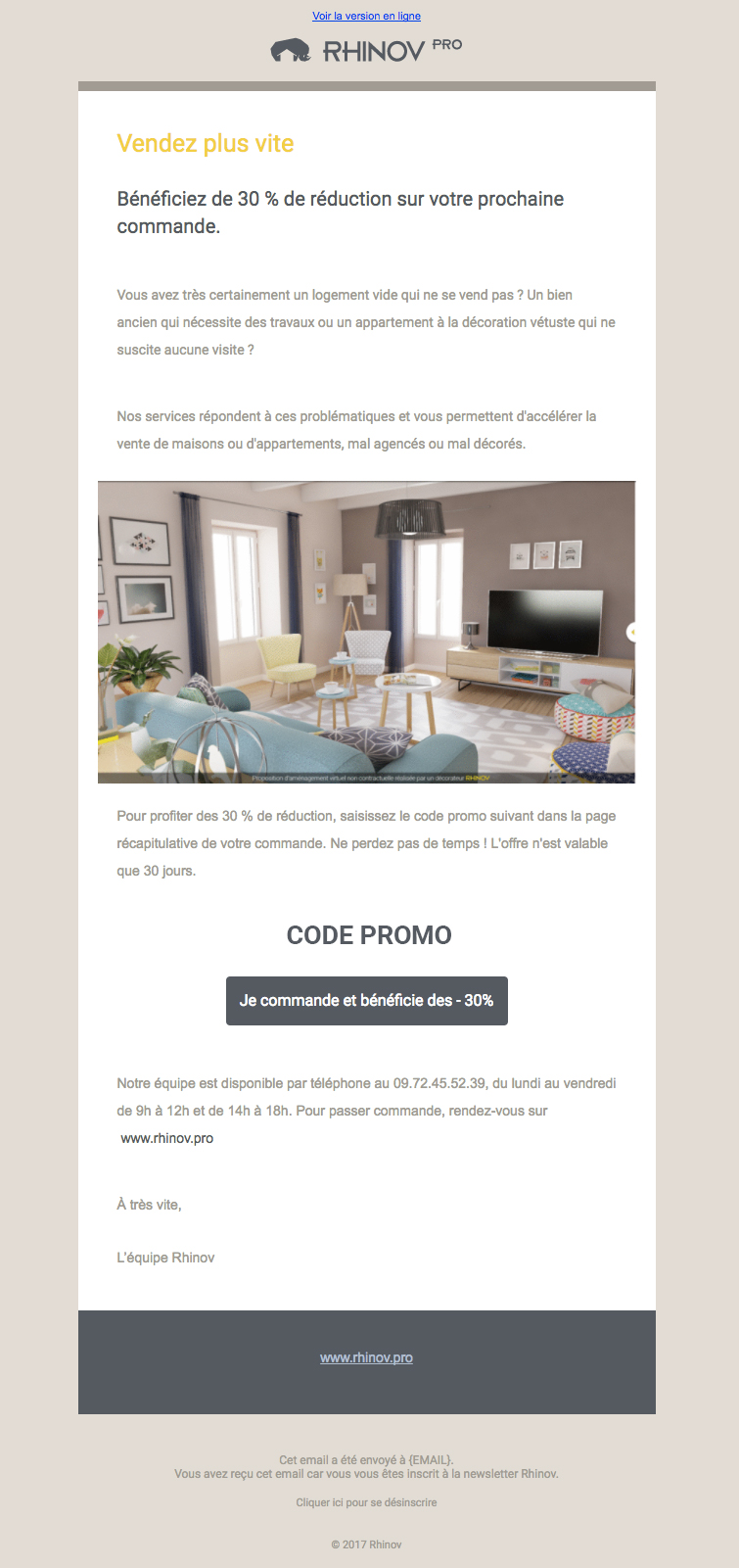 Results:
Implementing these two workflows with marketing automation allowed Rhinov to:
Save a considerable amount of time (the follow-up emails had previously been sent manually)
Significantly increase the conversion rate of inactive users
Conclusion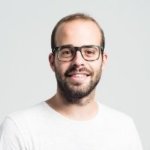 The Marketing Automation platform is very quick to install and extremely intuitive and flexible. Its powerful API also made it possible to sync our contacts easily on Brevo."
– Xavier Bouteiller, Marketing Manager @ Rhinov
For the Rhinov team, switching over to Brevo has lead to gains in time and efficiency.
The simple workflows that they set up with Brevo are proof that you can get amazing results with very little extra effort if you have the right tools.
Today, emails sent via Brevo generate 26% of Rhinov's traffic and 32% of its conversions.
Of course, they don't plan to stop there either! They've already started making plans to set up their next automated email workflows, which will focus on activating new users and building more customer loyalty: welcome emails, birthday emails with promotional codes, reminders about abandoned shopping carts, etc.
We can hardly to find out what they come up with next!