Reading time about 15 min

Is your real estate email list working as hard as you are? Are your realtor emails getting you the results you need? If not then it's time to up your real estate email marketing game.
As a real estate agent, your email list is everything.
Real estate email marketing isn't just the key to reaching all your existing and potential clients (and by extension, their networks), it's also the easiest and most efficient way to foster stronger relationships with each one of your subscribers.
If you don't have a solid real estate email list yet – or your current list attracts more crickets than clicks – today's guide has everything you need to get started on more effective email list building.
You'll find out:
Why every real estate agent needs an engaged email list
How to determine if your email list needs help
6 ways to build the best email list as a real estate agent
How to use your email list to increase real estate sales
Every Real Estate Agent Needs an Email List. Period.
An email list is more than a database of your contacts; it's a list of subscribers eagerly awaiting your next move.
Top-earning real estate agents know:
There's no other tool that allows you to stay in touch with your existing clients and potential leads, drive sales, and improve your customer loyalty, all at the same time.
So if you don't already have an email list, that's your first step to tackle today.
But what if you already have one?
The more important question is…
Do You Have An Active and Engaged Real Estate Email List?
Most real estate agents are experts at snagging contact details. But it's what comes after this grab that matters most.
See, many realtors fail to nurture the leads they generate via email and then wonder why they never turned into appointments.
But if your contacts stop hearing from you or they don't find the content you're sharing via email interesting, they'll just stop opening your emails or move on to another agent who understands their needs better.
When your real estate email list is un-engaged and stagnant, you'll notice:
Low open rates
Even lower click through rates
Higher than average unsubscribe rates
You know how competitive real estate is.
There are thousands of other agents in your area working hard to capture the attention (and dollar) of your potential clients.
And the stakes are even higher if you're in an ultra-competitive real estate market.
Subscribers will flock to real estate agents who provide value. So are you delivering the goods?
An engaged email list means:
Subscribers open your newsletters and click on your call to action
Clients consistently return for your help
You receive referrals from your contacts all the time
Most of your email leads turn into appointments
You have more customer testimonials than you know what to do with
If your email list isn't working this hard, it's time to start over the right way.
How to Build the Best Email List as a Real Estate Agent
Now that you know why you need an email list, all it takes is following these six steps to set yours up by this afternoon:
Define Your Goals and Target Numbers First
Before you get to building your list, you'll need to define a few simple, clear, actionable, and measurable goals.
Do you want to grow your list with new email subscribers?
Or would you rather focus more on converting those already receiving your emails?
Depending on where your real estate business is, you may want to consider goals such as:
Acquiring 5k subscribers by the end of the year
Converting 50 new leads per quarter
Increasing open rates by 5% each month
Developing a new market niche
Once you determine what you really want to accomplish with your real estate email list, everything you after should be focused on meeting that goal.
We'll talk more about the best ways to leverage your email list to meet your real estate targets in the next section.
You Must Have All Your Real Estate Subscribers Opt-In the Legal Way
You can't just add every email address you've acquired throughout your career to your new email list.
For spamming and privacy reasons, there are laws (e.g. CAN-SPAM Act) and fines in place so businesses can't just start emailing people out of the blue.
So you'll need to have your current email contacts physically opt into your new email list.
All it takes is the addition of an opt-in form to your website or linked from your email footer, and a quick email to your current subscribers and a link to your email signup landing page (more on this later!).
Find an Email Service Provider You're Comfortable With
You'll want to use an email service provider (ESP) that will allow you to import your list of contacts/subscribers so you don't have to manually upload each one.
Look for ESPs offering easy-to-use email creation features like:
These features are especially useful if you don't have the time or experience to design your messages from the ground up (and monitor their reach) each time you need to send one.
Jumpstart your real estate email marketing strategy with Brevo
Free plan includes access to all core email features, 300 emails/day, 40+ email templates, and customizable signup forms to grow your blog email list.
Create a Landing Page for People to Sign Up for Your Real Estate Email List
Instead of directing current and new contacts to your website or Facebook page, where they'll be distracted with other CTAs competing for their attention, you should be directing everyone to a dedicated email signup landing page for your newsletter or email list.
The goal of this standalone page should be to capture email opt ins — and nothing more.
Will you send out a newsletter about new listings to hit the market?
Should subscribers only expect to hear about recent homes to sell in the area? Or are you planning on sending a report that provides a free home valuation so that the prospect can have an idea as to their home's value in the market?
Whatever the case, you'll want your landing page to have the following components:
A clear and concise headline that conveys the offer to the visitor
A subheader to support what you claimed in the headline and let visitors know what they will receive by subscribing to your email list
A subscription or opt-in form for your visitor to enter their contact details. This should link right up with your real estate CRM or email service provider so you have all your email addresses loaded and ready to go
Either a visually appealing image that reinforces your offer or video that goes into detail regarding the benefit of your offer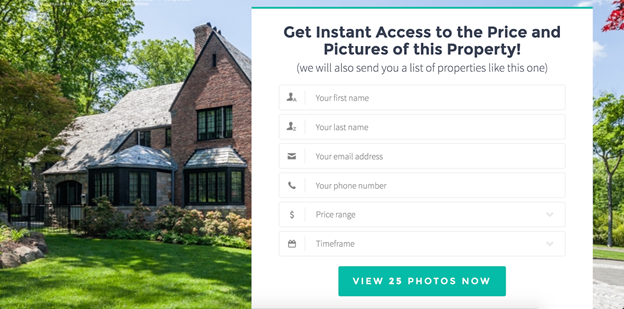 (Source)
Along with whatever offer you promised to your subscriber, make sure to send out a welcome email to everyone who joins your list.
More than any other email you send, welcome emails have been shown to generate:
320% more revenue on a per email basis
86% higher open rates
196% higher unique click-through rates
Make your welcome email a warm one since it counts for so much!
Keep Growing Your Email Subscriber List
You should always aim for growth when it comes to your email list. After all, every new lead is a potential sale.
With a dedicated link to your email opt-in page, you can literally add this address to everything and watch traffic to your page and signups increase.
To promote your email list, include the link to your opt-in form:
In your email signature
On your Facebook page
In your social media bios
At the end of your website content
In your Google and Facebook ads
You'll also want to use your signup as a way to separate free content from email-gated content.
As this real estate team demonstrates, visitors to their website can view new listings, but they'll need to sign up and trade their email address in order to view the personalized Market Watch feature.
Consider creating longer forms of content to be used as a lead magnet to attract visitors and entice them with valuable information in exchange for their email address as well.
Segment Your List to Provide the Most Value
You have a lot of different clients so you'll need to have different messages for each of them.
So in order to get the right messages to the right subscribers, you must segment your email list.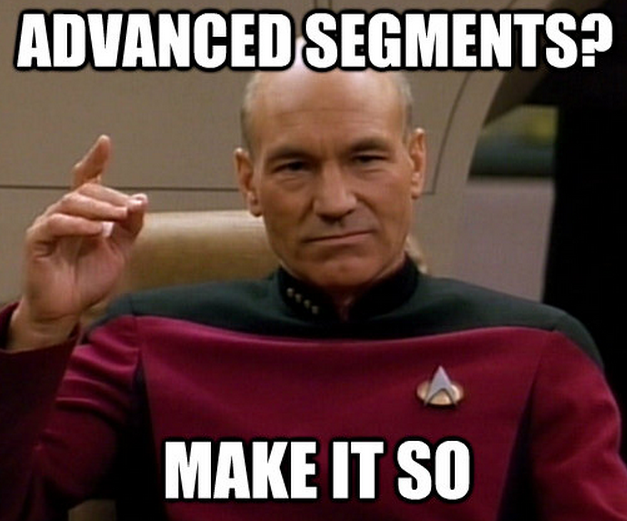 (Source)
Start by creating lists based on where the majority of your subscribers fall, such as those interested in selling versus buying or renting, or those who only want to receive emails about new listings.
Your email provider should give you the ability to add these contacts to their respective categories or buckets using past actions like what your subscriber clicked on your opt-in form or their prior email behavior.
When you have specific groups to market to, you'll need to determine what they truly need from your emails.
By providing valuable content they'll actually open and want to read, you not only stay top-of-mind with your subscribers, you become an authority they'll turn to when the time to buy or sell comes.
This personalization will lead to higher open rates and CTRs and fewer bounces, spam complaints, and unsubscribes.
With your list well on its way to healthy growth, you'll need to decide how to make and keep everyone happy.
Pro-Level Tips for Using Your New Real Estate Email List
After the setup phase, you'll be in maintenance mode when it comes to your email list.
That means you'll need to learn how to both grow and retain your subscriber base.
Always Follow Best Practices for Real Estate Email Campaigns
Before you graduate to more advanced techniques, you'll need to master these basic email best practices first:
Always include a link to unsubscribe from your emails and your office address to comply with anti-spam laws (and hope no one clicks it!).
Be consistent but never annoy your subscribers. Your subscribers will expect your emails around the same time every day, week, or month. Keep to a regular delivery schedule but don't send too many emails multiple times a day or you could risk unsubscribes.
Schedule your emails for the right time when your audience is most likely to open them. Avoid sending too early or late in the day and during your subscribers' busiest times during the week.
Focus on only one call to action so you don't confuse your subscribers. Give them one task and you'll have a higher chance of them following through on it. Don't tell them to check out your new listings and follow you on Instagram and read your blog on home inspections, for example.
When you have a steady handle on those, you'll also want to practice these next tips too.
8 Ways to Make Your Email List Work As Hard As You Do
Use these next tips to keep your subscribers interested and engaged:
#1. Send out a weekly newsletter of all the new properties currently for sale or rent in your area. Let your subscribers know they're the first to find out about these hot listings!
#2. Use your emails to promote content on your website. New blog posts, podcast episodes, or sure-to-go-fast properties should all be promoted to your email subscribers first.
But also get in the habit of creating free resources that are only available to your subscribers to download. This creates a feeling of exclusivity and keeps people subscribed for what you'll give them next.
#3. Send out market watch alerts about new neighborhood developments such as retail operations moving in, tax changes, housing communities going up, etc. If anything has the chance to affect home prices in your area, your audience should be the first to know about it.
#4. Offer monthly roundups of the top-selling properties to show subscribers who may be on the fence about buying/selling what's going on in the neighborhood.
#5. Touch base on birthdays and anniversaries. Configure your ESP to send out emails to your subscribers based on their birthday or the anniversary of their new home purchase. It's easy to work in a call to action to refer their friends and family members here.
#6. Use your analytics to help you predict your next big hit. Check out the open and click through rates of your best performing emails to determine what your subscribers click on most. This will help you brainstorm new content your subscribers will be more likely to engage with.
#7. Send targeted emails to your website visitors too. When visitors are logged in to your website, you can track their behavior with Google analytics and then automatically send follow up emails about those properties.
#8. Create a template for each type of email you need in your realtor toolkit. Rather than creating a new email from scratch each time you need to communicate one of these actions, consider creating pre-made templates for your:
Welcome emails
Newsletters
Buyer leads and new listings
Seller leads
Former client emails
Open house announcements
Combine a few of these tips in your email marketing strategy and your campaigns will always be a success.
Now You're Ready to Get Started
It's never been easier to scale your marketing efforts as a realtor and grow your real estate business using inbound emails.
With today's guide under your belt, you're ready to build an engaged list of subscribers even if you've never done so before.
To start, consider using an email marketing platform like Brevo, which lets you easily manage your contacts, design and send beautiful emails, automate customer workflows, and track the results of your effort all in one place – plus it's free to send up to 300 emails per day!
Then determine your goals and how you plan to accomplish them using your emails.
As long as you consistently deliver interesting content and provide value to your subscribers, you'll have more qualified leads and positive client testimonials than you can fit in a midcentury bungalow.
About the author:
Dave Lawrence is the Head of Growth at
Follow Up Boss
. Follow Up Boss makes real estate lead conversion and sales follow up more efficient and automated, allowing clients to grow their business and make more sales.