Reading time about 13 min

Zoho CRM is a great addition to your toolkit if you already use other Zoho tools such as Zoho Books, Survey, etc. But if you aren't planning to invest heavily in the entire toolkit, you may find the platform's functionality limited.
To help you find your perfect CRM solution, we've handpicked the best alternatives to Zoho CRM for small businesses.
Related: Best CRM Software Examples for Small Business
What Zoho CRM offers
Zoho CRM is a cloud-based customer relationship management (CRM) platform designed to help businesses manage interactions with customers and clients.
The platform offers a wide range of features including:
Lead management — a centralized system for capturing, tracking, and nurturing leads
Sales automation — automates many routine sales tasks such as lead scoring, opportunity tracking, and forecasting to increase productivity
Marketing automation — automate and personalize marketing campaigns across channels, including email, social media, live chat, WhatsApp, and more
Customer service — case management, knowledge management, and a customer portal
Collaboration — marketing, sales, and support teams can collaborate on deals, leads, and customer support cases in real-time
Integrations — Zoho CRM integrates with a range of other Zoho and third-party tools
Mobile app — for both iOS and Android devices
Drawbacks of Zoho CRM
Although it offers decent standard functionality, users report some limitations:
Limited customization — While there are some no-code customization options such as custom fields and modules, it's not enough for companies with complex sales processes. You'll need a developer to customize your workspace using Zoho CRM's APIs.
Steep learning curve — For users new to CRM software, it can be time- and effort-intensive to master all of its features.
Limited reporting options — Somewhat limited compared to other CRM platforms, making it difficult to gain insights into customer data and business performance.
Performance issues — Slow load times and system crashes are known to happen during high-traffic periods.
Support — Users, especially those located in Europe, report bumpy support experience. The problems often cited are time zone differences and language barriers.
Narrow focus — As the name Zoho CRM suggests, the primary focus are CRM functionalities. It means you need other apps or third-party integrations to unlock other marketing features.
Costs — Zoho CRM's pricing plans are affordable but it gets costly fast when you start buying applications to extend its functionality.
Here's what users say about the problems they've faced with Zoho CRM:
"I am not always able to find solutions quickly and easily using the included help database. It feels like a pretty steep learning curve to be able to maximize the usefulness of the platform. Response times to support tickets can also take some time."
"Their support could be better and better catered to each country. There is a bit of a language barrier and I often get put in touch with the wrong person. This can definitely improve."
"You will have to either buy the entire Zoho One suite or buy the applications you need individually, which will make the overall billing very costly"
Zoho CRM pricing
Zoho CRM has a free plan for solopreneurs and small businesses. It supports up to 3 users and includes the essentials such as contact management, email marketing, automation (up to five tasks), and basic customization options.
Paid plans start at $20/user/month when billed monthly.
Top Zoho alternatives compared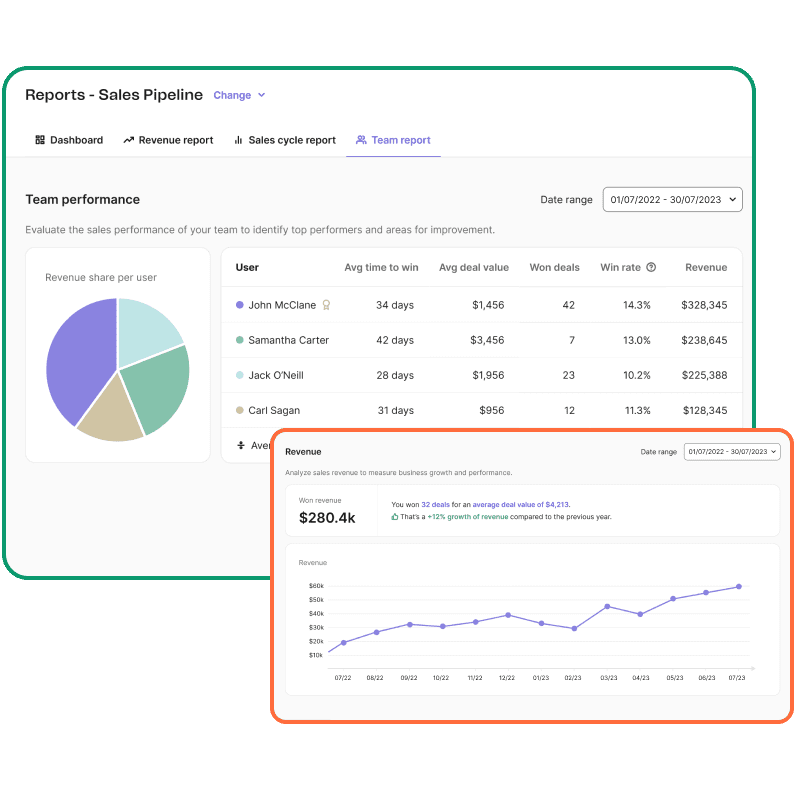 Brevo offers a full digital marketing and fully integrated CRM suite.
It can organize and track the sales process, deal management, task allocation, sales forecasting of unlimited contacts, deals, and sales reps for free. That makes it the best alternative to Zoho on the market.
Brevo CRM features to switch to from Zoho
Pipeline management involves lead qualification, multiple pipeline creation, and tracking deal progress. Custom pipelines are available too.
Sales automation lets you automate multiple steps in your pipeline and trigger workflows based on set rules
Team collaboration is made easier with Brevo. Assign tasks, leave notes, and track team members' progress in the same place where you track your deals.
Meetings is the Brevo appointment scheduling feature. Set up booking pages, let clients book meetings with you, host the actual meeting, and get paid in the end, all through the app!
Rich customization capabilities for creation of custom attributes, list views, deal stages, etc.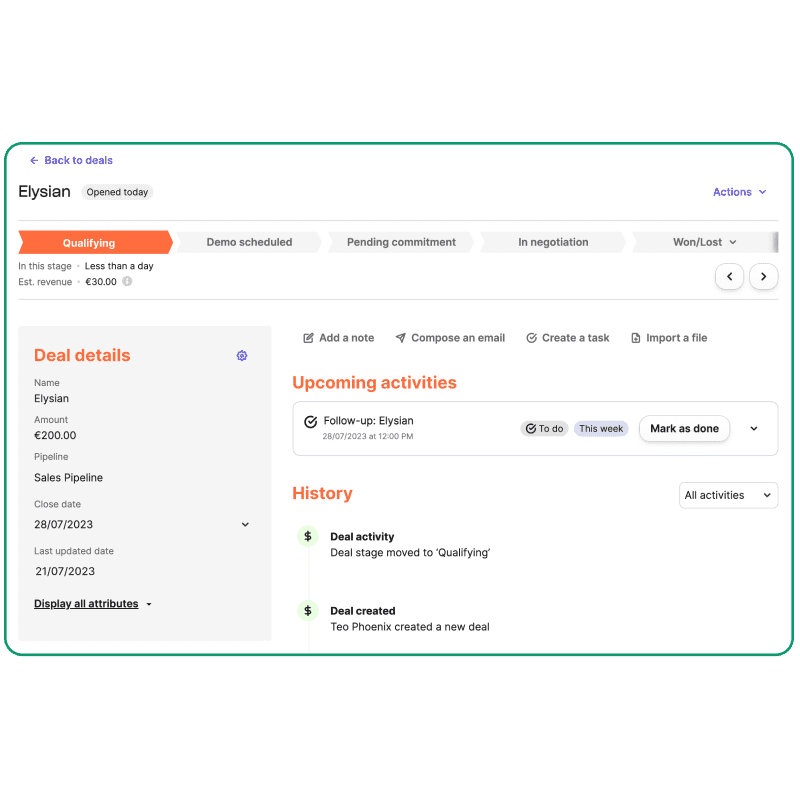 Brevo vs Zoho CRM
What makes Brevo a good alternative to Zoho CRM? Brevo offers a lot more than standard CRM features:
Email marketing automation: powerful email marketing automation is built into the CRM for seamless email sending. Zoho CRM has some basic email marketing functionality, but not the same level of automation and customization as Brevo.
SMS & WhatsApp marketing: Add SMS or WhatsApp messages to your marketing arsenal. Zoho CRM doesn't offer this functionality.
Transactional email: Send order confirmations, account notifications, and password reset emails via Brevo SMTP. This is an essential feature for ecommerce businesses that you won't find in Zoho CRM.
Live Chat: Unlike Zoho CRM, Brevo has a built-in live chat and messaging feature (including WhatsApp, Facebook Messenger, and Instagram DMs), allowing you to communicate with your customers in real-time.
Landing pages and forms: Catch leads with signup forms and pages, easily created with Brevo's drag-and-drop builder. Zoho CRM doesn't offer this feature as a part of its core functionality.
Appointment scheduling: Create and share booking pages for people to schedule appointments with you, and then host those meetings and even get paid — all within Brevo. You need to sign up for Zoho Bookings to do that.
Free Zoho alternative
Best of all, Brevo Sales Platform is a better alternative to Zoho. Unlimited contacts and users, plus up to 300 emails/day and even sales forecasting! Sign up today to access the Brevo CRM features.
30% off Sales and Phone Plans until October 31st
Use the code BREVOLAUNCH23 to get 30% off Sales & Phone plans for your first 6 months. Don't miss your chance to save on Brevo's easy-to-use sales tools — Sales Platform, Meetings, Phone, and more.
2. Sage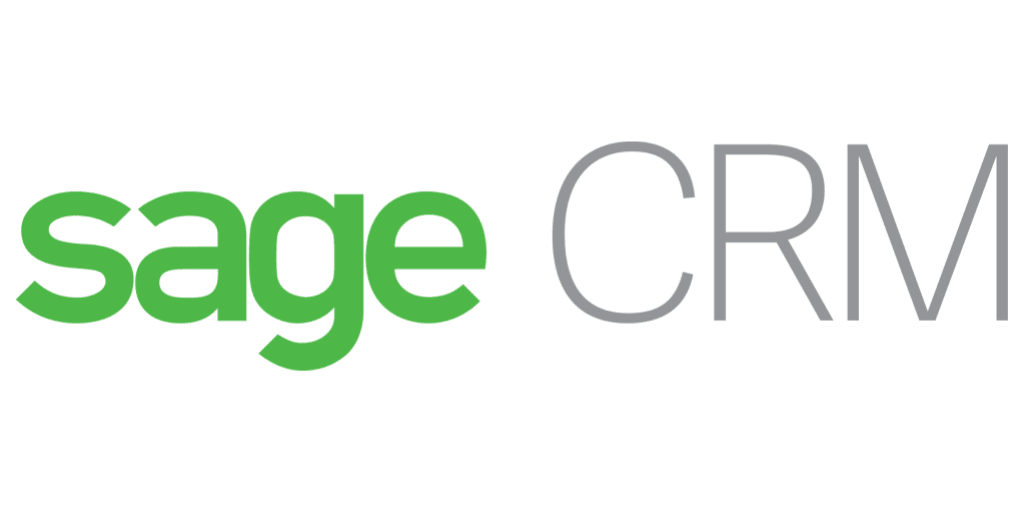 Sage is a CRM platform helping small- and mid-sized businesses manage their interactions with customers and prospects. It's a good Zoho CRM alternative for those looking for a simpler CRM solution.
Sage's features include:
Contact and account management: A centralized database for storing and managing customers and prospects, including contact information, account history, and interactions
Lead and opportunity management: Lead categorization, lead prioritization, and opportunity tracking
Sales management: Sales forecasting, pipeline management, and territory management features
Customer analytics: Real-time customer demographics, sales trends, and customer engagement data
Collaboration tools: Notes and tasks for teams and projects
Mobile apps: Android and iOS apps
Sage vs Zoho CRM
Here are the key advantages Sage CRM has over Zoho CRM:
Easier contract management. You need dedicated software called Zoho Contract for that.
More modern, user-friendly user interface (while Zoho CRM's interface needs UI/UX improvement, according to Zoho users)
Built for businesses looking for simple, lightweight solutions for beginner users. Zoho CRM focuses more on startups and SaaS companies.
Sage pricing
Sage doesn't list their pricing publicly. According to G2, you can expect to pay from $39/user/month.
Related: Top 7 Sales Forecasting Tools for SMBs in 2023
3. SugarCRM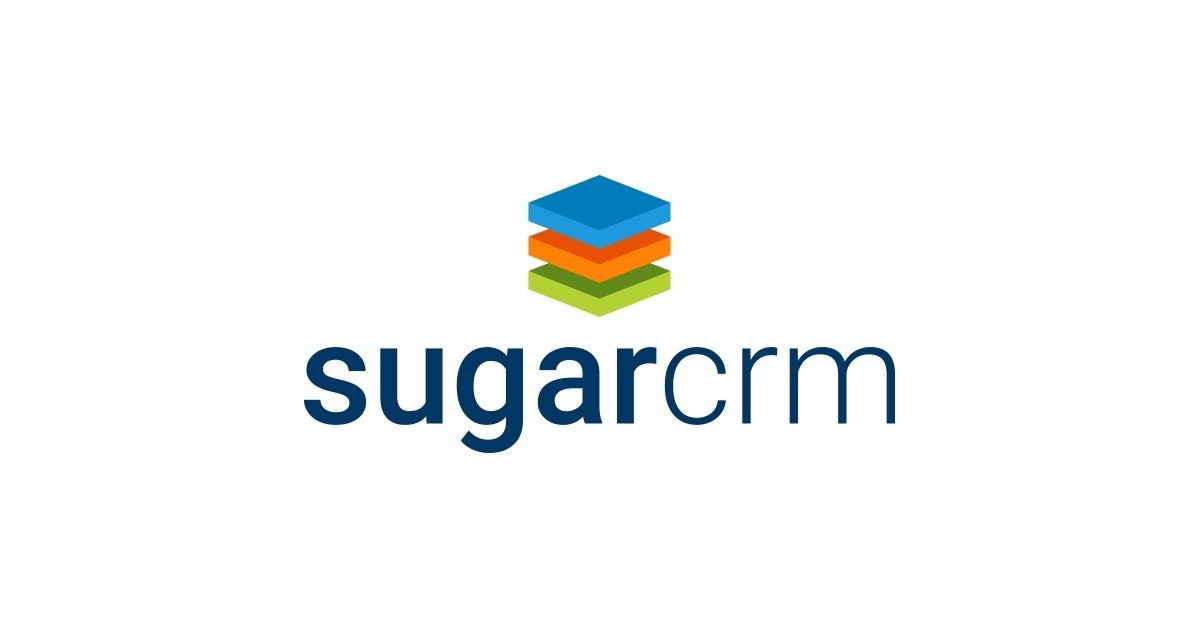 SugarCRM is a flexible CRM platform that can be customized to meet specific business needs. It offers a range of deployment options, including on-premise, cloud-based, and mobile.
There are three types of CRM packages: Sugar Market, Sugar Sell, and Sugar Serve. We talk about Sugar Sell here as it's an automation tool for sales teams.
Like a Zoho CRM alternative, Sugar CRM has the following features:
Lead management: Track leads through the entire sales process, from capture to conversion
AI-based predictive forecasting: Sales forecasting tools predict future sales based on historical data and current trends
SugarCRM vs Zoho CRM
Let's go over the features that SugarCRM has and Zoho CRM doesn't:
Quote management
Customization options
Automated call triaging and task management
Omnichannel customer communications
SugarCRM pricing
The Sugar Sell package has no free plan and pricing starts at $49/user/month.
4. Insightly

Insightly is a customer relationships management platform for businesses of all sizes.
Its products are split into different packages called Insightly Marketing, Insightly CRM, Insightly Service, and Insightly All-In-One. Again, we'll be focusing specifically on Insightly CRM as it's the closest Zoho alternative by the company.
Insight CRM has a standard set of features for a CRM tool:
Contact management: Store and manage information about their contacts, including contact details, activity history, and communication preferences
Reporting: Create custom reports and dashboards. However, it's worth mentioning that Zoho's reporting tools are more robust.
Integrations: Connect the tool with other business software, including Mailchimp and QuickBooks
Mobile app: Similar to other solutions on the list, Insightly also offers a mobile app
Insightly CRM vs Zoho CRM
Although Insightly and Zoho CRM have very similar functionality and pricing, there are reasons to consider Insightly over Zoho CRM:
Stronger lead management capabilities
Project management tool (including project management modules, Gantt charts, pipelines, and milestones) on all Insightly's plans. To access similar features in Zoho CRM, you'll need to sign up for Zoho Projects.
Product lists, pricebooks, and quotes
Insightly pricing
You can test Insightly for free, but you'll need to upgrade eventually. Insightly CRM's paid plans start at $29/month.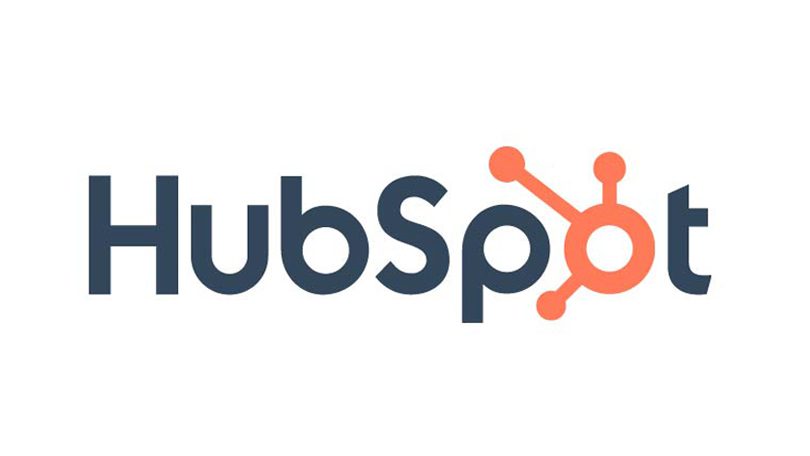 HubSpot is one of the most decent alternatives to Zoho CRM for its wide range of tools for all business needs. However, it gets pricey as you buy add-ons.
The HubSpot toolkit offers many features for successful customer relationship management:
Pipeline management: Tracking sales opportunities from initial lead to close
Sales workflow automation: Automate various sales tasks such as email follow-ups, lead scoring, task allocation
Forms: Create custom lead-gen forms
Analytics & reporting: Customize website engagement and sales performance reports
Meeting scheduler: Manage your calendar from the same place
Quotes: Create and send quotes to prospects
Mobile CRM app
HubSpot vs Zoho CRM
Some HubSpot features that Zoho CRM lacks:
Live chat & chatbot (Brevo offers that too)
Call tracking
Recurring revenue tracking
AI-powered insights
HubSpot pricing
HubSpot CRM's free plan gives access to a limited set of features. If you need more credits and tools, you have to upgrade to HubSpot Sales ($50/month billed annually) or HubSpot CRM Suite (1,600/month billed annually).
Steep price? Discover more HubSpot alternatives
Choose the best Zoho alternative for your business
Which tool is the right Zoho replacement for your company? If you're looking for a tool with built-in marketing capabilities, go for Brevo or HubSpot. If you need project management features to improve your business processes, choose between Insightly and SugarCRM. For easier contract management, you can turn to Sage.
30% off Sales and Phone Plans until October 31st
Use the code BREVOLAUNCH23 to get 30% off Sales & Phone plans for your first 6 months. Don't miss your chance to save on Brevo's easy-to-use sales tools — Sales Platform, Meetings, Phone, and more.