Win-back emails are a part of a healthy ecommerce marketing strategy. If all your contacts engage with your emails regularly and buy religiously, kudos to you! But most ecommerce businesses are not so lucky.
To save contacts from completely disengaging with a brand, we use winback emails. Let's explore the best practices when setting up a re-engagement campaign.
What is a Winback Email?
A win-back email, as the name suggests, is an ecommerce email or series of emails sent to inactive (idle) customers. In ecommerce, inactive usually means people who haven't purchased anything long enough to be considered very likely to churn for good.
The goal of the winback email is to activate those customers, to bring them back to your ecommerce store, and persuade them to place another order.
Why send a winback email?
Those customers have already bought from you in the past. It's a waste to just let them slip away. New customer acquisition is expensive and competitive. So any ecommerce business would benefit from customer retention. Getting existing customers to place repeat orders is 5 times easier, especially when you have shopping behavior insights.
You already have insights about what they like and how they shop. Post-purchase email marketing based on these insights is easier to execute than converting brand new customers.
Winning Back Lost Customers
People can have all sorts of reasons for disengagement with your brand. And it's not always a negative experience with something they bought. Sometimes they just don't need your products that often. Not everyone has the habit of regularly checking online shops. Maybe inactive subscribers haven't lost interest completely, just life got in the way.
So how do we re-engage those customers? A winback campaign is different from your usual promotional emails sent to the entire email list. In fact, many people stop opening emails from brands precisely because they're all the same.
How to make а winback campaign stand out from the crowd
For a converting winback email, you need to make it interesting, relevant, and stimulate action. Here are some possible directions you can take in your re-engagement email campaign:
Fun. Reach out as if to an old friend and try to reconnect.
FOMO. Play on the fear of missing out with limited-time offers (free shipping or special edition products).
Incentives. Invite them into your rewards program or give them a coupon for the next order.
Feedback. Ask about their last order in the hope they'll want more of the same.
What's new? Announce new products or share important company updates.
Best sellers. Feature the products everyone loves.
Values. Remind people of your values or causes to revive their liking of you.
Occasions. Use a birthday email as an excuse to reconnect.
The idea is to make it different and exciting enough for people to click through and re-engage with your site again. The win-back strategy you choose should align with your overall email strategy so you don't look too desperate, thus devaluing your brand.
But to even get people to read your message, you need them to open it first. That's where the email subject line can make or break the campaign.
Winback email subject lines ideas
Here are some ideas to inspire you. Remember to fit them to your brand voice so they don't sound out of line with your brand identity.
Have you been seeing other [product]?
Hey [name], what have you been up to?
Did you forget about your [brand name] account?
We TOTALLY need to catch up
Psst…how are you doing, friend?
Do you still have too many [product]?
Free shipping ends tomorrow
The [product they bought] limited edition
You've missed over X different [product]!
You're invited to the all-new [brand name] rewards club
The same [brand name] products you love, at a VIP price for you
It's been a while since you got [product]. What do you think?
The all-new [Brand Name]
What we've been working on
Wanna see our new creations?
A lot has changed! New Special Offer Inside.
Our new menu is perfect for you!
Due to popular demand, [product] is back
Did you see [product]?
X years of [doing your cause] and counting
We still care about the [values]. Join us!
Just as a quick note here, use all caps in subject lines sparingly. It's ok to stand out in an inbox, but overdoing it feels like shouting in someone's face. 📢
Winback Email Best Practices
A winback email is quite simple. There's your message, maybe a featured product, and a CTA to visit the shop. But the campaign has to be done right to have the desired effect.
As with email marketing in general, balance is key. Any campaign should be well-timed and relevant to the recipient.
Check out our guides on other essential email marketing parts of the customer journey:
1. Define what "lapsed customers" means for your own business
Depending on your products, your sales cycle can vary a lot. Coffee and dog food get ordered more often than evening wear and appliances. If you sell staple products, don't wait too long to try and win customers slipping away. But if people generally buy from you once or twice a year, there's no reason to worry they're inactive after just 3 months.
If your winback email campaign still doesn't convert someone, you can use automation to remove this contact from your mailing list. This way, you'll continue emailing only people who actually want to hear from you and your email deliverability will be better.
3. Hit the inbox at the perfect time
A winback email, especially one with a limited-time offer, needs to be opened as soon as it's delivered. You don't want to sit and wait more when the customer's drifting away. So your email campaign software should be able to schedule any email to deliver at the perfect time for each recipient, based on past data.
4. Reactivate email unsubscribers
What about email subscribers who decide to unsubscribe when they receive a winback email? Give them a chance to reconsider. Display an incentivizing opt-in form on site, ask for consent to marketing emails at checkout, and in order confirmation emails. Check out other email list building tactics.
5. Send it from a brand account, not a person
If people have disengaged from the brand, they need to remember it. It's not the time for relationship building with names of people they never knew.
6. Make it personalized
People often stop paying attention to marketing emails because they're all too generic. If you want them to spring to action now, after all this time, another mass email won't work. They need to feel as if you personally reached out to them and tailored your message to their needs. Check out our tips on personalized emails for more information!
7. Don't run winback all the time
If it's just another recurring "promotion", it loses its appeal and exclusivity. Winback emails should be sent only when the customer has been truly inactive — hasn't visited the site or opened emails in quite some time.
8. A/B test everything
Testing will show you what kind of winback emails your audience likes. Before you try different subject lines, offers and sequences, you can't know what'll get the best click through rate and conversions.
Winback Email Examples
Let's see what other ecommerce businesses (and not only) do for their win-back email campaigns. Maybe they'll inspire you to create your own winback customer email template. 💡
# Reactivation offer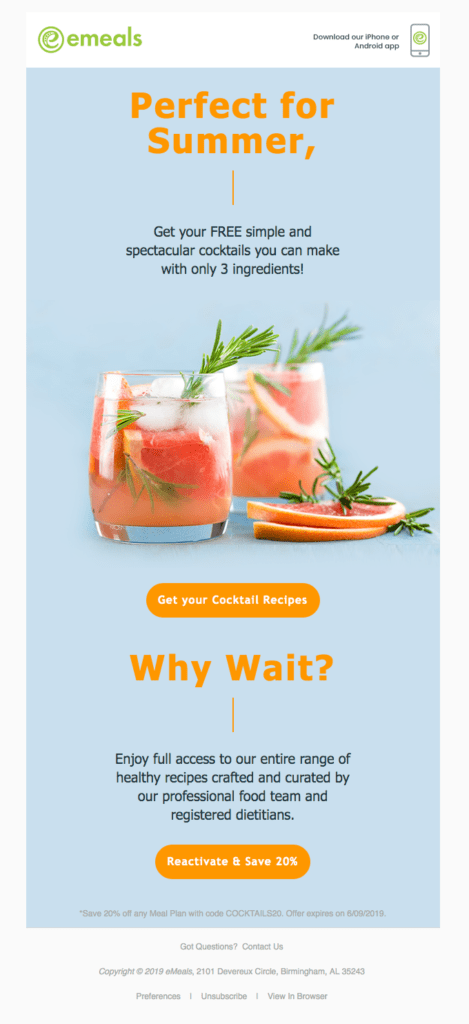 Source for this and all other examples
# Next order discount

An email offering a discount on the customer's next order and promoting new currencies available to shop in by Bomberg, created with Brevo
# Product feature

Email by Origami Good Karma, created with Brevo
# Values

# Updated version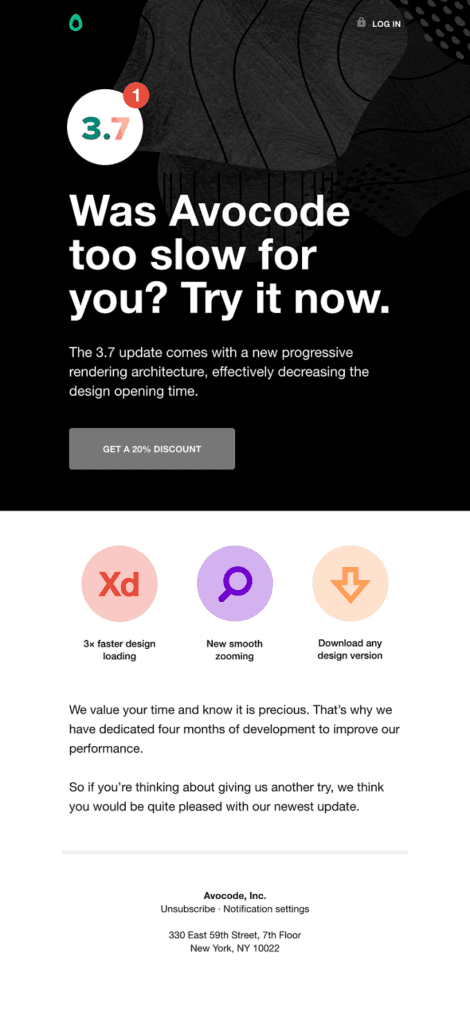 # Survey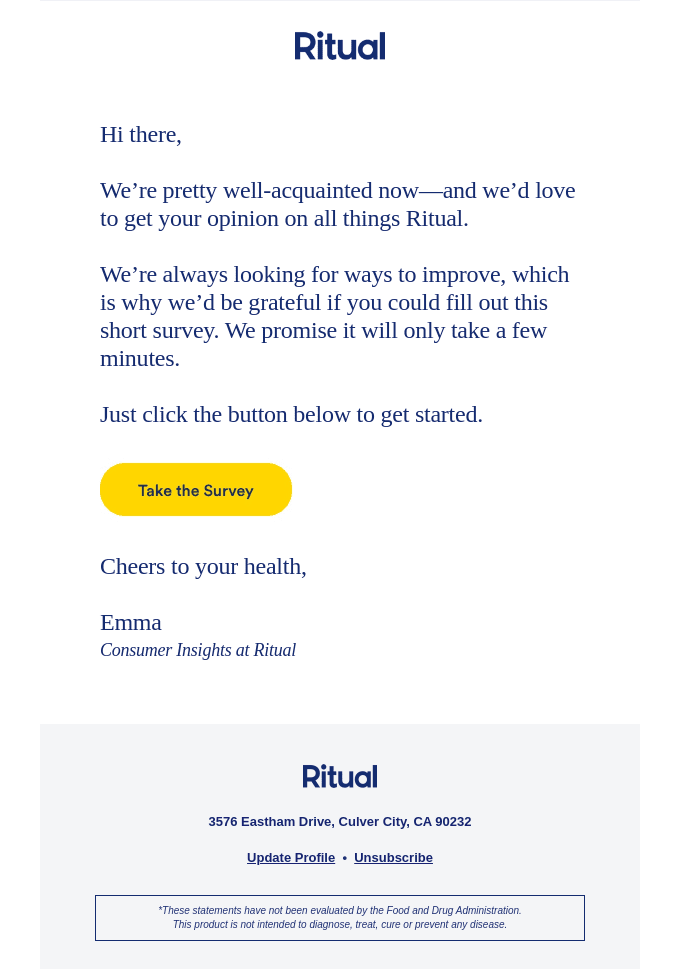 Set Up Winback Email Campaigns with Brevo
Brevo is an ecommerce email marketing software that lets you run any tailored campaign your strategy requires. With its customer and event tracking capabilities, it enables you to segment your customer list and tailor re-engagement emails down to tiniest details.
So the process of setting up a winback email campaign with Brevo looks like this:
Connect Brevo to your ecommerce store and activate the tracking.
Create an automated workflow that will send an email when a customer hasn't ordered or interacted with your emails in a period of your choice. You can also follow up with progressive incentive emails or whatever else you want to use to attract people back in.
Brevo checks for the condition every day and triggers the winback email or campaign to anyone who fits it. There's also the Send Time Optimization feature that will deliver the email at the best possible time for the recipient to guarantee better open and click rates.
You can personalize this campaign with products bought, customer's name, etc.
You can also add another step to it — unsubscribing those who don't engage even with this winback campaign.
And you want to know what's the best thing? Brevo doesn't charge for contact list size so there's no need to purge your list from inactive users all the time. Just set up your winback email series for when it makes sense for your business so the customer experience is pleasant and not too rushed.
Win back your customers with Brevo
Unlimited contacts. Customer tracking and segmentation, marketing automation, ready-to-use templates. Send Time Optimization.