Reading time about 10 min

We've condensed everything you need to know about push campaigns into 12 simple steps you can take to supercharge your customer engagement strategy.
What Are Web Push Notifications?
Web push notifications (aka browser notifications) are brief alert messages that work in any web browser on both desktop and mobile devices.
When push notifications are enabled, your website visitors will see an opt-in popup that (if they give permission) will allow you to send them regular browser notifications.
Why You Should Have a Web Notification Strategy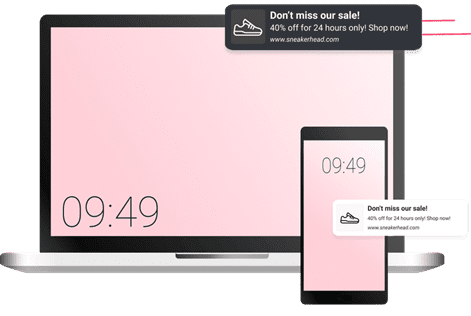 The biggest benefit of browser notifications is the ability to send messages even when your subscriber doesn't have your website open in their browser.
And unlike mobile push notifications (on both Android and iOS devices) you don't need a mobile app installed for it to work.
You don't even need an email address or phone number to send messages to your subscribers. 🤯
When you have notification permission you can send messages to your subscribers at any time, so long as their browser is open on any of their devices.
It's also up to you to decide on the type of notifications you'll send and the frequency of your push messages.
How to Add Web Notifications to Your Website
There are three ways to set up and design your own notification system for your website:
Create your own app using the Javascript APIs provided by popular browsers
Install a website plugin that works with your CMS (like PushOwl for Shopify or Brevo)
Use a push notification service provider
We recommend using a push service provider to design and automate your push campaigns.
You'll get cross-browser support and the power to completely automate push campaigns by setting up triggers in advance. 📆
It usually takes just a few minutes to plug a third-party push notification tool into your website and launch your first push campaign.
Here's a breakdown of the best web push notification service providers. We tackle features and pricing so you can quickly find the right platform for your business needs.
How to Design a Web Notification
Web push notifications have the following elements:
Title
Icon
Description
URL Link
Banner Image
CTA button
You can also divide browser push notifications into the following broad categories:
Welcome Notifications
Promotional Notifications
Transactional Notifications
Recommendation Notifications
Update Notifications
For a more detailed look into notification design, check out our beginner guide to web push notifications.
In it, we cover all the essentials including how to support web notifications and how you can tap into the APIs of popular web browsers like FireFox, Opera, Chrome, and Edge.
12 Best Practices for Successful Web Push Campaigns
Use these strategies to design and implement web push notifications that net you the highest conversion rates.
You can also take a quick peek at our amazing collection of web push notification examples before coming back to this article when you're ready to craft your own push campaign.
1. Don't Send Duplicate Messages
If you have a mobile app, avoid sending web push to users who already have app push notifications enabled on their smartphones.
Split your notifications between app and browser notifications or stick to a single option.
Sending duplicate messages carries the risk of irritating your customers which might lead to them blocking browser notifications or uninstalling your app.
2. Ask for Permission Later
Instead of asking for permission to send notifications on the first website visit, wait a little longer.
Let your potential subscriber visit a few of your pages to see if they like what you have to offer.
If you have blog content, wait until they're halfway through reading one of your articles before initiating a permission request.
3. Customize Your Opt-in Prompt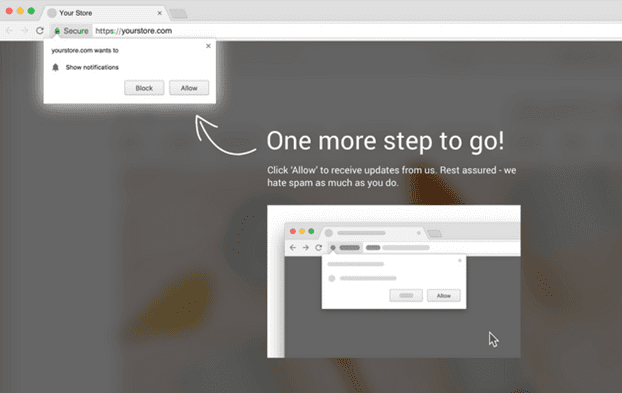 Create a friendly message that pops up right before the prompt to describe what kind of notifications you'd like to share.
This is your subscriber pitch. Show value by describing how they'll benefit from receiving regular push notifications.
List out the kind of messages you believe they'd be happy to receive, like new arrival alerts, special offers, tracking info, news updates, etc.
4. Segment Your Audience
There is no such thing as a one-size-fits-all message. Subdivide your audience into segments based on demographics, personal interests, and shopping habits.
Track web page visits and aggregate data to build more accurate customer profiles.
Then send targeted push campaigns to your customer segments to maximize conversions.
5. Personalize Your Messages
Include your customer's first name and address them directly as if you were having a one-to-one conversation.
You can also add fallback text if a name isn't available for a specific user.
Remember to include your customer's purchase history as a reference point to send product and content recommendations they'll love.
Bake in transactional messages like order confirmations and cart recovery messages to add even more relevance to your push messages.
6. Customize Notifications According to Browser & Device Types
Making sure your message looks good is as important as the value you want to communicate to your subscribers.
If you're not careful, the browser or device your subscriber is using may cause your headline or body content to be chopped off. Thankfully, there's an easy fix.
Divide your audience into groups (aka segments) based on the browser or device they're using.
Add subtle changes to your push message design based on word and image size limitations, to ensure that it looks great on all screens and browsers.
To avoid being cut off, put the most important element of your message near the beginning of your title or body content.
Remember to send test notifications to ensure that everything is working properly.
7. Include CTA Buttons
Analyzing your click-through rate (CTR) is the easiest way to gauge the success of a marketing campaign.
If your subscribers aren't clicking on your notifications, you'll have a hard time meeting your marketing goals, whatever they may be.
Incorporate action buttons to track and increase your CTR.
Your ecommerce store for example might have an action button that says 'check out now' or 'add to cart'.
For blog posts, a 'read more' button will encourage your readers to click through to catch up on new content.
Set precise goals with measurable outcomes that you can reasonably achieve to improve the overall success of your web push campaign.
Give your subscribers a clear path to follow to see significant improvements in conversions.
8. Trigger Automated Push Campaigns
Manual campaigns and triggered campaigns are the two basic types of online push campaigns.
You can start a manual campaign at any time. Simply give the campaign a name (for internal reference), add a title, description, image, and at least one CTA button.
Then choose your target audience and publish it.
Triggered campaigns on the other hand, are sent in response to a specific action taken by a user on your website.
In this context, a user is more than just a website visitor. Any customer that has created an account or whose profile information you have on hand can be a target for push campaigns.
Specify a set of conditions, such as user behavior or a particular purchase. When launched, the push campaign will automatically send messages whenever the prescribed conditions are met.
This might be something as simple as going to a certain page on your site, signing up for a newsletter, wish listing items, or having an abandoned cart, etc.
9. A/B Test Your Notifications
Set up A/B testing to test different aspects of your web push notifications. A/B testing is a cost-effective means of increasing CTR and conversion rates.
Use a data-driven approach Instead of relying on guesswork.
Try out different headlines, action buttons, body text, and more to find what works best.
Keep in mind that A/B testing is most effective when only one element is changed at any given time.
For example, test two different headlines while keeping the rest of your notifications the same.
If one push message performs better than the others, you can be sure it's due to the headline change.
You won't be able to tell which element produced the gain in performance if you test too many elements at once.
10. Take Advantage of Custom Icons & Images
Visual design is a crucial part of effective marketing campaigns. The right visuals grab attention and inspire a sense of curiosity in your audience.
Incorporating unique images into your web push notifications also helps them stand out.
Custom icons are the most effective way to accomplish this.
Your logo is often used for all of your notifications by default. To fit different contexts, swap out your logo with images that will serve as a banner.
Photos rather than illustrations have the strongest impact here.
Where an icon and a banner can be included together (depending on the user's browser and user's device), use both.
When it comes to graphics, don't forget to have some fun with your campaigns and employ emojis to get people's attention! 😊
Emojis aren't just for fun.
They're also super effective in marketing communications because they're eye-catching and help you condense longer words or phrases into a single character.
11. Measure Conversion Rates
In addition to tracking your click-through rate, you should measure the number of conversions generated by your web push efforts.
If you're an ecommerce business, you can keep track of sales generated by each web push campaign as your most important metric.
You can also create custom events to track conversions depending on what actions you want your user to take.
Use those metrics as a means to test the effectiveness of your web push campaigns.
Rerun and automate successful campaigns. Alter campaigns that didn't live up to your expectations, and discard the rest.

Remember to always experiment. Try new and creative ways to communicate with your audience.
12. Integrate Your Marketing Channels
Integrate your push marketing campaign data into a CRM to bring in more advanced analytics and performance tracking.
Connect your email marketing, landing pages, SMS, live chat, and social media channels together and generate reports that help you get a better understanding of how effective your marketing campaigns have been across every major touchpoint.
Use push notifications to both re-engage and retain customers. Continually optimize your push campaigns as part of a broader, multi-channel marketing strategy.
Start using push notifications with Brevo
Quick & easy installation, 500 free impressions/month, fully customizable design and display settings, live performance tracking.