There's a lot of buzz around AI right now. The emergence of generative AI means unparalleled opportunities for businesses to build more effective campaigns and earn a higher return on investment. As such, adoption is growing at an unprecedented rate.
In 2019, the American Marketing Association reported a 27% increase in AI usage from 18 months prior. Next, in 2023, we saw ChatGPT gain 100 million users in the first two months after its release.
As the numbers show, businesses are eager to use it. The question is, how can marketing teams harness AI effectively and efficiently as it continues to evolve?
Read on for AI use cases & best practices, and a preview of what's coming up in our webinar, "Revolutionizing Marketing – Harnessing the Power of AI".
How will AI benefit marketing?
Machine learning is not a new tool for businesses. But new ways of using AI together with traditional methods offer marketers a full and detailed view of the customer journey.
Segment audiences with precision
AI can process and analyze enormous amounts of data from various sources. The result is super-refined client profiles and highly specific micro-segments within a contact database. This opens the door for marketers to more effectively target their audience with campaigns.
The only thing is, we don't have an army of marketers to create content for this quantity of unique segments and profiles. That's where generative AI comes in and where all the recent hype around this technology is coming from.
Deliver hyper-personalized content
Alongside providing insight into your contacts, AI can create and enhance content. AI finds patterns in a contact's interests and behaviors and can change content to match these preferences.
For example, Amazon tracks customer purchases and makes personalized product recommendations the next time they're browsing. These recommendations are also shown to other customers in the same segment. That's how the "see what others who purchased this item bought" section works.
A study by The Relevancy Group and Return Path shows that this kind of hyper-personalized campaign can increase monthly revenue by up to 41%. These findings align with McKinsey & Company's Next in Personalization 2021 Report, which found that 71% of people want more personalized communication.
The Brevo AI Assistant helps our users cater to these demands and deliver personalized experiences. By using contact data and persuasive selling techniques, the Brevo assistant writes email subject lines that stand out to subscribers in their inboxes.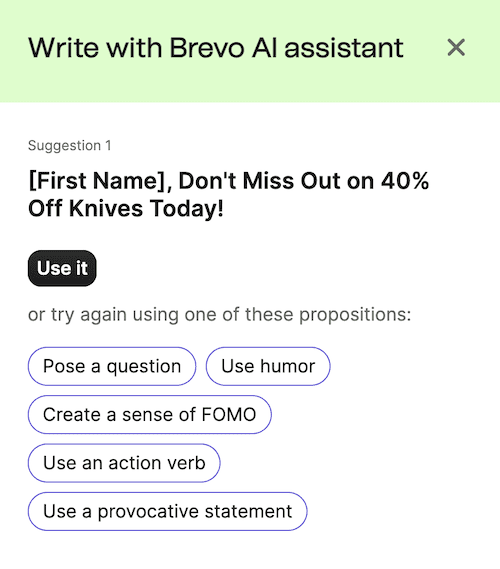 Subject line generation using the Brevo AI Assistant
Nurture the customer journey
Understanding the customer journey is the biggest challenge for marketers. Every prospect's customer journey is very different from someone else's. Some people need to talk to a sales representative, and others need to read a review or follow a link from social media.
Again, AI to the rescue. By identifying patterns in customer behavior, AI can predict what message someone needs to receive, on what channel, and at what time. That is how powerful AI analysis is.
Brevo is a great example of this. By tracking when contacts open emails, Brevo knows the optimal send time for each contact. It discovers their individual behavioral patterns. This means marketers don't need to spend hours looking at data or researching the best time of day to send an email — Brevo does it for you.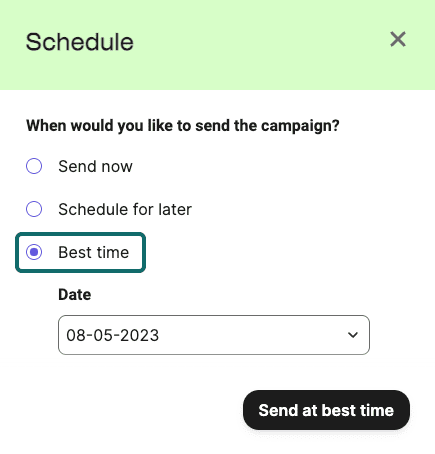 Brevo's send time optimization feature
How to successfully use AI for continued growth
Be strategic
As AI solutions develop, they will become expensive. Data, storage, prompts — everything will cost money. Businesses are using AI for a little bit of everything, but learning to refine your use cases will help you keep costs under control and grow sustainably in the long run.
What data is unique to your core business and what will help drive ROI? The answer to these questions determines when to use off-the-shelf AI solutions and plugins, and when to develop your own Jarvis, Hal, or Harry.
Encourage AI adoption
As the use cases for AI grow, having AI-proficient teams is essential. Encourage your team to try new AI tools. The more tech-savvy your team is, the more strategic they can be with AI.
And the sooner your teams start becoming familiar with AI, the easier it will be down the road for your business to grow.
Don't wait to get started. You don't want to be walking when everyone else is running."

– Isabelle Guis, Global CMO & CEO North America at Brevo