Reading time about 11 min

Newsletters are an essential part of most Shopify promotion strategies. They drive first-time sales, upsell, cross-sell, and create lifelong customers. To do it all for your business, you need a reliable Shopify newsletter app.
Read on to find the nine best newsletter plugins we shortlisted to compare, and choose the one for your business.
Newsletters on Shopify
To send a newsletter to your Shopify audience, you need to connect your Shopify account to an email marketing plugin. A lot of platforms offer one-click integrations with Shopify so you don't need any coding skills to get started.
Once you've connected an email plugin to your Shopify store, you can set up email marketing campaigns and automation workflows right in your Shopify account or your email service provider's interface.
What you're able to achieve totally depend on the functionality of your chosen platform, but ideally, you should be able to:
Create good-looking email newsletters — it's easiest with a drag-and-drop builder
Collect opt-ins to grow your Shopify mailing list
Dynamically personalize messages
Send transactional messages
Segment contacts
Build automated email sequences like Shopify abandoned cart emails
A/B test email campaigns
Measure campaign performance in real time
This is the baseline to make sure your ecommerce email marketing is up to par with the competition. Now, let's look at the best Shopify newsletter plugins that will give you those must-have email marketing features.
Side Note: Does Shopify send transactional messages to your customers?
Shopify is able to send default transactional emails and SMS messages to your customers. These include:
Welcome emails
Order confirmation emails
Order cancelation emails
Refund emails
Shipping updates
Abandoned checkout emails
Password reset emails
Account activation emails
Shopify Plus users can deactivate all types of transactional emails except for password resets and account activations.
If you're not a Shopify Plus user, you can't cancel those messages. But you can modify them with Shopify's HTML email editor. To send more engaging transactional emails, you can change Shopify's default messages to generic 'Thank you' notes and set up personalized, colorful follow-up emails with your third-party email app.
Shopify Newsletter Plugins Compared
| | | | | | |
| --- | --- | --- | --- | --- | --- |
| Shopify newsletter plugin | Free plan | Plans start at | Marketing automation | SMTP | SMS |
| Brevo | 300 emails/day | $25/20,000 emails/mo Unlimited contact storage | Yes | Yes | Yes |
| Shopify Email | 10,000 emails/month | $1/1,000 emails | Yes | No | No |
| Email Marketing by CM Commerce | Free to install | $9/5,000 emails/500 contacts/month | Yes | No | No |
| Seguno | Up to 250 contacts | $10/1,000 contacts/month | Yes | No | No |
| Omnisend | 500 emails/month to 250 contacts | $16/6,000 emails/500 contacts/month | Yes | No | Yes |
| Klaviyo | Up to 250 contacts & 50 SMS contacts | $20/500 contacts/month | Yes | No | Yes |
| Privy | Up to 100 contacts | $15/250 contacts/month + Unlimited email sending | Yes | No | Yes |
| Amplified | Free to install | $29/month + Unlimited emails | Yes | No | Yes |
| Promo.ai | Free to install | $5/300 emails/month | No | No | No |
1. Brevo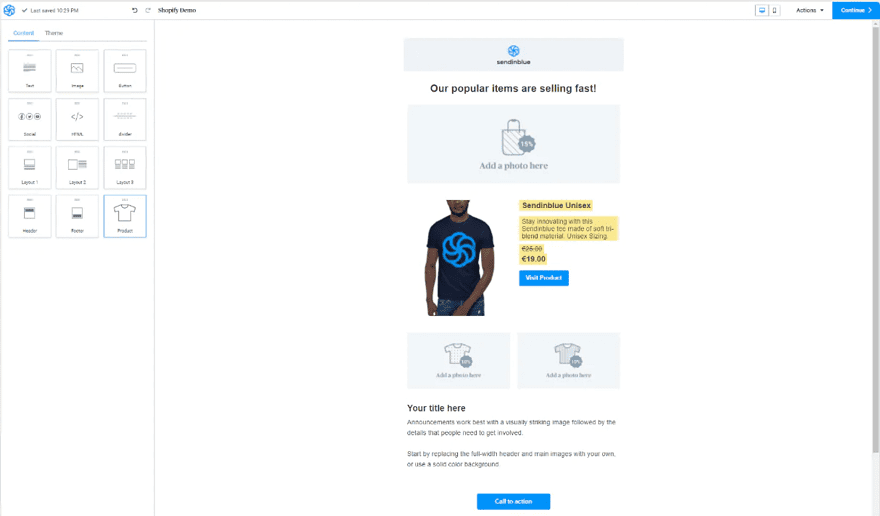 Brevo is an all-in-one marketing platform for small businesses. It offers email marketing, transactional SMTP service, and multichannel tools such as live chat, push notifications, landing pages, SMS, and WhatsApp.
Brevo's Shopify newsletter plugin is perfect for ecommerce marketers. It integrates seamlessly, enabling you to run any kind of campaign with branded and personalized emails. And most importantly, connect with your subscribers thanks to beautiful newsletters.
The plugin synchronizes your Shopify opt-in contacts and their purchase data with your Brevo account, allowing you to:
Send engaging newsletters
Grow your email list with customizable subscription forms
Set up double opt-in emails
Send custom Shopify transactional emails via professional SMTP
Reach your Shopify customers with SMS messages (marketing & transactional)
Create any kinds of automated workflows (abandoned cart automation included)
Analyze your email performance in real time
Support your customers 24/7 via live chat and chatbots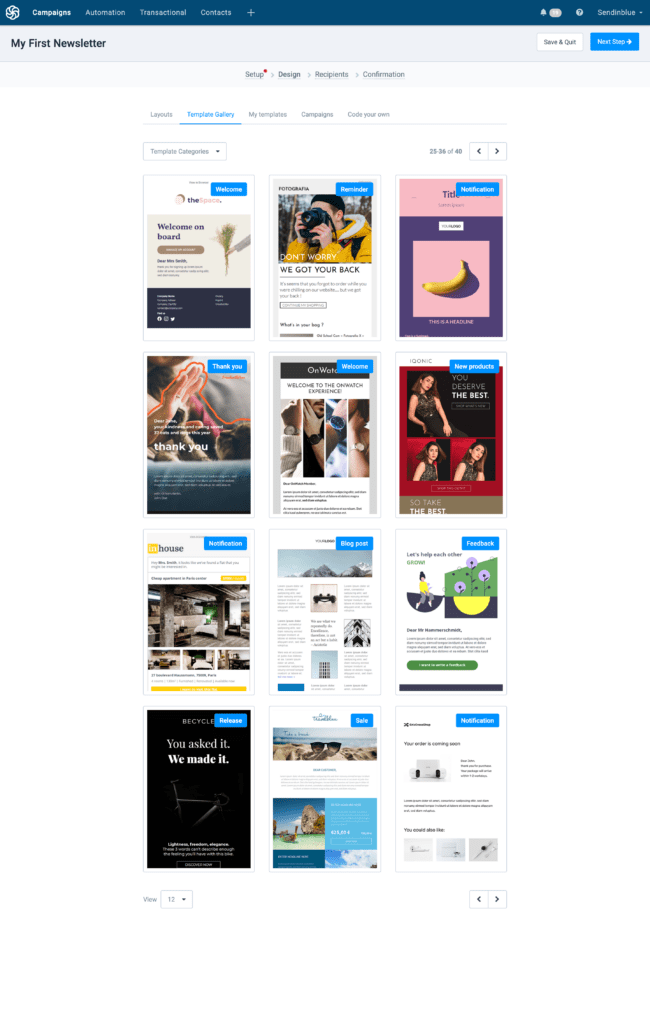 Brevo's newsletter templates library with ready to use email designs
Why choose Brevo over other Shopify newsletter apps:
Easy to install and set up
One of very few Shopify plugins offering SMTP email server
Offers unlimited contact storage, free of charge
Ready newsletter templates available to use
Automation templates also ready to be used or customized
Includes marketing automation features and a sales CRM system (completely free)
Supports SMS sending and WhatsApp campaigns
All tools are integrated and work together seamlessly
Brevo pricing
Brevo's Shopify newsletter app is free. Sending 300 emails/day and unlimited contact storage are also free forever. That means you don't have to pay for a growing email list on any plan! 
Must-have features, like a full email marketing suite, dynamic personalization, transactional email and SMS, and advanced audience segmentation are available even on the free plan.
Pricing starts at $25/month for 20,000 email sends.
2. Shopify Email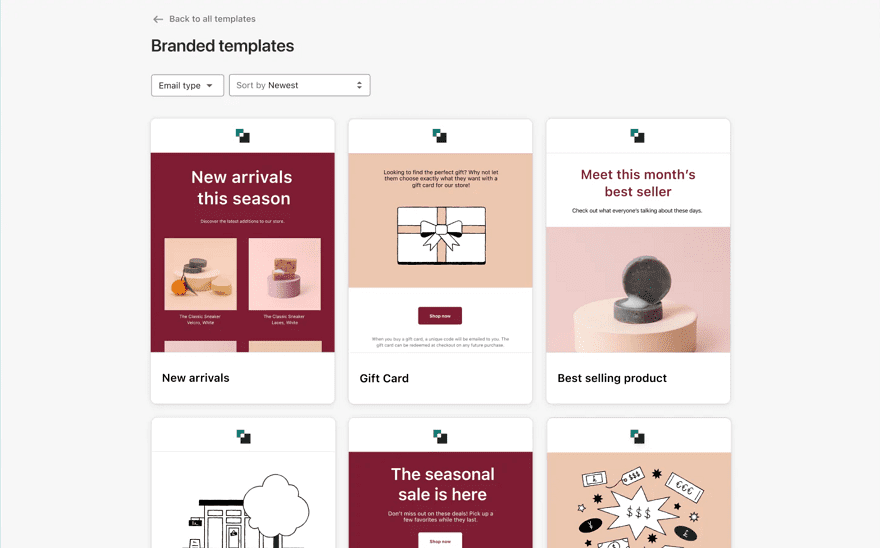 Shopify Email is Shopify's native email marketing tool. Although the platform doesn't have a built-in mass email sending feature, it offers a plugin to compensate.
The app is perfect for small ecommerce brands that don't need complex marketing features. It offers a very basic email marketing toolkit, including:
Branded email templates
Ecommerce automation workflows
Personalized messages
List segmentation
Note: Shopify Email doesn't include subscription forms, meaning that you should either use the default templates available from your theme or add another third-party tool.
Shopify Email pricing
Shopify Email has a commitment-free pricing model. Users can send up to 10,000 free automated or manual emails every month. Every additional bunch of 1,000 emails costs $1. The plugin is available on all Shopify plans.
3. Email Marketing by CM Commerce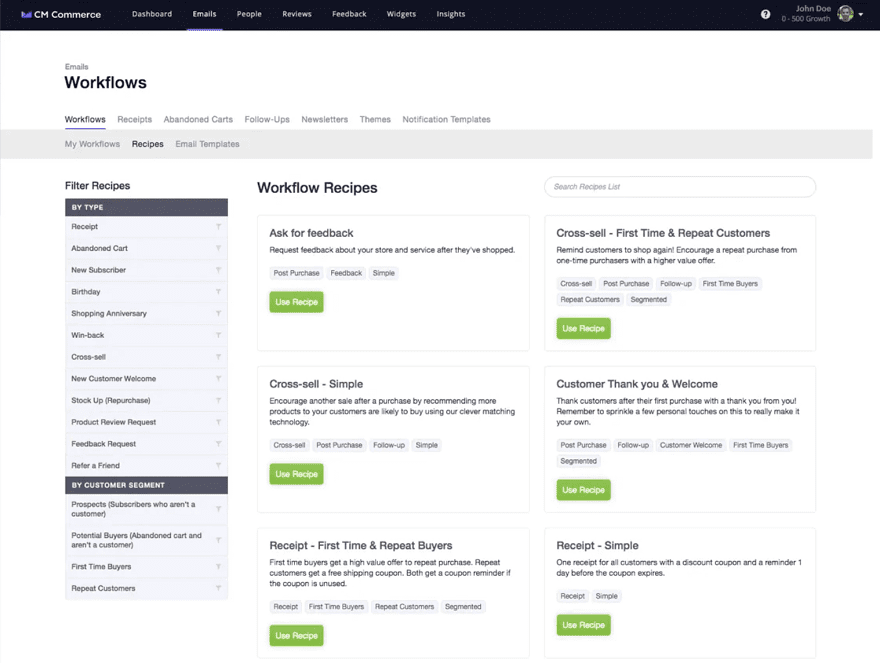 Email Marketing by CM Commerce is an ecommerce email automation platform with a Shopify integration. The plugin lets you send all kinds of emails:
Email newsletters
Cart abandonment emails
Cross-sell messages
Personalized receipts
Behavior-based emails
Alongside email marketing features, the plugin offers popups to capture new subscribers as they browse your Shopify store.
What makes it a good Shopify newsletter app:
It's affordable for ecommerce brands with small mailing lists
It offers customer feedback surveys to collect product reviews and add social proof to your landing pages
Email Marketing by CM Commerce pricing
Although Email Marketing by CM Commerce is free to install, you need to upgrade to a paid plan to start sending newsletter campaigns. The plugin's pricing starts at $9/month for up to 5,000 emails sent to 500 contacts.
4. Seguno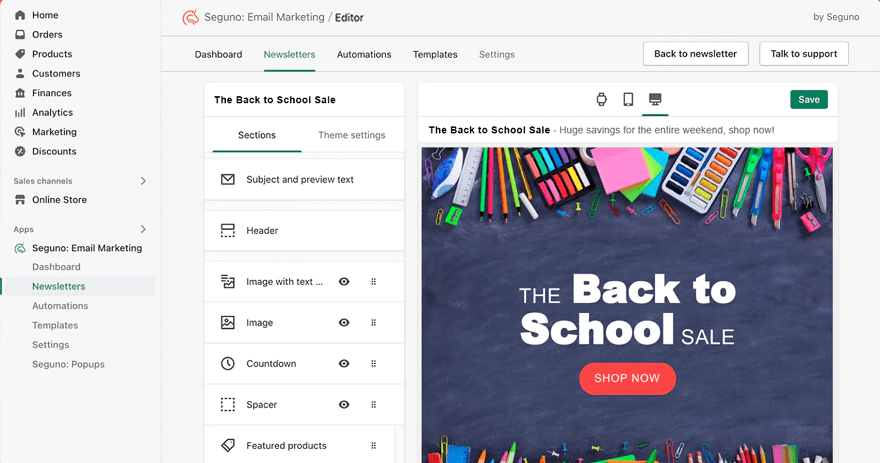 Seguno is an email marketing app built exclusively for Shopify. It covers a range of features, from basic newsletters to multi-email automation workflows.
In the app, you'll access:
Customizable newsletter templates
Facebook lead syncing
Library of pre-built automation sequences
Product review request emails
Detailed conversion reports
What makes it a good Shopify newsletter app:
It's built exclusively for Shopify
It integrates with Canva to help you design better-looking ecommerce emails
It allows you to manage campaigns directly in the Shopify admin
Seguno pricing
The Seguno plugin is free if your mailing list doesn't exceed 250 subscribers. Single-email automation workflows and newsletters are included. To email a bigger contact list and access more advanced features, you'll need a paid plan starting at $10/month for 1,000 subscribers.
5. Omnisend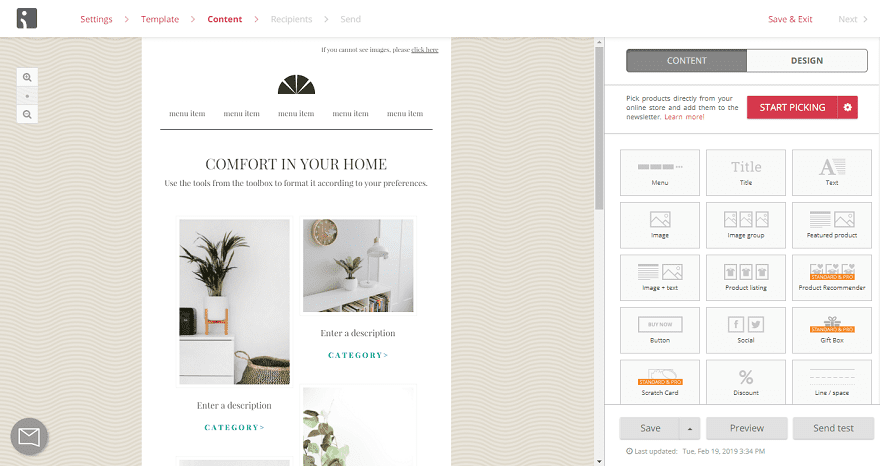 Omnisend, an ecommerce platform, offers a full Shopify integration with all ecommerce features:
Newsletter templates
Pre-built multichannel automations
Automated customer feedback emails
SMS marketing and push notifications
Campaign performance reports
Audience sync for Facebook and Google ads
Omnisend pricing
Omnisend's plugin is free for up to 500 emails sent to 250 contacts per month. While you can reach only a limited number of contacts on the free plan, the contact list size is unlimited on all plans. The free plan also includes up to 60 SMS/month.
Paid plans begin at $16/month with a sending limit of 6,000 emails to 500 contacts.
6. Klaviyo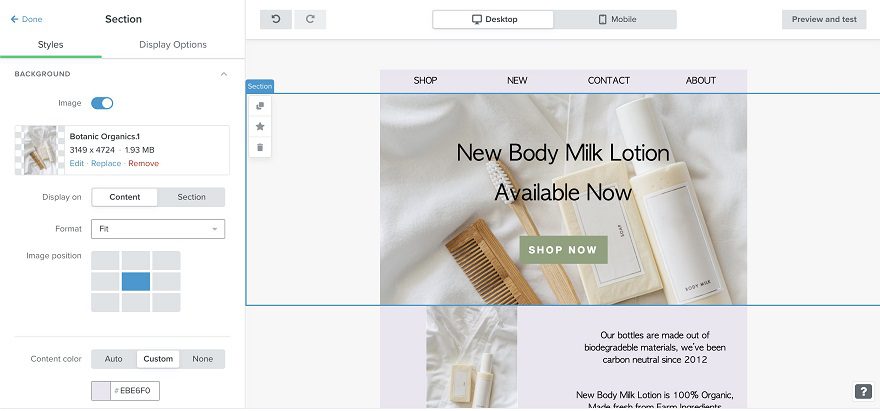 Another newsletter app with an one-click Shopify integration is Klaviyo. If offers:
List growth tools, including pop-ups, fly-outs, and embedded forms
Behavior-based list segmentation
Automated emails (price drop alerts, cart reminders, etc.)
Personalized product recommendations
A/B testing
SMS marketing
Campaign reporting
Klaviyo pricing
Klaviyo's free plan includes up to 500 emails and 150 SMS credits per month. Paid plans start at $20/month and cover up to 5,000 monthly emails and 500 contacts.
Klaviyo's prices are tied to your contact list size. So even though you get access to all features on any plan, including the free one, it gets pricey fast for growing brands. If that doesn't fit your budget, discover more Klaviyo alternatives here.
7. Privy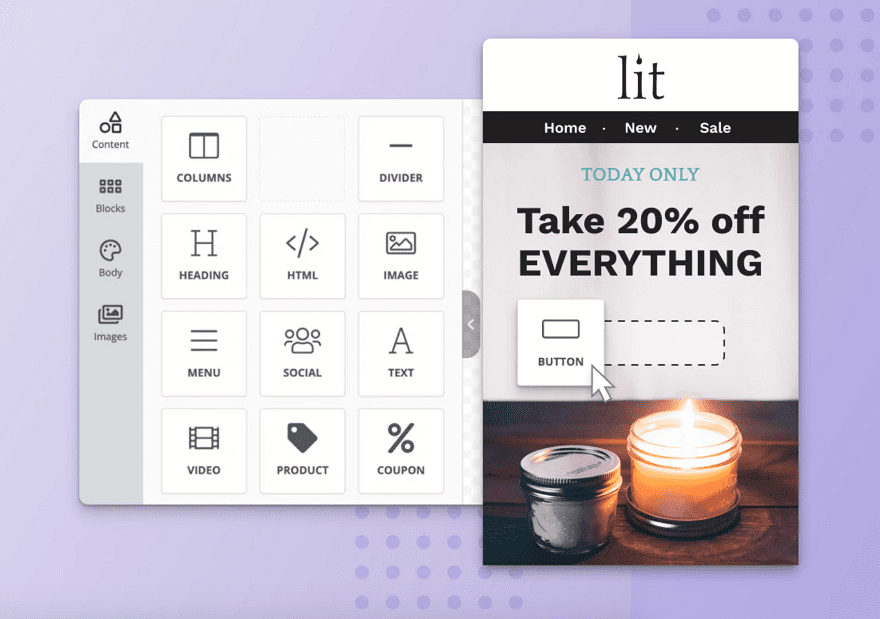 Privy is the most reviewed Shopify newsletter app. It's very popular among solopreneurs who need assistance with their first steps into email marketing.
Privy helps Shopify merchants with the following:
Exit intent popup templates
Countdown timers
Spin-to-win wheels
Custom coupon codes
SMS marketing
Abandoned cart emails
Post-purchase sequences
Privy pricing
With Privy's Shopify newsletter app, you can create your first subscription forms and reach 100 contacts for free. To increase credits and access email automation, you'll need to upgrade to a paid plan, starting at $15/month.
8. Amplified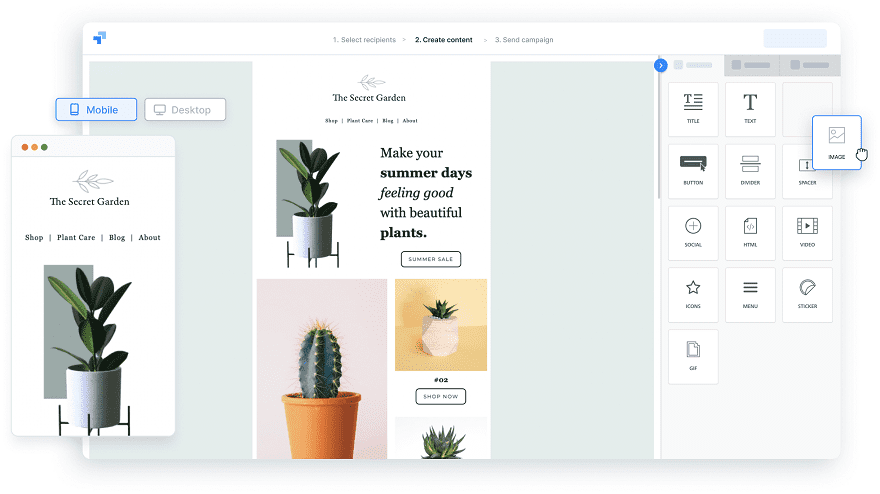 Amplified is another newsletter app built exclusively for Shopify. It gives you most email marketing features, including:
Email and SMS templates
Automated flows
Customized audience segments
Amplified pricing
Amplified is free to install. To generate leads on scale and send unlimited automated emails, you need a paid plan, starting at $29/month. SMS marketing is included only in the Pro plan which starts at $99/month.
9. Newsletters by Promo.ai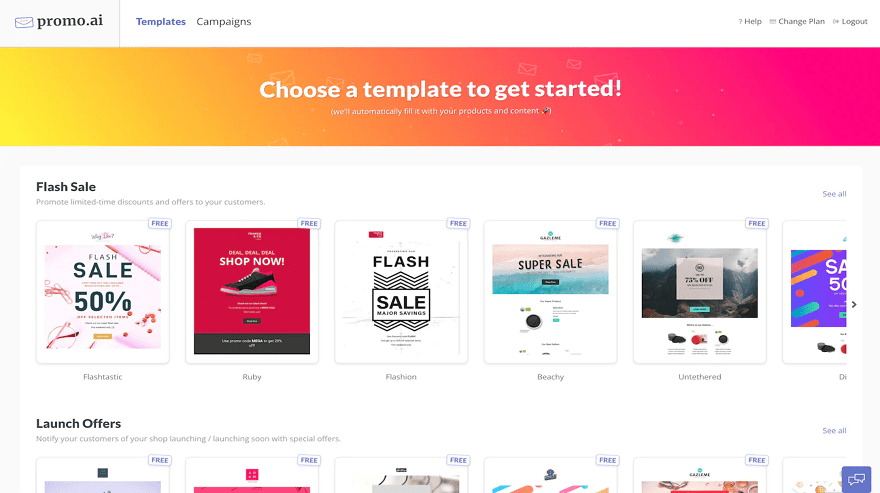 Newsletters by Promo.ai is a Shopify email app that simply lets you design and send mass emails. It's a very basic tool for Shopify merchants who don't need marketing automation features.
Promo.ai's Shopify newsletter plugin offers ecommerce solopreneurs a wide range of email templates for every occasion.
Promo.ai pricing
Designing and downloading newsletters (in case you want to send your emails with another platform) is free. Paid plans start at $5/month for up to 300 monthly emails. Yet it doesn't get too expensive if you're a power sender — 30,000 emails will cost you $21/month.
What's the Best Shopify Newsletter App?
Your Shopify newsletter app is a cornerstone of your customer relationship management. It's best to choose an all-in-one platform that combines all the must-have email marketing features in one interface.
Jumpstart your Shopify email strategy with Brevo
Free plan includes access to all core email features, 300 emails/day, 40+ email templates, and customizable signup forms to grow your email list.