Looking for ways to increase blog traffic? RSS emails are highly effective in driving visitors to your latest blog posts and website updates. Stay tuned to learn how RSS to email works and how to set up your own RSS campaigns with Brevo's free RSS to email service.
You spend hours drafting and editing a new blog post. You finally hit publish…and then crickets. Nobody reads it.
Most bloggers know this feeling only too well.
That's why it's important to have a number of tactics up your sleeve to promote your blog posts.
If you've read our guide to email marketing for bloggers, you'll know how useful an email newsletter can be to increase blog readership. But what if you could send an automatic email update every time a new post goes live?
RSS emails let you do just that. Let's take a look at how RSS campaigns work and why you should use them.
What is an RSS to email campaign?
RSS emails are automatic email updates sent to subscribers whenever new content is published on a website.
RSS to email is often used by bloggers to alert their subscribers to new blog posts.
With Brevo (formerly Sendinblue) you can set up a recurring RSS campaign on a weekly/monthly basis or choose to send a new email as soon as a new content is added to your RSS feed. 
Advantages of RSS emails for bloggers
The obvious advantage of RSS campaigns is the ability to send notifications straight to your subscribers' inboxes when a new blog post is published. This, of course, increases the chances of the post being read.
Email is a powerful direct line of communication.
With the evolution of permission-based email marketing, the inbox has come to represent a curated, personal space. People don't give their email address to just anyone anymore.
If someone signs up to your email list, it's because they're genuinely interested in your content. What's great about RSS emails is that you're sending a blog post notification to an already engaged audience.
The other advantage of recurring RSS campaigns is that they're automated. Set it, forget it, then sit back and watch the traffic roll in.
Sounds like a sweet deal, right? Let's take a look at how to set up RSS emails.
How to set up RSS to email campaigns with Brevo (ex Sendinblue)
Step 1: Connect Brevo's email marketing platform to your blog RSS feed.
Once on the platform, go to the Plugins & Integrations tab and select RSS Campaign from the Integrations menu.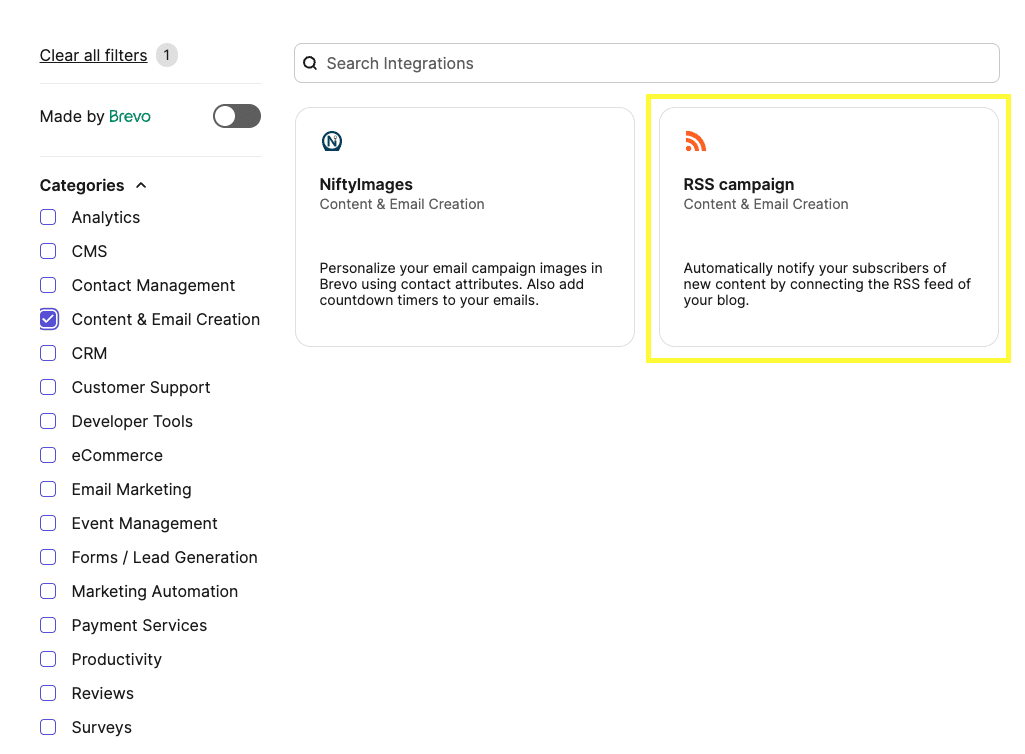 Don't have a Brevo account? Sign up for free to try out Brevo's free RSS to email service.
Jumpstart your blog email strategy with Brevo (ex Sendinblue)
Free plan includes access to all core email features, 300 emails/day, 40+ email templates, and customizable signup forms to grow your blog email list.
Step 2: Give your integration a name so you can easily refer to it later.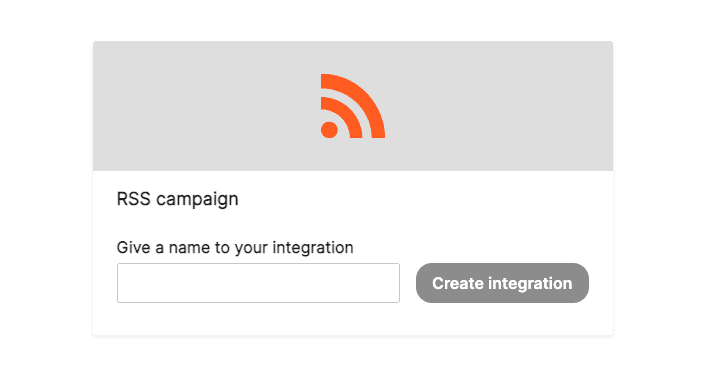 The next thing we'll do is connect your RSS feed URL.
(If you already know how RSS feeds work and have this URL at hand, skip ahead to step 3)
What is an RSS feed?
RSS stands for Really Simple Syndication. It's a web feed to which people can subscribe and receive updates without having to visit the actual site.
An RSS feed is created using XML code. The XML document is a script that contains the main information about your blog posts (e.g. description, date, author, category).
This XML code is fetched and read by an RSS feed reader or news aggregation app.
Feedly is one of the biggest and most popular RSS feed readers used today. Here's a snapshot of its user interface: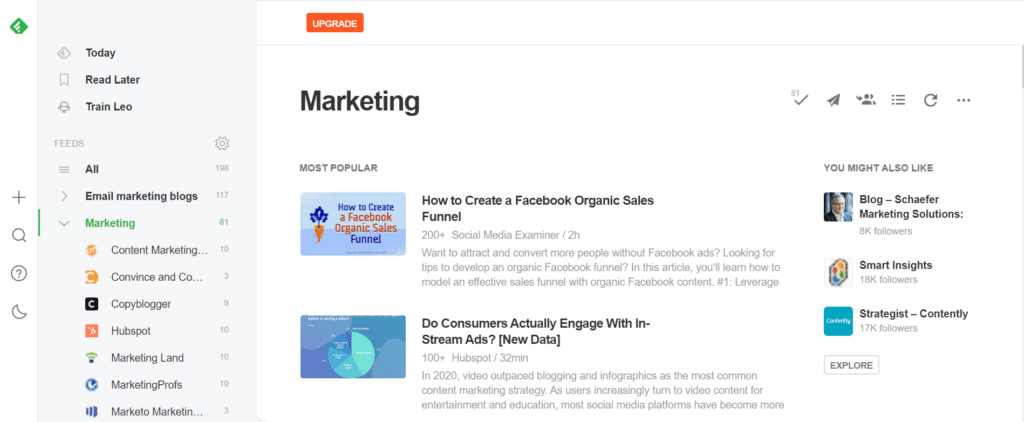 Wait, people still read RSS feeds in 2020?!
Yes, and in growing numbers according to blogger Max Böck in his article 'The Return of the 90s Web'.
RSS feed readers like Google Reader were huge back in the early days of the internet. Once relied upon to aggregate a person's favorite content and news sites, they were largely replaced by social media news feeds.
But when you think about why RSS feeds are making a comeback, it makes perfect sense.
Social media algorithms are leaving users frustrated. The algorithms decide which content to show and the result is often a cluttered mishmash of personal, press and advertising content.
For many, RSS is a way to take back control of the news feed and create an organized reading experience.
All the more reason to set up an RSS feed for your blog!
How to create an RSS feed for a blog
The good news is that WordPress sites and most blog software come with a built-in RSS feed so you won't have much to do. At most, you'll be asked to enable the RSS feed.
If your website is powered by WordPress you can view the RSS feed by simply adding /feed/ to the end of the website's URL.
Example: https://WebsiteName.com/feed/
Failing that, you have two more options:
You can code the RSS feed yourself (this video explains how)
Use a third party RSS feed creator like Google Feedburner or FeedforAll
So, now that your RSS feed is set up, let's get back to the business of setting up your RSS emails.
Step 3: Connect your blog RSS feed to Brevo
Enter the RSS feed URL. Hit the Load RSS feed button and then Continue.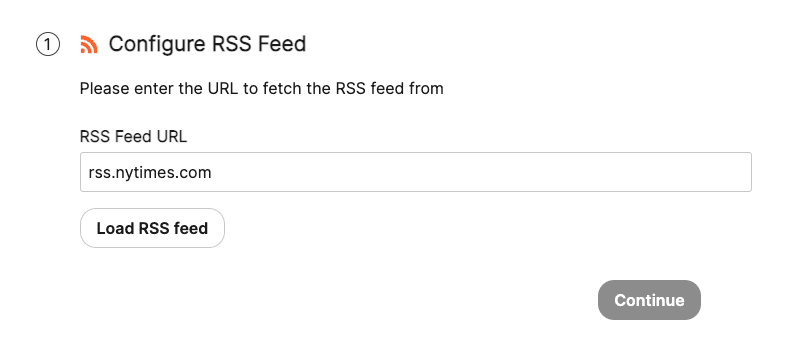 If the URL is valid, you'll be able to see the pre-formatted tag names from the RSS feed.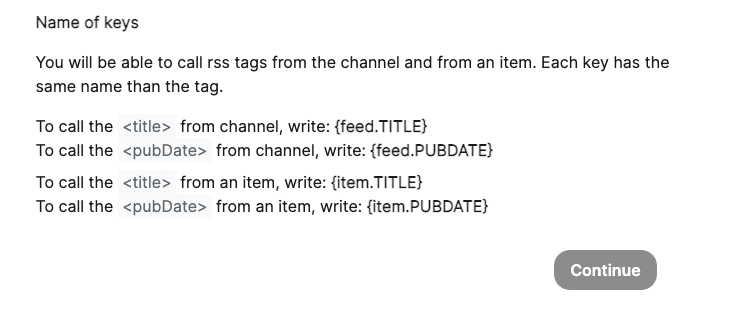 Step 4: Design your RSS email template
When it comes to RSS email templates, you have two options:
Use Brevo's default RSS template
Customize your own template from scratch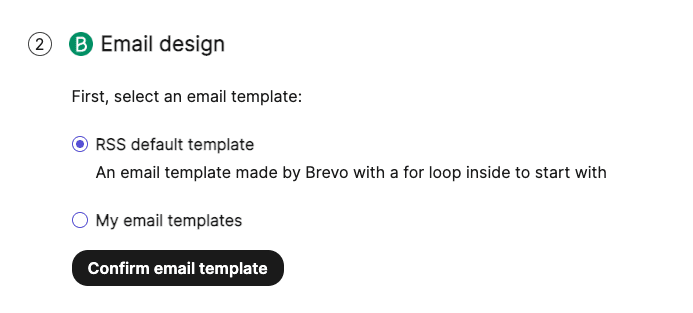 If you're new to RSS emails, it's best to use the default template as it contains the default RSS content (i.e. the dynamic list option and loop parameter is already set up).
The dynamic list option lets you add placeholders to email campaigns for a list of items that will be automatically generated.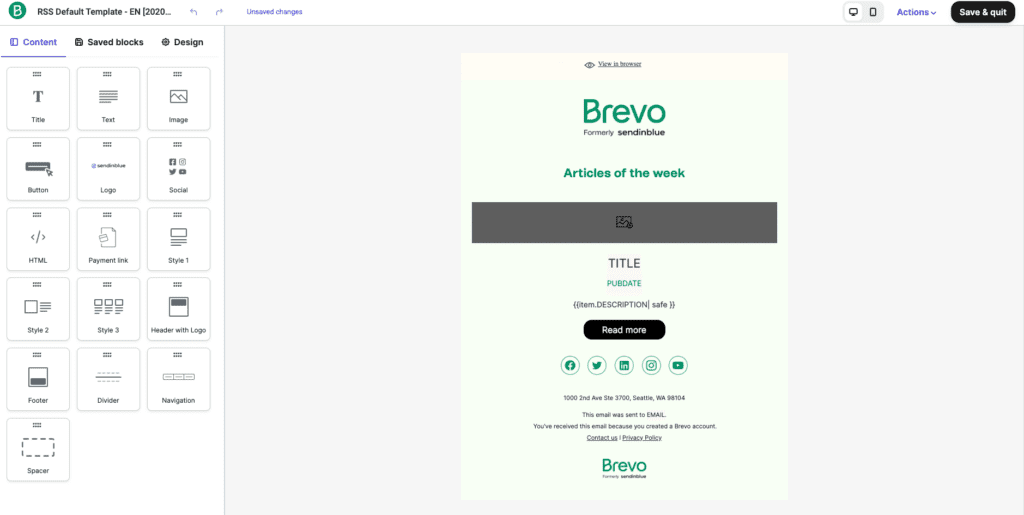 For information on how to customize your RSS email using tags, See our help center article.
Step 5: Select the list of recipients to receive your RSS campaign
How to drive visitors to your blog with automatic RSS emails
Click To Tweet
Step 6: Choose how often to send RSS emails
You can choose to send automatic RSS campaigns weekly, monthly, or every time a new blog post is published (for this last option, just select all the days of the week).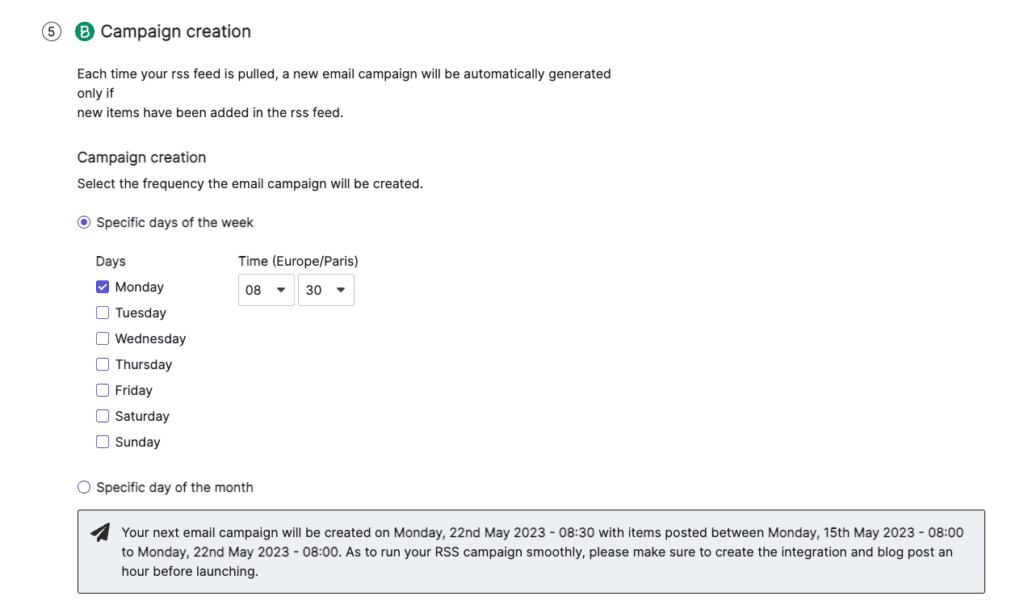 Important: Remember to specify on your email signup form how often a subscriber will receive blog updates from you.
Increase blog traffic with RSS emails
And there you have it, an easy-to-implement tactic to drive readers to your blog.
Combine RSS emails with some of these blog promotion tactics to maximize the reach.
Happy sending!