We've all done it: opened, scrolled, and swiped left without hesitation. And no, I'm not talking about your dating apps, I'm talking about your email inbox. Deleting spam from the inbox has become more and more of a daily ritual for many email users.
This has made it harder for businesses to figure out how to send bulk email campaigns that stand out among the deluge of work, personal, marketing, and spam emails in a potential customer's inbox. To compete with all of this noise, some email marketers resort to purchasing lists, sending too frequently, or using clickbait subject lines. But these tactics will turn you into the exact thing with which you're competing — a spammer.
How to Send Bulk Email Without Spamming
If you want to cut through the clutter and not resort to spam tactics, you'll need to focus on three main areas to get noticed:
Frequency
Content and Design
Keeping a customer's perspective
Businesses need to design their email newsletters to be less intimidating and more approachable. By optimizing bulk email campaign content for your customers instead of your sales objective, you can avoid looking like a spammer and send more engaging emails.
In this article, you will learn more about how to create awesome email campaigns with consumers in mind so that you're guaranteed to strike a chord with your customers and how to send bulk emails without getting blacklisted.
Frequency
Despite many email marketing gurus insisting on a set frequency, not all email campaigns are created equal.
For example, a promotional campaign's frequency could increase during the holidays, reminding your customers about specific deals. But, you wouldn't want to use that same campaign frequency for the rest of the year — that will put you on the fast track to your customer's spam box.
Email newsletters on the other hand, usually have a set frequency that your customers can depend on. If you're sending a newsletter, it's very important that you establish this frequency from the outset of your email marketing and communicate that to recipients so they know what to expect.
For promotional emails, try sending emails every two weeks. From there, monitor the results for each campaign type on this frequency and make adjustments accordingly to get the best engagement.
Be careful though! Sending campaigns too frequently can create a strong perceived pressure for your customers, which can be bad for you and your business down the line.
But, what exactly is perceived pressure?
According to a research paper published in the Journal of Business Research, perceived pressure is "the number of messages people think they receive […], rather than actual frequency."
This means that your customers might feel like they're being bombarded by too many emails without you even realizing. You want to avoid this at all costs or you might risk having your customers unsubscribe, or worse, send you to spam.
To illustrate this point, take a look at this SmartInsights email survey in which 45.8% of the participants said "they [were] emailed too often".
Small businesses need to understand that in today's digital marketing landscape, consumers are hypersensitive to spam.
To counteract that sensitivity, you should try implementing the following:
Choose a schedule that compliments your other marketing channels to prevent exhausting your consumers with too much messaging. Check out the best times to send emails.
Align frequency of your campaigns to your purchase cycle
Test different sending frequencies for different email list segments to find the best results for each group of customers
When you've picked the best tips that work for your business, be sure to look at your previous campaign metrics and tweak your future campaigns based on the data you think is relevant.
As long as you're mindful of customer perceptions, you can avoid adding too much perceived pressure in your campaigns.
Content and design
First impressions are everything — especially in email.
Email content should always be authentic, sincere, and empathetic. By putting the needs of your customer before your desired outcome, your customers will be more receptive to your campaigns.
Know your audience
Write content that is tailored to the needs of your target consumer. If your campaign targets busy parents buying for children, write content that is to the point and saves them time.
To help you write more targeted content, you can use personalization tactics like adding their name in the email. But, the more effective strategy would be to segment your audience based on their interests, preferences, or any other relevant dimensions.
You can even do this for a newsletter. If you write content on multiple topics, you can segment your audience based on their interests in specific topics and promote different content to each audience.
Grab your customer's attention with the subject line
Subject lines are the number one way to get customers to open your email. But, you can't just create click-bait email subject lines either.
We all know the feeling of finding unwanted emails with bad subject lines and sending them to the spam box — it's not great for the business or the consumer. That's why you need to write subject lines that get straight to the point.
If you need some examples, check out this article containing the best email subject lines.
Keep the design simple
I still remember my marketing professors wise words, "K.I.S.S: Keep It Simple Silly." This advice is especially relevant to email marketing.
The best approach to designing a campaign is likely going to be the simplest one. Here is an example of a design from our library of email templates: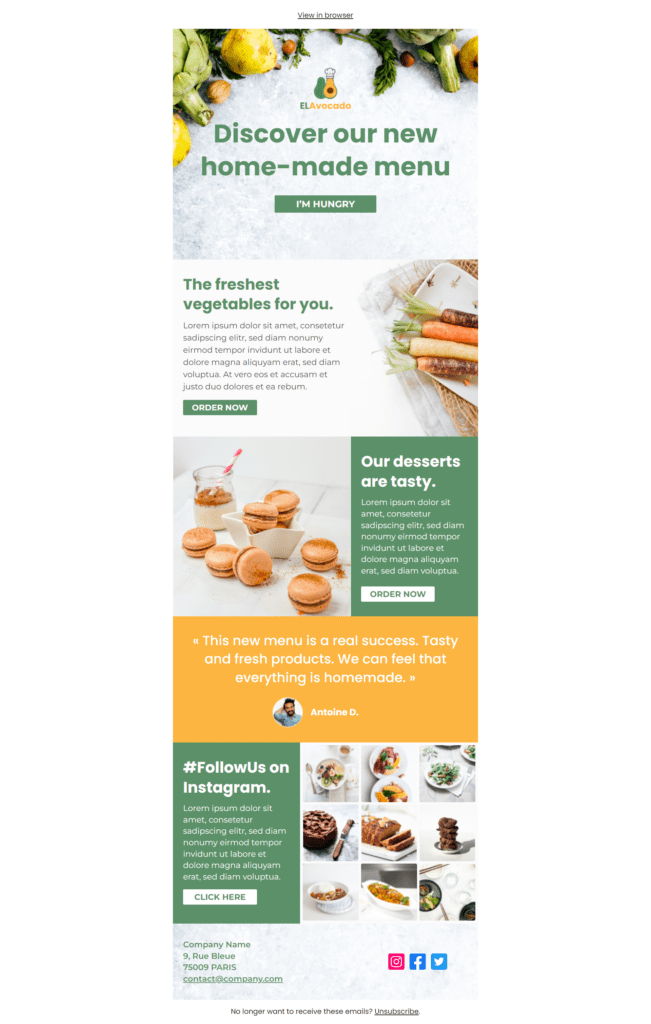 You risk sensory overload if you have marketing content that's packed with too much information or too many calls to action. Alleviate the burden by putting information behind links and minimize your CTA buttons.
Make sure your emails are responsive
One of the biggest mistakes that businesses make is failing to account for how readers consume emails. Your email needs to have a responsive design to service various devices that your consumer may use to read the campaign emails.
Here at Brevo, we make it easy for you to create responsive emails with our easy-to-use email design tool and library of email templates. The best part of this editor is that it requires no background in HTML or CSS to use.
So remember, stick to the basics with impressionable content, K.I.S.S, and responsive design.
Consumer's Perspective on Email Marketing
Receiving too many e-mail advertisements from a business can put any consumer in a state of irritation.
Flooding customers with emails places too much pressure on them. This pressure can make consumers uncomfortable and lead them to unsubscribe, or worse, report your emails as spam.
Be proactive when constructing your campaign with these tips:
Structure campaigns to focus on your clients that are going to receive the email, not the product you're trying to sell
Create a clear goal and call-to-action workflow for each campaign that results in your desired consumer behavior
Give consumers options on the frequency and timing of the emails they receive from your company
Check to make sure your campaign content reflects the level of trust and quality your customers expect from your company
Considering the recipient's perspective can provide you with the right insight to create effective email marketing campaigns that are valuable to your consumers.
Stop Spamming, Start Engaging
Now that you know how to send email campaigns without looking like a spammer in the eyes of your customers, it's time to start sending!
Remember:
Frequency — Dictate your frequency towards your customers data, look at your open, close and bounce rates and make changes as you start campaigns
Content and Design — Keep It Simple Silly — content needs to be responsive in design, and If you can, introduce any social media call to action to promote your channels. This helps appeal to customers who haven't followed you on other platforms
Customer's Perspective — Consider putting yourself in the shoes of your customers, look through your content and ask yourself if your campaign's content is receptive for your audience
Jumpstart your email strategy with Brevo
Free plan includes access to all core email features, 300 emails/day, 40+ email templates, and customizable signup forms to grow your blog email list.