A virtual phone number makes it easier for small businesses to connect with their customers.
With a business phone number, you can provide a personal and accessible customer service that leads to loyalty.
The right virtual business phone number can also help you increase flexible working options, save money, connect to other business tools, and even scale your business.
Here's everything you need to know about virtual phone numbers and choosing the right one for your small business.
What is a virtual phone number?
A virtual phone number is a telephone number that is linked to a virtual phone system. 
Types of virtual phone numbers
Toll-free numbers
Small businesses can get a toll-free number with the right service provider. Toll-free numbers are identified by three-digit codes like (888) or (800). They're the most accessible option as your callers won't pay any calling fees.
Vanity numbers
A vanity number is a number that is custom-made to stand out. For example, if you own a flower business, you might want one that looks like this: 1-800-FLOWERS. It's purely for branding purposes.
Local phone numbers
If you want to reach a certain community and build trust on a regional market, then a local area code is a great solution.
A familiar-looking number can reinforce your local origins where your business is from, or it can open the doors to local presence in new markets.
International phone numbers
An international business number is an ideal option if you have international locations, employees, or customers. It'll make your business more accessible as callers won't have to worry about international calling rates.
The business phone system matters
How is it related to getting a virtual phone number? The type of business phone system you choose will determine the types of telephone numbers available to you. 
There are three types of phone services and only one makes it possible to get a business virtual phone number.
1. Landline phone systems
Landlines are the most popular, old-fashioned ways to make phone calls. If you have an existing phone at home, it's most likely a landline. Landline phones need physical copper telephone wires to transmit the signal and only a telephone company can install them. So if there's no coverage where you are, that's that.
On top of that, the device needs to be connected to a plug in the wall, limiting its range. This means you can use a landline only in the office space but nowhere else. This limits both your mobility, and flexible working options.
Because of this, landlines and the traditional phone numbers associated with them aren't a great solution for most small businesses.
2. Mobile devices
Small business owners are often tempted to use a cell phone and their personal number for business purposes. However, mobile devices cannot support your SMB as because they're tied to SIM cards. This can lead to phone communication pitfalls such as:
Mixing personal and business calls during business hours
Creating a phone communication bottleneck
Dealing with inconsistent call logs and customer information
Missing key functionalities like call transferring or call recordings
A mobile device is convenient and affordable, but it ultimately is not a good small business phone system.
3. Virtual phone systems (VoIP)
A virtual phone system, also known as a VoIP system, is the perfect solution for small businesses. VoIP systems transmit and receive voice signals over the internet rather than over old-fashioned telephone wires.
Because VoIP solutions can be accessed from your mobile device or computer, you and your team can make and receive phone calls from anywhere with an internet connection.
That also means you don't have to spend money on expensive hardware as your existing devices can connect to your business phone system.
VoIP phones don't tie you down with copper phone lines or create a bottleneck by being associated with a single device.
If you use a virtual phone system, your telephone number becomes a virtual phone number.
Key benefits of a small business virtual phone number
Grow your business
Improve your business communication and increase customer satisfaction with a virtual phone number. It encourages incoming calls because it's approachable and accessible.
You can further increase customer satisfaction with other virtual phone functionalities like CRM integrations, conditional call forwarding, and even SMS text messaging. 
Be more flexible
A virtual phone number enables you to offer more remote and flexible working options even as a small business. That's because your virtual phone number can be accessed from anywhere.
With a strong internet connection, your team can work your virtual phone from iOS and Android apps, their desktop or laptop devices.
Save money
It's easier to manage costs with VoIP solutions. VoIP providers typically charge per user per month, giving you a clear pricing structure. You'll only be charged for what you use, so you can scale up and down as necessary.
Plus, Brevo Phone offers a free virtual number to get started!
Scale your efforts
Virtual business phone numbers don't just offer scalable pricing. Your VoIP system can be accessed on multiple devices and adding more as needed. Not only that, but you don't have to to install new hardware and software as your team grows. New members can access your phone system on existing devices.
Integrate with other business tools
Since virtual phone systems are cloud-based solutions, they can help improve other business processes through smart integrations.
Keep your contact information consistent and up-to-date by integrating your phone solution, sales platform, email marketing services, and more. All your team members will be on the same page and your customers will be happier.
How to get a free virtual phone number
It's easy to get a free virtual phone number with Brevo Phone.
Brevo Phone's key capabilities include:
Choose the perfect number
The possibilities are endless with local, international, and toll-free options to select from. You can even port in your existing number!
Access the ultimate marketing hub
Connect your virtual phone system to your other essential marketing tools to keep all your customer information up-to-date and in one place.
Unlock advanced features
Take advantage of call routing, voicemail transcriptions, and more features designed to maximize productivity and efficiency.
Never miss a call with mobile apps
Access your virtual phone number wherever you are through iOS and Android mobile apps.
Sign up for Brevo Phone. You will be led through a guided onboarding to set up your account. One of the first steps is to get a virtual business phone number. 
To get a virtual telephone number, go to your Brevo Phone page and click on "Phone Numbers" in the menu bar. From there you can choose between getting a new number or porting your existing one into Brevo Phone. 
From there, you can select different country codes, local area codes, or even toll-free numbers. Choose the perfect number for your business needs. 
After you've selected a number, you can get started configuring other virtual phone features such as a welcome message, voicemail, call forwarding, and much more.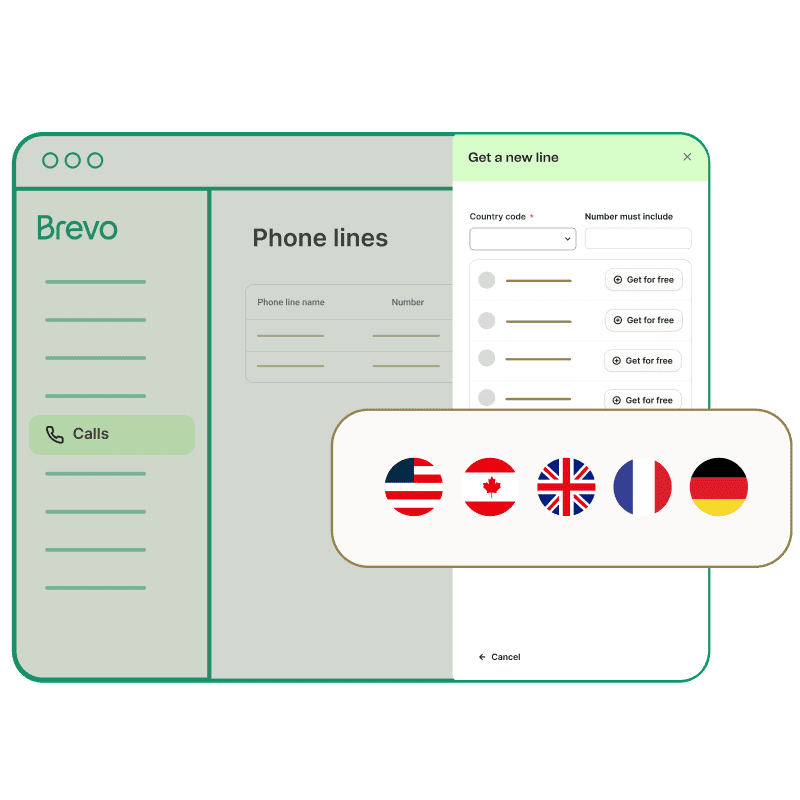 Ready to get your virtual phone number?
We hope this guide helps you find the perfect virtual phone number for your small business.
Get started with a virtual phone number in a matter of minutes with Brevo Phone.
Brevo offers all the sales tools you need to drive revenue and deliver seamless customer experiences. Track deals, book meetings, make phone calls, and collect payments — manage the entire sales cycle and all your contact data in one place with Brevo.
30% off Sales and Phone Plans until October 31st
Use the code BREVOLAUNCH23 to get 30% off Sales & Phone plans for your first 6 months. Don't miss your chance to save on Brevo's easy-to-use sales tools — Sales Platform, Meetings, Phone, and more.