The all-new, interactive email marketing course from Brevo Academy is live!
The popular email marketing program by Brevo Academy has been updated to meet the latest marketing trends — along with a brand new design.
Email marketing is an essential tool for many businesses. It allows for direct and personalized communication with your contacts without a significant upfront investment. In the face of the rise of social networks, email remains an effective and profitable solution for increasing the visibility of your brand and sharing important information with your customers. But to succeed, you need to know the right techniques and the most effective marketing strategies.
The newly launched email marketing course is available on Brevo Academy today at no cost. It's 100% free. This training program is fun and uniquely engaging. It covers core email marketing skills through interactive modules and practical tutorials on the Brevo marketing platform, as told by captivating video lessons based on real-life use cases.
The new content is accessible to beginners and experts alike, and provides internationally recognized certification upon completion, as well as a 30% discount on Brevo marketing plans.
Why Is Email Marketing Important?
ROI for ecommerce email marketing campaigns average an astounding 4400%.
Do you want to grow your business quickly and efficiently?
Email is still one of the most powerful and cost-effective channels for reaching and retaining your customers. Digital marketing is critical for sustained growth in an internet savvy world.
The benefits of email are diverse: it facilitates cost-effective, responsive and personalized communications. It's also very easy to track customer behavior and measure email campaign effectiveness, allowing you to continually refine your strategy and optimize results. It is therefore essential to master the techniques and tools of email marketing to get the best results.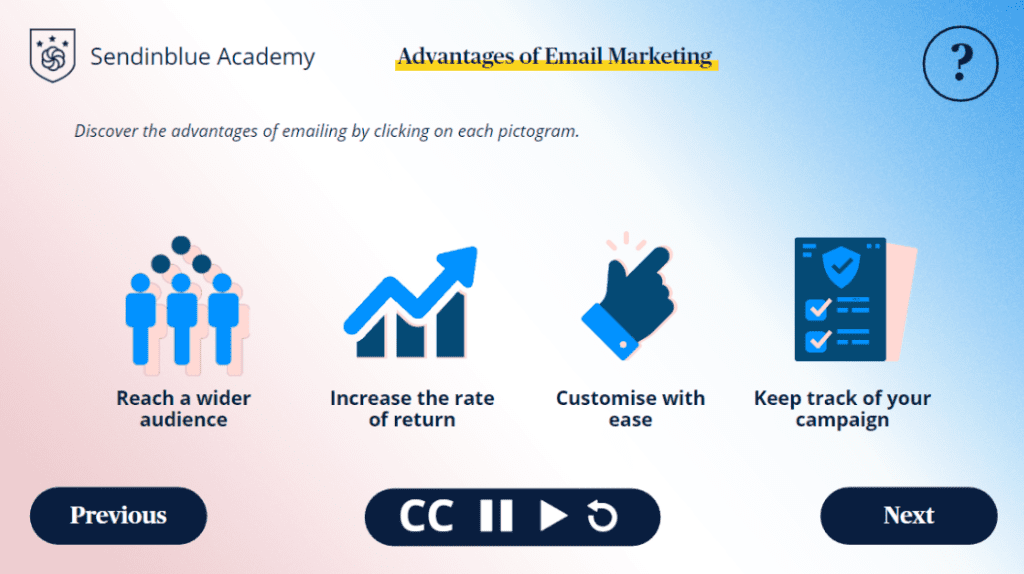 But the benefits of email marketing do not stop there. Emails are an excellent way to communicate with your customers and keep them informed of news and promotional offers even when compared to social media.
Rediscover the value of email marketing today, head over to Brevo Academy to get started.
Become an email marketing expert – join Brevo Academy
Rediscover the value of email marketing today, head over to Brevo Academy to get started.
Why Learn Email Marketing With Brevo?
The digital email marketing training from Brevo Academy is a simple and effective way to master the various aspects of email marketing. It is free and accessible at all levels. It consists of 8 interactive, fun, and accessible modules 24/7.
Through the adventures of Tom, marketer at Fish Rapido, Lucy, manager of the online floral shop Rosepink, and Sofia, manager of Mob'Shoes, discover with practical cases all our expert tips on email marketing. Here is an outline of what you can expect to learn in this training program:
Essential basics for successful emails
Choosing the best email solution for your business
GDPR: Protect your data and optimize your email campaigns
Efficiently managing your email contact lists
Our tips for creating sign-up forms that convert
Measure the success of your email campaigns with reporting
Boost your KPIs with simple and effective techniques
Best practices for testing your emails with A/B testing
All modules are gamified, which means they include game-like elements to make the experience more engaging through the use of playful mechanisms: points, rewards, and challenges to motivate you to achieve your goals. Many practical tutorials are focused on business outcomes as well. You will learn to apply what you learned with Brevo to start seeing immediate results in your business or career.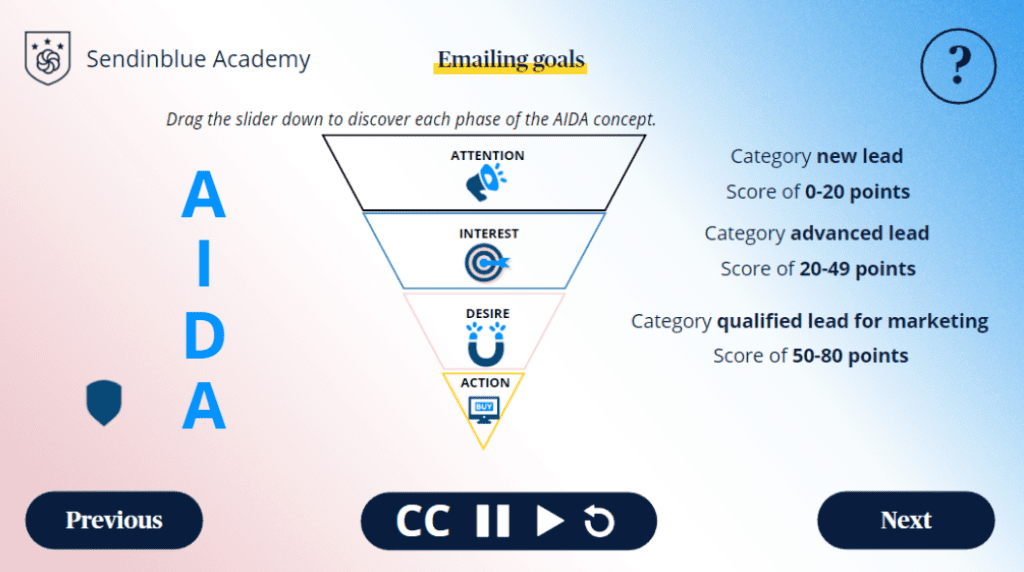 You can follow these modules in the order that suits you best, and it is not necessary to complete all of them to obtain the certification.
Feel free to ask questions and share your thoughts directly on the academy platform. A team of experienced trainers is always available to answer any questions related to your training.
How do I obtain the Brevo email marketing certification?
Once the online training is completed, you will be able to put into practice what you have learned and optimize your marketing strategy. You can retake individual modules or the whole course, and when you're ready, take the final exam and earn an internationally recognized certification by achieving more than 70% success in the final quiz.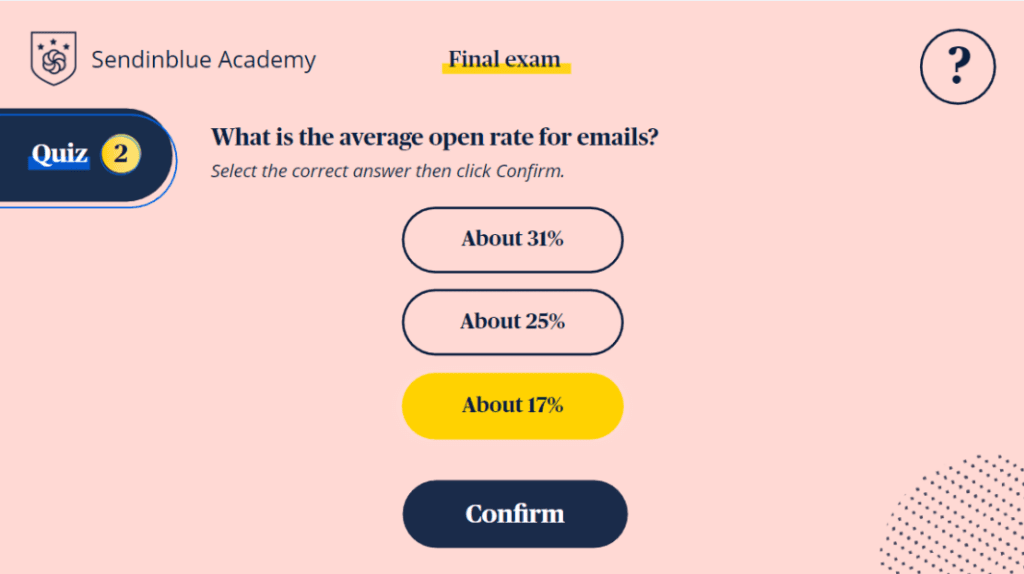 Make your resume standout and get recognized for your expertise by sharing the course completion certificate with your social network network. This official recognition of your skills demonstrates your commitment and expertise in the field of digital marketing.
Don't miss this opportunity to showcase your in-depth knowledge of email marketing and boost your career!
As a bonus, a 30% discount on Brevo's annual marketing plans will be available with your certification.
TLDR: The digital email marketing training from Brevo Academy is a great opportunity to become an expert in email marketing! Thanks to its 8 interactive modules, it offers a complete overview of the techniques and tools necessary to develop your business and achieve impressive results. It is an easy-to-follow, free training accessible at all levels. Once the modules are completed, you will receive recognized certification and a discount code!
So, what are you waiting for? Visit Brevo Academy to discover all it has to offer!