Reading time about 14 min

Your ecommerce email marketing strategy is a key part of your business. It will help you achieve a number of things, including keeping in touch with your loyal customers, updating them on their order information, and generating more sales.
Email is still one of the most important marketing channels out there, but it's doubly important for ecommerce businesses who need to touch base with their customers regularly about shipping information, order confirmations, and other transactional details.
It's the glue that holds your business together, creating an enjoyable customer experience and building trust with your buyers.
Once put in place, your email marketing for ecommerce can help you consistently improve and grow your business over time.
Related: What is Ecommerce Marketing?
What's involved in ecommerce email marketing?
An ecommerce email strategy is slightly different to a normal email strategy because you not only have the usual promotional emails, you also have your transactional emails – that's things like order confirmations, delivery notifications, and receipts of payment. 
Promotional emails are used to let subscribers know about offers, share your latest product lines, and generally keep in touch with them. Neither type of email is more important than the other; instead, they should work together to create a solid strategy that both nurtures sales and meets customer needs.
The difference between promotional and transactional emails
Promotional emails (sometimes called email newsletters) are pre-planned campaigns that go out to your email subscribers. These are people who have opted in to receive emails from you via a signup form.
There are two integral parts to a promotional email campaign:
An opt-in form so you can collect email addresses;
The actual email marketing campaigns that you send to your subscribers.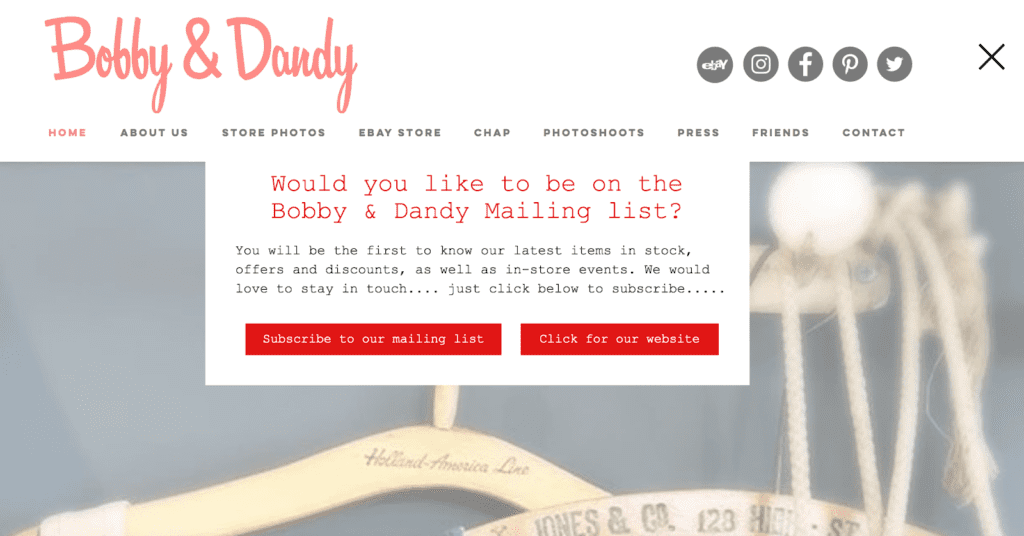 Bobby & Dandy's antique store invites visitors to their site to sign up to their email list.
Promotional emails are a way for retailers to keep in touch with existing customers outside of their purchases. You can use them to share discounts, launch your latest product lines, and share stories about your business to build deeper customer relationships.
Transactional emails are a little more rigid.
They are emails that are automatically sent following a transaction on your ecommerce website, regardless of whether the recipient is an email subscriber or not. These emails are essential for maintaining customer relationships as buyers expect to receive a notification when they've purchased online. Transactional emails also enjoy a higher open rate because they contain vital order information.
Why transactional emails are so important
Imagine you've just spent a weeks' worth of wages on a pair of shoes. You've handed over your card details and clicked the big "buy now" button, and then… crickets. You don't get a confirmation email. You don't even get redirected to a "thanks!" page.
You'd start to panic, right? Have they taken the money? Did they receive your order? What happens next?
Transactional emails relieve these worries that online buyers inevitably have (after all, it can be scary making a purchase online). They inform new customers about their order at every step of the journey, from confirmation of payment, to dispatch information and delivery details.
Emails such as these are often sent using a separate sender and email IP address to promotional emails because it's really important they land in the recipient's inbox and not their Spam or Promotions folder. Here's a really in-depth guide to transactional emails that'll answer your questions about what exactly they include and why they're so essential.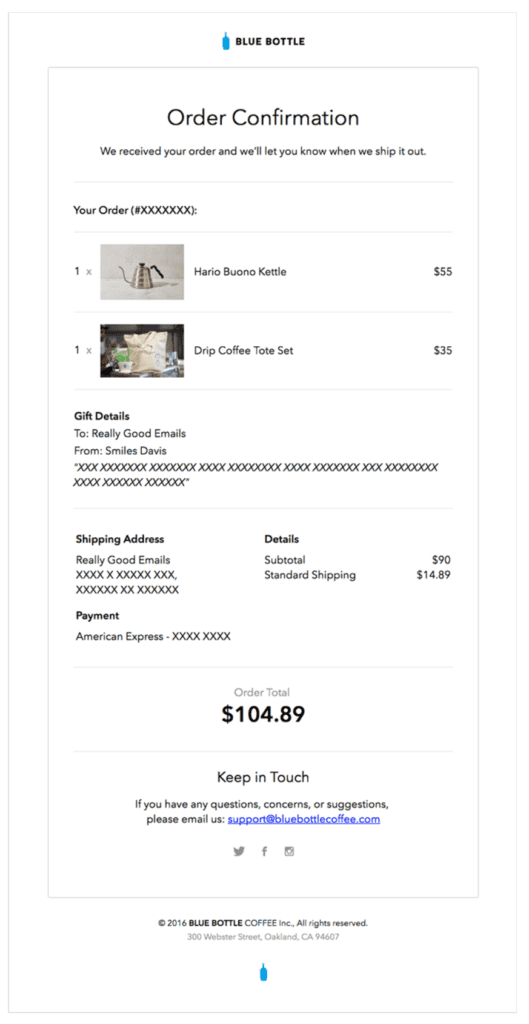 An example of an order confirmation email sent by Blue Bottle Coffee (source)
Our No.1 Ecommerce Email Marketing Tip: Choose an email marketing service that caters for both promotional and transactional emails.
Trying to manage your promotional and transactional emails separately can be a real headache, especially if you're using different platforms for each one. You might be forced to use different designs, losing the consistent branding of your emails.
You can make your ecommerce email marketing far more cohesive by choosing an ecommerce email marketing software that lets you set up and manage both your promotional and transactional email campaigns from the same place.
Brevo lets you do exactly this. With a collection of handy ecommerce email plugins that integrate with most ecommerce platforms, you can build a strategy that is easy to manage and better serves your customers. 
How to create a promotional email strategy
We spoke about the two key parts of an ecommerce email strategy before: your signup form and your emails. These are the elements that will, first of all, get potential customers onto your email list and then, secondly, allow you to interact with them.
Just keep in mind that GDPR is very important for your European clients and if they unsubscribe from your emails, you should respect that and stop emailing them. More info here.
Step 1: Create a signup form
Start by creating an email signup form – most email marketing services provide this option, which you can customize to reflect your branding and add in specific text boxes. You can even edit the button text so that it doesn't just say "subscribe" (because that's not very enticing at all).
Once you've designed your signup form, place it in visible spots around your ecommerce site. Popular locations include:
Somewhere on your homepage
In the sidebar
In the footer of your website
On product pages
On its own dedicated signup page
At the bottom of blog posts or news articles
In a pop-up on any of the pages above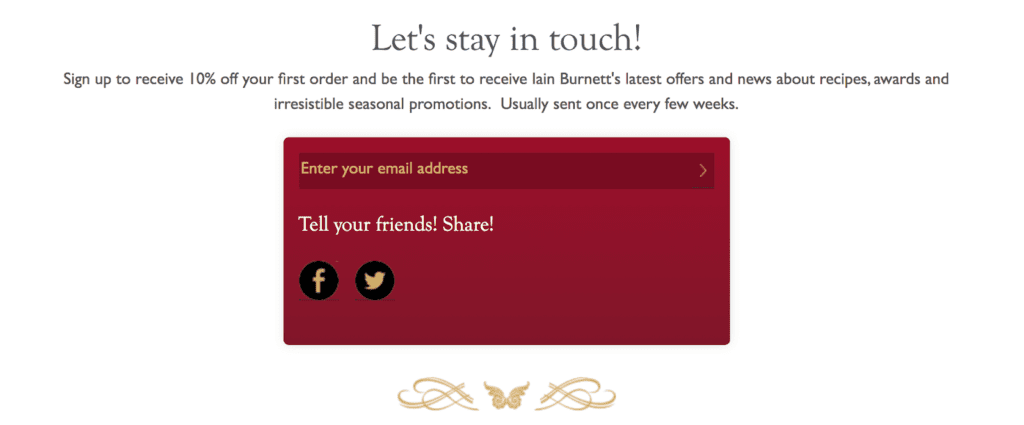 Highland Chocolatier has various forms around their site where visitors can subscribe to the mailing list.
Step 2: Design email templates
Next, pre-design your email templates so you can quickly send emails as and when you want to. This means you won't have to design your emails from scratch every time and can instead choose a template to work from.
Design email templates that use your brand logo and colors that can be used for different campaigns as well as your newsletter.
Most email services like Brevo have customizable templates or drag and drop email editors so you don't have to have any coding skills to get started. You can also download templates from one of the many free email template sources.
Top tips for a successful ecommerce email marketing campaigns
Create a welcome sequence
A welcome email sequence automatically gets sent to new subscribers when they sign up. It's a series of emails that thank people for signing up, introduces them to your business, and outlines what they can expect from your emails.
You can include links to your social media and a CTA to follow you to encourage click-through and engagement.
Bakerista sends out a welcome email to new subscribers 
Automate emails at key touchpoints
Email automation is a lifesaver for busy ecommerce businesses. You can use your email service to send triggered emails when a customer takes (or doesn't take) a specific action. Because it's so timely and relevant, marketing automation scores the best conversion rate among ecommerce email marketing tactics.
For example, you can set up abandoned cart emails to go out when someone leaves your site without buying. Or you can send an automated winback email after a customer hasn't ordered anything for a set period of time you'd expect them to. Yet another idea is to send a VIP discount as a thank you when someone goes above a certain lifetime value.
You can do all this by installing the Brevo Tracker, which sends automated emails triggered by certain events on your site. 
Choose the right email frequency
How often will you keep in touch with your customers? You ideally want to find the balance between staying fresh in their minds and not showing up too often so that it's annoying.
You might choose to send out a weekly newsletter, or you might decide to only email your subscribers when you run promotions or launch new products. A/B testing can help you decide based on the reaction of your recipients.
These aren't the only types of email you can send. Try experimenting by sending reviews, customer stories, or sneak peeks behind-the-scenes. Content marketing will spice up your routine emails and get more people to read them.
Plan ahead
Email marketing for ecommerce that gets results is planned well in advance. Mapping out key emails ahead of time means you won't end up scrabbling around trying to come up with something to send each week.
It really helps to jot down any seasonal events and promotions that are coming up, as well as new launches you have on the horizon so you can create campaigns for these in advance.
Segment your list
Segmenting your list is among email marketing best practices. For example, if your ecommerce store sells wine and cheese, you might have customers that are only interested in cheese and therefore get turned off when you send emails about wine.
Avoid turning off customers by creating lists of subscribers based on certain actions they've taken (like whether they've bought multiple products multiple times from you) or who like certain product lines. You can then send personalized emails that cater to their specific interests and needs. Your product recommendations would be much better targeted and you're likely to get more repeat customers.
How to Create a Strategy for Transactional Emails
Your transactional email strategy might take a little longer to set up than your promotional email strategy, but once it's set up it's ready to go time and time again.
Step 1: Use a dedicated service
By trying to run your transactional ecommerce email strategy without the help of a dedicated email service provider you're giving yourself far more work than you need to. You can always use the features available through the ecommerce platform your online store is hosted on, but the options on these can be very limited.
Instead, a specialist transactional email service like Brevo lets you track real-time analytics to make sure your emails are getting delivered and do optimization as needed. You can also personalize your email templates so they're on-brand and create a great, consistent customer experience. 
Step 2: Connect an email plugin to your ecommerce platform
Plugins are great tools for non-techies. It's a way to access the functionalities of an email service directly through your ecommerce platform and synchronize the two systems (particularly handy for managing your ecommerce email contacts).
Brevo has an email plugin available for most of the best known ecommerce platforms: WooCommerce, Wix, Shopify, Shopware, Magento, Prestashop, NopCommerce, and more. Check out the full list of Brevo email plugins for ecommerce.
To send transactional emails, you'll need to use Brevo's Transactional Email plans.
From here, you'll be able to synchronize orders, install the Brevo Tracker to trigger touchpoint-sensitive emails, and set up your transactional emails.
Top tips for a successful transactional email strategy
Customize your emails
It's a nice touch to use your brand colors, logo, and images of your products or brand in your transactional emails to make customers feel comfortable and ensure they remember you.
Upsell and cross-sell
Although the main aim of a transactional email is to pass information to your customers, you can still leverage them to increase sales. Upselling and cross-selling are common tactics in order confirmation emails or receipt of delivery emails.
For example, if someone has just bought a bouquet of flowers from you, they might need a vase to go with it. So why not suggest that to them?
Or if they've just bought a wheel of cheese, why not recommend your signature cheeseboard and cheese knife to go with it? A simple next-order discount coupon might make them come back sooner than expected.

Teespring shows other items customers bought in an attempt to upsell
Personalize your email copy
Make it feel like you're having a one-to-one conversation with customers by using their name in the email and adding in a dash of your businesses' personality. Even your subject lines can be more customized to match the recipient's interest, products bought, or just name. This can increase brand trust and help build deeper customer connections.
To learn more about personalizing your content, take a look at this article on newsletter best practices. (Tip #6 tells you how to offer your readers something unique.) ✨
Offer referral incentives
If someone has just made a purchase with you, there's a very high chance that they like your store and what you're selling. Leverage this by encouraging them to share it with their friends and family for a little reward – maybe offer them 10% off their next order, or throw in a small freebie with their purchase.
ZooShoo gives customers $10 in credit if they refer a friend
Consider the opportunities with every email
Your transactional emails are prime real estate because you know they're going to end up in your customer's inbox (unlike your promotional emails, which might accidentally sneak into Spam or Promotions folders).
Use this opportunity to encourage customer reviews, get feedback from buyers, and remind them of other products you have available.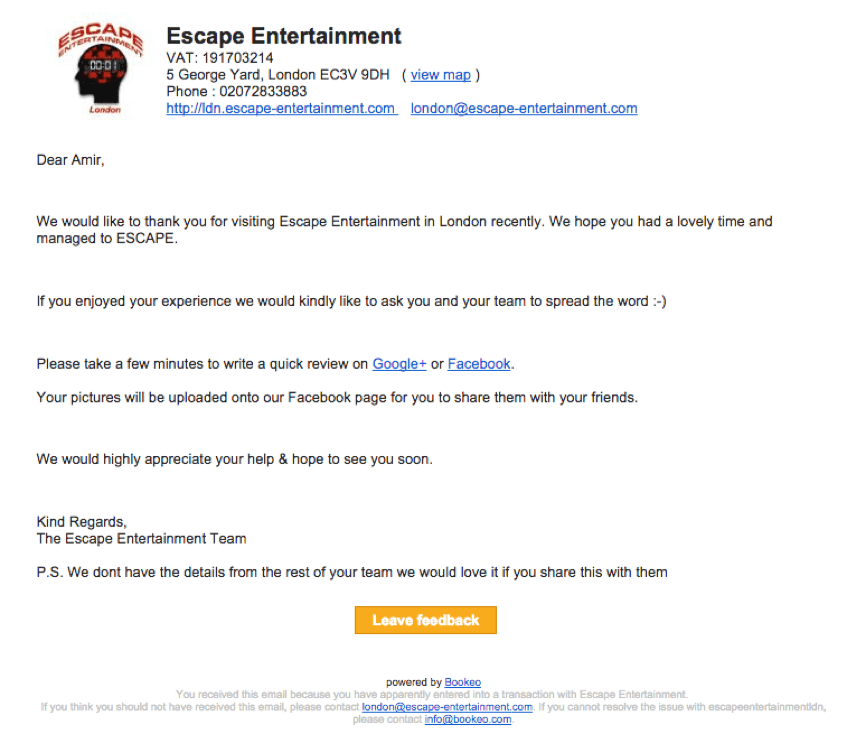 Escape Entertainment encourage their customers to leave reviews.
Start Planning Your Ecommerce Email Marketing Now
Your email marketing strategy is the key to staying connected with customers and ensuring they have a great experience with your business. If they do, they're far more likely to come back and become loyal customers that buy again and again.
Get started on your ecommerce email strategy now to creative effective promotional and transactional email campaigns that get more sales and build your business.
Jumpstart your ecommerce email strategy with Brevo
Free plan includes 300 emails/day, 40+ email templates, signup forms, automation, ecommerce analytics, and integrations with most ecom platforms.