Reading time about 11 min

As you leverage your ecommerce offering in response to COVID-19, perhaps you're beginning to consider the environmental implications of all those packages.
You've figured out how to build an ecommerce website, now you're looking at how to package up your orders in a way that won't destroy the planet.
In a 2018 survey, 81 percent of global respondents felt strongly that companies have a responsibility to the environment. Eco-packaging is a great place to prove your brand values to your customers as part of your ecommerce marketing strategy.
What is eco-friendly packaging?
Eco-friendly packaging is the best way to get your products to your customers' doorsteps in one piece without harming the environment.
According to the Sustainable Packaging Coalition, for packaging to be considered eco-friendly it must meet the following criteria:
Beneficial, safe, and healthy to people throughout its life-cycle
Fit for purpose in performance and cost
Consumes only renewable energy 
Made from renewable or recycled source materials
Uses clean technologies
Minimizes material and energy waste
Is part of a circular system of reuse
The benefits of eco-friendly packaging
If you're on the fence about eco-friendly packaging, here are some great reasons to make the switch.
1. Better for the planet
The primary benefit of eco-packaging: it's better for the planet. Your business will rack up fewer carbon emissions and less waste.
2. Better for people
Eco-friendly packaging is healthier for people too, from those that manufacture it through to your customers. They'll appreciate the fact you aren't sending nasty synthetic chemicals into their homes.
3. Build brand reputation
Your eco-friendly packaging will help you build a strong reputation. According to Nielsen, 73 per cent of global consumers would change their shopping habits to reduce their environmental impact. That kind of loyalty will earn you repeat orders, social media shares, and lifelong supporters.
4. Save money
Eco-friendly packaging is often cheaper to manufacture and you use less of it, making your accounts department happy.
5. Protective and sturdy
Environmentally friendly packaging options are often more sturdy, versatile and strong than their polluting cousins.
What eco-friendly packaging options exist?
There's a whole world of eco-friendly packaging ideas, depending on the type of products you sell, so it can feel a bit overwhelming.
Josh Prigge, sustainability expert and consultant says, "The most sustainable form of packaging could be different for different people, depending on the impact you're most concerned about."
Here's our ultimate guide to the best eco-friendly packaging options, including where to find them.
Minimized and optimized
Have you ever ordered a tiny product online and received it in an enormous box? Not only is it annoying, but it's also bad for the planet.
By lowering the volume and mass of your packaging in line with the product you're shipping, you're already taking steps towards a more green approach. (And spending less on shipping.)
If you sell oddly shaped items or items of varying sizes, software like Tops Pro and Cape Systems will help you optimize your packaging design to save money and protect the planet.
Recycled materials
By using recycled materials for your online packaging, you're removing existing waste from the system and avoiding the harmful production of brand new packing materials.
Cardboard
Recycled cardboard is a popular option as it's light yet strong and versatile. It's used to make boxes, envelopes, or even cushioning for fragile items.
Make sure your chosen packaging has approval from the Forest Stewardship Council. This guarantees the material came from responsibly managed forests.
Pakfactory ships globally and offers a range of cardboard boxes printed with your custom design. EcoEnclose in the US and Eco Packaging Solutions in the UK stock boxes, bags and cushioning options.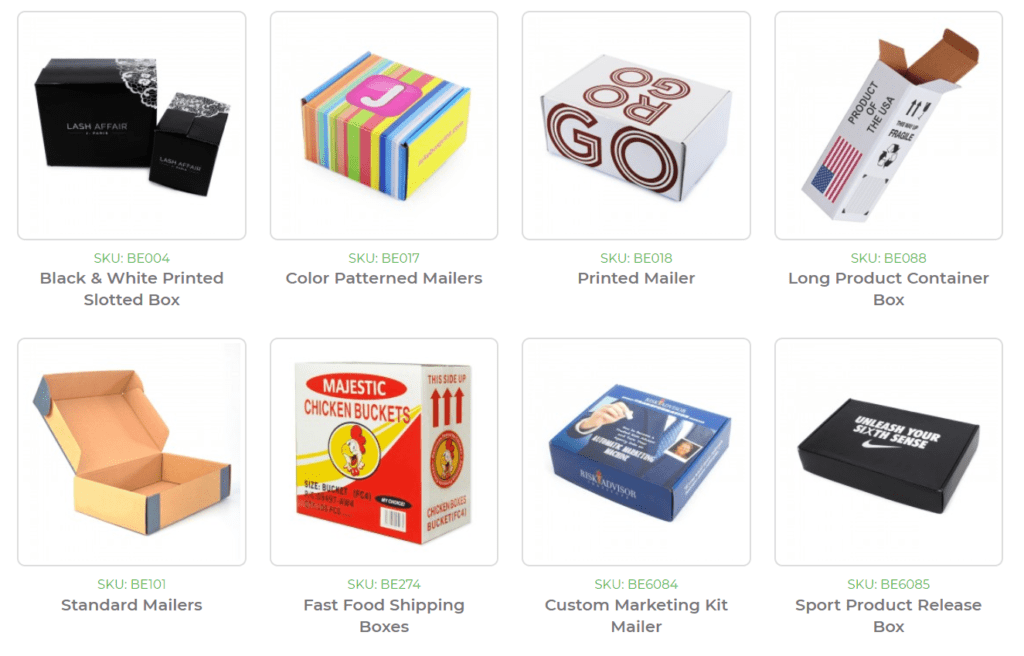 Customizable shipping boxes from Pakfactory
Paper
According to Fiona Salter at the Tiny Box Company, "75 per cent of shoppers prefer paper to plastic." Compared to 'virgin' paper, recycled paper uses 70 per cent less energy to produce and results in 73 per cent less air pollution. Tiny Box Company offers a range of recycled paper and cardboard packaging that are all FSC approved.

Examples of small postal boxes from the Tiny Box Company
Jessica Wells, from US packaging supplier Morgan Chaney agrees. "Paper is the most favourable packaging right now as it's eco-friendly and effective for ecommerce."
It's also the easiest for your customers to recycle or reuse.
Plastic
But for some businesses, banishing plastic isn't that easy. Famously eco-forward brand Patagonia conducted a trial in an attempt to do away with plastic polybags. All they were left with were mountains of ruined stock.
If you too need something more durable, consider recycled plastic or bio-plastic.
Roxane from Supply Compass says, "Our bio-based polybags have a shelf-life of 12 months and are 100 per cent home compostable, disappearing in 6 months when disposed of in correct composting conditions."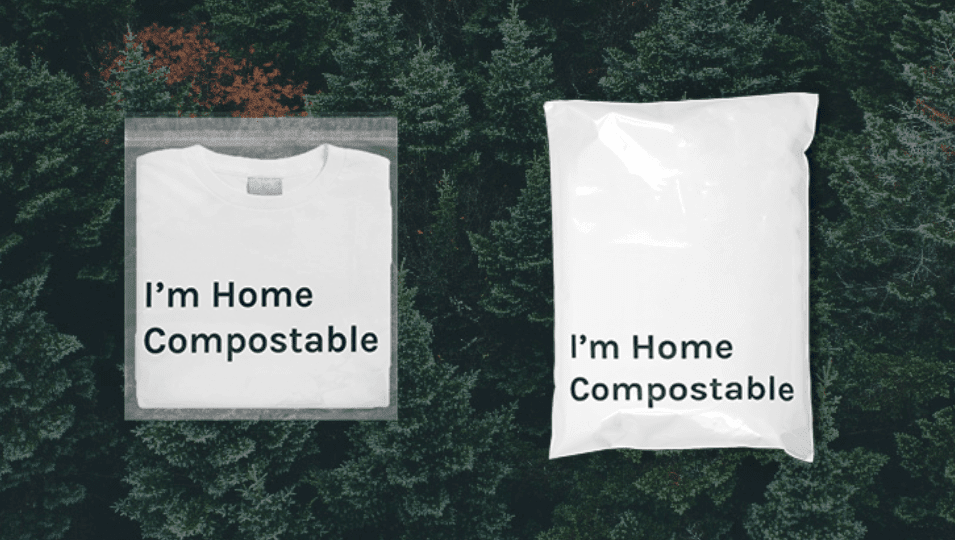 Bio-based polybags from Supply Compass
If it's cushioning you need, check out Raja for recycled bubble bags. SealedAir supply sustainable bubble wrap and air pillows in the US.
Biodegradable and compostable materials
The benefit of biodegradable and compostable packaging is that it won't be floating around the eco-system for the next 1000 years. When making your choice, remember that compostable products decompose in a normal at-home compost bin. Biodegradation is often a more complex process that might only be possible at the manufacturing plant.
The Better Packaging Company produces compostable bags and offers flat rate global shipping. Green Bell Packaging makes their Bio-Bags from cassava and vegetable oil. They're as strong as plastic but don't hang around as long.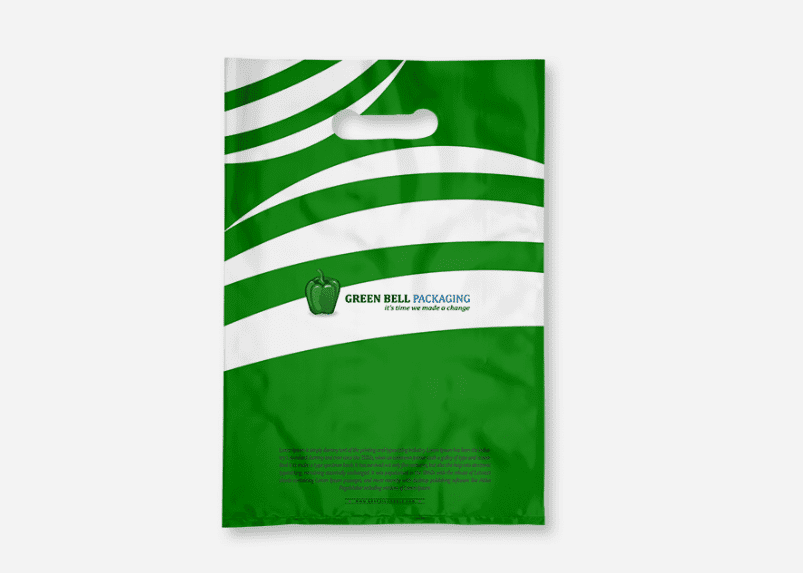 Starch based biobag from Green Bell Packaging
Packability in the UK and PuffyStuff in the US have invented the eco-friendly answer to those carcinogenic and ocean life-endangering polystyrene packing peanuts. Made from organic materials like cornstarch, these peanuts disintegrate in water.
Organic materials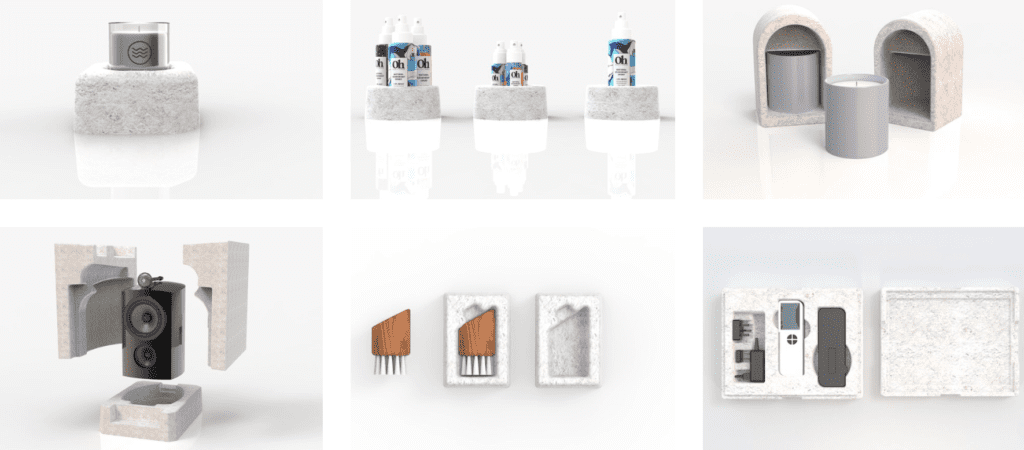 Packaging made from mushrooms by Ecovative Design
Recent innovations in organic packaging products will allow you to stand out from the crowd and wow your customers.
Ecovative Design has developed sturdy and aesthetically-pleasing packaging made from mushrooms. Or how about seaweed packaging from the clever people at Notpla.
More recognisable but no less eco, Eco Bags and Cotton Bag Co. will make cotton bags to your specifications. Packing your products in an item your customers can use again makes good environmental sense and helps customers feel valued.

Example of reusable bags from Cotton Bag Co.
Reduce, reuse
There are a number of great options if you want to operate a circular business. That means closing the loop on waste entirely.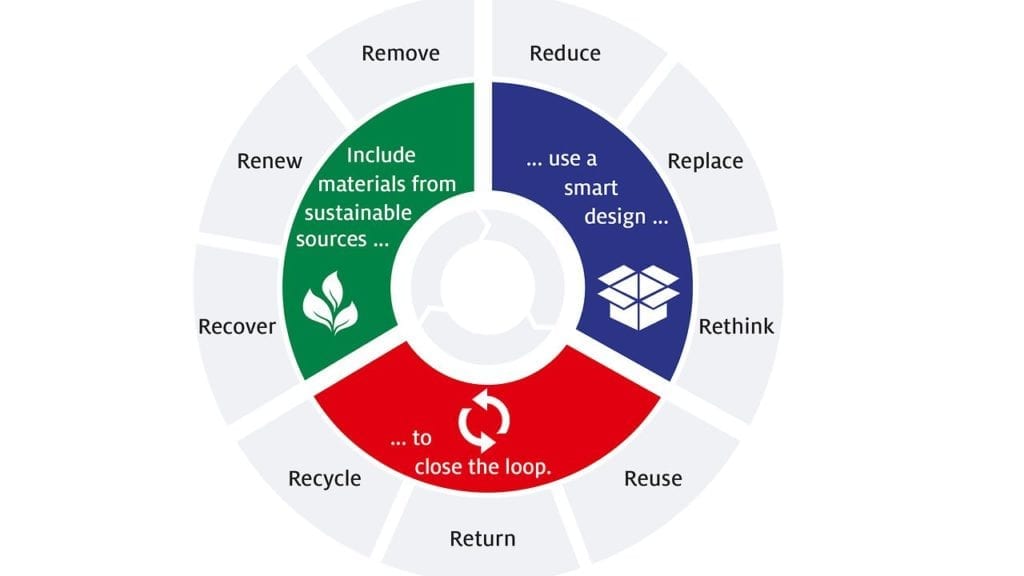 An example of a sustainable packaging framework by Henkel
You could send out packages which can be reused. RePack and Limeloop offer a subscription service where you use their packaging to send out out your orders. Customers return the envelopes directly to them and you receive more as required.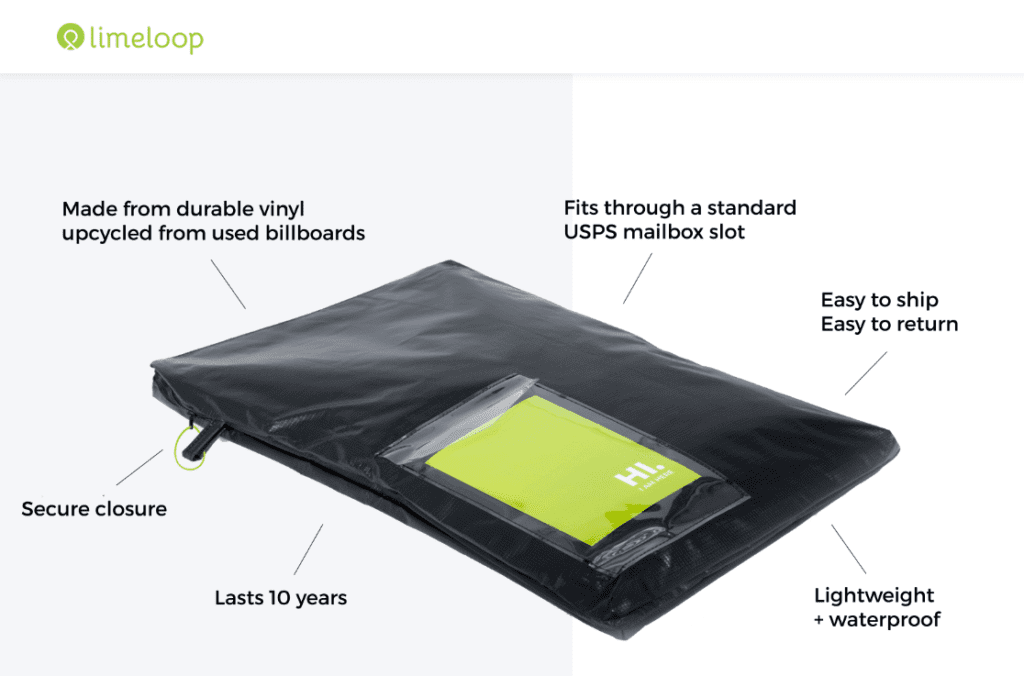 Example of a returnable shipping bag from Limeloop
Returnity produces recycled fabric shipping bags that can be turned inside-out to reveal a stylish tote, make-up bag, or gym bag.
This high-quality packaging designed for reuse aligns with your eco-values and keeps your brand top of mind as your customer goes about their day.
Planet-friendly personalization
Once you've chosen your environmentally friendly packaging, you might want to think about personalization.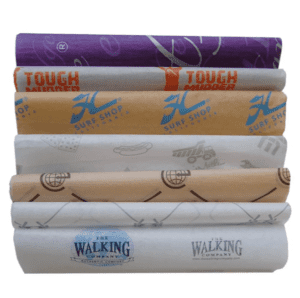 Eco-friendly customizable packaging tissue from Earthpack
Traditional dyes and inks are full of toxins that are harmful to people and the environment. Instead, look to companies like Noissue and Earthpack, who use milk protein or soy inks and food dyes to create beautiful bespoke packaging that is danger-free and easier to recycle.
Noissue is FSC approved and can even make soy ink stickers to finish off your packaging with pizzazz.

Examples of customizable packaging by Noissue
What does eco-friendly packaging cost?
You should find your eco-friendly product packaging represents a long-term saving for your business. You're using fewer materials that are less expensive to make and ship.
Many eco-packaging brands understand the challenges faced by small businesses. Noissue offer to help you make sustainable choices within your budget.
Spectra Packaging makes eco-friendly shipping affordable by supplying small batches at reasonable prices.
Fiona Salter at Tiny Box Company says, "Recycled packaging doesn't have to be expensive, quite the opposite." With small craft boxes starting at £0.28, you're sure to find an option to suit your budget.
Waste Based make compostable mailers and biodegradable polybags with a minimum order quantity of 100. Plus, the company is carbon negative: the energy used to manufacture their packaging has been offset twice.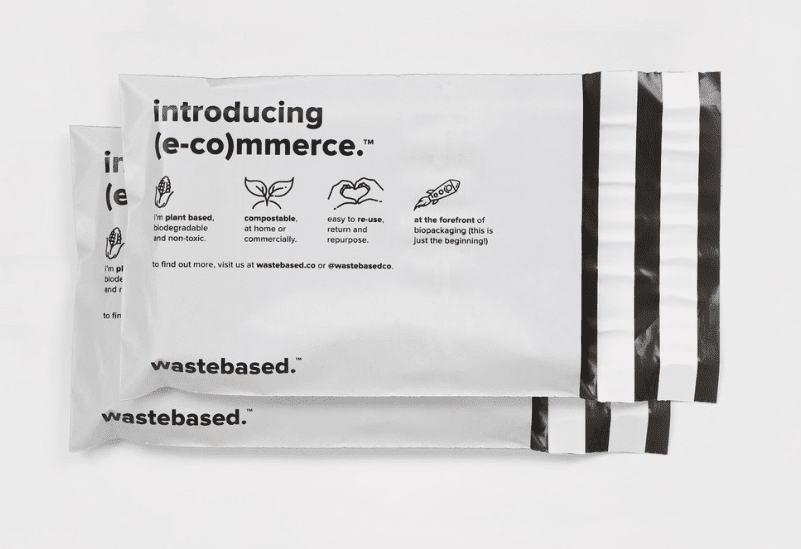 Example of compostable mailing bags from WasteBased
If you're still worried about cost, founder of Green Bell Packaging Vahid Nagori has some advice: "The benefits far surpass the costs. By investing in eco-friendly packaging, businesses open the door to a new consumer market that values this ethical offering."
Ready to use eco-friendly packaging?
In these times, businesses need to be more than just businesses. They need to become upstanding members of the community.
To thrive in a less-than-favourable economic climate, you need to show your customers why you're worth their attention. That you share their values, that you care about more than just profit, that you're invested in giving back to people and planet.
Right now, there's a chance to get ahead of the curve, stand out from the competition and even set an example.
Eco-friendly packaging does all this.
Follow the steps we've laid out and delight your customers with sustainable packaging that shows you're a business that cares.
Need an email marketing solution for ecommerce? Try Brevo!
Send transactional emails over our powerful SMTP server, design your own email templates, set up marketing automation workflows. Test-drive all the marketing possibilities on our free plan.