Reading time about 13 min

Virtual meetings are one of the most popular ways to engage current and prospective clients. We'll show you how to schedule a Zoom meeting and also why using a Zoom integration with a sales CRM platform is better.
Working from the couch in a blazer and pajama bottoms is the new business casual, and video calls are the new conference rooms. So knowing how to manage your Zoom meetings is absolutely essential.
Setting up a Zoom call from your Zoom account is a great start, but you won't be able to have your clients book meetings directly from your calendar. You also can't accept payments or send email or text reminders.
How to schedule a Zoom meeting: 3 ways
There are three ways to schedule a Zoom meeting: via the Zoom desktop app, the Zoom web portal, or the mobile app.
For all of these, you will need a Zoom account. If you aren't already a Zoom client, that's the first step.
For each of these methods, you will be able to customize all the same meeting details.
Schedule a meeting with the Zoom desktop app
1. Click the schedule button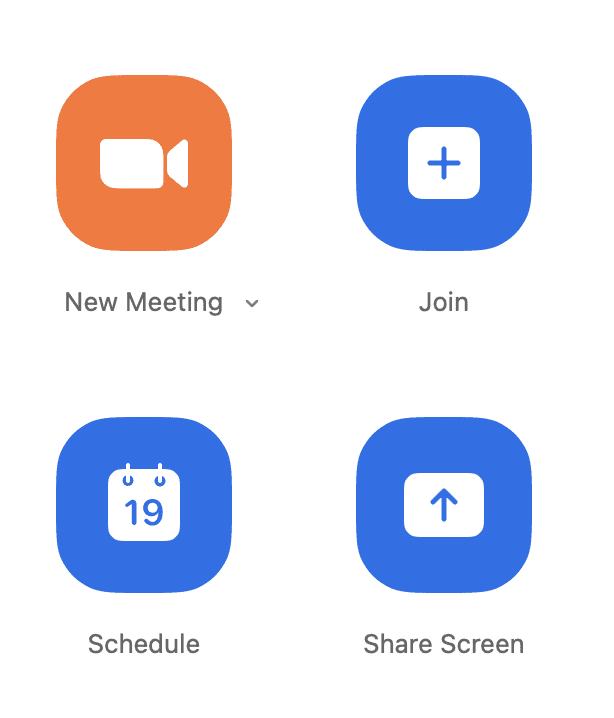 Schedule menu on the Zoom desktop app
2. Select your meeting options from the preferences window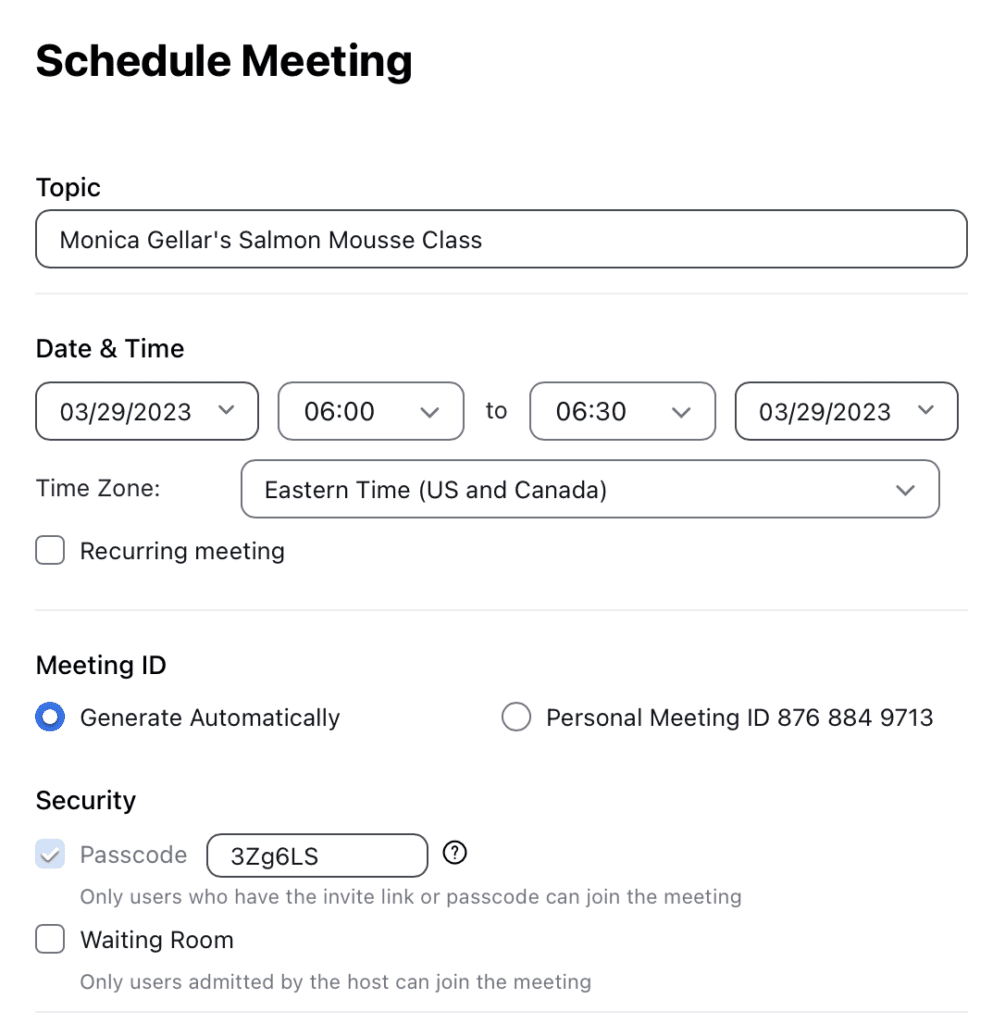 Meeting details on the Zoom desktop app
Add a meeting topic
Set your date, time, and time zone
Choose if you want this to be a recurring meeting by checking the box
Select your type of meeting ID, personal meeting ID, or automatic
Set up a meeting password or use the recommended one
Decide if you want to enable your guests to join before the meeting starts, or if you want to enable waiting room so you can make your grand entrance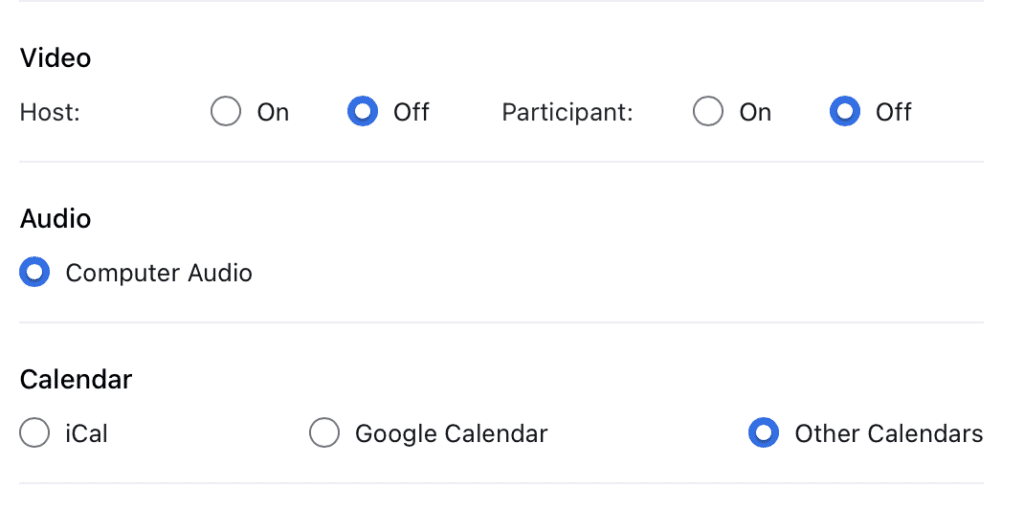 Meeting details on the Zoom desktop app
Choose if you want the host's video and your participants' video to be on or off when they join the meeting
Set your audio preference (computer audio is the default unless you have speakers)
Add your meeting to your calendar 📅

On Mac, you will see the iCal option.
For Windows users, Outlook calendar will appear instead.
Google Calendar is available for all users.
Other Calendars will allow you to copy the meeting invitation with the meeting details to email or text to your clients.
Select your advanced options preferences from the list

Advanced options on the Zoom desktop app
Allowing your participants to join anytime means they can join before the meeting starts. This also enables them to join before the host.
Once you click save, your scheduled meeting will appear as a calendar event in your calendar of choice. This calendar event will show on your screen as a new pop-up window.
If you choose "other calendar" then the meeting invitation will pop up as a text box.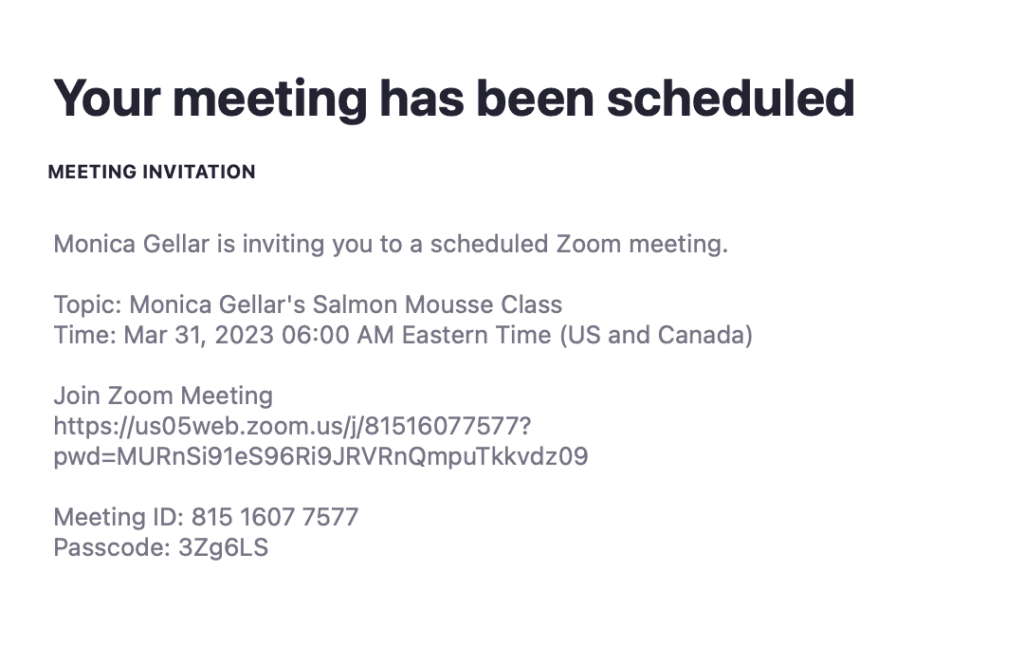 Meeting confirmation and invitation from the Zoom desktop app
If you are wondering how to create a Zoom meeting link, fear not. The link is automatically generated when you schedule a meeting.
3. Send Zoom invite
You have two options for how to send a Zoom invite:
Copy and paste the meeting invitation from the text box into an email or text.
Invite guests with a calendar invitation from your calendar app.
Your meeting invitation will include all the important details like the meeting link and meeting passcode so your guests know where to find you, and how to join.
How to invite someone to a Zoom meeting varies depending on which calendar app you use. Your calendar will prompt you for important information like which guests you want to invite.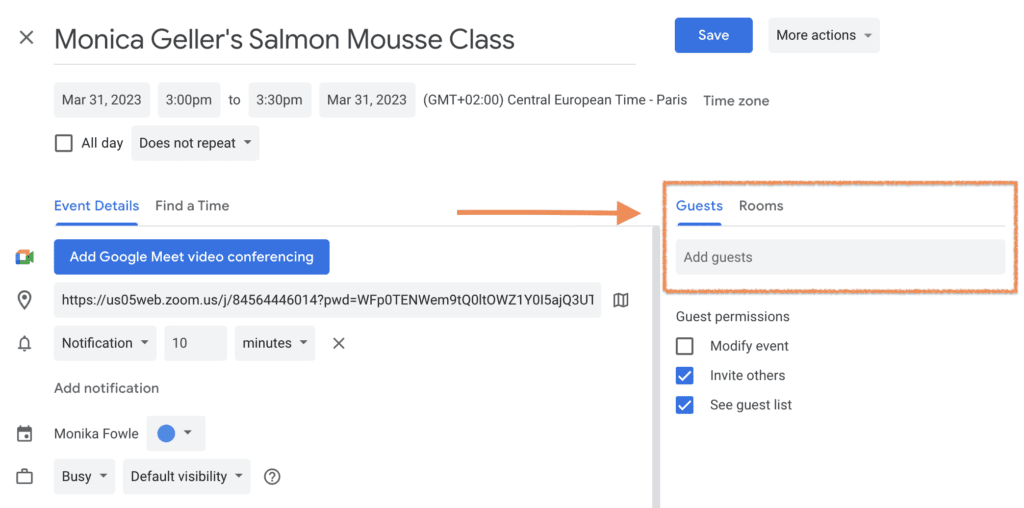 Invite guests field for Google Meet
No matter which calendar you use, your guests will get an email invitation. They can choose to add it to their own calendar or not.
How to schedule Zoom meetings on the Zoom website
1. Log into your account
2. Click the meeting button, or click schedule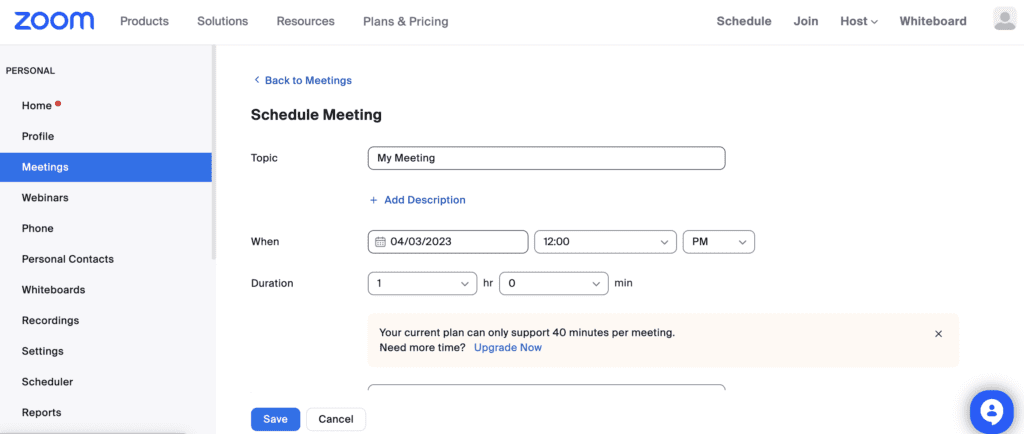 How to schedule a meeting on the Zoom Website
3. Customize your meeting details (meeting topic, meeting date, time zone, duration)
4. Save your meeting details
5. Add your meeting to your calendar (optional)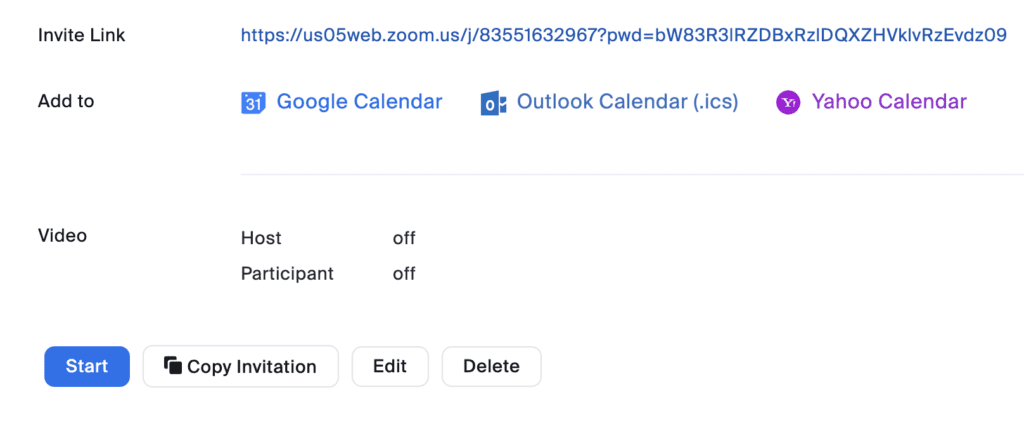 Zoom meeting invitation on the Zoom website
6. Email or text your invite link or copy the full invitation to send to your guests
Start the meeting immediately if desired by clicking "start."
You can also send the invitation through your calendar app. Just click on the event, and add guests or invitees where prompted.
How to schedule a Zoom meeting on mobile (iOs/Android)
1. Open your Zoom mobile app and click the schedule button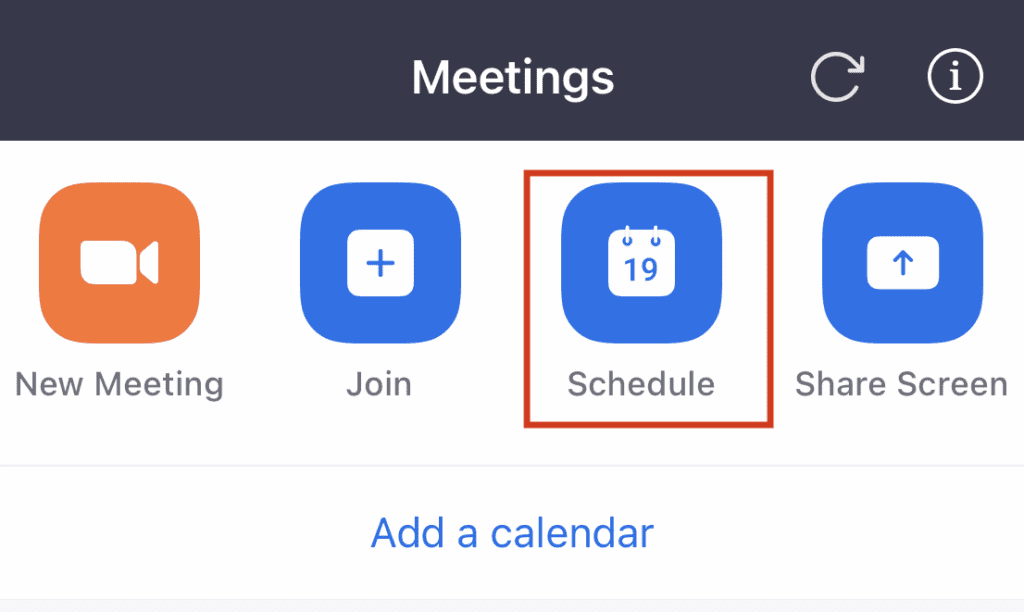 Schedule meeting menu on the Zoom mobile app
2. Set your meeting details on the "Schedule Meeting" page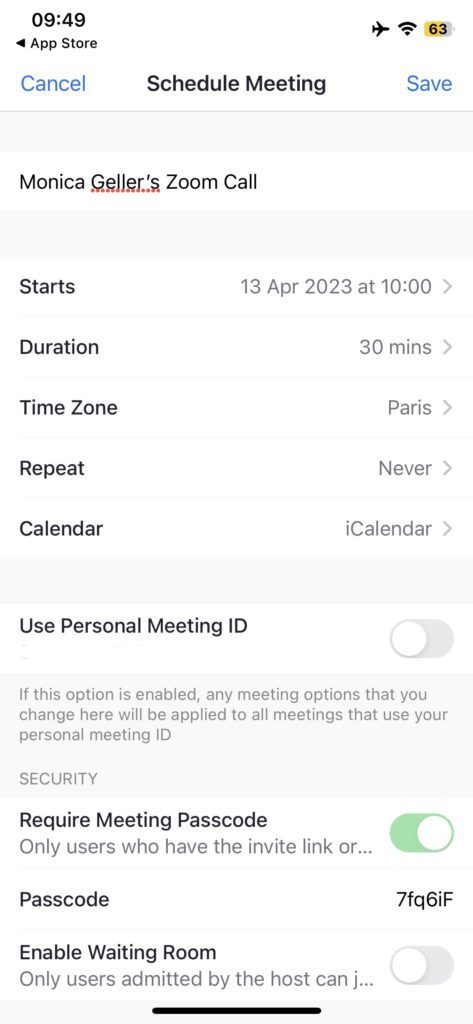 Meeting setup on the Zoom mobile app
3. Click "Save" (this will trigger a review page to pop up called "Meeting Details")
4. Click "Add invitees" from the scheduled meeting confirmation seen below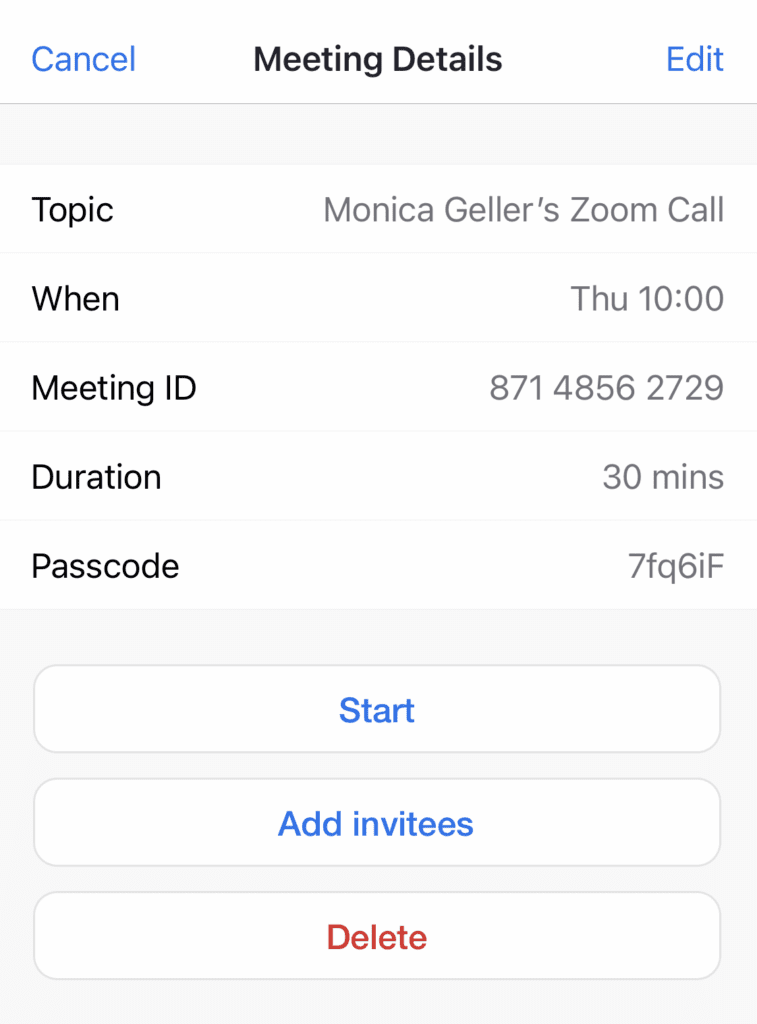 Meeting details on the Zoom mobile app
5. Send the Zoom invite via text message by clicking "Send Message" or
6. Send the Zoom invite via email by clicking "Copy to Clipboard" and pasting the invite in an email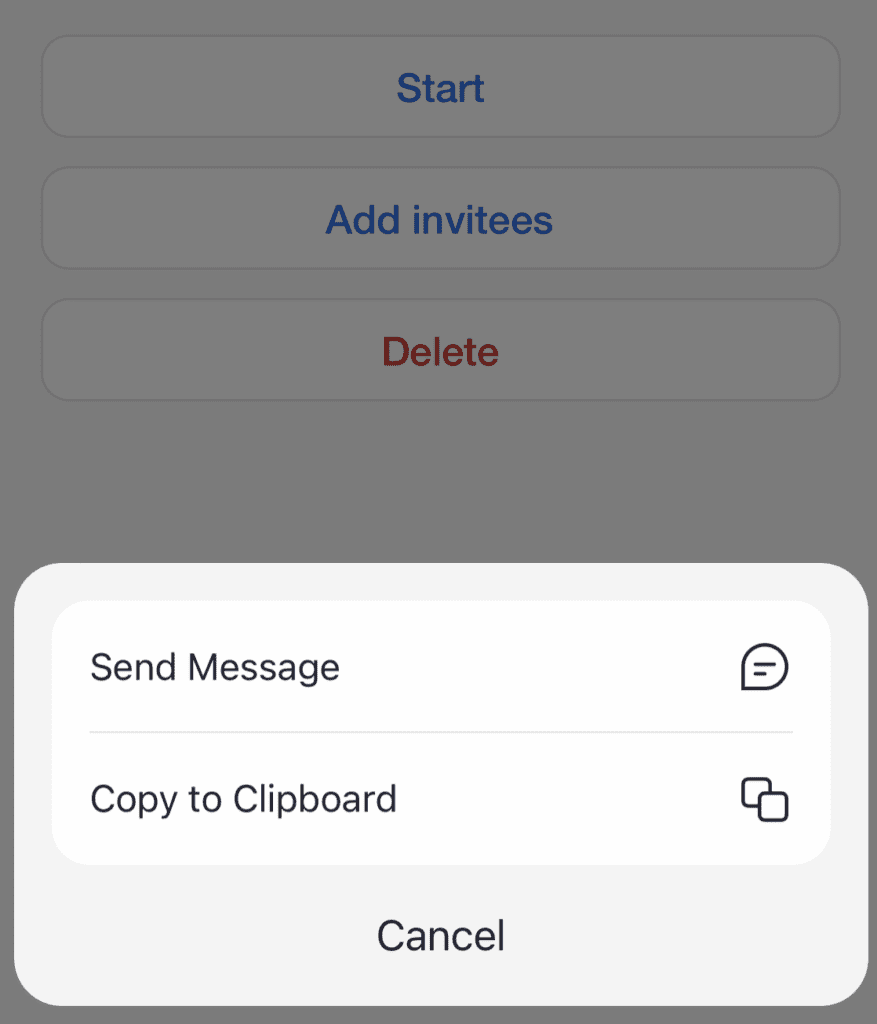 Send meeting invitation options on the Zoom mobile app
You did it! Now don't forget to show up to your meeting by opening your Zoom app the day of. Your scheduled meeting will appear on the homepage of your app and is easy to find.
Alternatively, you can get to your Zoom meeting through your calendar if you added it there during setup.
Why you shouldn't schedule a meeting on Zoom
While Zoom's very popular, each additional tool in your stack complicates things. Relying on a service just for video calls will eventually make your customer relationship management messy.
Back-and-forth scheduling wastes your time
Why spend three days going back and forth trying to pin down a date with your client when your client could just book a meeting like *that*?
Zoom doesn't let you share your availability to speed up bookings. For a more client-friendly meeting scheduling, look at Calendly or alternative services.
Discover more appointment scheduling apps here.
No way to send automated meeting reminders
Leaving it up to your clients to set up reminders and notifications often results in missed meetings and no-shows.
This is valuable time lost for you and your client and means you have to start over from scratch to reschedule a meeting. Using a tool that automatically sends reminder emails saves everyone's time.
Awkward payment reminder emails
Once you successfully have your meeting, you need to make sure you get paid. But sending reminder emails isn't fun for you or your clients.
Using a customer relationship management (CRM) platform is a better way to manage your meetings and your time.
Why spend your time going back and forth between Zoom and your email, when you could have an easy, clean, straightforward meetings experience?
If your goal is to manage your clients efficiently, using a strong CRM platform is essential. Discover some of the best CRM software examples out there.
Why it's better to integrate Zoom with a CRM
Using a CRM platform allows Zoom to work alongside all of your tools so you can manage your contacts, payments, and meetings all in one place. Don't just schedule video calls, build an experience your clients will trust.
It only takes a few clicks to set up and will save you loads of clicks in the future. You still have access to all of Zoom's meetings settings. But connecting it to a CRM expands its capabilities and your opportunities.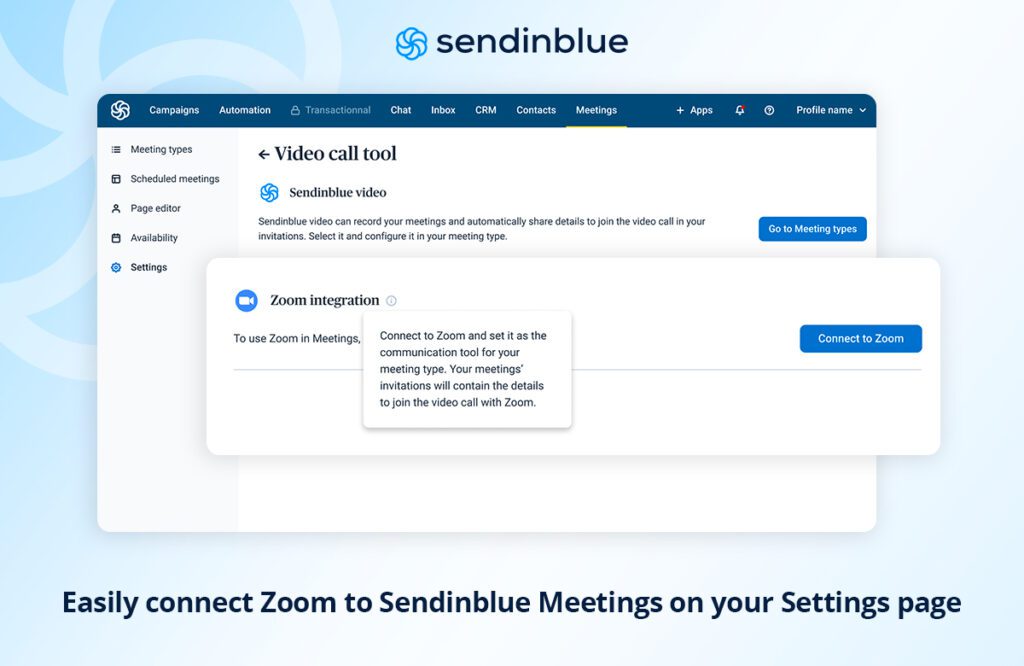 Set up a booking calendar based on your availability
You can send your booking page to your clients, include it in your email signature, or put it up on your website to attract curious new leads. Start the process of scheduling a Zoom meeting one step closer to the goal, skipping the back and forth.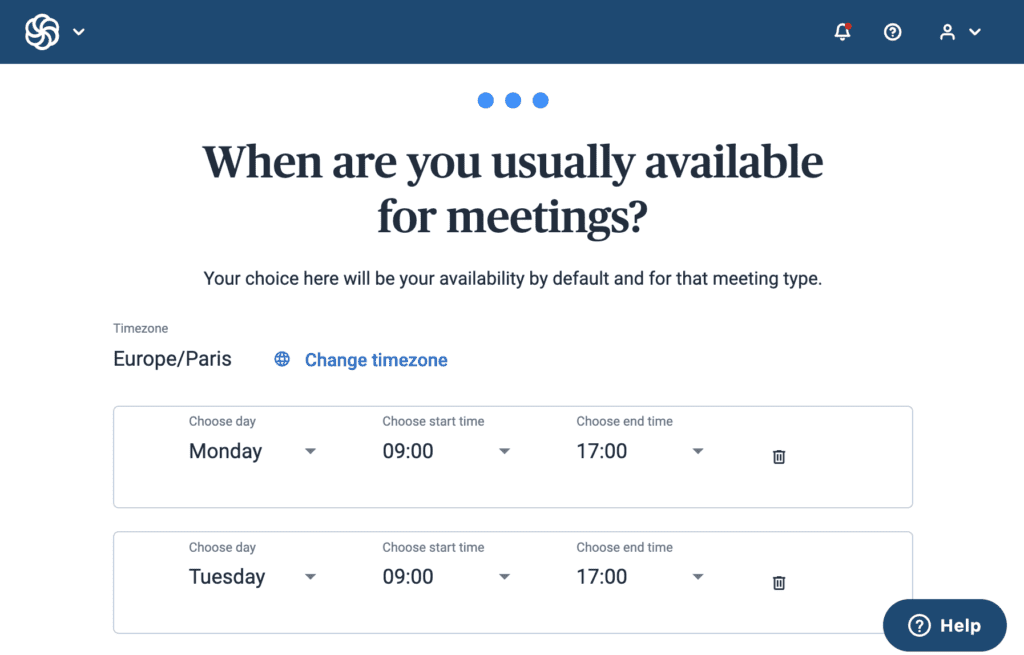 Setting meeting availability with Brevo (ex Sendinblue) Meetings
Allow your clients to make bookings
Two-way calendars make booking flexible and available when your clients need it. Let your clients book a meeting directly on your booking page.
Coordinating with your clients will be far easier in a single platform than by using Zoom separately.
Brevo (ex Sendinblue) has a Meetings platform that cuts away the needless scheduling by creating a booking calendar that you and your clients can use to schedule a meeting. It also hosts the meeting — standalone or via a Zoom integration.
Collect payments for your meetings
No awkward follow-up emails trying to track down payments. Set up a payment method before and have it complete when the meeting is done.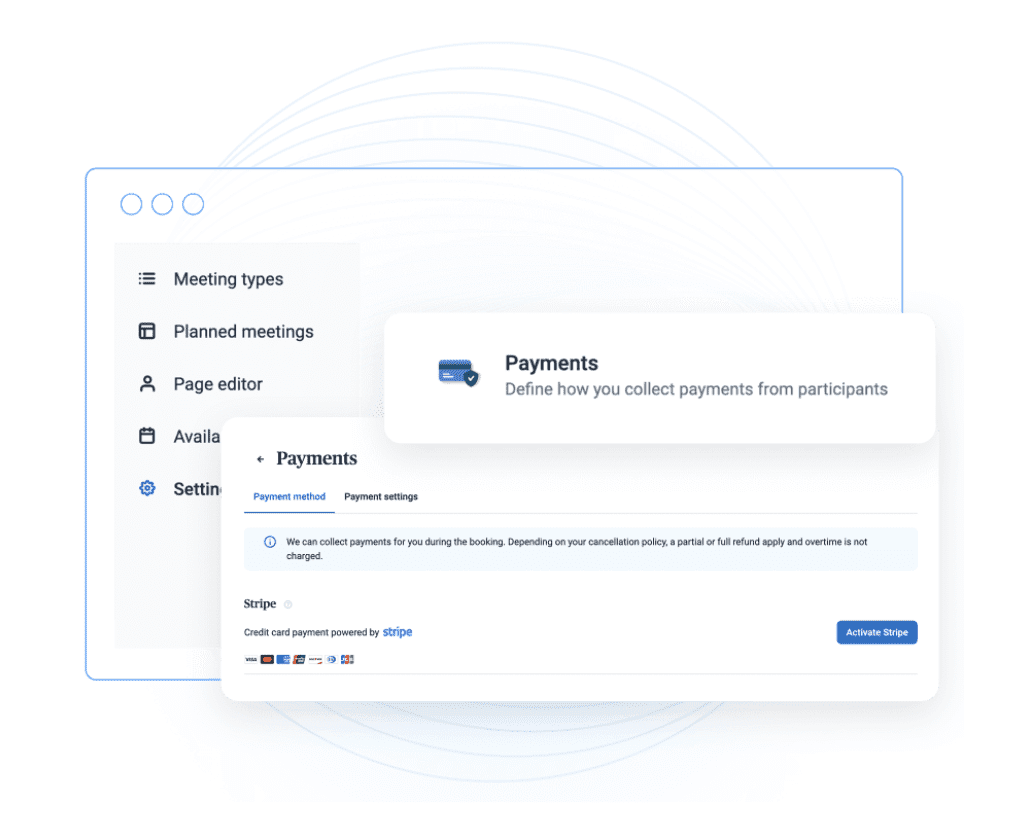 Setting payment options with Brevo (ex Sendinblue) Meetings
Manage contacts easily
Meeting contacts will add to your contact list, so you can easily integrate clients into your CRM and engage them after the meeting.
It also makes setting up a meeting with existing contacts a no-brainer. Send a meeting invitation right from within the CRM and track interactions.
Sync your meetings automatically with all of your calendars
Having all of your calendars synced to your booking page means you won't double book time slots. Plus, you can see everything you have coming up in one place.
Send email and text reminders to your guests
With a CRM integrated with your Zoom account, you'll be able to set up automated reminders (text and email!) to avoid no-shows and provide better customer experience.
Integrate your booking calendar on your website 💻
Let new customers and leads find you. Learn how to integrate booking page to your website for even more visibility.
Schedule a Zoom meeting for a seamless customer experience
So now you can host a Zoom meeting and you know there is a better way to do it.
Using a dedicated CRM platform will help you create a seamless scheduling experience for your clients and customers.
Brevo (ex Sendinblue) Meetings allows you to use Zoom as part of your CRM strategy so you can grow your business efficiently.
Level up your customer experience with Brevo (ex Sendinblue)'s free Meetings feature
Start now to create beautiful and accessible booking pages, collect payments, send meeting reminders and enhance your client experience.