When it comes to marketing, entrepreneurs and small business owners have three main goals:
Improve the customer experience
Spend less time on small, repetitive tasks
Lower costs
Luckily, marketing automation lets you accomplish all three! While it may seem overly complex or out of reach at first glance, marketing automation is a powerful tool for any small business owner and is easy to learn.
To help out on your marketing automation journey, we're happy to offer a free online course via the Brevo Academy. The course lasts a total of 2.5 hours and covers everything you need to know to successfully implement marketing automation for your business. 🚀
What's more, Brevo Academy's new format combines interactive modules and video tutorials for an engaging learning experience. Originally launched in French, the marketing automation course is available in German, English, and Italian starting April 12.
Whether you're just getting started with marketing automation or looking for a refresher, why not try out Brevo Academy's free online course!
Why Does Your Small Business Need Marketing Automation?
So what is marketing automation? It's an extremely valuable tool for marketers that not only saves you time, money, and energy, but leads to better performance too. To better understand why your small business needs marketing automation, let's break things down:
What exactly is marketing automation?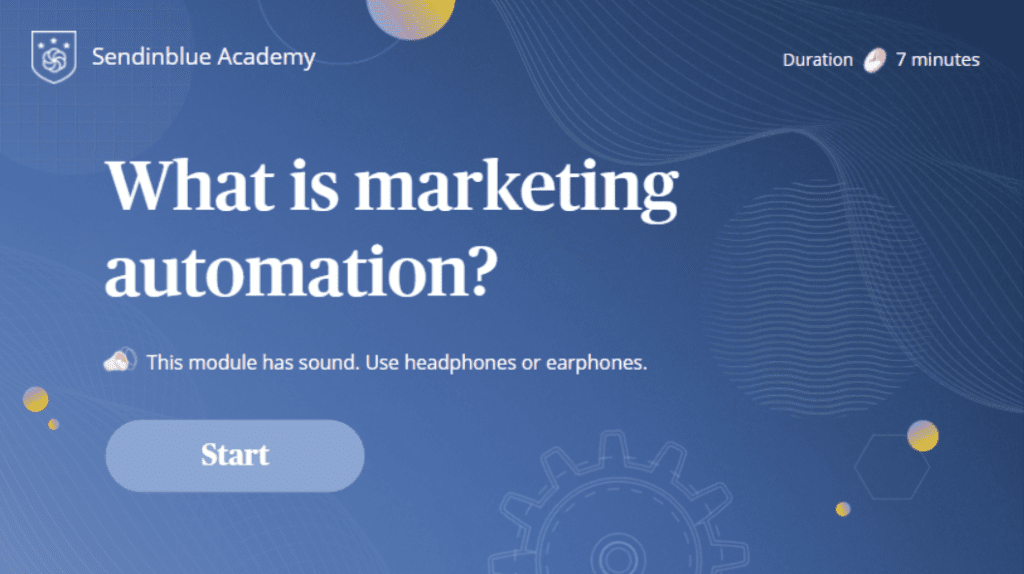 Basically, marketing automation allows you to send customized marketing content (email, SMS, etc.) triggered by certain conditions or actions taken by your contacts. It's great for drip marketing. For instance, when someone subscribes to your email list, marketing automation would allow you to send them a personalized welcome email without lifting a finger. 💅
But that's not all! Marketing automation also works with contact management. You can easily and automatically qualify leads, sort them according to their score, and nurture them. Automation helps reinforce your top-of-the-funnel lead generation strategy and builds strong, lasting customer relationships in the long run too.
The best part? These are just some of the ways you can use marketing automation. With some practice, you can let your creative side shine and take advantage of the endless possibilities of automation! ✨
Anyone can use marketing automation, no matter the size of your business, the number of contacts on your list, or your tech skills. All Brevo plans include access to basic automation features – even the free plan. There's really nothing to lose… Now let's take a look at what's in it for you!
What are the benefits of marketing automation?
Making automation part of your overall digital marketing strategy means becoming more efficient, targeted, and timely. If you're still not sure, let's take a look at the benefits more specifically:
Save time
Have you been wanting to send new contacts a welcome email, but always get caught up in something else? Maybe you'd like to send your loyal customers a birthday message, but don't have the time to check for birthdays everyday?
Lucky for you, this work doesn't have to be done manually! Sending simple, yet manually time-consuming messages like these takes no time at all with automation. 😌
Marketing automation lets you free your marketing and sales teams from tedious, time-consuming tasks and instead focus on more meaningful ones.
Optimize your contact lists
Marketing automation also does wonders for your contact lists. Sorting contacts by age, location, interests, purchase history, and their interactions with your website allows you to send hyper-targeted marketing content.
You could set up a workflow that sends contacts a personalized follow-up email after looking at certain products on your website. 👀
At the same time, consider customizing your marketing content for customers in different regions to keep up with events, weather, and local trends.
Delivering this level of targeted content to your subscribers can take a lot of time and energy when done manually. Don't bog down your team with tedious work like this. Instead, let marketing automation take care of it.
Improve the customer experience
So far, we've touched on the benefits of marketing automation for you, the business owner. While it's true that it helps you save loads of time, there are also major benefits to consumers!
The result of automation for consumers is an improved, personalized customer experience. More and more, consumers expect to be treated like individuals rather than just customers. With automation, you can deliver on this need for personal client interactions. 🤝
With dynamic contact lists, the data you collect about your clients and their shopping preferences automatically contributes to better, more personalized customer experiences. All you need to do is set it up.
Become A Marketing Automation Expert in 10 Minutes/Day with the Brevo Academy
For beginners and experts alike, Brevo Academy's marketing automation course teaches you everything you need to know to make great use of the feature. Our team of marketers have put together resources and expert advice in an easy-to-learn way, featuring interactive lessons and video demonstrations. 🧑‍🏫
No more need to spend hours trying to learn automation piecewise. Thanks to the Brevo Academy, everything's brought together in one place!
To top it all off, there's an exam at the end of the course. If you pass, you'll be awarded with a certificate, proving your expertise in marketing automation.
Part 1: Marketing automation basics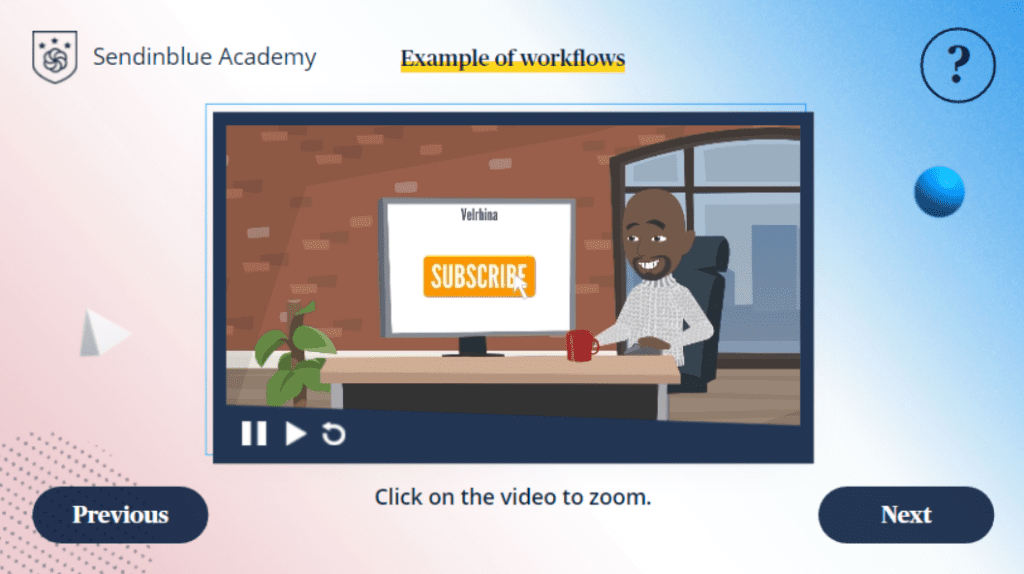 The first part of the course is made up of seven interactive modules, each of which lasts about 10 minutes. The goal of the first half of the course is to teach the basics of marketing automation and its areas of application. It consists of the following subjects:
What is marketing automation?
Why is marketing automation for me?
How does marketing automation work?
Create effective automation workflows
Emailing and automation – the winning combination
Manage your contacts with marketing automation
Marketing automation triggered by the website and API
At the end of each module, we'll ask you three questions to make sure you got the topic and reinforce your learning. You'll then be able to watch the module again or go on to the next one. These mini-quizzes don't count toward your final certification but are meant to help you prepare for it. 💪
Once you've reached the end of the seven modules, you'll get to take an exam covering all the topics in the first section of the course. In order to earn your Brevo certification, you'll need a score of at least 70%.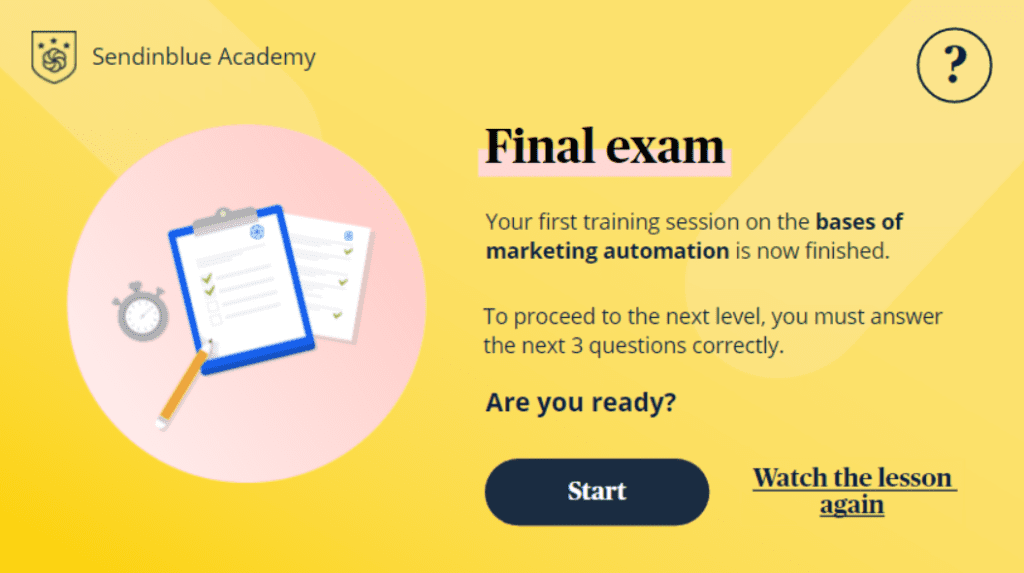 Part 2: Implementing marketing automation for your business
The second part of the course consists of four video tutorials, each of which lasting 10 minutes. The goal of Part 2 of the course is to teach you how to implement marketing automation for your business using the Brevo platform.
In four lessons, we show you some of the most common automation workflows, including birthday and welcome emails. As well, you'll get expert tips and advice on how to make the most of these classic automations, making sure they work for your business. 💯
Part 2 of Brevo Academy's marketing automation course covers the following topics:
Interactive learning
You're likely familiar with long, drawn-out, and boring professional development courses…
Lucky for you, the Brevo Academy isn't like that! 🤩
Our marketing automation makes the most of online learning technology to deliver an interactive and genuinely engaging learning experience. Lessons are composed of interactive modules and video demonstrations.
Throughout the lessons, you'll follow the story of Adam, a CEO of a small business in the process of digitalization. When his business is overwhelmed by the success of a product, you'll be the one to get things under control using your new knowledge of marketing automation!
Daily Training Has Never Been So Easy
To make the most of the course, we recommend following through with it from start to finish. For beginners, it's helpful to start with the interactive lessons then move on to the video demonstrations and applications. (Basically, the way the course is laid out).
If you already have some experience in marketing automation, feel free to jump around and fill in whatever information you're missing. You can still earn the certification without completing all of the lessons.
In order to stay focused and retain as much as possible, we recommend you spend only a few minutes a day on the course. For example, completing one lesson per day is a great way to make sure what you learn about marketing automation sticks with you. What's more, we designed the course to be done this way! 📝
By spending 10 minutes a day on the course, you can be certified in marketing automation in under three weeks. While you may be tempted to get it all done in an afternoon, we don't recommend this tactic. For most people, small learning sessions spread across a longer period of time have been proven to be more effective.
Plus, ten minutes a day is easy! ⏲️ The course has no time or place requirements, and you can follow along at whatever pace you like. And if any questions come up during the course, you can ask someone directly on the Academy platform – a Brevo expert will get back to you as soon as possible.
Don't Wait – Refine Your Marketing Skills Today!
The Brevo Academy is a free online platform allowing professionals to further their knowledge in digital marketing and giving beginners the chance to learn.
To get started, all you need to do is register online. It's completely free and only takes two minutes. If you already have a Brevo account, you'll have to create another account for the Academy.
Become a marketing automation pro with Brevo Academy
Learn everything you need to know to make the most of automation in your overall marketing strategy with the Brevo Academy. The best part? It's completely free.
To get an idea of what the content and learning experience is like, take a look at our videos on Youtube and Udemy.