Reading time about 18 min

We've put together an amazing collection of web push notification examples that you can reference in your own push campaigns.
Types of web push notifications
Push notifications messages can be completely anonymous or tailored to individual preferences depending on the user data you have on hand.
Collect information across different marketing channels to build accurate customer profiles. With enough data, you can send truly personalized notifications.
Then automate your push campaigns based on steps that your customers have taken. With the above in mind, we've gone ahead grouped the examples below into categories that have similar use cases:
Before we dive into the different notification examples, remember to use a push notification service provider to automate your push campaigns.
Welcome notifications
Are introductory messages that make your customers more familiar with what you have to offer.
Send a welcome message whenever someone signs up for your service or makes their first payment on your website. The goal here is to retain your customers by keeping them engaged.
Pro Tip: Most welcome messages include a big discount to encourage customers to take immediate action.
HelloFresh – Welcome Discount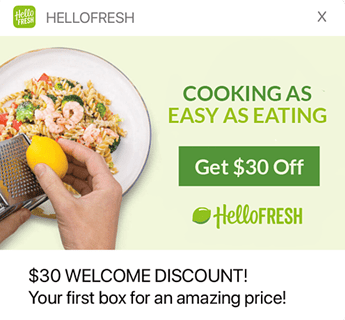 HelloFresh gives its customers a $30 welcome coupon when a new account is created on their website.
Their welcome discount entices new customers into selecting a meal kit subscription right away.
The banner image is particularly appealing with a slick catchphrase, "Cooking as Easy as Eating" and a prominent discount label, "Get $30 Off".
Adidas – Welcome Promo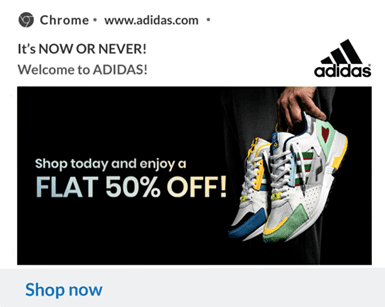 Adidas gave a huge 50% flat discount on any of their products when customers set up a new online profile.
The words "Now or Never" create a strong sense of FOMO (fear of missing out) that pushes customers towards impulse purchases.
Diyanu – Recurring Discounts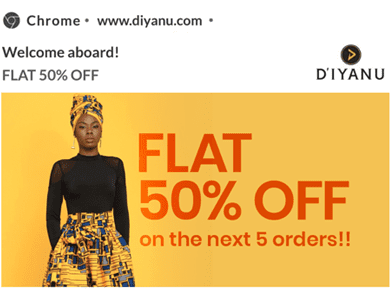 Diyanu gives its new shoppers 50% off on their next 5 orders for all new website sign-ups.
A recurring discount is a great way to encourage repeat purchases. Their customers will come back regularly to browse their catalog of new fashion wares with the discount in mind.
All Recipes – Welcome Content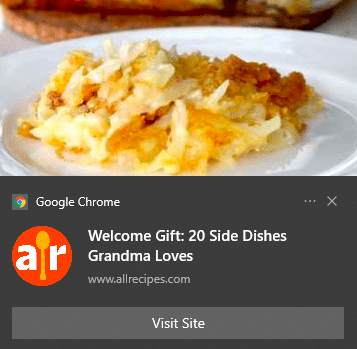 AllRecipes encourages new subscribers to browse their ever-growing collection of recipes.
Their aim is to guide their subscriber to content that will arouse their interest. Their welcome message will vary based on what's currently trending on their site.
Peach Mode – Referral Discount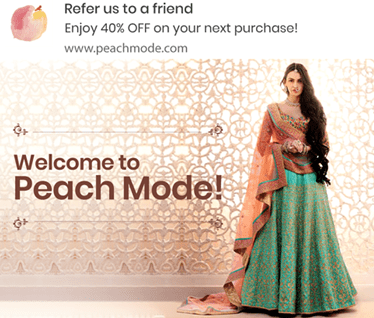 Peach Mode offers its newest subscribers a 40% discount on their next purchase when they refer a friend.
Referral discounts are a cost-effective way to build a community around your brand. Use indirect questions to further engage your audience such as a quiz or community poll.
Welcome messages that rely on viral marketing are most effective when paired with smaller, niche audiences.
Backpacker – Brand Introduction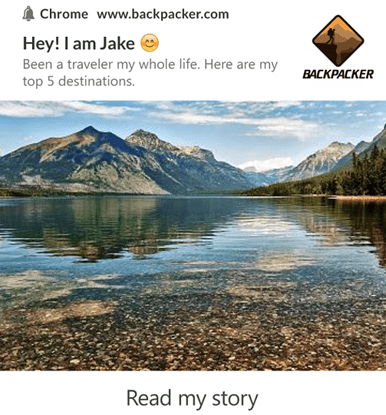 Backpacker welcome message includes a unique personal story.
Backpacker introduces its founder in its push message and directs new subscribers to a longer blog post that covers the history of their brand.
Shein – Welcome Tour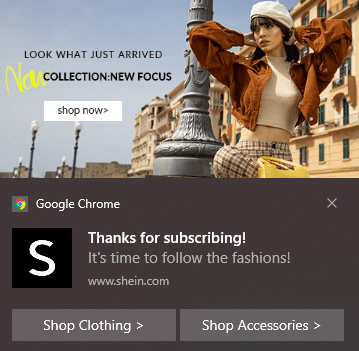 Shein welcomes new subscribers by showcasing its latest fashion collection.
Two CTAs encourage subscribers to shop for either clothing or accessories. What makes this notification stand out is its timeliness.
New subscribers often have strong buying intent, so bringing your latest offers to their attention is a great way to boost conversions when interest is at its highest.
Hearst – Newsletter Sign Up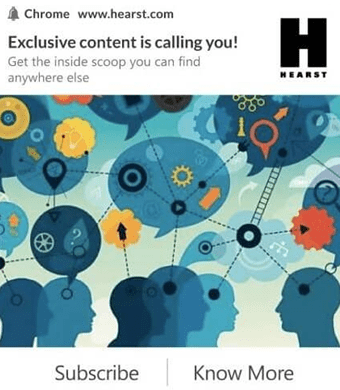 Hearst uses its welcome notification to drive more newsletter sign-ups.
As a content-heavy news site, their goal is to get more subscribers across all their channels.
Offer free access to gated content through a push notification to steer your audience towards your newsletter or social media pages.
Promotional Notifications
Are limited offers that compel your customers to buy now rather than miss out on a good deal.
Plan your upcoming promotions by marking down the most important dates on your holiday marketing calendar.
Take advantage of the real-time nature of web push notifications by sending buyer reminders before, during, and even after launching a time-limited deal.
Pro Tip: Extended deals add more time or more stock to an otherwise limited deal. You can relaunch or extend a deal when an offer is well-received or when a popular product is restocked.
Snow Joe – Price Drop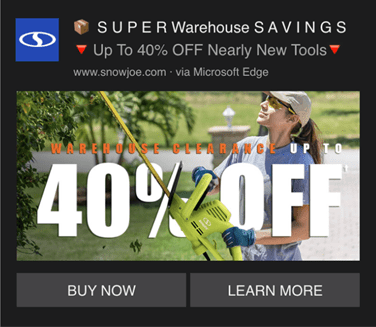 Snow Joe uses push notifications to inform their customers of major price drops whenever they run a clearance sale.
Make use of price drop alerts to inspire more impulse purchases from your subscribers.
Arteza – Themed Sale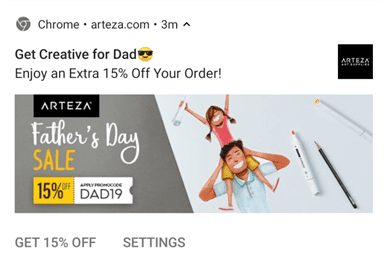 Arteza included a coupon code in the banner image of their Father's Day promo.
The tone of their message is fun and upbeat. Their CTA lets customers immediately redeem their 15% off coupon as they browse through their catalog.
HAIRtamin – Holiday Special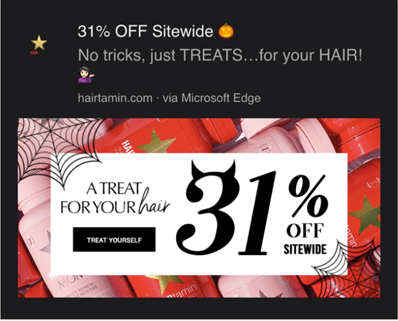 HAIRtamin ran a push marketing campaign that was a perfect fit for their Halloween offer.
Sitewide promotions are most successful during holidays. Buyers are more willing to splurge when they're in a festive mood.
tentree – Cross Promotion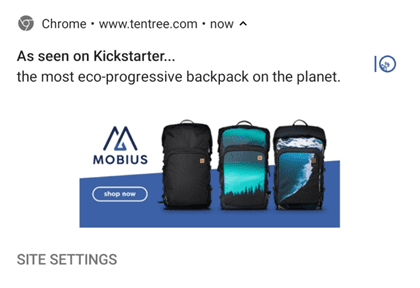 Tentree took advantage of their successful Kickstarter campaign to effectively cross-promote their eco backpack lineup.
Retarget customers that have already shown interest in your product to increase average customer spend (AVS).
Cutting Board – Ebook Giveaway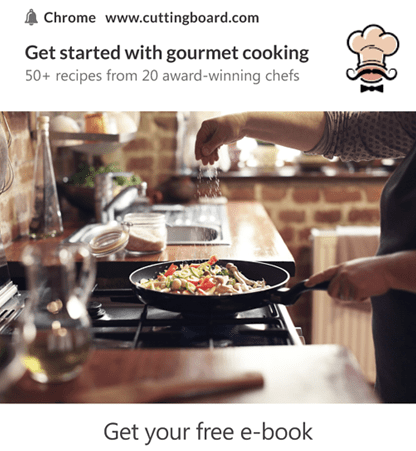 Cutting Board offered their subscribers a free ebook in a push message – as part of a larger drip campaign.
Strengthen customer loyalty with high-quality content that you know your customers will appreciate.
FabAlley – Reward Program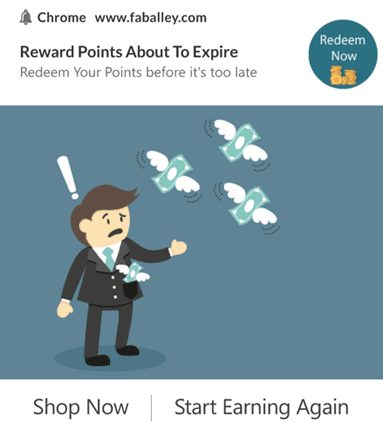 FabAlley notifies its customers when their reward points are about to expire.
This is an excellent example of a push event triggered based on individual data points.
Create your own customer loyalty program to encourage shoppers to spend more regularly.
StalkBuyLove – Giveaway Competition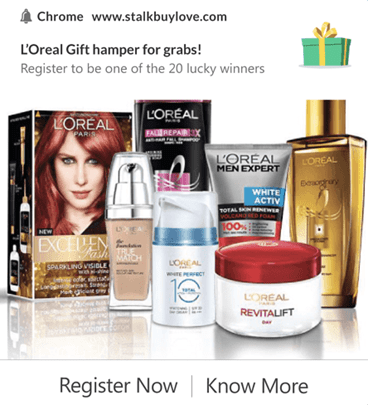 StalkBuyLove ran competitions that gave its subscribers the chance to win free gift hampers.
Push notifications are an ideal way to reach out to your customers when organizing time-sensitive marketing campaigns.
Use giveaway prizes to grow your audience more quickly. The more valuable the giveaway, the more likely your subscribers will jump on the opportunity to win a prize.
Vahdam – Exclusive Deal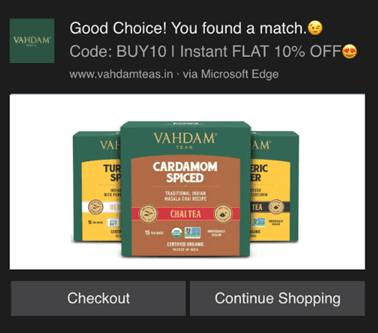 Vahdam matches customers with exclusive deals based on their shopping history.
Create highly personalized offers that tap into customers' browsing habits to figure out what they really want.
Transactional Notifications
Are messages that your subscribers receive based on prior actions they've taken.
These push notifications fit anywhere in the buying process, including before and after a purchase is made.
Ecommerce businesses should use transactional messages to re-engage shoppers.
Pro Tip: Use browse abandonment messages to get your customers back into shopping mode.
Only Natural Pet – Product Highlight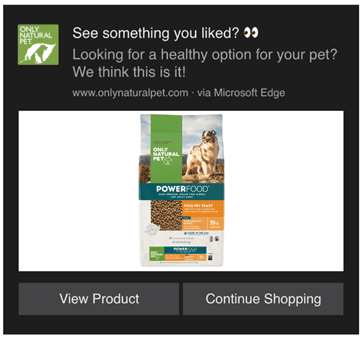 Only Natural Pet highlights products that they believe interest their customers based on their prior shopping history.
Use previous purchases as a reference to highlight products that your customers are most likely to buy.
Peach Mode – Wishlist Highlights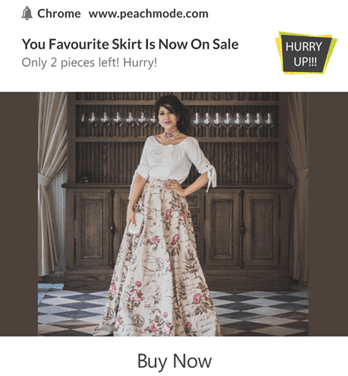 Peach Mode looks at customer wish lists and personalizes their price drops to match their buying intentions.
Let your customers curate and share their own wish lists to get deeper insights into their interests. Make your discounts reflect what's currently trending in your store.
AskLaila – Product Review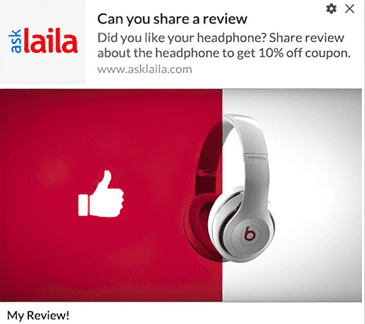 AskLaila incentivizes product reviews with free discount coupons.
Use A/B tests to find the best time and wording that will guarantee you higher response rates and better conversions in your push campaigns.
Maniology – Cart Recovery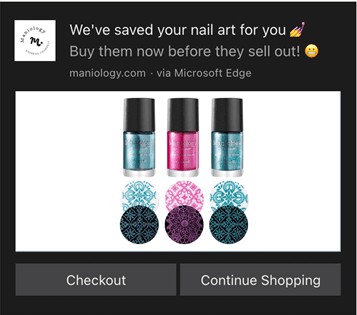 Maniology recovers abandoned carts by letting their customers know the product they were interested in buying will soon run out of stock.
Use push notifications to nudge customers towards completing a purchase when they've left forgotten items in their shopping cart.
Mid-Day – Tab Recovery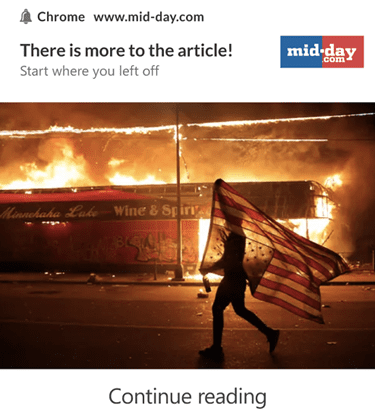 Mid-Day brings back its subscribers to exactly where they left off with notifications that detect when a tab is closed before an article is completely read.
Redirect customers to the moment where their interest peaked by combining browser push notifications with website analytics.
Fable Street – Order Confirmations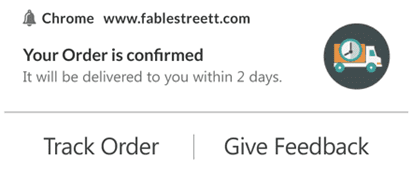 Fable Street provides simple order receipts whenever a product is purchased.
Included are the estimated delivery time as well as two CTA buttons to help customers track their orders and give feedback.
Integrate order confirmations into your transaction push notifications to improve the customer experience.
Fox News – Complete Purchase Reminder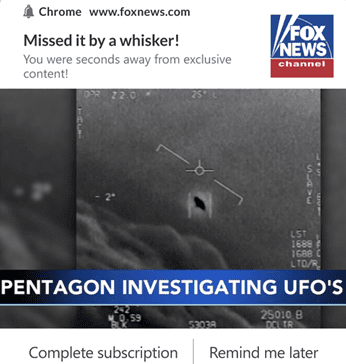 Fox News gently reminds its customers to complete their news subscription purchase with personalized push notifications.
Reduce your dropoff rate by sending polite reminders to your customers to get them to complete a purchase that was abandoned midway through.
Glow & Lovely – Account Creation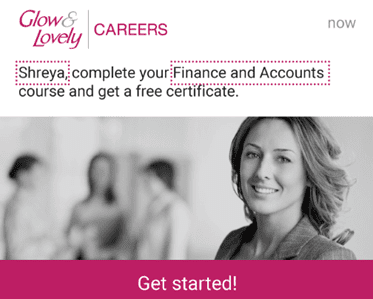 Glow & Lovely assists its employee candidates with their job applications by providing helpful push messages.
Complete more customer profiles by reminding your customers to fill out their account profile details.
Recommendation Notifications
Are push messages that recommend the customer consider purchasing certain products as reflected by their purchase history.
Product recommendations rely on a deeper understanding of consumer tastes and preferences.
Buying trends across product categories or the customer journey itself will help you craft recommendations that fit each customer's interests.
Pro Tip: Use A/B testing in your push notifications to tease out products that sell well together.
Insert Name Here – Quiz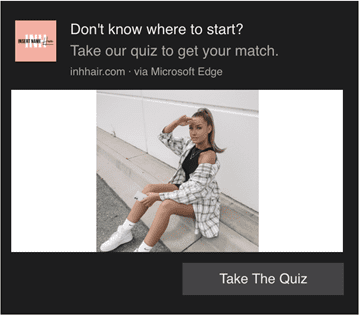 Insert Name Here gets rid of buyer confusion by encouraging shoppers to take a short quiz.
Customers will get tailored product recommendations based on their quiz answers. Use brief questionnaires to match your customers with products that fit their needs.
CouponRani – Complimentary Product Match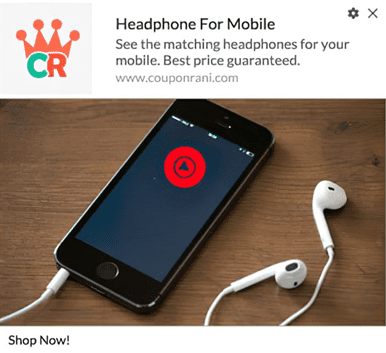 CouponRani recommends matching accessories whenever a customer uses their coupon to purchase a mobile phone.
Give your customers recommendations on related or complementary products that match their purchase history.
Wow Skin Science – Product Tutorials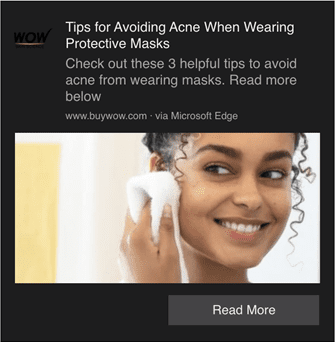 Wow Skin Science recommends follow-up content to help their customers make the most of their purchases.
Connect your customers with content they can easily understand and put into practice, to further enhance their product experience.
Crystal Palace FC – Related Content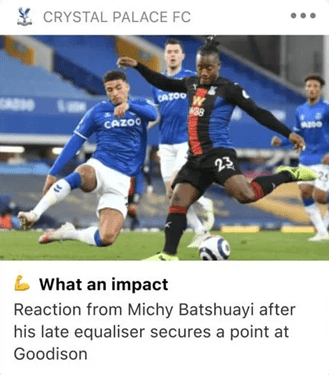 Crystal Palace recaptures audience interest with hyper-relevant content like player interviews and expert reactions.
Create content pipelines that your customers can consume over a longer period.
A constant stream of content gives your audience a reason to keep coming back for more. You'll see a big improvement in customer lifetime value (CLV).
Limeroad – Personal Recommendation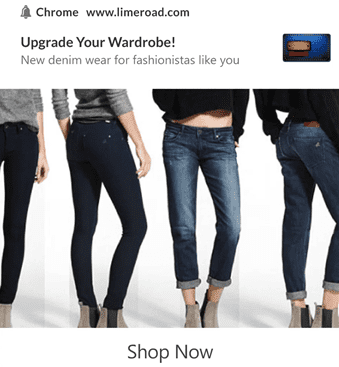 Lime Road uses purchase history to take customer profiles to the next level with tasteful recommendations.
Map out buying trends among your customers to tailor your product recommendations to individual preferences.
Pinterest – Category Recommendations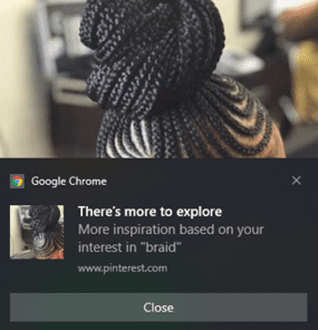 Pinterest encourages its subscribers to browse content in categories they've already shown interest in.
Tag your content appropriately to make it easier for your customers to find and receive notifications in categories that strongly interest them.
Mill Motion – Event Registration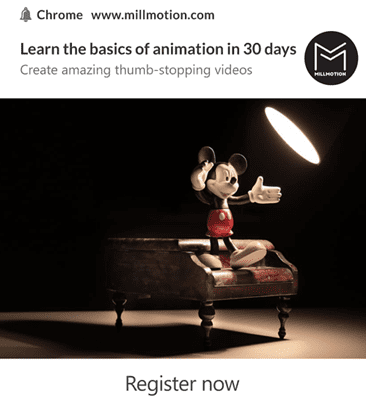 Mill Motion gets its subscribers to sign up for courses with targeted push messages.
Allow your subscribers to register for workshops, webinars, and in-person events that you plan on running.
HumanN – Seasonal Recommendations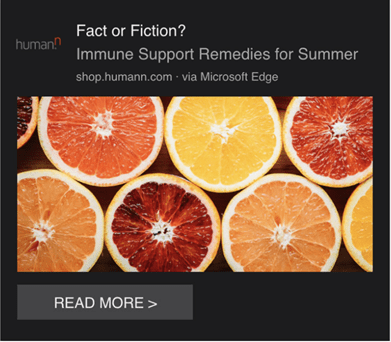 HumanN makes smart use of timed updates with seasonal recommendations.
Be aware of seasonal and cultural changes that affect product use. And keep your updates fresh by incorporating seasonal trends into your push campaigns.
Update Notifications
Are push messages that keep the customer informed about an aspect of your business as it pertains to them on a personal level.
Updates should be timely and highly customizable. Use tags to sort updates into related categories.
Pro Tip: Give your subscribers the option to customize their update notifications so that they can stay informed on topics they actually care about.
Zanerobe – Product Drop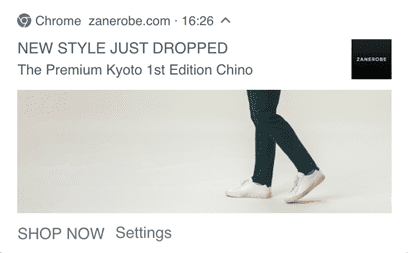 Zanerobe keeps its customers hooked with regular product drops.
Let your customers know whenever a product or feature is made available. Spark curiosity by keeping your push message short and simple.
Fairfax & Favor – New Arrival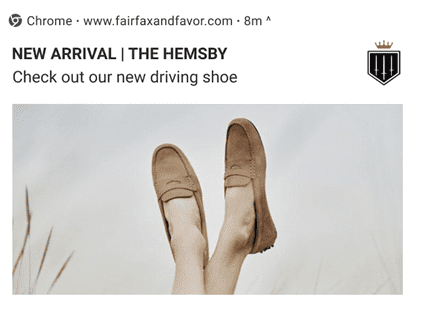 Fairfax & Favor announces its latest product additions in push notifications.
Keep new product arrivals to a minimum to avoid sending too many messages that could overwhelm your subscribers.
Snow Joe – Deal Bundle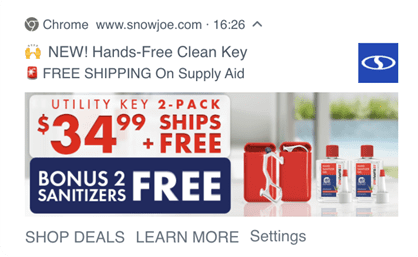 Snow Joe persuades customers to spend more with high-value deal bundles.
Invite your customers to spend more by regularly turning multiple products into a new bundle.
Remember to show your customers exactly how much they're saving so they can better understand the value of a bundled offer.
Petal & Pup – Back in Stock Alert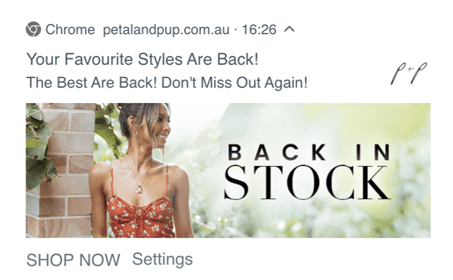 Petal & Pup makes good use of back-in-stock alerts to rekindle interest in their older collections.
Gauge your metrics to find your bestselling products. Send a notification whenever a flagship product is back in stock.
5% Nutrition – Now Available Alerts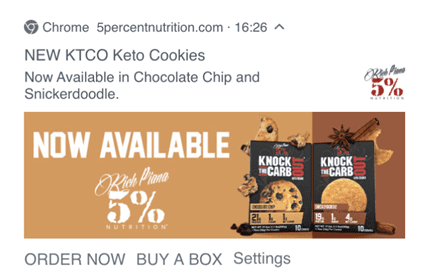 5% Nutrition takes advantage of new foodie flavors to entice customers to try variations of their product.
Create your own product spinoffs and brand partnerships to reinvigorate interest in your existing product lineup.
Follow up with notifications to subscribers that are already fans of your product.
Aza Fashion – New Collection Update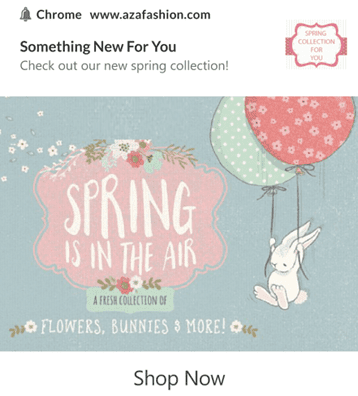 Aza Fashion announces a bunch of new products in their updated seasonal collections.
Group multiple products that you want to launch at the same time into product collections. Use themes to curate your collections into accessible categories.
Forbes – Newsworthy Content Update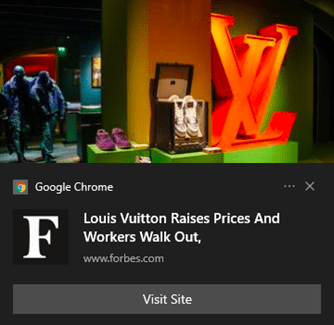 Forbes uses push notifications to highlight the most newsworthy content from a much broader collection of daily news features.
Show your customers that you value their time by limiting content updates to material you're sure is newsworthy.
Ro – Service Updates

Ro facilitates the provision of medical services through timely check-ins.
Deliver well-timed service communications through automated push campaigns.
Providing anonymous updates to your customers shows that you respect their time and their privacy.
Start using push notifications with Brevo
Quick & easy installation, 500 free impressions/month, fully customizable design and display settings, live performance tracking.