Reading time about 27 min

Click and Collect (or Curbside Pickup) has emerged as one of the key business survival strategies of 2020, giving retailers a precious buoy to cling to during lockdowns and times of social distancing.
If you're a small retailer and want to give your business a fighting chance against the likes of Amazon, you need to get on board the Click and Collect train — fast.
This powerful omnichannel strategy combines online shopping with the in-store experience.
Unsurprisingly, Click and Collect sales in the United States grew 60.4% in 2020 compared to the previous year. Big players like Target, Walmart, and Ikea have already made it a staple.
As far as ecommerce trends go, Click and Collect was already on the rise pre-Covid. But now that businesses and consumers have had a taste of its advantages, one thing is clear: it's not going away anytime soon.
And because we don't want your small business to miss out, we've put together an in-depth guide that'll teach you:
How Click and Collect works
The tools you'll need to be able to take online orders and payments
The steps to setting up an efficient Click and Collect process
How to create an awesome customer experience that drives repeat business
Let's dive in!
What is Click and Collect?
'Click and Collect' takes place when a customer buys a product online then picks it up in store or at another pickup location.
Also known as 'Buy Online, Pickup in Store' (BOPIS), it's commonly used by brands and businesses with brick-and-mortar locations.
Curbside pickup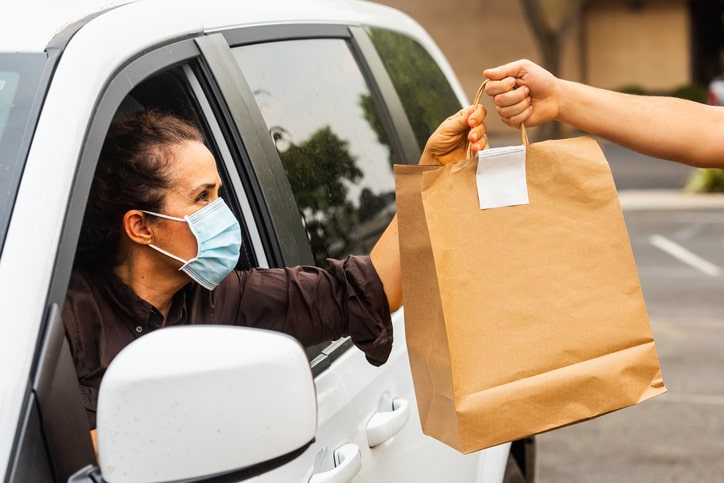 Another variation of Click and Collect is Curbside Pickup. Popular in the US, this is a form of contactless pickup where customers don't need to leave their vehicle. The online orders are passed through the window/door or placed directly in the trunk.
Typically, Click and Collect services are offered free of charge. One of the main reasons customers choose store pickup is to avoid the shipping costs associated with home delivery.
How does Click and Collect work?
The set up will vary depending on whether it's a retail store or a café/restaurant. But the principle of Click and Collect is generally the same for all businesses: Customers place an order online, pay for it, then collect the order in person at a pickup location.

Collection takes place either inside the store or outside (i.e. on the pavement or in the parking lot for curbside pickup).
Payment online vs. payment in store
While Click and Collect mainly works on the basis that payment is processed online, you may also choose to offer in-store payment. This decision will largely depend on how you collect orders (not all ecommerce platforms offer this possibility).
Beware, offering in-store payment for Click and Collect has its disadvantages.
The obvious one is that, without monetary commitment, the customer is more likely to not turn up. That means it'll take you longer to clear the item from stock.
Plus, if it's a busy period like the holiday season, in-store payment will lead to longer waiting and processing times. This'll take the convenience factor out of the Click and Collect experience and cause frustration.
Why Click and Collect works so well
For local stores and independent retailers, Click and Collect is inexpensive and easy to set up.
While there's no denying that its popularity skyrocketed due to the pandemic, Click and Collect is likely to be here for the long run.
It's a highly effective business strategy and customers love it. Here's why:
Convenience
Customers know the item will be ready when they get to the collection point — no waiting in line. It's ideal for those with busy schedules. Capitalize on the convenience factor by making the collection process as quick and seamless as possible.
No shipping fees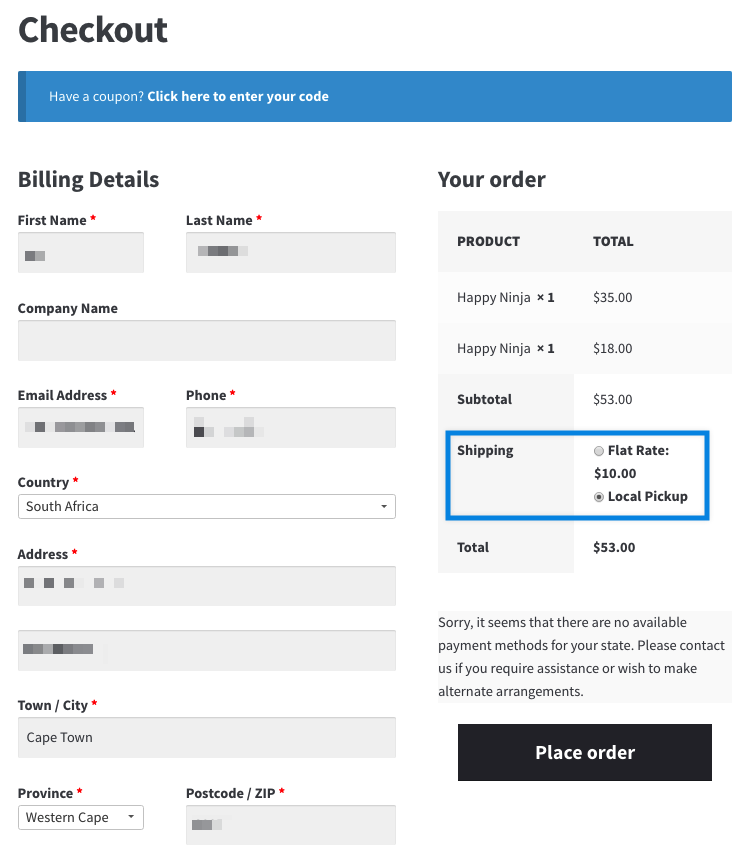 That's right — neither you nor the customer has to pay for shipping.
It's also an effective deterrent for abandoned carts. 
A lot of online shoppers abandon their carts because of shipping costs.
By offering Click and Collect as a free alternative, you're more likely to close the sale and reduce the number of abandoned carts.
Avoid shipping delays
Shipping times can increase significantly during busy sales periods. Home delivery is risky for last minute shoppers who need an item in time for a specific day like a birthday or Christmas.
Click and Collect is a faster, more reliable alternative to home delivery. Not to mention that in-person pickup eliminates the risk of lost or stolen packages. Naturally, it's going to appeal to last minute shoppers.
There's also an element of instant gratification that drives customers to opt for Click and Collect. If you want/need something urgently but don't want to wait for shipping, it's a no-brainer to pop into your local store and grab it.
Drive foot traffic into your physical store
Ecommerce meets in-store shopping. As a retailer, Click and Collect gives you the best of both worlds. It drives people to your store and generates upsell opportunities.
After all, there's a good chance something else will catch a customer's eye when they come to collect orders. Make it easy to purchase additional items and you'll be sure to increase the average basket value.
Reduce your ecommerce returns
An advantages of in-person collection over online delivery is that shoppers get to test or try on the product before leaving the store.
If an item is the wrong size or color, swap it for the right one there and then — and even upsell while you're at it. And if the customer changes their mind completely, you'll get the item restocked quickly.
The Buy Online, Pickup in Store strategy will drastically reduce your ecommerce returns. Let's compare two scenarios.
Lucy buys a sweater online and opts for home delivery. When the sweater arrives, it's too small. At this point, Lucy's busy and her original purchase intent has waned. Stuck for time, she decideds simply return the sweater and get her money back.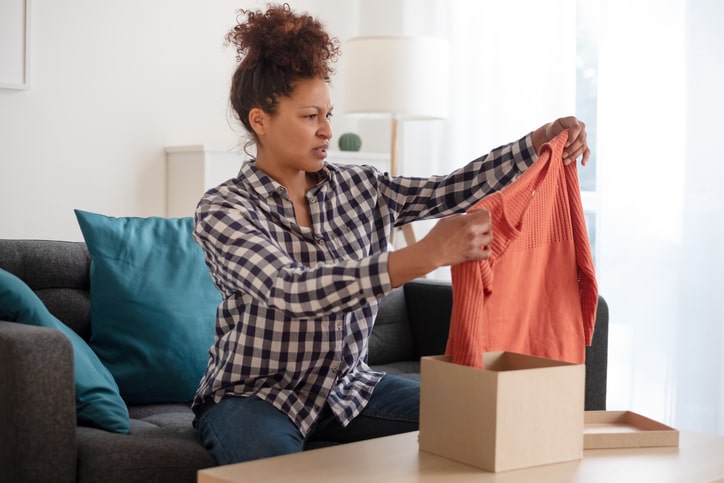 Valerie visits the online store of a local fashion boutique and buys a dress for an upcoming event. At checkout, she opts for Click and Collect. But when she tries on the dress in store it isn't quite as she expected.
Luckily, one of the store associates is on hand to suggest an alternative model and a pair of heels to go with it. Valerie leaves with the dress and shoes, no returns were made.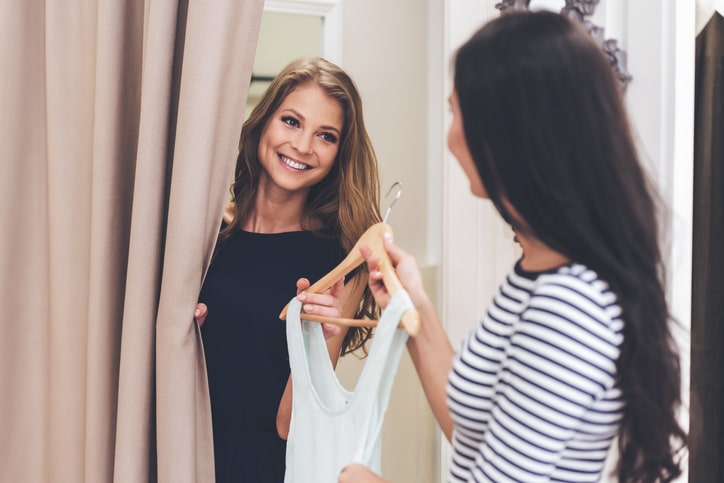 And that's the beauty of Click and Collect: Customers enjoy the convenience of online shopping and the confidence of the in-store experience.
Click and Collect is here to stay. Don't miss an easy opportunity to drive sales for your local business.
Going behind the scenes now, what does your retail store actually need to make Click and Collect possible? Let's take a look at the systems and processes behind the service.
What does my store need to run a Click and Collect service?
Let's break this down into 4 main components and then we'll look at each in more detail.
For Click and Collect, you'll need:
A method of collecting orders (either online or over the phone/email, depending on the type of business)
A way to facilitate payments
A process for managing inventory
A means of notifying customers when an order is ready for pickup
Setting up online orders for my business: What are the options?
As an independent retailer, here are some of the different ways you can take orders remotely.
1. Build an ecommerce website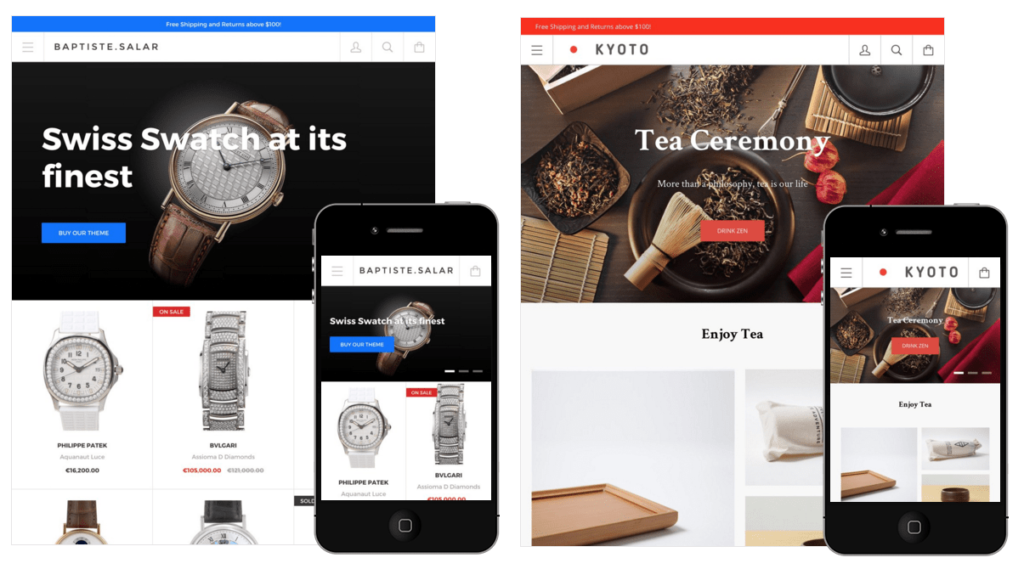 Having your own online store powered by ecommerce software is the easiest, most efficient, and reliable way to run Click and Collect.
A fully-functioning ecommerce website will integrate all four processes mentioned above — online orders, payment, inventory management, and customer notifications. The end result will be a secure, streamlined Click and Collect process.
The first step in building an ecommerce site is deciding whether you want to go for a hosted or self-hosted ecommerce solution.
Hosted versus self-hosted ecommerce platforms
An important thing to know about ecommerce platforms is that there are two types: hosted and self-hosted. The choice will largely depend on your technical skills, specific development needs, and budget.
What's the difference between hosted and self-hosted ecommerce software?
A hosted ecommerce platform is a type of SaaS (software as a service) that lets you create and host an online store for a monthly/yearly subscription fee.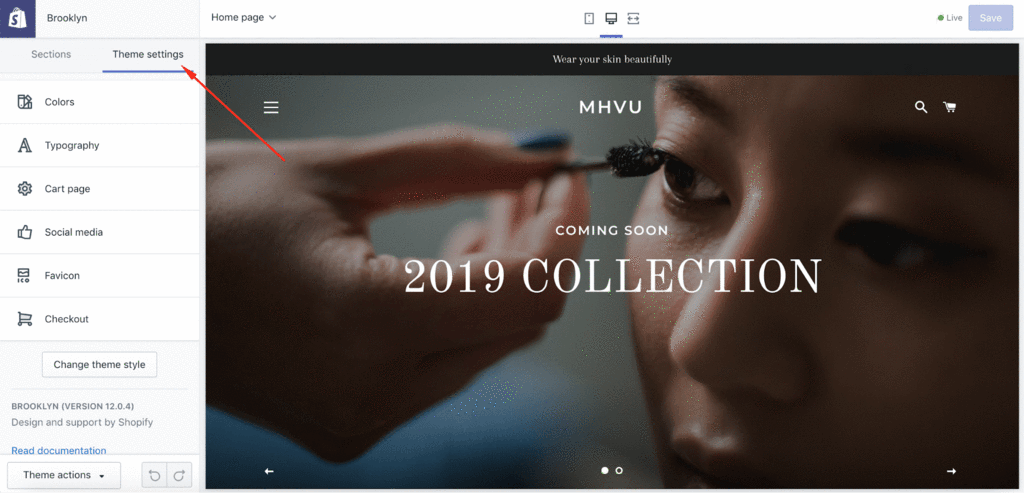 This 'ready-to-go' web-based option already includes hosting, SSL, security, a website builder, and all the necessary features to manage payment and inventory. Hosted ecommerce platforms are great for small businesses and individuals who want to get an ecommerce site up and running quickly, without any hassle.
A self-hosted platform, on the other hand, refers to open-source ecommerce software. You choose your own hosting provider then build and customize the site using a third party ecommerce application.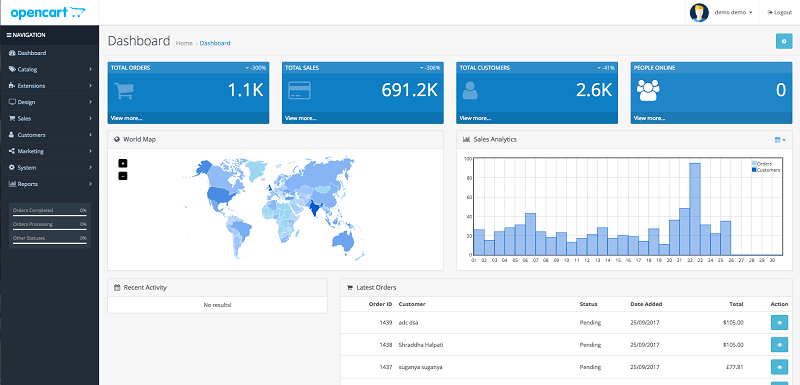 While this option is cheaper than a hosted platform, you're putting everything together from scratch so you'll need the technical expertise to be able to do that — or the budget to hire someone who'll do it for you.
More on self-hosted ecommerce in the next point where we'll talk about turning your existing website into an ecommerce site. But for now let's look at some hosted options that'll get your site up and running in a matter of hours.
The best hosted ecommerce platforms to quickly create an online store
Some of the most popular ecommerce platforms for beginners are:
Discover more: The 11 most affordable ecommerce platforms for small businesses
Hosting a store with one of these providers is a great option if you don't already have a website. Here are some of the main advantages:
Quickly and easily set up a standalone online store without any technical skills
Fast and affordable if you just need a simple ecommerce site that has all the necessary functionalities
Use a domain purchased elsewhere or a subdomain offered by the provider.
The downside of a hosted ecommerce platform is that you won't have the same freedom to customize as you would with open-source ecommerce software like Magento or OpenCart.
Self-hosted ecommerce solutions are often plugged in to your existing site, which we'll take a look at now.
2. Add an ecommerce plugin to your existing website
If you already have a static website and don't want to go building another, get your online ordering system up and running with the help of ecommerce plugins.
Ecommerce plugins like WooCommerce will let you add the necessary ecommerce functionalities (product display, stock levels, payment gateways, etc.) to your WordPress site.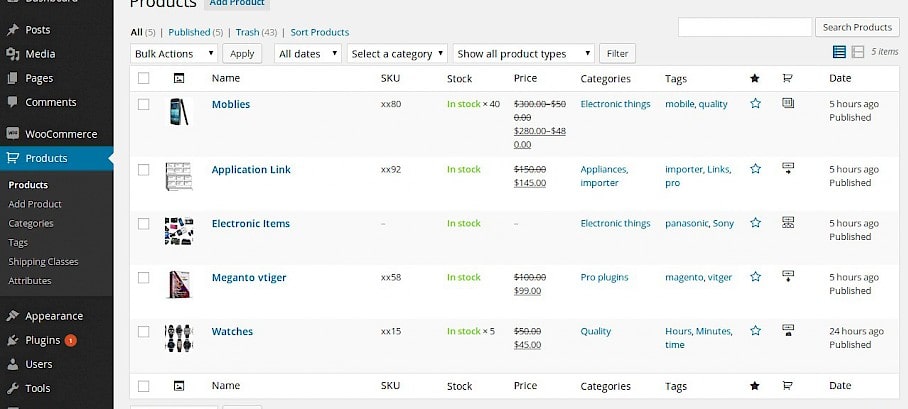 The advantage of using an open-source ecommerce platform like WooCommerce is that it's free and you'll have lots of flexibility and control over the features you want to add to your site. Not to mention all the other plugins and themes as well.
The downside is that this option requires greater technical skills. But don't worry, there are plenty of resources available and you can always hire a freelance developer to help you out.
The best open source ecommerce plugins
There are tons of ecommerce plugins out there. Some of the most popular ones are:
3. A third party app or marketplace (popular for restaurants)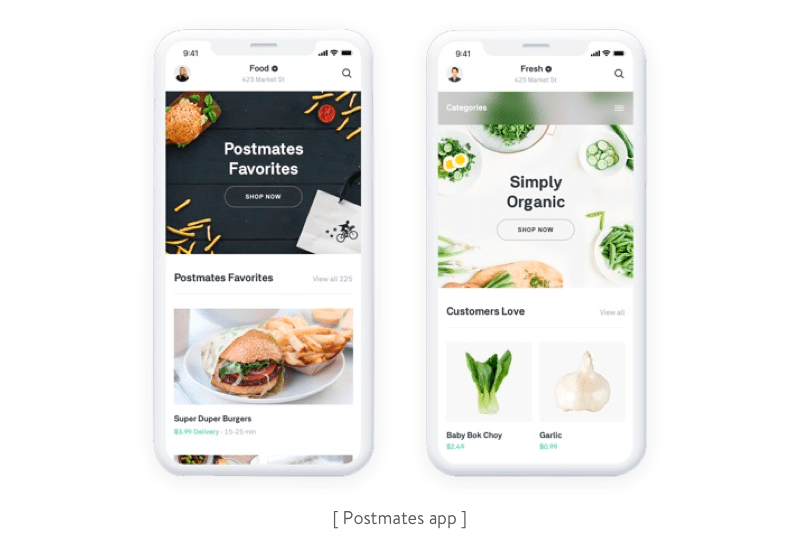 Subscribe to an app alongside other businesses selling similar products.
This is the most common option for restaurants and cafés with UberEats, Postmates, and DoorDash among the best known examples of third-party apps.
The app will make a commission on each sale but it's an important marketing tactic for restaurants to gain visibility in their local area — especially with so many people eating at home due to social distancing restrictions.
Orders, payment, notification, and (in most cases) delivery are all managed by the app provider making it a hassle-free way to collect online orders for your restaurant.
4. Over the phone or by email
Again, it all depends on the size of your business, but you may decide to forego the fancy systems and do things the old school way — over the phone or by email. And that's fine.
If it works to have customers call you directly and place their orders, then go for it. Card information for payment can be shared over the phone and entered manually into the POS (sharing over email is not advised for security reasons).
You can still display product images and information on a simple, static website. This way the customer has a way to see what's available, even if they can't visit the physical store.
A static website obviously won't have all the bells and whistles of an ecommerce site, but it's better than nothing.
Good to know: Some Point of Sale (POS) systems come with a built-in Click and Collect feature. Examples of such systems include Citruslime, Epos Now, ShopKeep, and Square.
Now's the time to take your business online
Still on the fence about launching an ecommerce site?
Our advice: Just do it. Take the leap and set up your online store — either with a hosted ecommerce solution or an open-source platform. There's never been a more relevant time to expand your online business.
It'll be the easiest way for you to handle payments, inventory, and customer communications all in the one place.
Plus, you'll have the flexibility to set up Click and Collect and other delivery services. The more omnichannel options, the more sales opportunities.
Tip: Integrate your POS system with your ecommerce software
Want to take your store to the next level digitally? Consider integrating your POS system with your ecommerce software. This way you'll benefit from a more comprehensive approach to inventory management and other shared data between the two systems.
This guide from ShopKeep recommends checking with your POS provider to see which ecommerce providers they have an integration with. If it's an old software and doesn't integrate with any ecommerce solution, you may want to look at upgrading it.
Alternatively, some ecommerce platforms also offer POS software so that you can unify in-store and online sales.
The next section will focus on users with an ecommerce website but some of the more general processes — like setting up a physical space to collect orders or training your team — can be applied to any of these order collection methods.
How to set up Click and Collect
Step 1: Build your online store
As explained previously, this can either be hosted on an ecommerce platform like Shopify or self-hosted e.g. adding ecommerce functionality to your existing site.
Add product pages with product images, prices, and all the necessary information.
Step 2: Make sure your inventory levels are up to date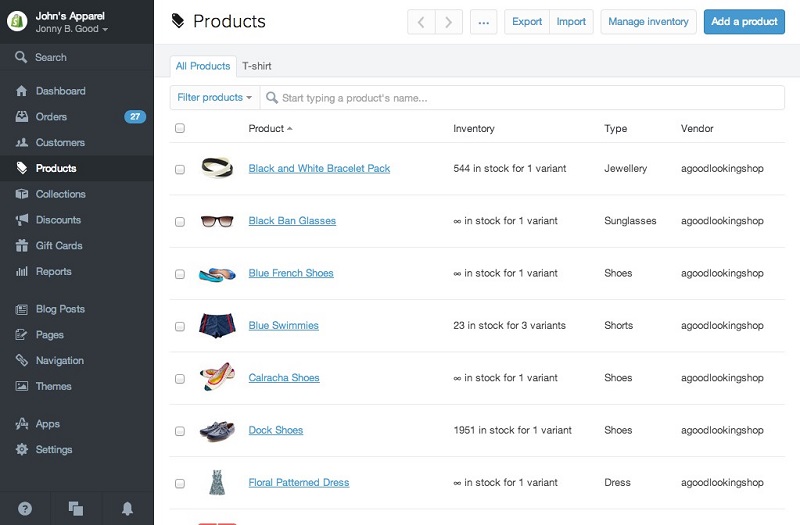 Double check that stock levels entered into your ecommerce software are correct. The last thing you want is a customer arriving to collect a product that's out of stock.
Step 3: Outline the details of how your Click and Collect process should run
Be clear from the beginning about how you want to operate this service. Define the key details and time frames your team needs to respect to provide the best possible customer experience.
Put your thinking hat on. Map out the entire Click and Collect journey. Use these questions to guide you:
Once an order is placed, how soon will it be ready for pickup?
Who'll be responsible for preparing the order?
How will the customer be notified that the order is ready? What contact information will they need to provide?
In which part of the store will the order be kept? Will you offer curbside pickup?
How will the customer know where to go upon arrival? What in-store signage will be used?
How long will you hold each order?
How soon will you send reminders if an order hasn't been collected?
What ID/proof of purchase will the customer need to bring with them?
Who'll be responsible for updating the system once an order is collected?
Step 4. Enable Click and Collect as a delivery method at checkout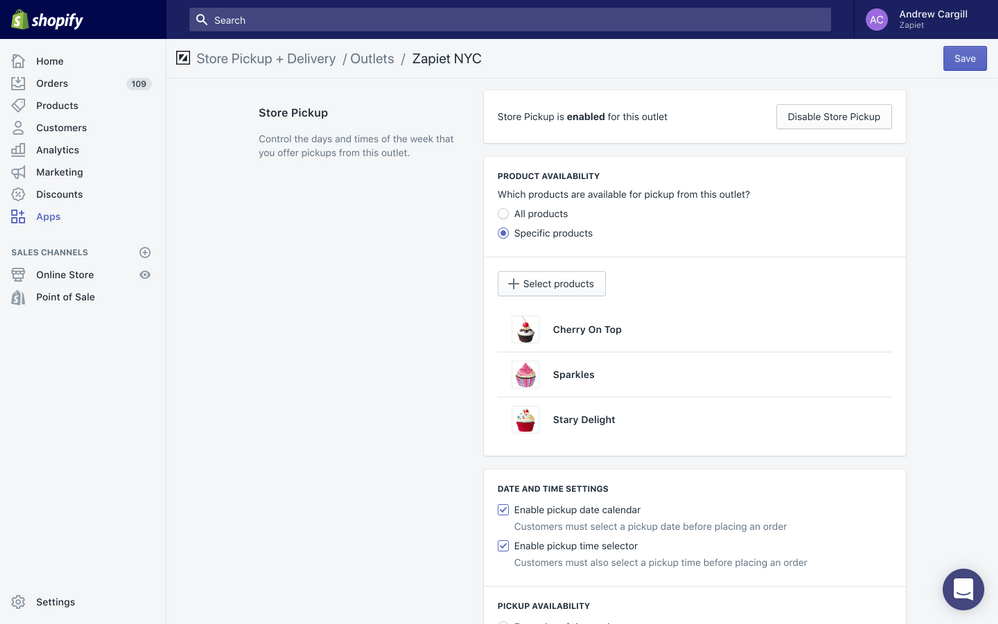 Source: Shopify Community
Offer Click and Collect as a delivery method at the required addresses. Double check that the collection point address is clear and easy to read.
Step 5. Let the customer know what to expect at checkout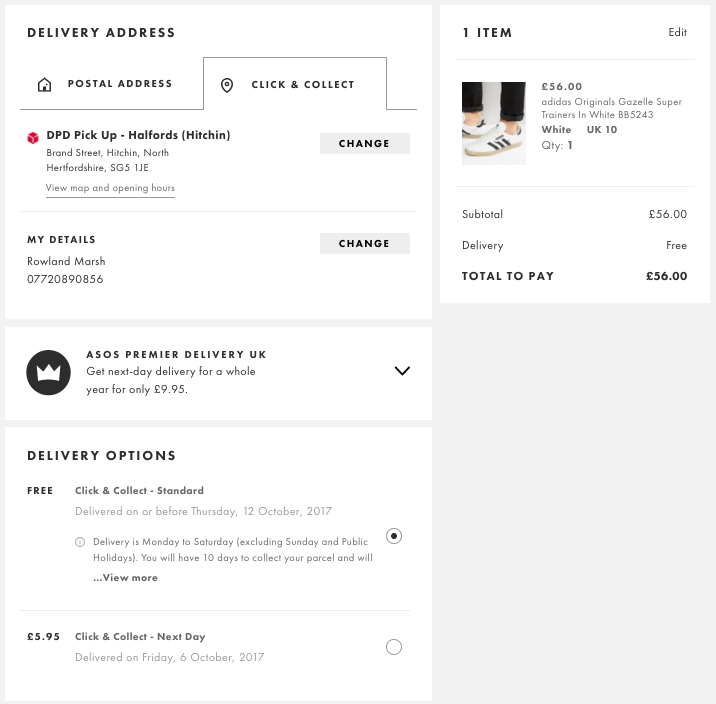 If your ecommerce software lets you display custom information at checkout, use this opportunity to set expectations. Don't leave them wondering. Include details such as:
How soon the order will be ready (e.g. ready in 2 hours, ready by noon next day)
How the customer will receive notification that an order is ready (email, SMS, phone call)
Where they'll need to go, i.e. the address of the pickup location
Step 6. Create a space in your store to hold orders until they're picked up
If you operate a small store, this is something you can probably manage at the checkout. Just keep the orders behind the counter.
For bigger stores you might want to consider a separate checkout till or collection point.
Tip
Keep the orders nearby. It'll be more efficient and customers will spend less time waiting around. If there are social distancing measures in place this'll also help keep things flowing along safely.
Step 7. Make sure the in-store collection point is clearly signposted
Customers need to know where to go to pick up their order. Use in-store signage to point them in the right direction.
Step 8. Get organized for curbside pickup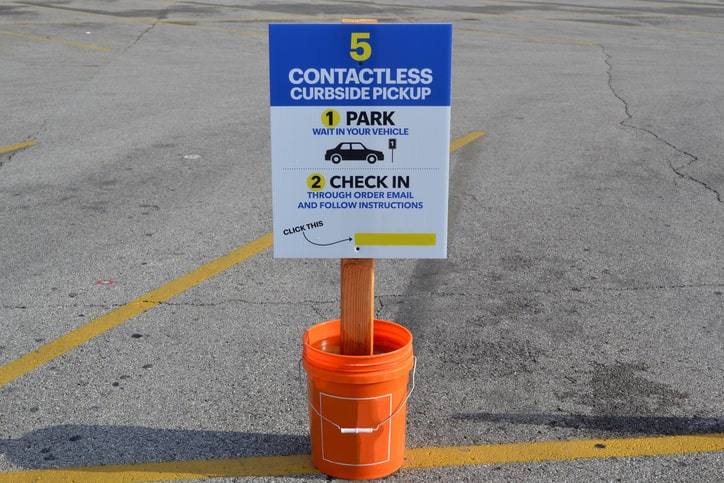 If you've decided to offer curbside pickup, iron out your processes to make sure it runs smoothly too.
If customers drive up to receive orders, where will the handover take place — on the pavement outside or in the nearest parking lot? Will you reserve dedicated parking spaces for this purpose?
How should the customer contact you once they arrive? Calling the store directly is probably the easiest option but live chat or Facebook messenger are other possibilities.
Step 9. Train your team
A key element in making this omnichannel retail experience a success is a well-coordinated team.
To avoid any confusion, train your employees on the different processes and procedures. Things will run a lot more smoothly when everyone is tuned in and on the same page.
Assign roles and responsibilities
Who'll be responsible for preparing orders? Who'll manage order distribution, whether it's manning the pickup desk or going out to meet customers in the parking lot? Who'll handle incoming phone calls?
And that's not all. You also want to ensure your ecommerce software is in sync with what's happening on the shop floor. Who'll be responsible for updating the POS/ecommerce system once an order is ready for pickup, then updating the order status once it's been fulfilled?
Make sure the necessary team members have admin access to your ecommerce site to be able to input important updates.
How to improve Click and Collect
Click and Collect can take some trial and error to find the best processes for your business and customers. Don't be surprised if you hit some roadblocks along the way.
But get it right and it'll generate loyal customers that'll use the service again and again. Here's how you can provide the best possible Click and Collect service to your customers.
Communicate clearly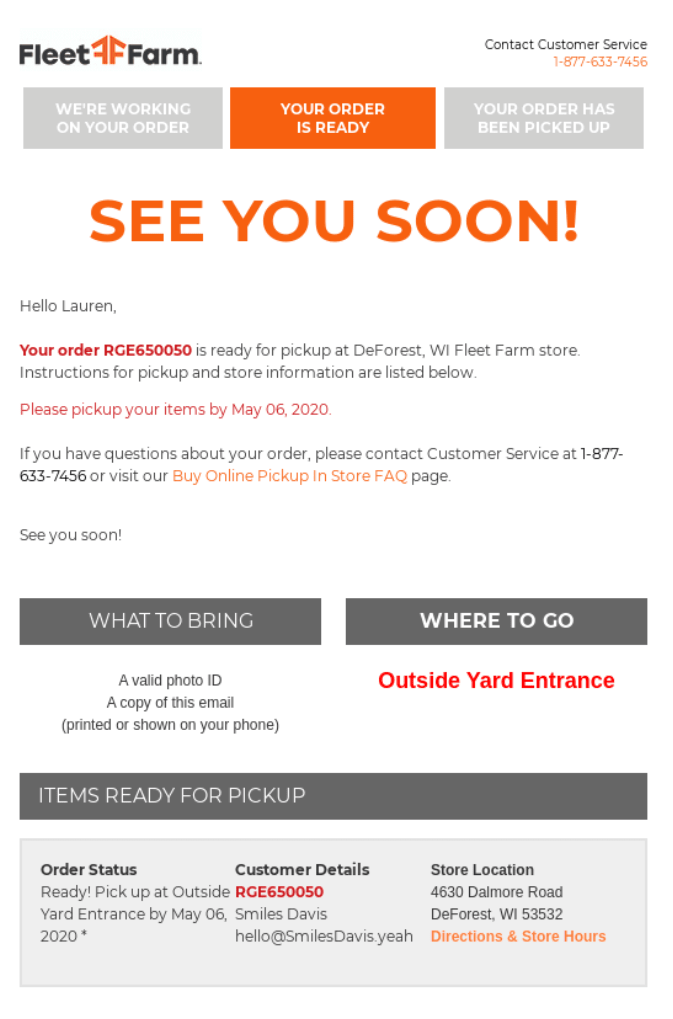 Make sure your transactional emails and SMS are on time with the relevant information a customer needs. These are the typical transactional emails a Click and Collect customer will receive:
Order confirmation email
Welcome email (if the customer has subscribed to your marketing emails or created an account, an important part of your ecommerce email strategy)
Real-time order preparation updates (optional)
'Ready for pickup' email/SMS with location address
Pickup reminder email/SMS
'Leave a review' email
Need a transactional email plugin for your ecommerce? Send time-sensitive emails straight to the inbox with Brevo. Get started on the free plan.
Check out Brevo (formerly Sendinblue)'s full list of ecommerce plugins.
Prioritize convenience
If you're wondering how to improve Click and Collect, focus on the customer. Think about why they chose Click and Collect in the first place — convenience, instant gratification, no shipping costs.
The fact of the matter is, people are busy. Most just want to get in and out quickly. So make this experience as seamless as possible for them. As they've already been through the online checkout, in-store waiting time needs to be minimal.
If you've said an order is ready, make sure it's actually ready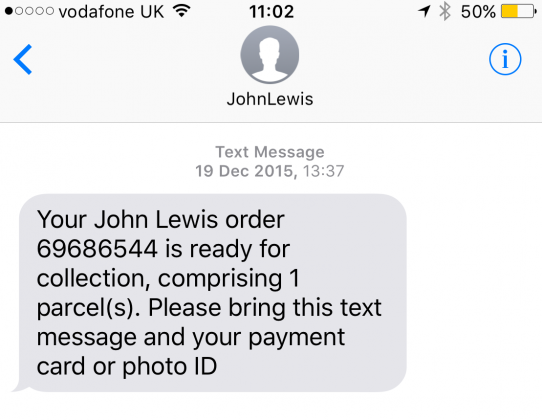 There's nothing worse — and we've all been there. You get the 'ready for pickup' notification and pop into the store to grab it. Except that you have to wait fifteen minutes while the store assistant disappears out back to search for your supposedly 'ready' order.
If you've notified the customer that an order is ready for pickup, make sure it's actually ready. Otherwise, it leaves customers frustrated and makes you look disorganized and uncaring.
To optimize waiting times, have at least one store associate in charge of the Click and Collect station. No one should be left waiting too long for a staff member to come along and greet them.
And keep the orders within quick reach for staff. This'll decrease the waiting time and avoid scenarios where the shop floor is unattended because an employee had to go rummage through storage.
Set the pickup point close to the door
You might be tempted by the age-old retail trick of making people walk through several aisles to reach their destination.
You can, of course, make the most of upsell opportunities generated by Click and Collect. But don't overdo it, either. Send people through a maze and they won't be happy you wasted their time.
Convenience is how you'll win customer loyalty. So make the collection point accessible and close to the door for those wanting to nip in and out quickly. You want your customer to leave thinking Wow, that was easy! I'll do this again next time.
How to boost Click & Collect sales
Promote Click and Collect at the online checkout
Promote Click and Collect at the checkout as a free delivery method and make it clear that in store returns are completely free.
This'll increase customer confidence and appeal to those who don't want to pay for shipping and returns.
Promote Click and Collect in your marketing communications
The more people who know about your new Click and Collect service, the more orders you'll get. Start communicating the message on your regular marketing channels — physical and digital. Here are some ideas to get started.
Add it to the Services section of your website
Make sure Click and Collect is listed among your services. Include information on how the process works and create an FAQ section to cover the most common questions.
Poster on storefront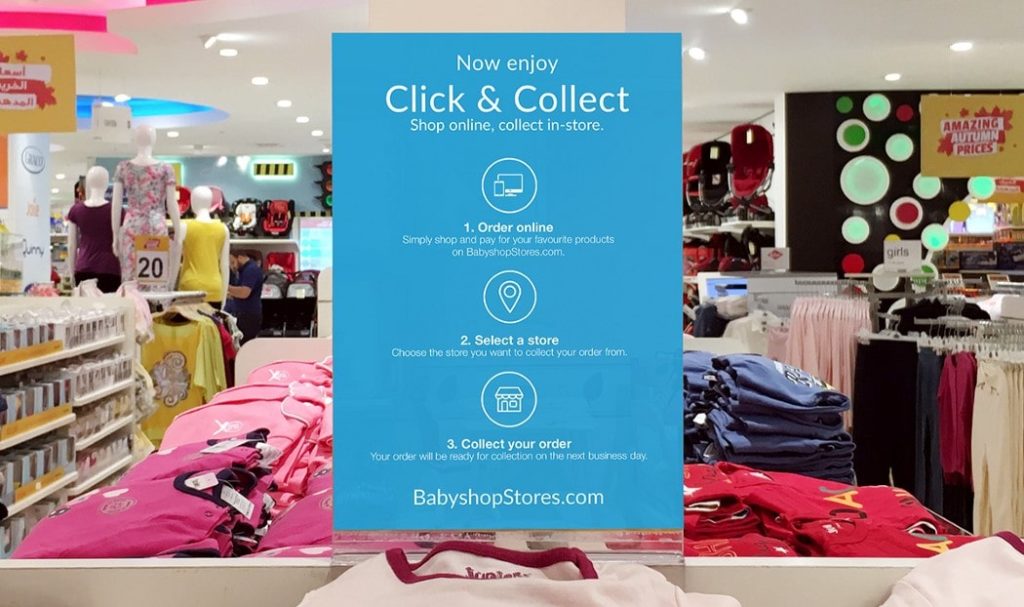 Stick an eye-catching eye-catching poster or sign on your store window. This'll grab passerbys' attention and alert them to the fact that Click and Collect is available.
Include the URL of your website/online store and information on how to place an order.
Another idea: Put an A Frame (or sandwich board sign) on the pavement outside, just like Venner did here: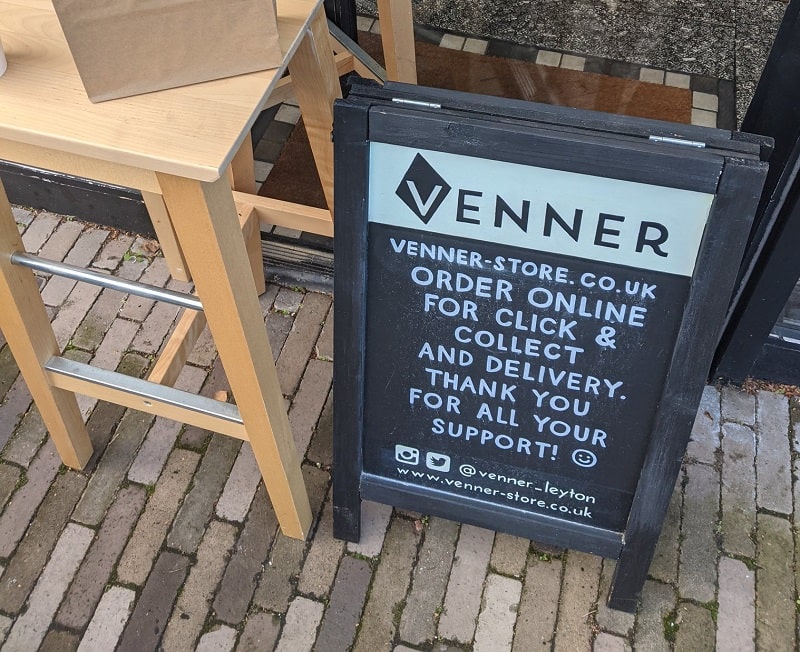 Social media
If you have a social media following, schedule some promotional posts and reminders about Click and Collect.
Email newsletter
Inform your email subscribers about Click and Collect in your marketing newsletter. Alternatively, you can run an entire email campaign dedicated to Click and Collect to encourage its uptake.
Or, if you doing a product spotlight, you can use 'free pickup' as one of the selling points. Like Peleton did in this example: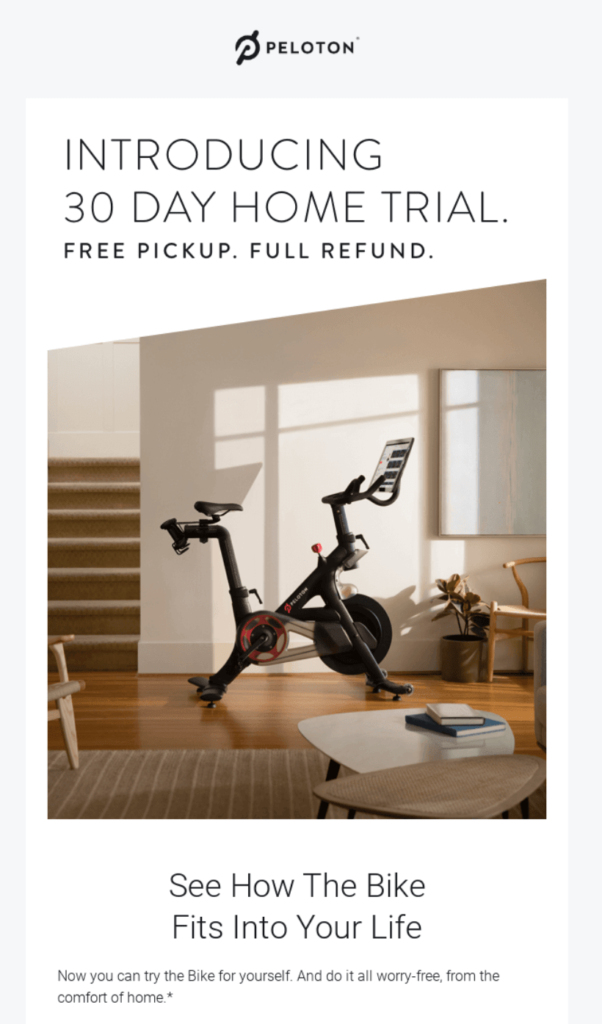 Update your Google My Business listing
Your Google My Business listing is one of the most important aspects of your digital real estate. It's often the first thing a person sees when they Google the name of your store.
More importantly, it lets people know whether you're open for pickup, delivery, curbside pickup, or in-store shopping.
All information there needs to be up to date. If you've had to close your business but remain open for Click and Collect, activate the pickup attribute.
Here's an example of an up to date Google My Business listing by Burton Road Chippy.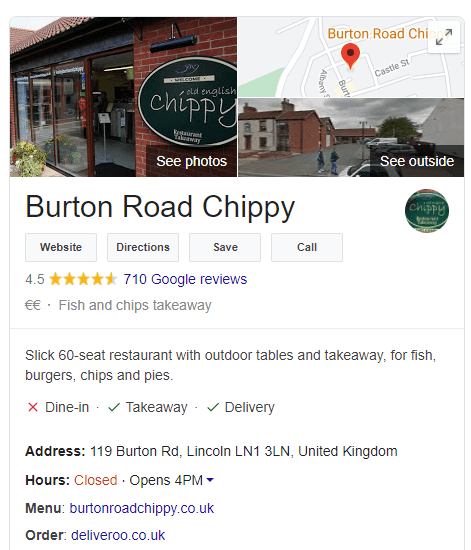 Check out this detailed guide from Partoo on how to edit your GMB profile for instructions.
Wrap Up
And there you have it. All you need to know to boost sales with a high-performing Click and Collect strategy.
Test-drive Brevo's transactional email service
Free SMTP server for up to 300 emails/day, email API for developers, transactional email templates, and unlimited log retention.
Good luck! You got this. 💪