Reading time about 11 min

Calendly might be the most popular appointment scheduling software, but what if we told you that switching to a Calendly alternative can save you money AND unlock countless new features?
Luckily, there are many apps out there that can help you plan your meetings efficiently. The right scheduling solution helps you save time, effortlessly schedule client meetings, and won't keep important features locked behind overly expensive paid plans.
But how do you know which online scheduling tool is best for your company? That's why we've put together this list: to help you find the ultimate Calendly alternative for your business.
At a glance: Best Calendly alternatives?
At a glance, the best business scheduling tools to replace Calendly are:
What is Calendly?
When your days are filled with calls, meetings, consultations and more it can be hard to keep track of your availability. You may be losing valuable time with back-and-forth emails, constant rescheduling, and juggling multiple time zones.
That is where scheduling automation tools come into play.
Calendly is a scheduling automation platform. It helps your business save time and streamline business communications.
It lets you create events and share your availability based on open hours with interested parties. You can also sync it with your other calendar apps through integrations to avoid time conflicts.
Calendly creates a custom link to be added to your website, email signature, or social media. Clients can then follow the link to see your availability and book an appointment directly.
Additional Calendly features available on the higher pricing plans include automated email reminders, the ability to create different event types, and allowing as many as six calendars per person.
Calendly: pros and cons
What makes Calendly stand out among all the scheduling tools available?
Embedded scheduling pages and routing forms
Integrations including Zoom, Google and Outlook
Activity and trend analytics
Accessible via browser, mobile app, and CRM integrations
Collects payments via PayPal or Stripe
On the downside, Calendly users usually experience the following drawbacks:
Tool limited to scheduling capabilities
Rigid free plan
Team-based functionalities only available at the highest price tier
Limited customer support available
The best Calendly alternatives compared
If you're thinking of moving away from Calendly, here's a summary of the features and prices of Calendly alternatives.
Alternative features vs. Calendly
Calendly pricing vs alternatives
The 7 Best Calendly alternatives in 2023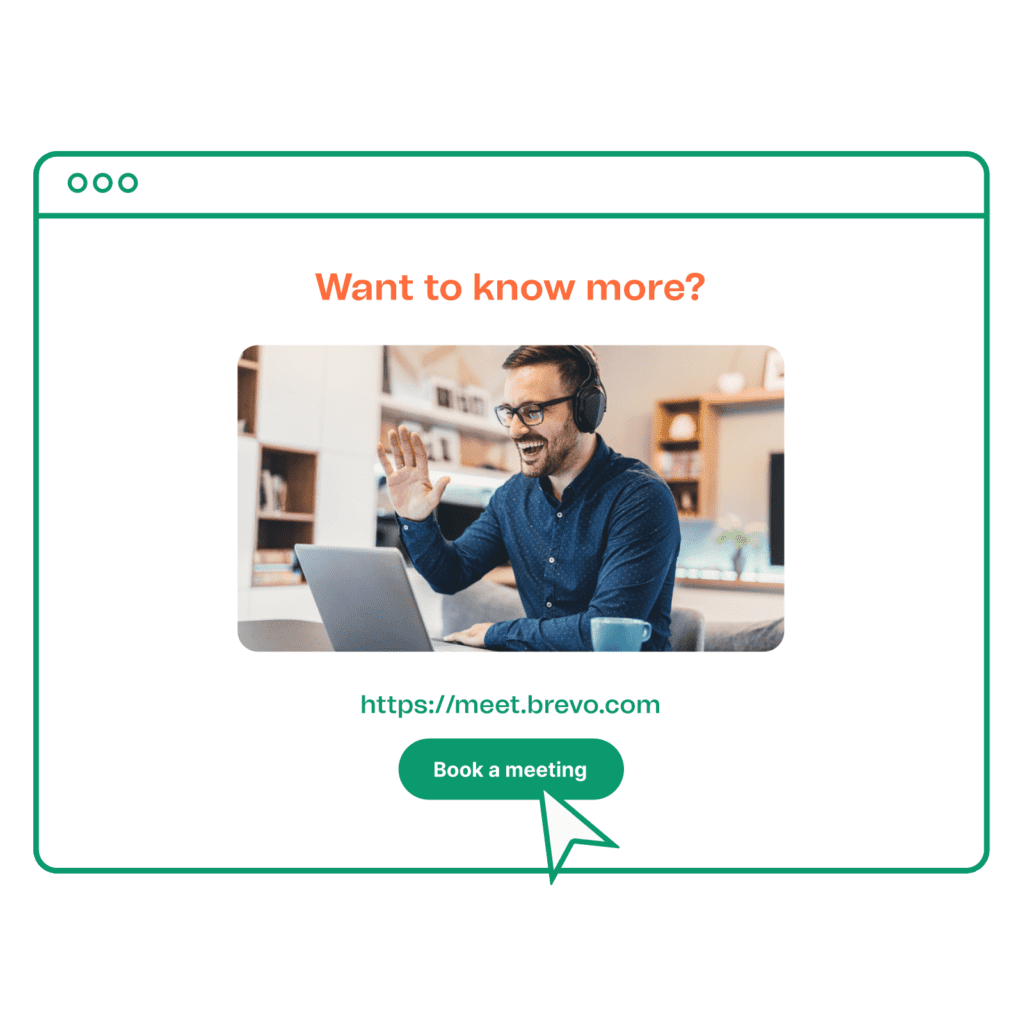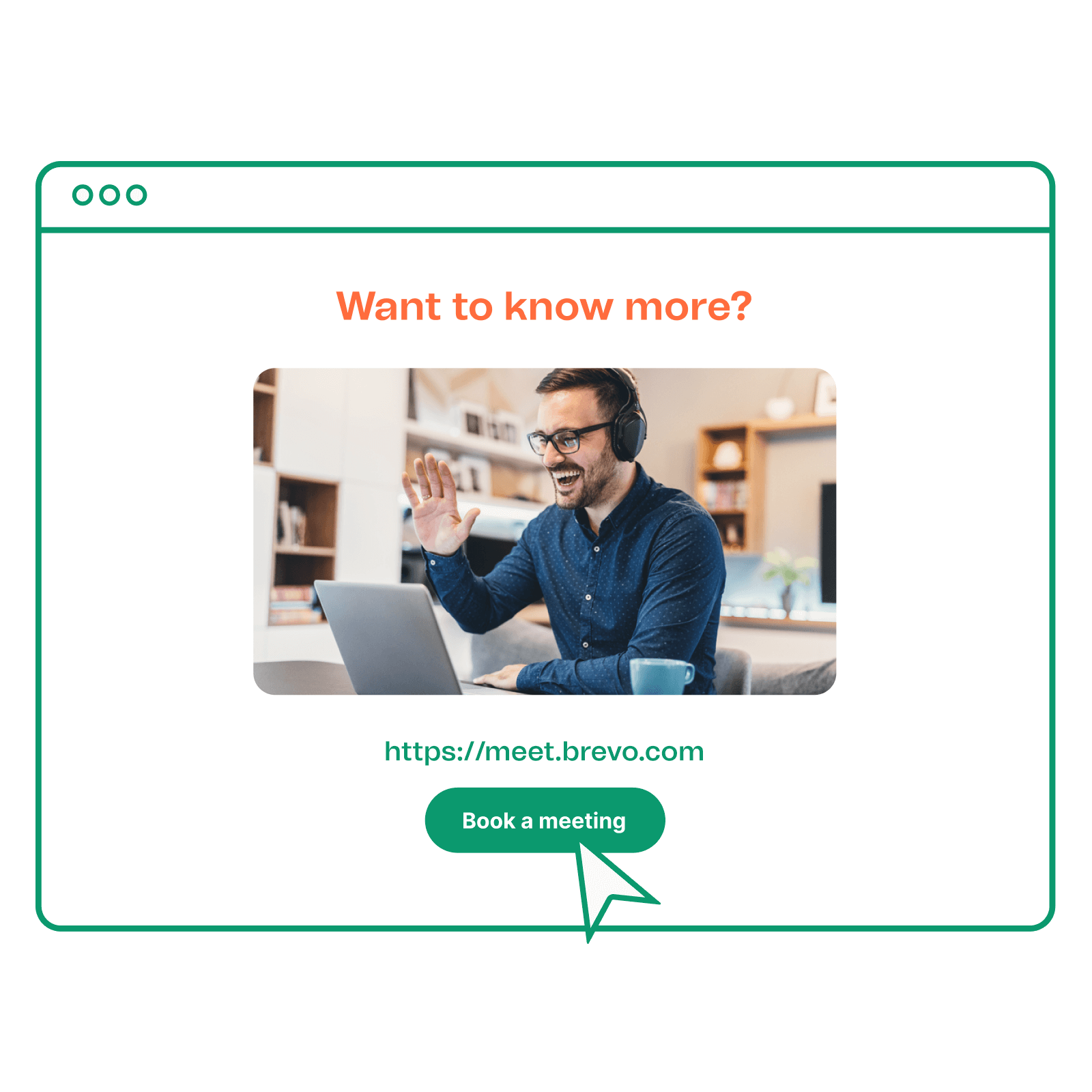 Eliminate email scheduling back-and-forth
Brevo Meetings is a free Calendly alternative but there are more reasons to call it the best appointment scheduling app.
Its purpose? To free up your time to focus on the things that matter for your business.
This is done by giving you three essential features:
| | | |
| --- | --- | --- |
| Appointment Scheduling | Video Calling | Payment Collection |
| Custom booking pages | In-browser video calling | Configure no-show and cancellation policies |
| Add scheduling button or pop-up on your website | Connect via Zoom integration | Monetize your client meetings |
| Share your booking link on social media | Join from any device | Get paid via Stripe integration |
That's right, you're able to get these three important features all in one place. Save your team's time, automate your processes, prevent no-shows, and reduce the email back-and-forth.
You can even automate multiple stages of the appointment booking process with helpful reminder notifications.
The Brevo Meetings benefits
Give your clients a smooth experience: Brevo Meetings delivers seamless scheduling through customized booking pages and personalized links that you can share on your website, in your email signature, and even across social media.
Streamline your workflow: Keep everything on one platform, making it easier than ever to automate mundane tasks, and take control of your schedule.
Connect how you want: Offer your customers a variety of meeting types to fit everyone's scheduling needs, including face-to-face meetings, group meetings, telephone calls, and video calls to enable virtual meetings in browser or through smart integrations.
No tech skills needed. Create booking pages, manage your calendar, and host meetings without any coding. It's as easy as Google Meet but integrated with your marketing!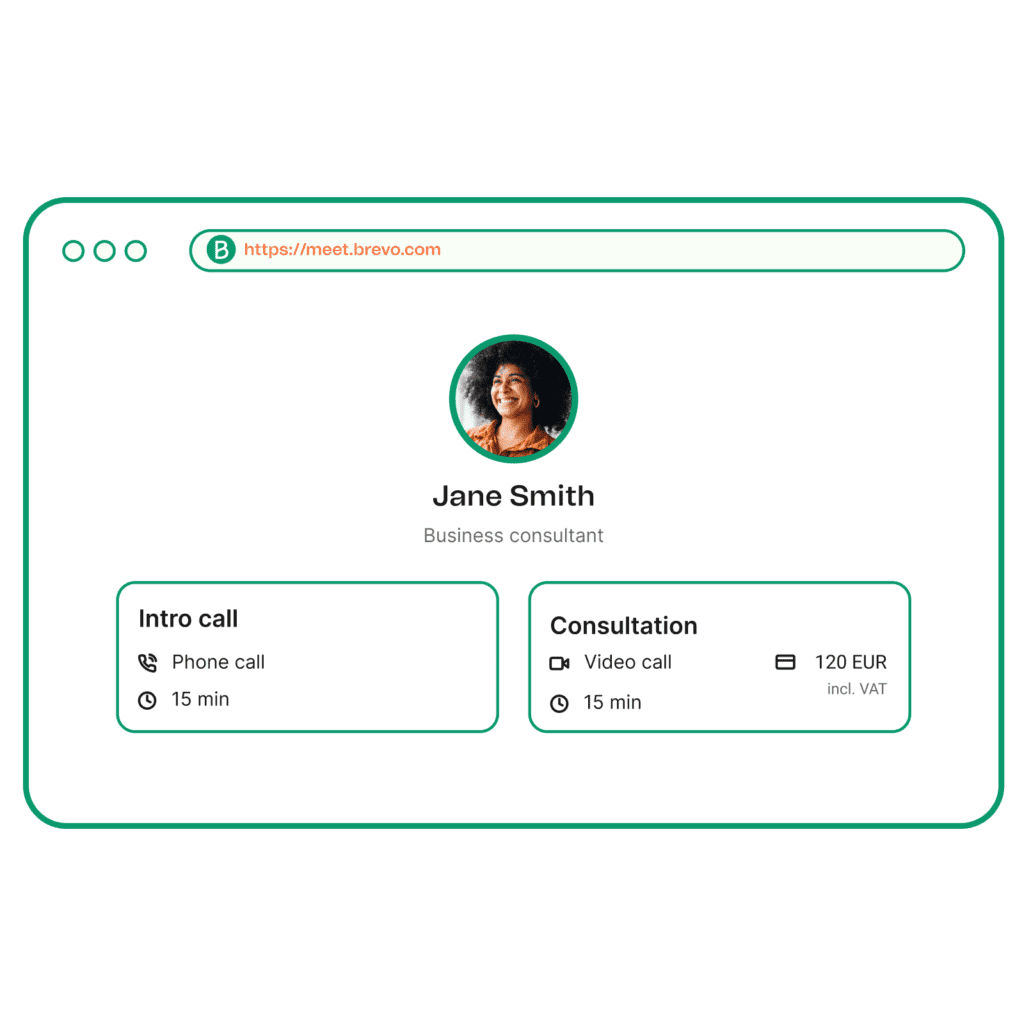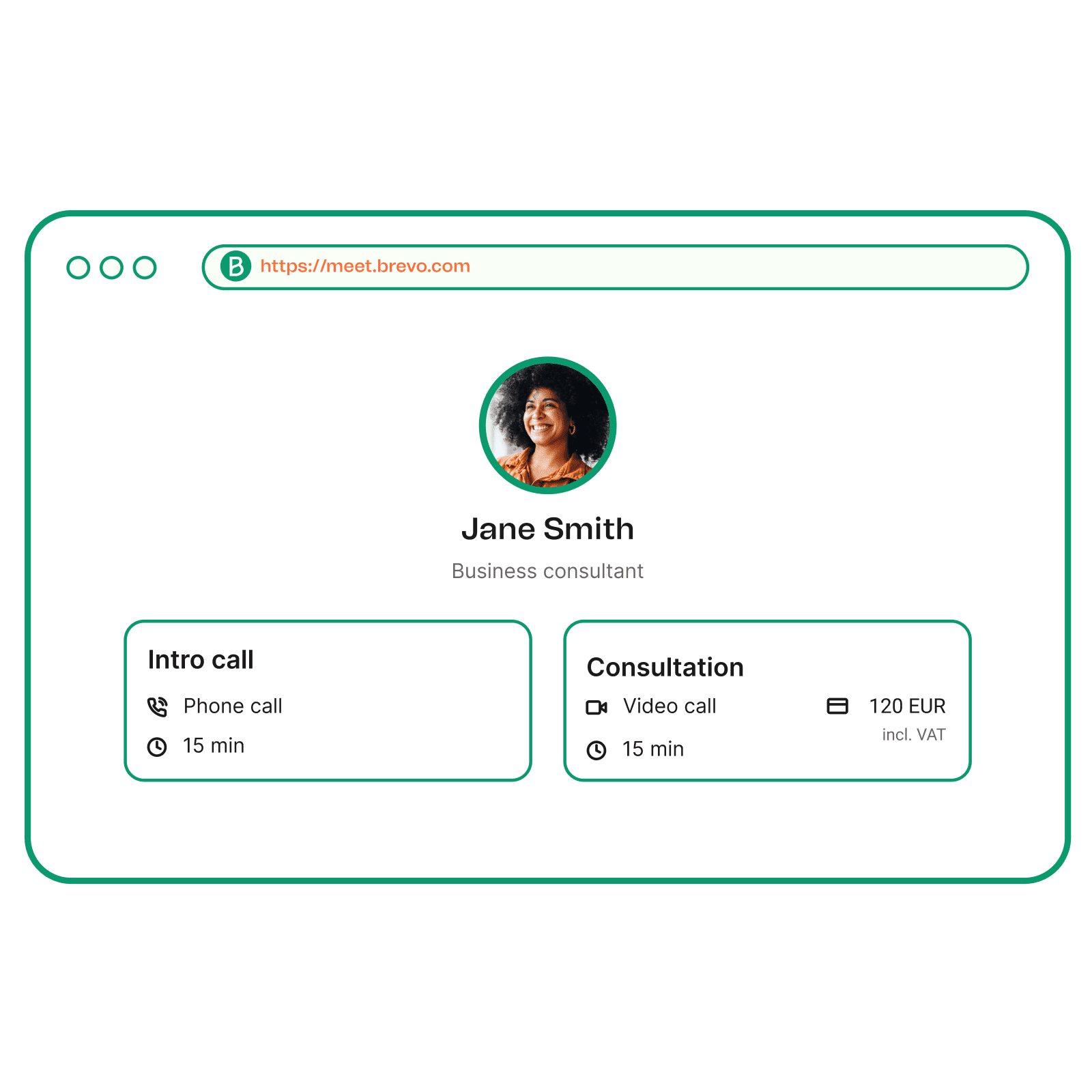 Easily create different meeting types
Increase your scheduling visibility
Share your booking page wherever it makes sense! You can easily embed your booking page on your website, add it to your email signature, or even share the link across social media.
A scheduling tool integrated with all other channels
Brevo Meetings is just one of the many apps available by Brevo. From email and marketing automation, to live chat and SMS/WhatsApp campaigns, it's a truly multichannel platform.
How much does Brevo Meetings cost?
It's free. Sign up for Brevo's free plan to access all of the Brevo Meetings features at no cost!
Meetfox is also a scheduling app that can replace Calendly. It offers video-conferencing, booking pages, payment invoicing, and more.
You can easily add a scheduling button or pop-up to your website, social media, or email signature to connect with potential clients at the peak of their interest. From there, they will be taken to your custom booking page and quickly select the best time from available options.
Meetfox has countless helpful integrations including Zapier, and calendar integrations such as Google Calendar, Gmail, Office 365.
Meetfox pricing
Meetfox offers a free plan as well as paid plans starting at $10/month
3. Zoho Bookings
Zoho Bookings is another Calendly alternative for business scheduling. Customers can self-schedule to meet virtually or in person through additional Zoho tools or third party integrations.
The free version of Zoho Bookings lets you create and customize your booking page to match your branding.
However, many important features such as email reminders and online payment processing are only available on their paid plans. With paid plans going up to $300/month, some features might be outside SMB's budget.
4. Doodle
Doodle is a straightforward online appointment scheduling tool. Its main advantage is that it is user-friendly and simple to use. Тhe booking page function and the group poll help you find the best time to meet.
It's also possible to connect Doodle to your favorite business tools, including Zoom, Microsoft Teams, and more.
Doodle comes with a few potential drawbacks. Doodle Booking Pages can only be shared as a link, unlike other Calendly alternatives which give you booking pages that can be embedded on a website or a pop-up. Their customization options are also limited for some SMB's needs.
Doodle offers a free version but this includes ads and only limited one-on-one appointments. Doodle's paid plans start at $6.49/month.
5. Jotform
Jotform is a Calendly alternative that offers a variety of forms for booking meetings.
Jotform is a good option for non-technical people. It uses simple booking page templates that you can customize for your meeting scheduling.
The platform is focused on the different forms used in digital marketing. However, if you need an omnichannel marketing solution beyond forms, Jofrom doesn't cover it.
Jotform offers plans ranging from free to $99/month. The free plan limits the amount of users who can access the platform, which may be an issue as your SMB grows.
6. Simplybook.me
Simplybook.me is an appointment scheduling software that is tailored for service-based industries. With over 32 languages available, this is a tool for companies with an international reach.
The custom booking pages created are accessible through your website, social media, and integrated throughout other communication channels.
Simplybook.me offers a free version and paid plans starting at $9.90/month. In order to access all of Simplybook.me features, you would need to commit to their premium plan at $59.90/month. This might be cost-prohibitive for many SMBs.
7. Acuity Scheduling
Acuity Scheduling is an online booking platform. This Calendly alternative, just like the others, allows clients to book appointments directly through your website. It also lets you create client signup forms to collect important information ahead of meetings. You can collect payments through Stripe, Paypal, and Square as well.
While it is able to offer many of the core services needed to replace Calendly, Acuity Scheduling may come with a few drawbacks. Its interface and customization capabilities are less user friendly than some other options'. This can cost you more time setting up and troubleshooting.
Acuity Scheduling does not offer any free plans. Paid plan subscriptions start at $14/month, with upgrades required to unlock features such as SMS reminders.
Try a free Calendly alternative
Appointment scheduling apps make it easier for you to schedule and meet with clients. And if the most popular one — Calendly — doesn't fit your needs or budget, there are enough Calendly alternatives to switch to!
Brevo offers all the sales tools you need to drive revenue and deliver seamless customer experiences. Track deals, book meetings, make phone calls, and collect payments — manage the entire sales cycle and all your contact data in one place with Brevo.
Run virtual meetings with Brevo
Sign up to get unlimited appointments, customizable booking pages, video conferencing, online payment processing, and all core email marketing features.