Reading time about 16 min

Marketing is essential for small businesses. At least, it is if you want to increase your visibility and get more customers.
The problem is, it's easy to think that marketing costs an arm and a leg thanks to the sheer amount of tools, tips, and advice circling the internet. But it doesn't have to be expensive. 💸
In fact, there are plenty of free high-quality marketing tools that can help you plan, streamline, and execute your marketing and get really great results while you're at it.
We've put together a list of some of the best free marketing tools to get you started.
Free Email Marketing & List Building Tools
Email is an essential channel for companies of any size so here are the top free marketing tools for small businesses to launch an email strategy.📧
1. Brevo (formerly Sendinblue) 
Brevo's free email marketing service lets you design beautiful emails with easy-to-use drag-and-drop templates. 
As well as making sure your emails look good, it also helps you track and measure your results. You can A/B test subject lines and email content, personalize messages to build deeper customer relationships, and segment your list so the right people get the right information.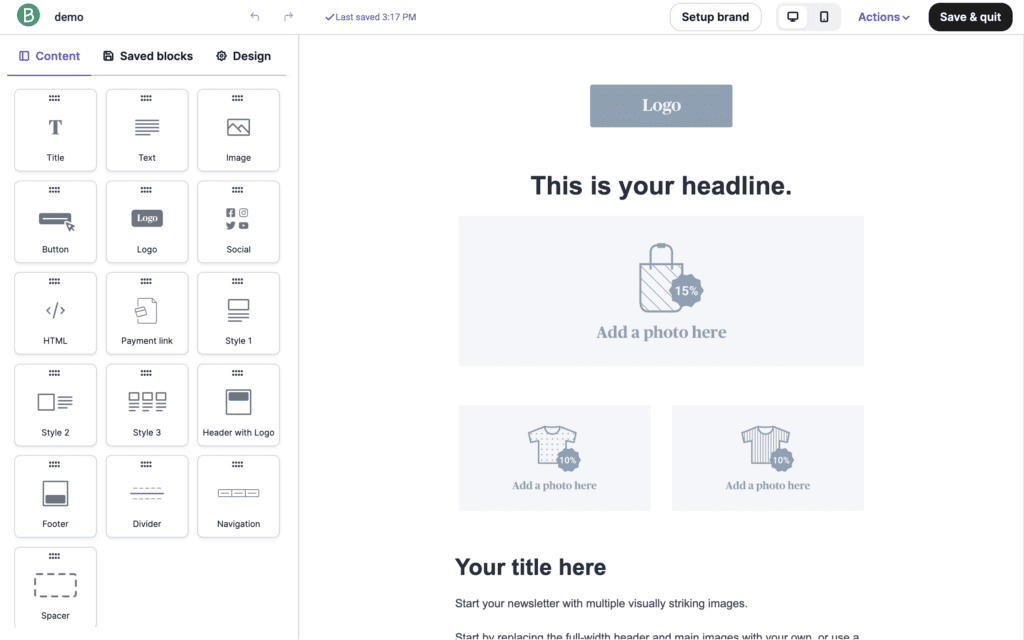 Brevo's free plan offers 300 emails a day, unlimited subscribers, and access to core email features like our Drag & Drop email editor. Paid plans start at $25 for 20,000 emails a month.
2. HelloBar
Collecting email addresses is a crucial part of building an email list. After all, if you don't have a list, you don't have anyone to send your emails to.
HelloBar is a really simple tool that lets you add a banner to the top of your website to capture email addresses. You can customize the bar to reflect your brand colors and add in your own enticing message.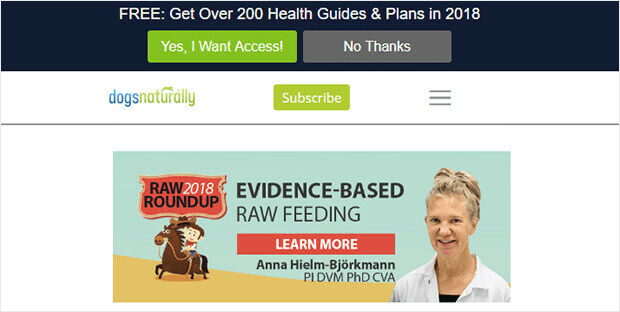 3. Sumo
Like HelloBar, Sumo is also a tool for capturing email addresses. You can integrate it with WordPress and Shopify to create popup signup forms and boxes to sprinkle around your site.
Customize the forms to reflect your branding and position them in places that can't be missed, like above the fold, in your site's sidebar, and at the bottom of blog posts.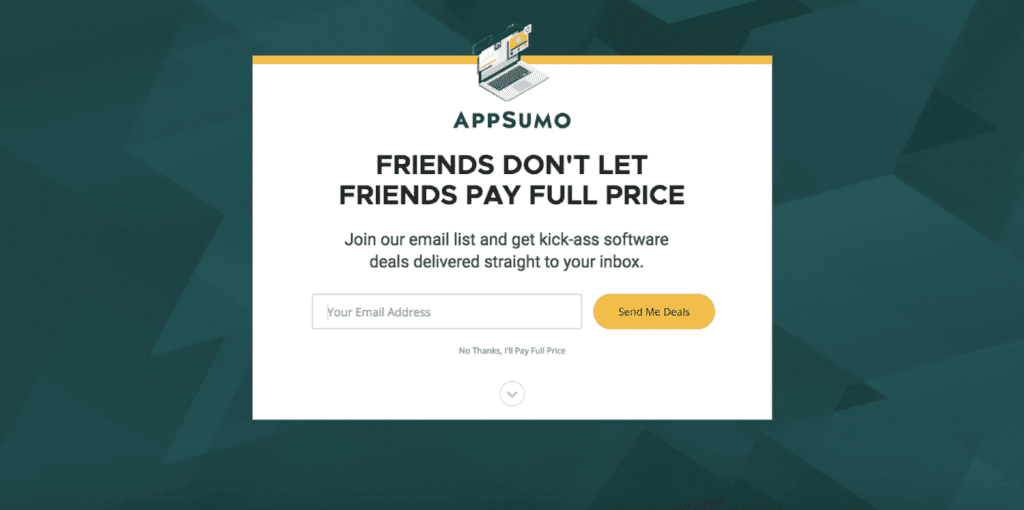 4. Stripo
If you suck at HTML, you're not alone. Not every business owner is savvy with code, which is why Stripo is a really useful tool if you want to keep things simple. It lets you design professional-looking email templates using an intuitive drag and drop builder.
Alternatively, here 9 sites for free email templates.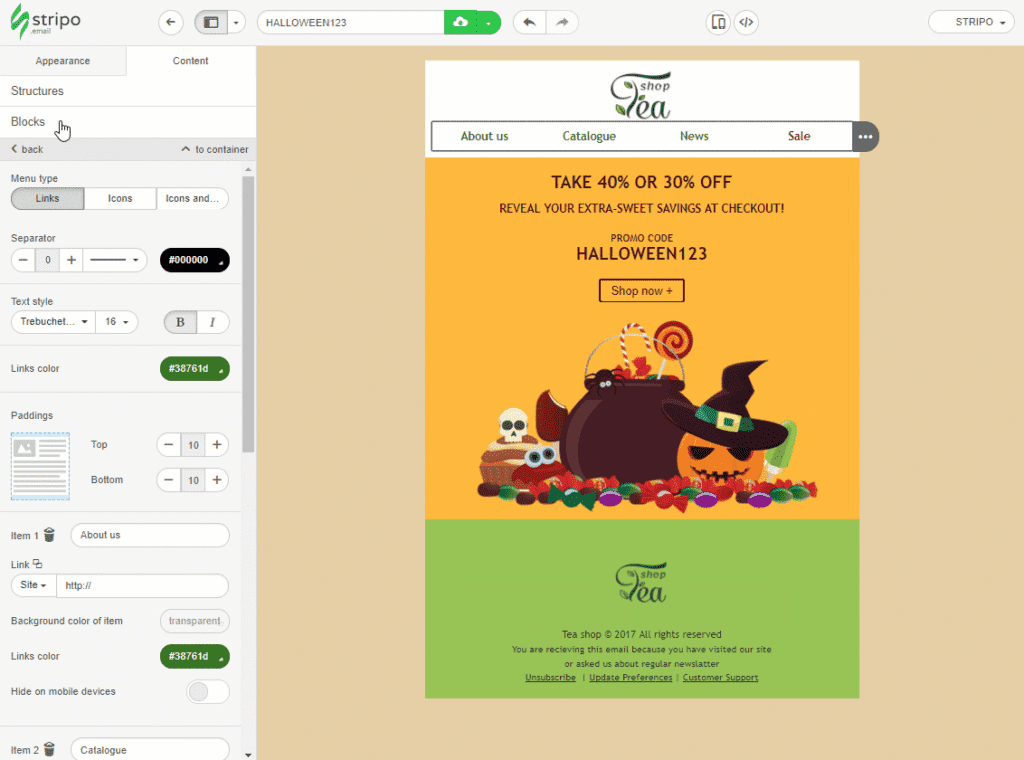 5. Beefree.io
Like Stripo, Beefree.io helps you design eye-catching emails quickly with a drag-and-drop template editor that you can customize with your own brand colors and images. 
The simple interface means you can create emails that are recognizable in record time while ensuring your business maintains its professional feel.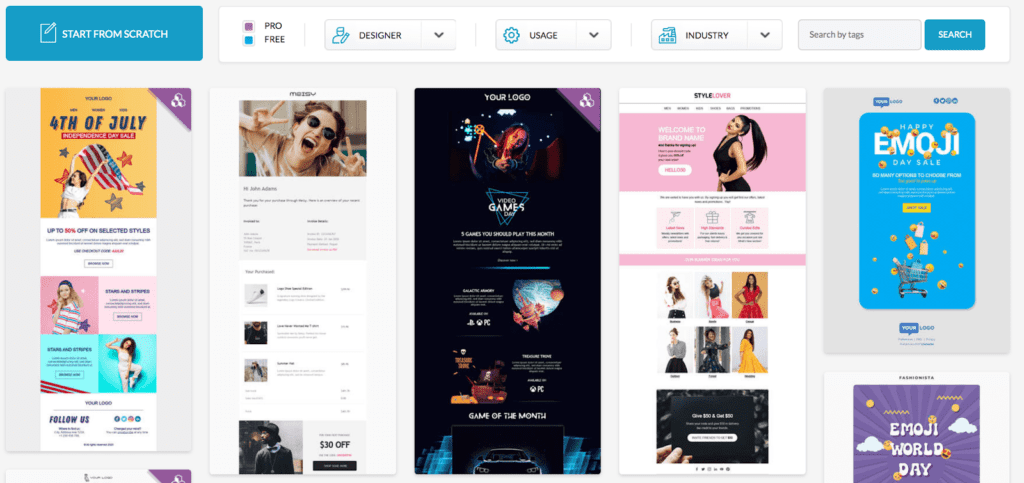 Check out more of the best free email sending services.
Free Graphic Design Tools for Marketing
You probably realize that digital marketing can't do without some graphic design. If you're just starting out or just can't afford a professional to do it, you can use any of these free online marketing tools to create your designs and construct the customer experience.
6. HotJar
User experience is so important if you want to push website visitors through the sales funnel with as little friction as possible.
HotJar shows you heatmaps of your site to determine which areas visitors spend the most time on. You can also access user testing videos to get impartial feedback on the usability of your site.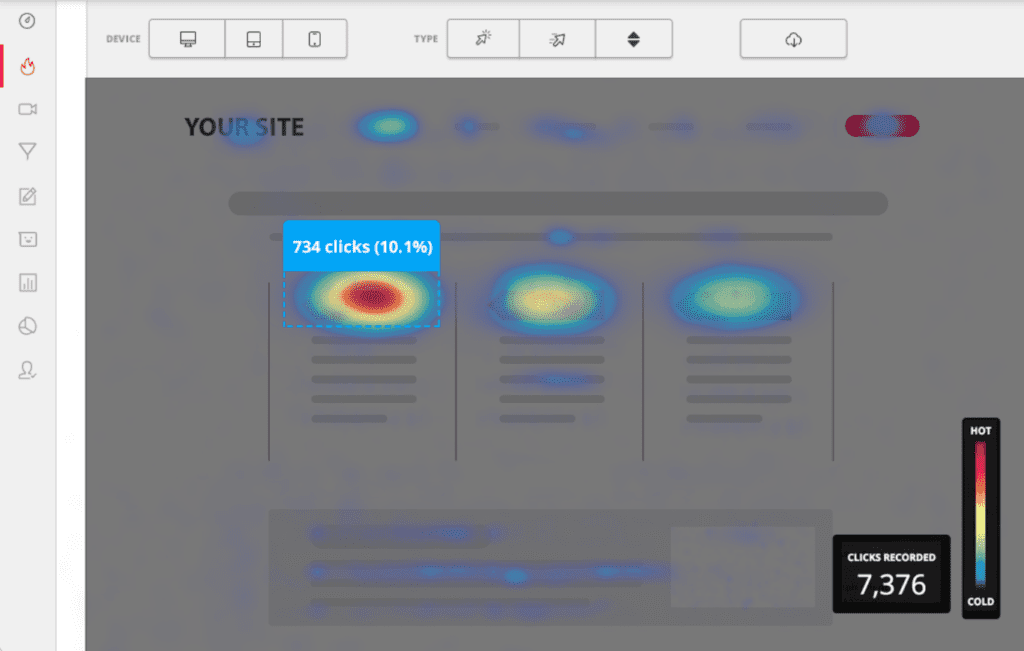 7. Pikwizard
Run by DesignWizard, Pikwizard showcases millions of royalty-free images that you can use commercially without attribution. Browse visuals in every category you can possibly think of and avoid the costs of hiring a photographer or paying for a stock site subscription.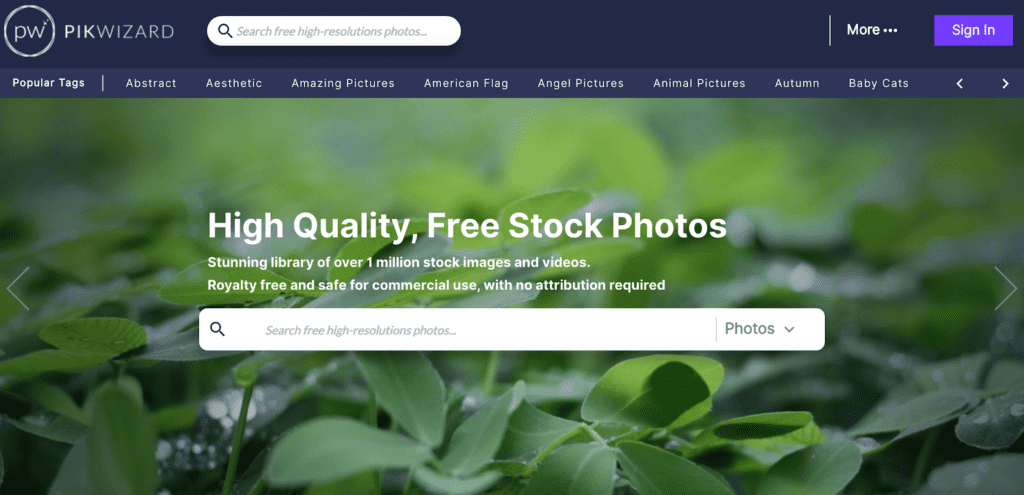 8. Unsplash
Unsplash is renowned for providing website owners with access to millions of beautiful stock images. There is an emphasis on quality with Unsplash, and the easy search function lets you find relevant images for your website in a matter of seconds.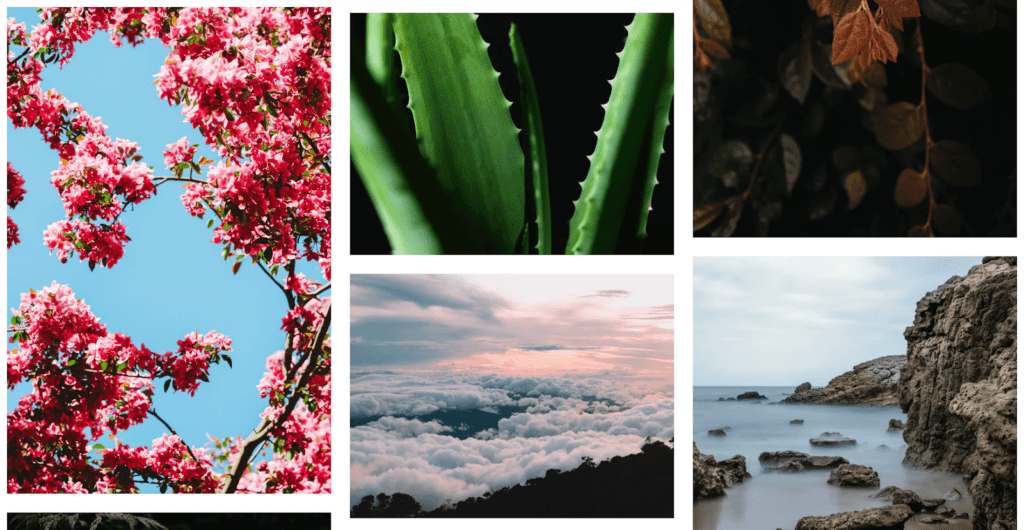 9. Canva
Design your own branded graphics with Canva. With in-built templates for pretty much every occasion (from Facebook cover photos to Instagram posts and blog headers), Canva's simple builder lets you choose from thousands of graphics, incorporate your brand's colors, and create professional-looking images, graphs, posters, and everything in between from scratch.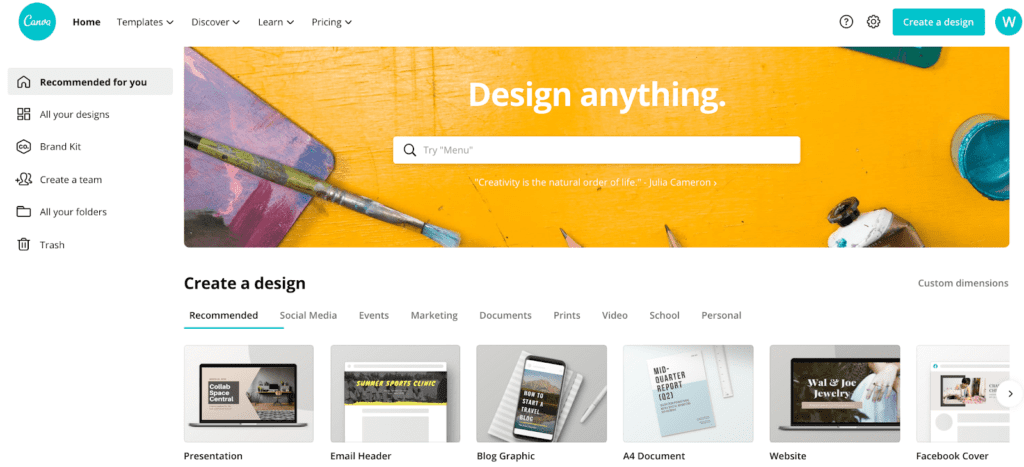 10. Pablo by Buffer
Join in with the quote-loving Instagram trend and overlay relevant quotes on high-quality stock photos to share on social media with Pablo by Buffer. Posts with quotes often get higher levels of engagement on social channels and are quick and easy pieces of content to share.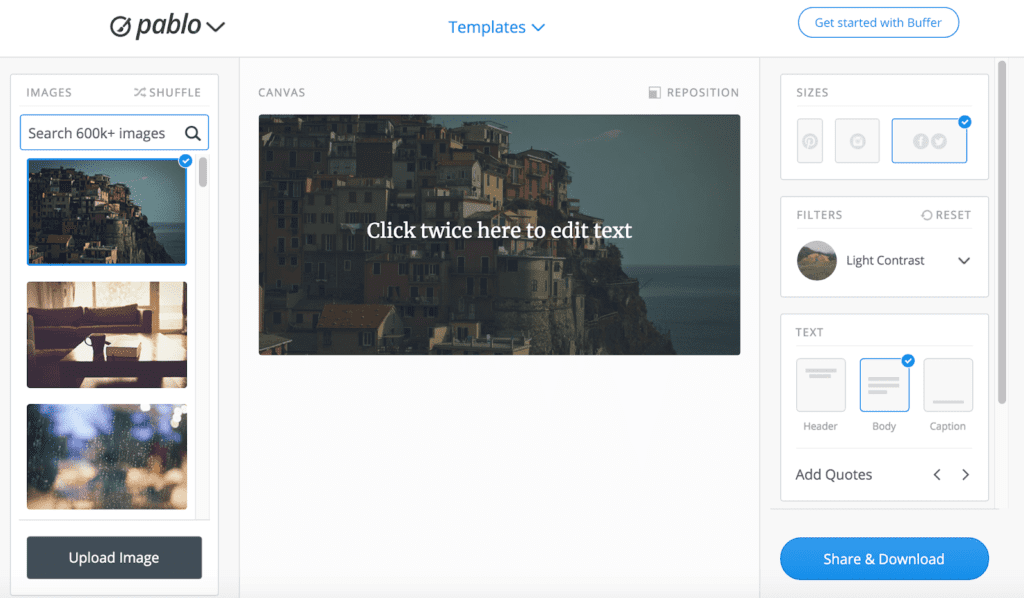 11. Visme
Visme helps you create beautiful presentations, professional-looking infographics, and other visuals using your brand colors on pre-made templates. Simply drag and drop different elements into your designs using the intuitive backend dashboard.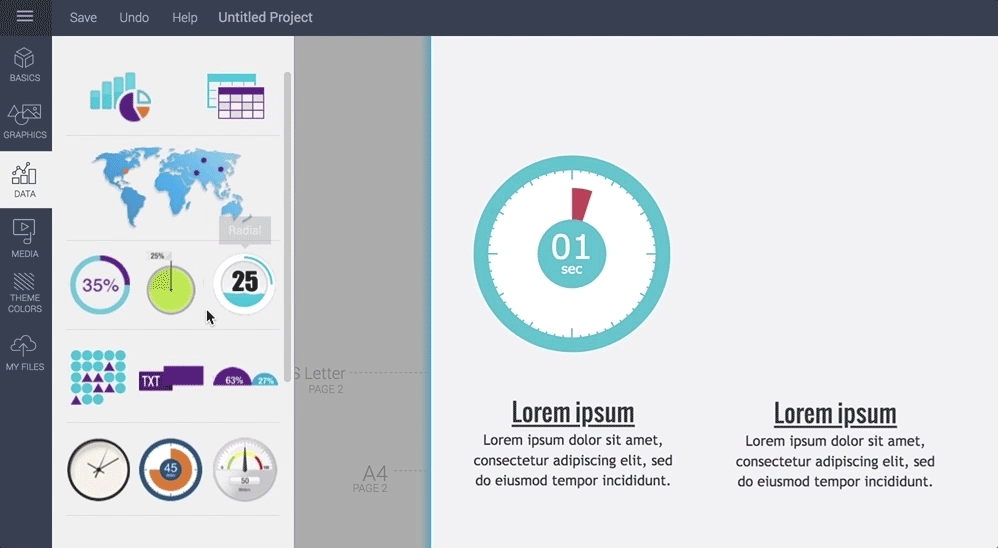 Free Social Media Marketing Tools
No list of free marketing tools for small business can be complete without social media tools. They help you reach your target audience, become discoverable, gain credibility.
12. ZohoSocial
Managing your social accounts can feel like a full-time job, but it doesn't have to be. With the help of a tool like ZohoSocial, you can schedule social media posts ahead of time and manage multiple accounts all from one place.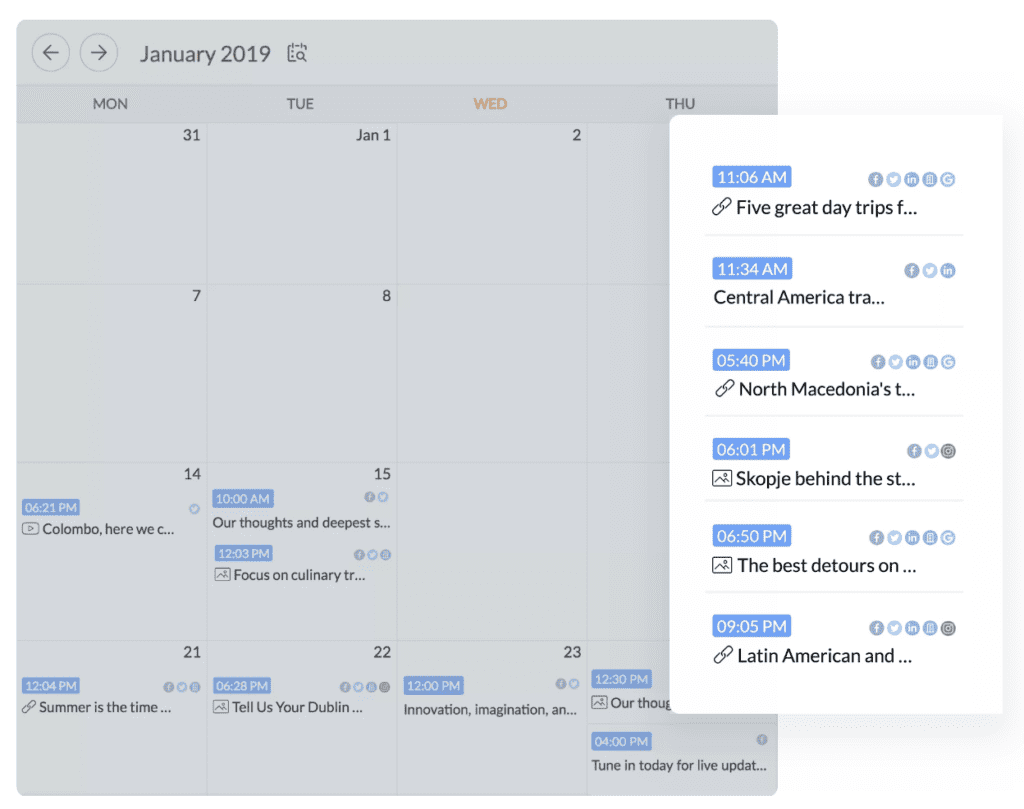 13. Followerwonk
If Twitter is your social media channel of choice, Followerwonk is an excellent tool to tap into. It lets you find Twitter influencers to connect with and allows you to dig deep into your Twitter analytics to determine what posts work best for your brand.

14. Hootsuite
Like ZohoSocial, Hootsuite lets you manage multiple social media accounts from a single dashboard and schedule posts from one place. The column layout means you can watch several different accounts and hashtags at the same time. Hootsuite offers a free 30-day trial to get you started.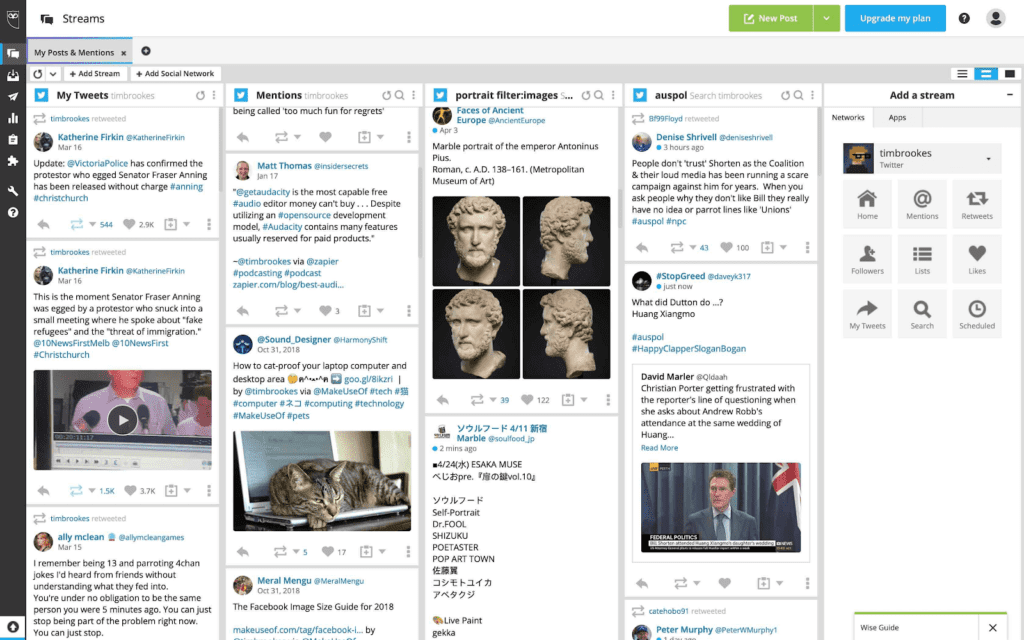 15. IFFT
IFTTT stands for "if this then that" and is a trigger tool that creates logic-based actions. For example, if you want to save time sharing content on your social channels, you can set up a rule that sends out a social post to Facebook, Twitter, and LinkedIn every time you share a post on Instagram.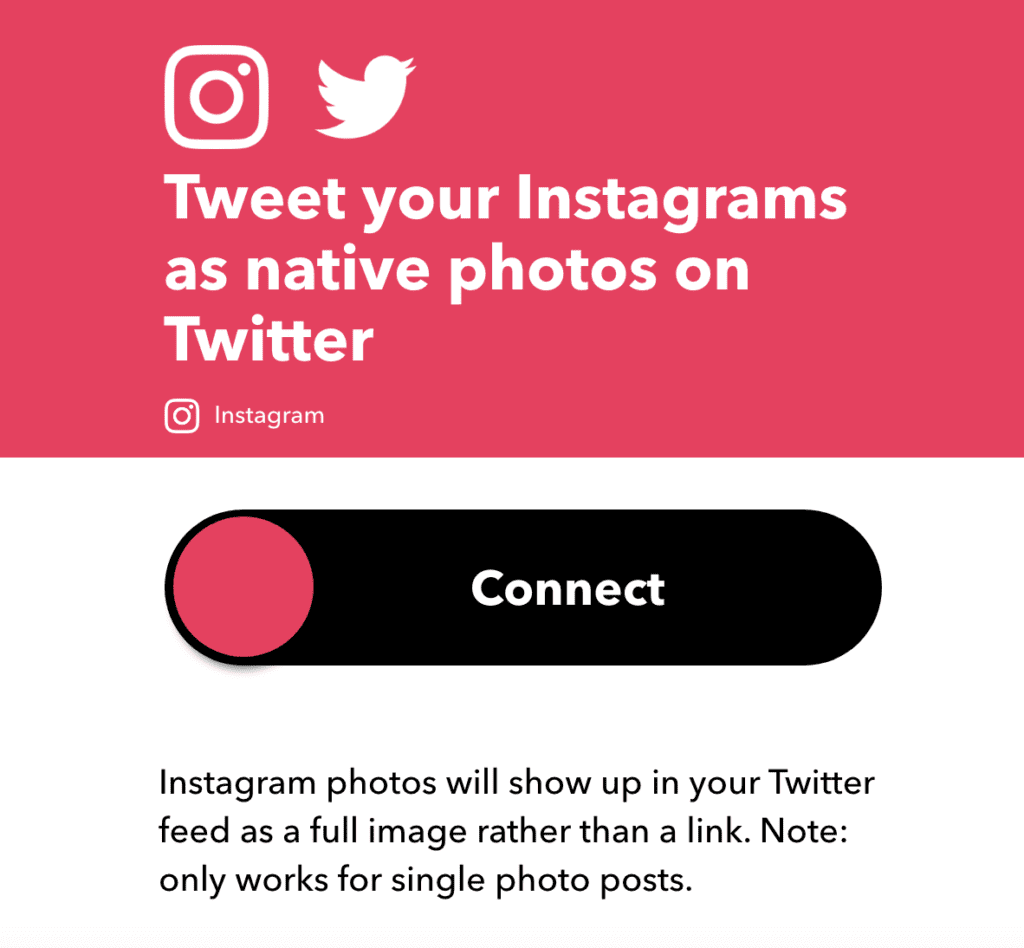 Related: Top 7 Klaviyo Alternatives for Small Businesses
Free Content Marketing Tools
If you plan on taking up content marketing, you'll need help. It's a competitive field and your efforts will be more successful if you use (even free) small business marketing tools in the content creation process.✍🏽
16. Article Title Generator
Create compelling headlines that encourage more clicks with Article Title Generator. All you have to do is type in a topic into the search bar and the tool automatically generates hundreds of title ideas.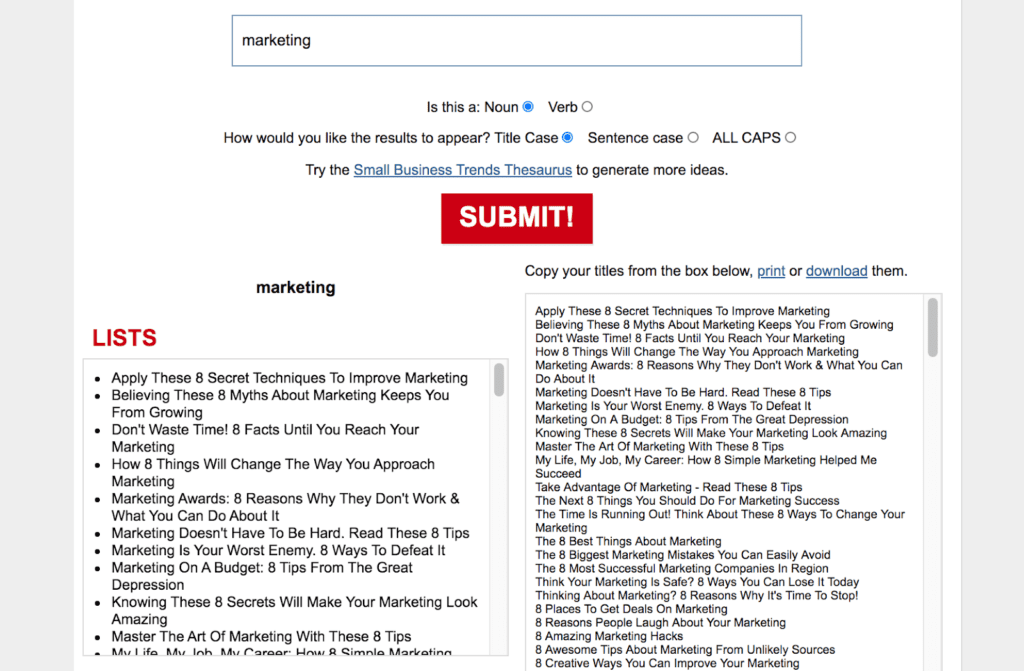 17. CoSchedule Headline Analyzer
Once you've chosen your headline, find out how effective it is by running it through CoSchedule's Headline Analyzer. The tool makes sure you're using all the right words in your headlines to generate as many click throughs as possible.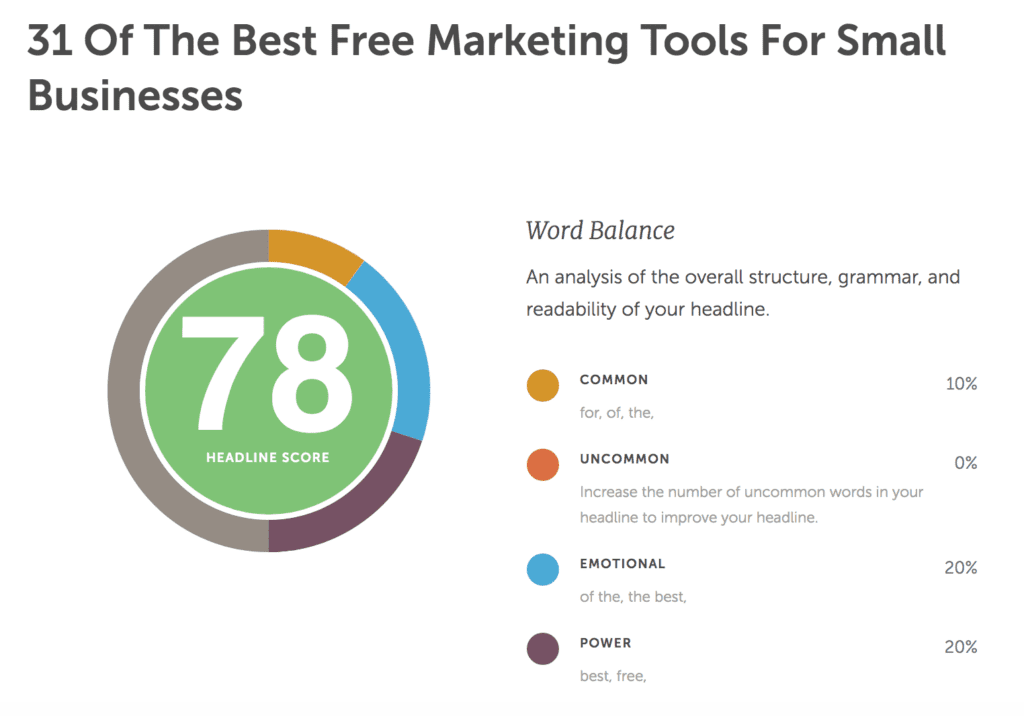 18. Hemingway App
Engaging content keeps readers sticking around and encourages more shares. Use the Hemingway App to write content that's engaging by using the right words, the right kinds of sentences, and the right tone.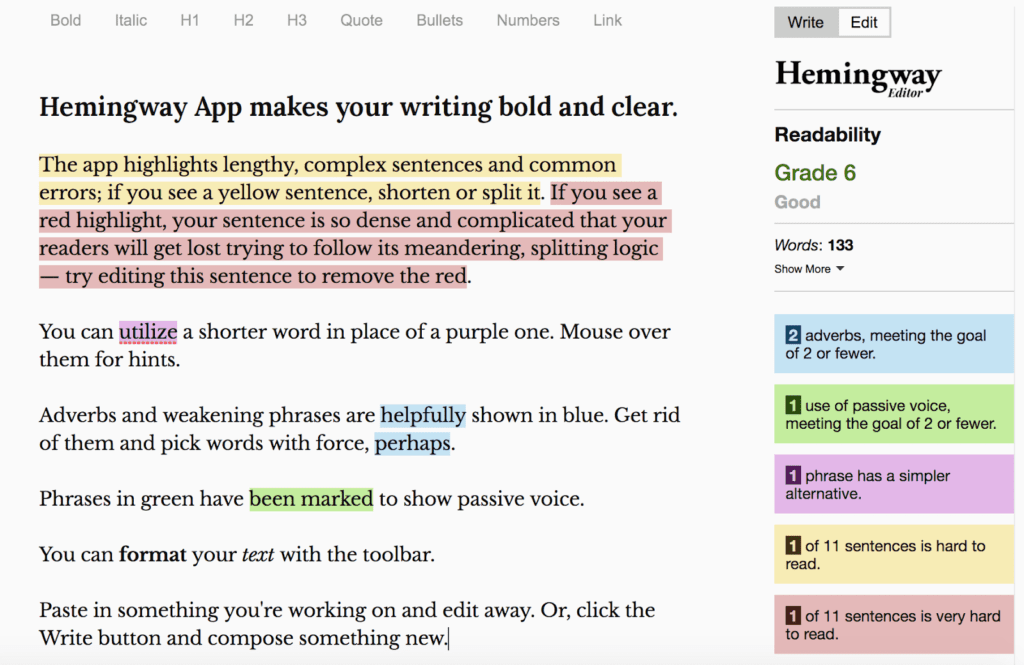 19. AnswerThePublic
The hardest part of creating good content is figuring out what to write about. Use AnswerThePublic to research the questions your audience are searching for and use this inspiration to fuel your content ideas.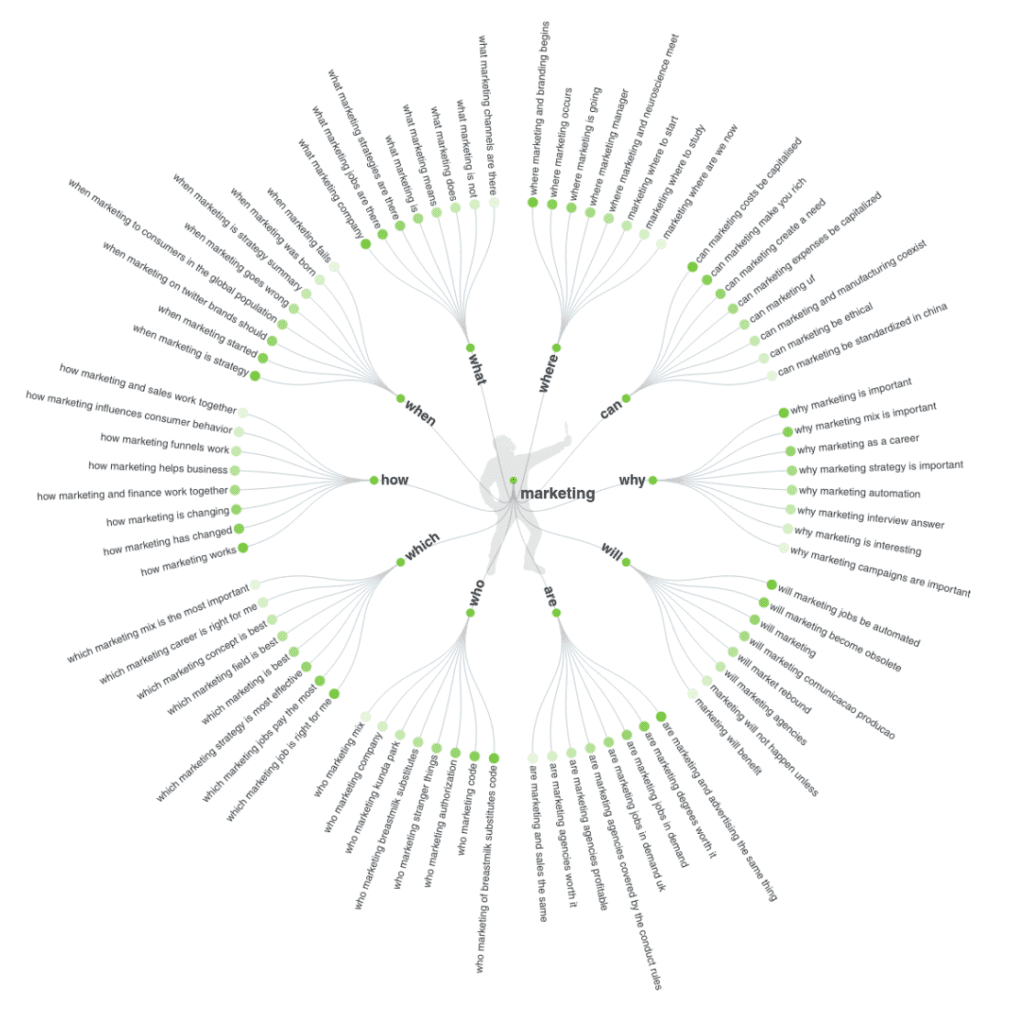 20. Grammarly
Get your grammar on point with the help of Grammarly. Simply run your content through it and use the suggestions to make your posts shine. Not only does the tool pull you up on your bad grammar habits, but it offers suggestions so you can move forward quickly.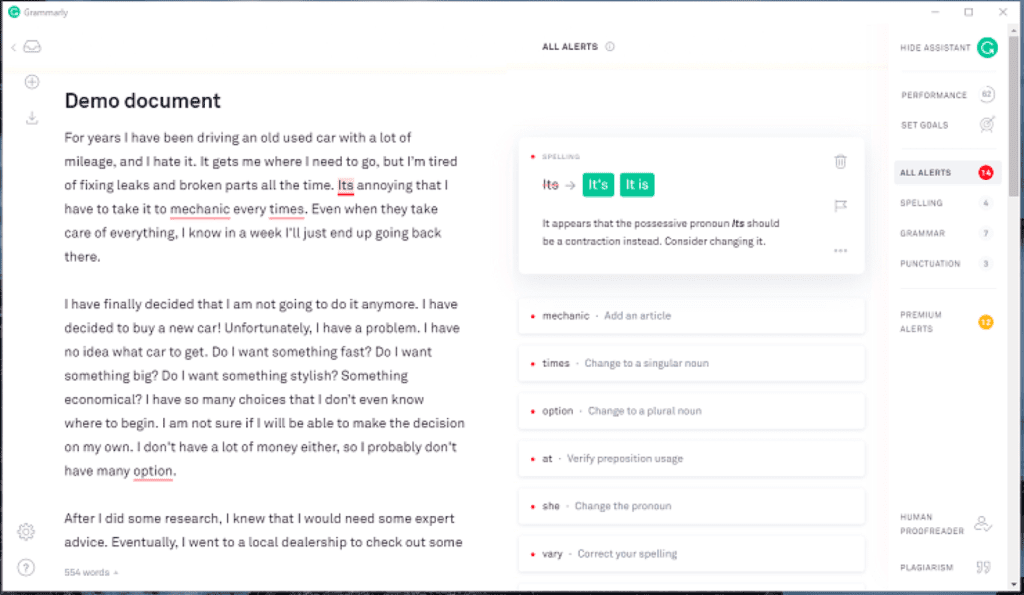 21. Quora
Quora is a massive question and answer site that is full of content inspiration. Simply type your industry or topic idea into the search bar and browse the hundreds of questions being asked around it. You can use this to find ideas for topics to write about.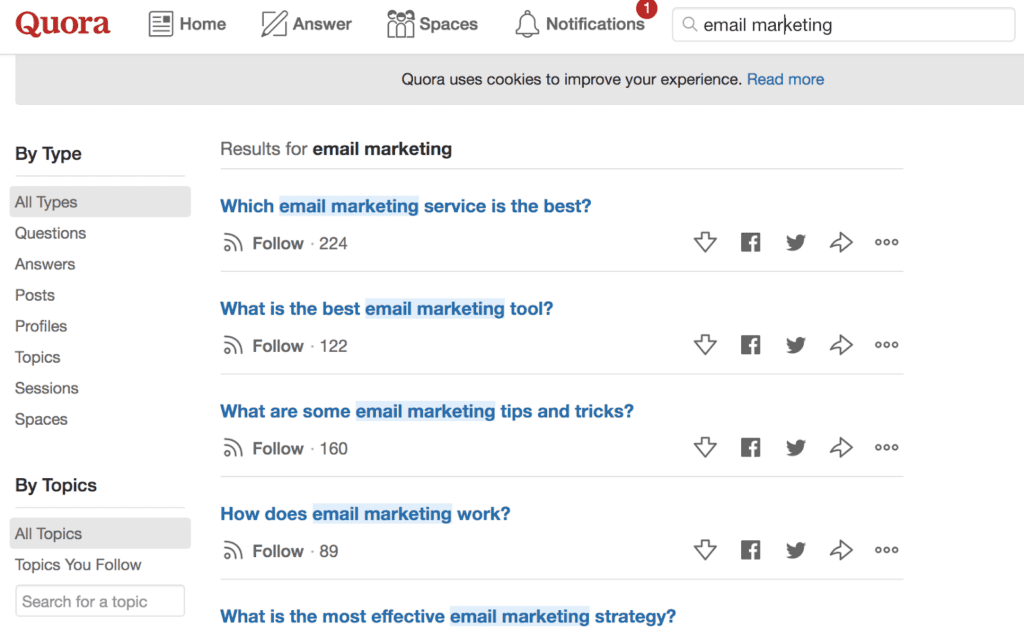 22. Google Trends
Writing about trends makes your website timely and relevant. Use Google Trends to tap into what's hot right now and use this to get content inspiration. You can type in keywords that are relevant to your industry or simply search for what topics are trending right now.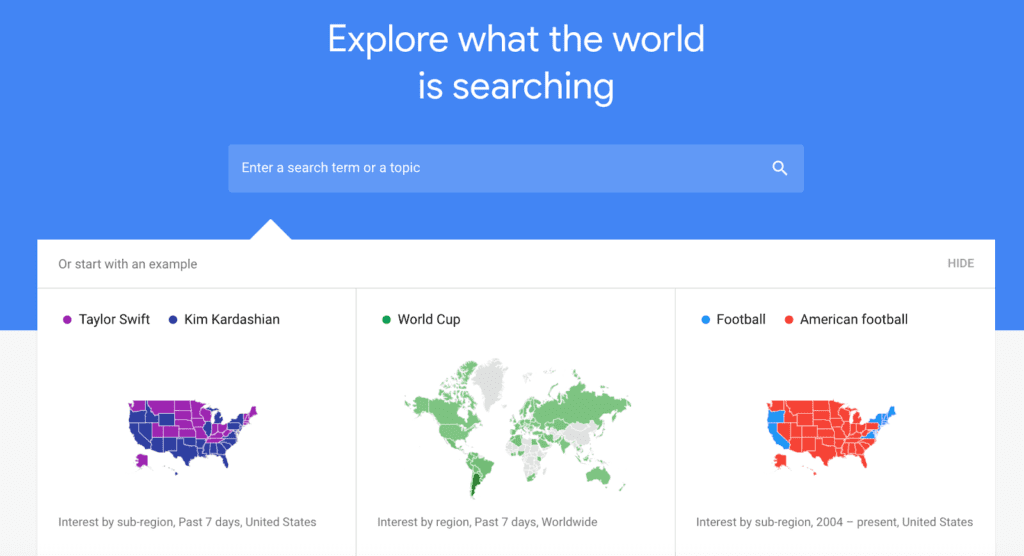 23. Feedly
Find content to share with your followers via Feedly. This reader tool lets you pick your favorite online publications and view the latest posts all from one place. Not only will it help you populate your social media channels in a split second, but it also helps provide relevant content inspiration.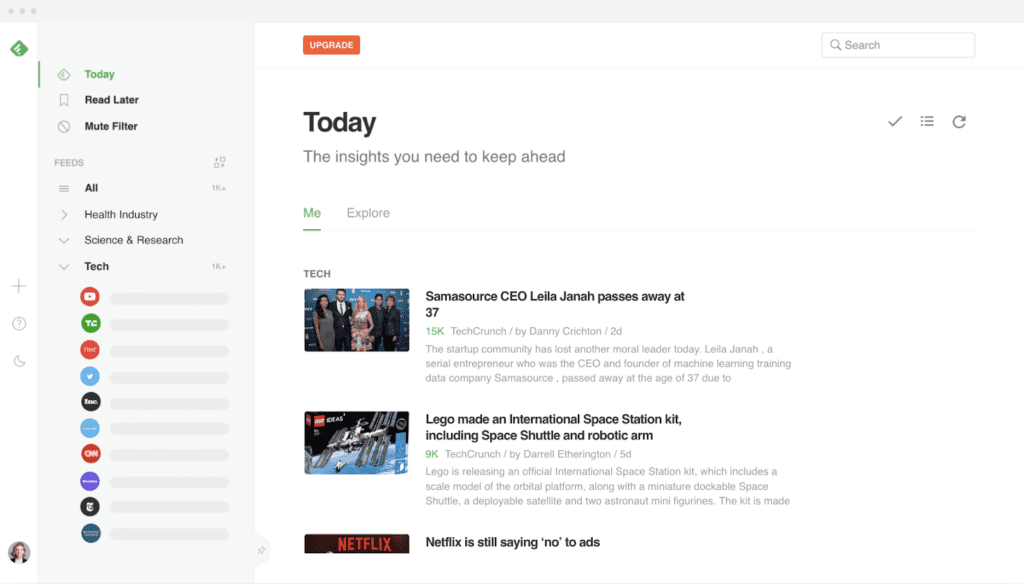 24. BuzzSumo
BuzzSumo is a comprehensive content tool that allows you to do a number of things.
Firstly, you can find influencers in your industry to connect with. You can also discover the most-shared posts for certain keywords and find out what content performs best on your competitors' sites. You can run a limited number of searches each week with the free plan.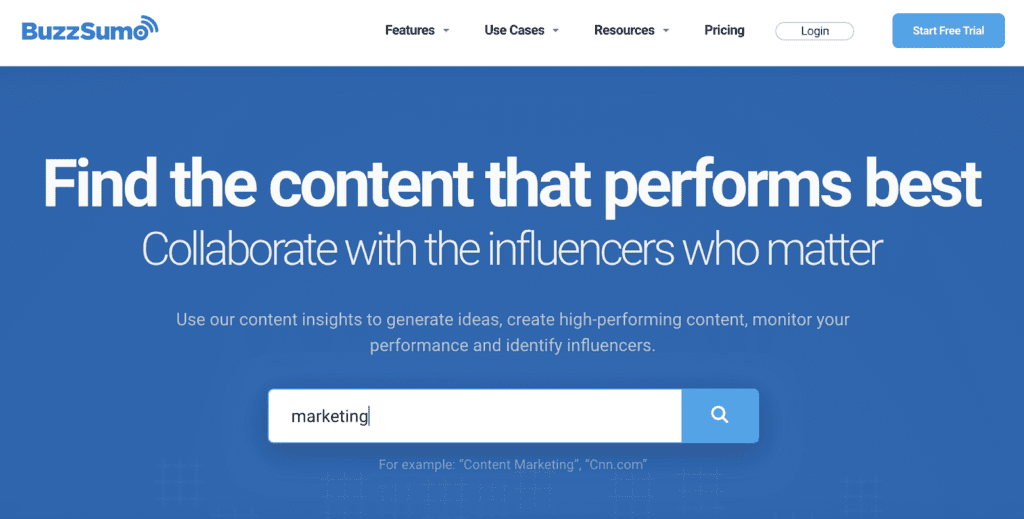 25. SurveyMonkey
Discover what your audience really wants from you by creating a survey with SurveyMonkey. Put together a quick set of questions to share with your audience, get the results in a graph format, and use the information gathered to fuel your future content efforts. You can create a limited number of surveys each month on the free plan.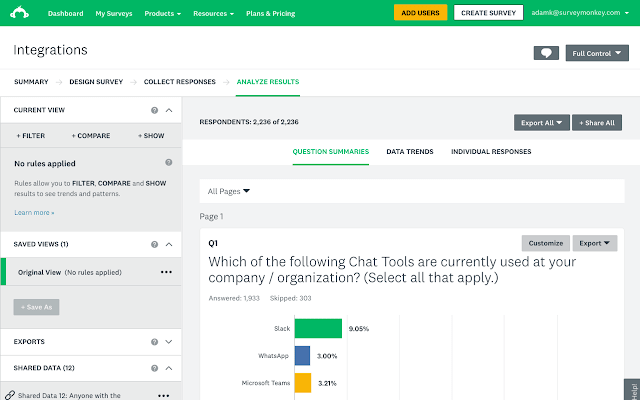 26. Medium
Reach a wider audience by re-sharing your content on Medium. The site lets you add your posts to relevant categories to ensure it gets seen by the right people. It can be a nice addition to your on-site blog and help direct new visitors to your website.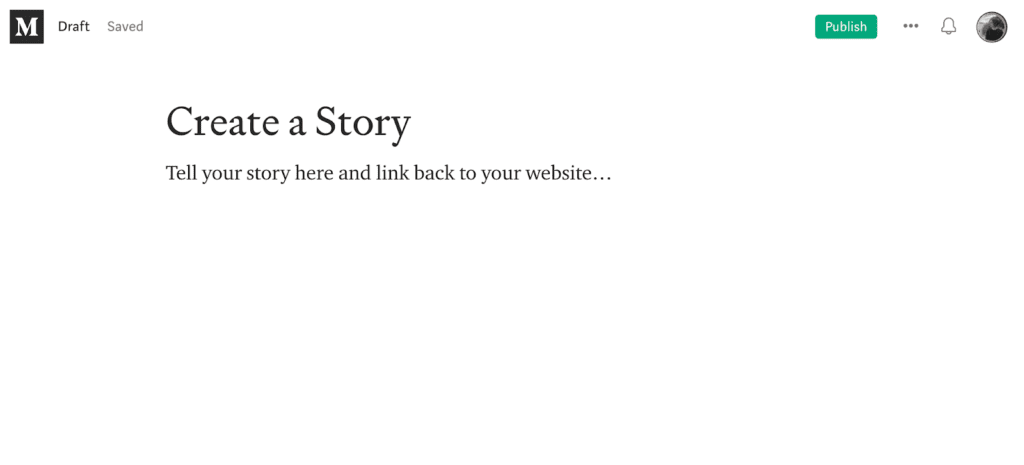 27. Flipsnack
PDFs and simple emails not creative enough to present your business and products? Flipsnack helps you create interactive flip books that can be uploaded, shared and tracked across channels. And you don't need any design skills.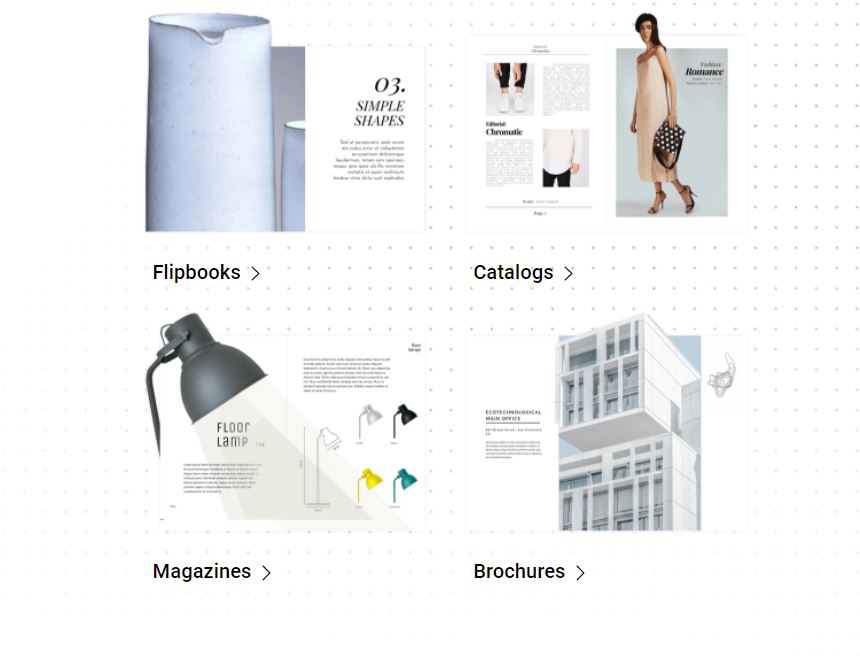 Free SEO Tools
28. Siteliner
Check your website for broken links and duplicate content using Siteliner. This will help improve your search rankings and ensure you show up higher on top search engines like Google and Bing. The higher up the results you are, the more visitors you'll get.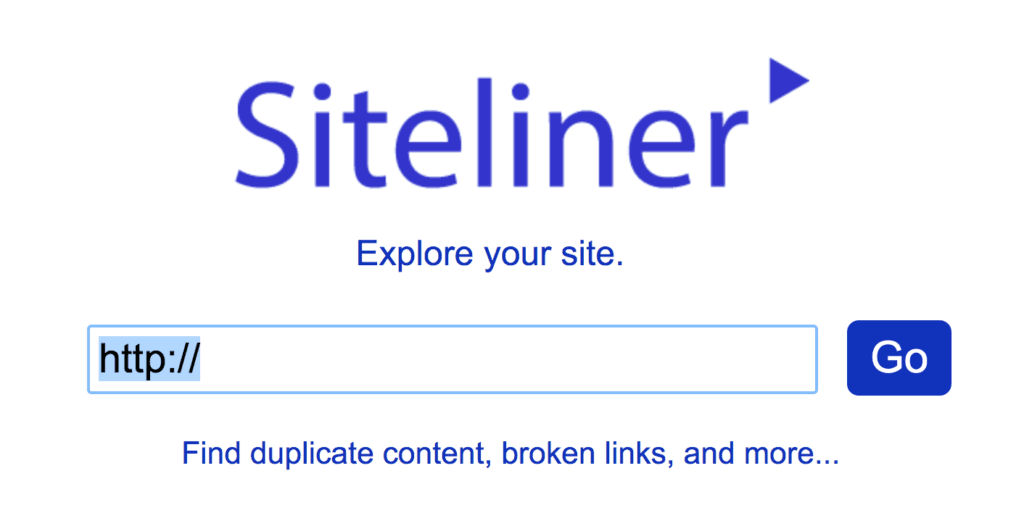 29. YoastSEO
If you run your site on WordPress.org, get yourself the YoastSEO plugin pronto. This will help you optimize your pages for search engines with the help of the tool's handy checklist and traffic light system.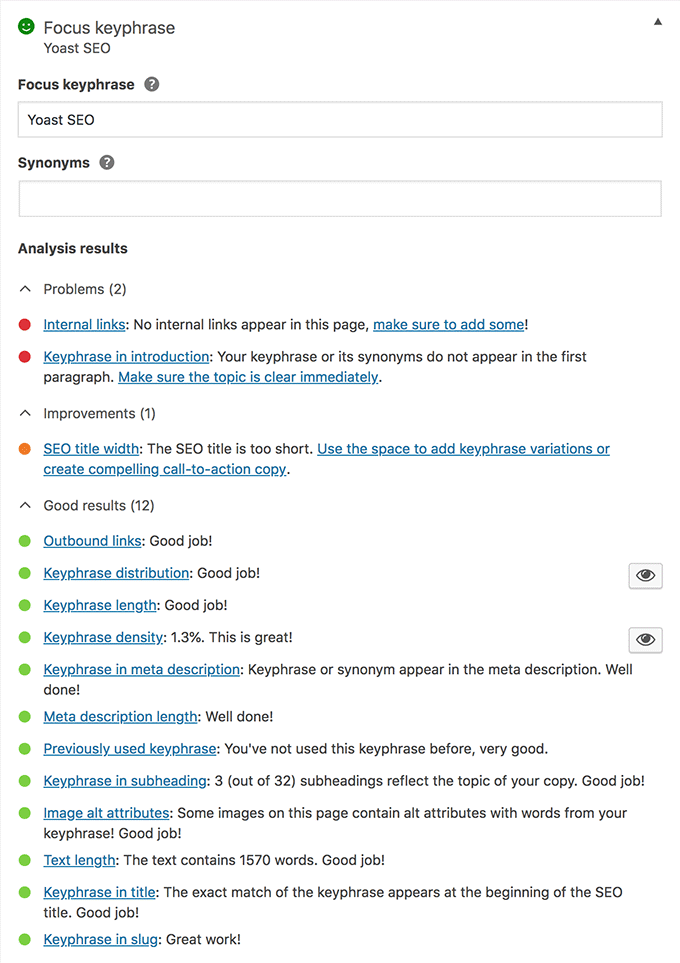 30. Ubersuggest
Ubersuggest is a tool by marketing celebrity Neil Patel. It helps you find relevant, well-searched keywords for your industry and recommends content ideas to accompany them.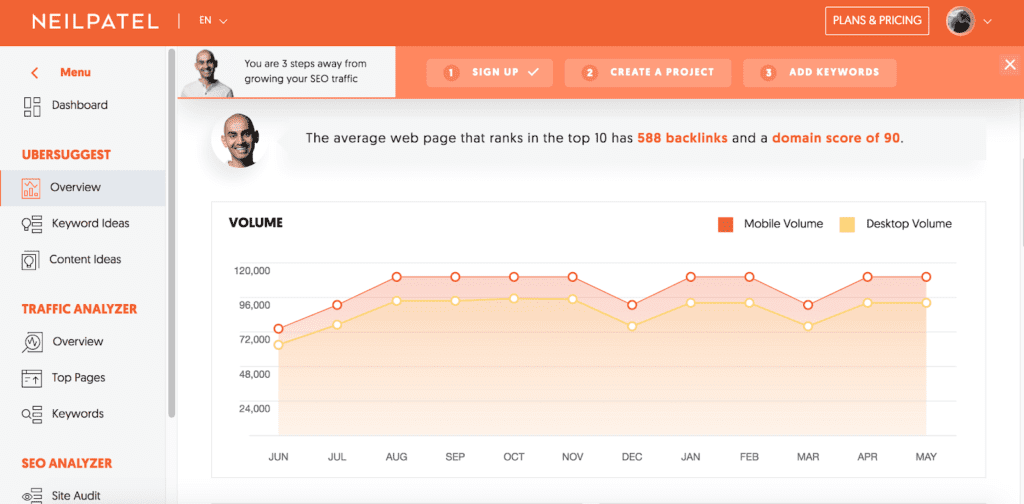 31. Google My Business
Local businesses should definitely sign up for Google My Business and fill out their company details. 📍This will increase your visibility on Google Search and Maps and will help you show up in those much-coveted top spots for local searches.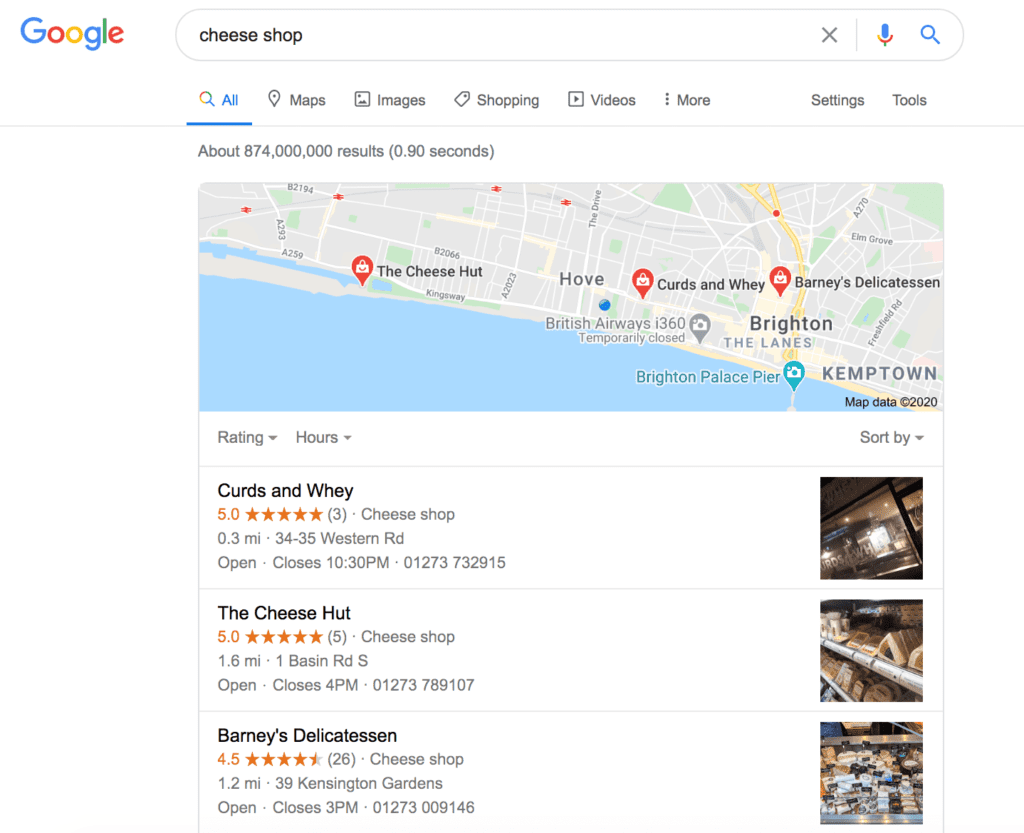 32. Google Analytics
Find out where your traffic is coming from and what keywords visitors are searching for with Google Analytics. The most popular free marketing platform helps you dig into the demographics of your audience, determine your most popular posts, and use past data to inspire future efforts.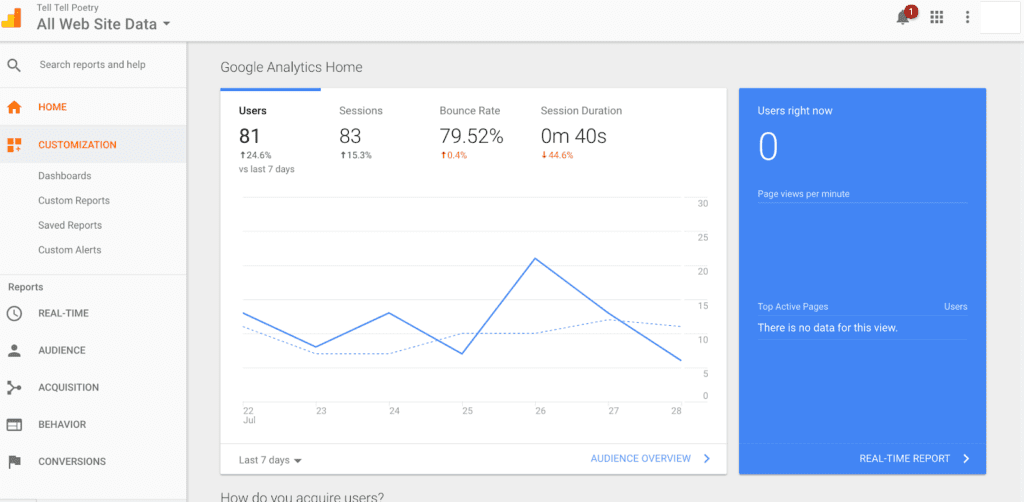 Make Use of the Best Free Marketing Tools
These free marketing tools and free marketing software suggestions make marketing easy. If you're busy or overwhelmed by the thought of creating and executing a full-blown marketing strategy, tap into these tools for a cost-effective way to drive more traffic to your site and turn more visitors into customers.
Start email marketing for free with Brevo
Free plan includes access to all core email features, 300 emails/day, 40+ email templates, and customizable signup forms to grow your email list.