Reading time about 25 min

As a financial services provider, you need a strategic way to reach your audience, preferably without spending a ton of money on ads. Enter email marketing, a way to communicate with potential and current clients while cultivating trust, adding value, and building authority.
Millennials, in their consumer prime right now, are native users of all things digital and financial service companies should adapt to their expectations. So digital marketing is an absolute must.
For those providing a financial service to consumers, it's important to know the ins and outs of email marketing to make the most of your communications with customers.
That's why we've compiled actionable, game-changing tips to help financial service providers, financial advisors, and financial institutions do email marketing better.
What Can Email Marketing Do for Financial Services?
Paid search traffic for finance and insurance costs $3.44 per click and display network click is $0.86 (2022 data). However, the top 5 most expensive keyword categories in Google Ads by cost-per-click are the following:
Insurance – $54.91
Loans – $44.28
Mortgage – $47.12
Attorney – $47.07
Credit – $36.06
With that in mind, email marketing is a great cost-effective alternative.
It can save you time and money, allowing you to target customers at all the different stages of the buyer's journey. Given the dynamic nature of money, it seems that fintech should not shy from sending emails as frequently as needed. Most of your competitors send over 10 email marketing campaigns a month.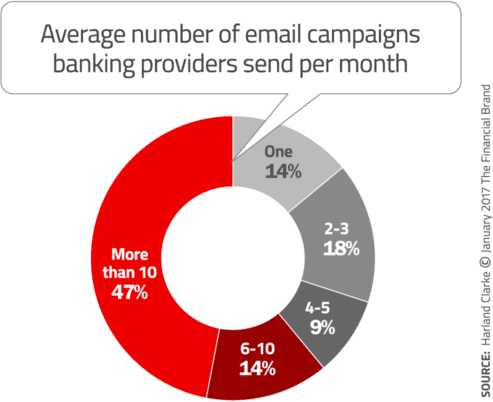 Financial Services Email Marketing Legal Compliance
People take their data privacy very seriously and finance is one field that's too sensitive to ignore the law.
GDPR in Europe and the CAN-SPAM and CCPA acts in the U.S. protect consumers from misleading marketing messages and unauthorized use of their private information. As a financial service provider, failure to comply with the law may cost you credibility and clients.
So if you operate in the U.S. or Europe, you need to meet these legal requirements. At the very least, make sure that you:
Don't use blanket signup forms but rather have a dedicated checkbox for each purpose you want to use the collected emails for (e.g. marketing newsletter). This will allow subscribers to choose what emails they opt-in for. If they don't, you can legally only email them transactional messages.
Have a clear "unsubscribe" button in emails and automatically take the contact off the email list when they opt out. No extra steps, no gimmicks.
Include all legally required information (e.g. who has access to and processes the data clients provide, if it's shared with third parties, a valid postal address, etc.) in your email footer and prominently on your website.
Write your message in fair, clear and not misleading language.
In the case of financial instruments and investments, the marketing materials should provide specific details about the anticipated performance.
Warnings about risk must be prominent and clearly displayed in the same font type/size used for marketing content.
If you're a financial advisor, be very careful with calls to action when nurturing your leads. Under the CAN-SPAM Act, you can't solicit people to become your clients with CTAs (call-to-action) like "sign up now" or "call to learn more". It should be left with the potential client to make the move so all you can do is list your contact information in the email and on your website.
Email Best Practices for Fintech & Insurance
Let's look at how best to create your marketing emails for maximum impact and best results.
Email design
As in any industry, it's important how an email looks. However, yours is not just any industry, right?
That's why it's best to create your emails by the following criteria:
Consistency with website brand image. Include official logos, brand colors, and social media links to prove once again the legitimacy of the email.
Credibility should be strengthened with all legally required texts and information. They're usually all listed and linked if needed in the footer. The unsubscribe link should be clearly visible there as well.
Openness and accessibility. Include a link to help center or customer support contacts to reassure people they can contact you if they need to.
Related: 7 Email Design Best Practices for 2022
Creating your branded library of email templates to use for the various types of campaigns you'll run is a good idea. Thus, your team will be sure to have covered all the basic requirements above and worry only about the specific text and images of the campaign.
Brevo offers extensive galleries with ready-made mobile-friendly templates to get you started. Our in-house template designers are also available to create eye-catching designs for your brand.
Here are a few eye-catching emails from others in the financial industry.
#1 Great brand color scheme, clear sections & CTAs, the fine print is not fine but clearly visible at the bottom

#2 Pop of color, images on brand, clear CTAs, footer with all the necessary info, visible unsubscribe link

Email copy
In line with regulations, any copy promoting financial services must be clear and non-misleading.
Here are a few ideas how catch the attention of your recipient
Pay attention to subject lines and preview text to not appear as spam. It's smart to say outright you're sending something they requested ("Your Balance Exceeds the Limit You Set").
Subject line newsjacking – use current events as a reason to engage subscribers ("How does the CARES Act impact you?")
Address your reader as "you" because finances are personal. People don't want to feel as if you're talking to a whole group of people about their account.
Emojis are great to connect with younger audiences but their parents might not take them well. So it's a good idea to segment your audience by age and adjust the use of emojis accordingly.
Modern financial services can benefit from using simplified language to democratize and demystify an industry that's notoriously overwhelming and intimidating. Make money sound easier to understand and manage.
Contact management
To avoid emailing contacts without their consent, it's important to follow contact management best practices.
Use multi-list subscription forms for data capture (e.g. ask subscribers to select the content/services they're interested in)
Respect contact preferences
Automatically blacklist unsubscribers to make sure you don't email them again
Share your email newsletter signup form on social media for bigger reach
Be totally transparent about the types of emails you send and how subscribers can verify it's a legit one from you (for example, you'd never send an email with account info visible)
Clean your email list regularly
Segmentation & Personalization
There's no one size fits all in the financial services industry. Your offer should match an individual's needs, life stages, and funds. A marketing CRM can help you segment your customer base and send tailored emails to different audiences. You can even A/B test different designs, images, and subject lines to see what clicks with each audience.
Аge
People have different financial needs depending on their age and family situation: going to college, starting a business, buying a first home, having a baby, paying for a kid's college, retiring, downsizing, etc. It makes total sense to tailor your offers to their stage in life!
If you send the same generic offer to everybody, you risk being irrelevant more often than not. People will stop opening your emails because they'll learn there's nothing for them in there.
Example email engagement by age: A Guide To Estate Planning in Your [Age of Recipient]
Location
As we already saw, regulations vary across countries and even states. It's best to keep tabs of what's allowed in your major target geographies and split campaigns to meet the requirements.
For example, your European clients don't need a credit score any more than your U.S. clients are interested in debit cards. All things equal, shipping fees for delivering the card usually vary depending on the country of delivery (as Revolut users know).
Email idea by location: Charities to Donate to in [City of Recipient]
Spending habits
If your service includes budgeting, spending tracking or transactional payments, you get quite a good glimpse into people's spending habits. So tailor your email offers accordingly.
Some people might need a pay-day loan, for example, while others will be more interested in a savings sub-account. It's a waste of effort to email either group offering a product they don't need.
Or, draw insights from their spending habits to create matching offers. Do they spend a lot on shopping or eating out? They might be interested in a loyalty program. Do they travel regularly? Offer fee-free foreign currency payments.
Email Personalization
After you create different segments to send tailored offers to, you can add personalization to the email itself using dynamic content (a.k.a. merge tags). This means including placeholders for personalized content that automatically generates when the email is sent: subscription plan, value spent, or any other custom attribute you create.
What parts of an email can you personalize, inserting dynamic content?
Subject lines
Preview text
Copy
CTA link
Subject lines with personal attributes like name, products bought or metrics can stimulate engagement because people will feel the urge to open an email aimed at them personally (e.g. "Marina, we offer to bump your overdraft up to $1500").
The following example from Findomestic (part of BNP Paribas Group) uses personalization for the name and club points reached.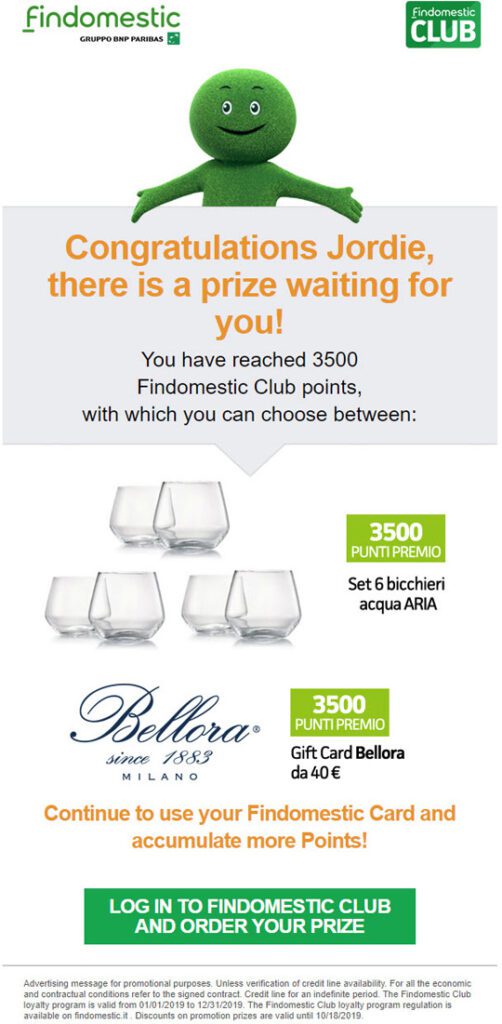 Taking a step further, you can use the information in an account, create a personalized offer, and present it in an individual email.
One example would be creating a model mortgage plan and reaching out to customers fitting in the first-time home buyer segment. For an additional layer, you can add the occupation information and send an email offer such as "How can you afford to buy a house as a freelancer?"
Security
Security is surely the biggest concern of your clients. Finances and insurance are too personal, sensitive, and important to neglect security best practices.. It's essential that you implement email security protocols for yours and your clients' safety, such as:
SPF (Sender Policy Framework)
DKIM (DomainKeys Identified Mail)
DMARC (Domain-based Message Authentication, Reporting and Conformance)
Other security measures you should take to protect your email marketing:
Carefully choose from and reply to addresses that match your company name and domain. They shouldn't be misleading in any way or people will just mark you as spam.
Warm up your IP address. If you're using a dedicated IP, warm it up first to make sure mailbox providers recognize it as legitimate and actually deliver your emails.
Start building a positive sender reputation from day 1. Only email opt-in contacts, keep email lists free of bounced addresses, drive email engagement, honor people's preferences.
Comply with GDPR. Give subscribers choice and control so they feel at ease with your communication. GDPR also requires you to notify users of any data breach within 72 hours. 
Double opt-in necessary. To make sure the collected email addresses from subscribers and leads are valid, use double opt-in. This will improve your email performance metrics. SMS can also work for this purpose.
Email Campaign Ideas for Financial Services & Insurance
How do you promote financial services? Let's go through the entire customer journey and the emails involved on your side. Ideas and examples included.
1. Awareness – Lead capture
When someone visits your website, you need a way of keeping in contact with them. The expected death of the cookie means you probably won't be able to retarget and get them to come back after they leave. So use signup forms to get them to subscribe for your marketing newsletter. This is the most popular of all email list building tactics.
Important! If you use a lead magnet (e.g. ebook) to get people to subscribe, under GDPR, you need to list consent to marketing emails in a separate checkbox.
Those lead capture forms can ask for additional information such as products of interest or life stage (you'll need signup forms with multi-list functionality for that). You can automate placing each new subscriber in the appropriate list(s) according to their answer.
Or you can offer free tools — like a mortgage calculator, a budget template, and a college savings plan — on your site to put people in the right segment and send them more relevant information on the chosen topic later.
Here's an example of a newsletter subscription from money.com. People can read the latest issue to get a sense of the value it provides even before they sign up.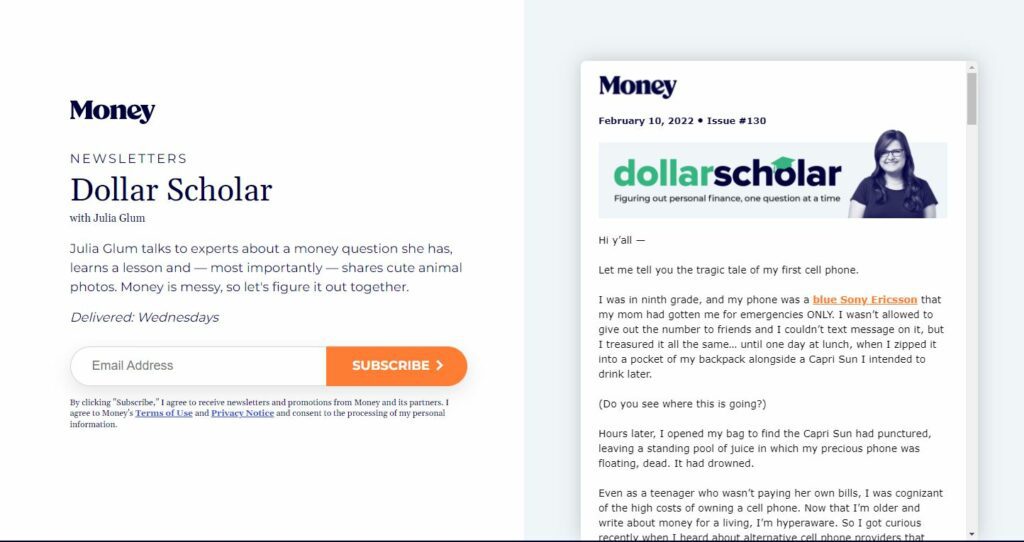 2. Consideration – Nurturing
With the direct line of communication email provides, you can now nurture leads to conversion. You can create a series of relevant content for their needs as indicated in the signup form. You can use marketing automation to schedule these emails a specific amount of time after signup.
Here are examples from various financial institutions and service providers trying to convert subscribers into clients.
Wealthsimple lays out an investment plan in an accessible way to draw people in. The fun image helps.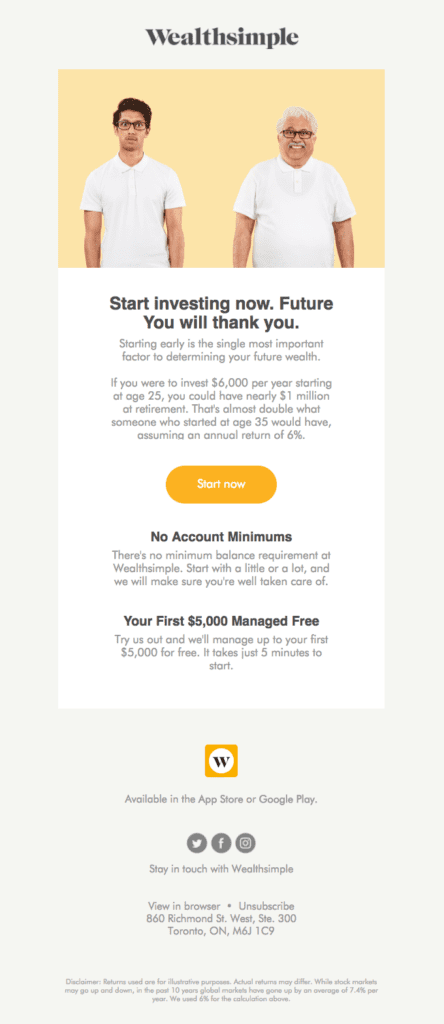 Aspiration presents their top product but doesn't corner the lead. On the contrary, they point out that the invitation can be transferred to someone more interested in the offer.

Or you can send a regular and continuous newsletter with informational content, tips and tricks, and seasonal offers. This can also be tailored by needs and interests (refer back to Segmentation).
You could test different topics and further segment the list into groups interested in buying a home and others interested in basic budgeting and increasing financial stability, for example. Or use influencers and offer exclusive content in line with your audience's interests as Klarna does.

Newsletter ideas
Offers and seasonal campaign ideas
Kids/Youth Savings Programs
Home Buying
Debt Management
Building Credit
Basic Budgeting and Financial Responsibility
Safe Banking
Commentary on current financial news and trends
(see Divvy example below)
Credit offer ahead of Holiday Season
Small business financing opportunities as they arise
New Year budget template freebie
Tax Day offers
New products launched
New partners added (see example by Klarna)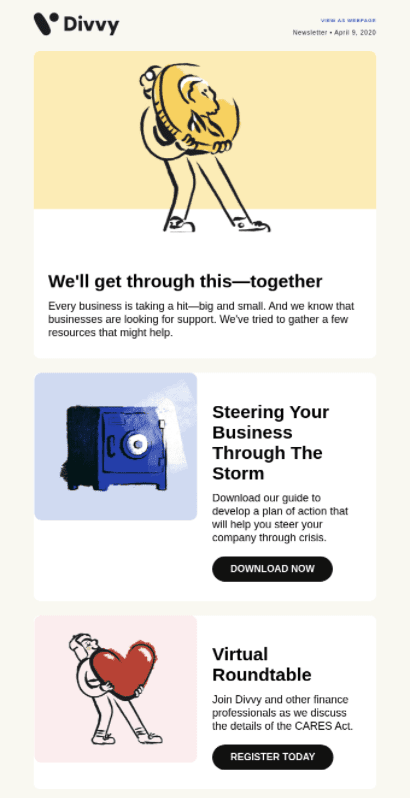 3. Conversion
Verification & Authentication
Account creation with a financial service should feel absolutely secure and discreet. If you don't do it already, consider adding two-factor authentication, even mixing email and SMS via marketing automation. N26 not only asks for double opt-in when opening an account, but also encourages "phone pairing" for an extra layer of protection.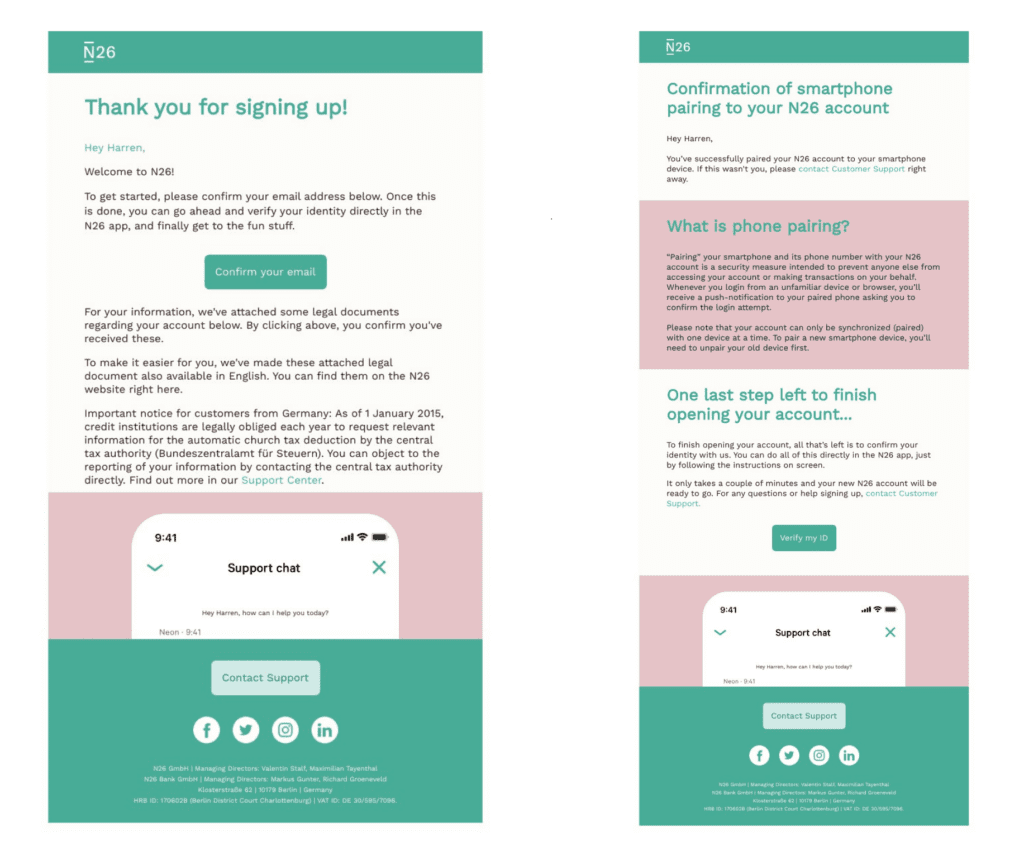 Don't forget your waiting lists. If someone doesn't act on the invitation to join, you can reach out and nudge them again just like N26 does below.

You have to prepare for failed verification. An email sent promptly can save the client the frustration and keep them from abandoning the whole thing. Here's one such example from Revolut.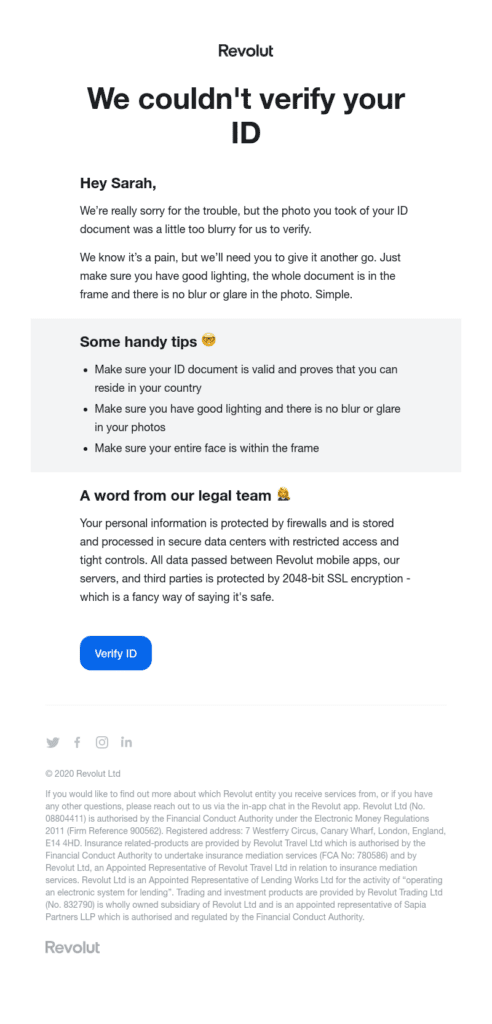 Onboarding & Activation
Once the account creation is complete, a welcome email providing an overview of your features is a must. Here's how Square, Revolut, and PayPal do it.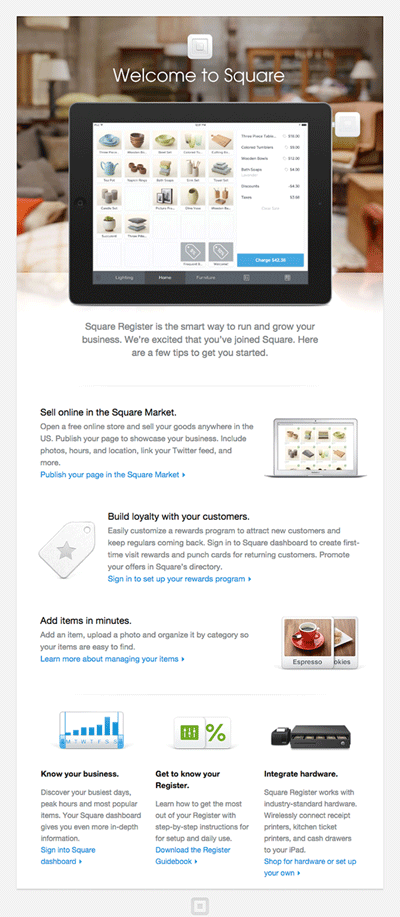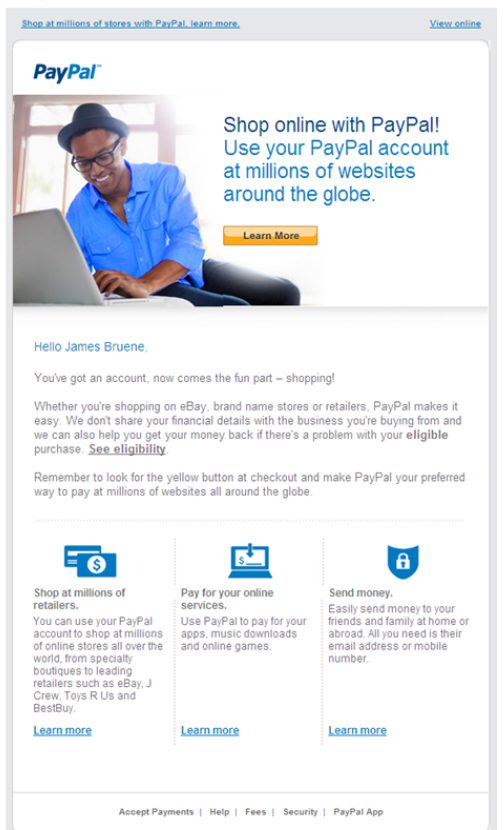 This will help with engagement and contacts whitelisting your emails with their positive interaction.
Better yet, go for a full-fledged onboarding series answering FAQs and giving resources. Most people need guidance with financial products and apps so showing them around and explaining how things work and what you have to offer will increase adoption, engagement, and retention.
Such an email drip will help your deliverability as well. People will learn to open such emails because they're useful and possibly even whitelist you as a sender, signals tо mailbox providers to continue delivering your messages.
It's best to set up an automated onboarding series for each new customer. It's possible to make it branch out depending on the services they sign up for. Here's a prime example of financial service onboarding emails from SumUp.
Onboarding email 1: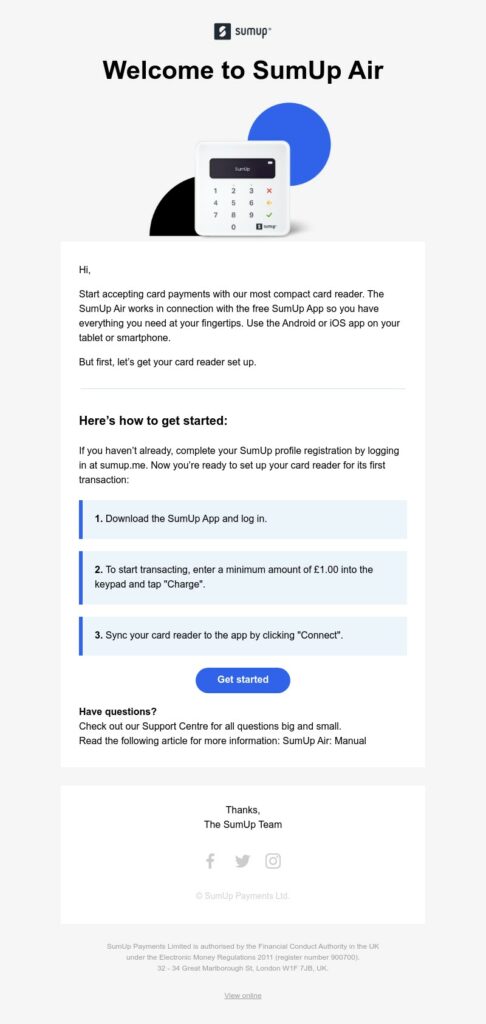 Onboarding email 2: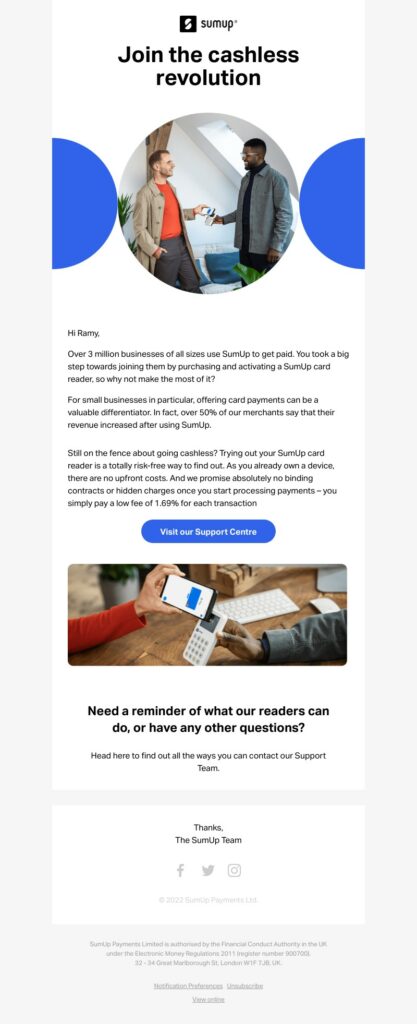 Onboarding email 3: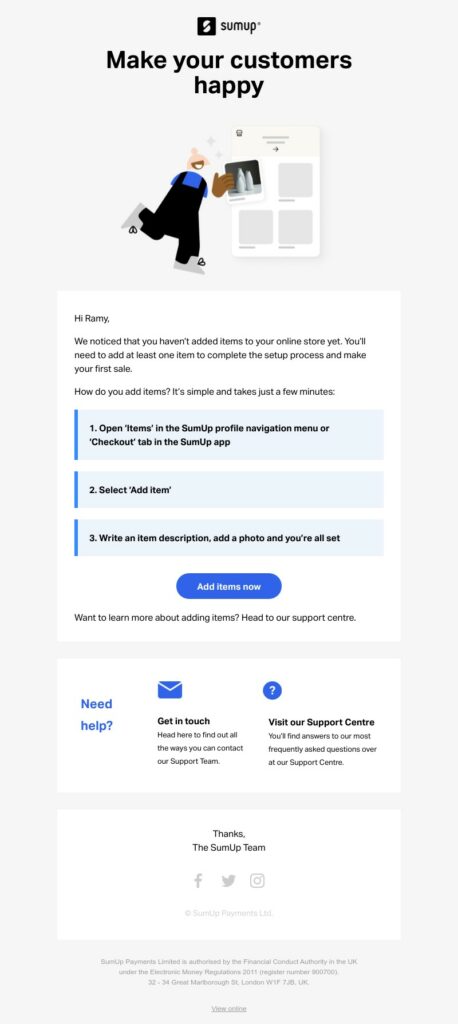 Onboarding email 4: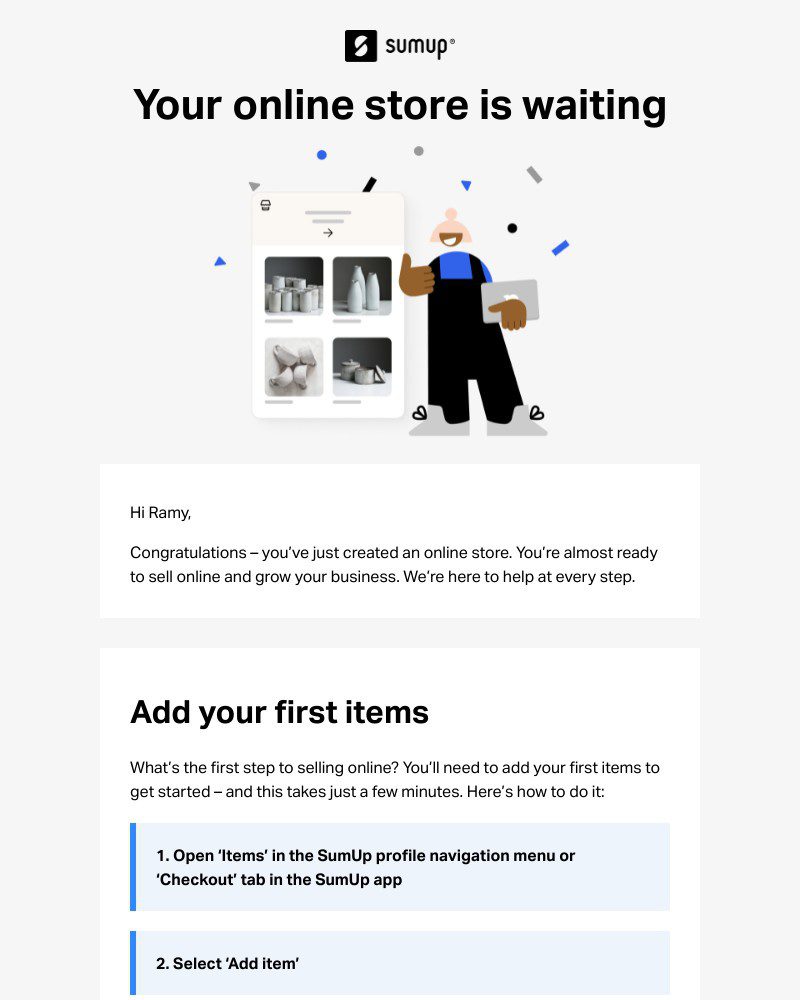 Onboarding email 5:

4. Regular use – Transactional emails
Customers need confirmation for every transaction or operation they do through your financial service. If you have an app, you could handle confirmation directly in-app.
However, if all actions go through a website, most people will prefer to get a message just to make sure everything went smoothly. That's why you should add transactional emails (or SMS) to your email marketing strategy.
Here's an example from coinbase, sent about the purchase of some bitcoins.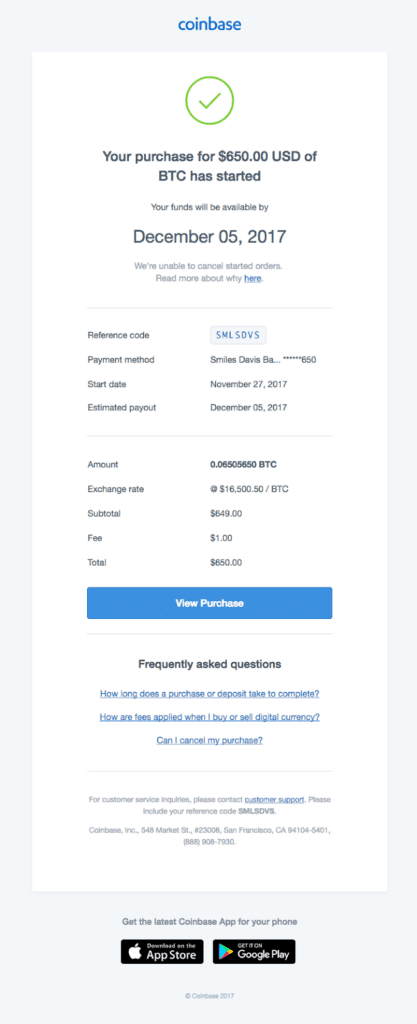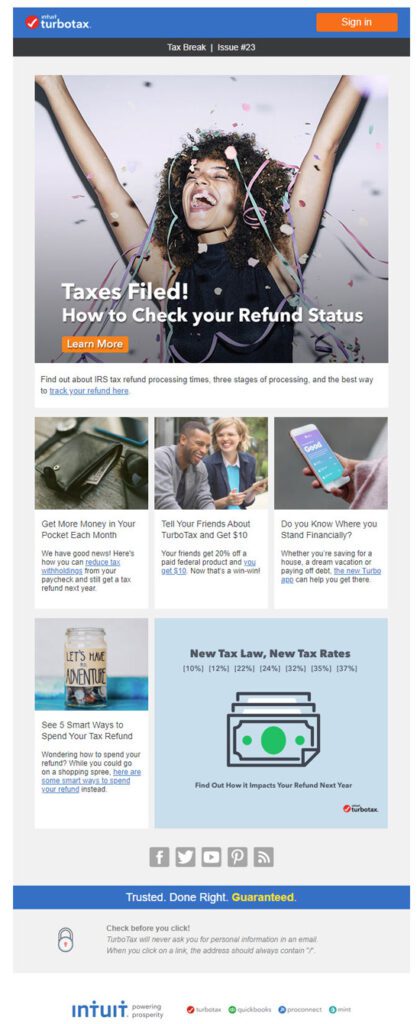 Intuit uses the action of filing taxes as a reason to add more newsletter-style content to its customers
Transactional emails are sent automatically when the customer completes a certain action:
Requests a password change
Requests documents
Upgrades account
Tops up money
Transfers money
Receives a payment request
Reaches a limit
Initiates an insurance claim
Logs in from an unusual IP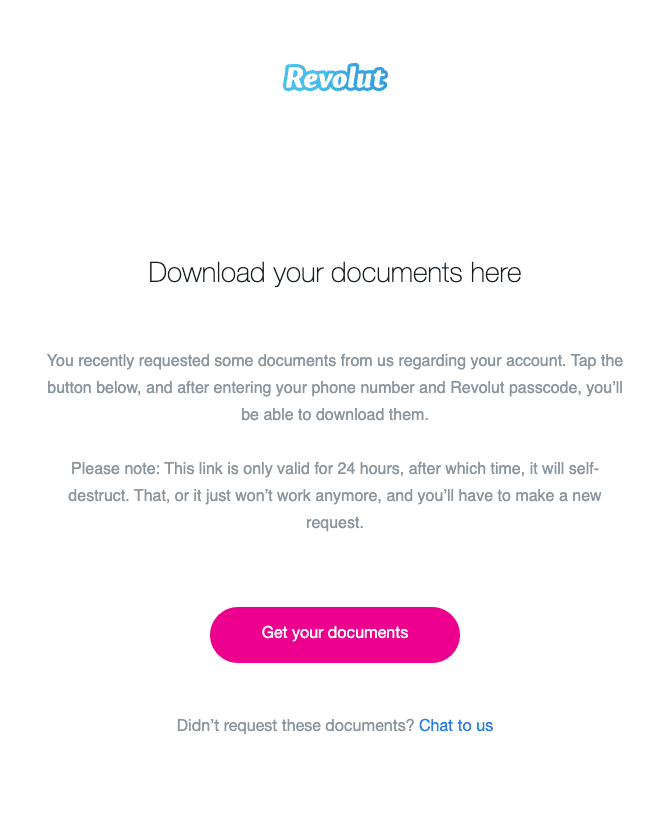 Example of a transactional email by Revolut, sent when documents are requested
Additionally, suspicious activity should also trigger security alerts immediately to mitigate fraud. See below a good example of a security check by HSBC.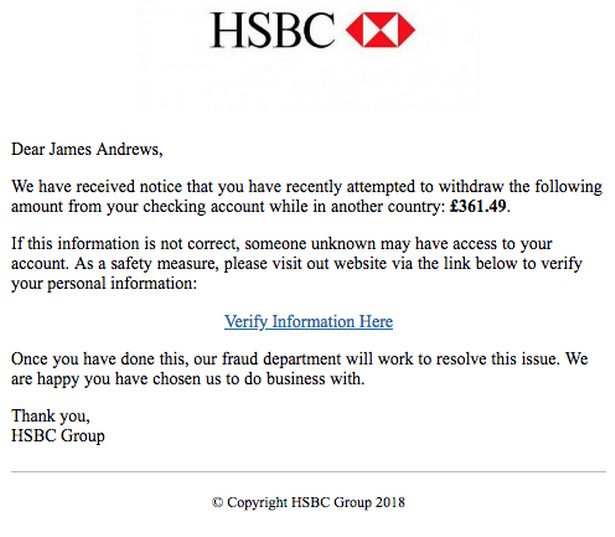 Transactional emails must look impeccably trustworthy because they contain important, private information. They can't look suspicious or unprofessional. Plain design and clear copy are a must so the recipient understands exactly what it's about. Keep sensitive details to a minimum in case people open the email in public.
Also, sending your transactional emails through a trusted email API or SMTP server will save you potential security risks. The email provider should guarantee secure and fast delivery to the inbox, premium sender reputation management to avoid the spam folder, and the ability to insert dynamic data in the message.
Pro Tip
Set rules of communication in emails and make them known to customers, e.g. use both names addressing someone (PayPal) or never ask for card details or send links to the login page (Raiffeisen Bank). The first is communicated in the legal text in emails, while the second appears as a warning on the bank's online banking platform (see message below).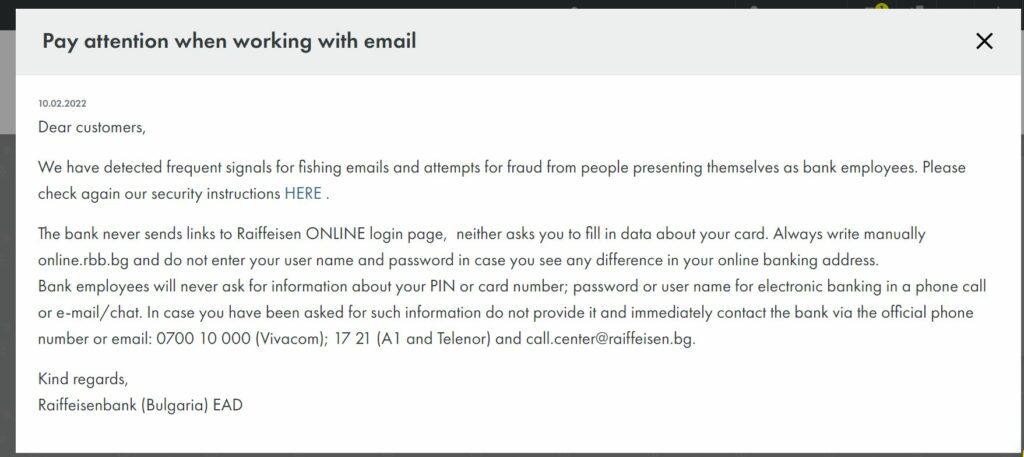 5. Retention
To keep customers using your financial services, ongoing email engagement is essential. It'll keep your brand in their minds, and open up opportunities for upsells and cross-sells.
Triggered campaigns
Triggered emails are the ones that are set up to send automated emails when a condition is met. A few examples of such campaigns would be:
Alert about reaching a limit or registering a big gain on investments
In insurance, which is often set and forgotten about, alert about a renewal date approaching
Upselling to a higher plan after 1 year in the current one
Asking for feedback after a certain period of time using your service
Sending a monthly account report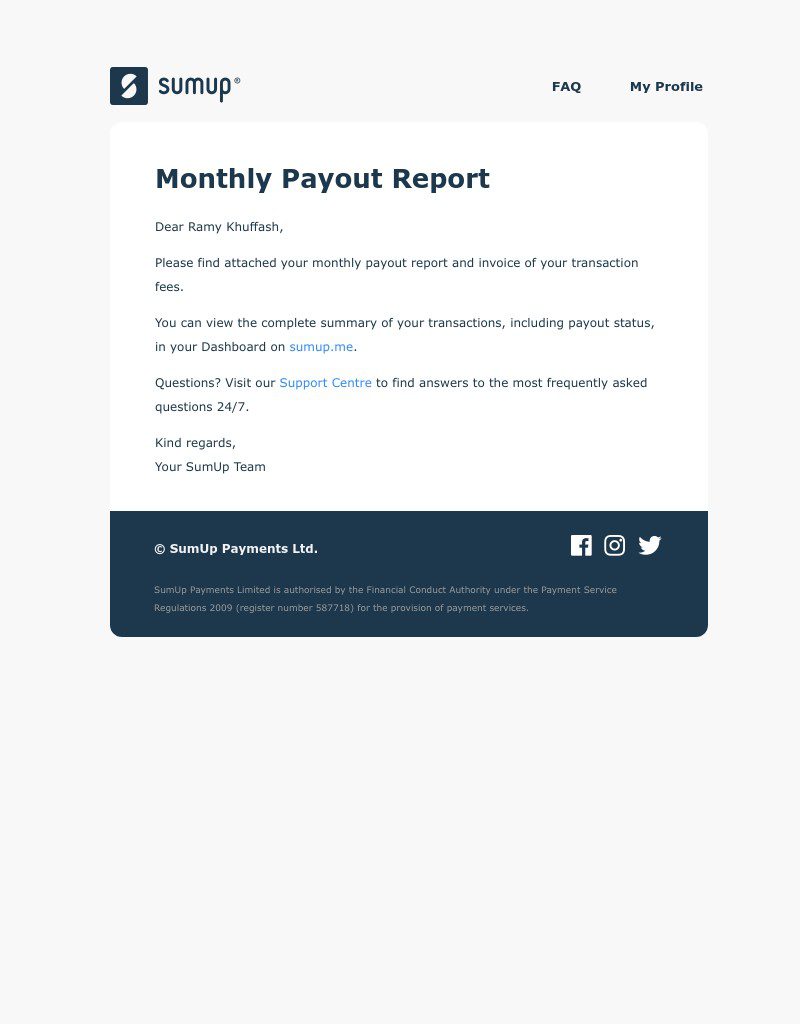 A monthly report triggered email by SumUp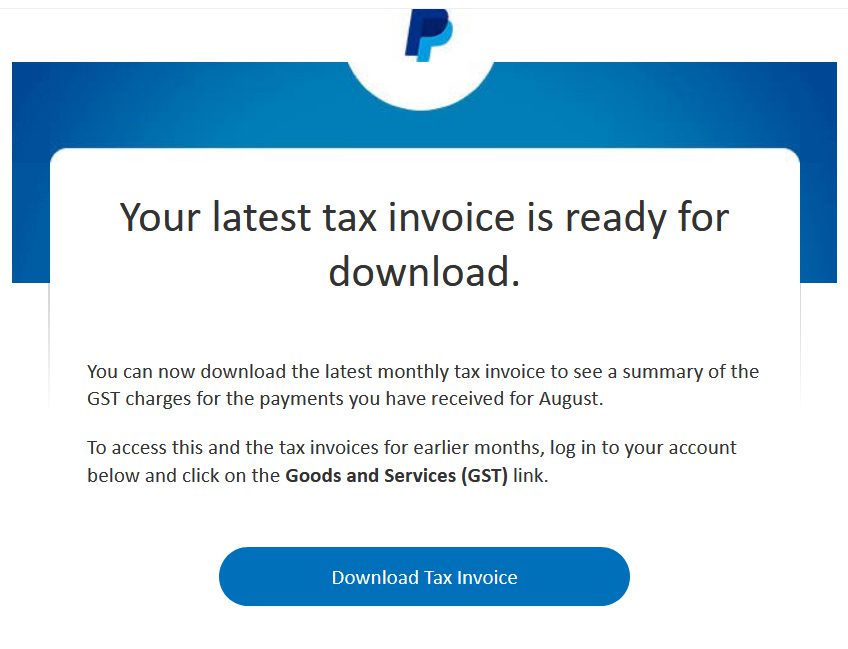 Monthly tax invoice ready alert from PayPal
One-off campaigns
Those are campaigns you run as part of your promotional calendar, usually limited-time offers tied to a particular occasion. Some ideas:
Tax Day approaching
Loans ahead of Shopping Season
Seasonal home maintenance tips for the home owner segment
Introducing new products offerings
Cross-selling products or services to the ones people are already using
Mass communications about legal changes, response to security threats, or other news that may impact users
Educational content on topics related to your products, e.g. budgeting tips, healthy spending habits, savings timelines, paying off student loans/ mortgage calculators, etc.
If you cater to younger demographics, content can be a huge campaign driver. So make newsletters a regular part of your email strategy. Millennials are more money-conscious than previous generations. Coupled with all the new financial products available, you'll convert and retain them easier if you help them understand the offers first.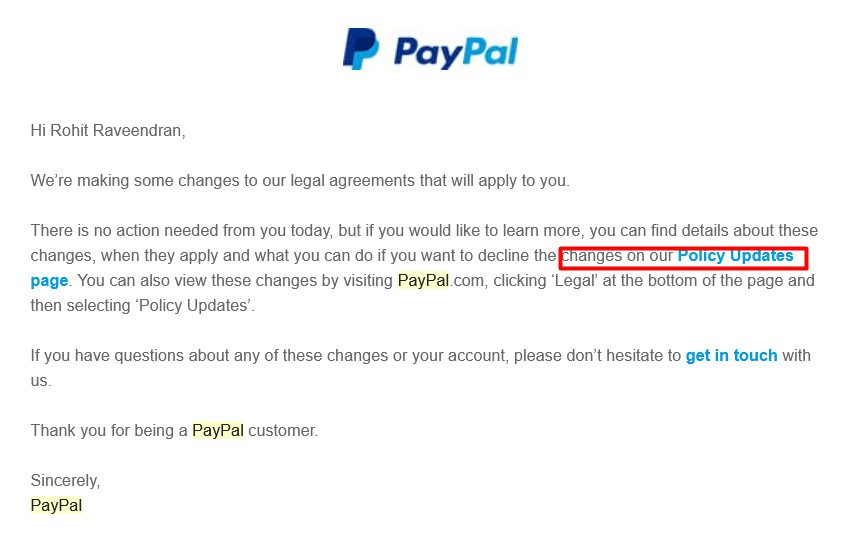 PayPal communicating policy changes

Cross-selling email by Venmo
Reengagement / Winback
Sometimes users fall into inactivity and need winning back. Those can also be automated if your email service has the necessary triggers and filters (e.g. period of inactivity) like Brevo does. You can reactivate them with winback emails such as:
Offering similar but updated products/services to what they've used before
Nudging them to check their balance (PayPal does this all the time to disengaged users)
Asking for feedback as a way of reminding people about your brand
SumUp combines two of those in one campaign: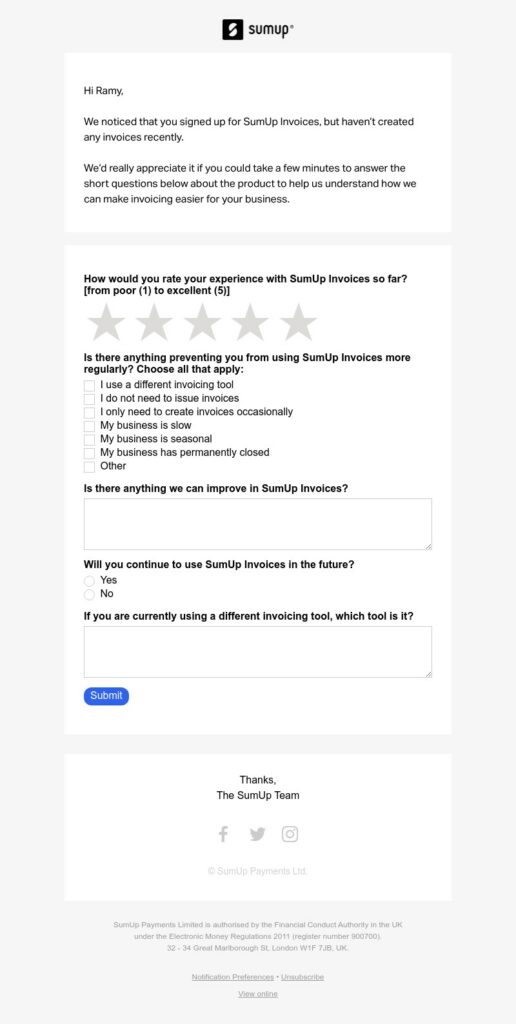 In another, they simply ask if they can answer any questions, keeping the customer from suing the device: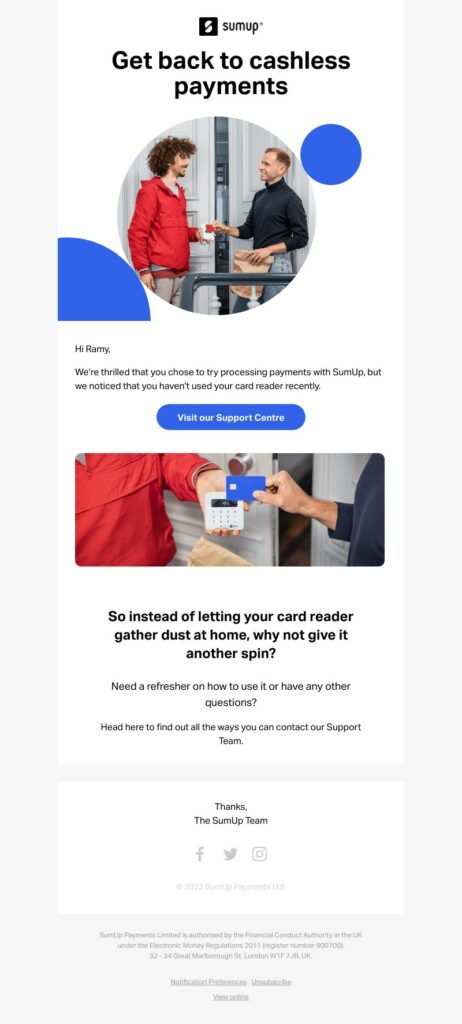 6. Advocacy
Current customers can bring you new ones for a fraction of the regular cost of paid acquisition. Someone who's happy with your service can easily convince others to try your product. That's why referral programs are so popular in the financial industry. Plus, it adds to your brand image that people recommend you to their friends and family.
Revolut, for example, offers a straightforward reward for referring friends — they add money directly to your balance.

Monzo takes it up a notch by tying the referral offer to the holidays.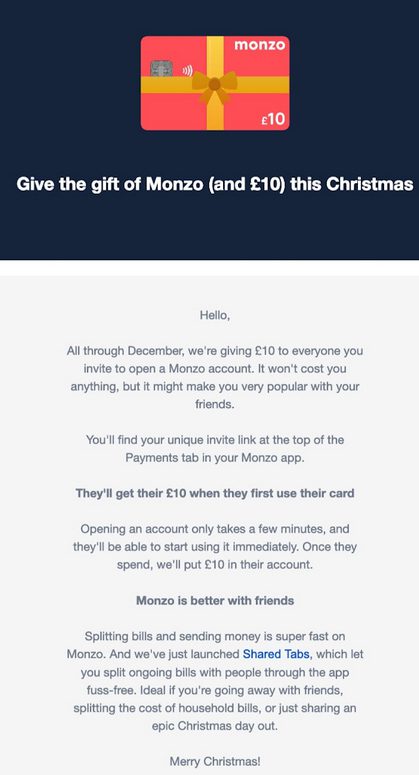 SumUp similarly offers a cash reward for each device user referred.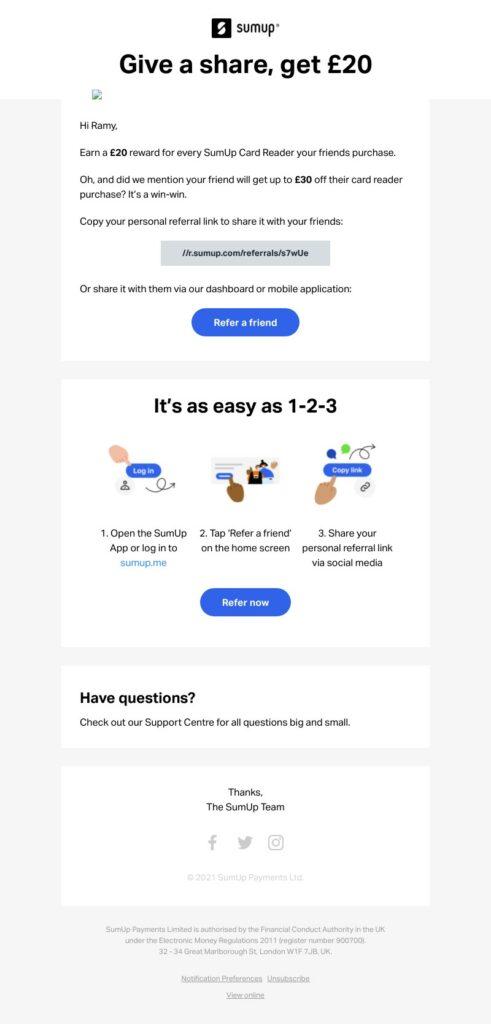 For insurance, you can offer package deals:
family deals (different products for users of the same family e.g. life insurance for parents plus car insurance for kid plus health coverage for all)
multi-family deals ("refer another family and get a better deal yourself")
Friend discounts ("bring a friend for the same product e.g. car insurance and you both get a lower price")
Choosing a Reliable Emails Service Provider for Finance Companies
Here's a checklist of the main features to look for in an email provider for your financial service.
Securе
Scalable
Fast deliverability
Sender reputation monitoring
Strong API & SMTP for transactional emails
GDPR-compliant
Personalization options / dynamic content
CRM & Customer profiles for segmentation
Marketing automation
List management options
Signup forms with multi-list capabilities
Additional channels like SMS, live chat, WhatsApp
Real-time data & analytics
Reliable support
Brevo offers all of the above. Additionally, it supports all security protocols (SPF, DKIM, and DMARC) and can help you be fully GDPR-compliant. We're CSA (Certified Senders Alliance) certified and also in the process of getting ISO 27001 certified. ISO 27001 is a standard for information security management. Оur datacenters and subcontractors for storage are already ISO 27001 certified. 
Email securely and confidentially with Brevo
All-in-one email marketing platform with premium transactional, personalization and campaign options for financial services.