Reading time about 13 min

Ecommerce content marketing is popular among online brands and your competitors are probably already doing it. It's a great addition to your ecommerce marketing and helps with new customer acquisition.
An ecommerce content marketing strategy is a long-term commitment, but it improves brand image and organic traffic, and will eventually help conversion rates soar.
We've selected some of the best content marketing examples from ecommerce stores to get you in a creative mood.
Many of them offer niche products so you'll see how ecommerce sites selling any product can use content marketing. And we'll share tips for building your own content marketing strategy.
What is ecommerce content marketing?
Ecommerce content marketing is part of digital marketing.
Before we get into ecommerce content marketing examples, let's first talk about how ecommerce companies benefit from it.
Effective content attracts traffic to your online store for free. What's more, it's qualified traffic, meaning only people genuinely interested in your products and related topics.
The customer journey is usually the following. People look up topics of interest on search engines. They stumble upon your blog article, video, or other format, and interact with it. They start following what you do or come back later when they need similar information.
Eventually, they discover your products. Thanks to your content marketing efforts, they transfer this positive attitude to your brand.
Ecommerce content marketing is an alternative way to promote your online store. It's cheaper than running ads or working with influencers since it usually relies on SEO and organic social media presence.
Building your content marketing strategy
Decide how you want to give value to your potential customers. What are they interested in? What are the demographics you want to reach? Can you give them important information about your niche? Or can you help them with pain points? Your content should focus on that.
Choose your channels. Where do you want your content to be? On your blog or on a YouTube channel? A separate domain? A podcast platform? Go where your audience is.
Think about how you can execute on your content marketing plan. Will you do it in-house or work with an agency? If you're an expert on your product's niche, can you dedicate time to content creation?
Content marketing formats
The most popular are:
Written: blog, newsletter, magazine, ebook, how-to guides, book review, list, interview, research report, white paper, press release, opinion piece, product review, social media marketing
Mixed: video, podcast, graph, infographic, image gallery, meme, webinar, demo
You can choose the type of content format to best present your brand. Of course, it depends on the products and the niche. You probably wouldn't use white papers if you sell sneakers, but they might work well for medicinal cosmetics.
You can have a dedicated blog with different formats, or you can spread them out on your various pages. You can also repurpose old content for new channels and in new formats. For example, sharing blog articles in your newsletter.
Start off with just a few that you're sure you can keep up in terms of content creation, time and people, and expand when you feel you're ready.
Ecommerce content ideas and strategies
Here are some of the most inspiring content marketing examples.
1. Quizzes
Everybody finds guilty pleasure in talking about themselves. A fun, well-executed quiz could get you tons of traffic. They're easily shareable too so you'll get referrals and social shares as well.
What's more, once they submit their answers, you can use them to tailor your offers and communication to their needs. For example, you can ask about their skin type in order to recommend suitable products and give relevant advice.
Even if you don't want to add another tool to your ecommerce site, you can still learn more about your customers' preferences. Just link to a form in your newsletter!
Here's how to do it and create segmented email lists to send relevant information with Brevo.
2. Share values on your YouTube channel
REI, the outdoor gear company, is a perfect example of giving value to their target audience for free. They do video marketing on shared topics of interest with their customers.
They use their YouTube channel (over 500 ultra-focused and practical videos) to answer all types of subscriber questions about outdoor adventure. The special short films REI Presents get over a million of views each, spreading the stories of inspiring people, environmental stewardship, and the outdoor lifestyle.
There are series about all their target sports and travel activities, destinations, camp recipes, how-tos, repairs, and so on.
It's a place for the community to find inspiration and info for their next adventure. And most importantly, the brand values are all over the videos. There's no hard sell, it's about a shared passion for the outdoors.
3. Talk about your local community
If being a local brand is your highlight, your ecommerce content strategy should reflect it. Talk about your community and how you're involved in it.
Mitten Crate is a subscription box for artisan Michigan food. They're deeply connected with the state of Michigan, its traditions, and land. On their blog, they promote local artisans, making their blog a go-to source for foodies in Michigan.

4. Turn events into ecommerce content
Taking part in trade shows, concerts, fairs, or exhibitions offline is a great way to meet your customers in person. It brings your brand closer to the people and shows its human face. You can also collect customer stories easier.
Segafredo Zanetti Australia regularly tells their blog readers where they're going to park their coffee van next.
Tip: Share behind the scenes images to add a real-life touch.
5. Connect your products and what they're used for
An example of great content comes from DTC darling Warby Parker.
Their To Read blog section is a geeky paradise. The connection is clear — people who read a lot often need glasses, or that's what pop culture leads us to believe. Since Warby's glasses help people see better, they want to give them back the pleasure of reading.
Any topic or activity related to your products can make content material. Just think about what your customers like to do and what their interests are.
6. Share DIY inspiration
Ecommerce content marketing creates demand for your product. You can show people alternative uses so they have more reasons to buy it.
All recipes, tutorials, and repurpose ideas work this way. Sometimes these are even more exciting so people buy just to try them. And if you occasionally run a user-generated content campaign, you'll get lots of new content to feature and reuse!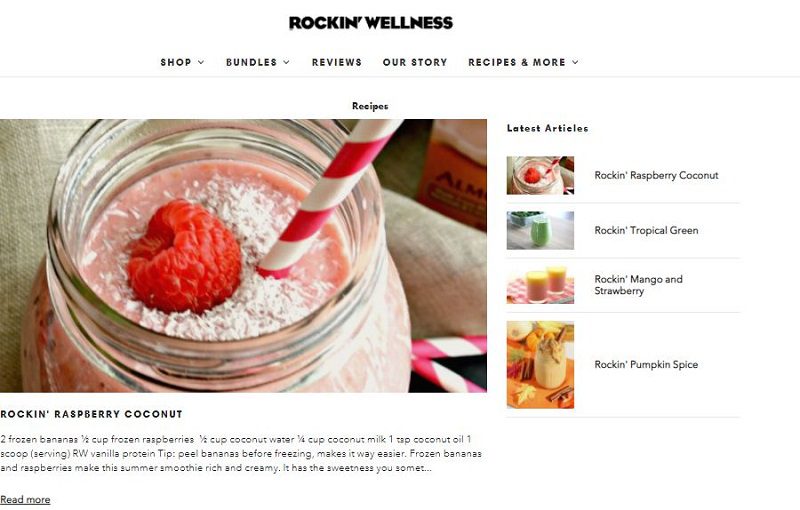 Credit: Rockin' Wellness
7. Be part of your audience's lifestyle
Barney Cools have over 6000 followers on Soundcloud. But they're not artists — they're a fashion brand!
The best ecommerce content marketing blends with the target group's interests and lifestyle.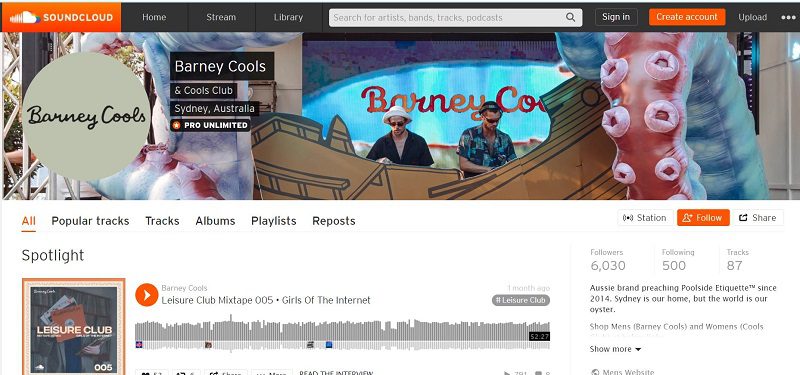 8. Add a twist to influencer content
Almost all beauty brands work with YouTubers because it's the best way to show the products in action. But Glossier's #GetReadyWithMe influencer collaboration stands out.
The YouTube videos are a great example because it shows everyday looks for ordinary people. This is completely in line with their slogan "beauty products for real life". Most brands will go for looks that are way too fancy for the normal working woman, but Glossier stays close to their target market.
Also, with this approach they retain ownership of the videos, accumulating them on their official channel. Brands usually send products to vloggers. The results are not on-brand videos and viewers have to jump from channel to channel.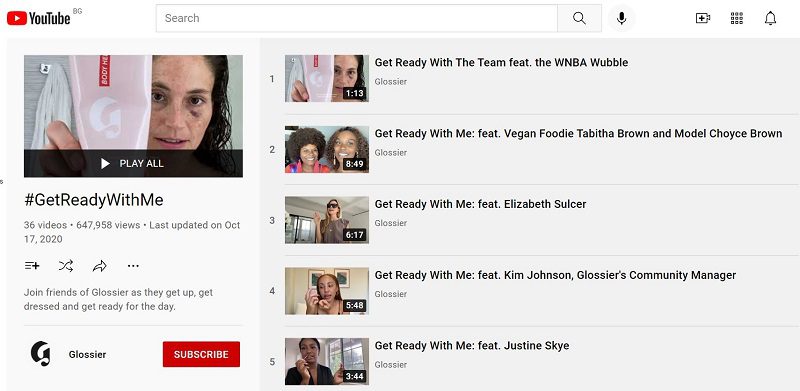 9. Create a glossary
Whatever you sell, don't assume your customers know all the fancy terms. Ecommerce content marketing gives you more space to explain and educate apart from product pages.
This way, people will get to know your product category better so they can shop with confidence. Plus, when they know what they need and buy, they're more likely to be happy with the purchase.
A glossary is great for SEO (search engine optimization) too because people will discover your ecommerce website with a keyword search. Your website will rank better for related terms and start showing to more people looking for the same things. You'll probably get backlinks too.
For example, Third Love has a dedicated Bra Style Guide where all related questions are answered openly and professionally. Helping people even before they become customers helps build trust.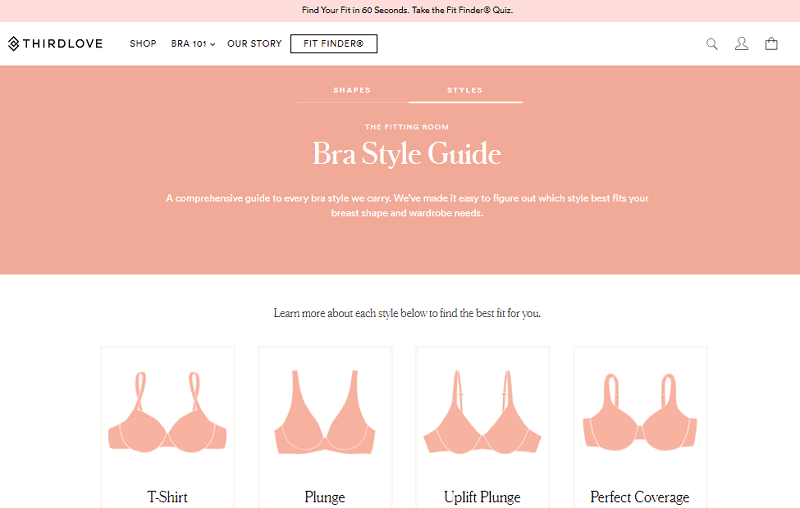 10. Go into details about your product
Such pieces of content can work miracles for products like cosmetics or online workouts. They're the kind of things people need to know more about before buying – it's not as simple as deciding on a scarf.
The Ordinary's site has guides to key ingredients and product comparisons. This way the products get extra exposure in addition to the product pages. Plus, the customers can choose easier and find the right product to enjoy.

11. Answer the questions people are ashamed to ask
Sometimes your target clients might have intimate or otherwise unusual questions. Be proactive and provide answers so they come back to your site as a trusted source of information on their pain points.
For example, men often want to find info about clothing quickly and discreetly. Mezoura's blog has styling tips lined up and ready – how to wear a shirt and a sweater, how long the shirt over the pants should be, and so on. It feels good to get answers to such "silly" questions you didn't want to ask your friends.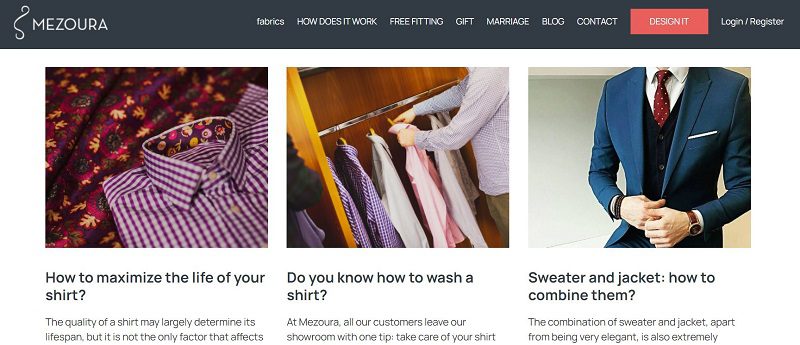 12. Reuse press coverage
You can feature your earned media on your blog because articles and TV reports are easy to understand by the average public. Magazine features also count.
Boden rode the wave of fame when Kate Middleton wore a blouse of theirs on no other but International Women's Day. Yes, it's a bit of a brag but can do wonders for your brand's PR.
Even if you don't have something this big, you can do guest posts for partner websites and share them on your social media to build authority in your niche.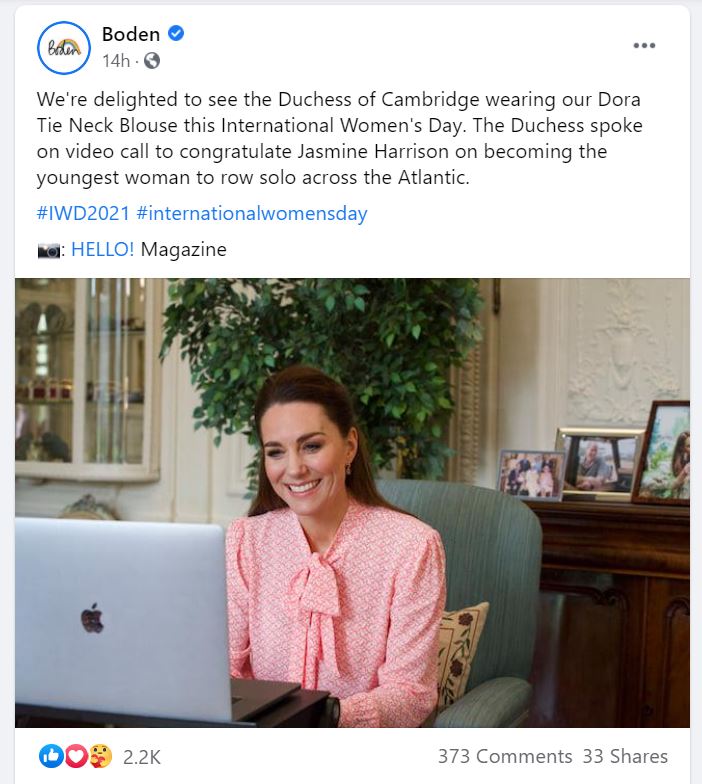 13. Tips on product maintenance
Content about how to take care of products, how to prolong their lifespan, etc. makes a good impression. First, it helps people enjoy their purchases more. And second, it shows your dedication and craftsmanship, that your brand isn't just about selling more but about quality as well.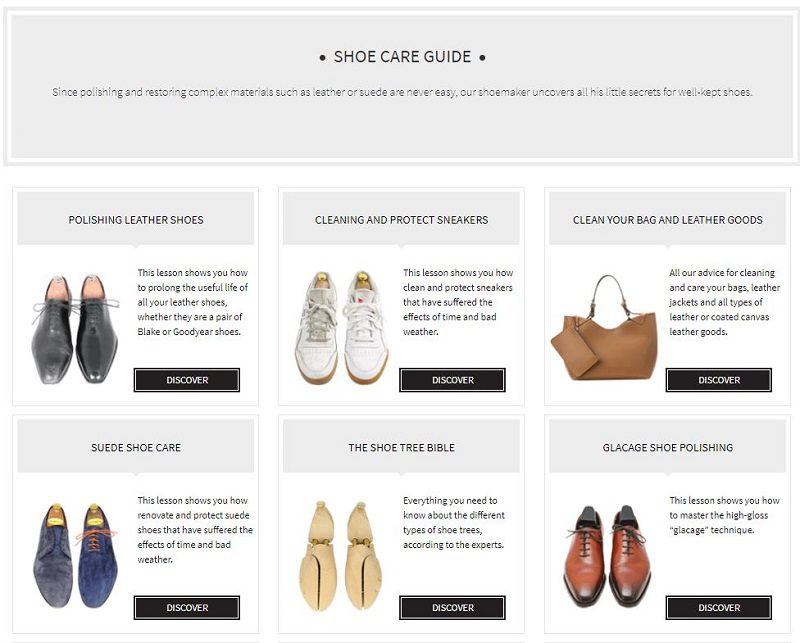 Credit: Monsieur Chaussure
14. FAQ pages
Ecommerce content marketing can be anything that's not placed on regular sales pages (product pages, cart, checkout). Sometimes, it's a resource that helps people choose easily from your products. And FAQ pages are just that! They help people decide to buy.
Paint brand Annie Sloan makes buying paint online easy with its extensive FAQ page, covering its complete range of products. This way, people feel at ease when buying.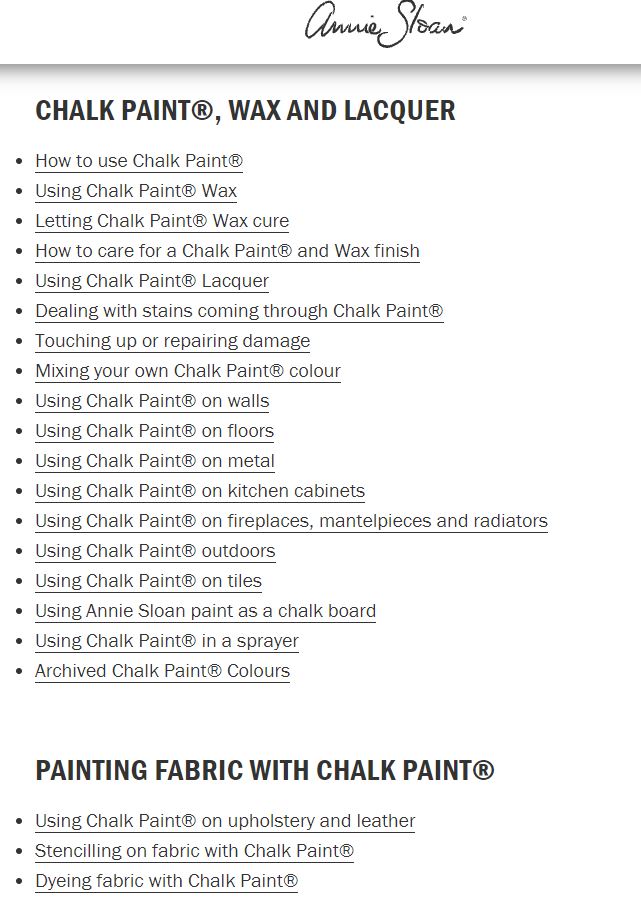 Why are these good examples of ecommerce content marketing ?
They don't hard-push their products on the reader, viewer, or user. Good content is enjoyable on its own, even if the visitors aren't interested in buying anything yet. It gives you real estate to present and position your ecommerce brand.
The goal of a content marketing strategy for ecommerce is to nurture and build trust. Conversions only come as a result of that. The pieces of content provide information, feed curiosity, inspire, educate, entertain.
Get started with ecommerce content marketing
All those ideas are pretty cool right? You can start with your own content easily too — just write about your mission, values, and products in your newsletter. To get you started:
Send your next newsletter with Brevo
Free plan includes access to all core email features, 300 emails/day, 40+ email templates, and customizable signup forms to grow your newsletter list.