Co-written by Sanebox, an AI service designed to organize your inbox to optimize productivity
Email marketing campaigns continue to hold the greatest revenue power when done right. According to the Financial Post, email marketing has the potential ROI of $42 for every dollar spent.
If you've noticed low results in your email campaigns, you may have fallen victim to some common email mistakes. But don't worry, we're here to help!
We've partnered with Sanebox to present the top ten email marketing mistakes. So in no particular order, here's what you need to avoid.
1. Keeping Unengaged Contacts
Just because an email list is big doesn't mean it's a good quality list. One of the most common email mistakes is growing your list without checking if subscribers are still active.
Instead, regularly clean your email list to remove subscribers that are no longer interested in your business. One of the best ways to do this is by sending a re-optin or reactivation campaign.

First, create a segment of unengaged subscribers. For example, contacts who haven't opened your emails in six months or more (it's up to you to define the exact criteria).
Next, email unengaged subscribers and ask if they still want to receive emails from your business. Another approach is to test new types of content on this segment, or change the email frequency to see if engagement rates improve.
If there's still no response from unengaged subscribers, it's time to delete. Old, unengaged contacts will only harm your deliverability rates in the long run.
2. Forgetting the Power of Segmentation
Another big mistake when it comes to email marketing is blasting the same email to everyone on your list.
Segmentation is when you organize your email list into smaller, more focused groups based on specific interests or shared characteristics. It's a way to drive more engagement with targeted, personalized messages.
With segmentation, you can tailor content based on a contact's location, demographics, purchase history, and preferences.
An easy way to collect preferences is by sending an email asking subscribers what type of email content they want to receive from you. Brevo's Update Profile form lets you collect updated information on your contacts, like in the example below: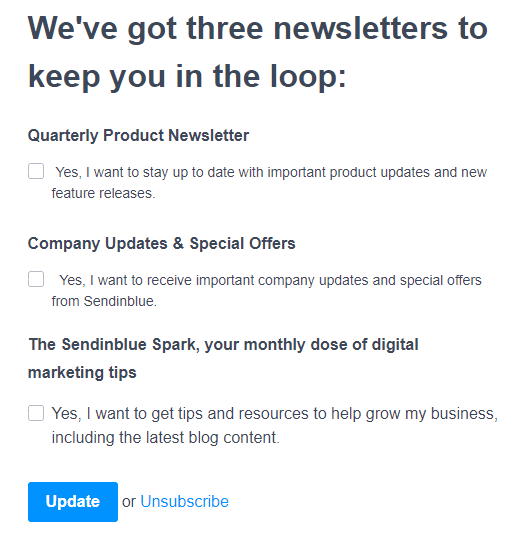 We recommend including a link to a preferences form in the footer of all emails so contacts can easily communicate their interests.
3. Sending Emails At The Wrong Time
Another email marketing challenge is knowing the best time to send an email campaign. Despite numerous studies suggesting the "perfect" send time, there's no time that will suit every single person on your list.
Brevo users get access to Send Time Optimization which uses AI to send campaigns at the best time for individual recipients based on previous engagement data. 
Delivering messages at the right time for each contact will generate higher open and click rates, driving more conversions and revenue for your business.
4. Not Checking Your Analytics
So you've been sending regular email campaigns—great! But have you dug into your campaign reports to see how they're performing?
Always keep an eye on what's working and not working for your audience. It's the best way to improve your email marketing ROI and avoid wasting resources on ineffective strategies.
Analyze the subject lines and content that engage your audience the most. To do this check which marketing emails have the highest open and click rates. Think about how you can replicate this approach in future campaigns.
Another key metric to track is the unsubscribe rate. What's causing people to opt-out of your email list? Once you review your analytics, take your learnings, and use them to improve your email marketing strategy.
5. Not Being Consistent With Your Emails
Inconsistency is just as big of an email marketing mistake as sending emails way too frequently.
Infrequent or sporadic emailing creates a distance between your business and your audience. If too much time passes, some subscribers will forget they ever subscribed and mark your emails as spam. This puts your sender reputation and future campaigns at risk.
Keep your brand top of mind by sticking to a regular email marketing schedule. For example, sending on the same day every week. As always, make sure any content you share adds value for the reader and has a clear call to action each time.
6. Forgetting To Send A Welcome Email
Are you sending an automated welcome email every time a new user subscribes? If not, you should. Welcome emails generate four times the open rate and five times the click rate of standard promotional emails.😮
Greeting subscribers with a welcome email helps establish trust by showing that you deliver on your sign-up promise.
And that's not all. Beside giving new subscribers an idea what to expect from future emails, encourage further engagement by pointing towards other content on your site. Just like TravelSupermarket does in this example from our welcome email guide.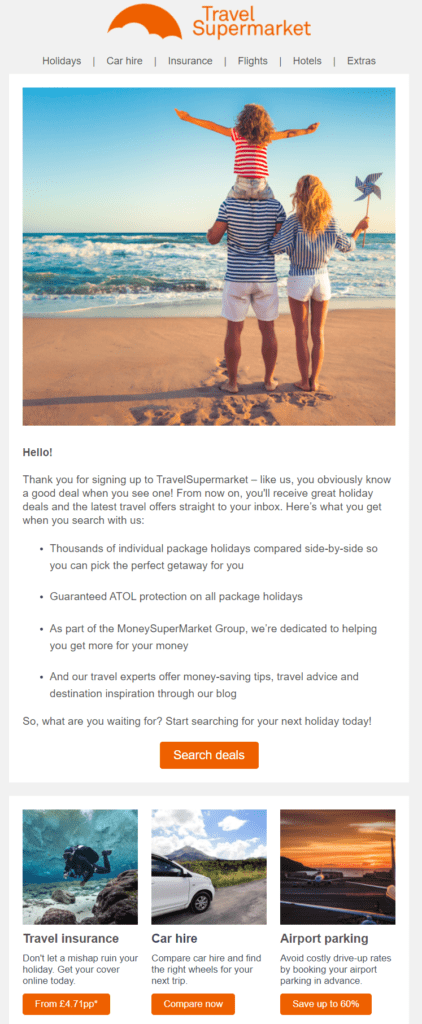 7. Using Clickbait-y or Misleading Subject Lines
It's tempting to use a clickbait-y, gimmicky subject line to turn heads and get those open rates. But this is an email faux pas. 🙅‍♀️
Be warned: Misleading subject lines do more harm than good. False marketing will only frustrate and alienate your subscribers.
In fact, 69% percent of users report an email as spam based solely on the subject line. Of course, you should still use catchy subject lines, but make sure they reflect the true value of your content. Don't mislead your subscribers.
Further reading: 150 Email Subject Line Examples & Best Practices
8. Skipping A/B Testing
Once you've got an email marketing strategy all set up, it can be hard to think about making changes. But keep in mind, strategies are meant to be improved over time. A/B testing and iteration will help you do exactly that.
Not sure what to test? To improve open rates, try out different send times, subject lines, and deals or offers. For a better click-through rate, test different email designs and call-to-action buttons. 
A/B test regularly to identify what drives engagement and re-produce similar content for high performing results next time.
Looking for an A/B testing tool? Brevo offers A/B testing for trialing different versions of marketing emails. 
9. Hitting "Send" Without Testing First
You've spent hours crafting the perfect email campaign, going out to thousands of people on your email list. You're eager to get it sent out, and maybe even in a bit of a rush…
Hold your horses. You need to test that email before hitting send.
Send yourself a campaign test and read it carefully. Review the content, correct any typos, check the links are working, and make sure it's mobile-friendly.
To skip this step is to risk all your hard work and your brand image. Typos and broken links aren't a good look for your audience. Follow our email marketing checklist to make sure you've got all bases covered before sending that campaign.
10. Missing Chances To Collect Email Sign-ups
One of the most common email marketing mistakes happens well before the email campaign itself. It's when businesses miss opportunities to capture as many email addresses as possible at the different brand touchpoints.
Got high-value content on your website? Create a gated asset that users can only access after signing up for your newsletter.
Run an ecommerce website? Offer a special discount for newsletter subscribers.
Hosting a webinar with a partner? Entice attendees with a free ebook that can only be redeemed by joining your email list.
Check out our top email-list building techniques for more ideas.
In Sum
Whether you're a small business owner or running email programs for a large ecommerce site, it's easy to fall for common email marketing mistakes. But the good news is they're easily fixed.
Follow the above-mentioned tips and adjust your emailing strategy accordingly. Your campaign performance will improve in no time.

Join our newsletter 🚀
Get monthly marketing tips and exclusive discounts straight to your inbox.*