Reading time about 19 min

B2B email marketing isn't rocket science. Identifying your target audience, compiling an email list, brainstorming catchy email subject lines, crafting your message, and personalizing your email campaigns are techniques that anyone can master.
In this article, we'll dive into why B2B email marketing is becoming more popular (and more lucrative), and show you what tools and techniques you can use to craft successful B2B email marketing campaigns.
Are you already an email marketing veteran? Feel free to jump over to our B2B Email Marketing Best Practices. (Updated for 2022 marketing trends).
What is B2B Email Marketing?
B2B email marketing is a type of digital marketing strategy aimed at businesses that sell their own product or service. Effective B2B email marketing targets decision-makers. You'll want to convince decision-makers that if they close a deal with you, their business will be better off in some way.
Usually, the foretold benefits include savings, efficiency, and increased growth. Since you're emailing an actual person, you'll want to talk to them directly and use wording they find familiar.
In a B2B context, that means putting together an email list of potential customers. You can build an email list by gathering subscribers to your blog or using a lead magnet (like a free ebook, webinar or course). If you want to reach out to businesses that don't know your brand, then try a separate cold outreach campaign.
Use a business-friendly subject line. Address each recipient by their name and role. Echo their pain points. Then pitch a solution that will genuinely interest them.
To get the most out of your marketing efforts you'll need to know the key differences between B2B and B2C marketing.
B2B vs B2C Email Marketing: What Makes Them Different?
Business-to-Consumer (B2C) email marketing will appeal to a personal frame of mind. As consumers, we want to be part of the latest trend, feel like we're special, or get the red-carpet treatment. Whether the product helps us save money or time might just be an afterthought.
Business-to-Business (B2B) email marketing will appeal to a business frame of mind. As business owners, we want to cut costs, increase sales and do whatever we believe will positively impact our bottom line.
In short: B2C email campaigns try to convert leads by targeting their personal interests. B2B email campaigns try to convert leads by targeting their business interests.
B2B Email Marketing Statistics
72% of all businesses actively use email marketing to nurture, acquire and retain customers. In contrast, uptake for social media at 66% and online ads at 59% is significantly lower.
This number is actually on the lower side when compared to the amazing ROI. You can expect an average return of 3840% on your email marketing efforts — $38.42 for every dollar spent in 2021.
31% of B2B marketers acknowledge that email newsletters are the best way to nurture leads.
38% of B2B marketers believe that over half of the emails they send are read and opened.
Less than 30% of B2B decision-makers are willing to meet a sales rep in-person in post-Covid times. Because email communication is so widespread, email marketing is often the only marketing channel for small and medium-sized businesses.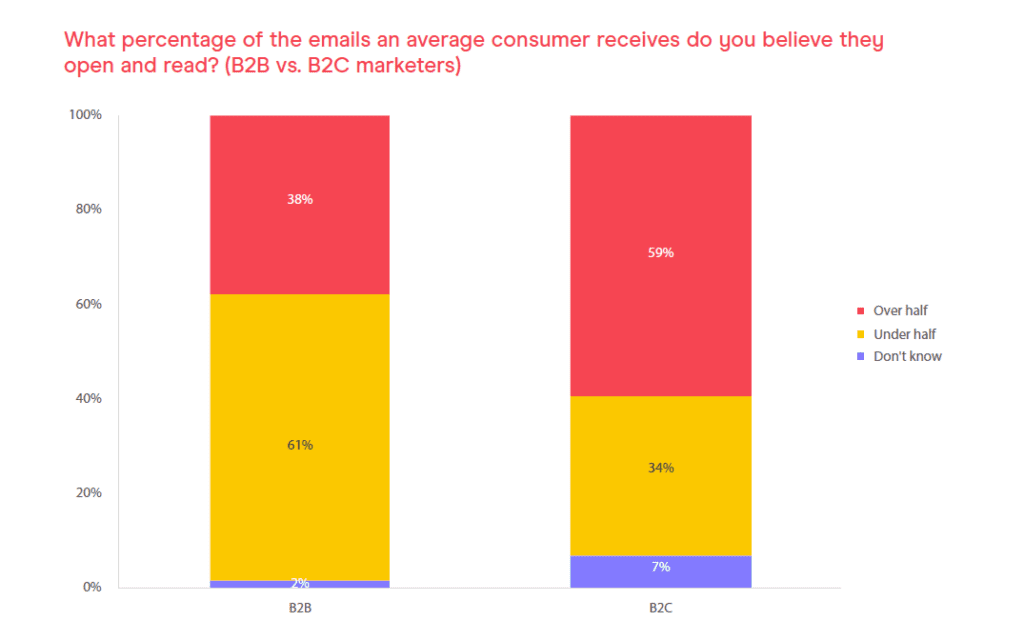 With a low barrier to entry, high engagement, and a staggering rate of return, it's no wonder that B2B marketers prefer email over other marketing channels.
Now let's dive into common best practices that consistently produce the best results.
9 B2B Email Marketing Best Practices
1. Define your goals
Your desired outcomes will determine your marketing communication strategy.
KPIs should include understandable success metrics and reflect your goals. If your goal is to assist your sales team, then your emails will prioritize lead generation. You'll use a Call-to-Action (CTA) that increases the number of sales calls and product demos that convert B2B leads into B2B buyers.
If you're trying to build awareness for a new brand or product line, then your attention will shift to growing your list of email subscribers. Email content will be your focus.
If your aim is to create more partnership opportunities your strategy will change. Getting responses from high-quality leads will matter more than your list size and email volume.
2. Segment your audience
Segmenting a B2C audience involves dividing up your potential market into smaller groups. Each division has its own demographics. Such as where they live, their age range, ethnicity, gender identity, income, and education level.
B2B audience segmentation has a similar approach. Gauge the business size based on the number of employees. Look at where most of their customers are. Estimate their budget if their sales or revenue figures are available to the public. Or you can base your estimate on the market average for their business size and industry.
Your email content should match the specific pain points and business niche of your intended audience. Break your message down into digestible pieces of content. Then create email sequences that facilitate conversations around audience interests.
When building your B2B email list from scratch make sure your subscribers will be open to your offer (i.e. they've either opted in or there's a clear case for legitimate interest).
Never buy an email list. This is particularly important in cold email outreach. Emailing the wrong audience could leave the bulk of your emails unread and marked as spam.
Keep in mind that key decision-makers are already bombarded by emails on a daily basis. You'll need to give them a compelling reason to read and respond to your email.
3. Have a clear message
Your brand is more than just a consistent set of colors and visuals. Your value statement makes up the core of your message and is essentially what you have to offer your potential buyers. The extra fluff, like your slogans and fun catchphrases, will change depending on the context.
Seasonality, marketing trends, evolving buyer behavior, and marketing gimmicks (that you might want to try) could influence your brand messaging.
So, here is what you need to consider to make your brand messaging clear and impactful:
Seasonality affects every kind of business. Your Christmas email special will be totally different from your Saint Patrick email offer. That makes staying on-brand surprisingly difficult. Stick to what makes your brand stand out to your customers and avoid getting swept up in the holiday cheer.
Marketing trends — when utilized correctly — can also have an outsized impact. Even though market trends are hard to predict they often bring a lot of added value to your offering. Supporting climate action is one example of a safe and universally positive market trend that can uplift your brand's value.
Changes to buyer behavior among B2B companies are easy to anticipate. Most businesses will adopt the latest innovations in their industry when the cost-benefit analysis makes sense. Letting your customers know they can chat about your product through WhatsApp for example, adds convenience and accessibility to your value proposition.
Marketing gimmicks could be anything that doesn't directly add value to your offering. Giveaways, competitions, and unusual partnerships can be a fun way to engage your audience without seeming too pushy.
A/B email testing should be an integral part of your marketing efforts. A/B email testing is the practice of sending variations of the same email to subsets of your audience and measuring their effectiveness. A/B testing helps you figure out what message best resonates with your target audience.
Remember, buyer personas are constantly changing. Market forces can also move in unexpected directions. That's why B2B email marketing requires a lot of fine-tuning. Refine your message continuously to keep up with market trends and match new buyer expectations.
4. Personalize your automated emails
What makes a professional B2B email marketing campaign different from unwanted spam is the degree of personalization.
As an example, an HR company has a popular blog about how to improve workplace environments. A potential customer signs up for their newsletter through a link they found in a free ebook about workplace ergonomics.
An automated email will welcome the new subscriber with their first name. A few links to articles about ergonomics will be included in the body of the newsletter. The CTA will be a discount code for a workplace ergonomic assessment.
Your message should automatically tailor itself to your customer's motivations. That's what we call buyer intent.
Understanding buyer intent will make it easier to personalize your automated emails. You can grasp their intentions by looking at their initial point of contact. Every subsequent touchpoint will be connected to their areas of interest.
Here are some quick-fire tips for personalizing your B2B emails once you've captured buyer intent:
Address your lead by their first name
Identify the role your lead has in their organization
Use terms unique to your lead's industry or business niche
Nurture your lead with segmented email sequences
Share email content that matches the interests of your leads
Track open rates and resend content you believe they missed
Mention their last interaction with your brand
Include personal addresses they can reply to
Sending out a large number of personalized emails would waste a lot of time if done manually. Your regular company email isn't designed for complex email automation.
To get the functionality you need to scale your email marketing efforts, you'll need a professional Email Service Provider (ESP) like Brevo. An ESP is a marketing tool that you can use to automate your emails.
The following features are included with Brevo:
Dynamic content in email campaigns
Integrated client relations management (CRM)
A/B testing of email subject lines and email content
A/B testing of segmented email campaigns
List segmentation based on email subscriber interests
Landing pages
Lead capture forms
Website tracking
5. Make your call-to-action obvious
A call-to-action should be designed with a specific outcome in mind. The CTA should also be the answer to lead intent. That translates to buttons or banners that give your potential buyer what they want and accomplish the goal of your email marketing campaign at the same time.
A "buy now" button is the simplest example for an ecommerce context. SaaS providers want users to either start using their software right away or book a personalized demo with a member of their sales team. "Sign up now" and "Start your free trial" are fairly common CTAs for B2B companies that have SaaS offerings.
Having multiple CTAs in a single email can confuse leads by showing them mixed intent. This happens when different wording is used to describe the same course of action. Such as "get this deal" and "subscribe now" with both buttons leading to the same landing page.
Clustering the same CTA in several locations can be equally problematic. Wherever a CTA is placed will become the point where the lead stops reading and takes action.
If the lead hasn't been properly informed or fully persuaded, the motivation to complete the action will be undermined. The right email has only one or a few CTAs in easy-to-find sections where just the right dose of value has been transmitted.
6. Send your emails at the right time
The level of customer engagement for your industry will determine the number of follow-ups in your B2B email marketing strategy.
Look into the right time to send your emails. The frequency of your emails should generally be limited to once or twice a week.
Newsletters are best sent weekly, usually mid-week on a Wednesday or a Thursday. Round-ups are bigger monthly campaigns. Product updates and announcements can be occasional.
Seasonal and holidays deals can be positioned a week or two before and after the actual day-of.
Email newsletters that have double opt-in can endlessly promote the same service. With double opt-in, each subscriber has reaffirmed their interest. They can also unsubscribe at any time.
However, too many emails can still lower your subscriber count.
7. Ensure your emails are delivered
Despite what some advertisers would have you believe, the best products simply won't sell themselves. You need to get your offer in front of your audience to trigger sales activity.
Ensuring email delivery is therefore your biggest concern.
On the more technical side, you'll want to buy a domain name that you can use as the email sender. Your domain should match your branding and lead to the actual website you use to display your offers.
If you don't have a website or have a new product you want to take to market as a standalone brand, you can register a new domain and create a corresponding landing page.
On the practical side, you have a variety of steps you can take to avoid getting blacklisted.
Make sure that your subscriber list is opt-in only
Include a sender name your subscribers will recognize
Deliver email content your subscribers expect
Optimize your emails with smaller images and mobile-friendly content
Avoid click-bait subject lines
Send fewer, higher-quality emails
Filter out unengaged subscribers as often as you can
There are best practices you can follow to consistently achieve high deliverability.
8. Organize your follow-ups
Your email follow-ups guide your prospect along their customer journey. That includes new customers and existing customers you want to upsell or turn into repeat buyers.
The B2B customer journey will show you the general steps a buyer will take as they interact with your brand, including the steps before and after making a purchasing decision.
Map out your customer journey. Outline the lead nurturing and customer retention processes. This will give you a fuller picture of how your customers interact with your brand.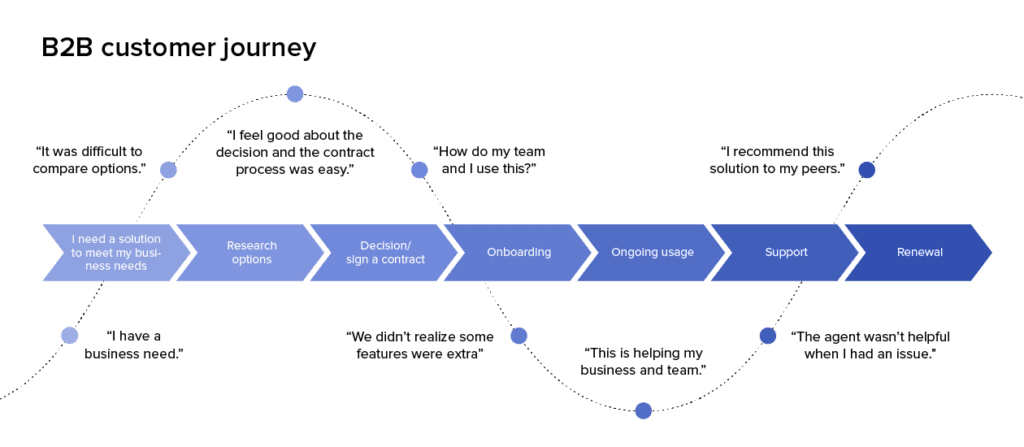 A typical B2B customer will become aware of your business while doing their own research.
Then they'll pitch the idea to their team. The key decision-makers will consider your offer before making a purchasing decision. Your follow-ups play a critical role as they're actively considering your offer.
Here is where a sales funnel comes in handy. A good sales funnel can streamline the decision-making process by providing different types of content that the buyer can consume. White papers, help articles, and case studies are especially persuasive.
A sales funnel zooms into customer interactions that are closest to a purchasing decision and brings them closer to striking a deal with you. It's made up of the different stages a buyer moves through before making a purchasing decision.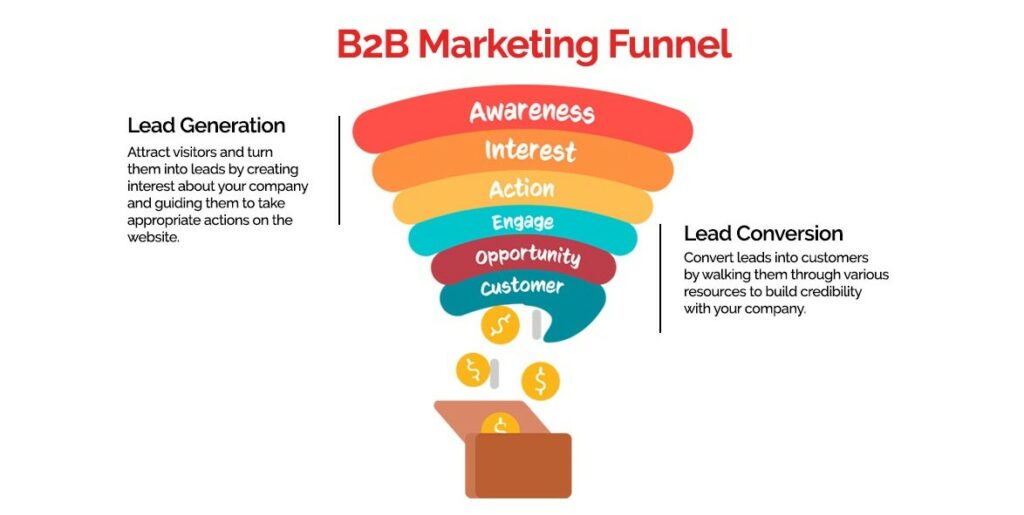 Think of a sales funnel as a micro view of your customer behavior that highlights the buying process. Whereas the customer journey considers every stage, including the pre-purchase, buying, and after-sales interactions.
When they accept your offer and have been successfully converted into an active customer, you'll want to keep them happy. Meaningful engagements, such as helpful onboarding emails and email support will boost customer loyalty.
B2B customers generally have a longer conversion path. They also expect a healthy combination of marketing, sales, and support emails at every stage of their customer journey.
You'll also need a way to keep track of your conversations when your B2B email campaign starts getting responses. A good CRM is essential in the follow-up stage. Anything that helps you keep track of your customer relationships can technically be a CRM. But that doesn't mean something as simple as pen-and-paper will be good for your business.
Go for a dedicated CRM that will help you update your contact list, and track your emails as well as replies. Integrating your CRM with your email service provider will give you deeper analytics. You'll be able to measure open rates and click-through rates, and attach contextual notes.
Brevo is a marketing email platform that has its own in-built CRM and has a generous free tier. You won't have to break open your bank safe to fund your first email marketing campaign.
9. Analyze your campaign performance
Knowledge is power.
The more knowledge you have on the performance of your B2B email campaigns the more powerful your marketing strategies will become.
Analyzing your email campaign metrics will help you accurately target audience groups that are more receptive to your brand.
The most important metrics include:
Open rate – the percentage of leads that actually opened your email
Click-through rate (CTR) – the percentage of leads that clicked on a link or a CTA
Conversion rate – the percentage of leads that clicked on a CTA and completed the desired action
Bounce rate – the percentage of email addresses whose inboxes rejected the email you sent
List size – the number of subscribers on a specific email list
List growth rate – how much larger a subscriber list has grown over a period of time
Forwarding rate – what percentage of leads reshare your email
B2B Email Marketing Examples
A B2B marketing example shows you how a business communicates the value of its offering to other businesses. 
We've taken a look at some of the most successful B2B emails from our own users at Brevo and highlighted the B2B marketing campaigns that we believe are easiest to replicate.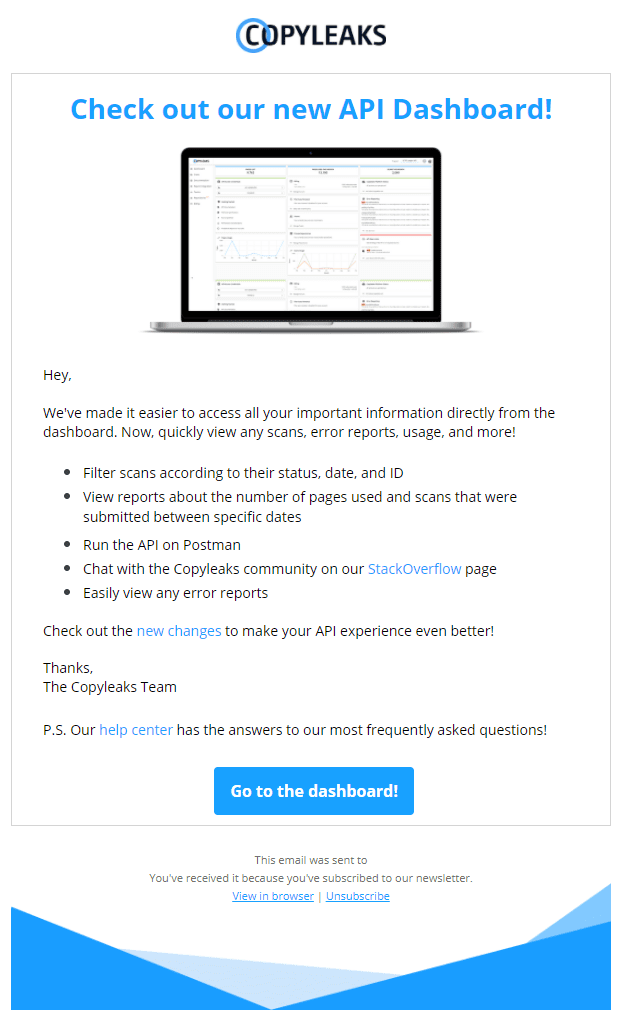 Copyleaks sent out a brief update when they announced their new API dashboard. This product update email is concise, easy to understand, and has a clear CTA. The core message here is summarized in bullet points.

Excel Exposure uses storytelling in their course announcement to make their message more persuasive. Their conversational tone is direct and punchy. Bolded words catch the customer's attention. The CTA gives the customer the opportunity to learn more about their new course.

The Pixlee newsletter showcases content that educates and informs its customers on the subject of influencer marketing. Each CTA links to an article that is part of a larger content funnel. Actionable advice is the best way to convert skeptics into brand advocates.

Workona uses onboarding emails to improve customer retention. They pique customer interest while teaching them how to use their product in a new way. Their decision to highlight their Slack integration was likely based on how popular work chat is among their customer base.
Getting Started
Start sending out B2B emails today with Brevo. You can send up to 300 emails per day to as many contacts as you like, for free.
Jumpstart your B2B email strategy with Brevo
Free plan includes access to all core email features, 300 emails/day, 40+ email templates, and customizable signup forms to grow your blog email list.