With the release of iOS 15 on 20 September 2021, it'll no longer be possible to measure open rates for email recipients using Apple Mail. In this article, discover how Brevo will handle these changes and how you as an email marketer can adapt. 
In recent months, news of the iOS 15 update has caused quite a stir in the email marketing community. The reason? Apple is introducing 'Mail Privacy Protection', a feature that "stops senders from using invisible pixels to collect information about the user".
Once enabled, email marketing services will no longer be able to track open rates for Apple Mail users.
With open rate being one of the most widely used email marketing metrics, marketers will need to adjust their strategies.
How Does Apple's Mail Privacy Protection Work?
The first thing to know is that Mail Privacy Protection isn't mandatory. That said, the option will be presented to all users.
When iOS 15 users open their Apple Mail app, they'll be greeted by this message: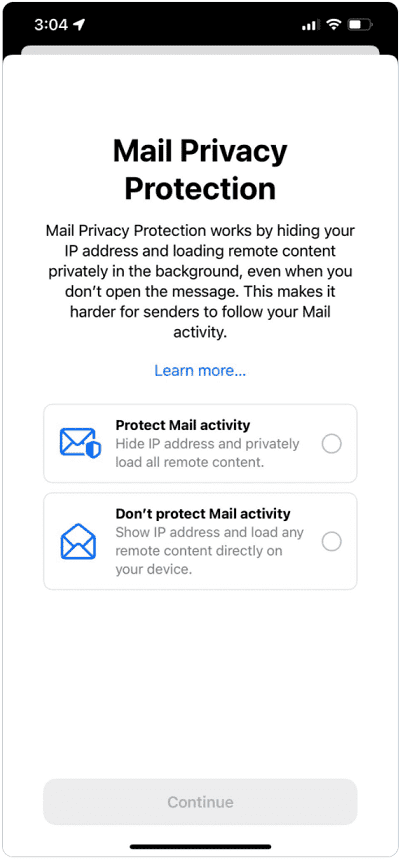 The "Protect Mail activity" option won't be enabled by default — but don't get your hopes up.
Our recent Brevo consumer survey showed that 68% of consumers are more concerned with online privacy now than pre-pandemic and 65% trust third-party applications less than a year ago.

Going by these figures, it's highly likely that people will opt for this additional layer of data protection.
Once enabled, Apple acts as a go-between, downloading the email content as well any tracking pixels onto a proxy-server before serving it to the email recipient (to learn more about the technical side, Litmus explains it here).
Ok, so what's the big deal, you're wondering. Well here's the thing: All emails sent to Apple Mail users will be automatically counted as open. You'll no longer be able to tell which users opened your emails, and which didn't.
Here's what Apple had to say in its official press release:
"In the Mail app, Mail Privacy Protection stops senders from using invisible pixels to collect information about the user. The new feature helps users prevent senders from knowing when they open an email, and masks their IP address so it can't be linked to other online activity or used to determine their location."
As well as not being able to measure opens, it'll also be impossible to track things like geographical location.
Mail Privacy Protection obviously has its advantages for the end user. In recent years, especially since the introduction of the GDPR, consumer data protection is being taken a lot more seriously. And this is a good thing for everyone.
But unfortunately for marketers, Mail Privacy Protection has its downsides. If email marketers don't have the data to analyze campaigns, it'll be harder to deliver personalized content to subscribers. Paradoxically, this new feature could actually lead to more unwanted emails.
What Will Mail Privacy Protection Change for Email Marketers Using Brevo?
Open rate isn't only used to measure email campaign performance. It's also used as a trigger for automated email scenarios.
As mentioned, once Apple Mail blocks tracking pixels, we won't know whether emails have been opened by an actual human or not.
Of course, this only applies to contacts using the Apple Mail app and not to those using the Gmail app on their iPhone.
If you're using Brevo's email marketing software, expect that:
Apple Mail opens will no longer be accurately counted in campaign open rates
Automation scenarios running on an "Open" trigger will no longer work for Apple Mail users
Segmentation flows based on open rate will be no longer be reliable for Apple Mail users
Open rate-based A/B testing (such as subject line testing) will no longer work for Apple Mail users
Geolocalization features will no longer work for Apple Mail users
Send Time Optimization will no longer be reliable for Apple Mail users.
At first glance, that all seems quite intense But there's no need to panic — we've got measures in place so you can continue to analyze email campaigns as normal.
How Brevo Will Adapt to Apple's Mail Privacy Protection
In response to Apple's Mail Privacy Protection, Brevo will adapt its service by:
Excluding Apple Mail opens when calculating the open rate
Excluding Apple Mail opens from marketing automation scenarios using opens as the trigger condition
Giving you an estimated open rate using a formula based on data collected by our system
By excluding Apple Mail users from campaign analysis, you'll still be able to use automation scenarios with 'open' triggers. Otherwise, open rates would soar and emails would trigger for all Apple Mail users, increasing the number of unwanted emails.
And thanks to this estimated open rate, you'll still get a precise overview of campaign performance.
How Email Marketers Should Adjust
While there's no way to get around Mail Privacy Protection, it's honestly not all that bad. You just need to adapt your mindset and strategy.
1. Ask yourself if Apple Mail stats are really that important
You may have panicked upon hearing the news, but how many of your email subscribers actually use Apple Mail?
Once you crunch the numbers, you might actually find that Apple Mail only represents only a small portion of your contacts. In which case, iOS 15 is of no major cause of concern for you.
What's more, there's no reason to believe an Apple Mail user has radically different tastes and preferences to a Gmail app user.
Let's say you run an A/B test on non-Apple Mail subscribers to measure the effectiveness of two different subject lines. It's a safe bet that the winning subject line will be just as effective for Apple users.
2. Pivot towards a strategy based on click-through rate
Forget the opens, focus on clicks. Arguably the best advice we can give you today.
Looking to the future, Apple's Mail Privacy Protection could be the start of a wider trend. Who knows, we may eventually see the likes of Google rolling out similar features.
But this doesn't mean the end of email marketing. To effectively measure email performance, you need to shift your focus from open rates to click-through rates.
Click-through rate is the ultimate indicator of content quality. The goal should always be to get subscribers curious enough to click the links.
With that in mind, you should reconfigure any open-based automation scenarios to be triggered by clicks instead. Plus, generally adjust your KPIs to concentrate on improving clicks rather than opens.
In any case, no need to fret. Just keep doing what you do best: creating awesome email content that subscribers can't wait to read.